This post has been sponsored by Amopé. All thoughts and opinions are my own. Thank you so much for supporting the sponsors that make Glitter, Inc. possible.
There are a few surefire beauty tricks for summer that I've always tried to keep up with, no matter how busy I get: loads of sunscreen, plenty of after-sun moisture for my skin and my hair, and sandal-worthy feet (because your tootsies need love too!) It's funny – when summer comes – hair and skincare always seems to be at the forefront of everyone's mind, but truth be told, after months upon months hiding in boots and heels, our feet are the last to get love in time for summer (and they need it!) If you're going to rock the cutest summer sandal styles, you'll want to get your feet in tip-top sandal-season (and beach and wedding season) shape.
Thanks to Target, I have the solution; meet the Amopé Pedi Perfect Wet & Dry™ Rechargeable Foot File. The Amopé Wet & Dry Foot File is the answer to your perfect at-home pedicure dreams. Plus, as a busy mom to a little girl, I never have time to go out for a mani/pedi anymore, so doing my own at home has become essential.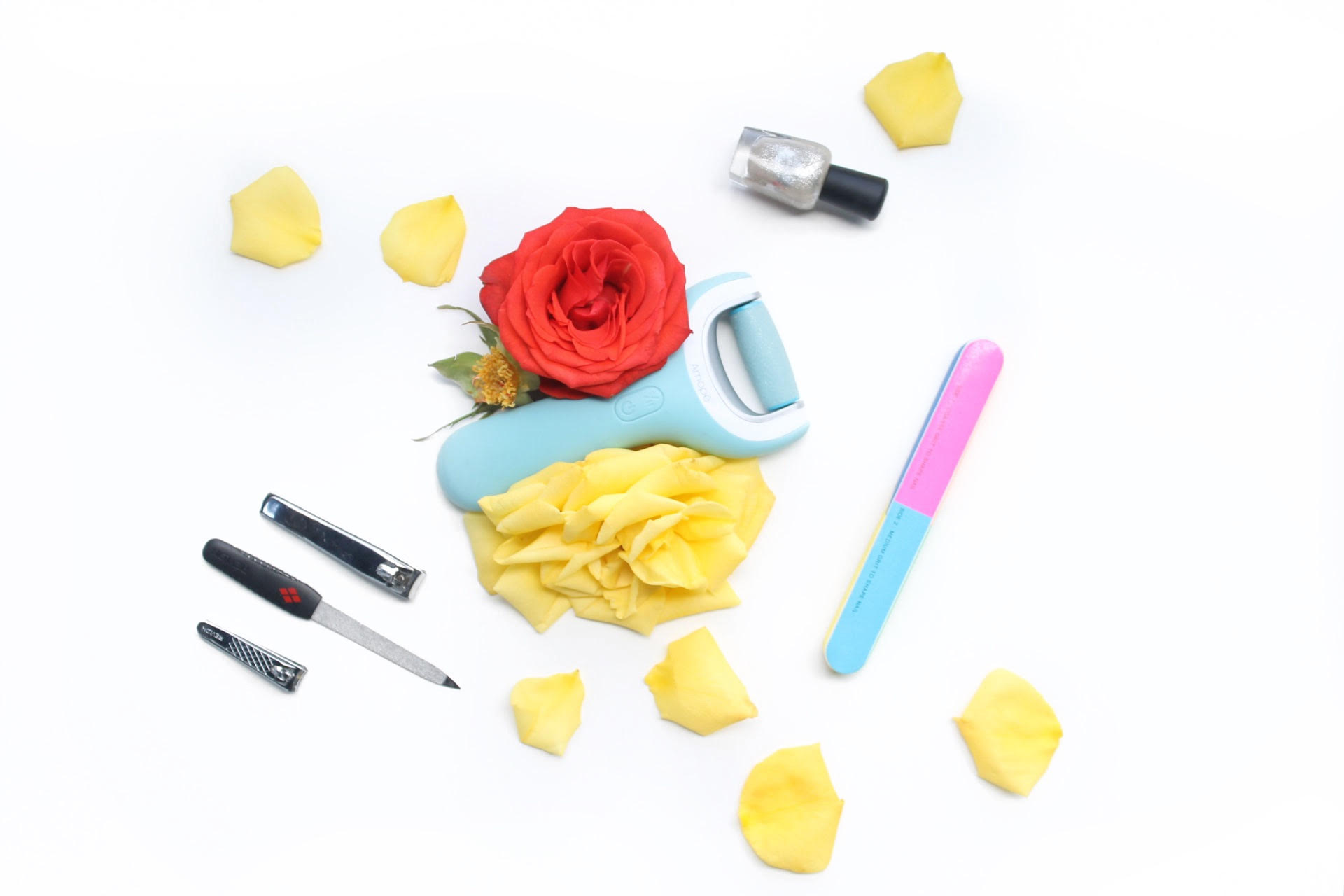 I've been doing my own nails for years. Though I love going out and getting a manicure or pedicure, I cringe at the thought of chipped nails, so I mastered the art of the at-home mani/pedi to get me through to the next appointment. That skill has really paid off now that I'm a mom and most little luxuries like a pedicure at an actual salon or spa have gone out the window.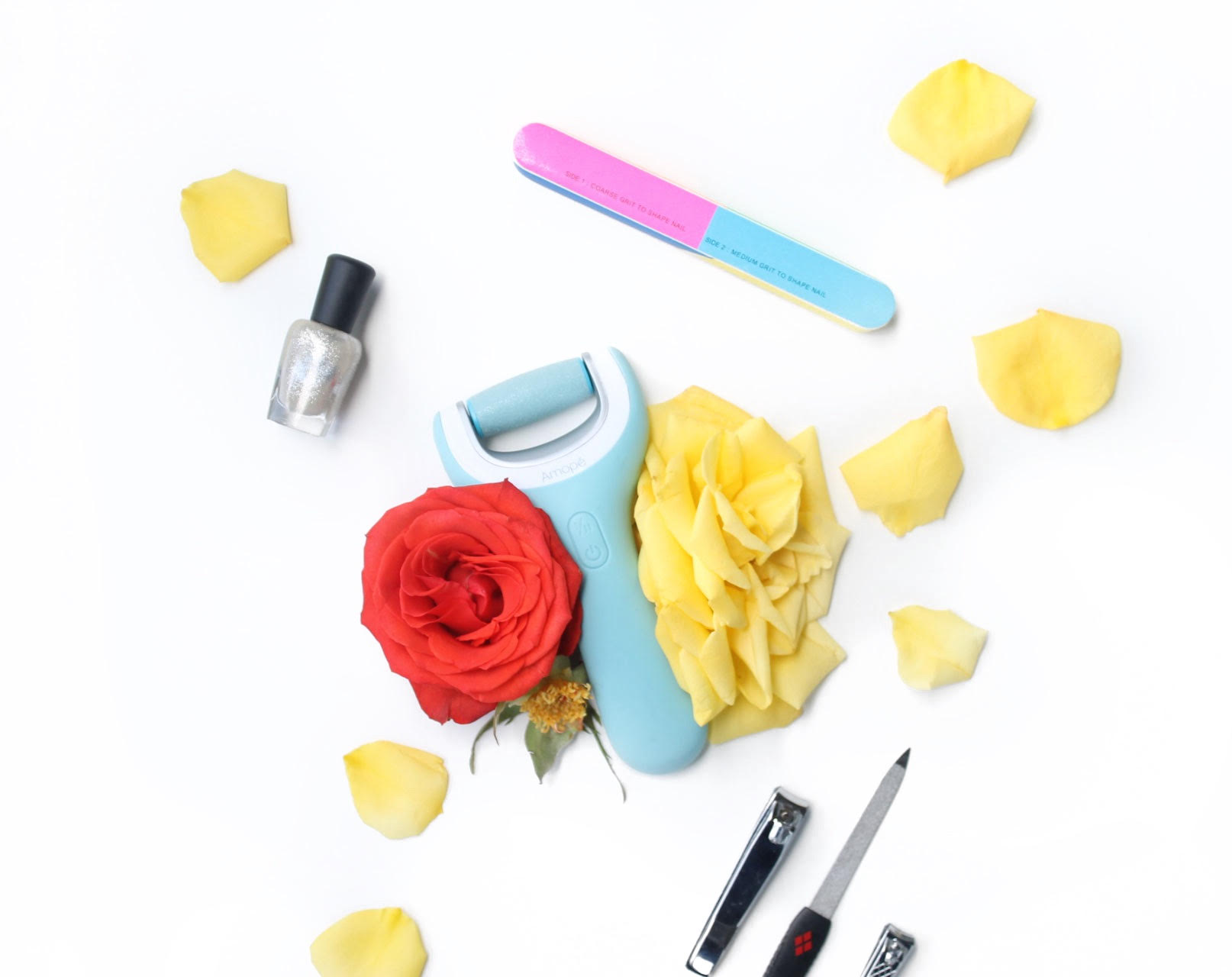 The secret to an at-home pedicure in particular is giving yourself the time. (To my fellow mamas: your little one's nap time is ideal!) Allow yourself a bit of relaxation and pampering. And in just a few simple steps, you'll have mastered the at-home spa pedicure too.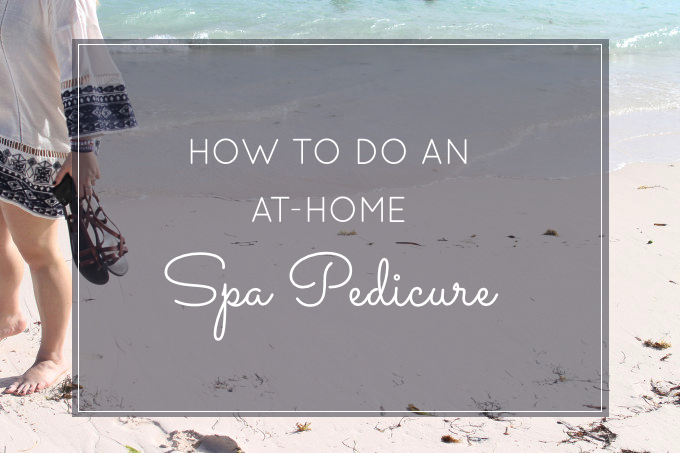 HOW TO DO AN AT-HOME PEDICURE:
Lay out your tools. I like to have nail polish remover and cotton swabs to remove old polish and fix any mistakes. I also like to have a set of nail clippers and a file, and if I'm really getting fancy: foam toe separators (otherwise, it's a piece of tissue paper for me!) Last but not least: the Amopé Wet & Dry foot file, to achieve those soft summer feet.
Fill a large bowl or basin with warm soapy water. I added a bit of lavender salt scrub in the name of pampering.
Remove any old nail polish completely and then soak your feet. Seriously, put on Gilmore Girls reruns and soak.
Using the NEW Amopé Wet & Dry Foot File – which can be found in the foot care aisle at Target – expertly (and easily) buffs away dry, hard skin in an instant. You can even use this nifty gadget in the tub or shower because it's completely waterproof, rechargeable, and cordless. End result: beautiful, touchably soft feet any time of year. (Don't fret if you've got no time to soak: the Amopé Wet & Dry foot file is the first leading electronic foot file brand to work on both wet & dry skin.)
After buffing, moisturize your feet. and then wipe/rinse to remove any excess dead skin and thoroughly dry feet.
Clip, file, and buff your toe nails to your desired length and shape.
Carefully paint your toe nails with a base coat, two coats of polish, and your top coat. Allow to dry for a few minutes in between each coat. (This doesn't have to be perfect; that's what nail polish remover and a Q-tip are for!)
Show off perfectly pedicured feet in your favorite new pair of summer sandals!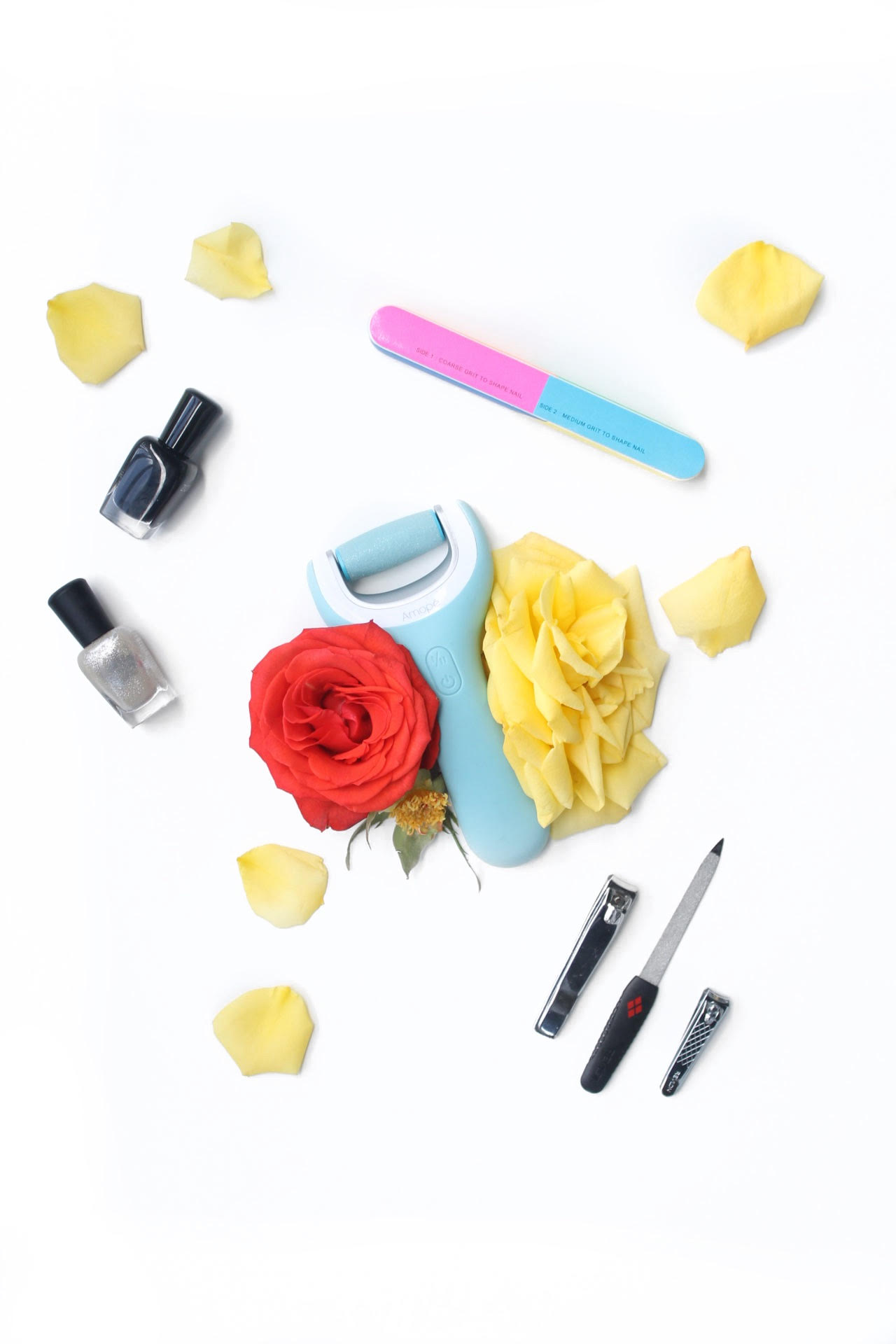 Right now, there's an amazing Cartwheel offer (which Expires June 30th), where you will receive 5% off of the Amopé Wet & Dry Foot File.
So tell me, are you a fan of at-home manicures and pedicures? If you've never tried one at home, now's the time!