Last week I got the chance to get all dolled up by Birchbox
for a photo shoot featuring Ann Taylor's brand new Fall shoe line.  It was a major "pinch me" moment.  And though I'm no model, it was tons of fun having my hair and makeup done by such amazing professionals, and wandering through the racks of pretty new clothes at Ann Taylor, well that was just shopping heaven.  (By the way, I fell instantly for the Regents Striped Peplum Jacket and the Shana Cutout Leather Peeptoe Booties.)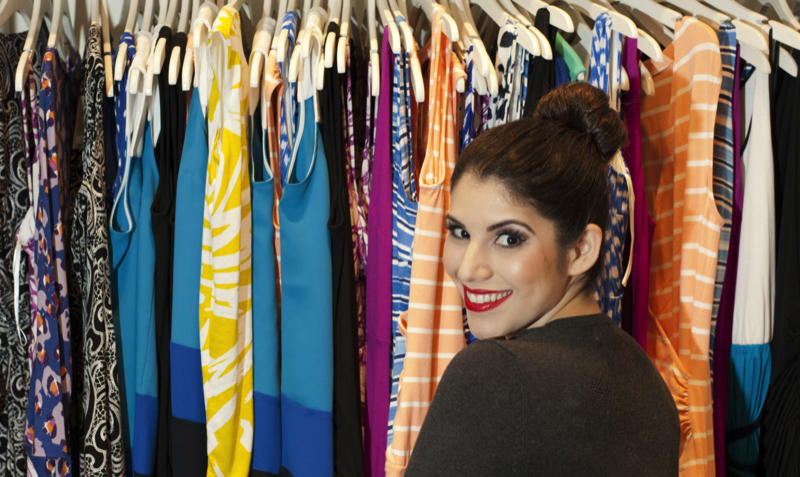 The whole experience was really new for me – and so cool! I got the full red carpet treatment: hair and makeup at Beauty by Arlette and my very own professional photographer, Benjamin Thacker, snapping away as I glammed, shopped, and posed.
The look I styled for Ann Taylor had an Evening Glam feel.  Classic silhouettes meet intriguing details, like edgy cutout booties or twinkly gems.  Add a stoplight red lip, and you're good to go.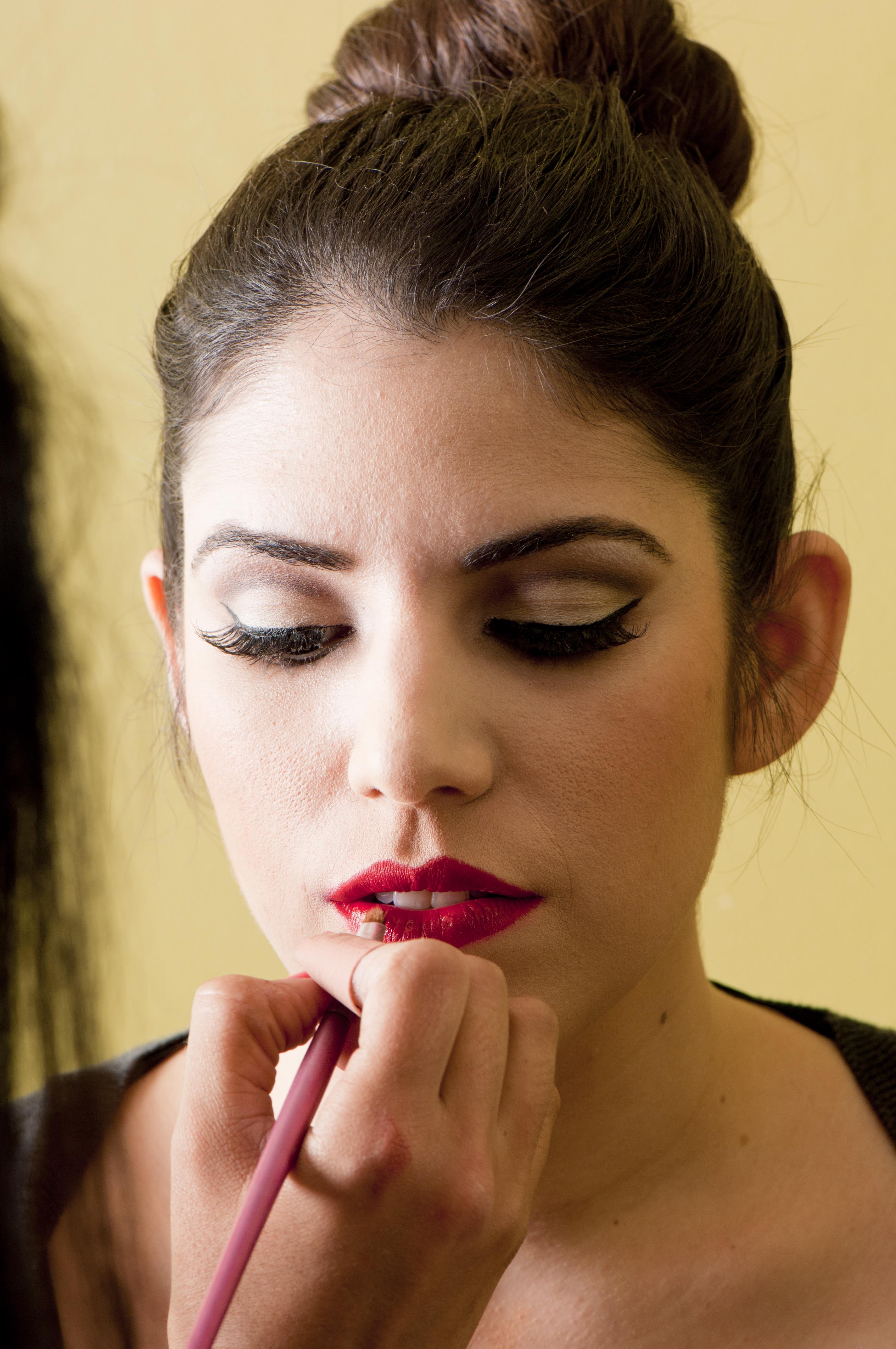 My beauty round-up:  Foundation, Red lips (gloss or lipstick), Voluminious lashes, Liquid black line (cat eye optional), A bright blush, and Hair pulled back and up.  Think topknots and sock buns!  To achieve the perfect sock bun, my stylist used Number 4 Non-Aerosol Hairspray.
My extra-bold dark winged eye makeup look was thanks to Vasanti Kajal Extreme Eyeliner (the best part:  it's waterproof so it stays put all day, or night, long!)  Ever since getting my makeup done at Miami Beach Fashion Week SWIM, I've been on the hunt for the perfect brow pencil (because trust me, bold brows make all the difference!), and IT Cosmetics Brow Power Universal Eyebrow Pencil is just that perfect (it's non-smudging, waterproof, and the neutral hue works for all hair colors, plus the nourishing formula actually feeds hair follicles for maximum fullness).  We used the Stila Stay All Day Foundation, Concealer, & Brush Kit (a set of complexion savers in the handiest of compact kits!), Benefit FakeUp (perfect hydrating concealer and featherweight moisturizer for under your eyes), a By Terry Light-Expert Perfecting Foundation Brush along with the YoungBlood Hi-Definition Hydrating Mineral Perfecting Powder (a loose powder that absorbs excess oil and manages to keep from looking  too cake-y).  We topped the look off with theBalm Cosmetics InStain Long-Wearing Blush (a.k.a., a powder-staining blush that gives you naturally flushed, rosy cheeks and stands up to heat and humidity).  And last but not least we went with a combination of By Terry Baume de Rose SPF 15 (the cult classic nourishing balm worn by models and Hollywood actresses) and Jouer Moisturizing Lip Gloss in Riviera for a perfectly cherry red pout.
Skip the Line and get yourself a Birchbox subscription!
—  I'm so excited to offer all of my readers a skip the line opportunity at Birchbox!  Instead of a 4-week wait (Birchbox is that popular!), if you subscribe through Glitter, Inc. you'll be able to instantly purchase a subscription to Birchbox.  (Just click the link below … )
Join Birchbox!
And now for the really fun part:  you're all invited to the Birchbox + Ann Taylor Event in Miami.  There will be cocktails and treats, a special gift with purchase scarf, plus complimentary Birchboxes.  (Yep, it's that awesome!)  If you're in the South Florida area, RSVP and join me at the Ann Taylor store in Dadeland Mall on August 15th from 6:00 PM to 8:00 PM.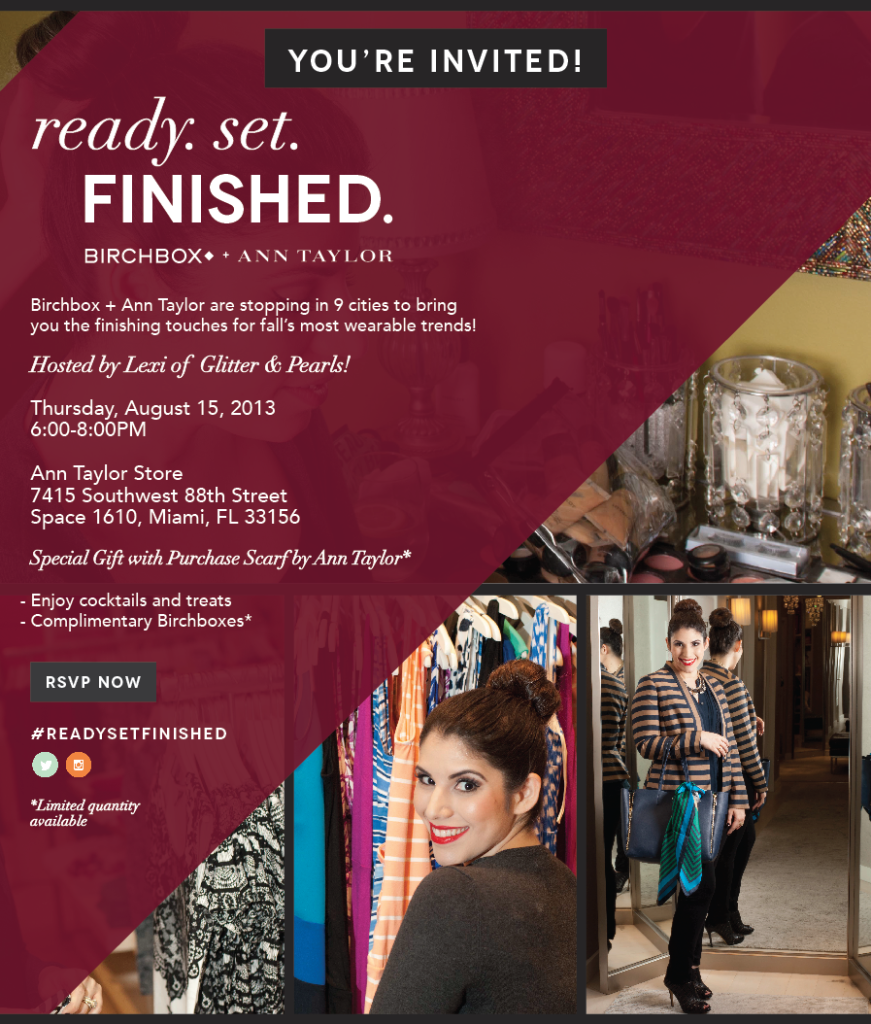 And Thank you SO much to Birchbox & Ann Taylor (plus a special thanks to the girls at the Dadeland location) and Beauty by Arlette and Benjamin Thacker, for this amazing experience.