On the heels of yesterday's wishlist post, I thought I'd share a newfound obsession: ULTA.  My sister and I actually went to ULTA for the first time (no idea how I had never been before) to scout out the products for this post, and we spent a good hour wandering through the magical store.  ULTA is like a giant candy store full of all of your favorite beauty products, with deals.  I also couldn't believe what an amazing one-stop shop ULTA is for gifts.  There were so many fabulous gift sets and designer beauty and hair products I'd happily gift or snag for myself.  [Side note:  Does anyone else walk into a beauty store and walk out covered in twelve different shades of eye makeup, two layers of mascara, six scents (that don't necessarily complement each other … yikes!), and three layers of hand cream?  Well we did just that, and admittedly had a blast.]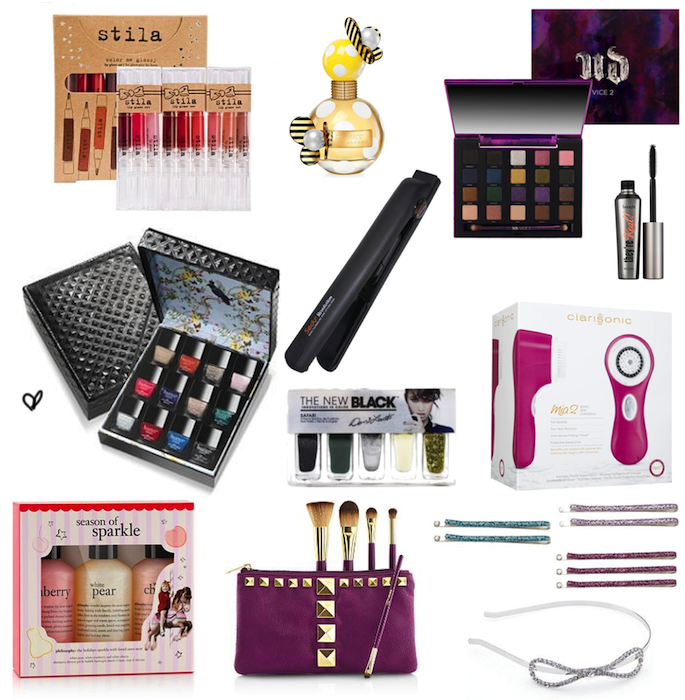 Get my Ulta Beauty Picks …
Color Me Glossy Lip Glaze Set:  I've wanted to try Stila lip glosses for ages now, and this box set of some of their most popular colors had me right away.
Honey MARC JACOBS Eau de Parfum Spray:  One of the newer Marc Jacobs scents – it's soft and floral and happens to make a great gift.
Urban Decay Vice 2 Palette:  Because the Urban Decay Naked 2 Palette is one of my all-time favorite eyeshadow kits, I knew it was time to branch out and try a bit of color.  And because the Vice 2 palette is the perfect mix if wearable colors and perfect neutrals, this one went right into my shopping basket.  I should probably consider gifting this one as well.
Benefit They're Real! Mascara: This mascara is the shiz.  It gives you va va voom lashes without flaking or clumping; that's a winner (and a great stocking stuffer), in my book.
Butter London Luxe Rock 12 Piece Fashion Nail Polish Set: I love Butter London polish. The colors are great and the enamel lasts and lasts.
Sedu Revolution Tourmaline Ionic Styling Iron: This is hands down the best hair iron I have ever owned. Get one, gift one, and don't miss the super amazing gift with purchase offer going on now.
The New Black with Demi Lovato 5pc Nail Set:  Has anyone else noticed that Demi always rocks the coolest manicures?  Well she's teamed up with The New Black (the brand that makes those amazing sets of ombre nail polish), to create these at-home studded manicures, and I want them all.
Clarisonic Mia 2 Sonic Skin Cleansing Device:  The gold standard in skin care.
Philosophy Season Of Sparkle:  I love all things Philosophy and each scent in this bath set smells seriously yummy.
ULTA Professional 5-Piece Brush Set:  ULTA makes really great professional-quality makeup brushes, and these are especially pretty.
Karina Glitter Bobby Pins:  These sparkly bobby pins are the perfect stocking stuffer.
Karina Bow Headband:  And this is the perfect present-topper.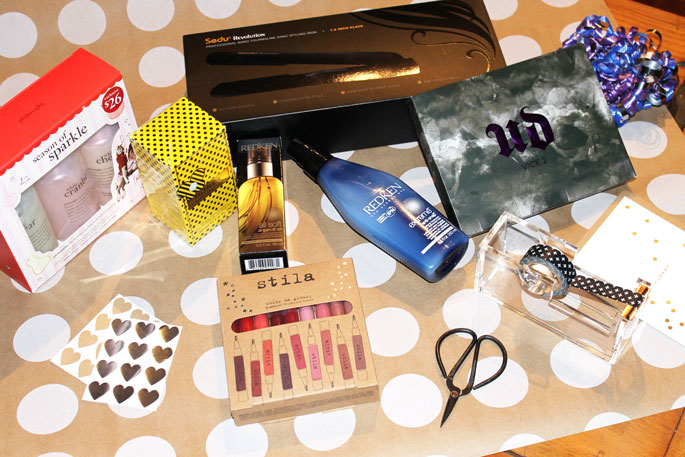 And be sure to check out ULTA's holiday gift guide and the Pinterest board I created of my favorite beauty products to gift and receive.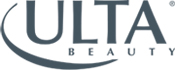 ULTA Beauty is not just another store for holiday shopping; it's an exciting wonderland of beauty products that make great gifts, stocking stuffers and personal treats. This year, ULTA is filled with a dazzling variety of holiday treasures that are sure to delight your friends, family, loved ones, and even yourself!  
Disclosure: Compensation was provided by ULTA Beauty via Glam Media.  The opinions expressed herein are those of the author and are not indicative of the opinions or positions of ULTA Beauty.