This post contains affiliate links, which means that if you click on one of the product links, I'll receive a small commission. Thank you so much for clicking through and helping to support this little blog business of mine! Read more about our site, privacy, and disclosure policies here.
It's back-to-school time! Here's how to throw a first day of school donut party, complete with an easy towering donut cake, DIY pencil felt ball banner, first day of school flags, and decorate-your-own donuts!
The day has finally come – we've arrived at the start of a brand new school year for our oldest daughter, Scarlett! This year she starts first grade (time flies, seriously.) Of course, things are shaping up to be very different this year. For starters, our newly minted first grader is doing school at home; i.e., remote school.
Deciding on Our Fall (Home) School Plan
We seriously agonized over the best school decision(s) for our family, and in the end, we decided to give remote school a try. Last spring, when everything shutdown and Scarlett's school switched to remote learning, she did surprisingly well with the transition. Sure, I had to be pretty hands-on, and I'd be lying if I said I wasn't tired. But all in all, we feel like she can handle remote school once again. And of course, we're hoping that this won't last forever.
If things get too tricky, or we feel like she's struggling with the constant screen time, we're going to switch the homeschool. (Even though I'll be the first to admit, that option totally intimidates me.) For now though, this feels like the best option, and we're diving in headfirst.
We're also celebrating the first week of home school preschool for Emme, our two year old daughter. (Who turns three so soon!) She and I are going to be doing the Busy Toddler Playing Preschool homeschool curriculum … verrrrry loosely. (As in, we'll cherry pick activities from it as we can. One thing I've learned about remote learning with a 6 year old is that they still need a lot of parental supervision and attention. The juggle is real, y'all.)
Anyone else doing Busy Toddler's preschool curriculum this year? Let's commiserate!
Anywho, it's the first day of school, so we thought a celebration was in order!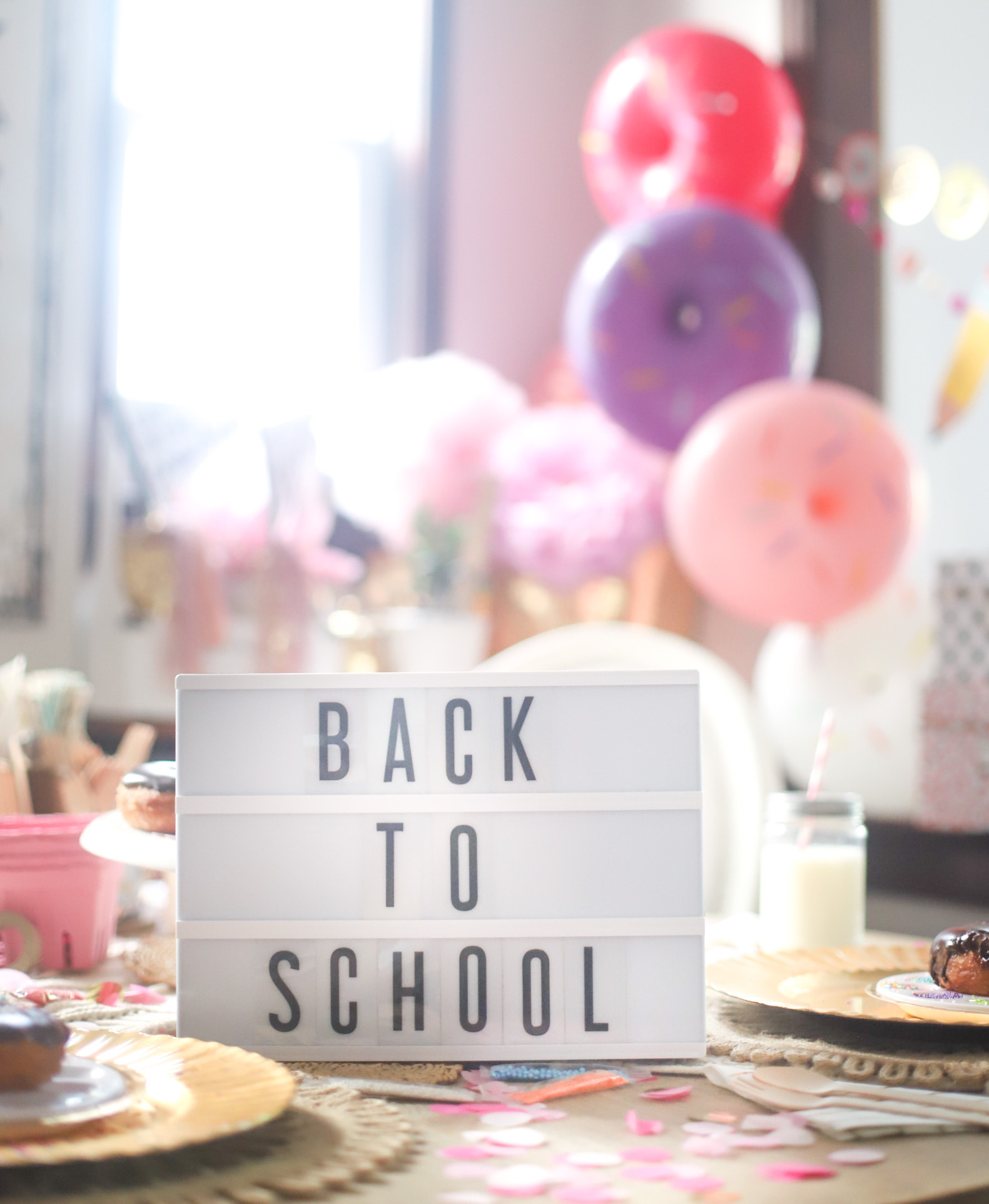 Celebrating the First Day of School
I love the idea of making the first day of school a celebration. In years' past, we've done a pizza party at the end of the first day. Or pancakes on the morning of (though it makes for a busy morning!) The idea is to make that first day of school feel special and exciting. And something your kids can look forward to.
We also always do brand new pajamas that the girls wear to bed the night before and this year's pj's were a big hit: pink tie dye pajama sets (from Amazon!). Their new pajamas are super soft and both kids had to be persuaded out of their pj's after breakfast and into school clothes. 🙈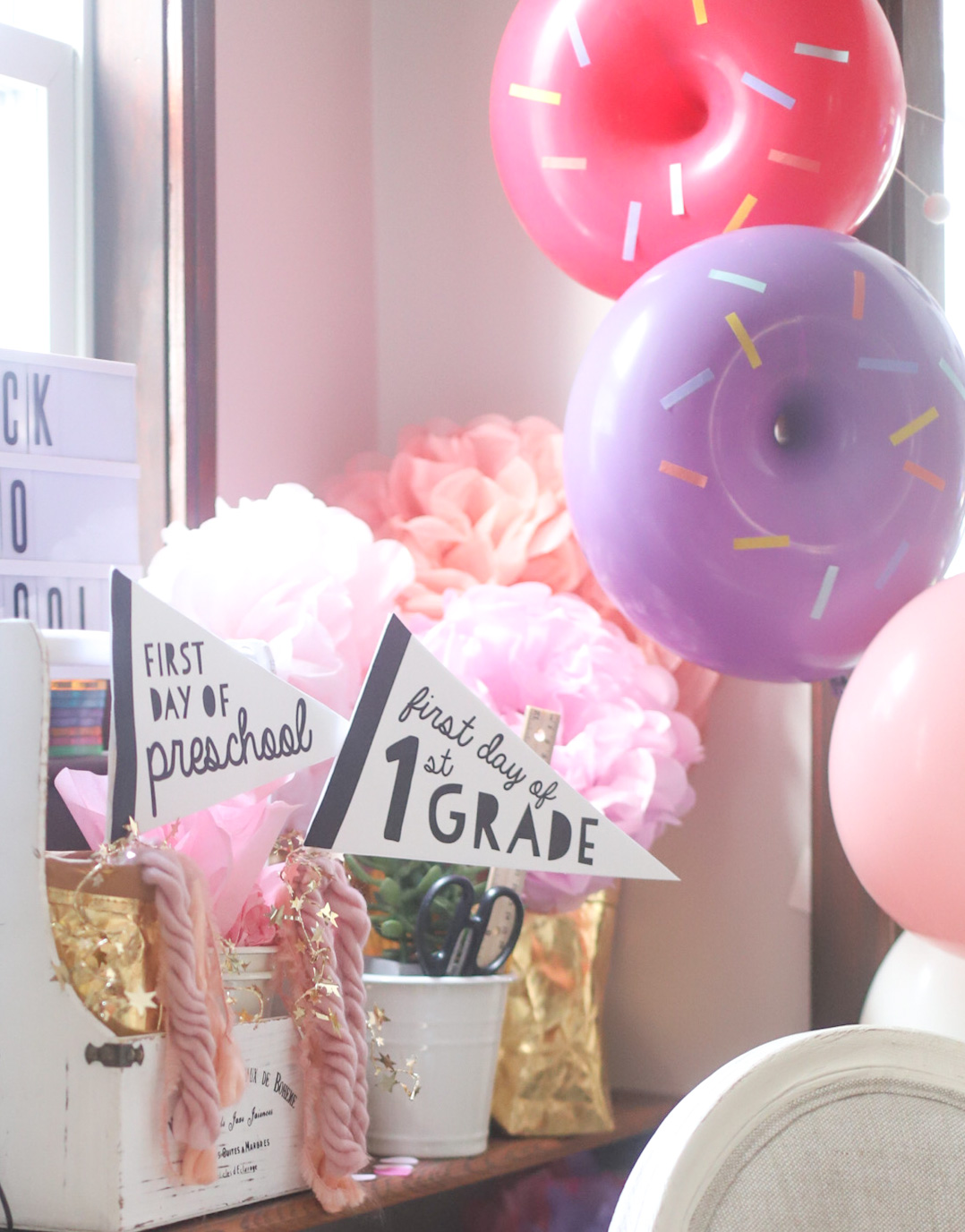 Back to School Donut Party
As for our back to school party, this year, I wanted to keep things simple and adorably festive, so we settled upon the back to school donut party! I mean, donuts are always a good idea! 🍩 (Especially donuts piled high on a cake stand.)
One key advantage to a donut party is that I don't have to stress about making or baking anything for the first day festivities. Our favorite local donut shop – Union Square Donuts – makes the most amazing donuts (and they even have vegan donuts for Scarlett!) Plus, they deliver. Ummm, yes, please!
I went the extra mile and decorated our little dining room/breakfast nook (more on that below!), and we even decorated our donuts!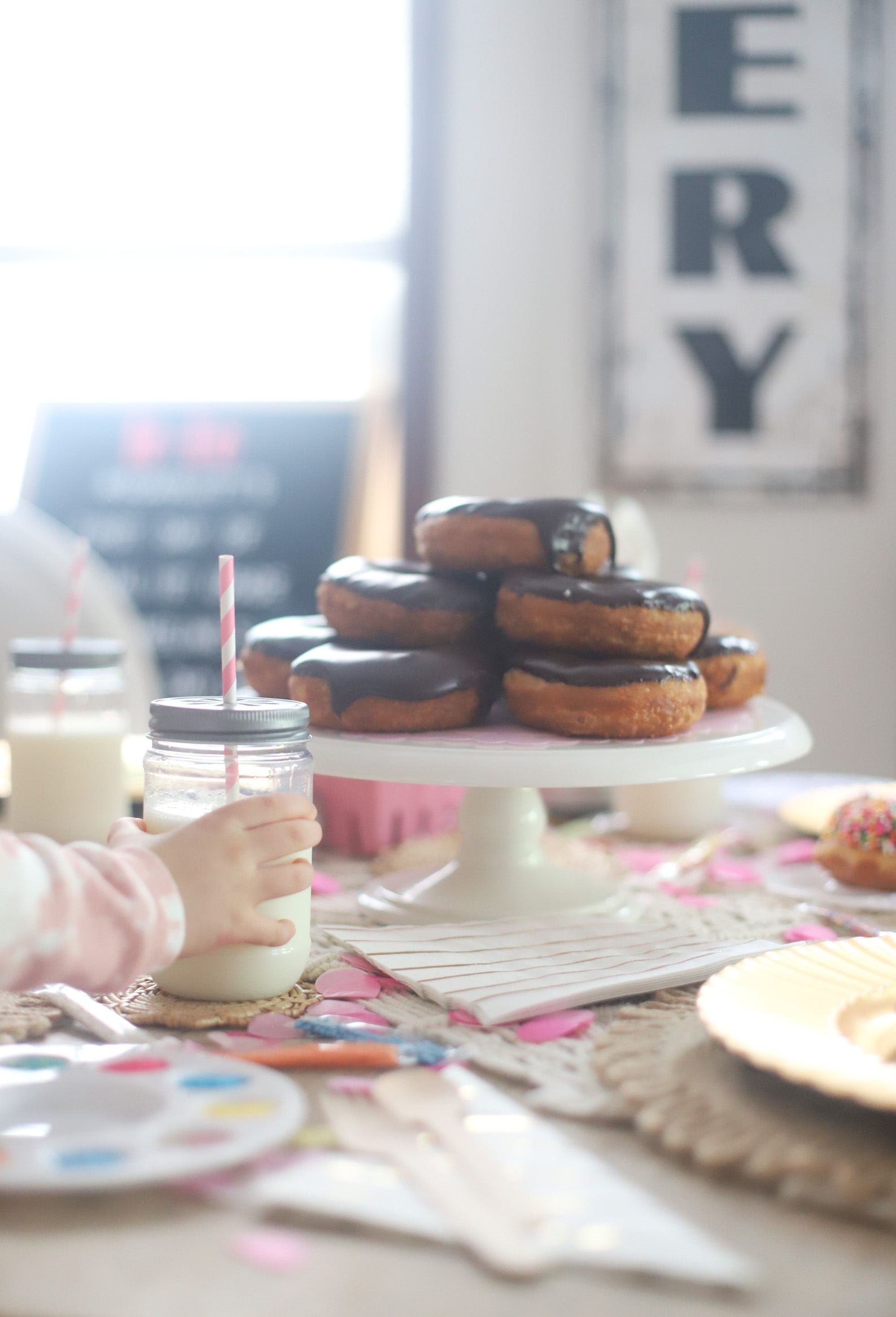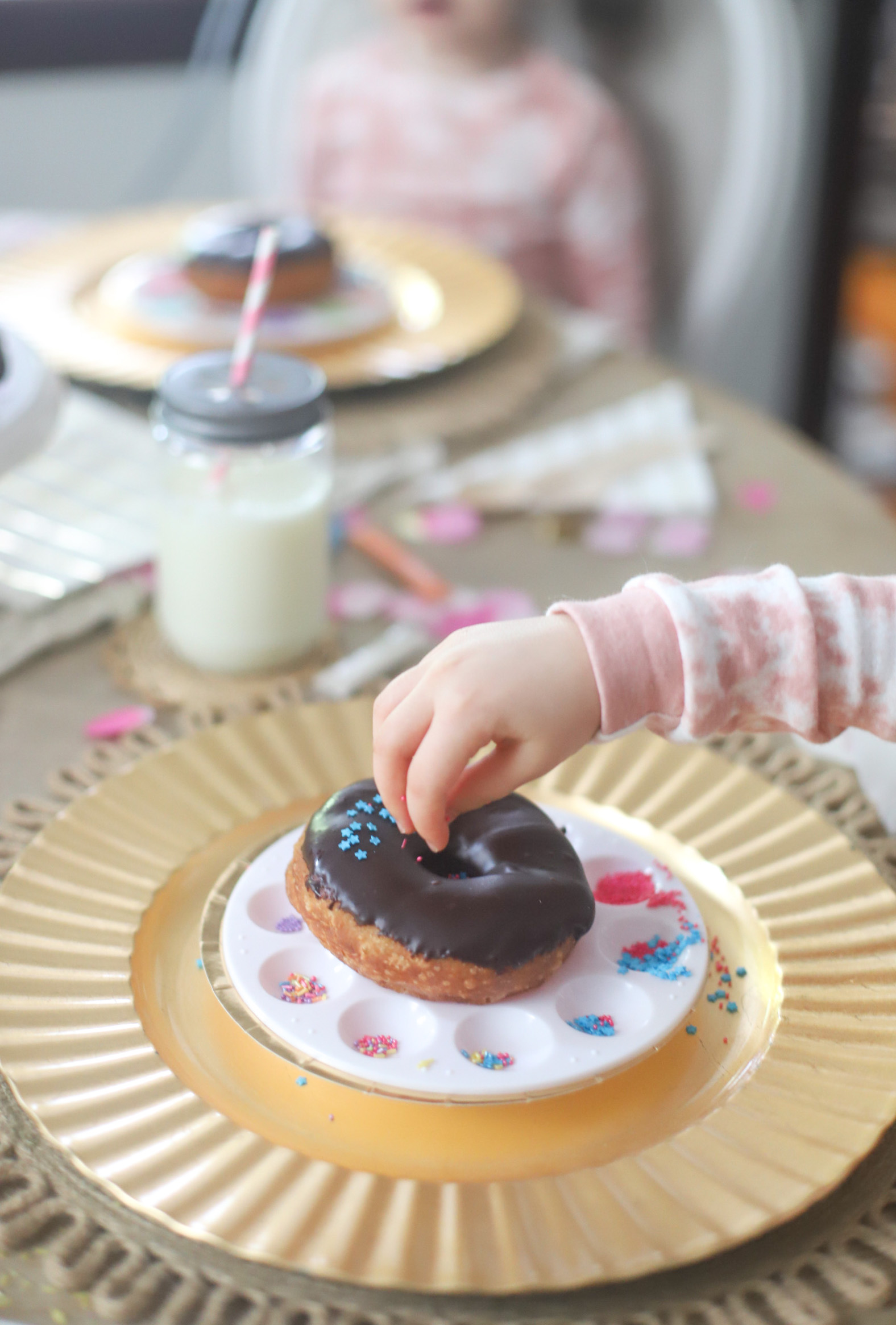 Celebrated, a beautifully curated party shop, sent us so many fun donut-themed party goodies, like the donut garland, confetti, donut balloons, donut dessert plates, gold stripe napkins, tissue paper flowers, wood cutlery, paper straws, even a donut decorating palette!
Oh yeah, you read that right: donut decorating palettes! 🎨 Basically, donut decorating palettes are mini paint trays that have indentations to hold all of the different sprinkles and a circle in the center to hold a donut or cupcake, ready to be decorated. Celebrated sends the decorating palettes complete with the prettiest colored sprinkles.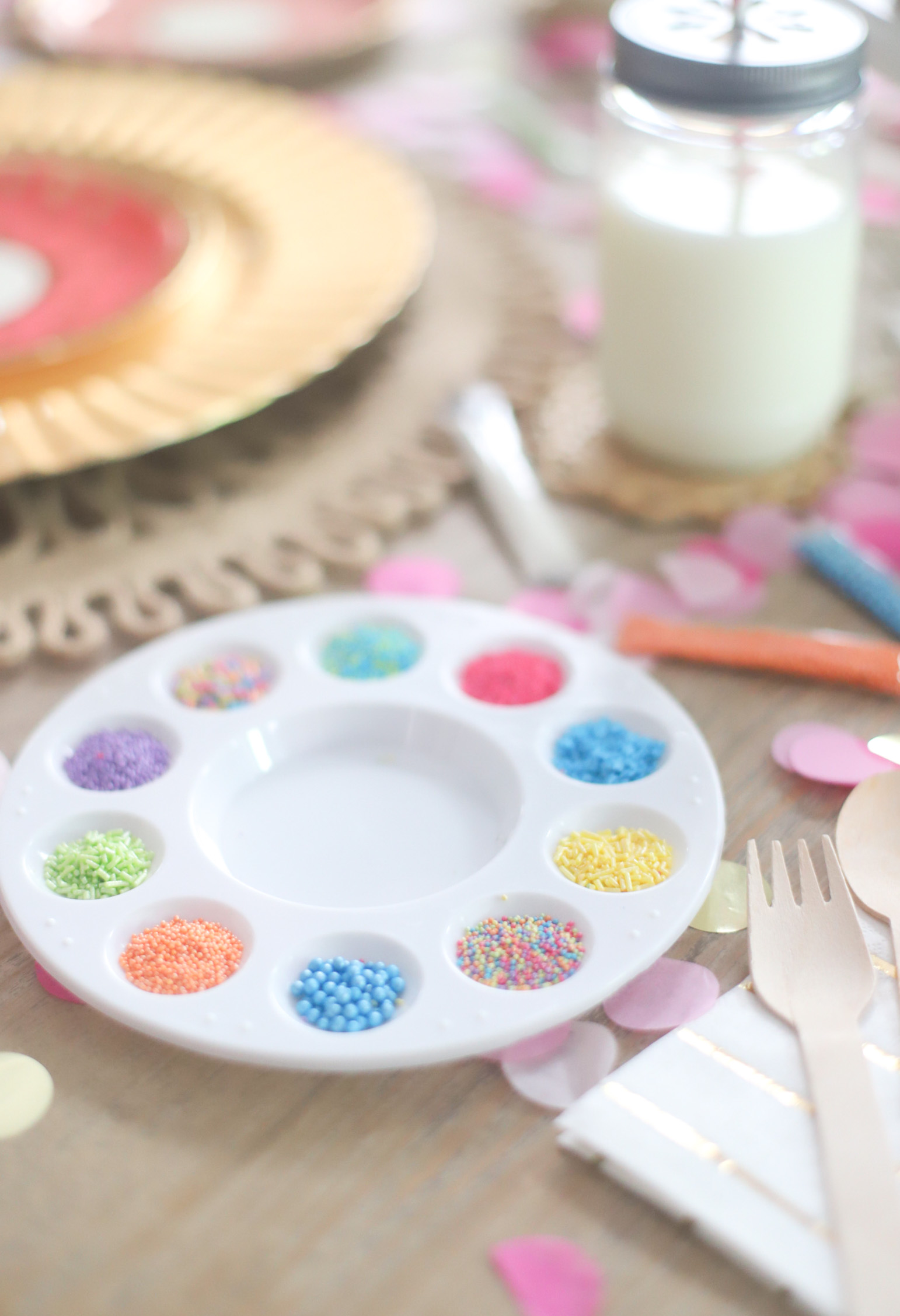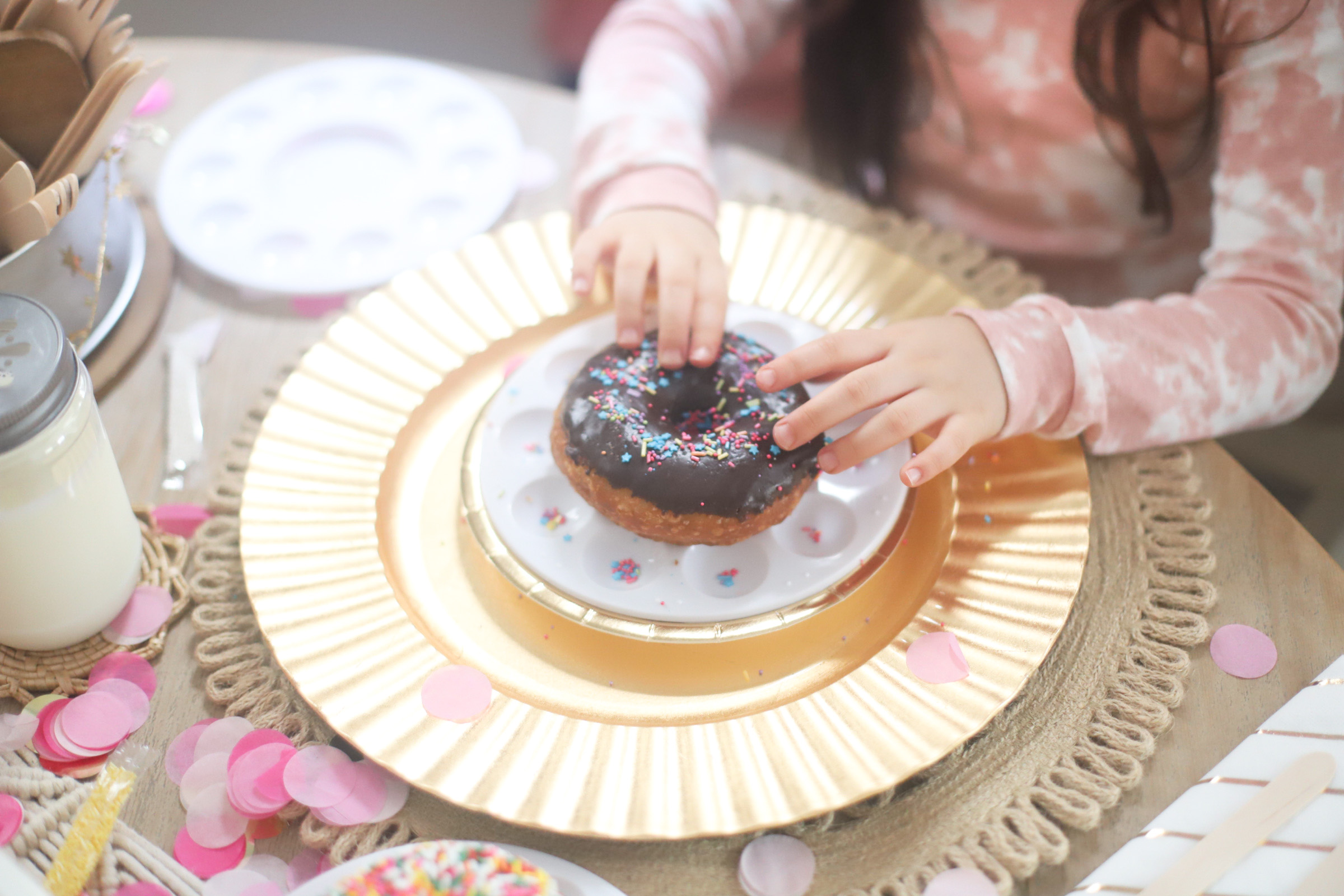 The girls absolutely LOVED decorating and designing their own donuts! Seriously the cutest party DIY.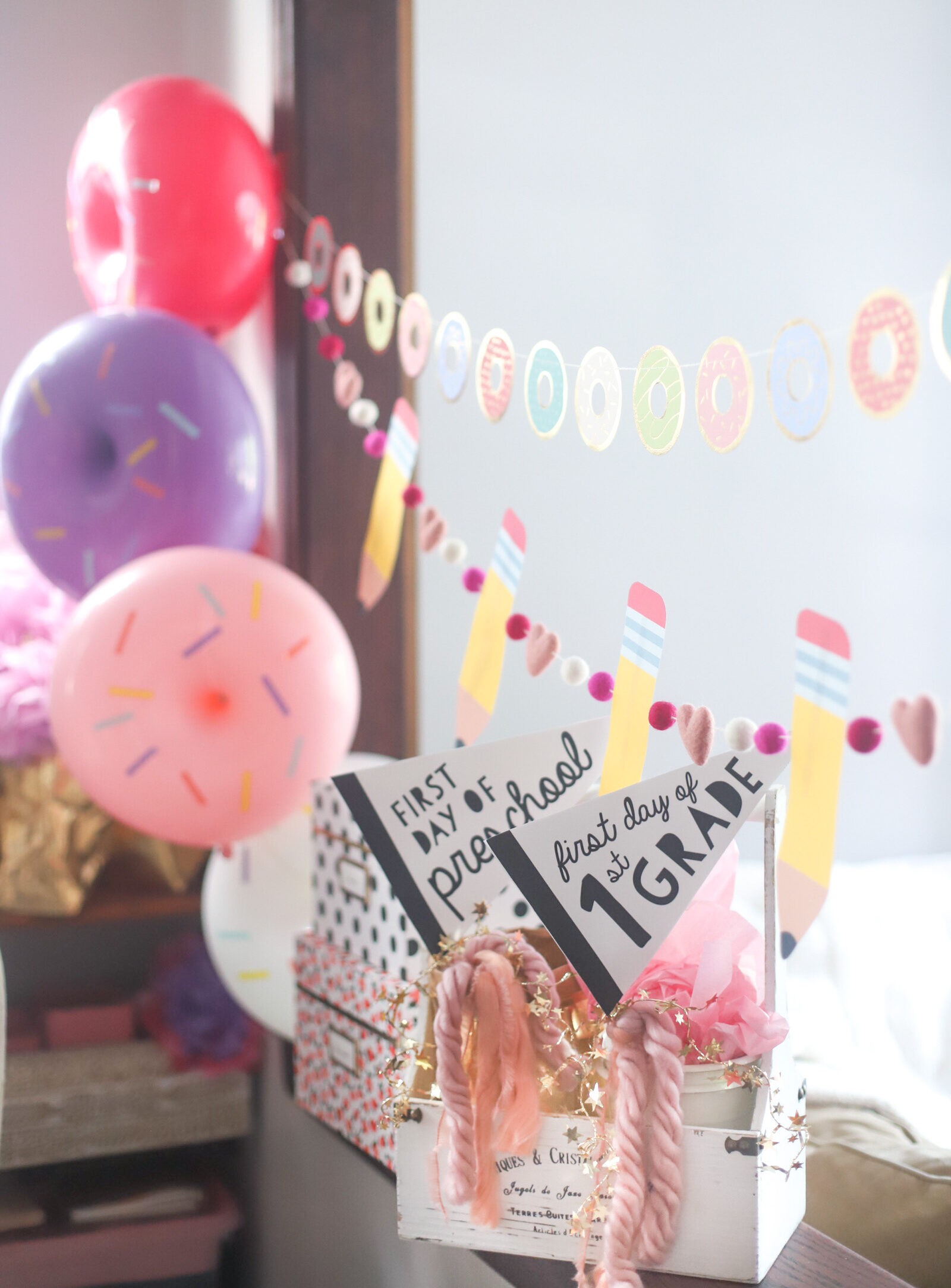 How To Make the DIY Pencil Garland
I made the DIY pencil garland in a few easy steps. I ordered this felt ball and heart garland from Amazon. Then I went to Canva and searched for free pencil images and came upon the one you see in these pictures. I made the pencils the size I wanted and printed two per page on a thicker paper card stock.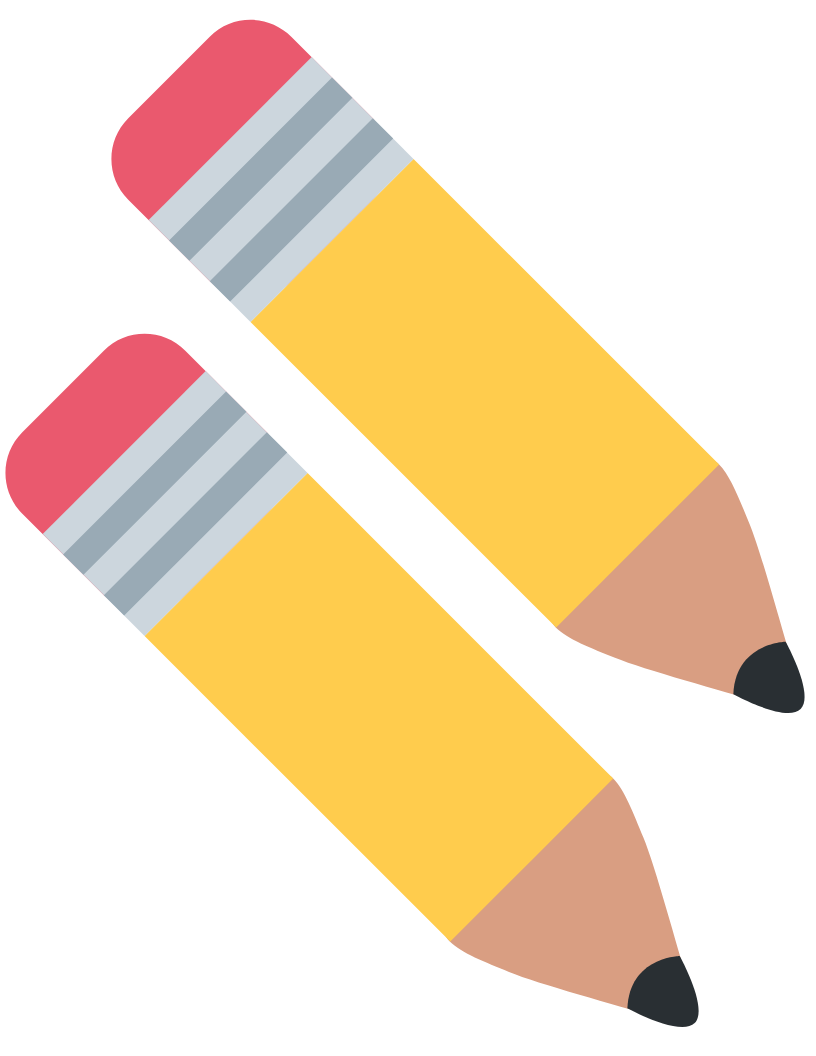 You can print your own pencils using the image above!
After that, I just cut out each pencil, spread the felt balls out on the strong they came on to allow enough space between two balls (or a felt ball and a felt heart) to fit a pencil in between. Then I just attached the paper pencil to the garland in the same spot between each section using clear packing tape. (I also put a popsicle stick back there and taped that to the back of each paper pencil as well to help keep the pencils upright.)
So easy and cute! ✏️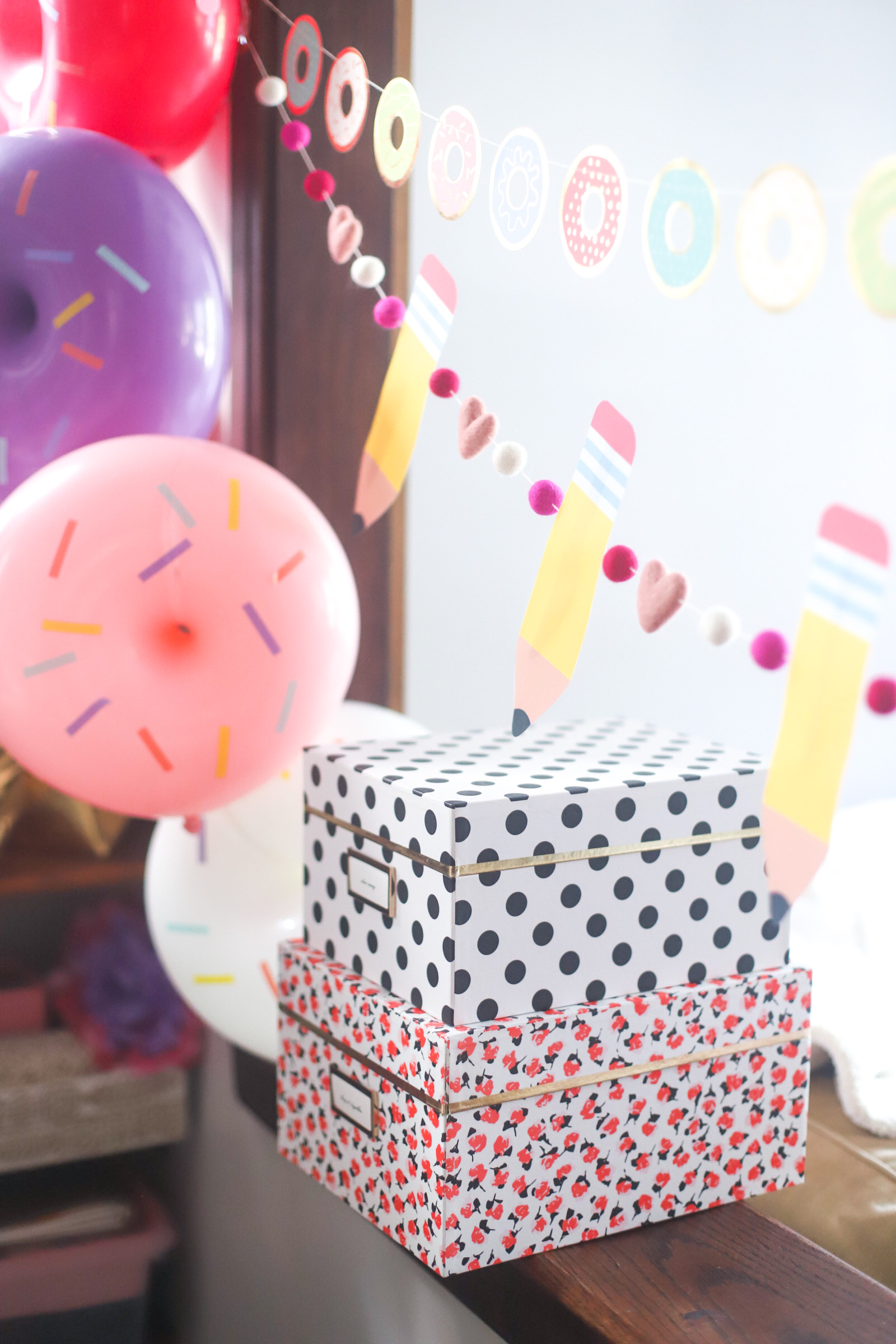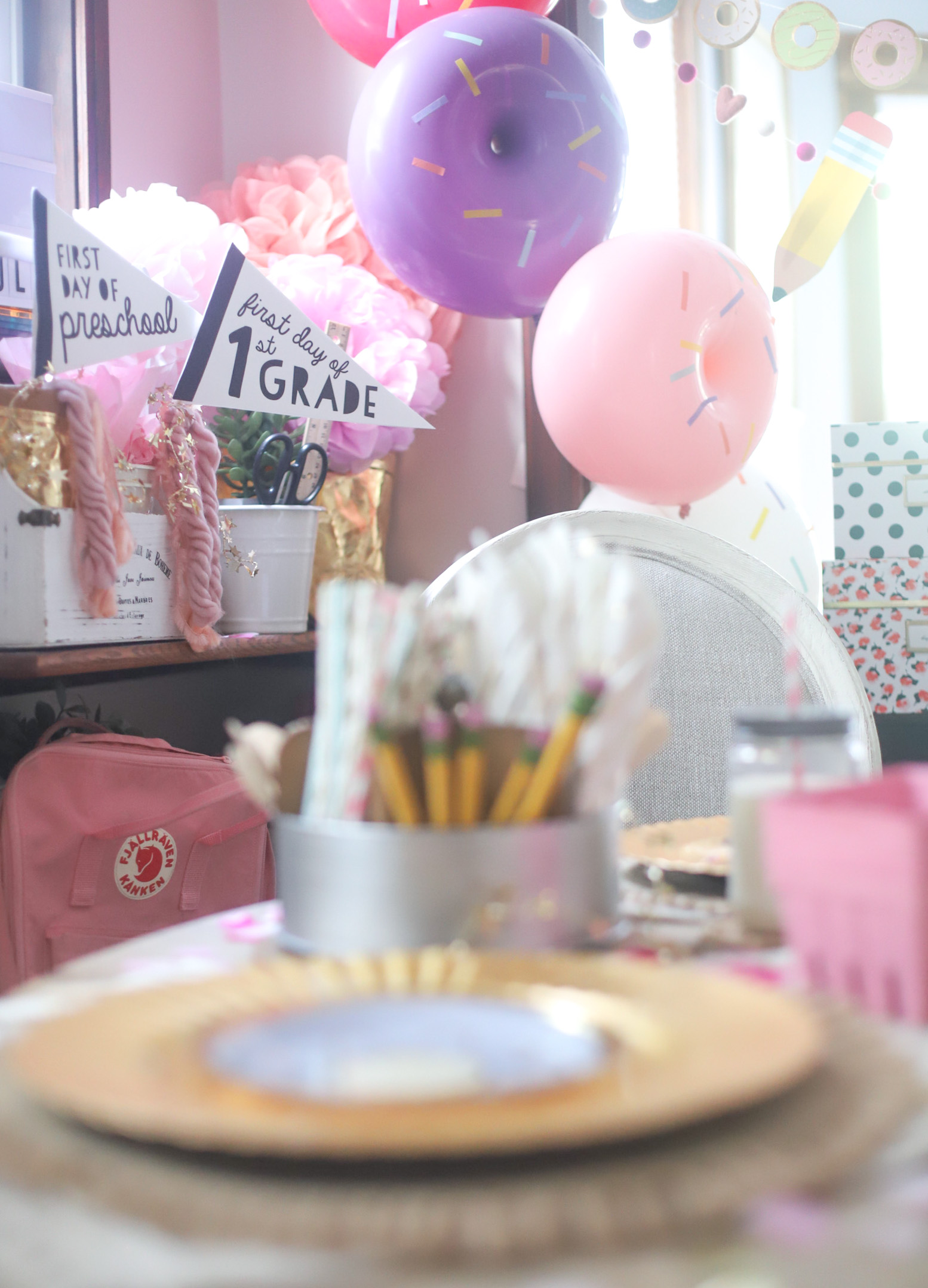 How To Make the First Day of School Printable Flags
I also made the girls each a first day of school signs, I found these adorable free back to school printables here and printed them on cardstock paper. To make the paper flags/pennants, I grabbed a wood dowel rod for each girls' flag, and then cut out the triangle flag shape, but I doubled up on cardstock so that I was cutting out one flag and one blank triangle of the same size each. That way I could sandwich the dowel rod between the flags at the edge so that the flag was double-sided (with one blank side.) I used a hot glue gun because I use a hot glue gun for everyyyyything. 🤣
Once my paper back to school flags were dry, I tied a bunch of chunky yarn and a strand of gold star garland wire to each flag. And voilà!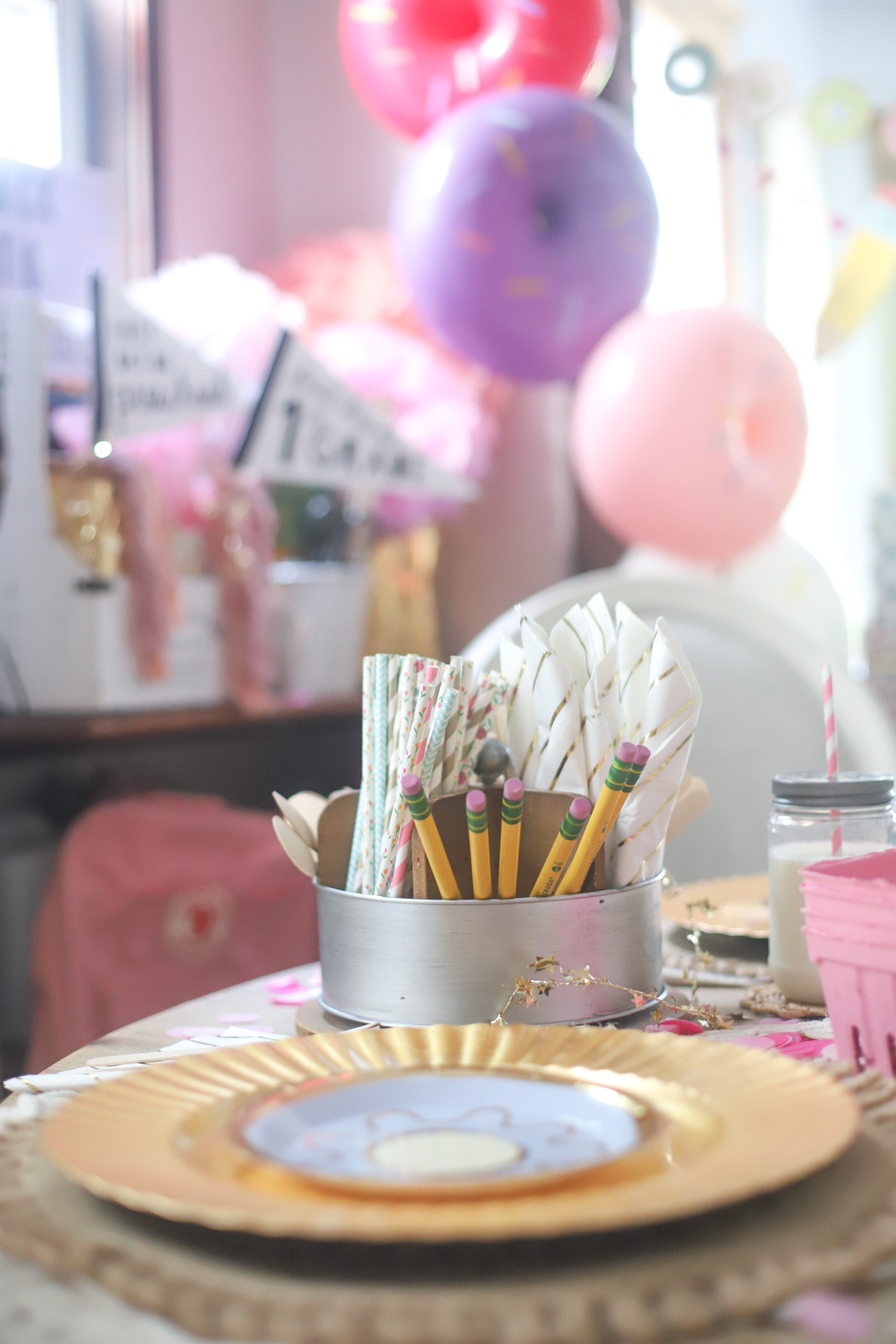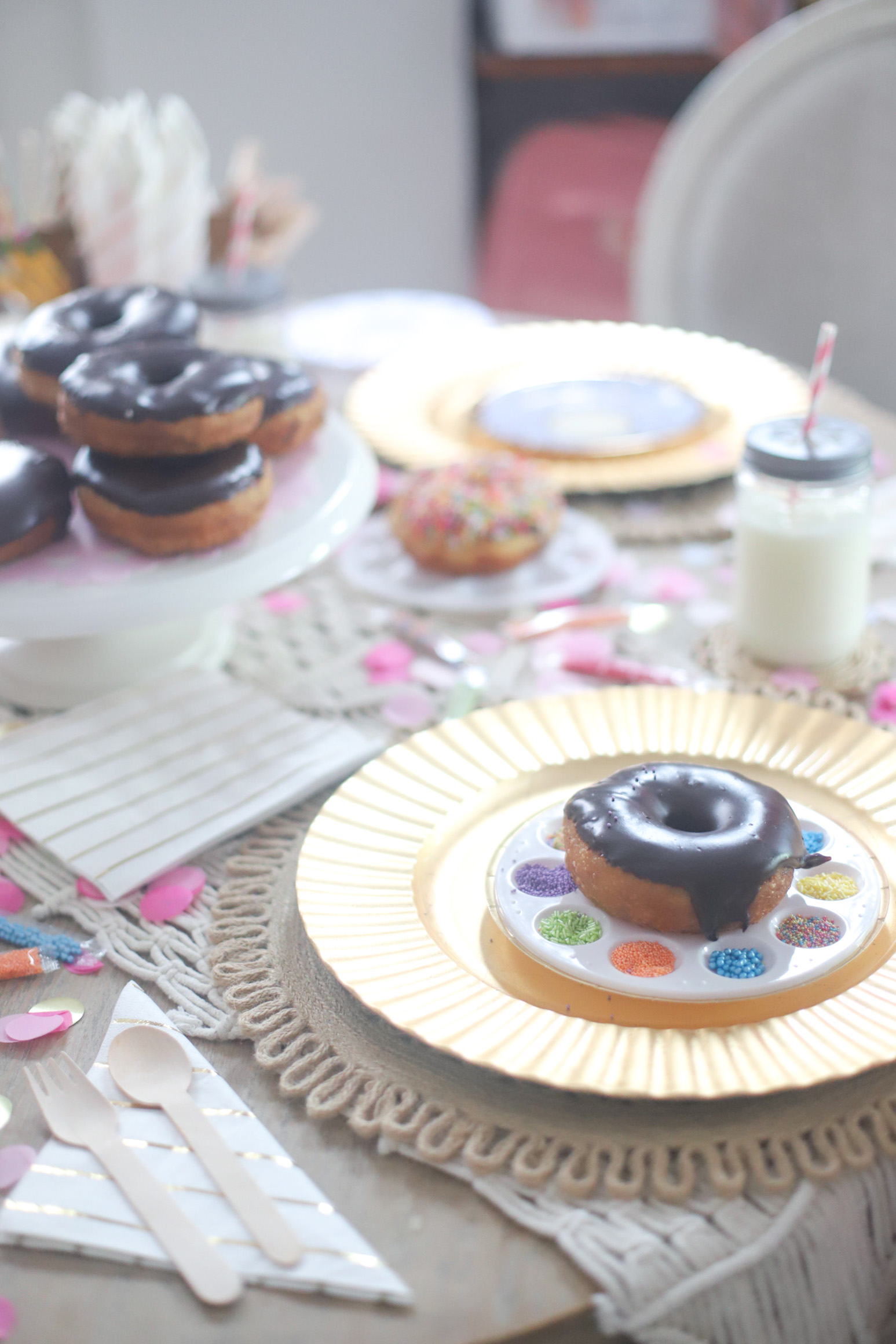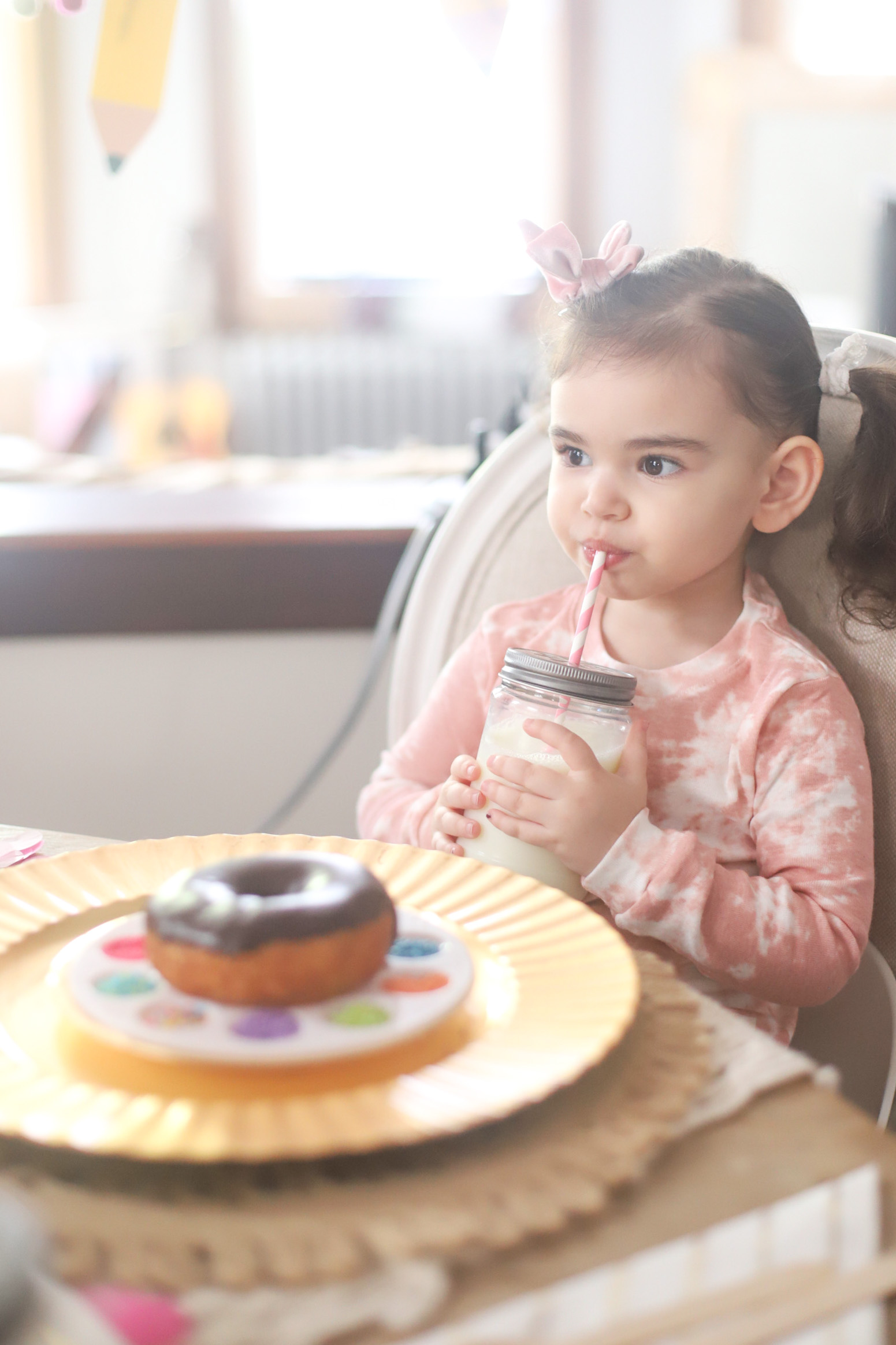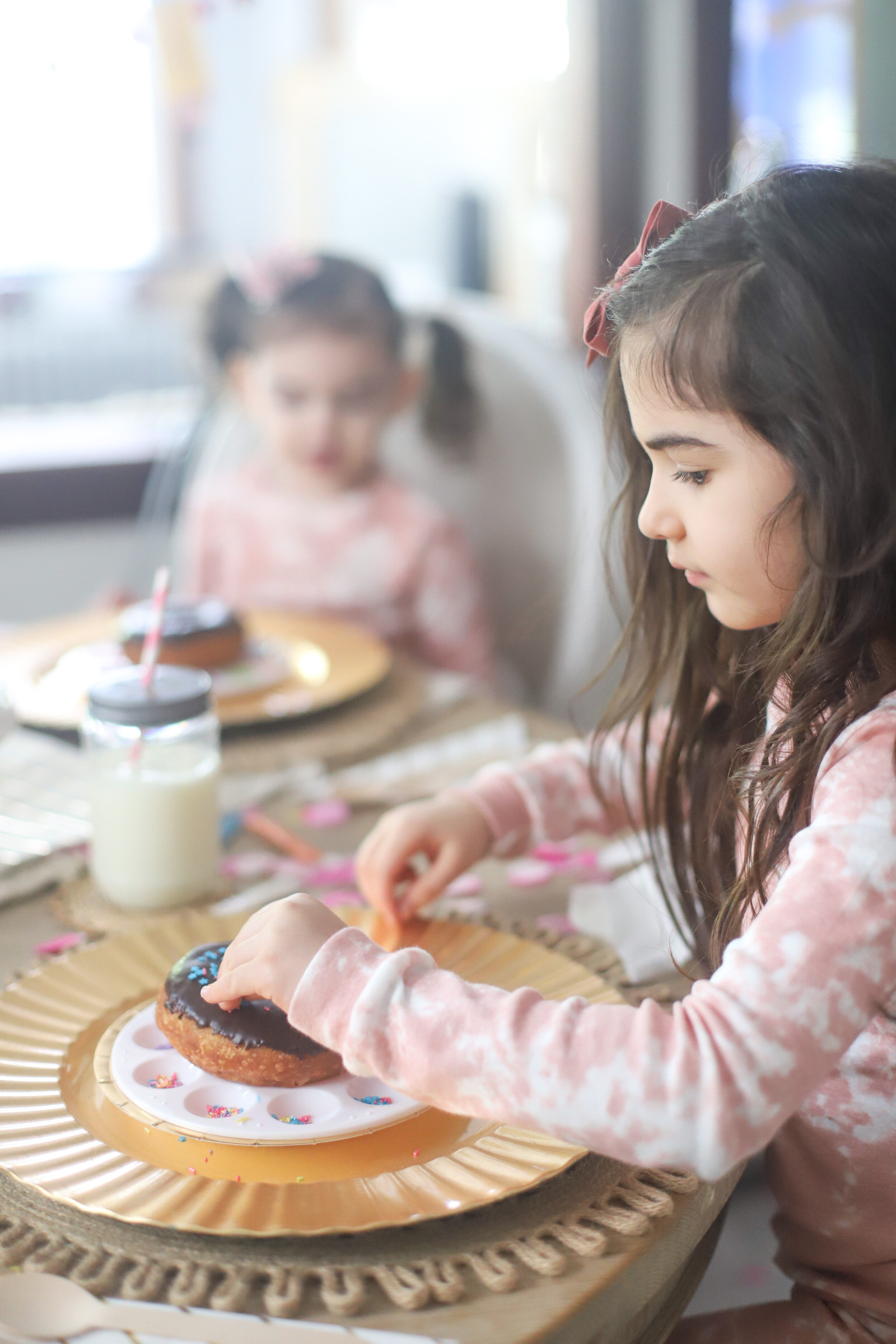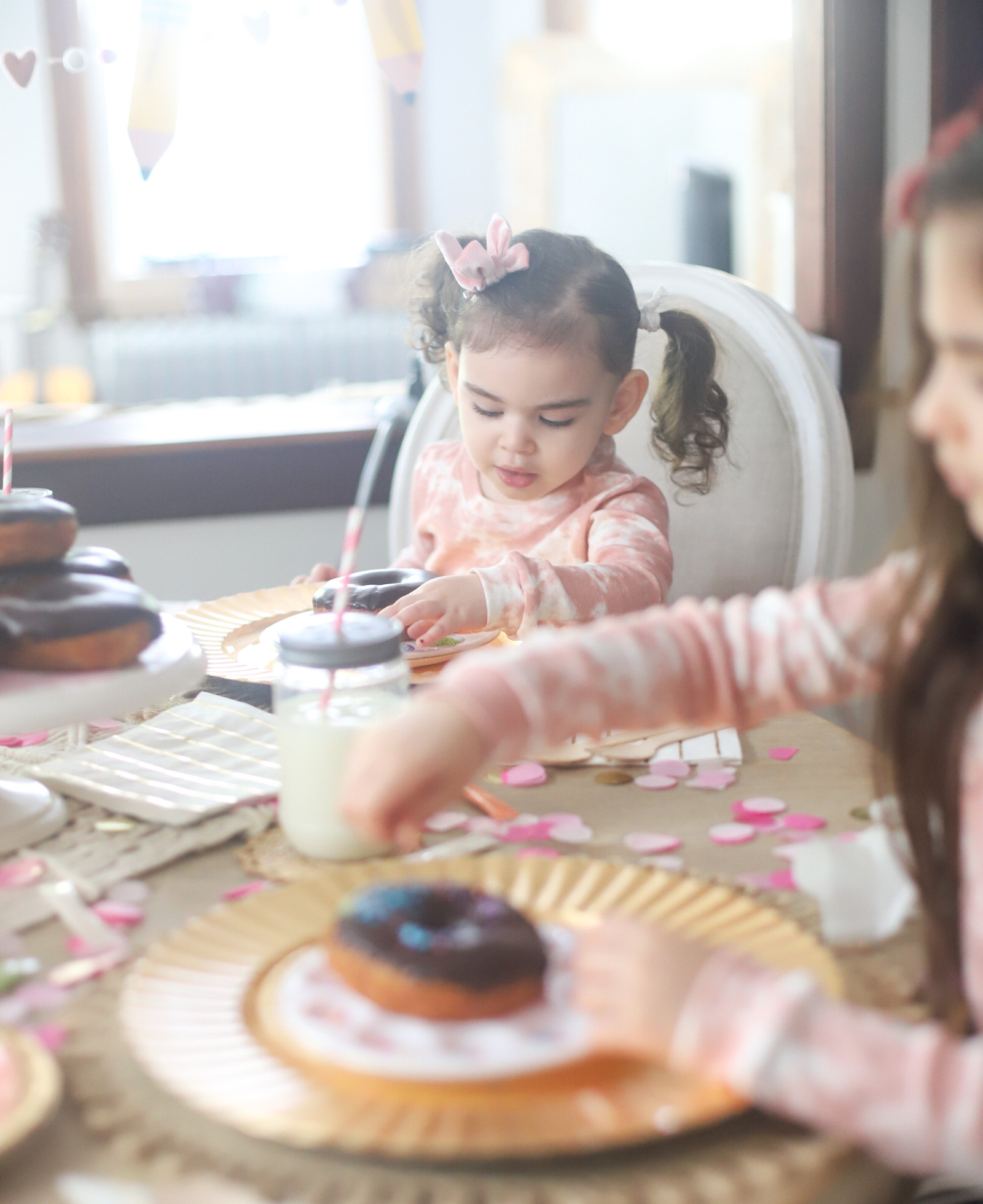 The girls took the donut decorating very seriously. After decorating their own donuts they proceeded to decorate donuts for the whole family.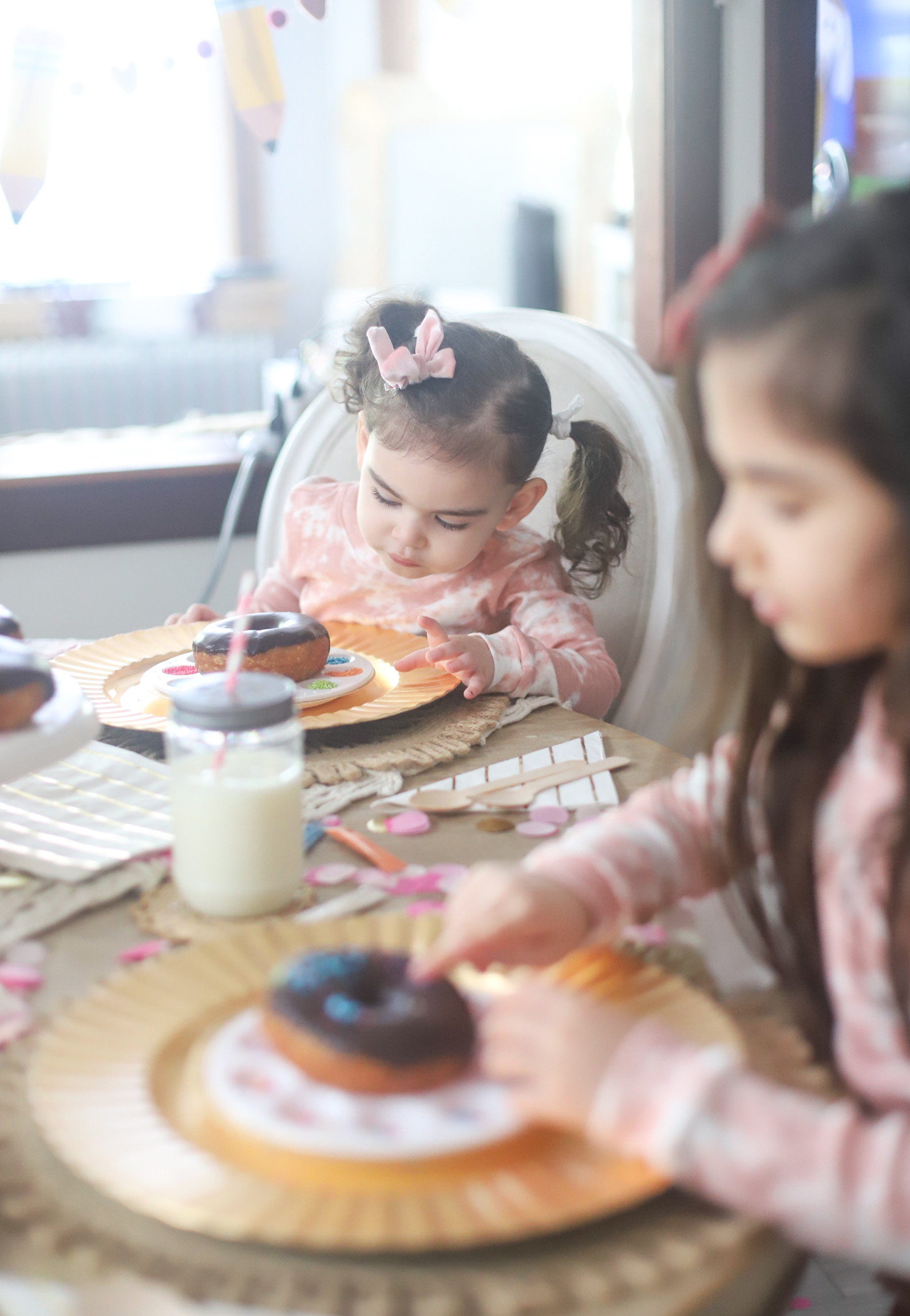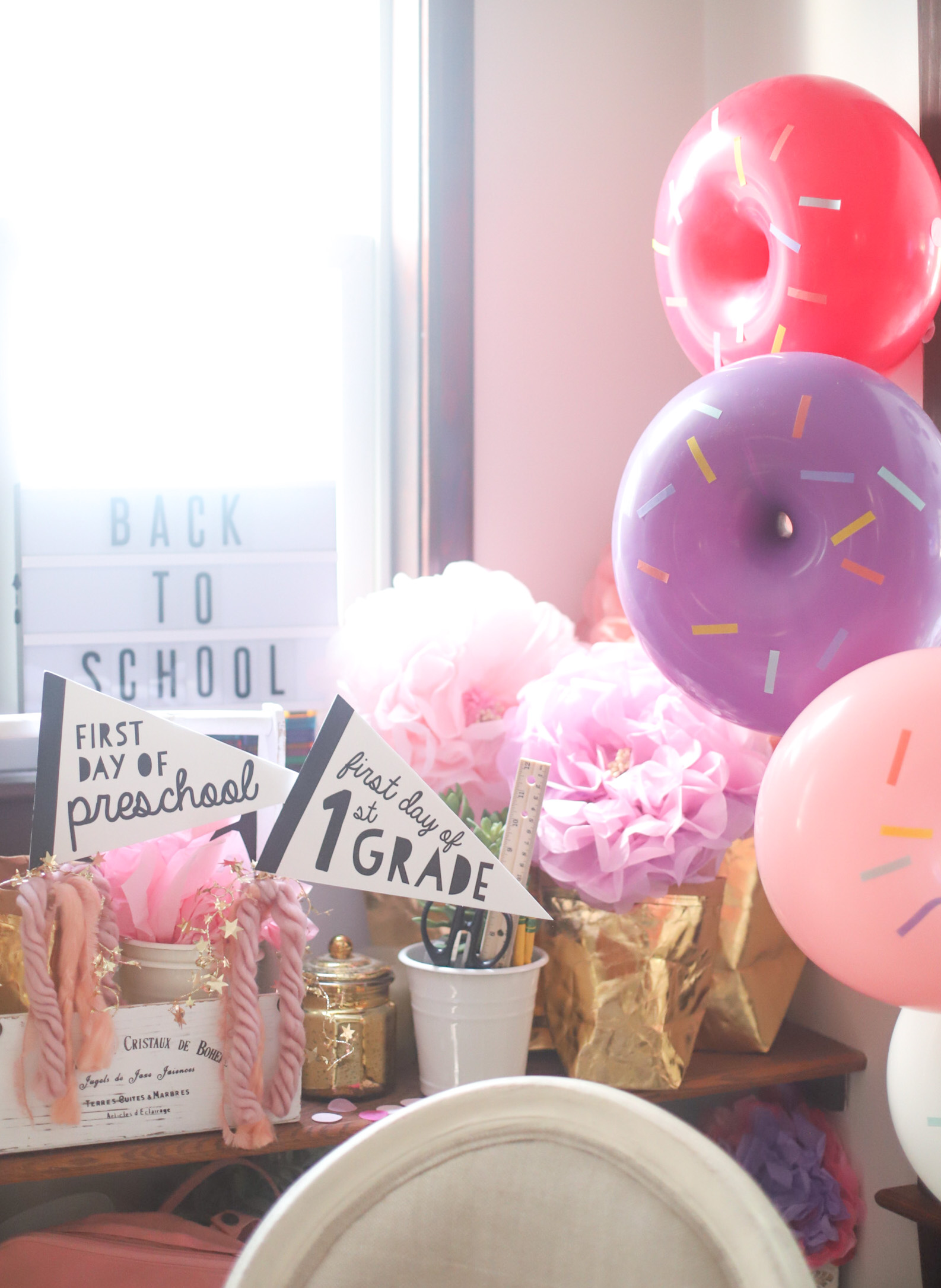 I'm pretty sure we'll be eating donuts for DAYS; and we don't mind it one bit.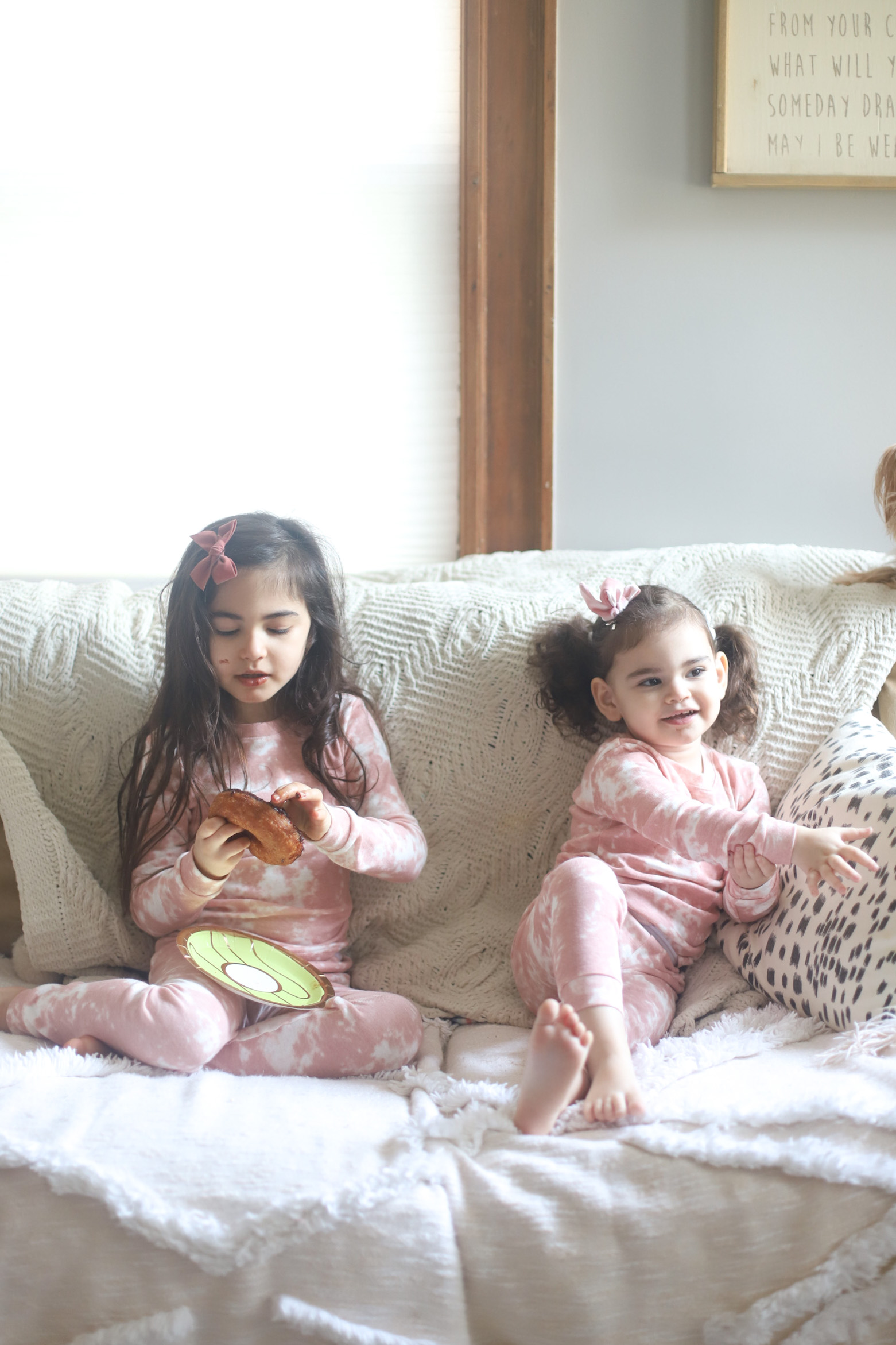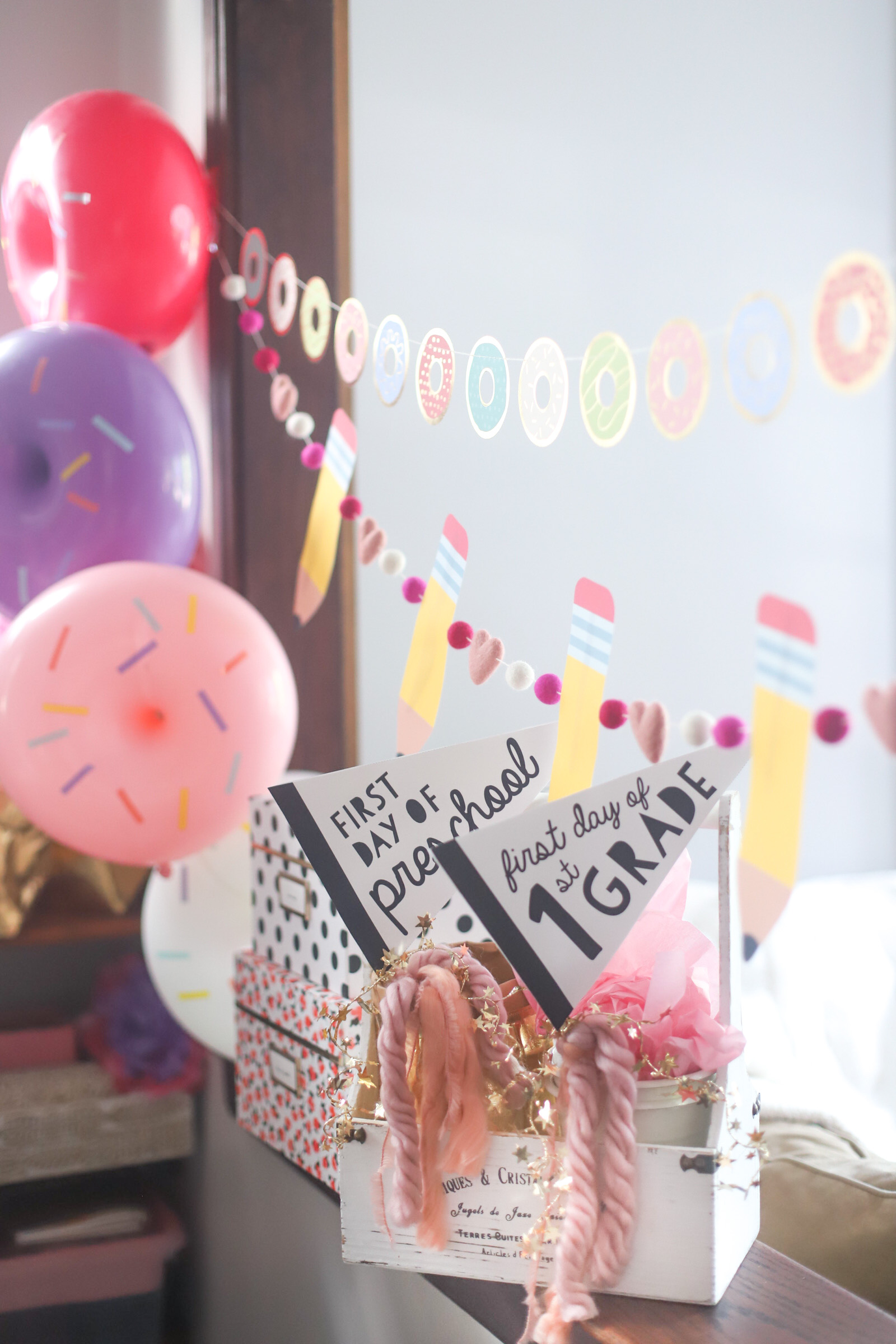 SHOP THE BACK TO SCHOOL DONUT PARTY POST | CLICK LEFT & RIGHT ARROWS TO EXPLORE
Love this back to school donut party? Check out all of our celebrations here; and if you put together your own donut party or first day of school bash, be sure to tag me on social media (@glitterinclexi) so I can live vicariously through all of your sugary sweet fun!