This post contains affiliate links, which means that if you click on one of the product links, I'll receive a small commission. Additionally, as an Amazon Associate I earn from qualifying purchases. Thank you so much for clicking through and helping to support this little blog business of mine! Read more about our site, privacy, and disclosure policies here.
Here's a simple idea to celebrate the season of love: an at home kids Valentine's Day cookie decorating party! Plus, our favorite tips for easy holiday cookie decorating with little kids.
Always on the lookout for ways to celebrate the various holiday seasons, cookie decorating is high on our list of fun things to do to get into the holiday spirit. Cookies are such a simple thing to decorate for your favorite festivities and our girls love that making and decorating no cookies always signals the start of a new holiday season in our house!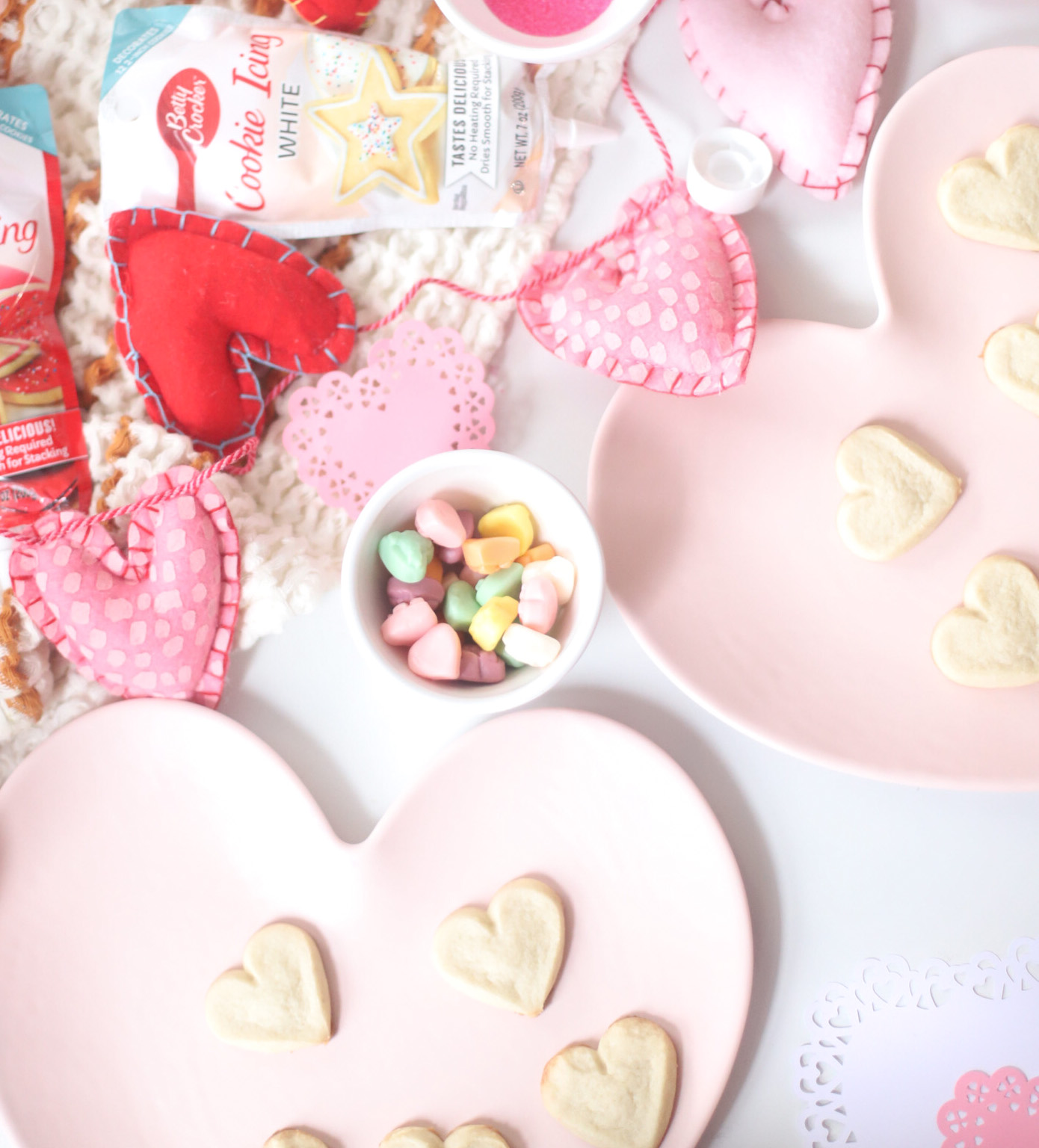 At Home Kids Valentine's Day Cookie Decorating Party
We went all out and used our fanciest Target heart-shaped plates, and decorated with a heart garland and heart doilies, because why not? If you're going to eat cookies, you might as well throw a mini at-home party.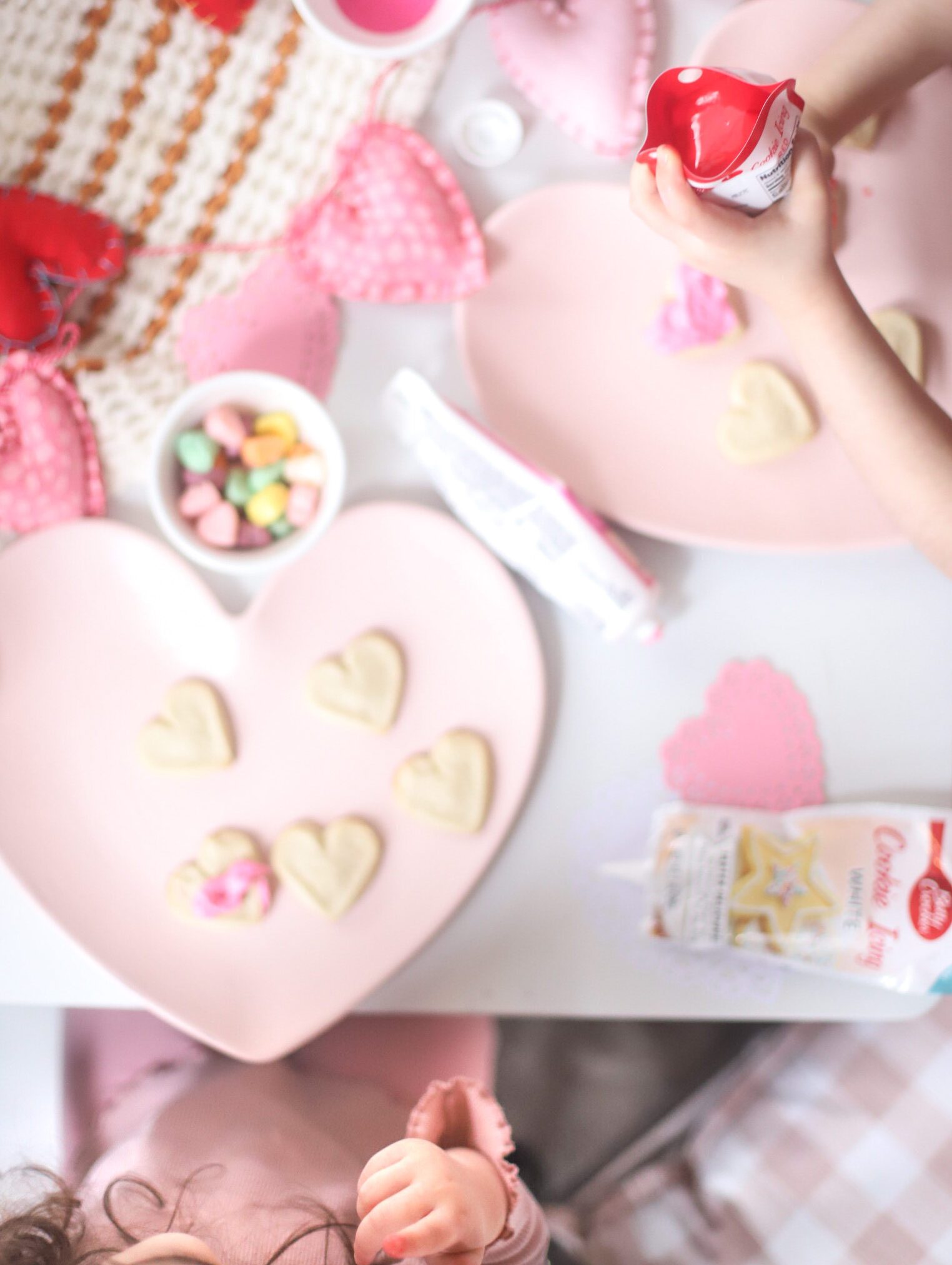 Tips for Easy Holiday Cookie Decorating
Cookie decorating honestly couldn't be easier. Though I do love to bake our favorite homemade sugar cookies (perfect for decorating!), sometimes you just need a super simple kids activity in your back pocket.
For this simple kids cookie decorating activity, store bought cookie dough, decorating frosting, and sprinkles makes for an extra easy kids activity.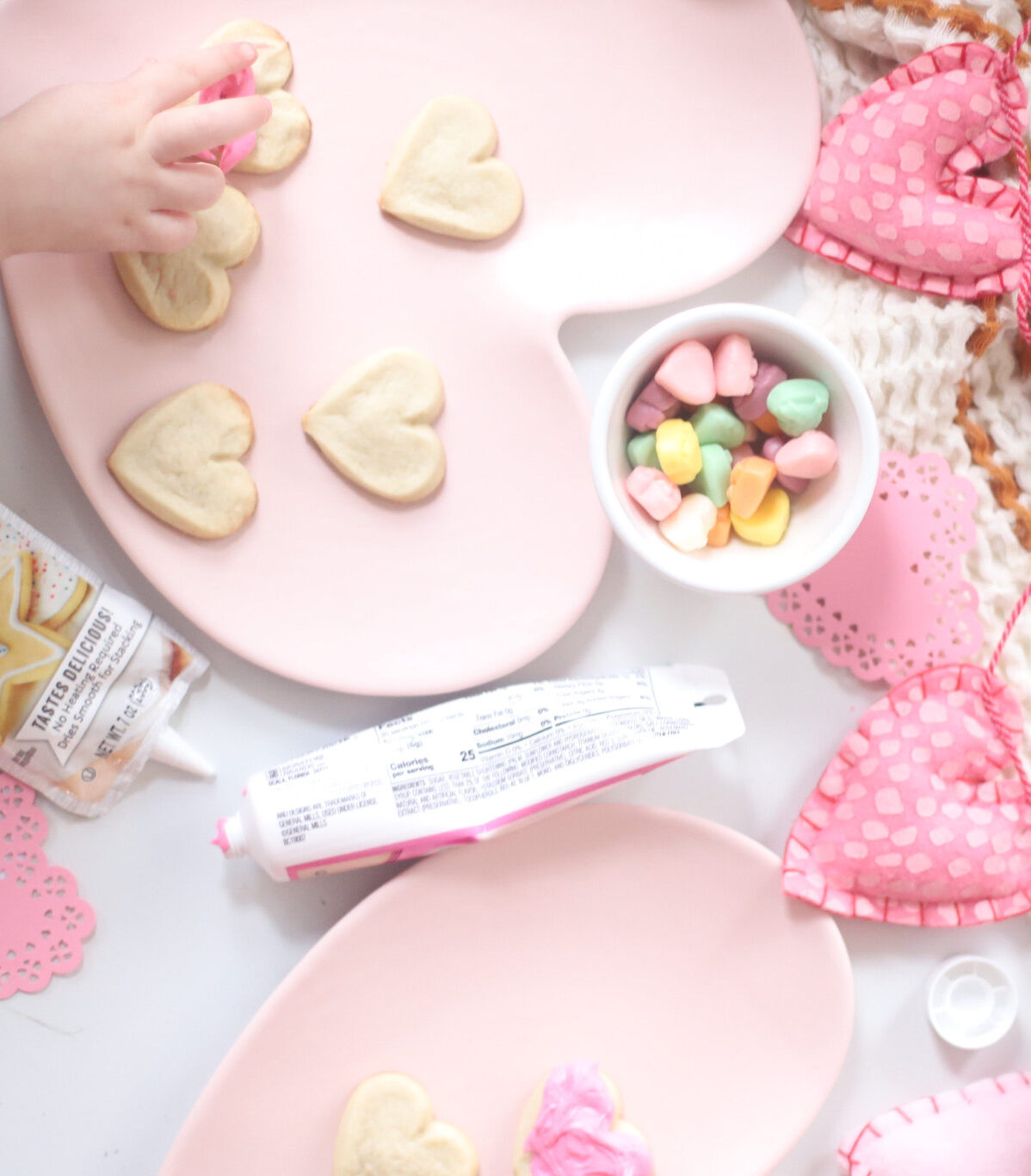 Never underestimate the power of break-and-bake cookies! (Just snag a pack of sugar cookies in the refrigerator section of your grocery store.) You can also make a batch of homemade sugar cookie dough and keep it in an airtight bag in the freezer until you're ready to thaw and use it.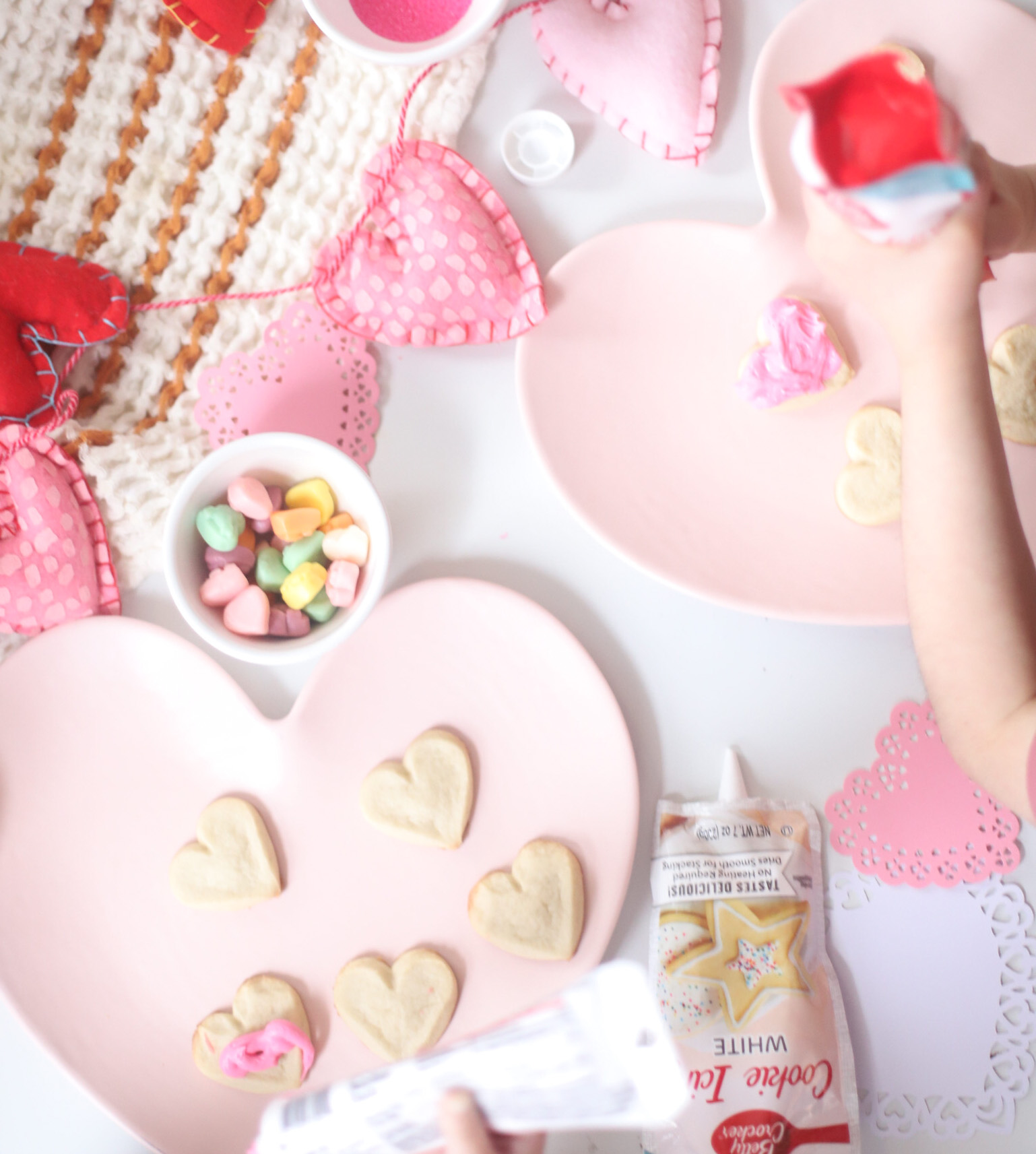 I also like to buy the Decorating Icing or Cookie Icing already in a handy pouch. When I make cookies or cake from scratch, I'll typically make my own frosting. But for such a simple, kid-friendly activity, I'm all about keeping things simple. And goodness knows making homemade frosting, splitting it up into individual bowls and mixing in various shades of food coloring to get a colorful assortment of frosting, getting it into various piping bags, and helping little kids manage those piping bags is a feat in and of itself. Skip all of the extra work and buy the pre-packaged Decorating Icing. 🙌🏻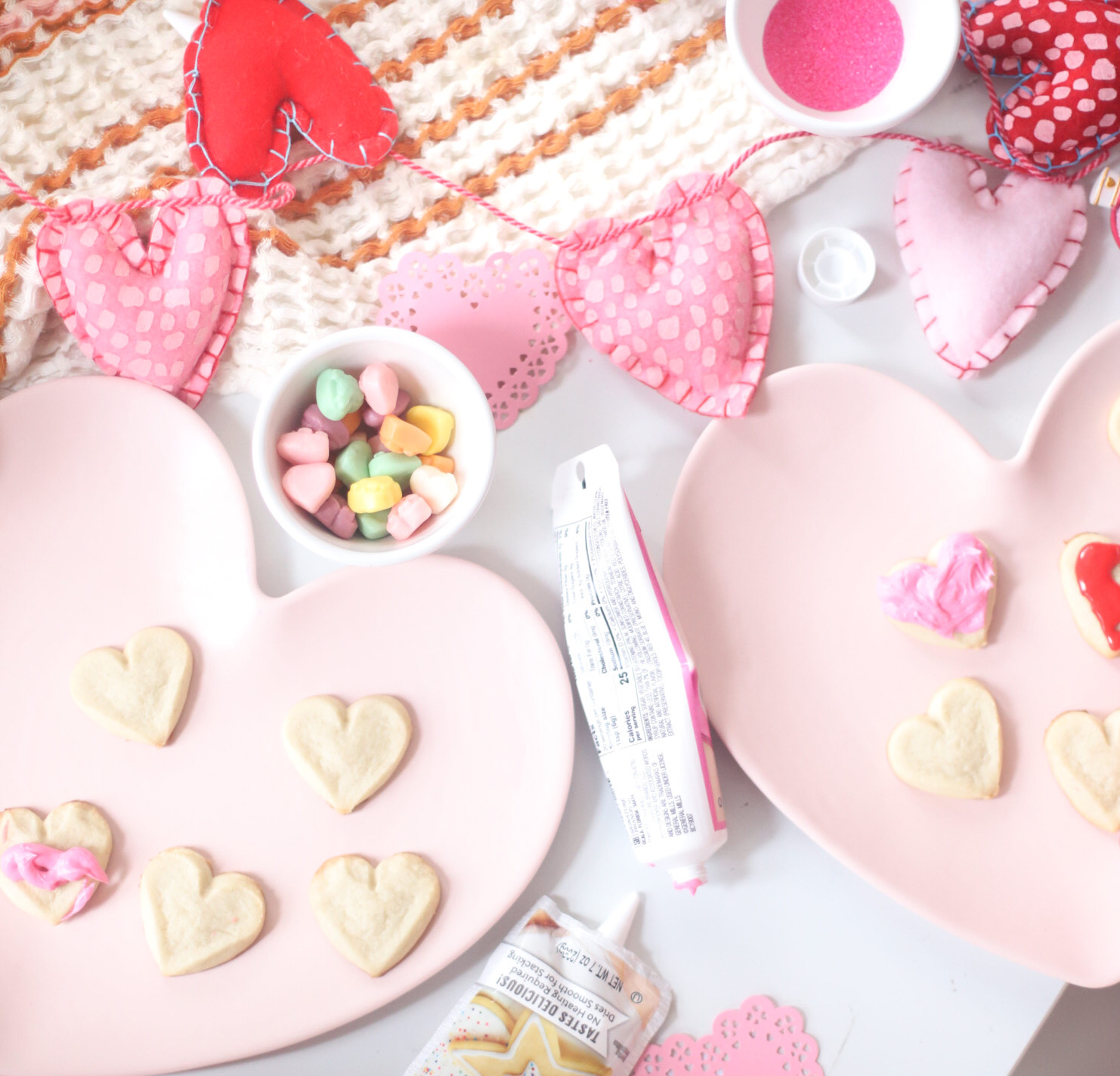 How to Set Up Your Own Easy Valentine's Day Cookie Decorating Station
Bring this simple and festive idea to life and celebrate the upcoming season of love with an at home kids Valentine's Day cookie decorating party!
What You'll Need
Sugar Cookies
Decorating Icing (or fill your own piping bags with frosting)
Cookie Icing
Sprinkles (like Sugar Sprinkles, Decorative Sprinkles, and Confetti Hearts)
Tiny Conversation Hearts (also love these Gummy Conversation Hearts)
Various Mini Candies (like Valentine's Day M&M's)
To Set Up Your Cookie Decorating Station
Set out plates for the kids to decorate their cookies on, plus plain sugar cookies on each plate for them to decorate.
Open all of the decorating frosting tubes or set out the filled piping bags.
Put sprinkles and small candies in little bowls or ramekins so the kids can easily take pinches of their toppings from the bowls. (I love using these Anthropologie Latte Bowls for things like this, though these pink ramekins on Amazon are totally calling my name!)
Let your little ones go wild, decorating and snacking!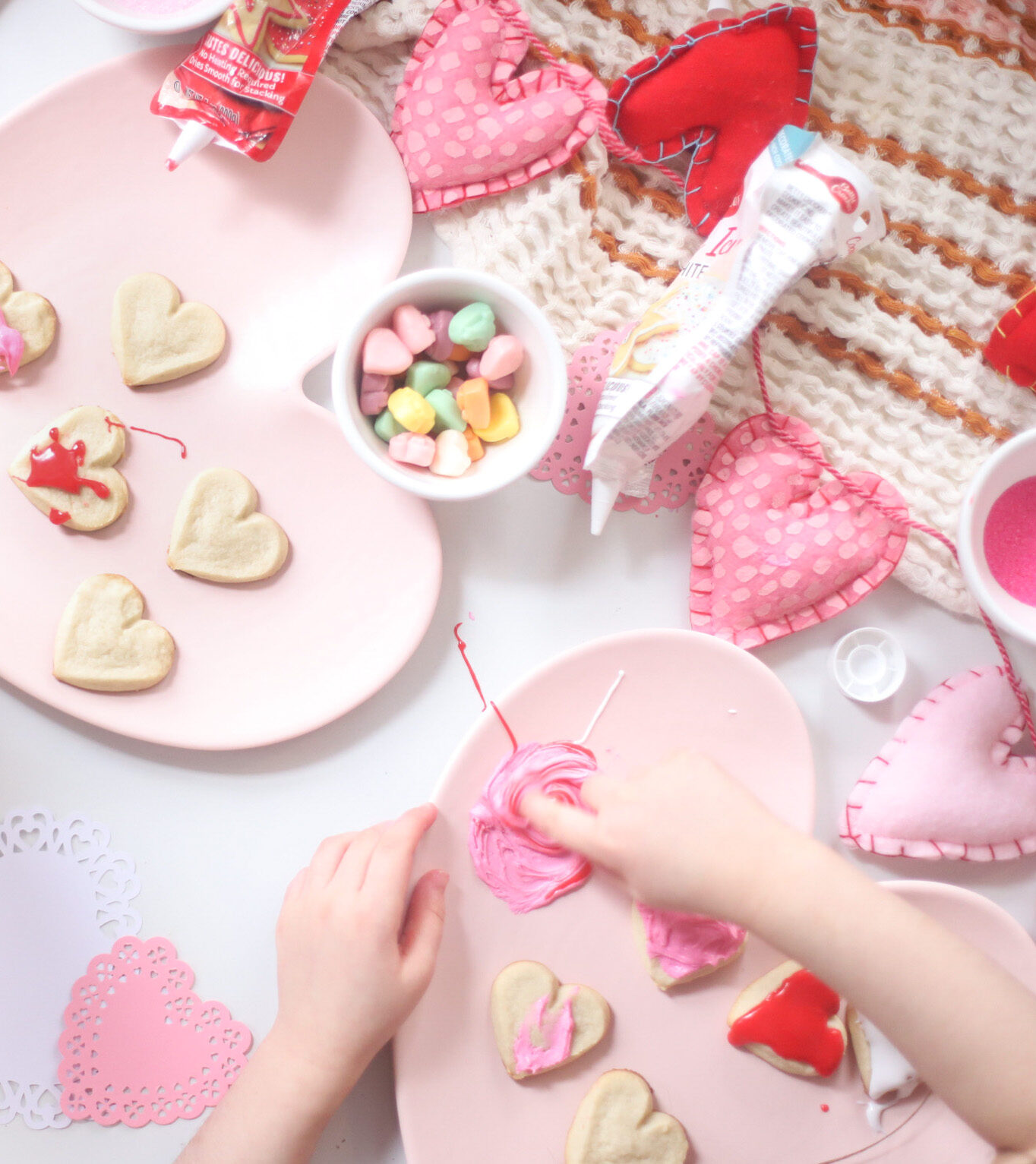 The girls even started making their own "marbled" frosting by mixing frosting colors together.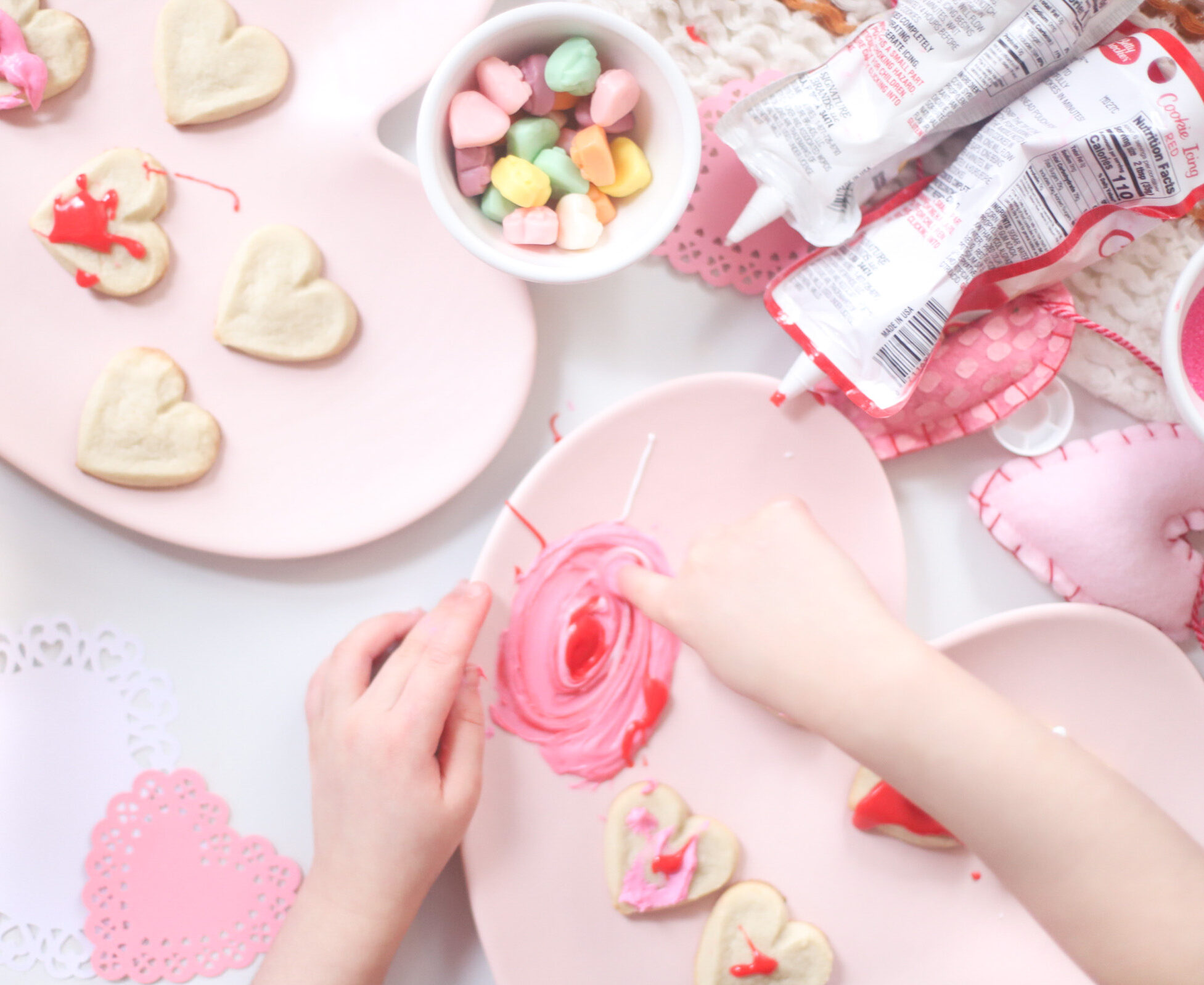 I love letting them do simple activities like this. They have so much fun creating and it always gets us in the mood to celebrate the season!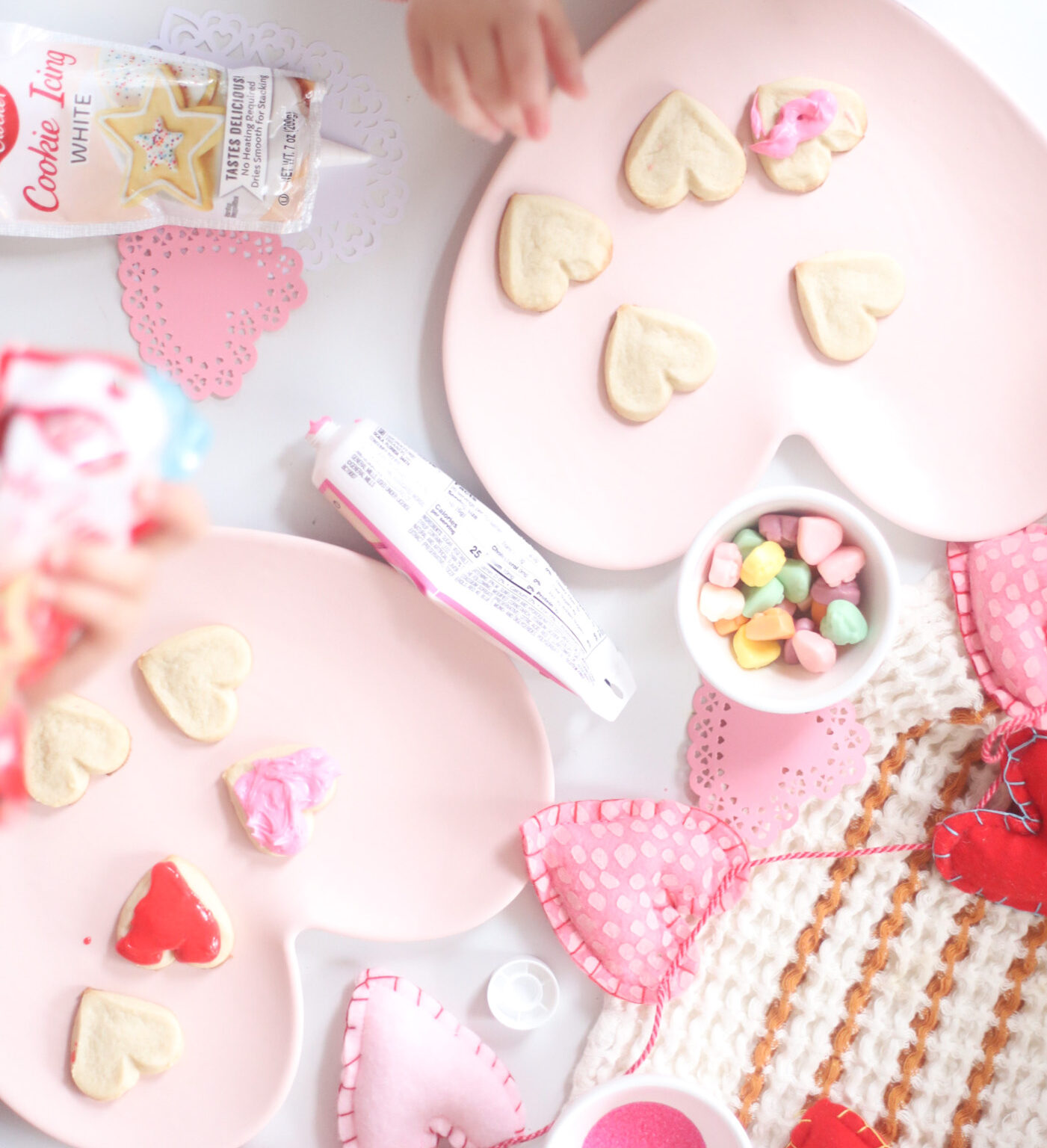 More of our Favorite Valentine's Day Dessert Recipes:
The Best Sugar Cookies for Decorating
Dairy Free Frosted Lofthouse Cookies
Strawberry Cheesecake Macarons
Marbled Graham Cracker Toffee Bark (So pretty and simple!)
Big and Fluffy Homemade Raspberry Marshmallows
Nutella-Chocolate Covered Strawberries
The Most Amazing Red Velvet Cupcakes with Cream Cheese Frosting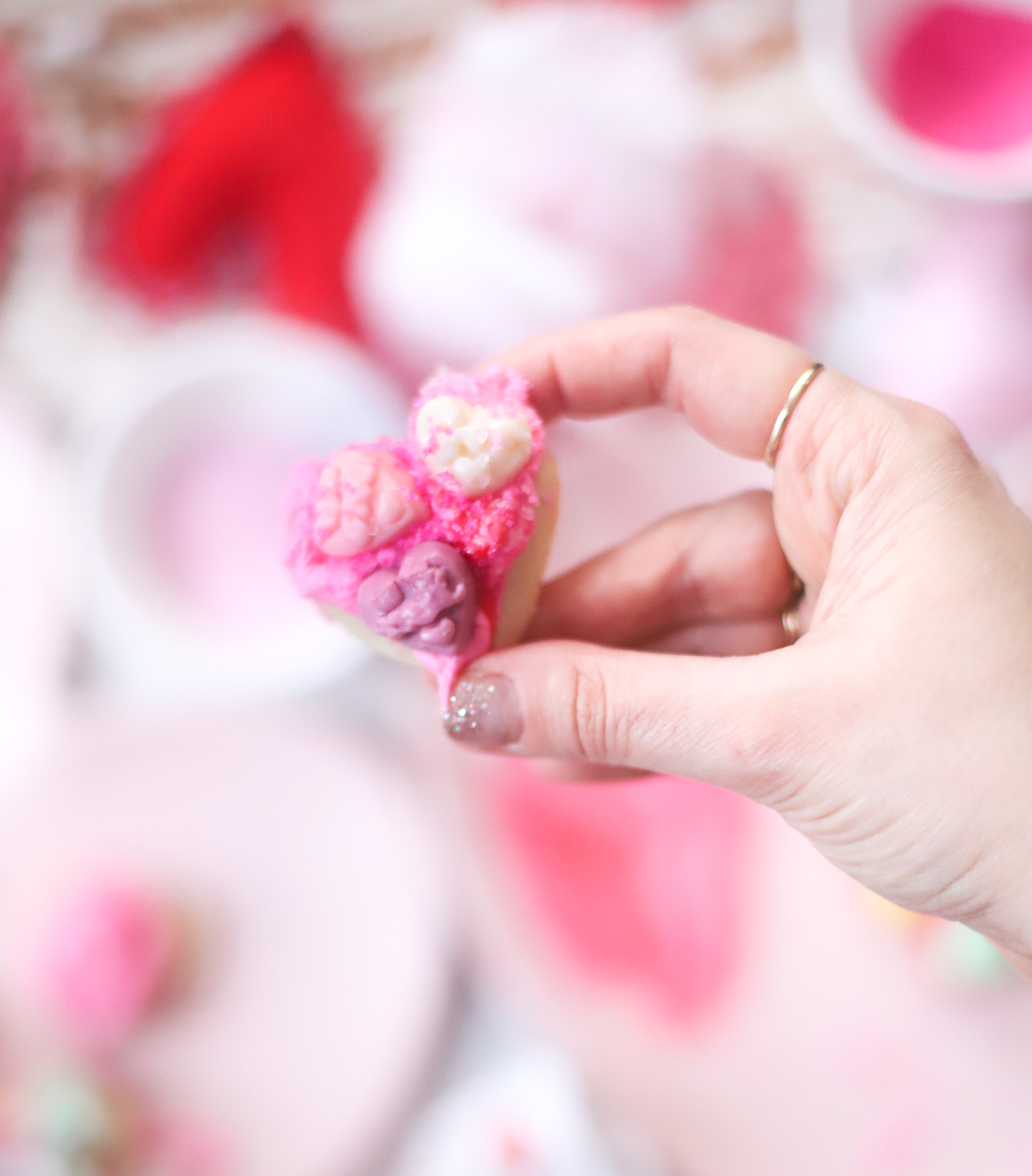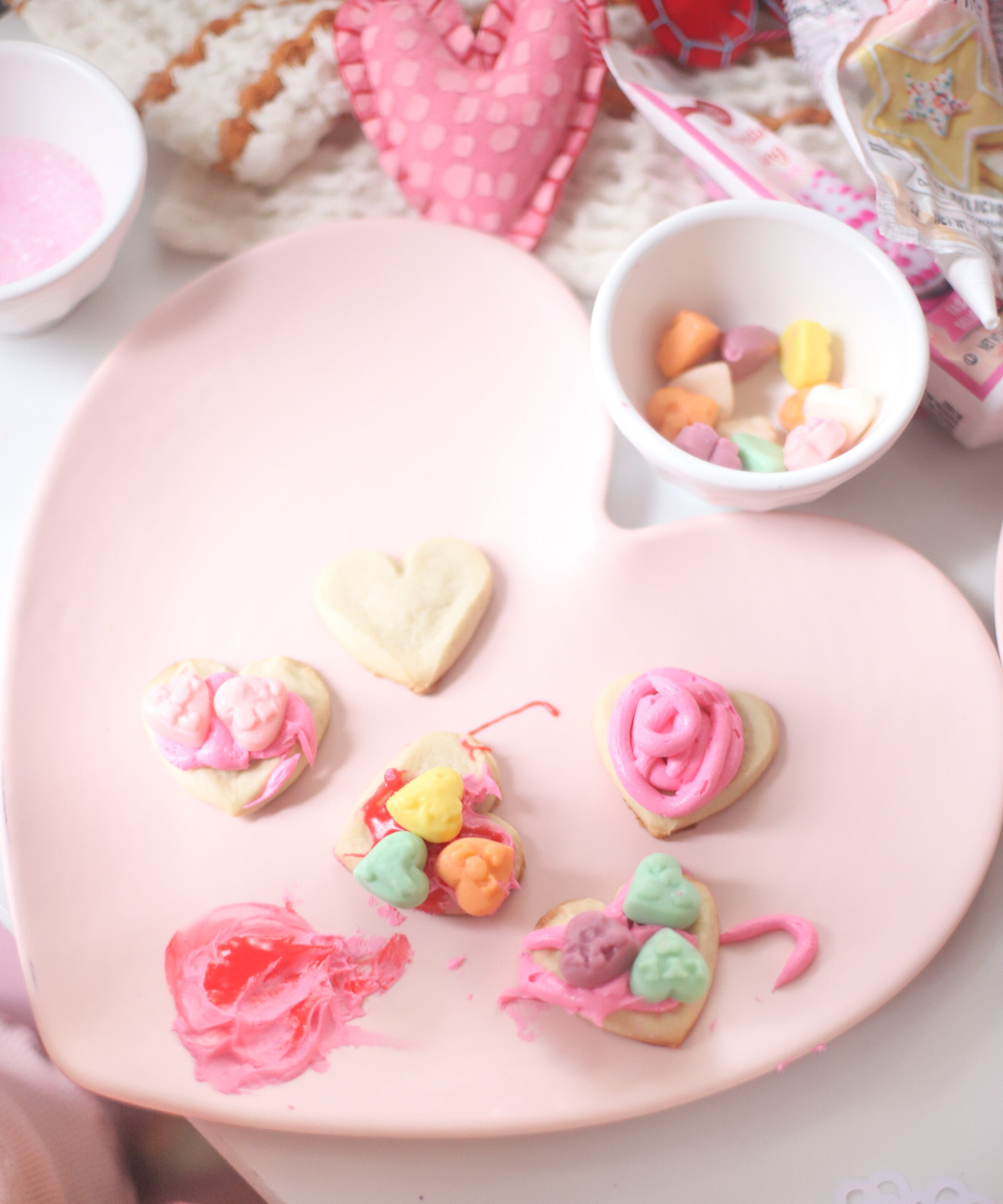 I hope you find that this cookie decorating post is helpful and inspires your Valentine's Day celebrating!
SHOP THE VALENTINE'S DAY COOKIE DECORATING POST | CLICK LEFT & RIGHT ARROWS TO EXPLORE

Any fun Valentine's Day plans this year? If you find yourself decorating cookies with your littles, tag me on social media (@glitterinclexi) so I can live vicariously through all of your fun parties and dessert creations! And if you're on a baking kick, head to our recipe page to check out what else we're dreaming up in the kitchen!