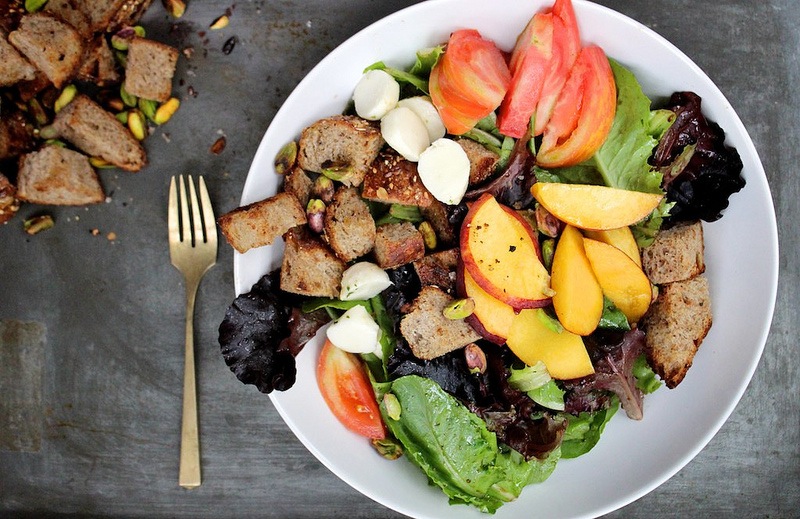 Hubby makes us this chopped salad, and it really is good (it's got everything: lettuce, cucumbers, peppers, carrots, dried cranberries, sunflower seeds, chickpeas when my chickpea averse hubby is not looking, the list goes on), but we eat it all of the time, and I am one of those people that constantly needs to be trying new things.  And since it is Summer, a.k.a. vegetables are fresh and my bikini is taunting me from the top drawer, I thought I should add a few bright Summer salads to the repertoire.
Tomato and peach salad with buttered bread croutons and pistachios and fresh mozzarella … that just sounds incredible.  Anything with warm homemade croutons and mozzarella counts as fabulous in my book, and bread makes it a meal.  Done and done.
A chopped thai chicken salad is just a bit exotic and hearty enough to stand-alone as dinner.  Perfect.
This roasted corn salad (tossed with asparagus, tomatoes, and feta) sounds fresh and delicious.  But then, anything with the addition of roasted corn generally sounds delicious.
Because I'm a brie fanatic, I had to add this strawberry, brie, and butter lettuce salad to the list.
The tamari, honey, and lemon juice dressing on this greens, sprouts, and sweet potato salad sounds amazing.  The sweet potato french fries (used as croutons) don't hurt either.
And last but not least, though it's not big enough as a meal on it's own, the watermelon, feta, and mint salad is my go-to Summer side dish.  So easy.  So good.
What are your favorite Summer salads?