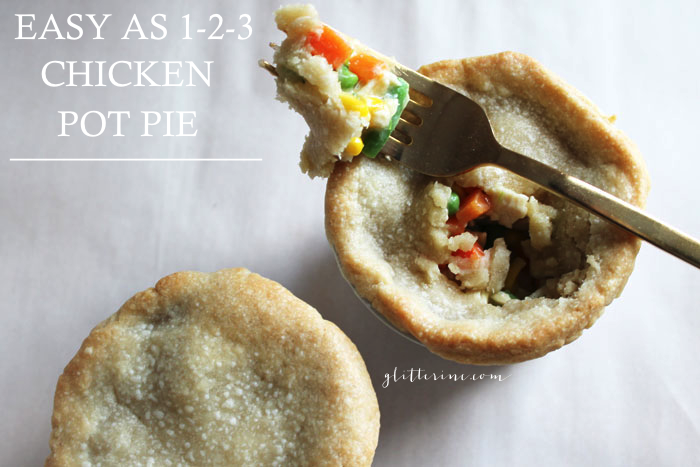 This recipe is not glamorous.  It's not fancy or time-intensive.  But it's delicious, and simple, and truth be told: I make it for dinner all of the time. It's a huge hit in our house and proves for some pretty great leftovers.  (Shout out to my friend Erika for sharing this one with me!)  It's also a one-casserole meal (seriously, you can mix all of the ingredients in one casserole dish, top with your crust, and throw it in the oven) – how's that for easy?  {Note:  Of course, for pretty's sake, I made today's recipe in cute mini casserole dishes – because everything is cuter in mini form – but in real life, we're all about the great big casserole dish for this one.}
EASY AS 1-2-3 CHICKEN POT PIE
Makes 4 – 6 servings.
Uses a roughly 9 x 13 casserole/baking dish.
INGREDIENTS
3 Raw Boneless Chicken Breasts
Garlic Powder (to taste)
Salt (to taste)
White Pepper (to taste)
2 cans of Campbells Cream of Chicken or Cream of Celery Condensed Soup
2 bags of mixed frozen vegetables (I like to combine a mixed vegetable with a broccoli; the veggies are really up to you)
1 – 2 tbsp. butter (optional)
2 Refrigerated or Frozen (thawed) Pie Crust
DIRECTIONS
1. Preheat oven to 350°F.
2.  Cook the raw chicken breasts in boiling water with a splash of salt and garlic powder.  Once the chicken breasts are cooked through (typically takes about 8 – 9 minutes, but be sure to cut through one of the breasts to be sure it's fully cooked), remove from water and allow to cool until warm.
3.  Shred the chicken.  I use the two fork method, pulling apart the chicken with a fork in each hand.  (Remember: the chicken doesn't need to be perfectly shredded, it'll be hidden beneath the vegetables and pie crust.)
4.  Either cook the frozen vegetables on a stove top or steam in the microwave.  Add salt and butter to taste.
5.  Mix the shredded chicken and cooked vegetables in your large casserole dish.  Next, pour your two cans of condensed soup on top of the mixture, and toss with a spoon.  Add salt, garlic powder, and white pepper to taste.
6.  Lay the rolled out pie dough across the top of the mixture in the casserole dish, as though you were covering a pie.  It doesn't have to look perfect … it just has to taste good in the end.
7. Bake at 350°F for about 25 – 30 minutes (I typically bake for the first 15 – 20 minutes with a piece of foil loosely laid on top, and then remove the foil for the last 10 minutes of baking to achieve that toasty light brown pie crust topping).