I am WAY too excited about today's Valentine's Day inspired dessert party; a.k.a., an excuse to celebrate Galentine's Day! And yes, I am way too excited about all parties because I like throwing them. I also really like cake, and the two seem to go hand-in-hand.
Now sometimes in this crazy blogging world you meet someone who just clicks with you. That's how it was when I met Amy of Coffee Beans & Bobby Pins. If you don't already stalk her on Instagram, you will now. Anyhoo, we've become fast blogging friends, and we've wanted to collaborate on something for months now. I'm pretty obsessed with Valentine's Day … and, well, ALL holidays; but Valentine's Day is full of pink and hearts and cookies and marbled graham cracker toffee bark (trrrrrust me on this one), so really, what's not to love here?
The lightbulb just sort of went on for us, and we knew we wanted to throw the ultimate, yet still low-key, Galentine's Day dessert party. Because who doesn't love dessert? Amy and I worked with our local Anthropologie to dream up the prettiest little Valentine's Day inspired dessert party. If you're anything like me, walking into an Anthropologie is liking walking into a candy shop (we did that too!) on an empty stomach. Gimme, gimme.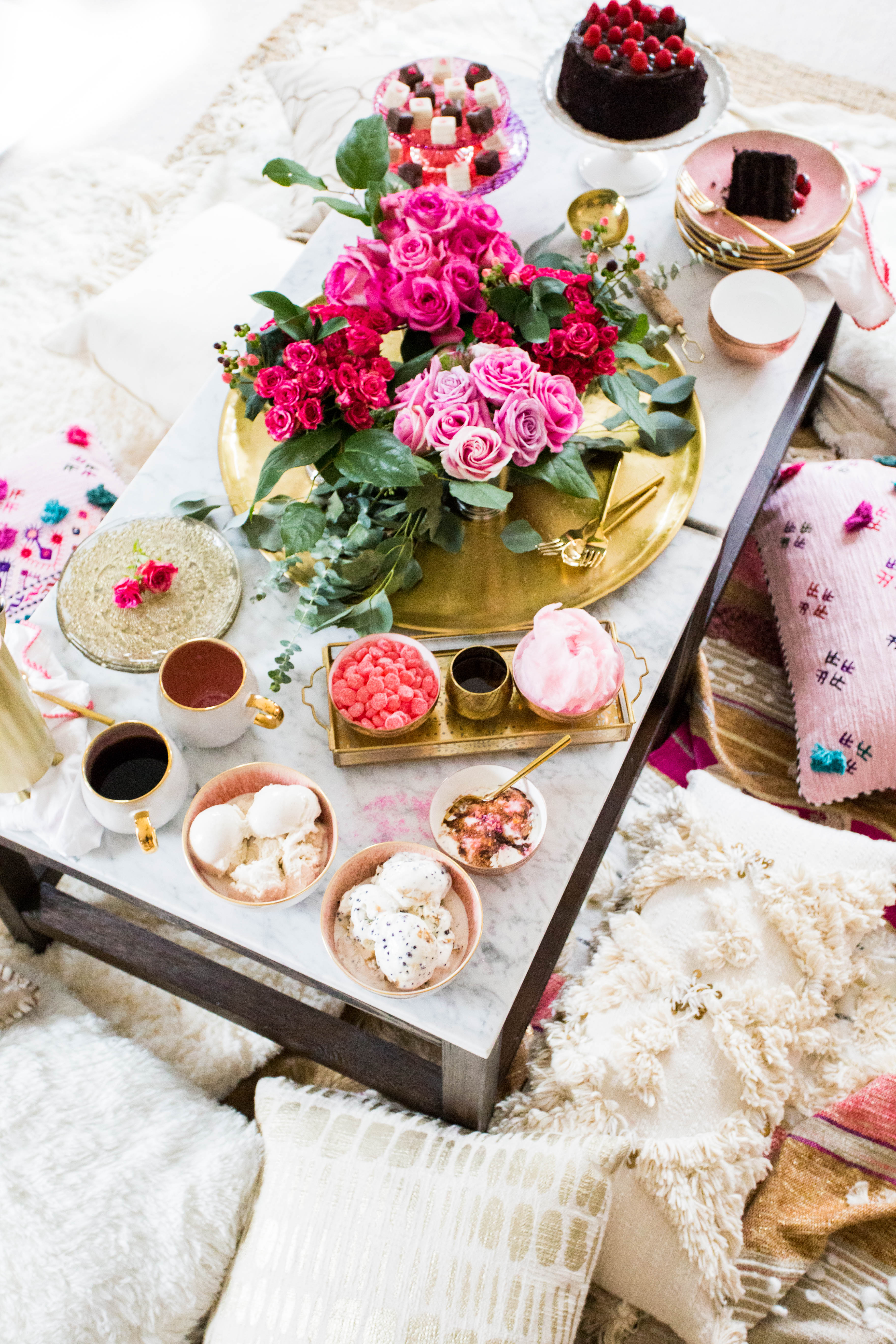 I was super inspired by all of the Moroccan elements throughout the store, so we decided to take our shoot in that direction. Styling this party was so much fun, and a lot simpler to put together than you might imagine.
But what exactly is Galentine's Day?
The girl-focused holiday got it's namesake from one of my favorite shows ever: Parks and Recreation. (Seriously, if you've never watched it, it's time. Binge-watch it right now.) Basically, Galentine's Day is a holiday Amy Poehler's character, Leslie Knope, created that occurs every year on February 13th – the day before Valentine's Day.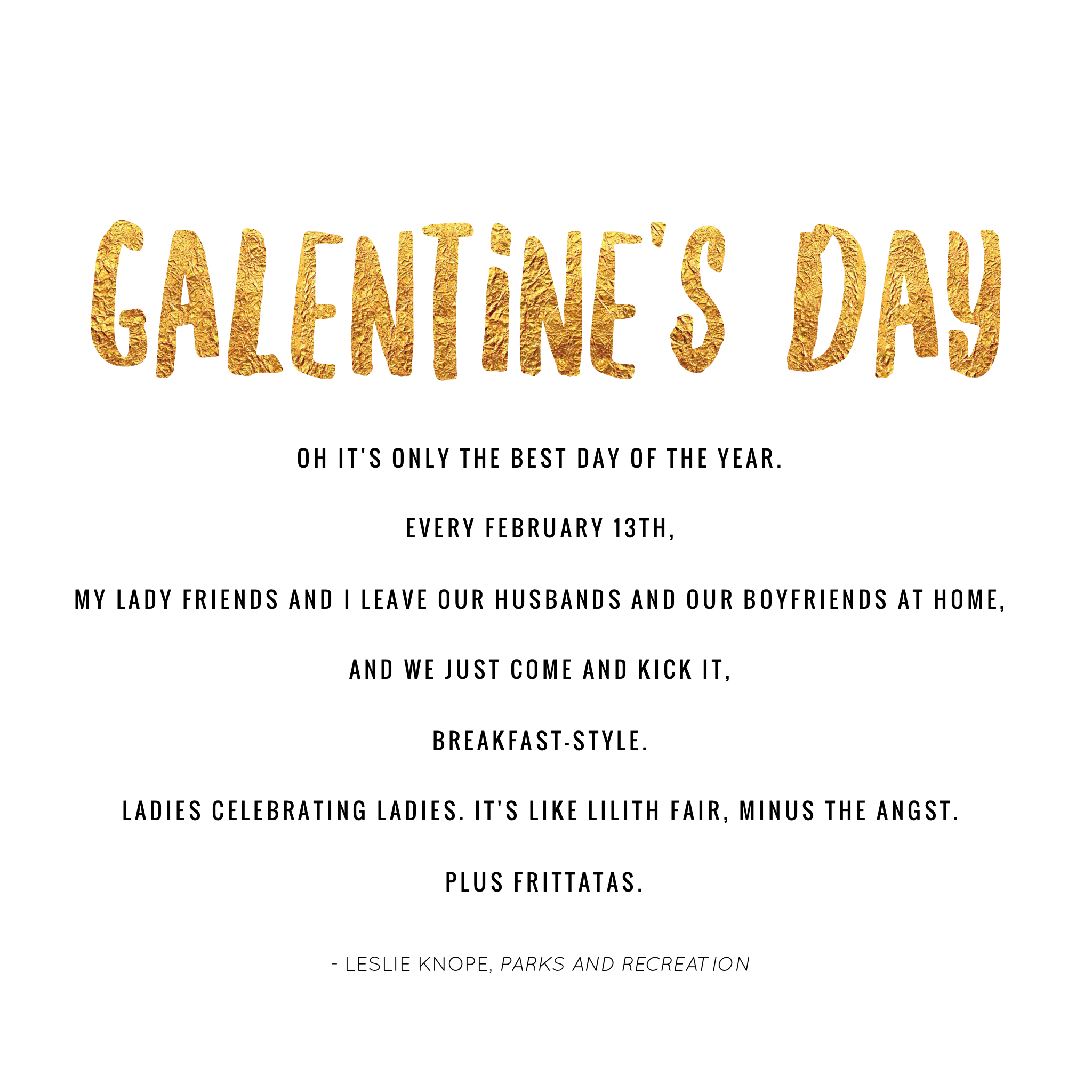 Per Leslie, the genius behind the ladies celebration:
"Oh it's only the best day of the year. Every February 13th, my lady friends and I leave our husbands and our boyfriends at home, and we just come and kick it, breakfast-style. Ladies celebrating ladies. It's like Lilith Fair, minus the angst. Plus frittatas."
Yeah, it's awesome; and basically an excuse to celebrate in true feminine style.
But if you want to go ahead and throw yourself a dessert party for your special someone instead, that's cool too, because: CAKE. (For the record: cake > frittata.)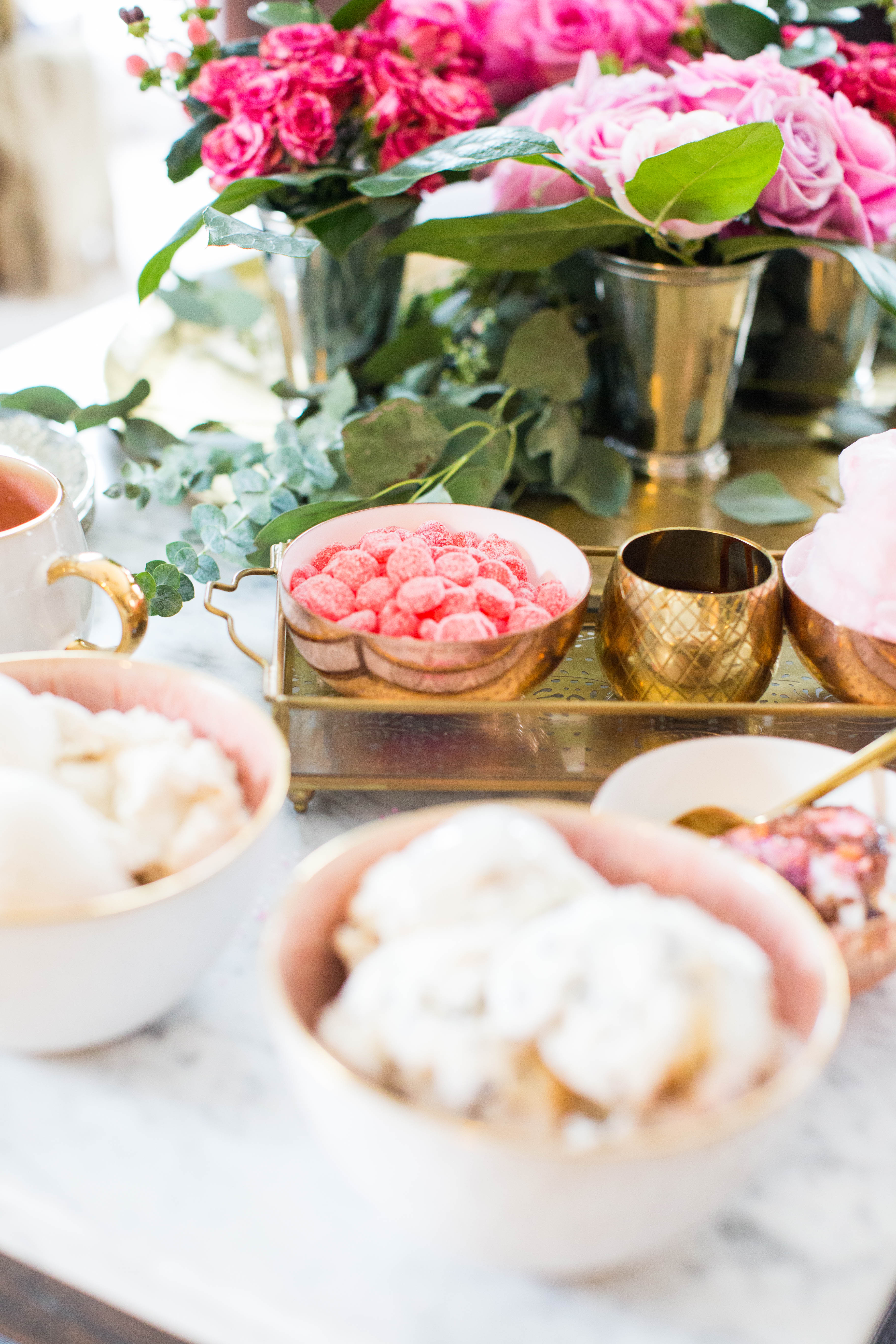 Now onto the Valentine's Day Inspired Dessert Party …
We pulled floor cushions and Moroccan pillows (I have THE biggest crush on this pink tufted pillow … it has a heavy gold zipper that takes it over the top!), gorgeous Moroccan inspired wedding blankets (I'm having a hard time not convincing myself that I need both the cream Aldalora throw and the pink Open Market throw!), and so many beautiful dishes in pinks, golds, and rose golds.
The floor seating kept the vibe fun and low-key as well. Plus, there's no "right" way to style pillows and blankets on the floor. Just lay a few blankets down, plop a few pillows and cushions loosely around the perimeter of your coffee table, and stack your dishes, flatware, and cups within reach. You'll add tabletop style by using all of that pretty tableware and of course, flowers.
HINT: adding in low candles and tea lights would also look really romantic for an evening setup.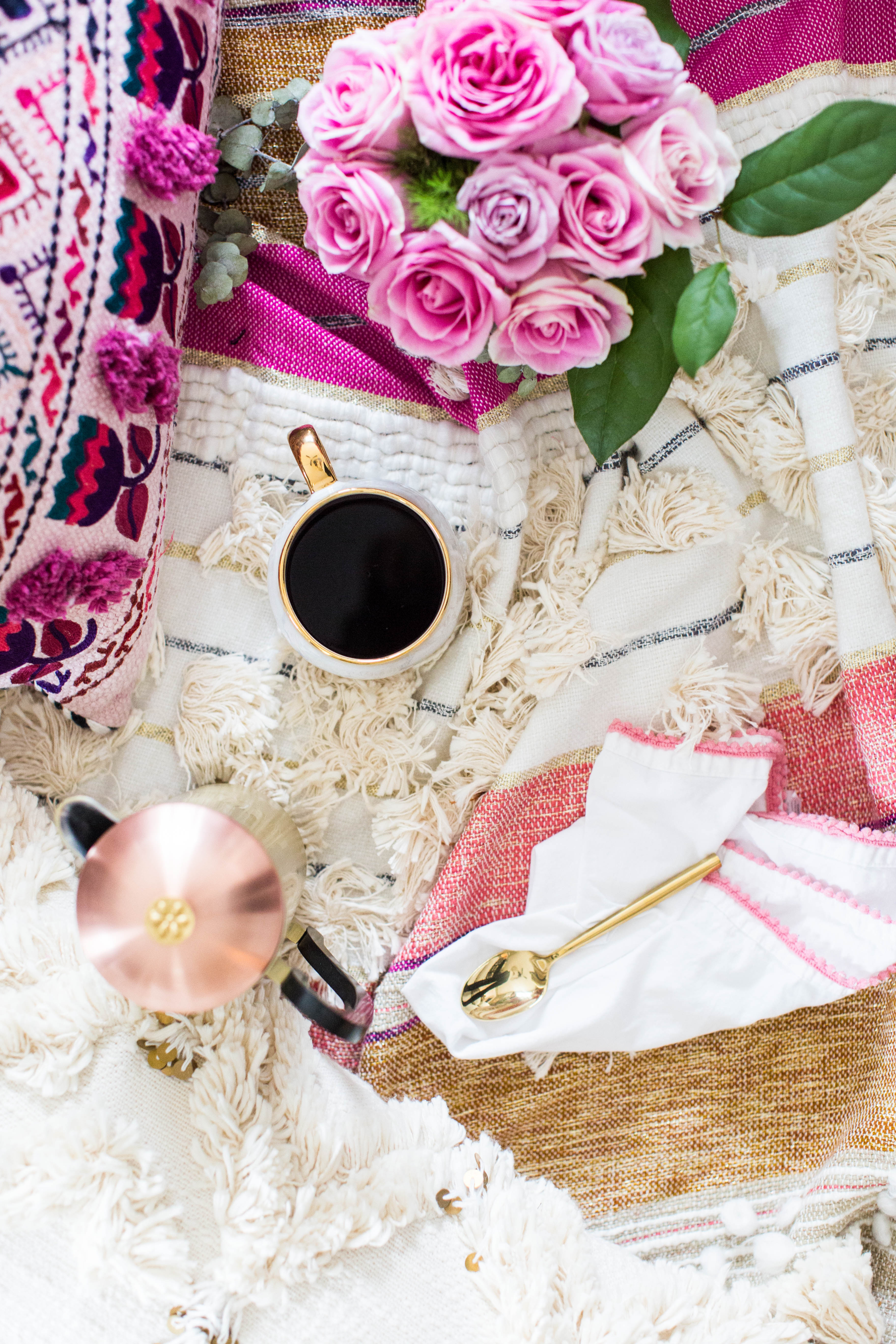 We also pulled in as much color (especially in the pinks and purples) as we could.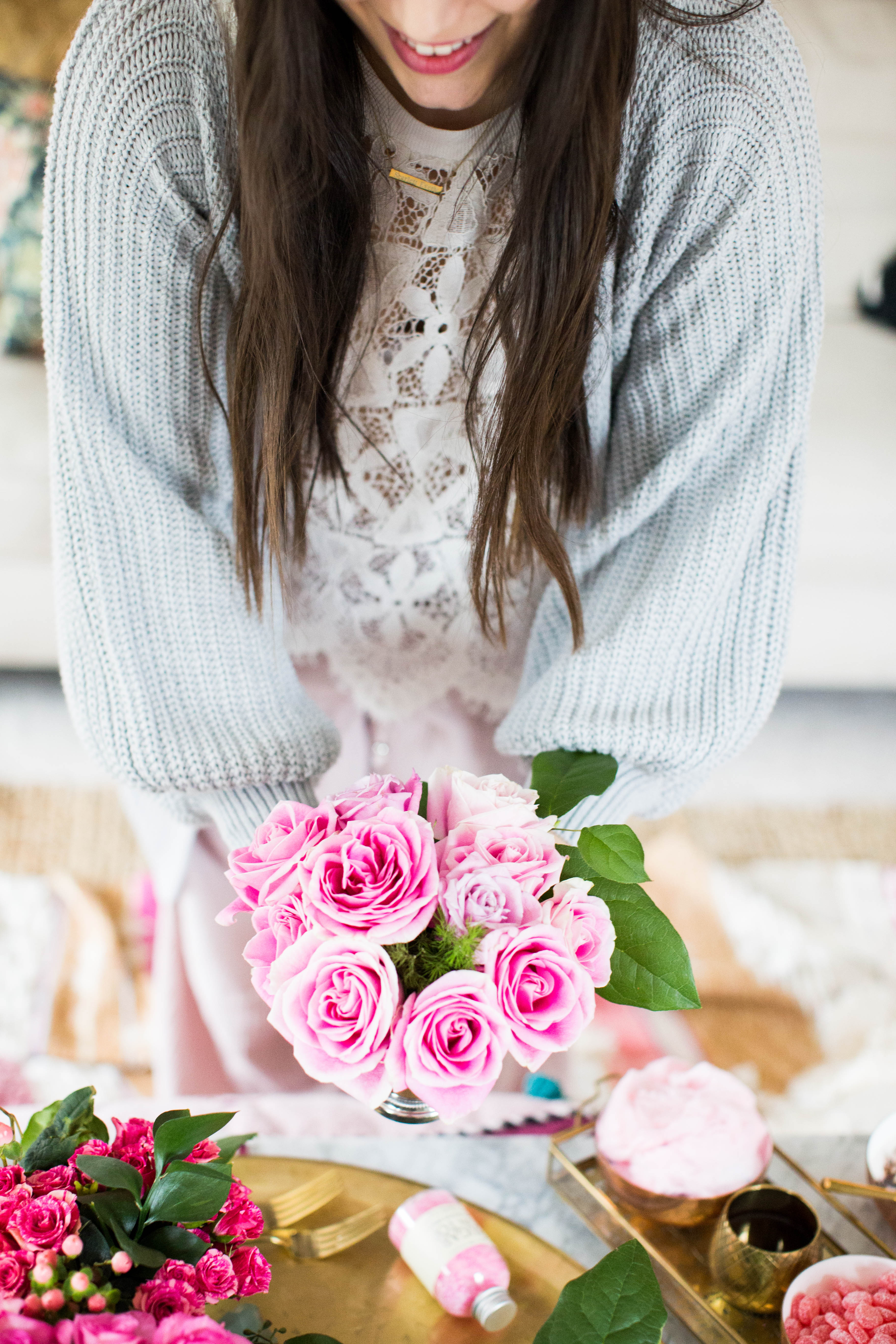 We bought all of the flowers at the grocery store to keep things simple and bright.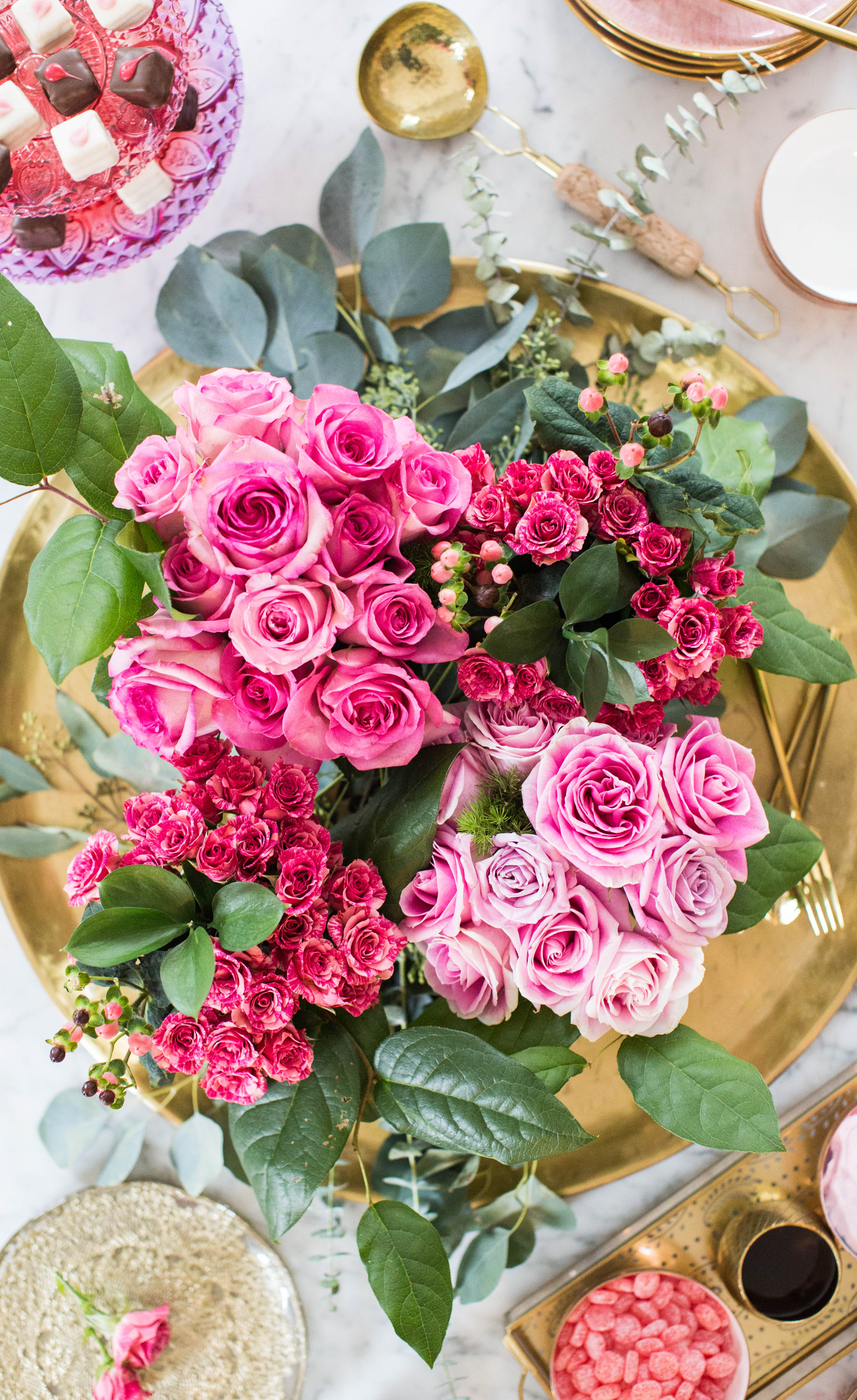 And we had a whole lot of fun coming up with desserts to serve …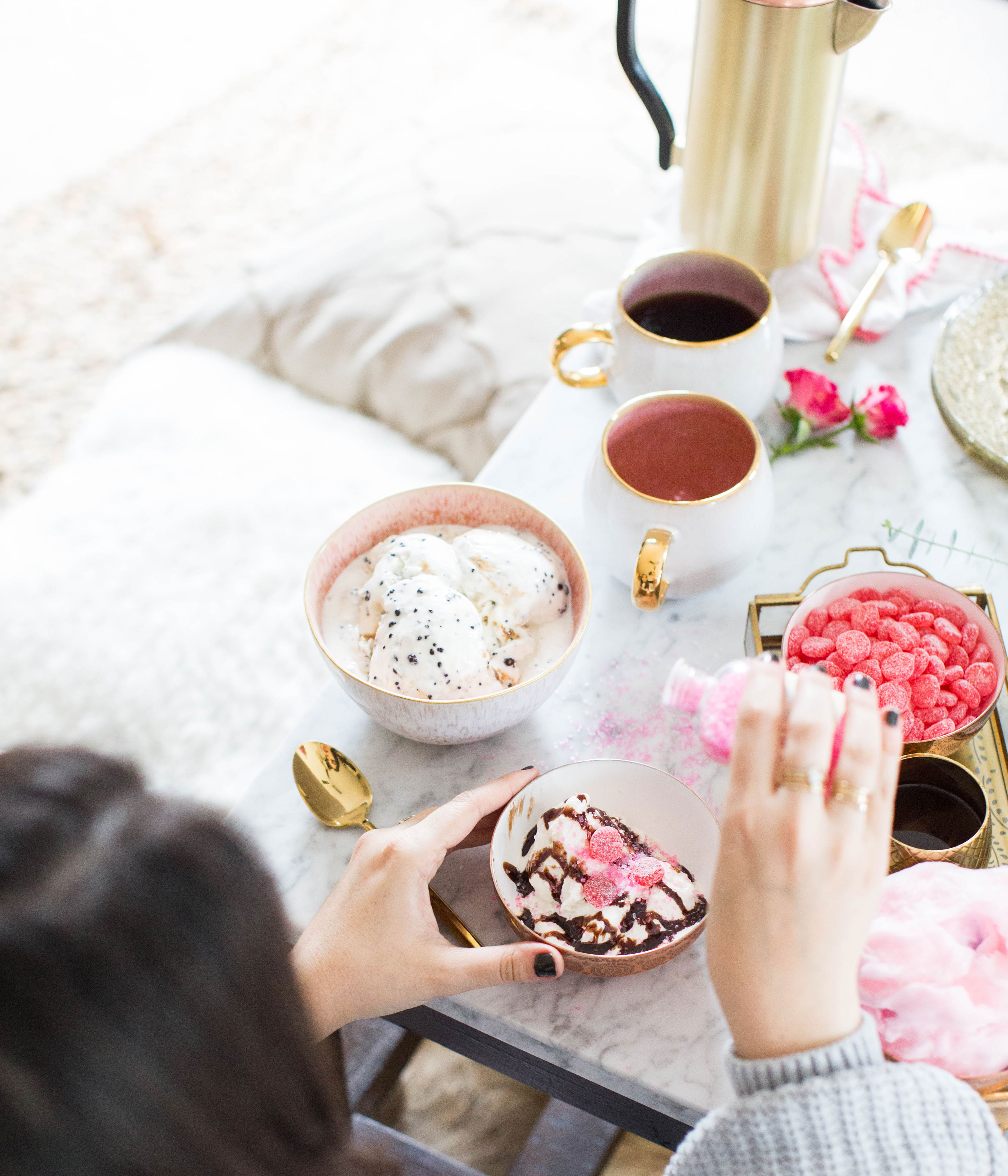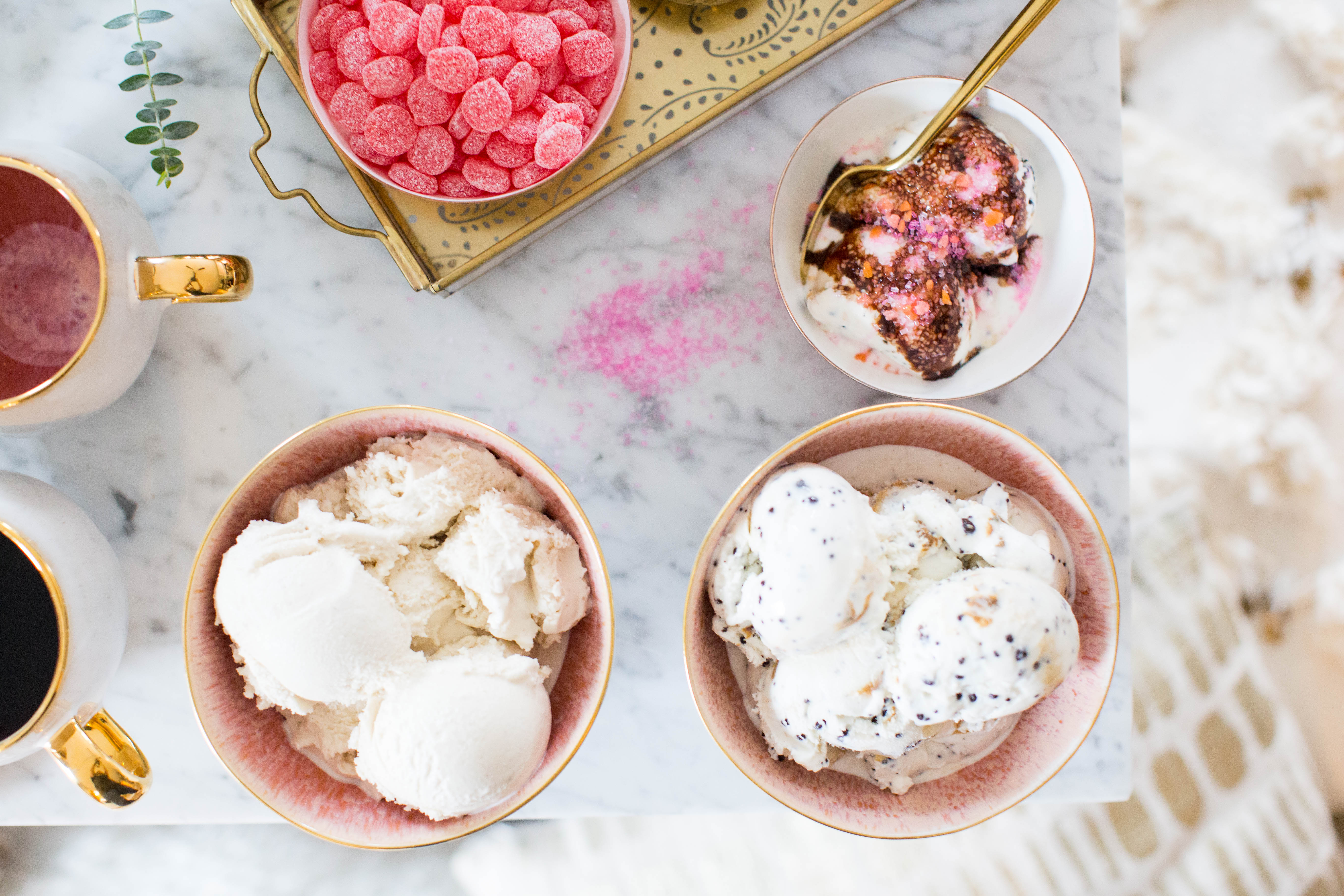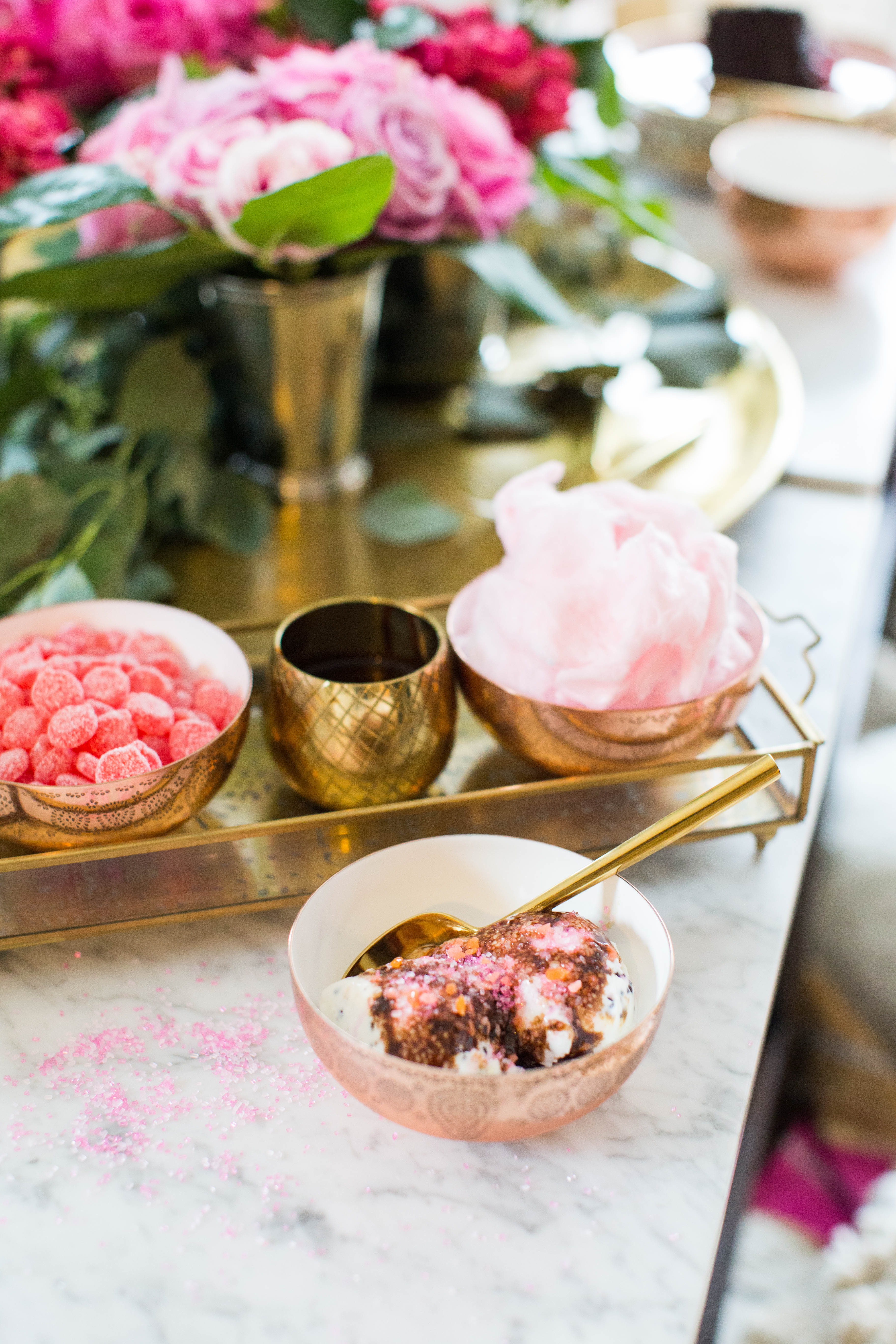 Can we talk about these rose gold bowls for a minute? Because I plan to put stacks everywhere from here on out.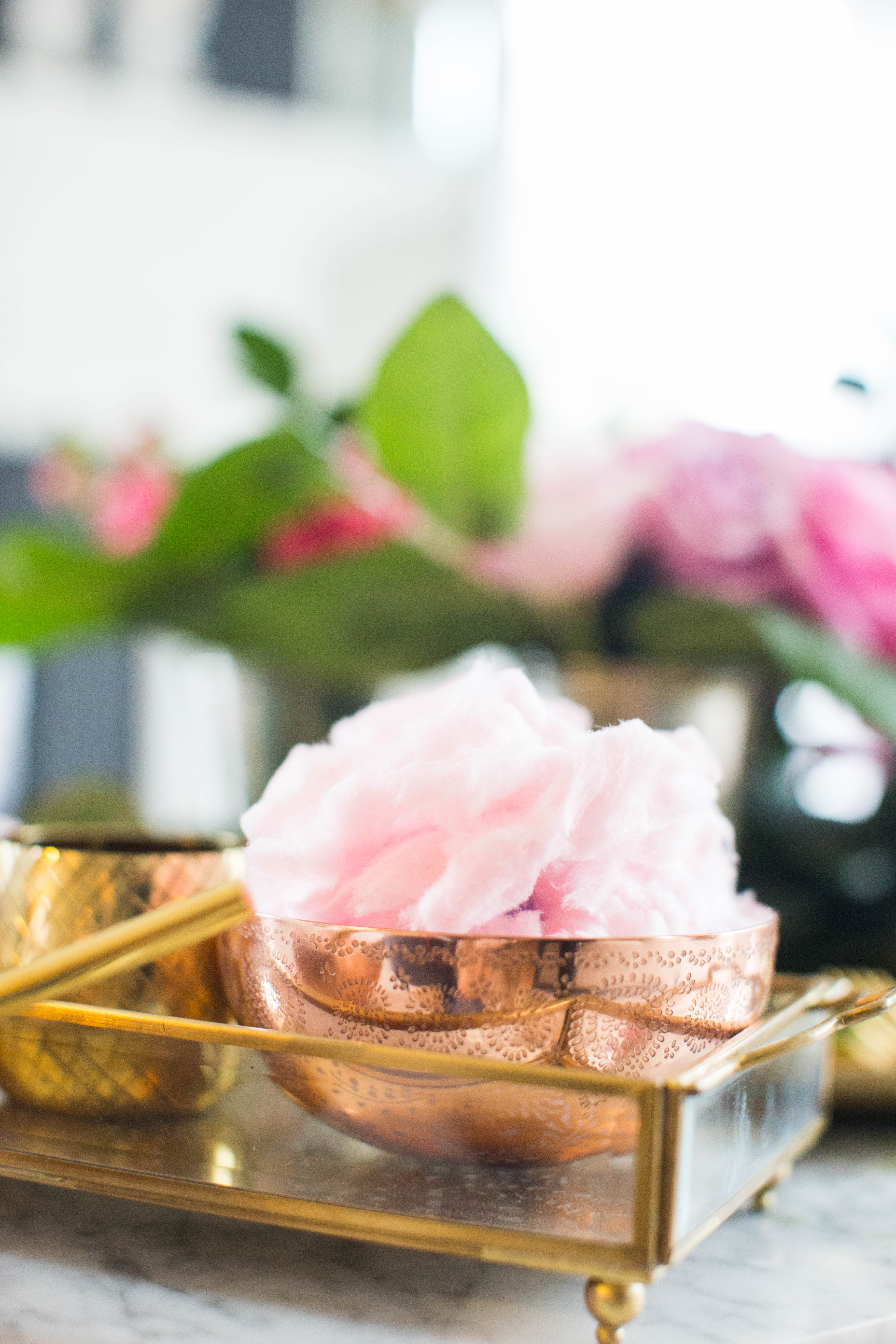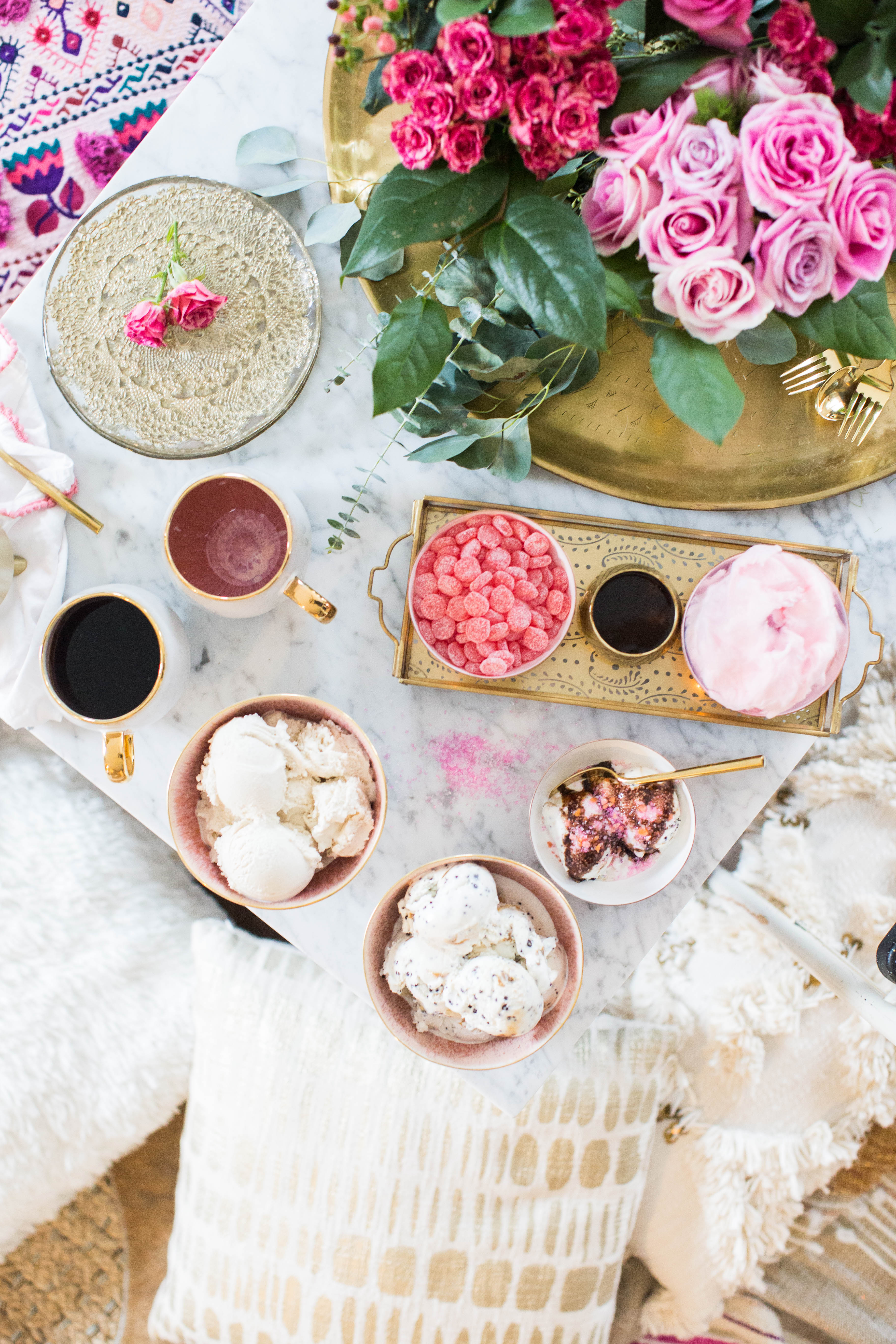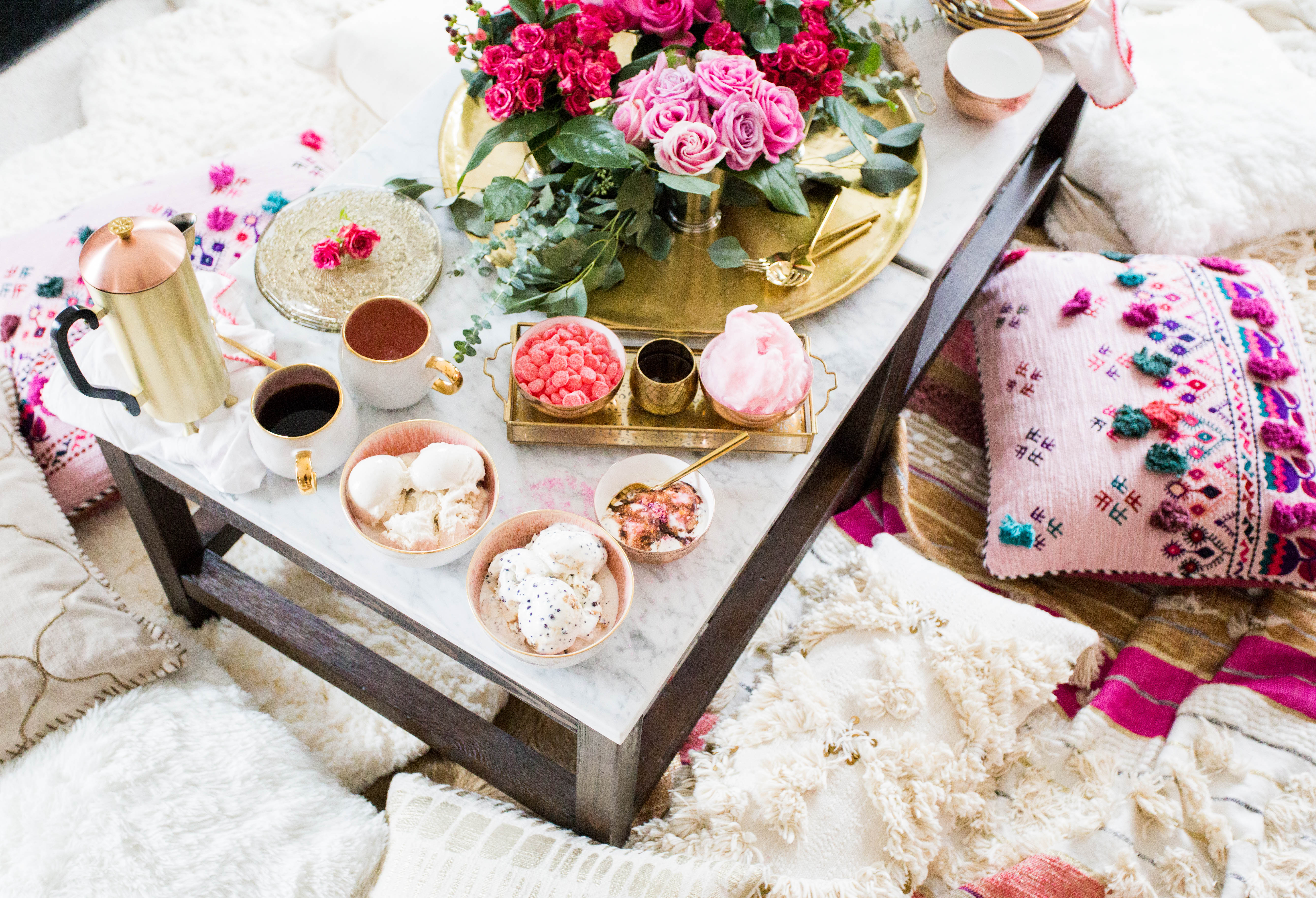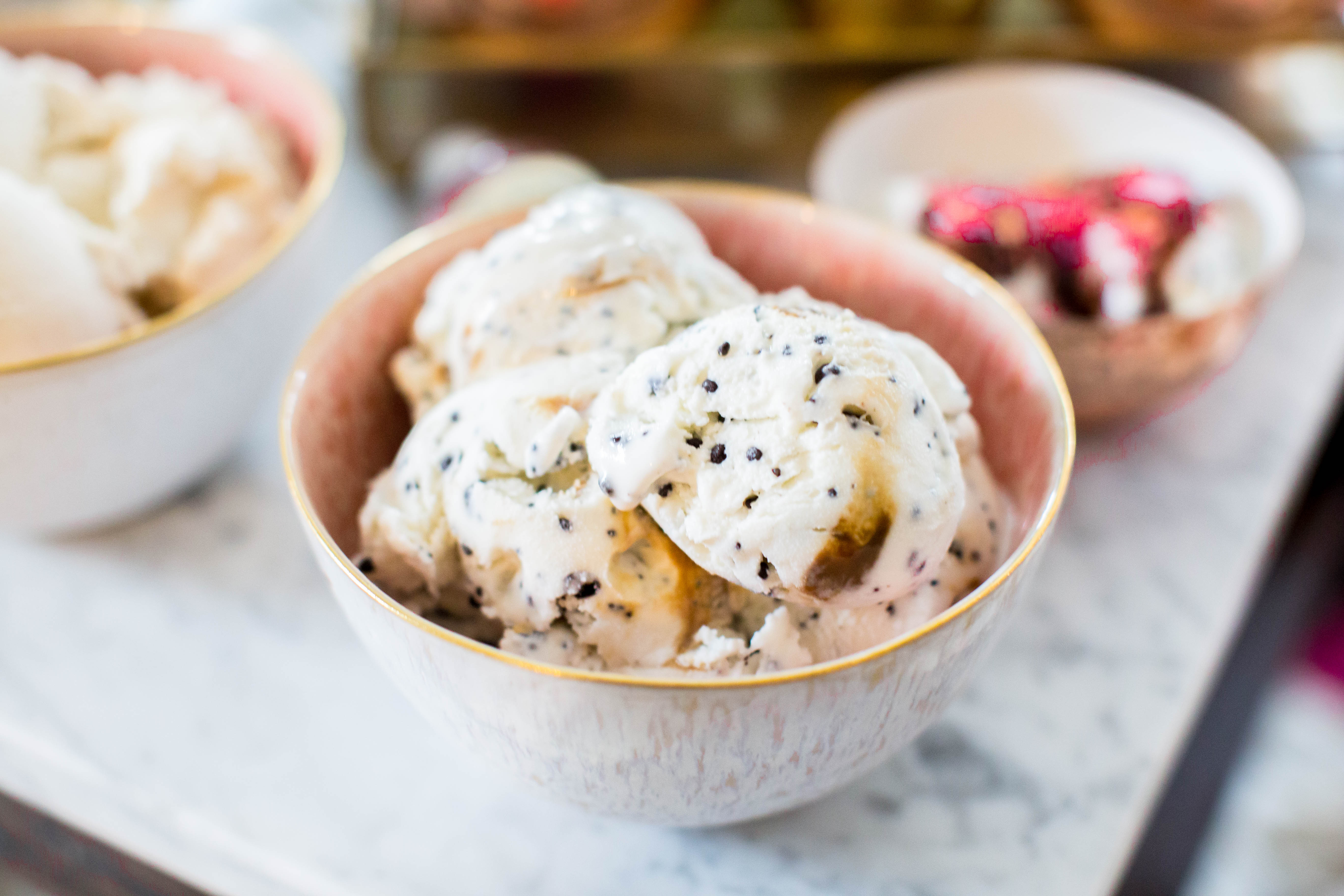 The ice cream really popped in these gorgeous pink-lined bowls; the matching dessert plates and mugs were equally swoon-worthy.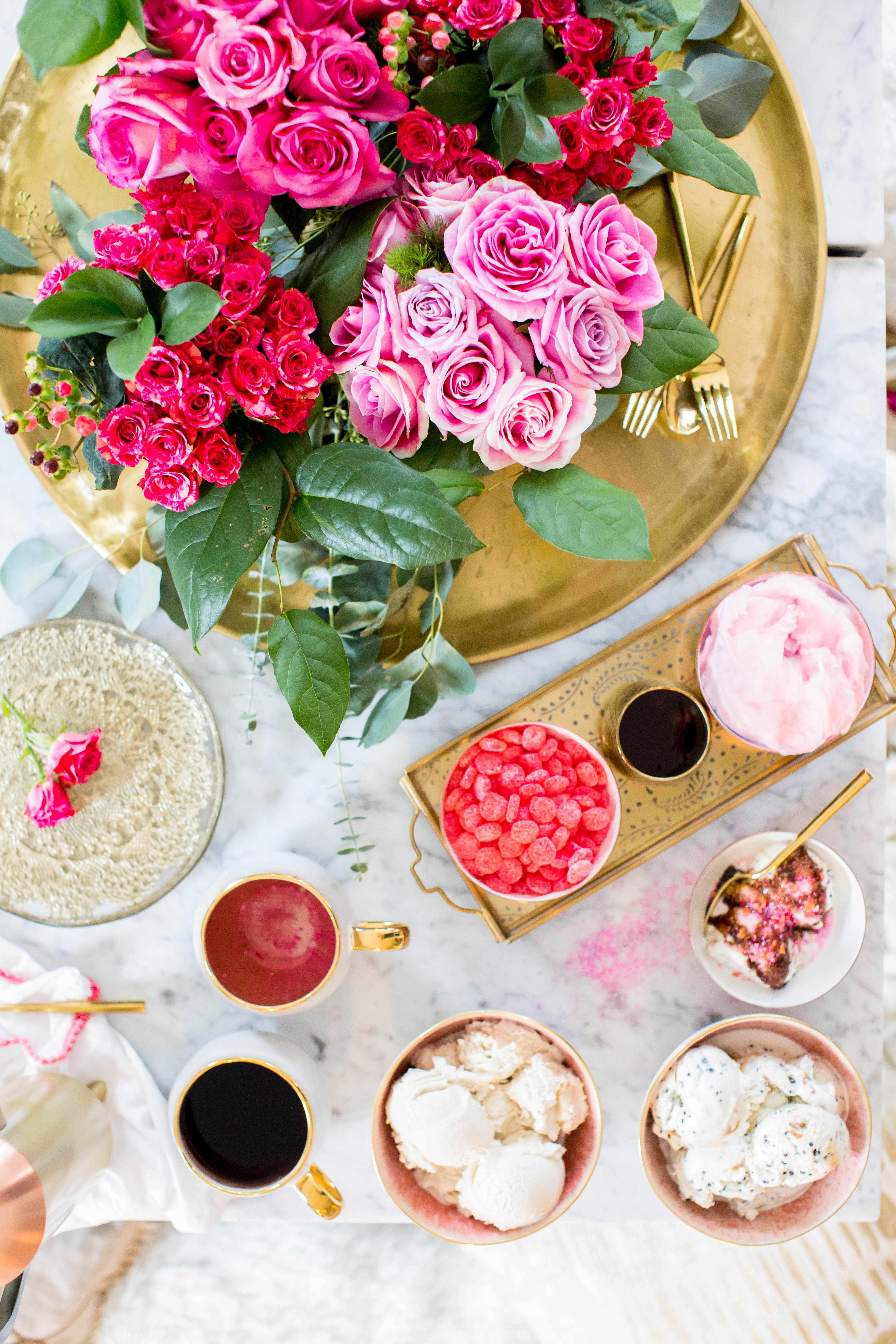 There's a great candy shop just a few stores down from our local Anthropologie, so we came up with the idea of an ice cream bar with pink toppings. Pink cotton candy, pop rocks, sprinkles, and sour cherries worked perfectly as toppings.
We had cake and petit fours too, because what's a dessert party without cake?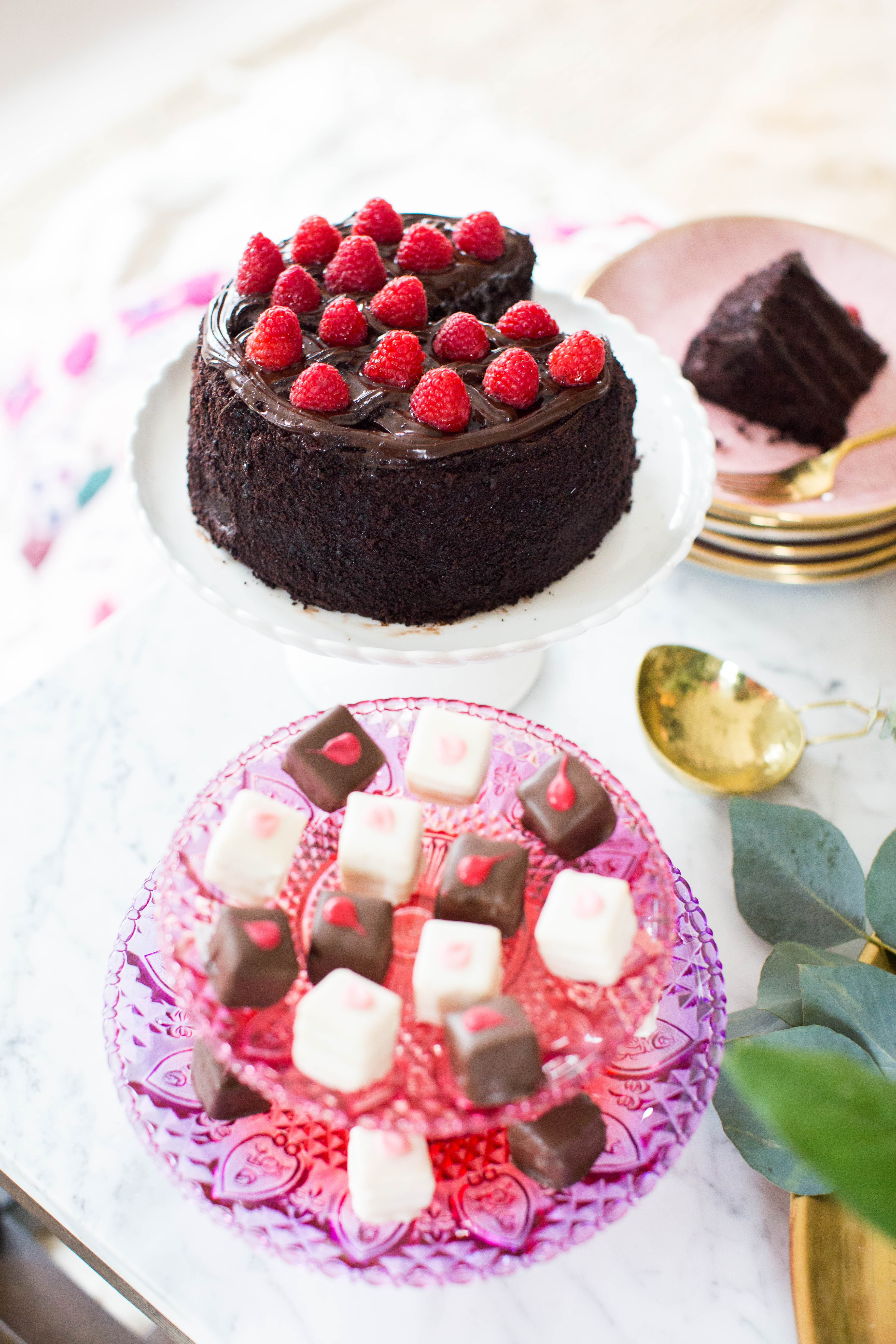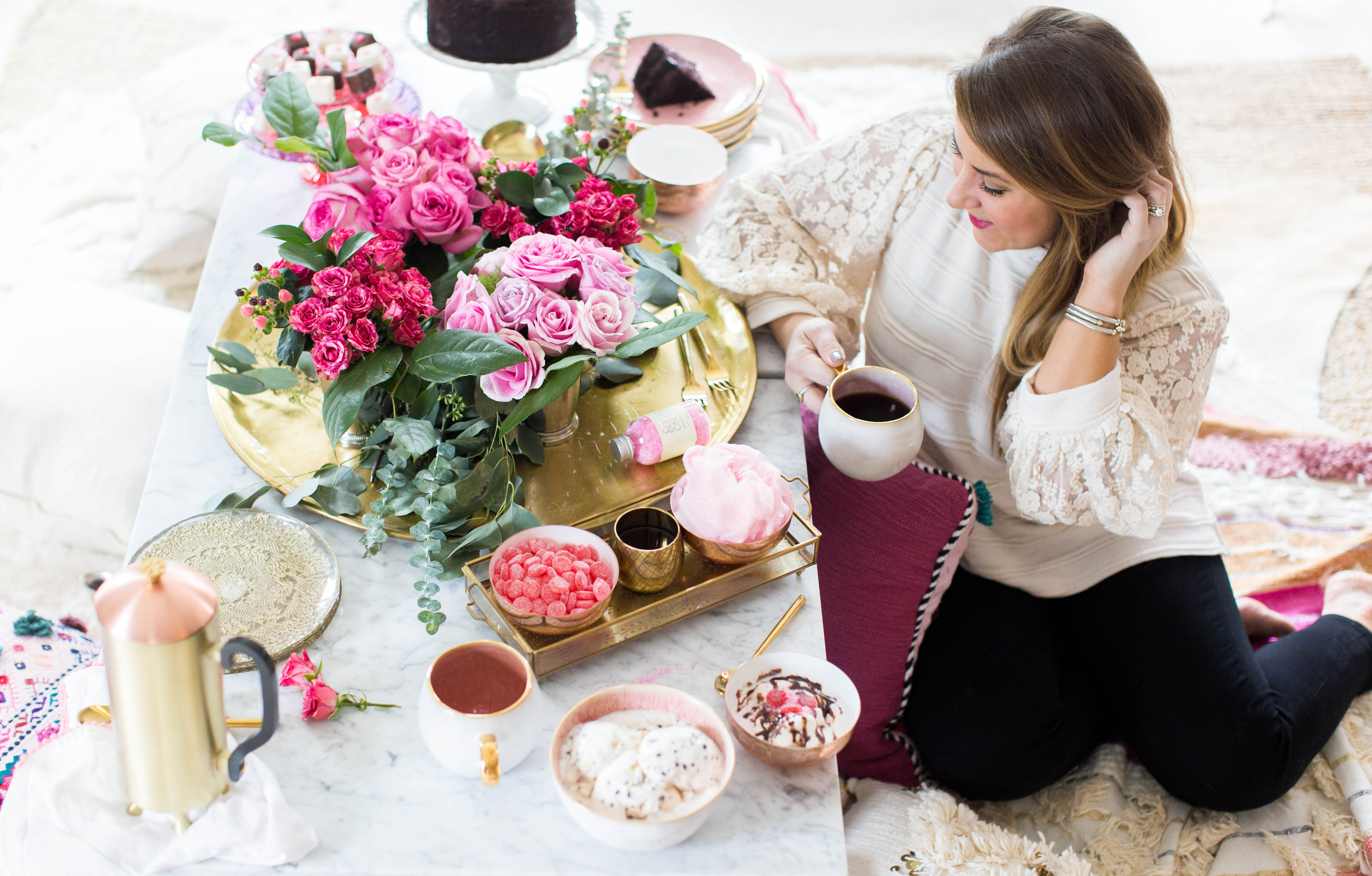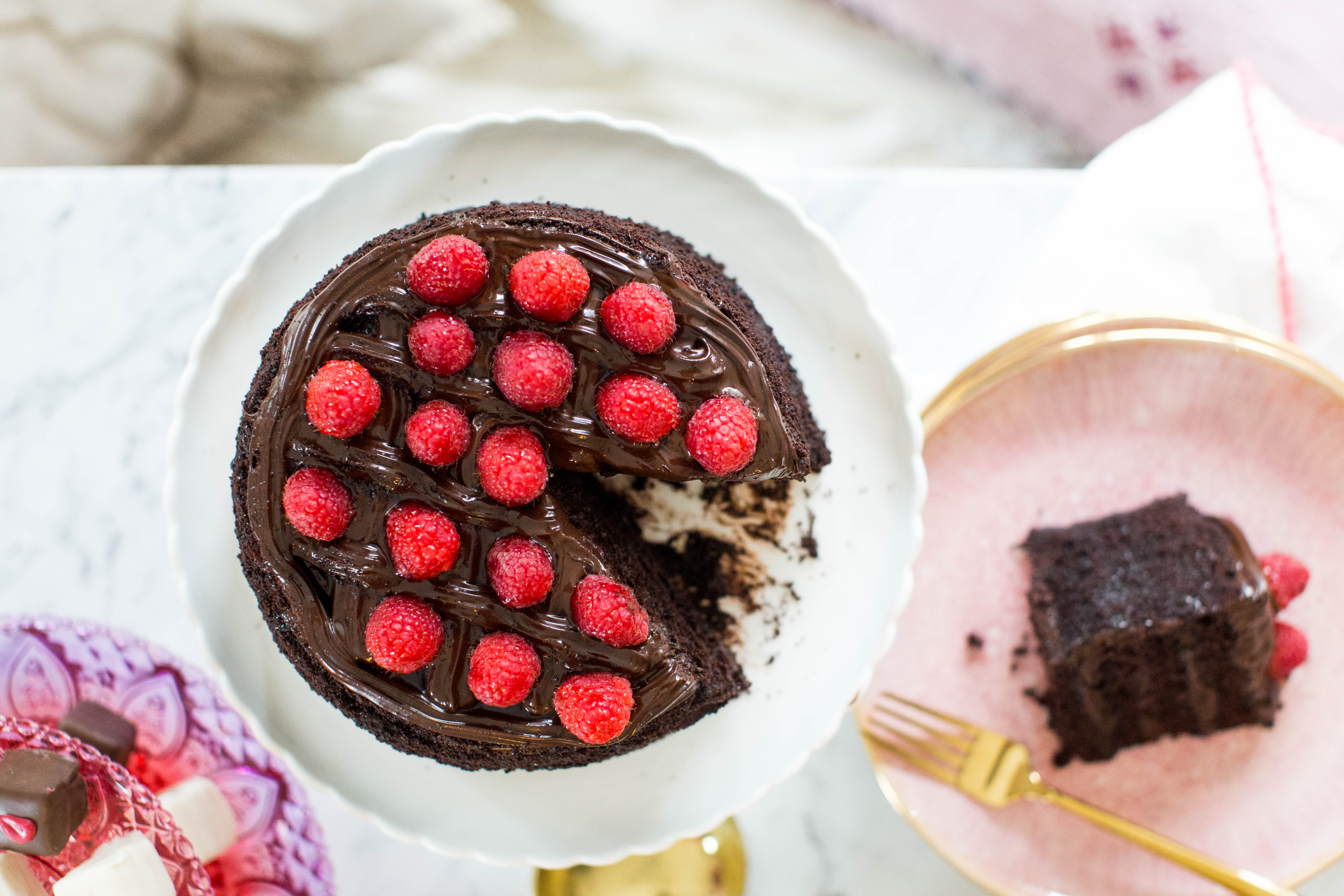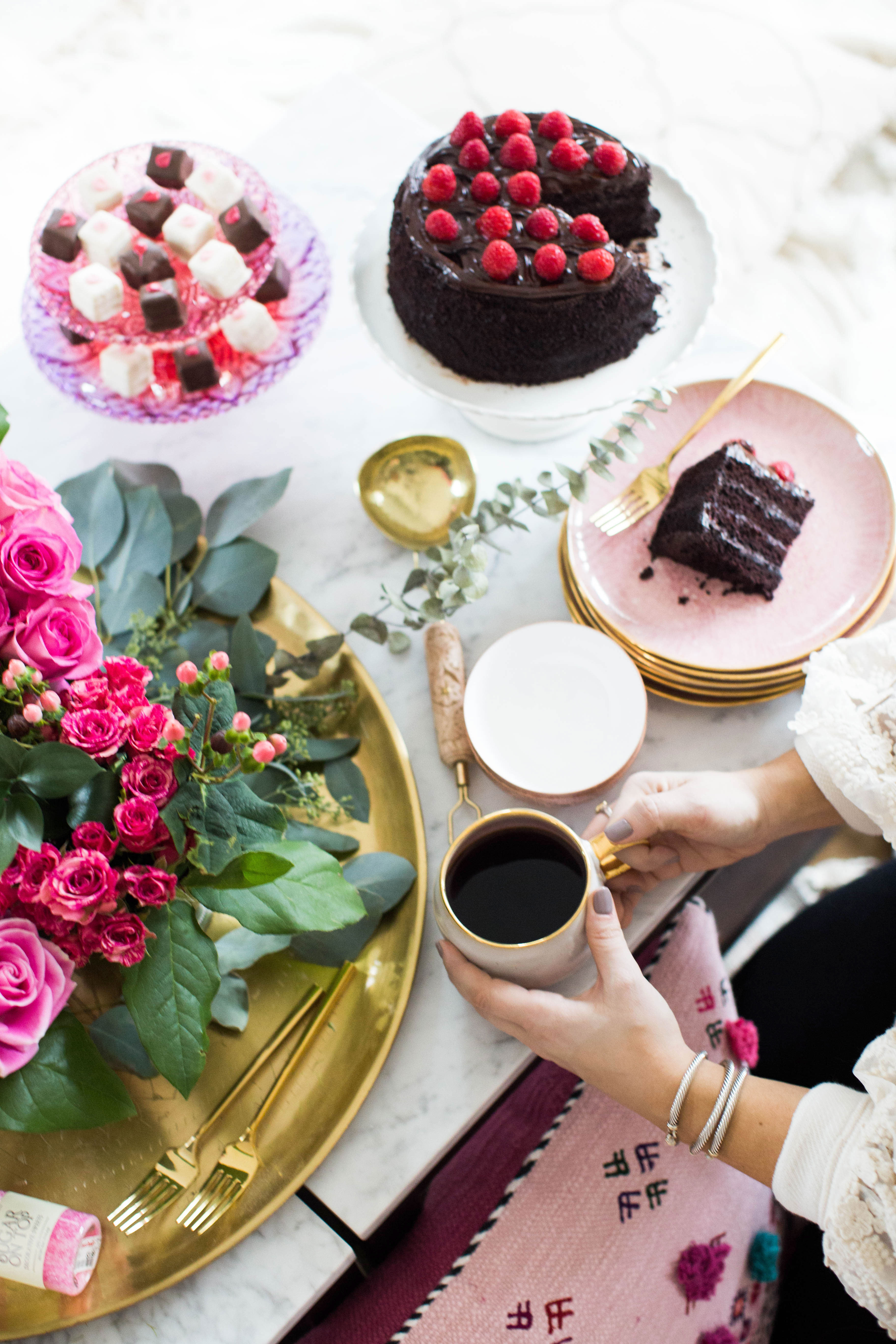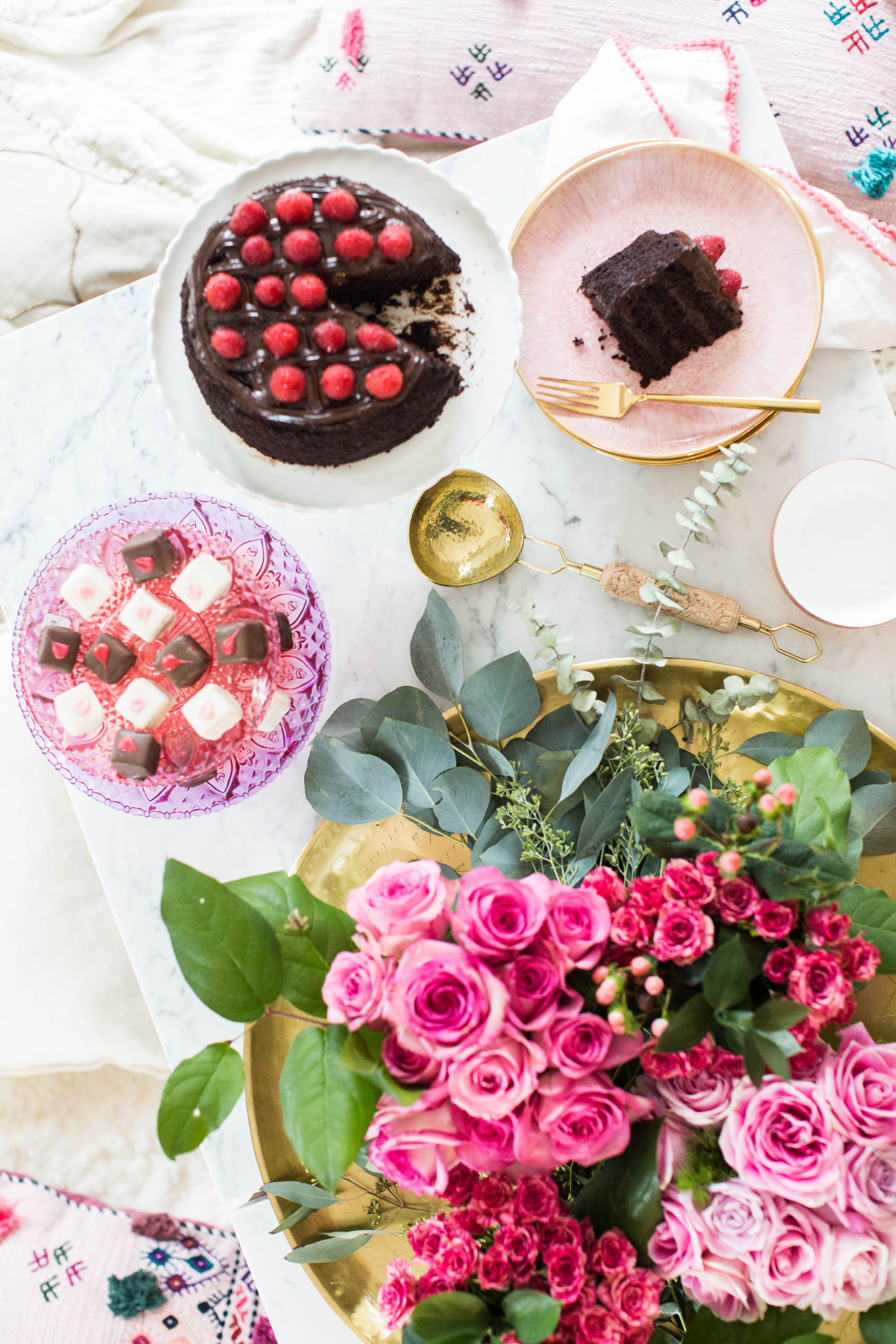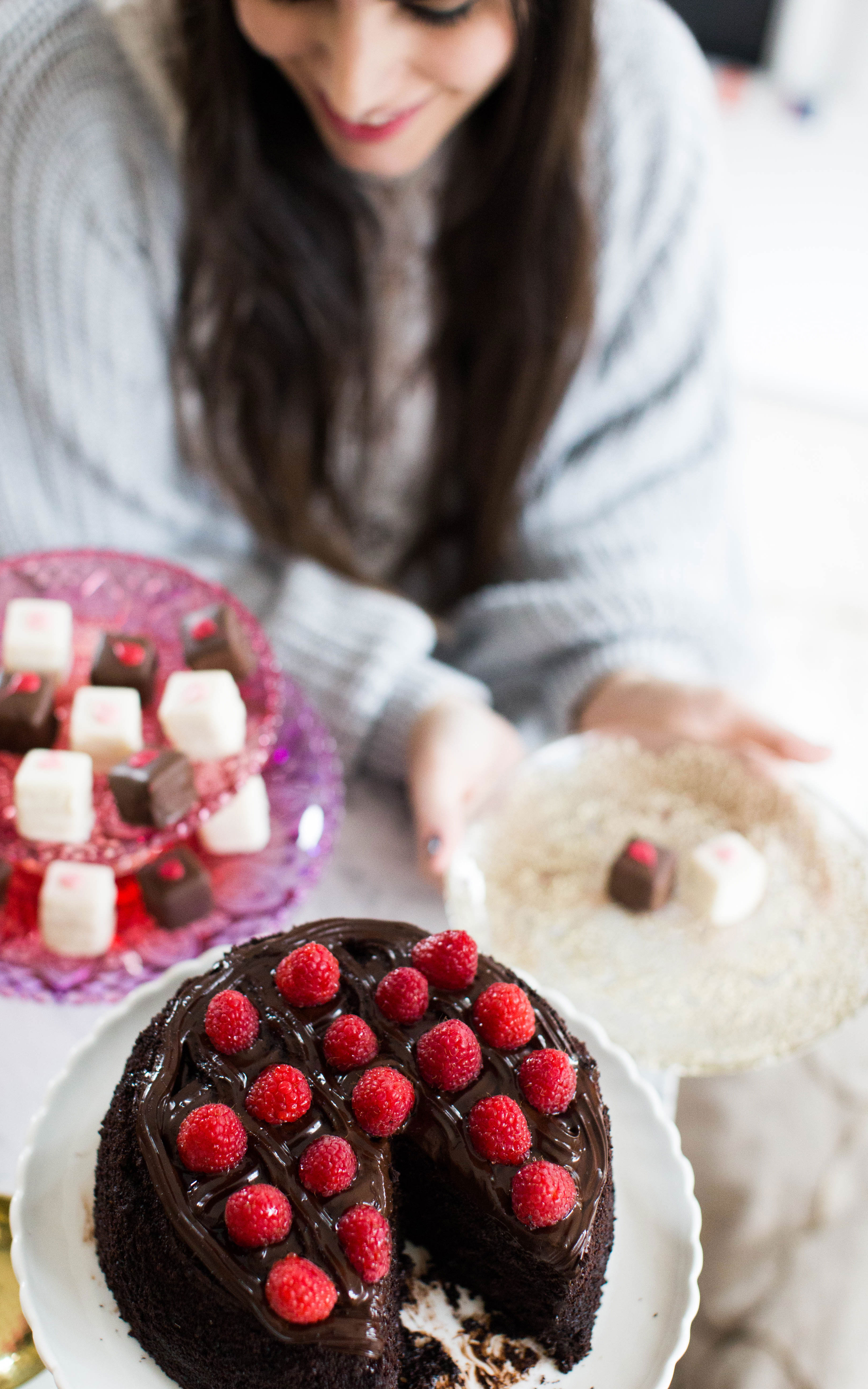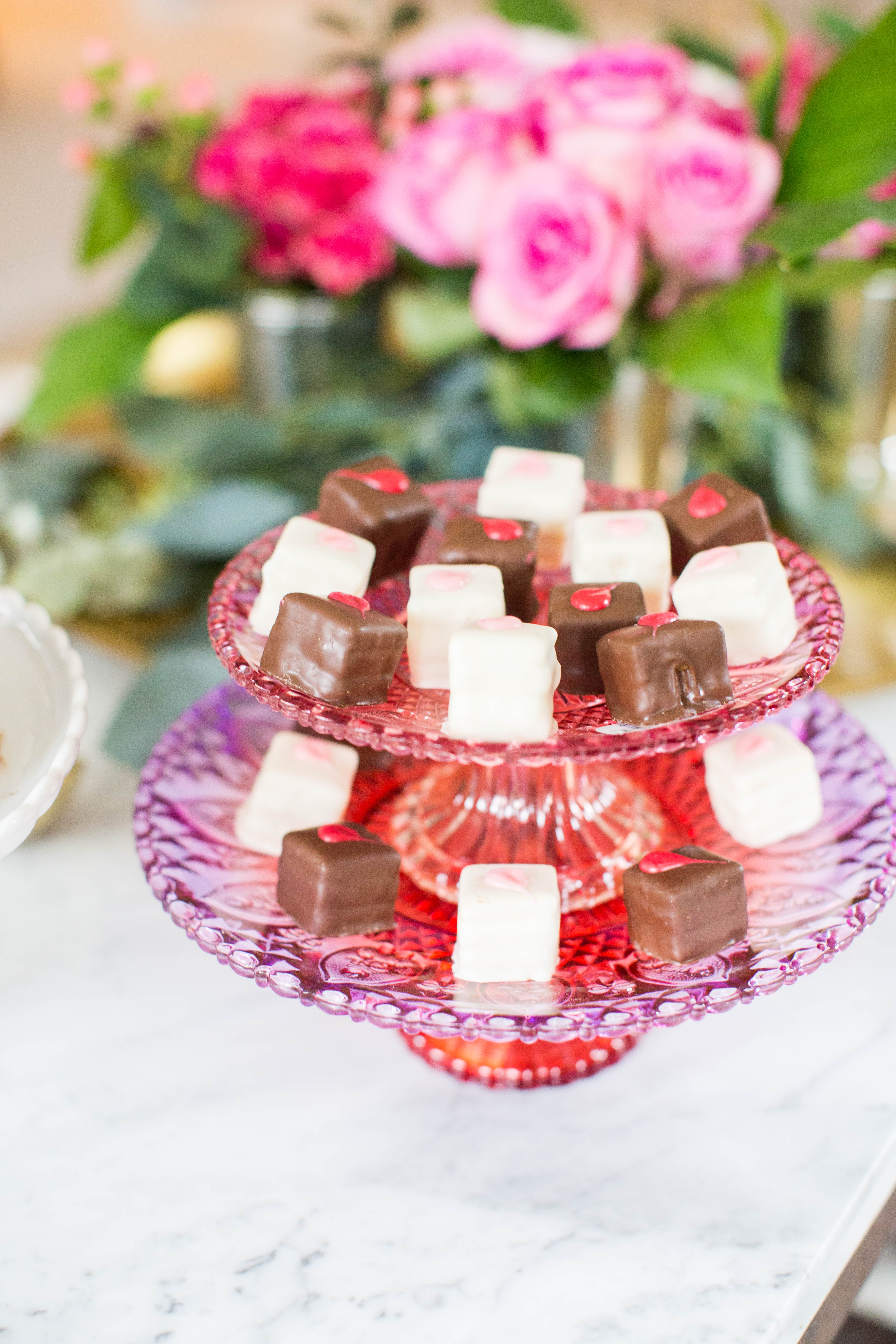 The prettiest pink and purple glass cake stands from Anthro.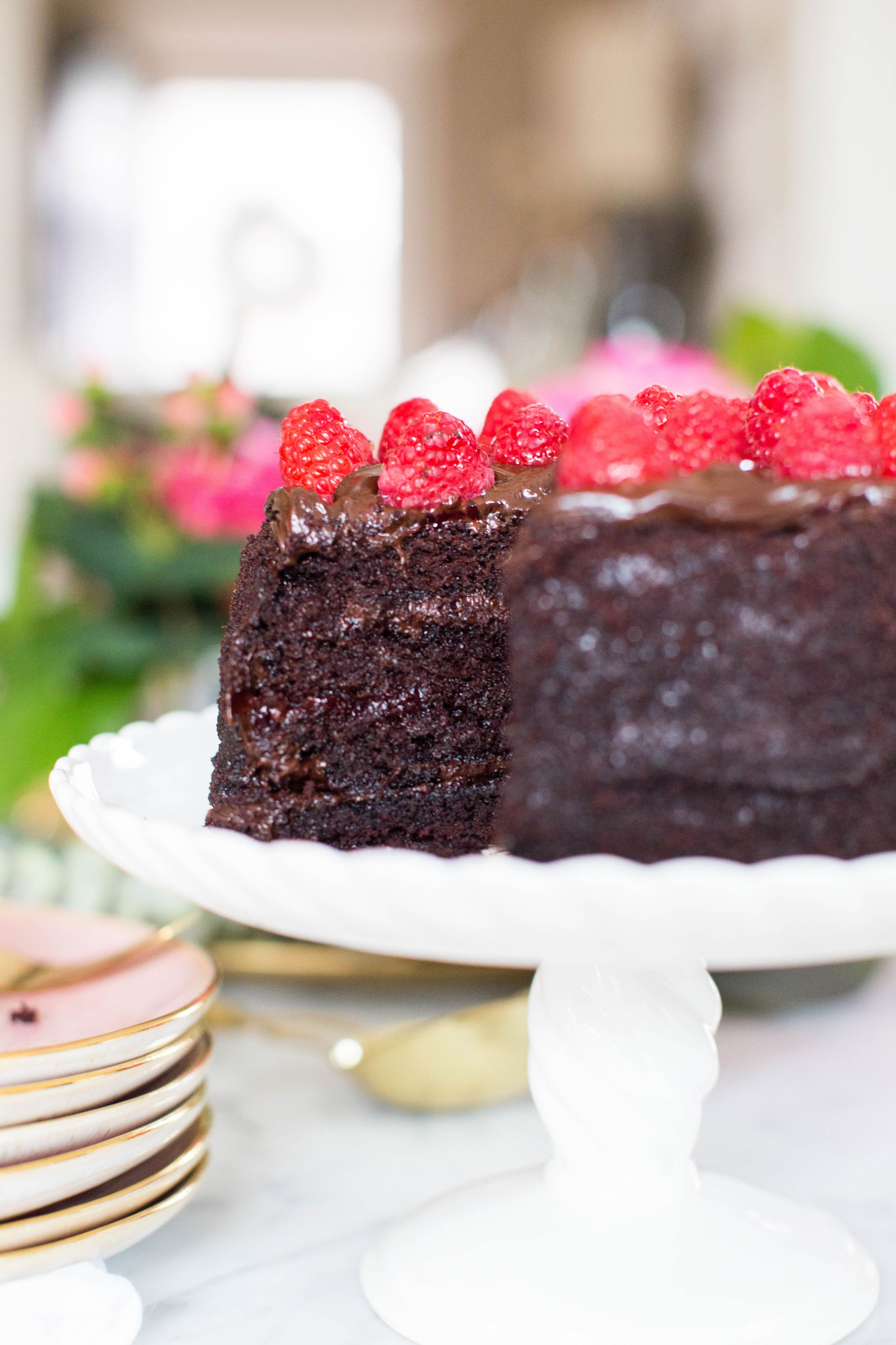 And that cake … Whole Foods. I know; right?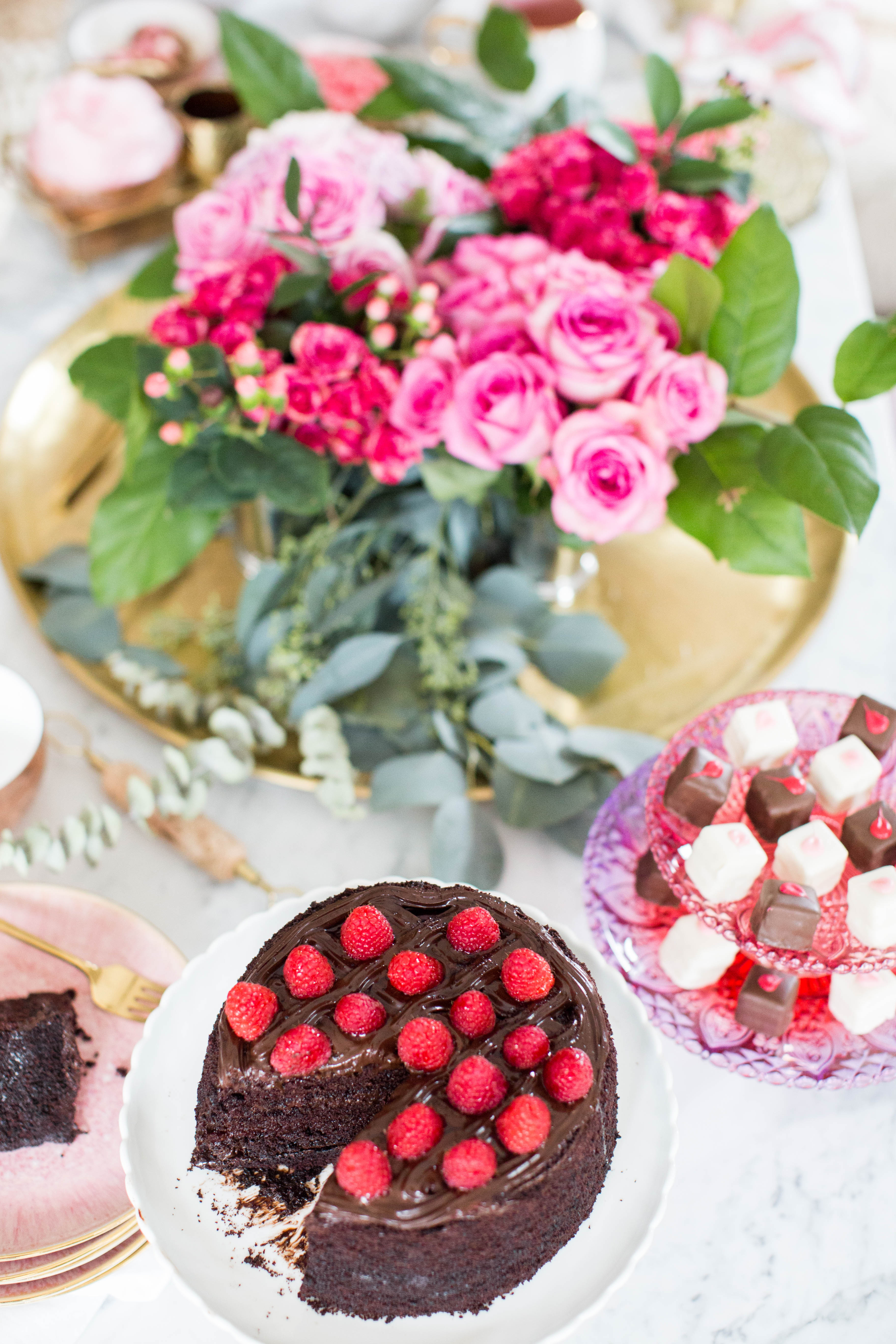 Adding these metallic gold lace plates to my dinnerware collection … I LOVE dishes; what can I say?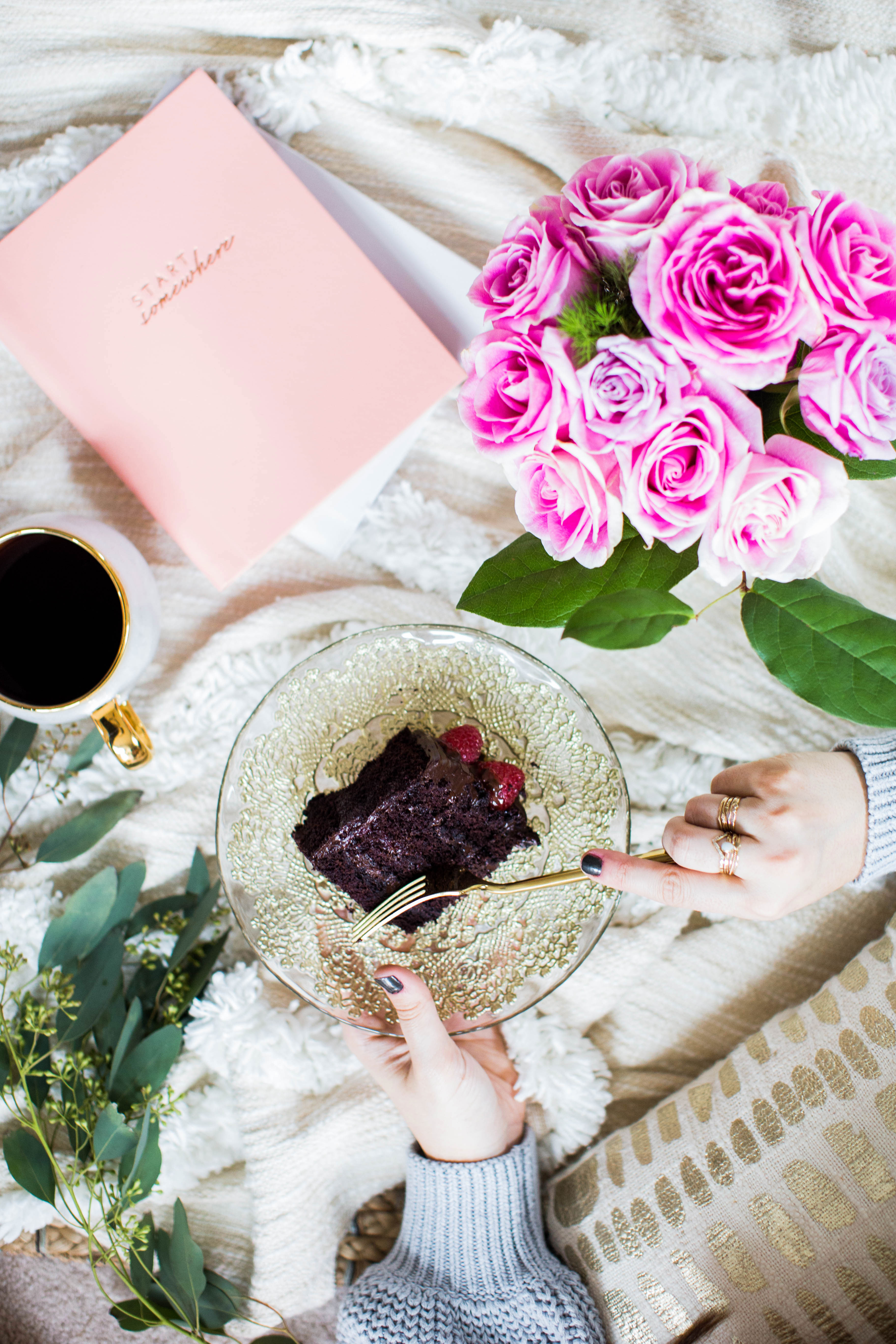 And let's not forget about the coffee, of course. The bronzed french press was such a stand-out piece and would work well at so many parties and get-togethers.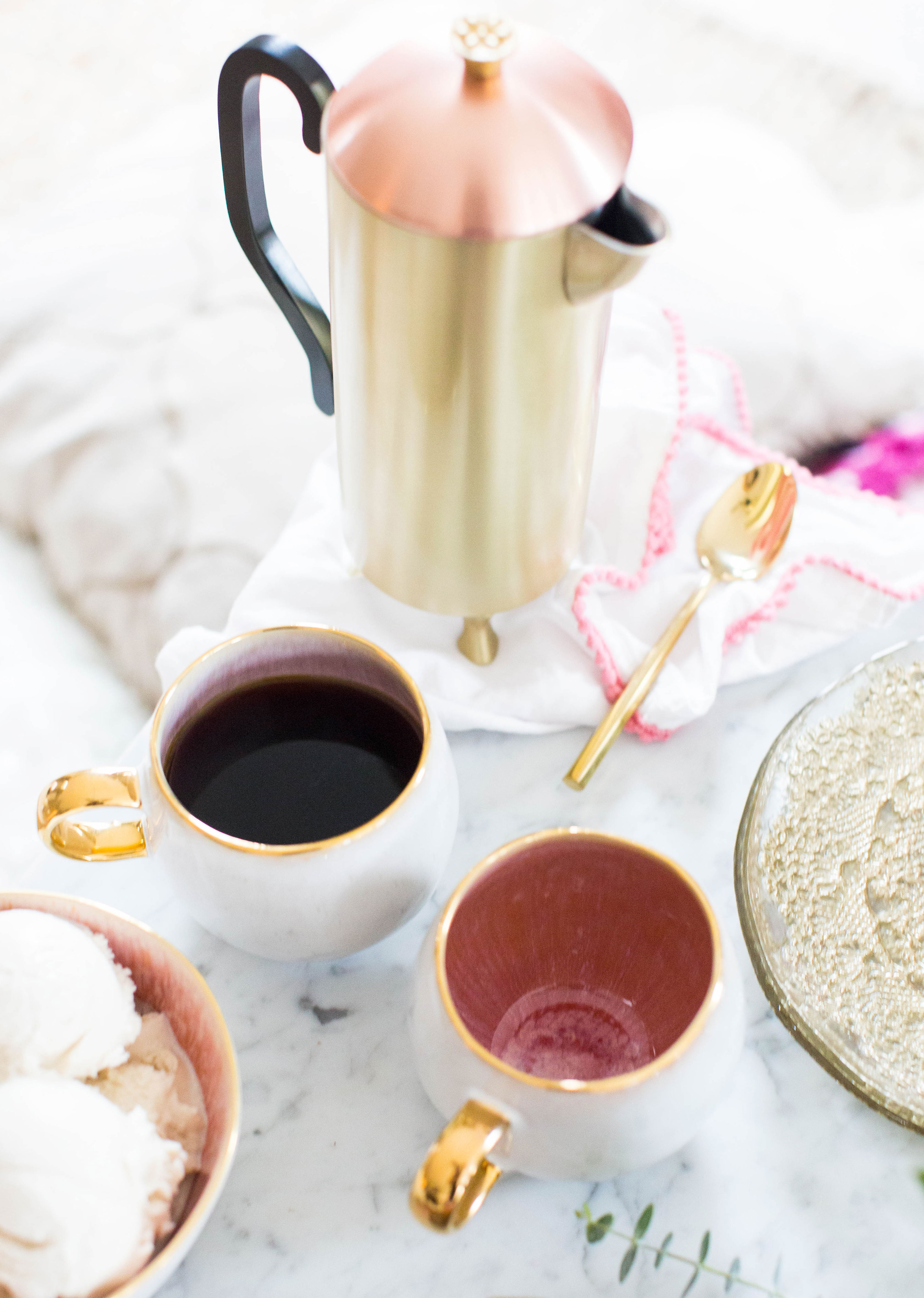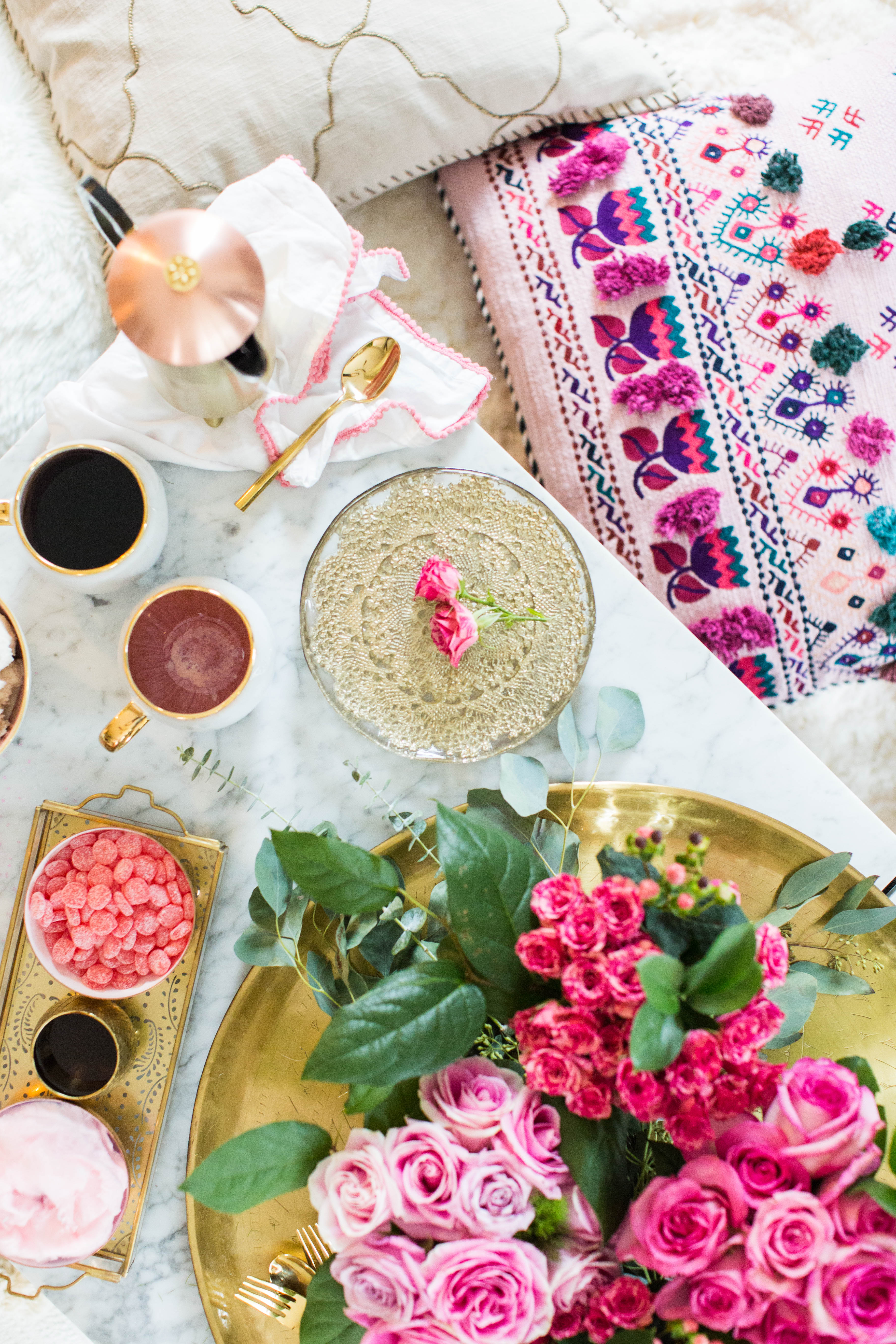 Flowers, flowers everywhere.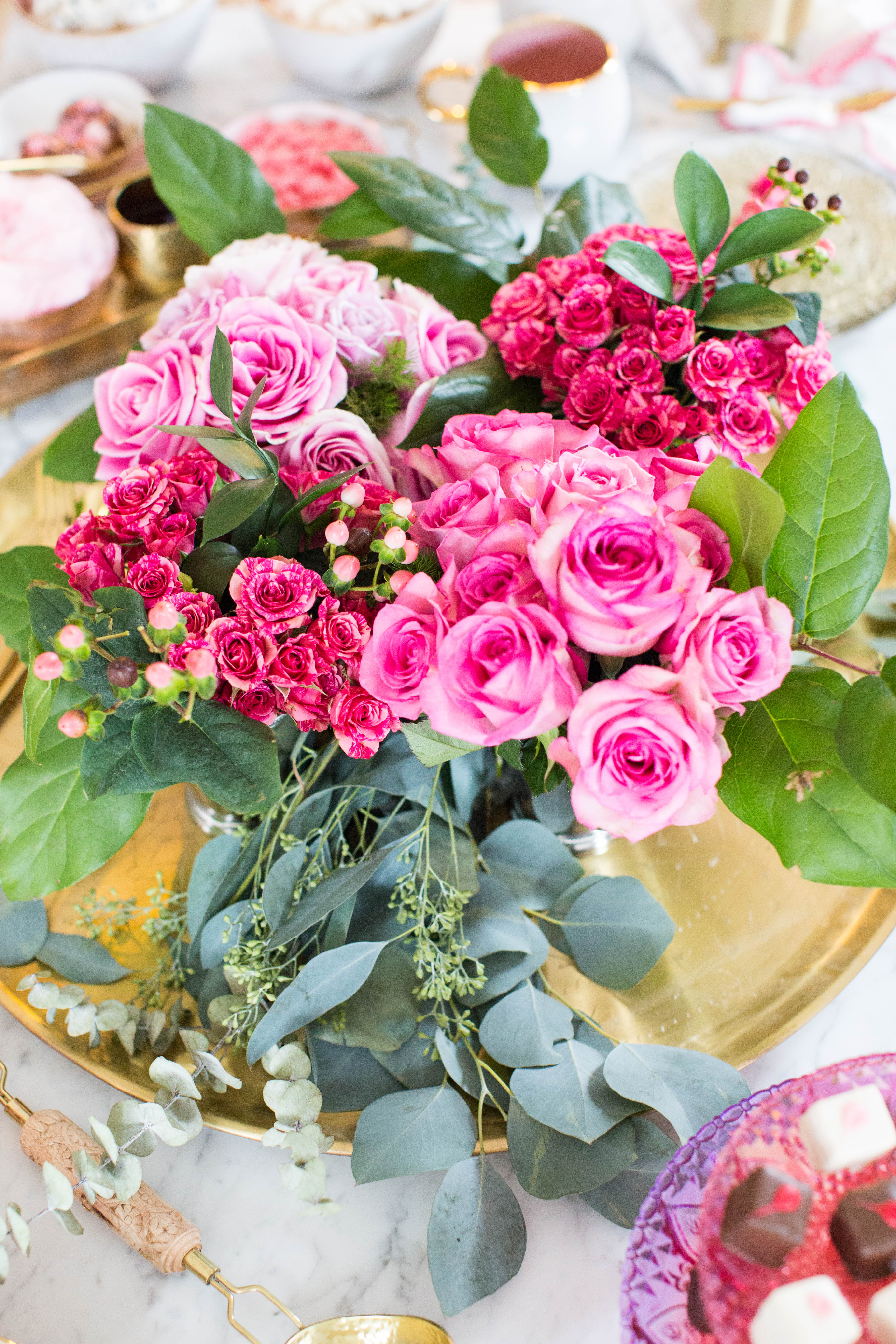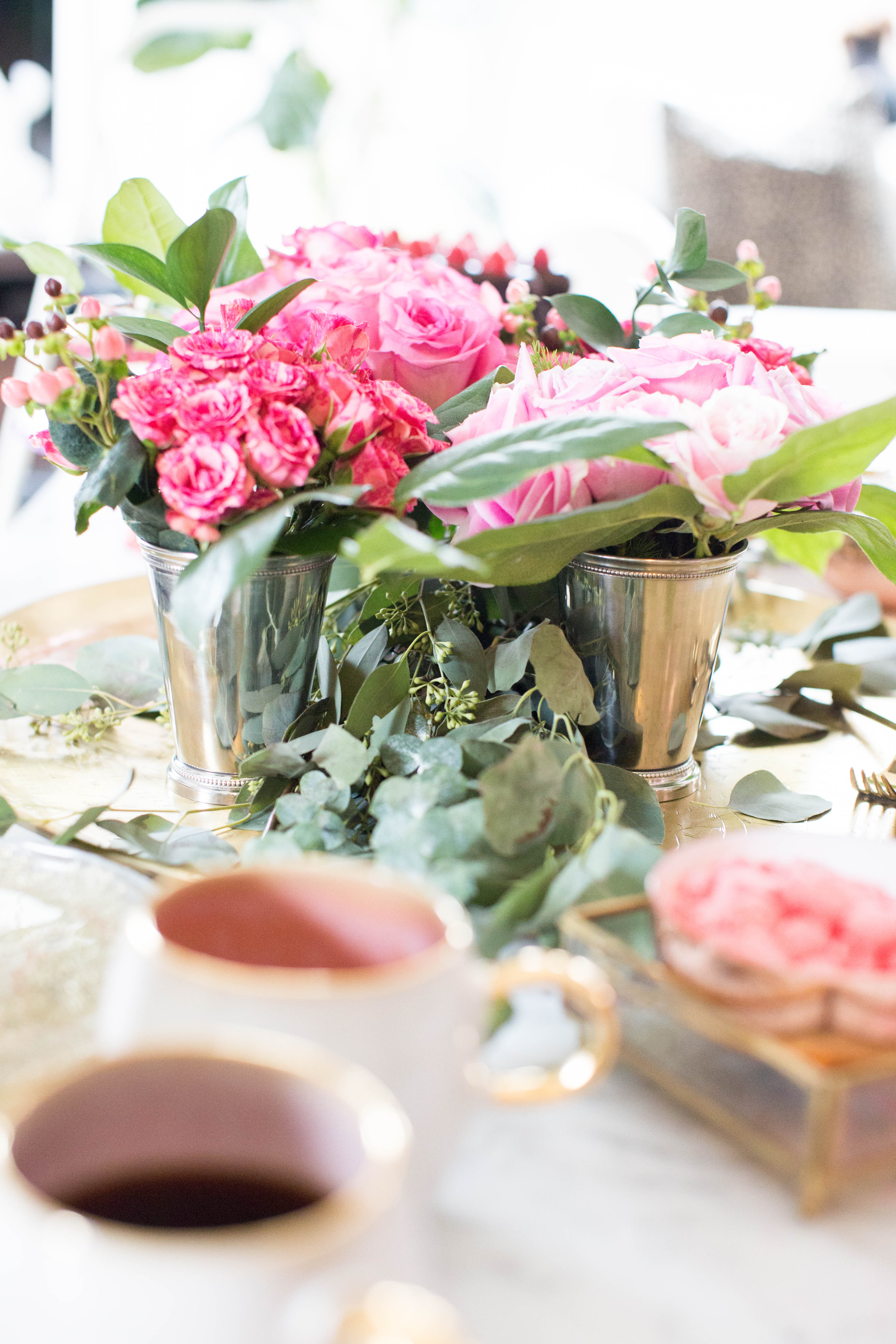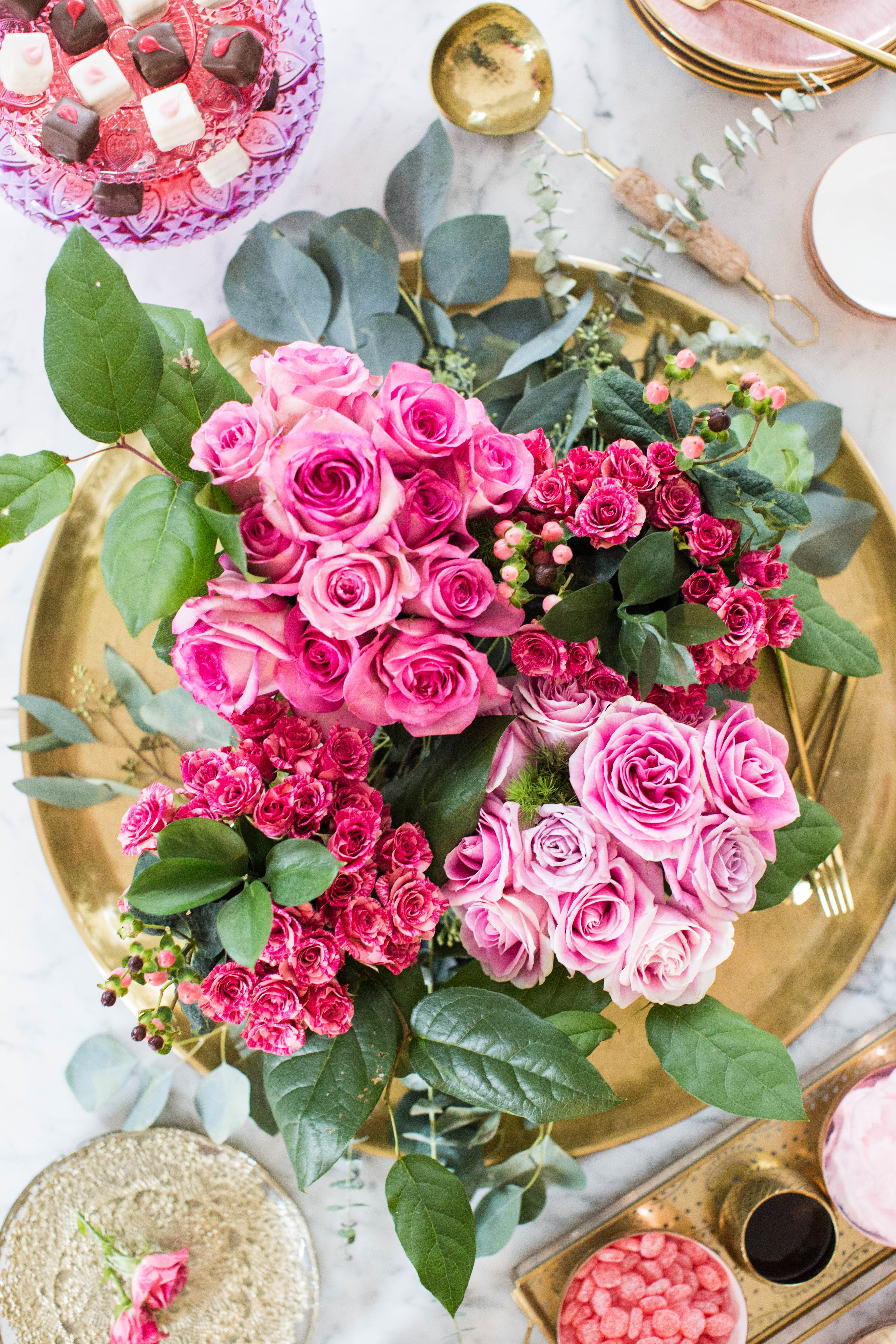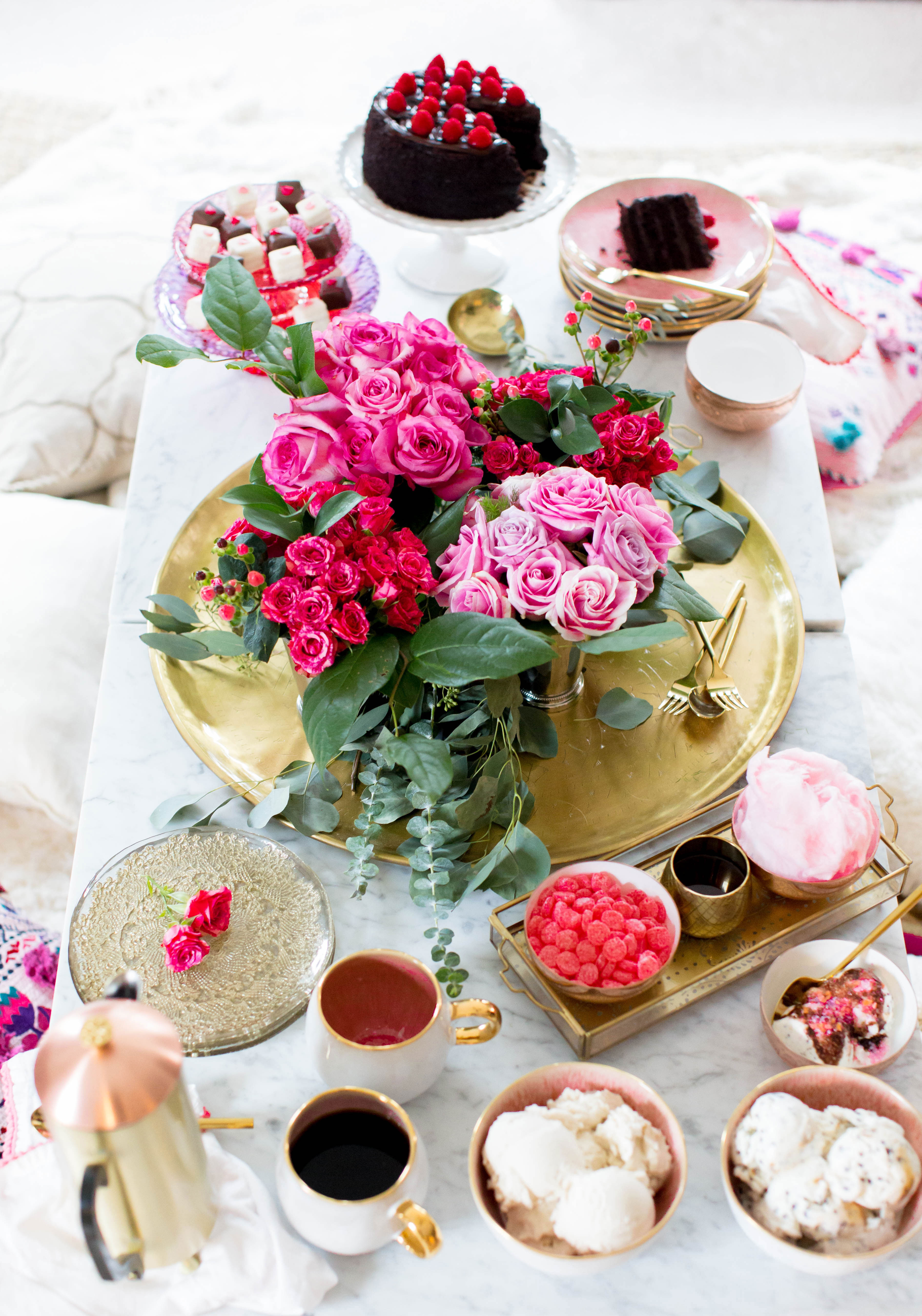 I'm pretty sure treating ourselves to a glamorous little Galentine's Day party the day before Valentine's Day each year will have to become an annual event.
Are you doing anything fun for Valentine's Day or Galentine's Day this year?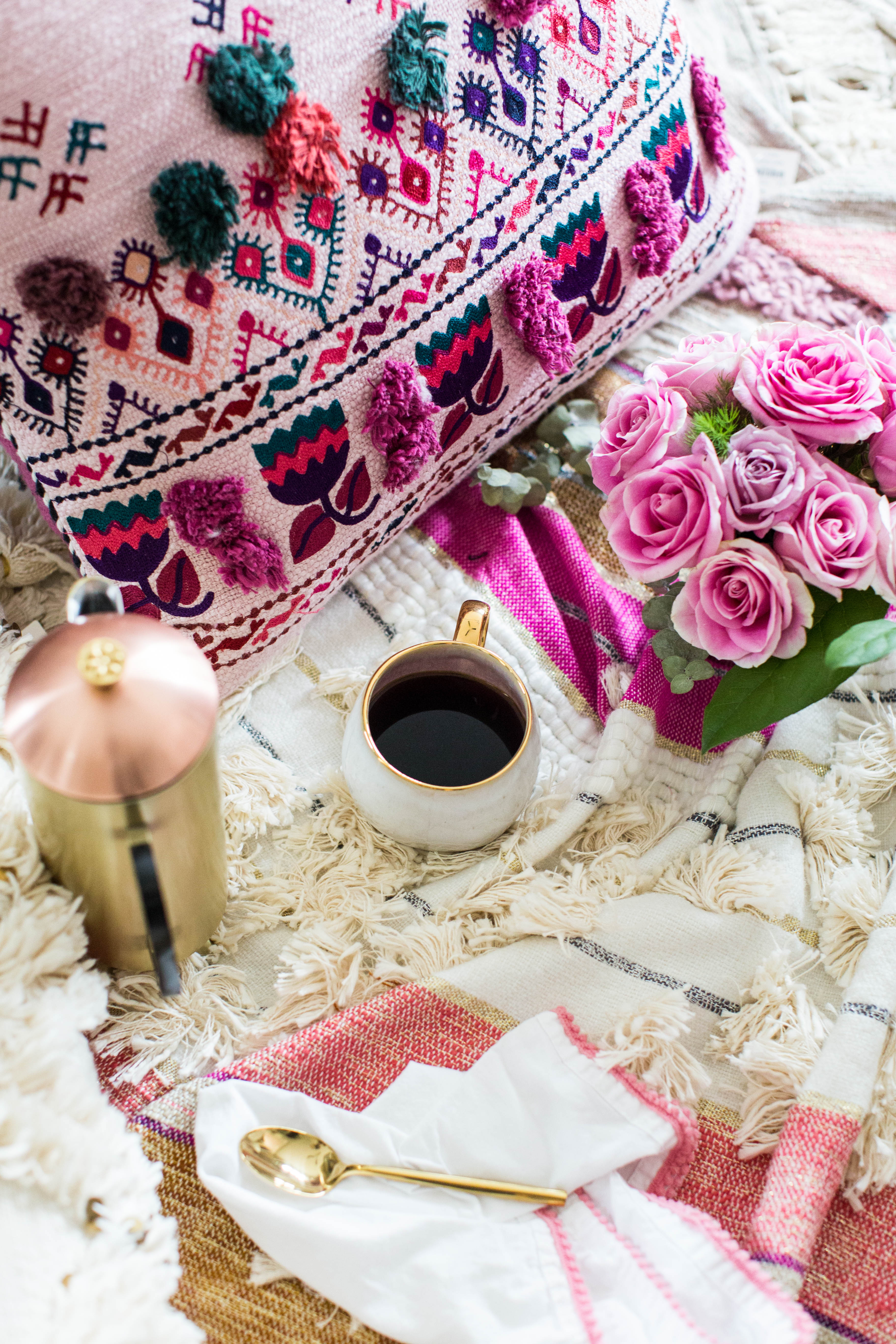 If you throw your own Galentine's Day soirée, be sure to tag me on social media (@glitterinclexi) so I can live vicariously through all of your fun parties and desserts!
SHOP THE STORY | CLICK LEFT & RIGHT ARROWS TO EXPLORE
WHAT WE WORE:

THE PARTY:

Psst … if you're looking for Valentine's Day inspiration, why not try marbled graham cracker toffee bark (a.k.a., graham cracker crack), the perfect sugar cookies for decorating (we used pink rock candy … I'm obsessed), throw together a last-minute date night (from the comfort of your sofa!), DIY the cutest mess-free craft with your little ones, make strawberry cheesecake macarons, big and fluffy homemade raspberry marshmallows, Oreo macarons, nutella-chocolate covered strawberries, or the best ever red velvet cupcakes with cream cheese frosting, or any one of these 14 favorite valentine's day desserts?
Photos by Annie Watts Photography
This post contains affiliate links, which means that if you click on one of the product links, I'll receive a small commission. Thank you so much for clicking through and helping to support this little blog business of mine! Read more about our site, privacy, and disclosure policies here.