I've challenged myself to dive back into reading this summer. The beauty of a personal challenge is that if I fail miserably and find myself reading the same Ladybug Girl Says Goodnight book over and over again by popular toddler request rather than reading a book I might actually enjoy (given that I'll have likely only read it once), the only person I can blame is myself. And lately, I've taken to giving myself a whole lot of grace.
Good news is, there are a slew of incredible-looking novels out this summer that I can't wait to dig my teeth into, and they may just be the motivation this mama needs to get back to the books. So if you're on the hunt for the best books of 2016, with a few cheeky beach reads you can plow through in one sitting mixed in, check out these 12 must-read books for 2016. (Get your wishlists ready!)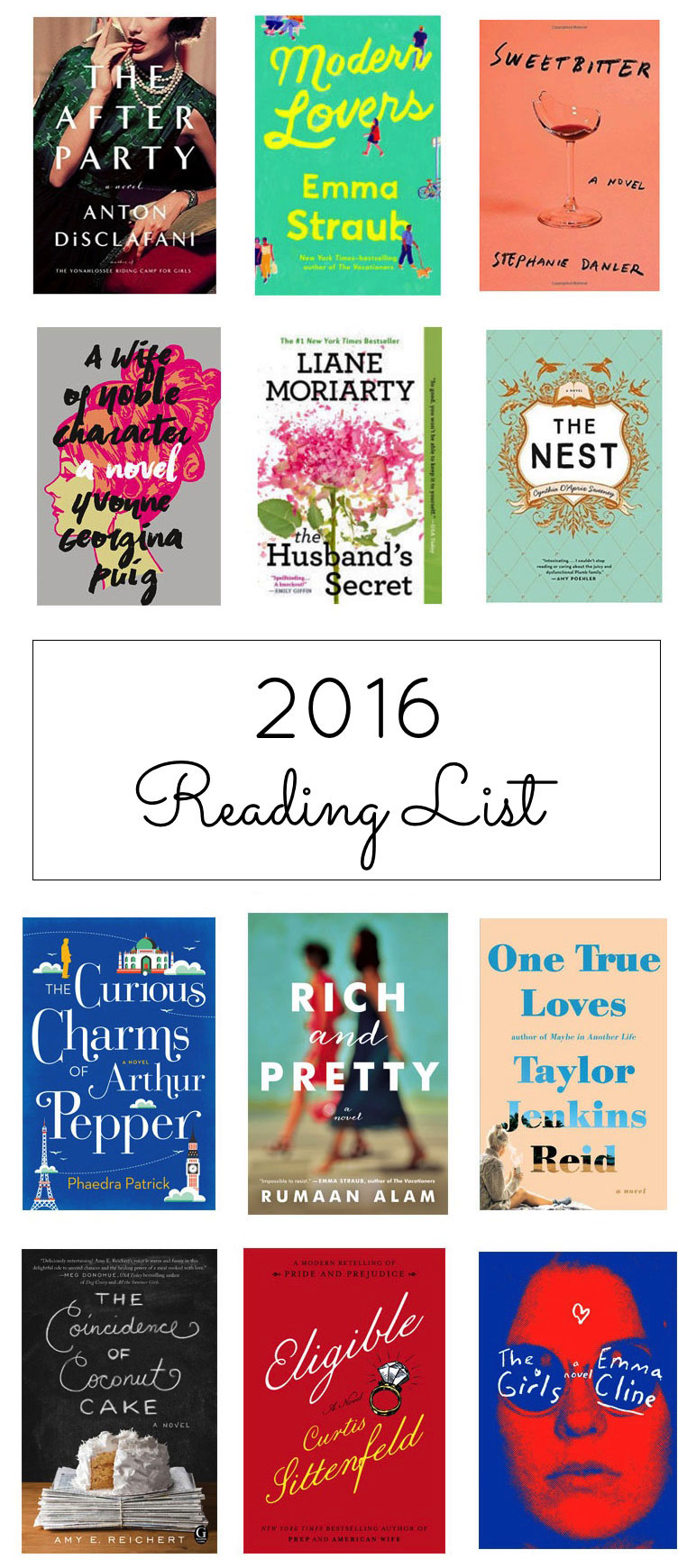 Clockwise from top left:
The After Party: A Novel by Anton DiSclafani
Penned by the bestselling author of The Yonahlossee Riding Camp for Girls (totally on my list as well!), this new novel tells the story of 1950s Texas socialites. (And really, they had me at "Texas socialites.") It's a charming historical fiction read full of garden clubs and glittering balls.
Modern Lovers by Emma Straub
Written by the author of last summer's hit, The Vacationers, Modern Lovers is the story of three college bandmates who have grown-up and had families of their own and is getting rave reviews. Per The Skimm, "It's 'Friends' meets 'Almost Famous' meets the beach read you'll be recommending all summer." Sold.
Sweetbitter: A Novel by Stephanie Danler
Described as a novel of the senses and a coming-of-age tale, following a small-town girl into the electrifying world of New York City and the education of a lifetime at one of the most exclusive restaurants in Manhattan. This book is for the foodies out there, with a hipster love triangle for good measure.
A Wife of Noble Character: A Novel by Yvonne Georgina Puig
Although this one isn't out until August, I've already wishlisted it. In a nutshell, it's the hilarious tale of 30-year-old Vivienne Cally who is scheming for a rich husband "among Houston's high-powered, oil-money elite."
The Husband's Secret by Liane Moriarty
This one actually came out in 2015, but I keep hearing that it's a great book, so on the list it goes. The gist: Husband writes a letter, to be opened after his death. The letter contains his deepest, darkest secret with major repercussions. Wife stumbles across that letter while husband is still very much alive.
The Nest by Cynthia D'Aprix Sweeney
A New York Times Bestseller, this novel is rumored to be a delightful, humorous tale of Upper East Side wealth, gossip, and family dysfunction. This is the kind of book you devour in one sitting; a.k.a., a perfect summer read.
The Curious Charms of Arthur Pepper by Phaedra Patrick
After discovering his wife's charm bracelet on the one-year anniversary of her death, a charming widower takes off on a life-changing journey to London, Paris, and India. I teared up just reading the Amazon reviews.
Rich and Pretty by Rumaam Alam
This widely hyped story of two life-long best friends, Sarah and Lauren, takes an honest look at modern female friendship and how it evolves as we grow up.
One True Loves: A Novel by Taylor Jenkins Reid
From the author of Maybe in Another Life—named a People Magazine pick—comes a breathtaking new love story about a woman unexpectedly forced to choose between the husband she has long thought dead and the fiancé who has finally brought her back to life.
The Coincidence of Coconut Cake by Amy E. Reichert
Described as You've Got Mail meets How to Eat a Cupcake in this delightful novel about a talented chef and the food critic who brings down her restaurant—whose chance meeting turns into a delectable romance of mistaken identities. This one sounds too adorable not too read, and bonus points for that cover art.
Eligible by Curtis Sittenfeld
I read and loved Curtis Sittenfeld's breakout hit, Prep, and Eligible is being dubbed a modern retelling of Pride & Prejudice; in other words, sign me up.
The Girls: A Novel by Emma Cline
This highly anticipated debut novel takes place in 1960's California and follows a young woman as she gets wrapped up in a Charles Manson-like cult. Admittedly, this one might be just a bit too creepy for me, but I can't say that I'm not intrigued. Everyone is raving about it.
---
What's on your summer reading list? I'll take all the recommendations I can get!
---
And if you're looking for even more amazing books (or just want to join the club and save a dozen more to your wishlist that you may or may not get to someday), check out last year's 12 Must-Read Books for 2015.
---
This post contains affiliate links, which means that if you click on one of the product links, I'll receive a small commission. Thank you so much for clicking through and helping to support this little blog business of mine! Read more about our site, privacy, and disclosure policies here.