My second Mother's Day is nearly here (I'm so lucky that Scarlett made me a mama!) – and I'm celebrating with a wishlist of sorts – that I think all moms are going to love. A few years back I started a little blog tradition of posting The Ultimate Gift Guide for Mom , a.k.a., the Mother's Day Gift Guide (you'll both love), full of luxe gifts mama wouldn't normally treat herself to, because that's what Mother's Day is all about, after all. And truly, the mothers in our family (especially mine!) are absolutely incredible, always put us first, and never really splurges for themselves. The holiday is right around the corner (Sunday, May 8th to be be exact – mark your calendar!); let's treat our moms, because they totally rock.
With online shopping, there really is no limit to great Mother's Day gift ideas and finds (I mean, how utterly darling is this "mama" necklace?) But shopping in stores or online for that perfect gift can also feel really daunting when the pressure is on, so I'm rounding up a bunch of gift ideas for the mothers, aunts, grandmothers, sisters, and mom friends in your life.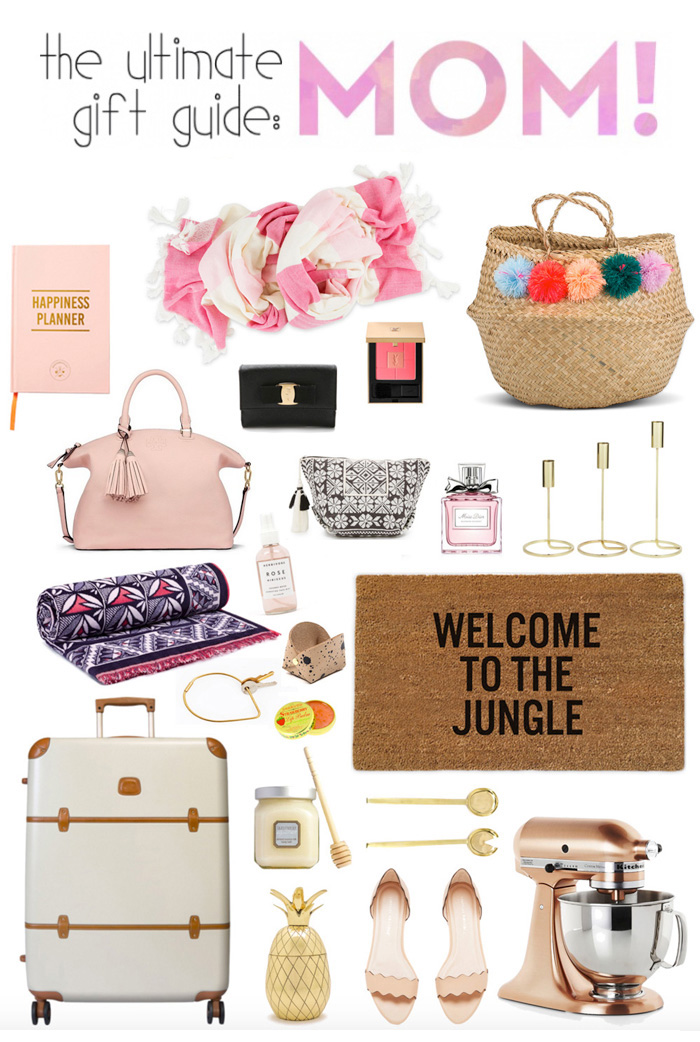 Highclere Hat: This ladylike hat has a sweet, sophisticated style with the perfect wide, floppy brim. It's both easygoing and proper – matching with so many looks.
The Happiness Planner: Help mom focus on herself a little, with positive-thinking, goal-setting, and reflection, all in a pretty journal. It's Anthropologie approved.
Eliza Gran Pom Pom Basket: Remember how I told you just the other day that French market baskets would be all the rage this Spring and Summer? Well these Eliza Gran pom pom baskets just will not get out of my head. The perfect storage piece, I can't think of mama who wouldn't want one of these pretty baskets.
Palm Springs Bath Towel: This luxe striped towel doubles as a throw, perfect for beach days and picnics.
Tory Burch Thea Medium Slouchy Satchel: What Mama doesn't want a new Tory Burch bag? Especially one this functional and beautiful.
Salvatore Ferragamo Miss Vara Wallet: The sweetest little bow-topped wallet.
Yves Saint Laurent BLUSH VOLUPTÈ Heart Of Light Powder Blush: Who wouldn't want Yves Saint Laurent beauty products? And this blush is perfection in a palette.
CB2 3-Piece Roundabout Taper Candle Holder Set: Modern gold candle holders are always a good choice.
Star Mela Saga Cosmetic Pouch: Moms alike typically have one purse disaster in common – their beauty products and essentials are cluttered in the deepest depths of their handbags. Save moms everywhere with an adorable zip pouch.
Herbivore Rose Hibiscus Coconut Water Hydrating Face Mist: This magic in a bottle tones, hydrates, and softens, all while smelling incredible.
Tory Burch Beach Towel: If mom needs a vacation (yes!), get her this adorable oversized beach towel. Let Dad get the trip.
Areaware Contour Key Ring: The chicest understated key rings.
Tiny Toc Leather Ring Bowl: How adorable and ingenious is this small leather dish? From Moreea Seal, "Perfect for small jewelry on the dresser-top or bits & bobs or business cards on the desk, the Tiny Toc is a great catchall for life's little details."
Miss Dior Blooming Bouquet Eau de Toilette Spray: I am a huge fan of Miss Dior perfumes and this Spring-through-Summer scent is heavenly. Already wish-listed.
Rosebud Perfume Co. Strawberry Lip Balm: This stuff is the best, smells like strawberry shortcake, and is an easy little gift to slip into a card.
Welcome To The Jungle Doormat: This one's pretty self-explanatory. Just come for a visit.
Laura Mercier Almond Coconut Honey Bubble Bath: Rumor has it, this stuff smells amazing.
Bric's Luggage Bellagio Ultra-Light 32 Inch Spinner Trunk: I'll just be here, dreaming about this luggage.
Hand Forged Brass Serving Spoon Set: Entertaining mavens will be all over this brass serveware.
Gold Pineapple Tumbler: Mom can pretend she's on vacation with a cocktail in a gold pineapple. Happiness every day.
Loeffler Randall Lina Scalloped D'Orsay Sandals: Delicate and feminine, she'll fall instantly in love with these beauties.
Kitchenaid Copper Metallic Series Stand Mixer: Because yes, most of us do dream of copper mixers.
SHOP THE POST / CLICK LEFT & RIGHT ARROWS TO EXPLORE

By the way, in case you're looking for something to DO for your mom this Mother's Day, last year I suggested a few fun and original ideas that she'll love.
Have you started your Mother's Day shopping and planning? 
This post contains affiliate links, which means that if you click on one of the product links, I'll receive a small commission. Thank you so much for clicking through and helping to support this little blog business of mine! Read more about our site, privacy, and disclosure policies here.