This post contains affiliate links, which means that if you click on one of the product links, I'll receive a small commission. Additionally, as an Amazon Associate I earn from qualifying purchases. Thank you so much for clicking through and helping to support this little blog business of mine! Read more about our site, privacy, and disclosure policies here.
This deceptively delicious apple cobbler is rich, full of cinnamon, fragrant apples, and a velvety caramel sauce, topped with the most heavenly dough, and yet, is actually lower calorie than a traditional cobbler and can also be made dairy-free!
Goodness do I ever love cobbler (and crisp and crumble.) There's something so warm and comforting and nostalgic in the combination of spiced apples and doughy crust. And when it comes to fruit-focused desserts, I'd happily take a fruit-laden dessert over a slice of cake or a bowl of ice cream any day. (For the record, I know this is a bold statement. My husband, for one, thinks I'm nuts.)
But cobbler is sort of the best of both worlds, isn't it? You get your cake and you get your fruit; a.k.a., both my husband and I – who sit on polar opposite ends of the dessert spectrum – agree that this is a favorite.
And of course, I bake all year-round, but over the holidays, namely in the fall and winter, I find myself baking more than ever. The trouble is, most cobblers are loaded with calories. Don't get me wrong, there's nothing, and I mean nothing, wrong with a decadent dessert, but when I'm baking so much, and still want to bake with all of the delicious fall flavors, a lower calorie dessert is in order.
The Best Ever Healthier Apple Cobbler (Lower Calorie + Dairy-Free)
About a month ago I stumbled upon a variation of a cobbler that is actually Weight Watchers friendly and I gave it a go. With a few tweaks it quickly became one of our favorite weeknight desserts. (Oh yes, I'm shamelessly committed to dessert on weekdays.)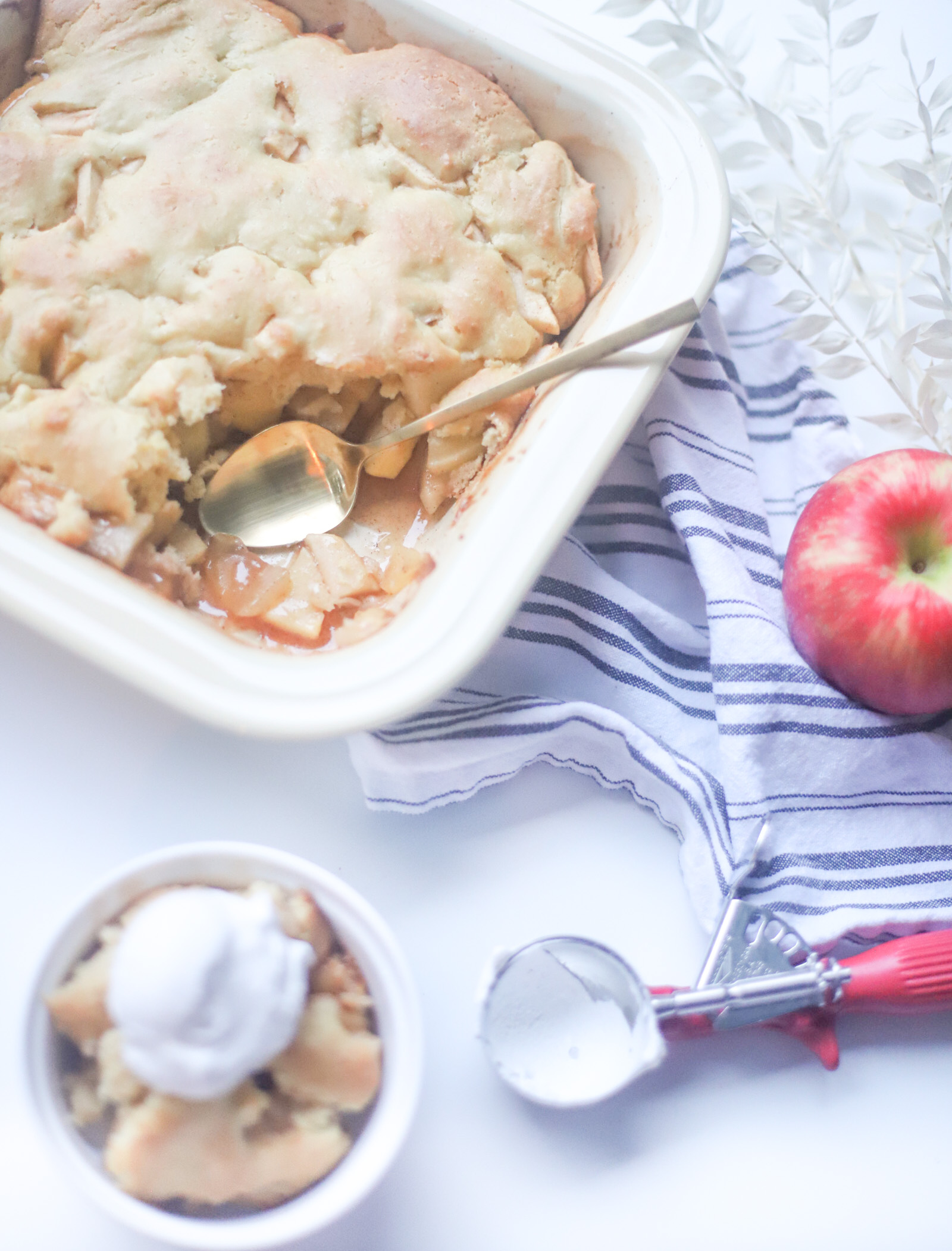 The beauty of this apple cobbler is that it relies on most of the same elements that make a traditional apple cobbler so darn good; caramel-y pie-like apple filling with hints of cinnamon and nutmeg, topped with a cobbler topping – the perfect combined texture of cake and doughy cookie-like crust – and miraculously does it all with fewer calories and no dairy (if you so choose!) Top it with vanilla ice cream or whipped topping and OMG are you ever in dessert business. 😍
And compared to that old school cobbler, this one is naturally sweetened and made with whole grains for a healthier, lower calorie treat that still tastes amazing. And while there is some butter, it's a whole lot less than a traditional cobbler but manages to add the same richness. All of that cinnamon and nutmeg, combined with a hint of honey and a touch of brown and white sugar, melds together to create a thick, perfectly sweet pie-like filling.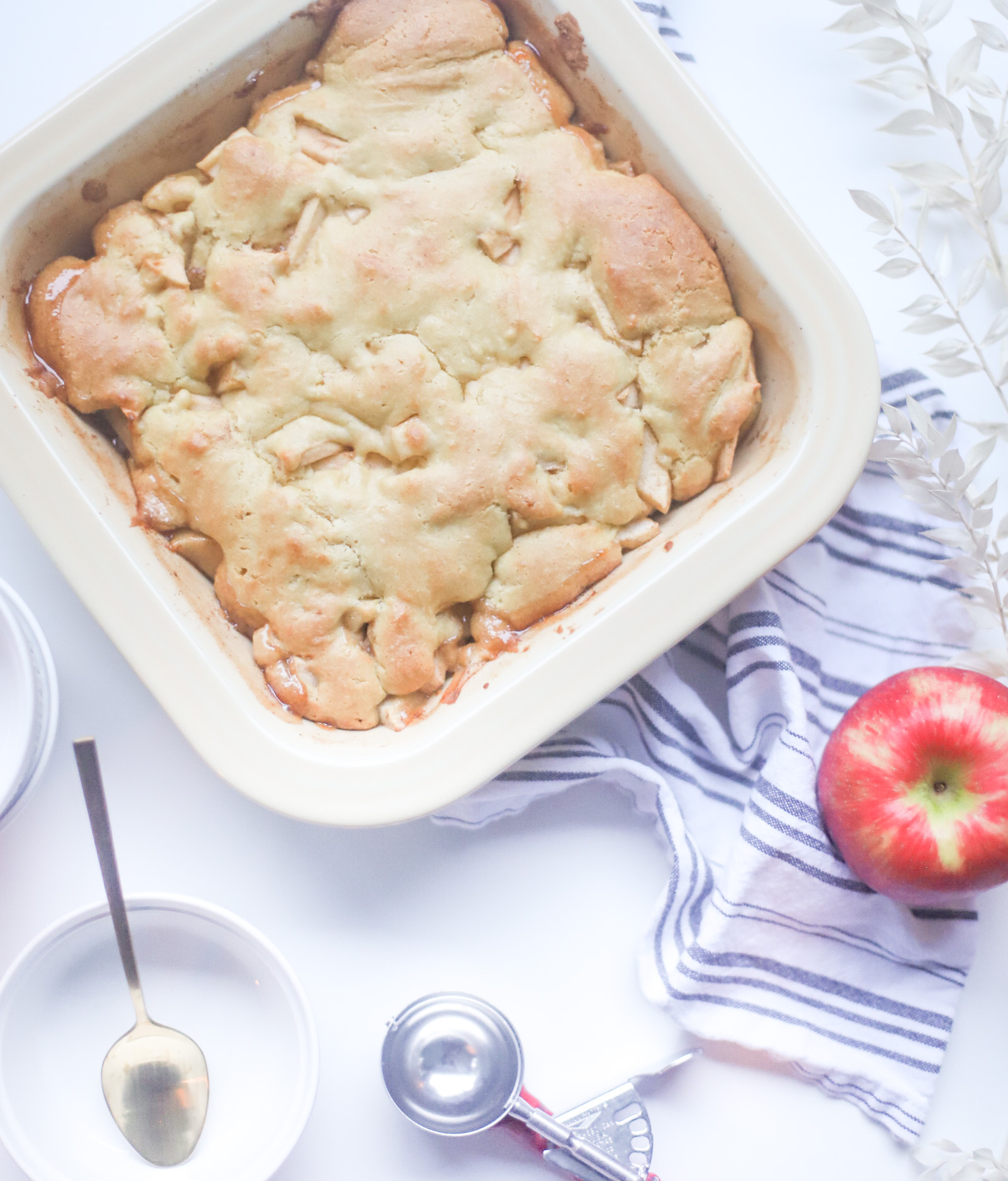 How to Make Healthier Apple Cobbler
The ingredients to make this apple cobbler are simple:
apples
honey
cornstarch
cinnamon
nutmeg
white whole wheat flour (or all-purpose flour)
granulated sugar
baking powder
baking soda
salt
cold unsalted butter (we use Earth Balance vegan butter)
milk of choice (we use soy or almond milk)
light brown sugar
Scroll down for the printable recipe!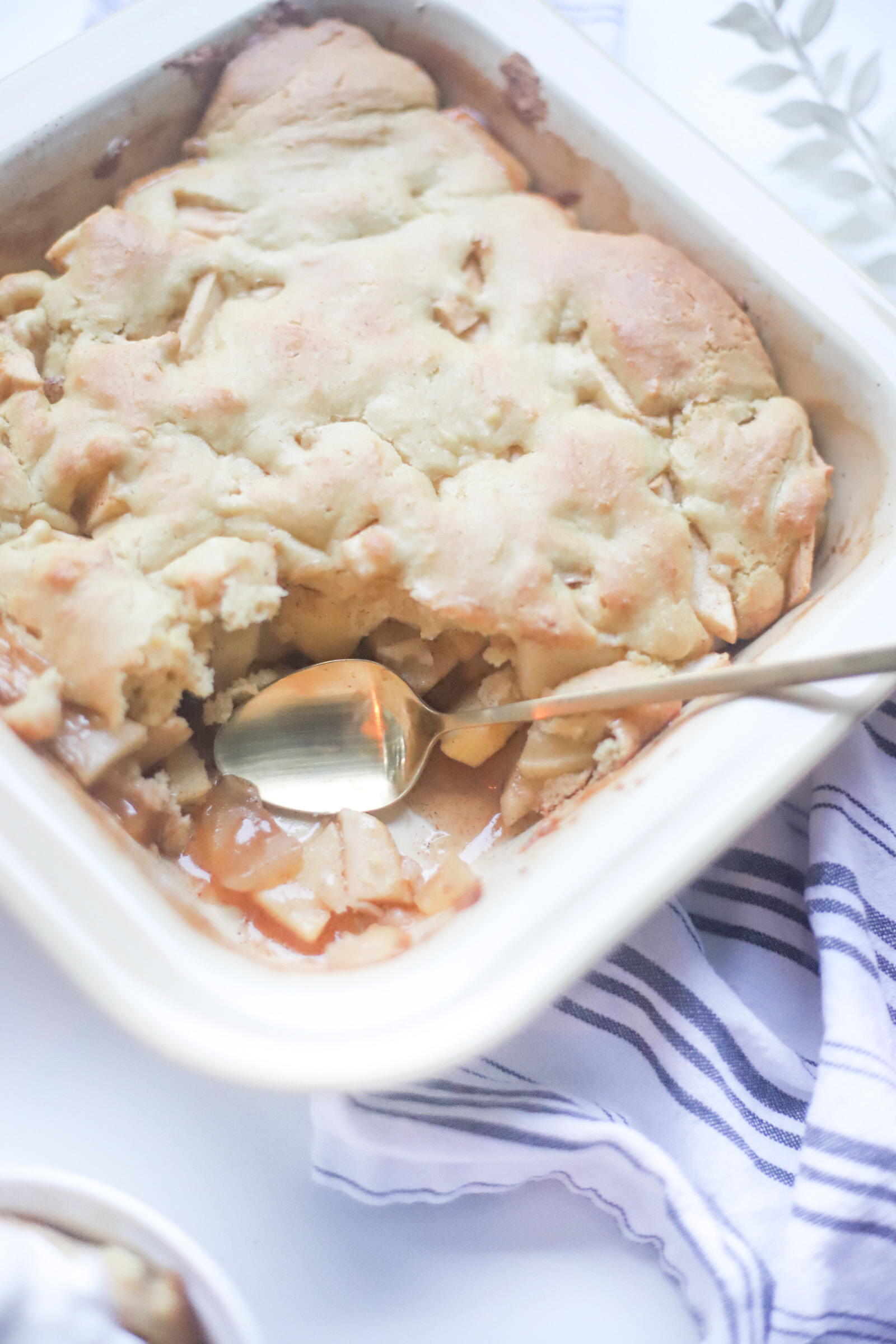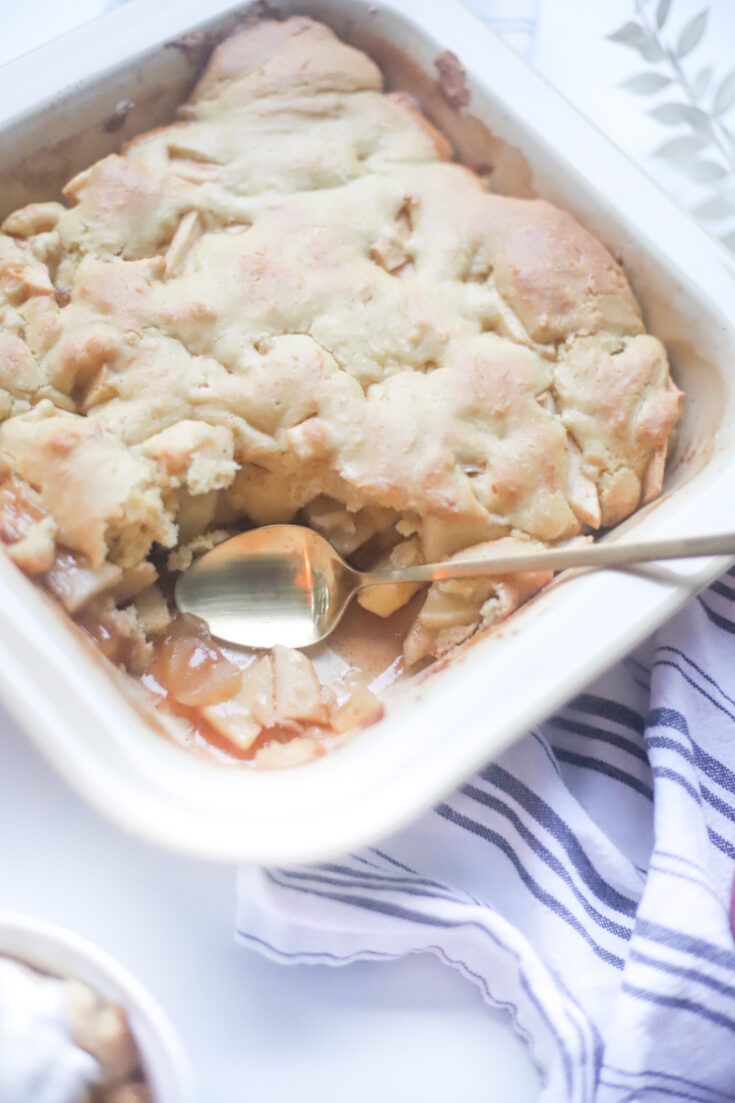 The Best Ever Apple Cobbler (Lower Calorie + Dairy-Free)
This deceptively delicious apple cobbler is rich, full of cinnamon, fragrant apples, and a velvety caramel sauce, topped with the most heavenly dough, and yet, is actually lower calorie than a traditional cobbler and can also be made dairy-free!
Ingredients
4 cups apples peeled, cored, sliced, and halved (3-4 medium apples)
1/4 cup honey
1 tablespoon cornstarch
1/2 teaspoon cinnamon
1/4 teaspoon ground nutmeg
1 cup white whole wheat flour (or sub all-purpose flour)
2 tablespoons granulated sugar
1-2 tablespoons light brown sugar, packed
1 teaspoon baking powder
1/4 teaspoon baking soda
1/4 teaspoon salt
3 tablespoons cold unsalted butter, cut into small pieces (we use Earth Balance vegan butter)
1/2 cup milk of choice (skim milk or dairy-free alternative like almond or soy)
Instructions
Preheat oven to 375.
Place sliced apples in a medium bowl. Drizzle with honey, then add cornstarch, cinnamon and nutmeg. Stir well to coat the apples.
Transfer apples to a 9-inch x 13-inch (or 8-inch x12-inch) casserole dish sprayed with cooking spray.
In a separate bowl, mix flour, sugars, baking powder, baking soda and salt until well combined.
Cut in butter using a pastry cutter or a fork, until the mixture resembles small peas. (You can also do this in a stand mixer or even with your hands.)
Add milk and stir until just combined.
Pour the batter mixture over the apples in the casserole dish.
Bake at 375 for 30-35 minutes, until the topping is golden brown and set.
Remove and allow to sit for 10 minutes before serving. (Optional: top with vanilla iced cream, whipped topping, or dairy free cocowhip to serve.)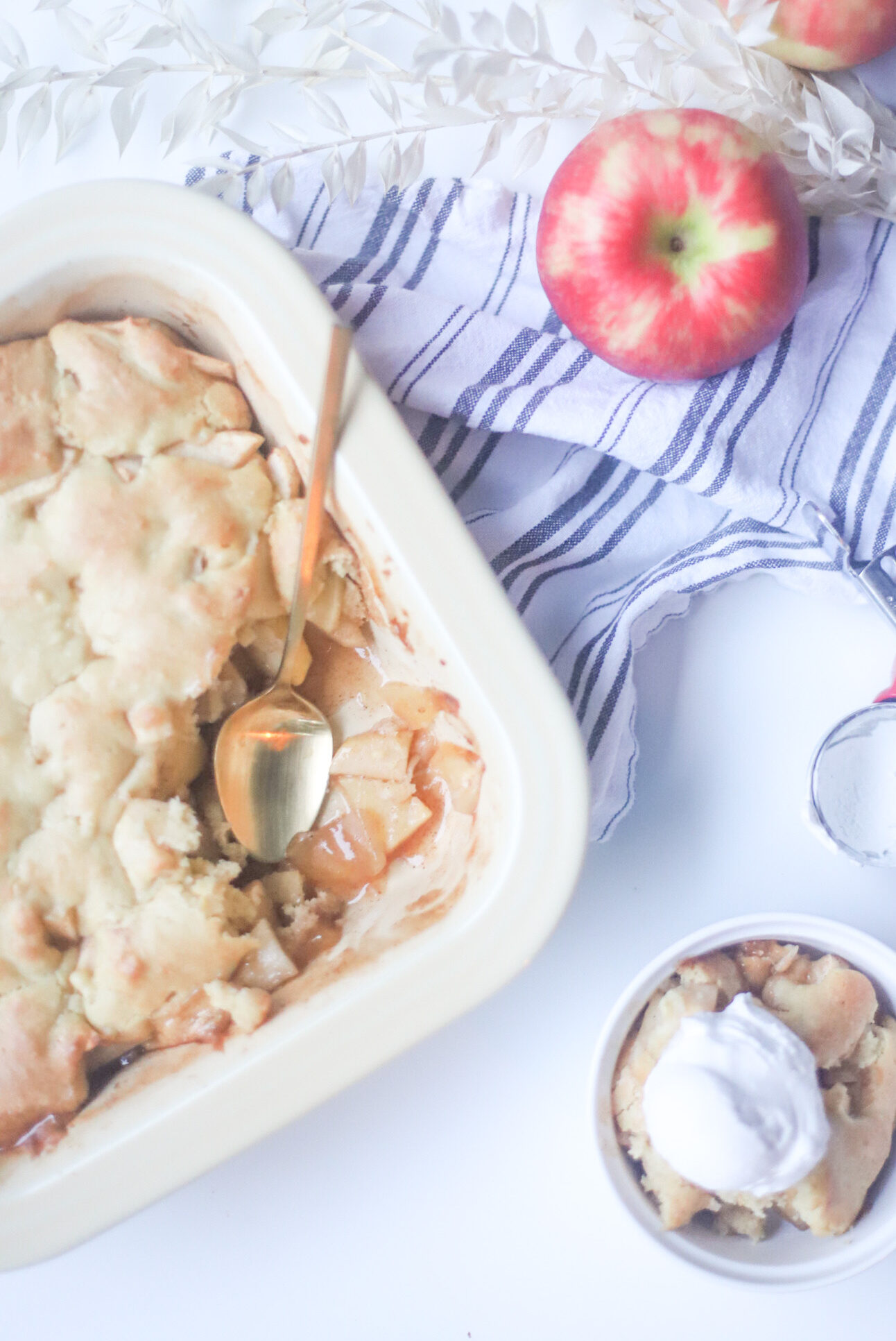 I highly recommend adding a scoop of vanilla ice cream, whipped topping or whipped alternative on top when serving this cobbler (especially if serving it warm.) Drizzle some of the warm, caramel-y sauce from the bottom of the casserole to drizzle over the top and tuck right in. This is fall dessert perfection right here!
So if you're craving a lighter dessert that's rich and delicious, definitely give this one a try!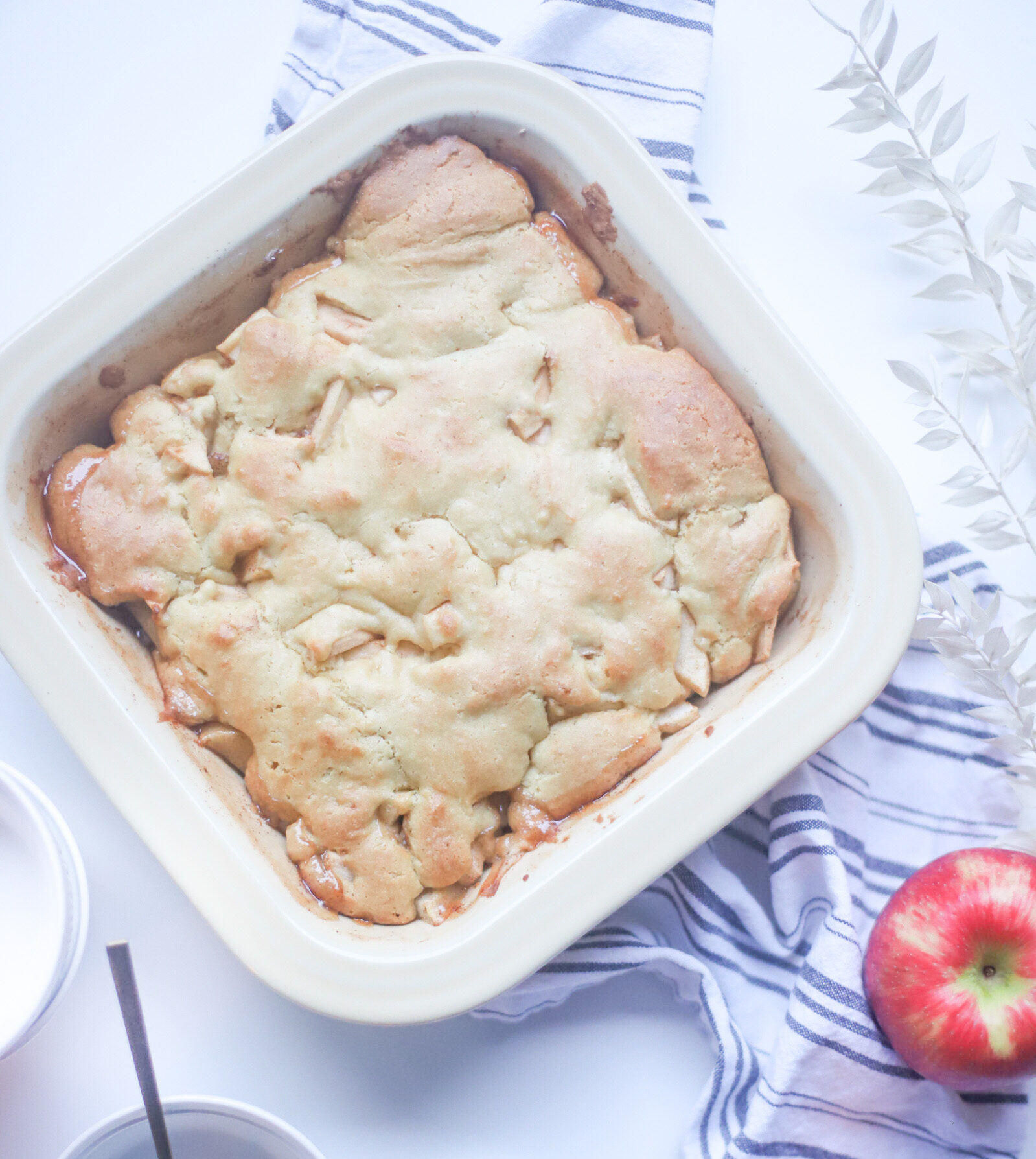 Are you just as in love with cobbler as I am? Do you have a favorite cobbler or crisp? I'm always looking for fun new recipes to re-create with our own spin!
Want even more INCREDIBLE apple desserts?
Try one of these other apple dessert and treat recipes:
The Most Amazing Apple Crisp Shortbread Bars
Salted Maple Caramel Apple Pie (The Yummiest Twist on Apple Pie!)
Applesauce Snack Cake with Cream Cheese Frosting
Slow Cooker Apple Cinnamon Steel Cut Oats
Healthy Gluten-Free Apple Cinnamon Almond Muffins
Apple Honey Greek Yogurt Breakfast Muffins
DIY Caramel Apple Bar (Perfect for a Party!)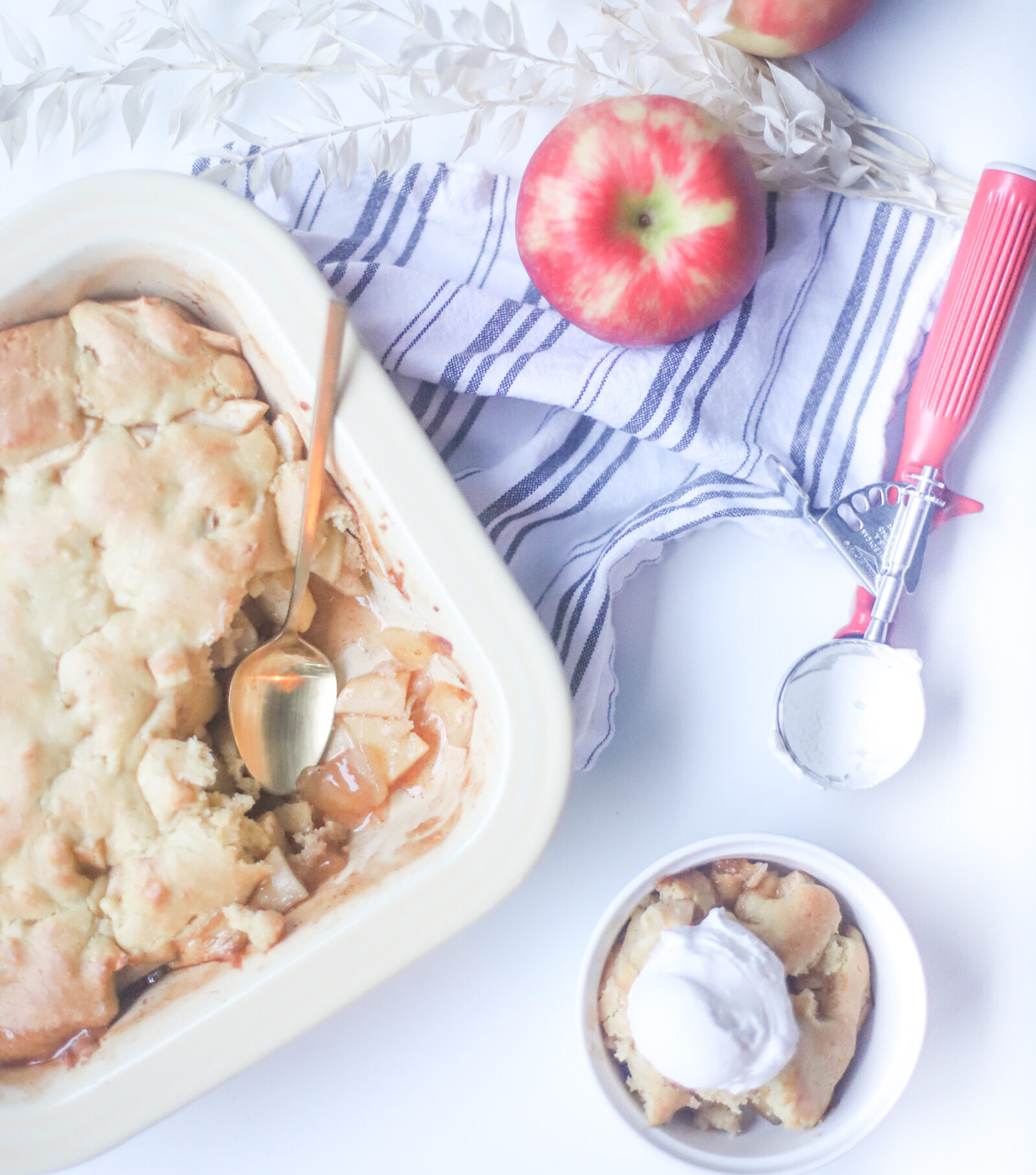 SHOP THE HEALTHIER APPLE COBBLER RECIPE POST | CLICK LEFT & RIGHT ARROWS TO EXPLORE
Love this lightened up apple cobbler? Head to our recipe page to check out what else we're dreaming up in the kitchen!
If you make your own homemade healthier apple cobbler, be sure to tag me on social media (@glitterinclexi) so I can live vicariously through all of your sweet creations! Plus, I'd love to hear how your cobblers turn out (and if you're just as obsessed as we are!)