I have been on the hunt for a recipe that I could seamlessly sneak greek yogurt into.  I should start by saying that I haven't always been the biggest fan of greek yogurt, much less any yogurt really.  Still, I knew greek yogurt was packed with protein (or rather, a whole lot more than I normally eat), and I wanted to try it … by sneaking it into baked goods … duh.  I stumbled across Christin's recipe for apple sour cream muffins, and I immediately thought of this little greek yogurt conversion chart I had seen on Pinterest, and I thought, "sour cream" … "greek yogurt" … "lightbulb!"  Now don't get me wrong, I'm sure apple sour cream muffins are rich and delicious, but I just had to get that greek yogurt in.  I had to.  (You know when you get fixated on an ingredient and you just need to make something with it?  Last week it was brussels sprouts … I roasted my first ever brussels sprouts, and FYI: SO good.  So yeah, this week was greek yogurt.)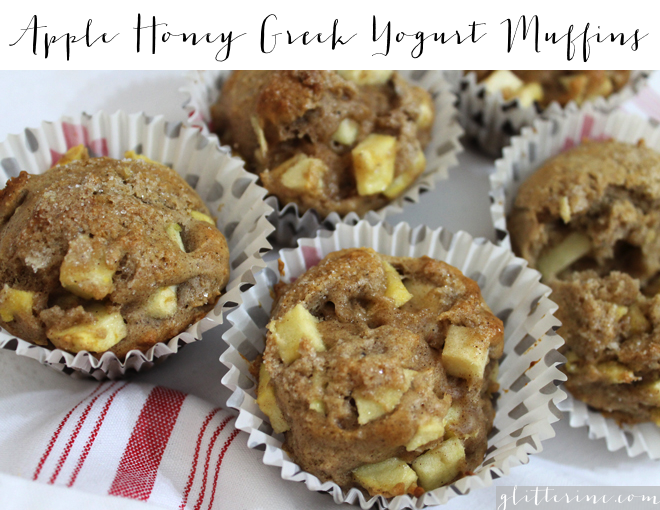 I should warn you that they're not the prettiest of muffins, and though they taste healthy-ish, they're subtly sweet (thanks to the honey), and the dough tastes like actual moist cake dough (unlike a lot of baked goods that attempt to change out more calorie-heavy ingredients for things like apple sauce, diet soda, and yogurt and wind up tasting … well, like imposter cake made with apple sauce).  I sprinkled a bit of coarse sugar on top of the second batch before baking because I knew hubby would pout over the "subtle sweetness", but I was not giving up on my idea of a healthy-ish muffin. By the way, these are perfect for a quick breakfast on the go and hold up surprisingly well in the refrigerator for several days.
1 1/2 cups whole wheat flour
1/2 cup all-purpose flour
1 teaspoon baking powder
1 teaspoon baking soda
¼ teaspoon salt
1 tablespoon cinnamon
1 teaspoon nutmeg (the recipe called for a 1/2 tablespoon, but I cut it back a bit)
¼cup peanut vegetable oil
1 ¼ cup greek yogurt (or you can use sour cream for a richer muffin)
¼ cup honey
¼ cup brown sugar
2 eggs
3 or 4 small apples – peeled and diced into cubes
Directions:
In one bowl, mix together the flours, baking soda, baking powder, salt, cinnamon and nutmeg.  In another bowl, mix together the sugar, oil, eggs, honey, and greek yogurt.  Add the dry ingredients to the wet ingredients, and then fold in the chopped apples.  Don't over-mix, just be sure to coat everything pretty evenly.  Bake at 350 degrees for 15-20 minutes, or until golden brown and firm to the touch.