This post contains affiliate links, which means that if you click on one of the product links, I'll receive a small commission. Additionally, as an Amazon Associate I earn from qualifying purchases. Thank you so much for clicking through and helping to support this little blog business of mine! Read more about our site, privacy, and disclosure policies here.
Our absolute favorite granola recipe is subtly sweet, nutty, a little bit chewy and a little bit crunchy, with cookie-like chunks, and what I think is the best ever classic granola recipe; perfect for topping yogurt, cereal, or eaten by the handful as a snack!
Granola is one of those things I make often for our family. I love keeping homemade granola in a jar on the kitchen counter to add to yogurt or scooped out by the handful (🙈); and this granola recipe is our go-to.
I've made so many variations of this chewy and delicious classic granola over the years. I've even used it to top these incredible strawberry yogurt granola crumble muffins!
After sharing 3 of our favorite handmade gifts to give during the holiday season (including a jar of this amazing granola), I realized that the best ever granola deserved a post of it's own. It really is that yummy!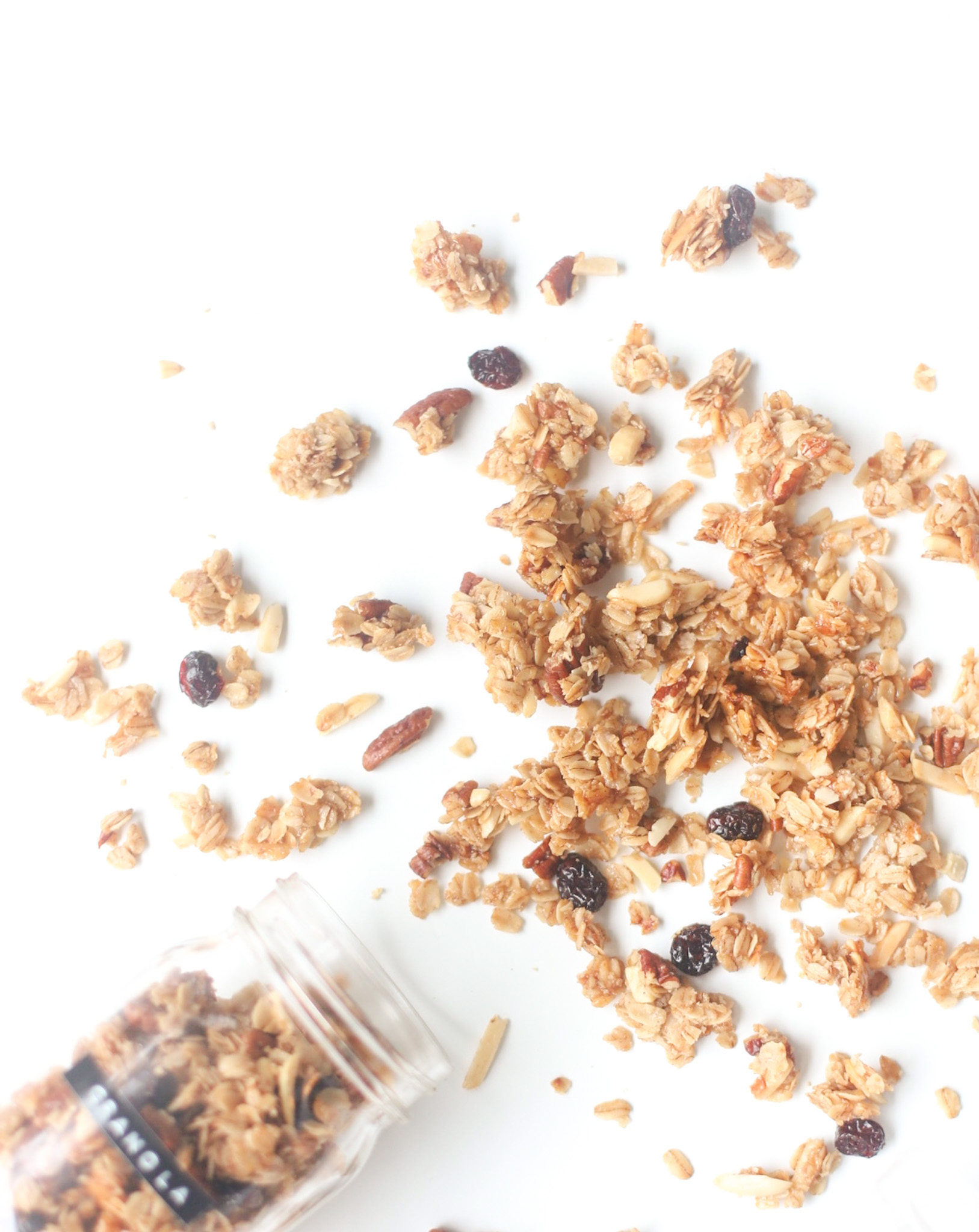 And since it's such a hit in our house, and easily one of my favorite classic granola recipes that I've found (and I've tried so many!), I knew it would be the perfect recipe to share to kick off the new year!
Anyone else trying to simplify meals, cook less, or just generally make mealtime and weekly meal prep less stressful? Make a big batch of this super easy homemade granola, and you'll have breakfast options for the week! 🙌🏻
The Best Ever Chewy and Delicious Classic Granola
In my mind, granola should strike that perfect balance between chewy and crunchy. My ideal granola recipe (ahem … this one!) produces almost cookie-like granola clusters.
Adding in nuts to this classic granola provides a roasted depth of flavor that I love. The subtly sweet hint of honey and cinnamon tastes utterly perfect here. And like any great granola recipe, this one is also super adaptable. You can add in your favorite nuts, seeds, or dried fruit to make this granola recipe entirely your own.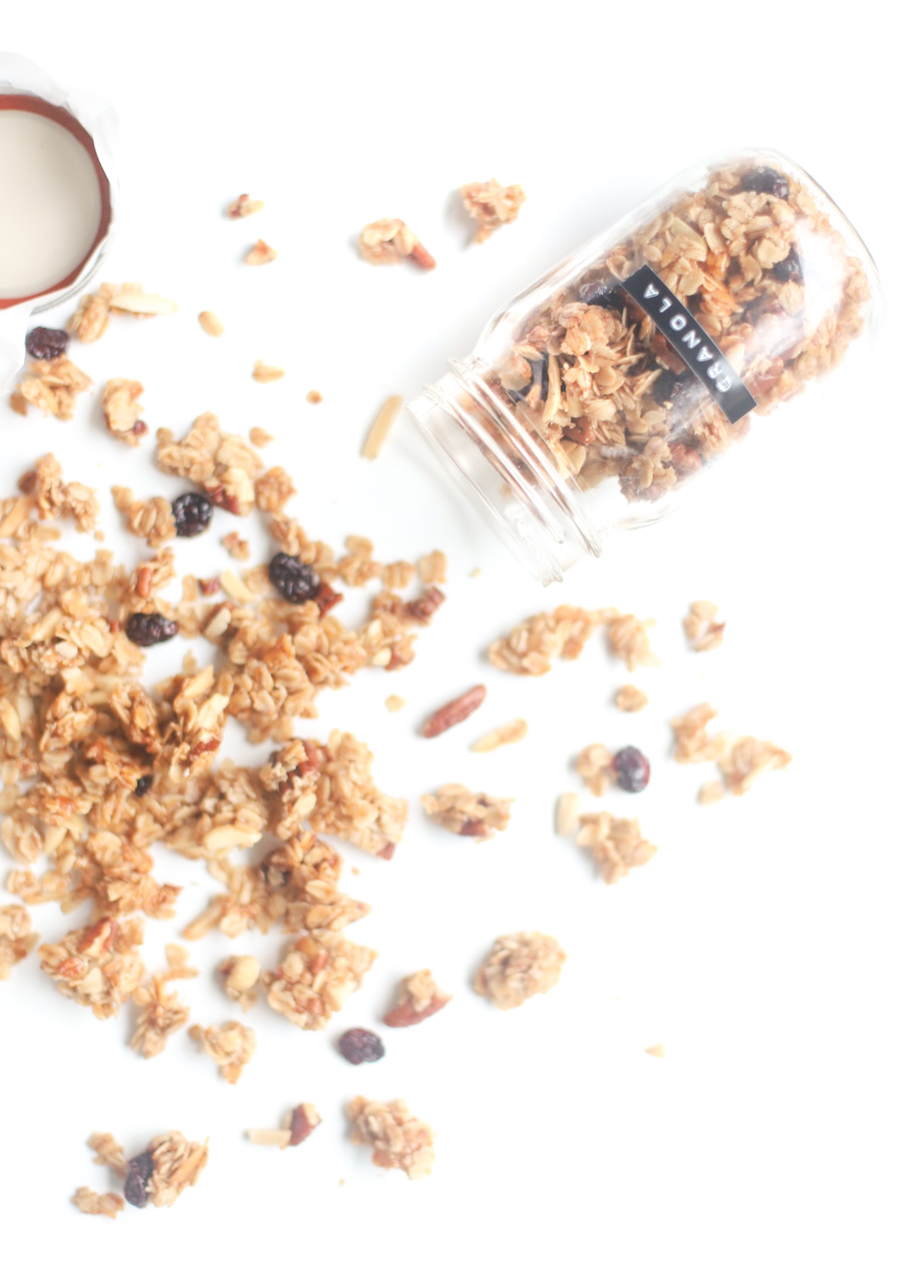 Optional Granola Mix-Ins:
Pecans
Almonds
Walnuts
Peanuts
Cashews
Sunflower Seeds
Pumpkin Seeds
Chia Seeds
Dried Cranberries
Dried Cherries
Dried Apples
Raisins
Dried Apricots
Dried Blueberries
Chocolate Chips
Shredded Coconut
NOTE: IF you add in dried fruit or chocolate chips, don't bake those ingredients in—just toss them into the granola at the end.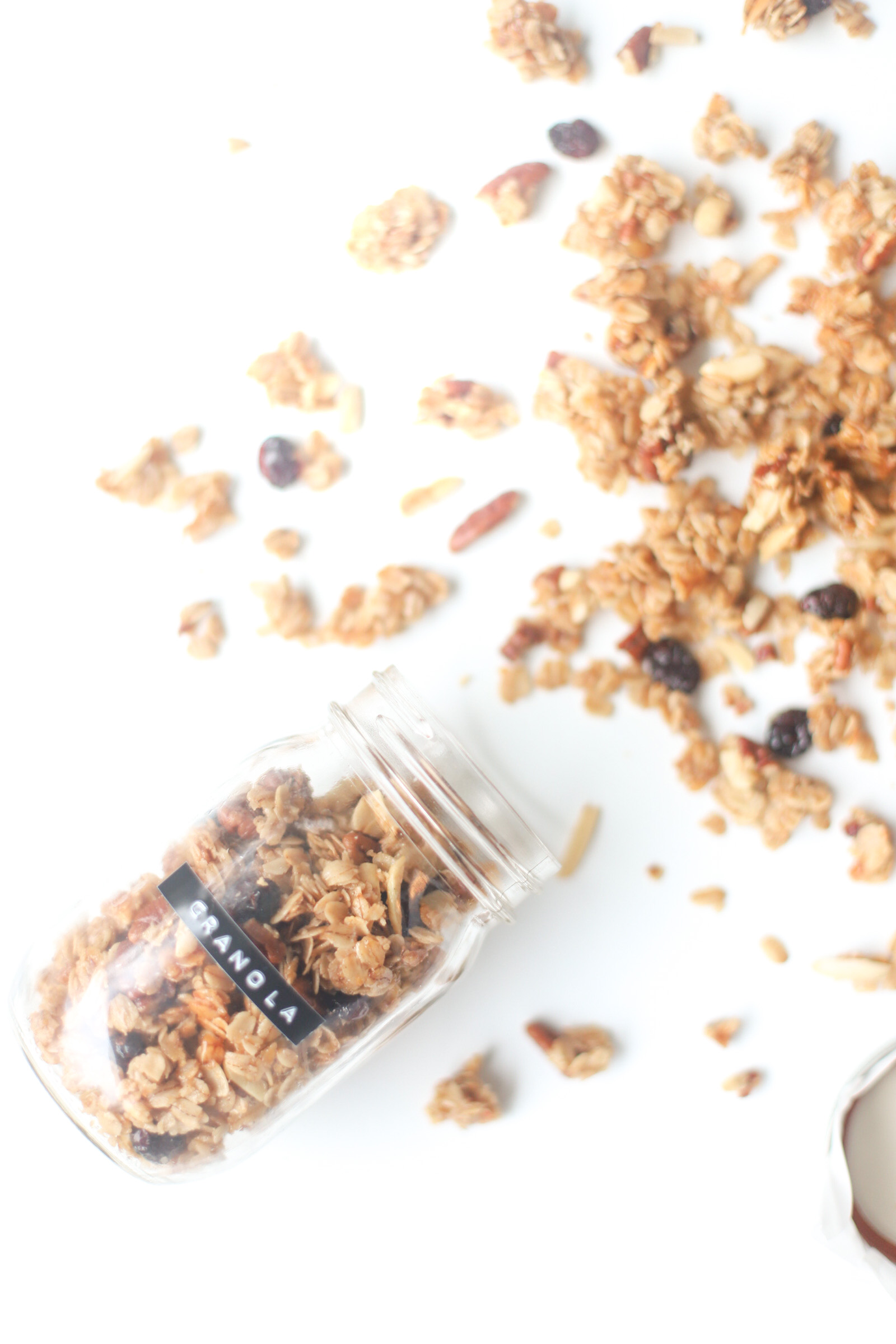 I love the amount this classic granola recipe makes because the batch lasts us a good week or more when sealed in an airtight container or jar with a lid. We use our granola to top yogurt, in cereal, and just to snack on any time of day. (Sprinkled on top of yogurt is definitely my favorite!)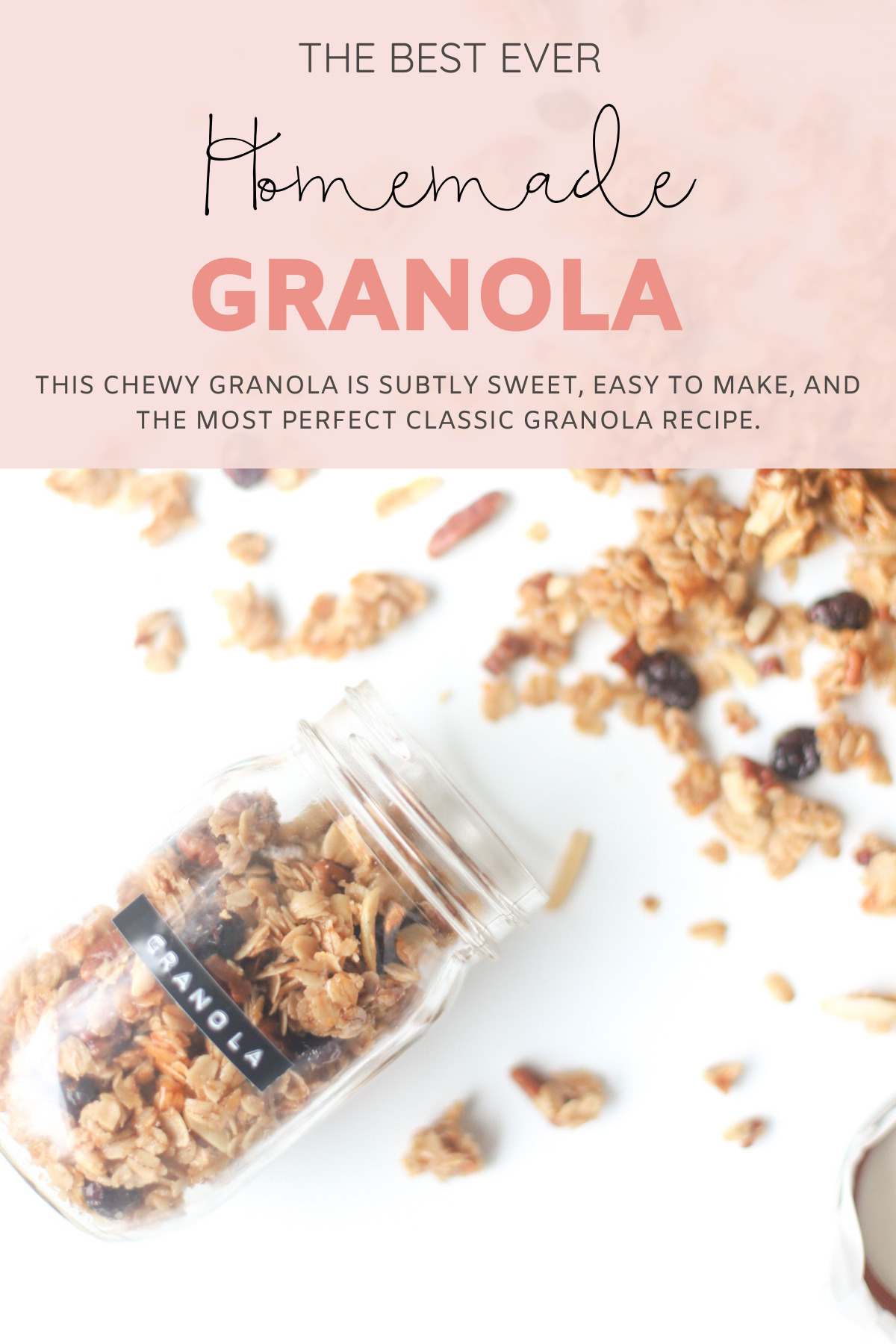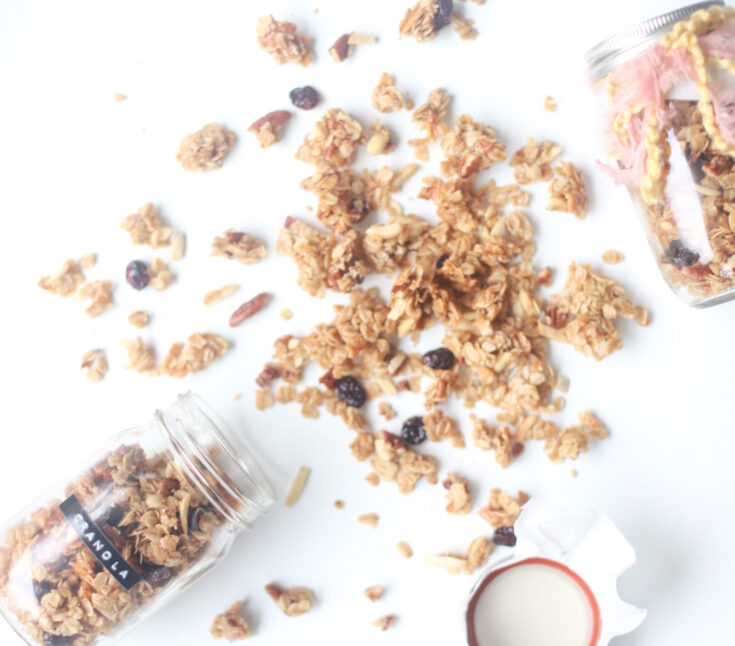 Classic Granola
Our absolute favorite chewy granola recipe is subtly sweet and salty, and what I think is the most perfect classic granola recipe; perfect for topping yogurt, cereal, or eaten by the handful as a snack!
Ingredients
3 cups old-fashioned rolled oats
1/4 to 1/2 cup honey (or agave)
1/2 cup olive oil (you can also melted coconut oil, canola or grapeseed oil)
1/4 cup packed light brown sugar
1/2 to 1 teaspoon of course salt (to taste)
cinnamon (to taste)
1 to 1 1/2 cups assorted nuts (optional)*
1 cup unsweetened shredded coconut (optional)*
1 cup dried fruit (optional, add after baking)*
1 egg white (optional for added clumps; beaten well so that it's foamy and frothy)
Instructions
Preheat oven to 300 degrees F.
The directions for making your own granola are pretty simple: lots of stirring. Stir the oats, nuts, brown sugar, salt, oil, honey, and egg white** until well-coated.
Spread the wet granola mixture onto a sheet of parchment paper on a rimmed baking sheet (the parchment paper really helps; everything is pretty sticky), and bake at 300 degrees for about 30 minutes, stirring at about 20 minutes. Everything should slowly bake up to a toasty crumbly texture.
Add any dried fruit after baking, while the mixture is still warm out of the oven. (Baking your granola with the fruit will make the fruit too dry and awkwardly crunchy.)
Let the granola cool completely on the pan, then break up and crumble your granola, and store in an airtight container.
Notes
Tips for Making Your Granola Extra Clumpy:

**Add a beaten egg white — make sure it's foamy and frothy — to your granola after you've mixed it all together and before putting it in the oven. The protein in the egg will help bind the oats together, creating those perfect clumps.

Once you've spread the wet granola mixture onto a rimmed baking sheet with parchment paper, throw into the oven and resist the urge to stir. Once the granola is out, let it cool completely and then break the sheet into clusters.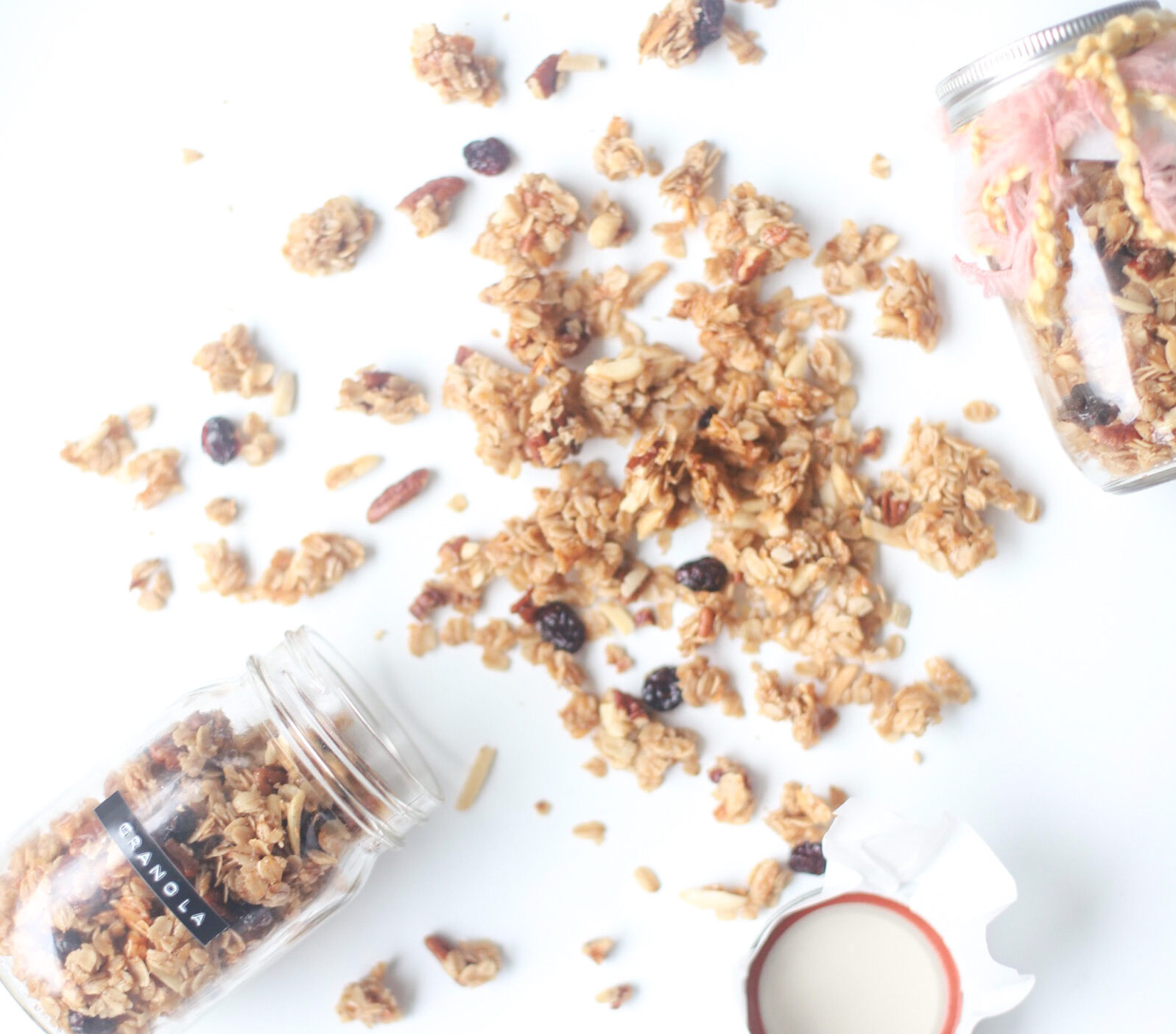 So there you have it: our favorite (and what we think is the best ever) chewy and delicious classic granola, with the yummiest cookie-like clusters!
SHOP THE COOKIE POST | CLICK LEFT & RIGHT ARROWS TO EXPLORE

Love this classic granola recipe? Head to our recipe page to check out what else we're dreaming up in the kitchen. If you make your own homemade granola, tag me on social media (@glitterinclexi) so I can live vicariously through all of your delicious creations! Seriously, send those pictures my way!!