I am dreaming of peanut butter and jelly (with the crusts cut off).
Perhaps it's the advent of marshmallow fluff into our kitchen (my hubby re-discovered fluff and the two are spoon-deep in a torrid love affair … its a surprise he eats anything else).  Of course, the addition of fluff into our house would leave me craving jelly, but I'm weird like that.
And so I have dreamed up peanut butter and jelly cookies – a traditional twist on a traditional classic.  And they exist!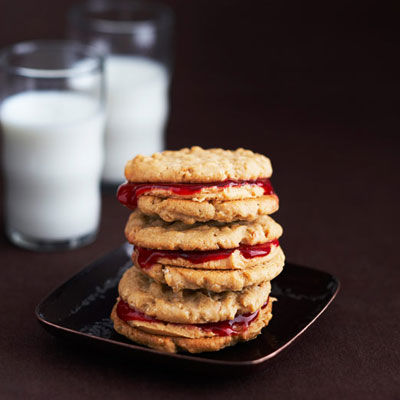 I'm especially enthralled by this recipe, which sandwiches jelly and a rich peanut butter concoction between not one, but two peanut butter cookies.  Sold!  (Just don't look at the calories.)
Side note:  DO check out Delish.com.  Such great recipes and ideas!  Now on to 20 Low-Fat Desserts; I'm all over it.