I'm interrupting the Glitter, Inc. launch giveaways to share with you the awesome-ness that was New York Fashion Week, the condensed version, part one.  In case it wasn't obvious through my frenzied tweets and Facebook posts, I've been on a whirlwind travel bender the last two weeks.  It started when hubby surprised me two weeks ago with a quick beach getaway on Miami Beach, after that we had a big weekend bash planned with the family (cruising to the Bahamas), and when the boat docked last Monday, I ran home, grabbed the rest of my wardrobe and hopped a plane to New York City!  I'm just now catching my breath … and unpacking (because yeah, I've always been really really bad at that.)
Monday night I landed at JFK, hopped in my car (or rather, clumsily stuffed myself into a car, because of course, I severely over-packed), and made my way to The Standard Hotel.  I got in the tub, ordered sushi delivery, and watched Sixteen Candles, in no particular order; all in all, a good night.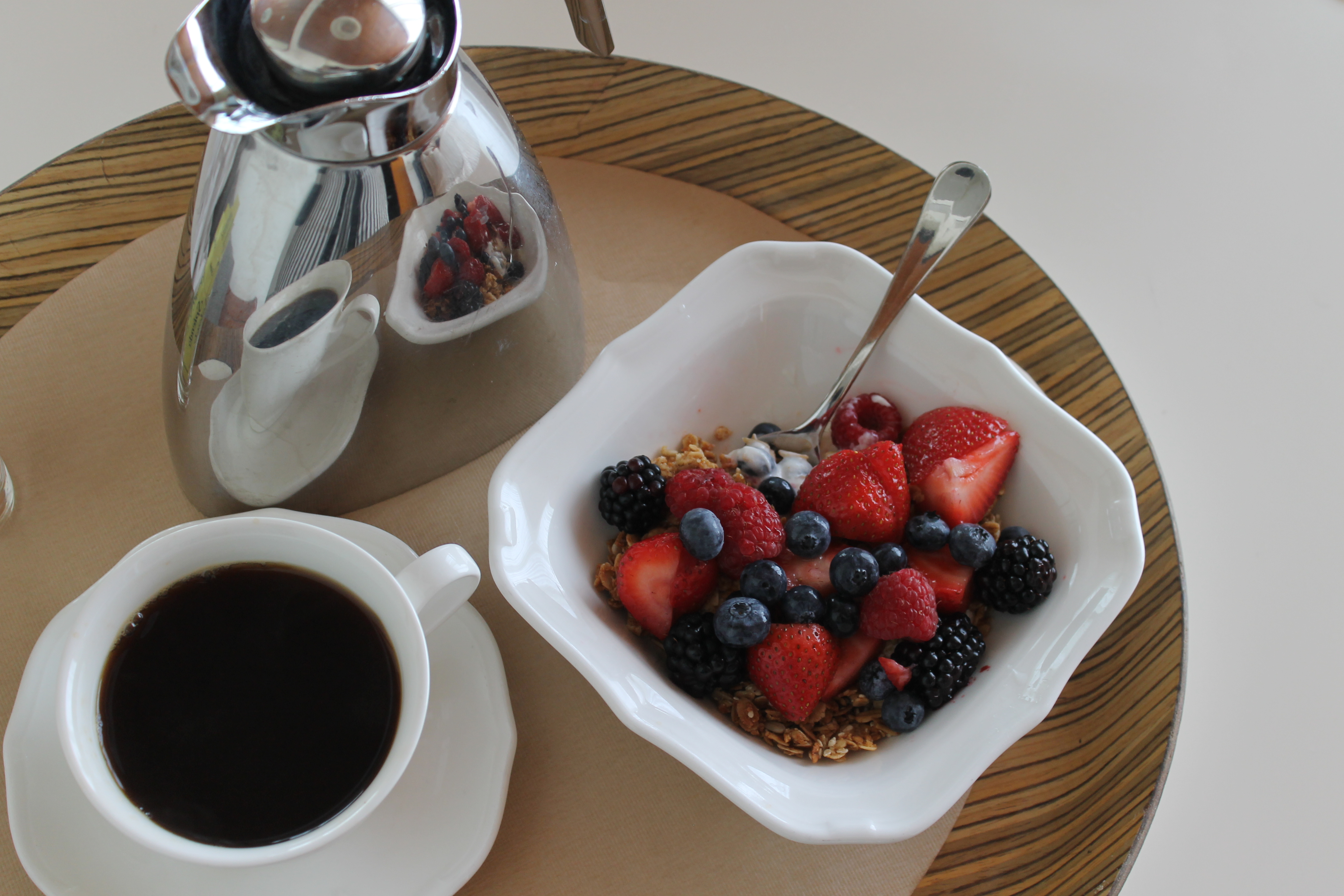 Bright and early Tuesday morning, I had a quick breakfast in the hotel room (isn't room service grand?)  Then I was off to the Stylecaster office for meetings and a lunch date with Ashley at Stylecaster.  We ate at Sweet Green, the most adorable design-your-own salad place and talked blogging, media, and boyfriends.

Tuesday night I went to my first fashion show, and though I am practically bursting at the seams to share all of the amazing details, this is one collab I have to keep under wraps for a just a little bit longer.  I promise to share all of the amazing details so soon.
After the show, there was a cocktail party, followed by dinner with GLAM where I got to meet so many amazing bloggers and editors, and then a very late-night video shoot.  Seriously, I shot a video at 12:30am, and trust me, I am slap-happy past midnight.
Wednesday morning I had to be up early again for an all-day video shoot, let's call this one shoot number two.  The general theme: a Halloween craft party for the girls.  And trust me, I got really excited when I found out hot glue guns and gemstones would be involved.  I only burned myself twice.  Three times.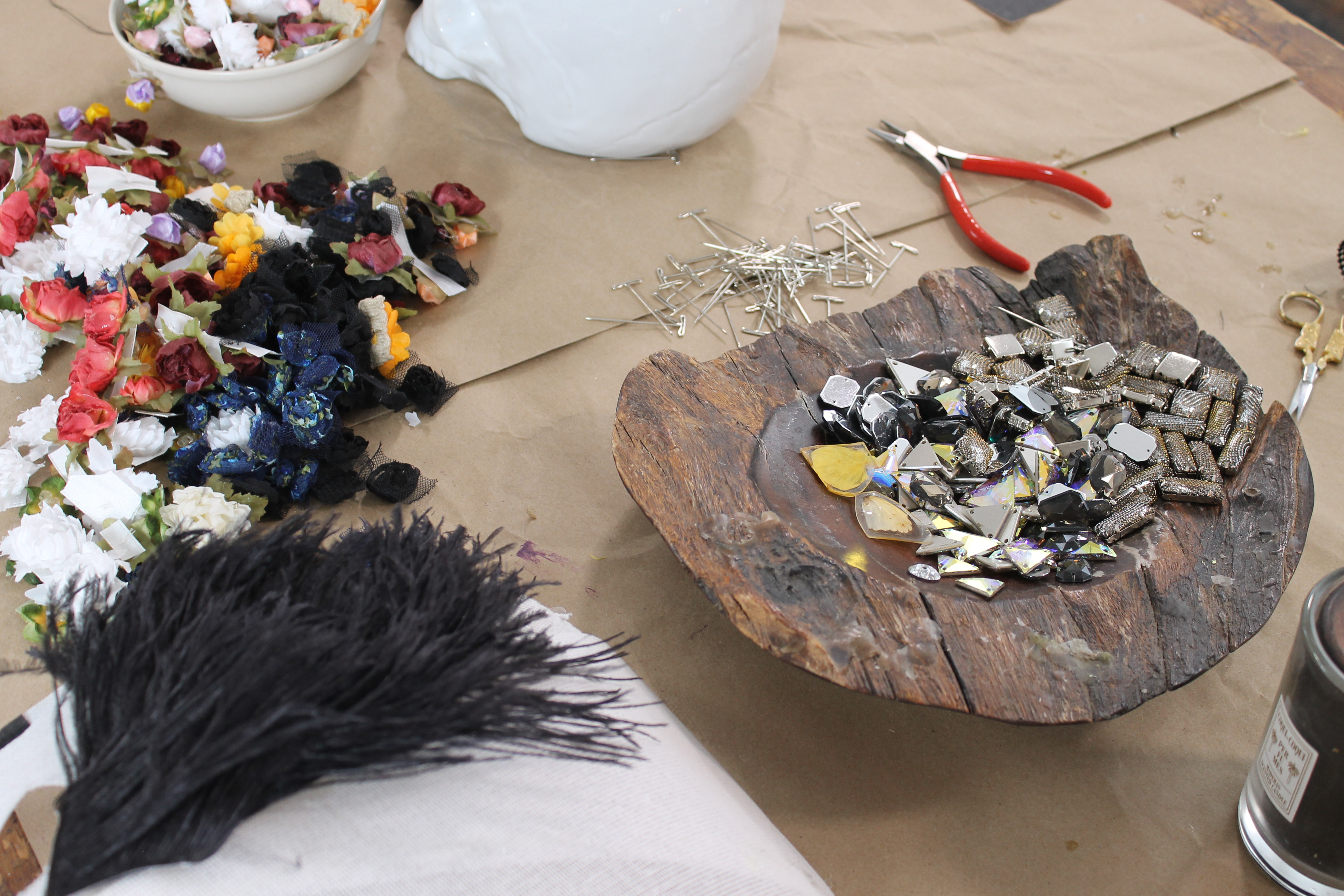 I also learned that I am a complete goober on camera.  And I learned that if you take a bathroom break to pee, while the microphone is still stuck to the inside of your dress, the sound guy can probably hear you peeing.  Sweet.
I'll be sharing more about the shoot, and my crazy DIY creation soon!
After the video shoot, I ran back to the hotel, changed, and ran out again (this is a common theme during New York Fashion Week … running, in heels).
I made it to the Lulu Frost presentation, a decadent mix of neon, tulle, vintage baroque, and baubles, with a distinctive Marie Antoinette nod.  Obviously, I was sold.  After Lulu Frost, I went to the Nylon Party at Joe Fresh with Jenny of Good, Bad, and Fab.
Thursday I spent most of my day in a Starbucks in Times Square working with my developer to launch Glitter, Inc.  (By the way, I'm so overwhelmed by all of the excitement and support over the new site — you all are wonderful!)
After successfully launching the all new Glitter, Inc. Thursday in the middle of Times Square, Thursday night I went to the Target x Phillip Lim Shopping Preview. In a word: chaos. But so worth the lines, the crowds, and the struggle to find a bag. I also walked right by Jessica Alba, and managed to snap a photo, got myself a beautiful Target x Phillip Lim structured bag, and made friends along the way.

Later that night, I also made my way to the Stylecaster party at Lavo – definitely fun to check out the NYC club scene … and of course, sip champagne.
Friday morning, I went to a blogger brunch at the LANDMARC in Columbus Circle where I got the chance to hang out with a few of my blogger favorites: Victoria, Caitlin, Jessica, Julia, Megan, and Hitha.
Later, Alyson (of The Average Girls Guide) and I, took part of the day off to take in the sights and get our retail therapy on, mostly in the Soho area (which I love).  By the way, Georgetown Cupcake is great, as is the new Piperlime Store. I also want everything in Madewell, Free People, and C. Wonder.

We also swung by the BaubleBar headquarters and met with Grace and Nina. BaubleBar HQ is basically the closet full of baubles you've always dreamed of.
Friday night we went to the Schutz Party — I was crushing on every single pair of Fall-ready booties in the store.

Alyson and I then met with a few other sorority sisters for an NYC reunion at The Smith, a.k.a., my new favorite restaurant.  I had a lobster salad that was outrageously good.

Saturday morning I had brunch with Dana (who was a total sweetheart!), and Saturday afternoon I met with Alyson, Jenni of I Spy DIY, and Suzy. After drinks and snacks, we wandered through Soho and walked right by Jenna Lyons (best moment of the trip, hands down.) For dinner we caught up with Caitlin and I got my first taste of avocado toast (so simple, so good.)
Tomorrow I'll be back with Part Two of my New York Fashion Week adventure, but until then, go enter to win some amazing giveaways!