This post contains affiliate links, which means that if you click on one of the product links, I'll receive a small commission. Thank you so much for clicking through and helping to support this little blog business of mine! Read more about our site, privacy, and disclosure policies here.
Headed to Boston? We're sharing a mini guide all about how to spend a long weekend in Boston with kids, including what we did, where we ate, and the must-see places on our list for the next trip!
Last weekend, our family flew up to Boston for a long weekend, and we had such a great time. The trip was a whirlwind of checking things off of the to do list – can you believe we're moving to Boston in FOUR MONTHS?!? We also managed to pack in a few tourtist-y, family-fun adventures, so I thought I'd share why we were in Boston, what we got accomplished, and a bit about what we did, in the hopes that it might help you on your next trip to Boston!
Why We Went to Boston in the Middle of February
Back in December, we broke the BIG NEWS that our little family is packing up and moving to Boston this summer; June to be exact. Hubby is a medical resident, and we're headed to Boston for his upcoming fellowship at Massachusetts General Hospital/Harvard (MGH). This medical residency journey has been a wild ride, and though I always had a feeling we might wind up moving once again for either fellowship or a job at some point, having yet another move on the horizon has still been equal parts exciting and nerve-wracking.
I'm thrilled to be moving to an amazing city like Boston.
I've always absolutely loved it there. But having two young kids in tow this time around has me pretty anxious, especially when it comes to figuring out school for our oldest, Scarlett, who will need to start Kindergarten, and a living situation that works for a family of four; a.k.a., walk-ups and double strollers do not mix.
Once we knew that hubby would be taking the fellowship at MGH, we began planning a trip up to Boston for mid-to-late April, when we knew he could take some vacation time. We figured the end of April would be a good time to go apartment-hunting, since the rentals move SO fast in Boston.
What we hadn't accounted for was the school situation for our almost-kindergartener. (Cue the mom tears. #mybaby)
So after talking to many, many fellow Boston parents, we realized that going up to Boston sooner, for a quick trip to tour some schools, probably made the most sense. So like a bunch of nuts, we flew our little family up to Boston in FEBRUARY. It was cold, but we actually totally lucked out with the weather, just after the Polar Vortex, so that helped a lot. As for the schools, to be honest, I'm not even sure we saw enough on this most recent trip, and if Scarlett doesn't get into one of the schools we looked into/applied for, I'm guessing we'll be scrambling once again in March to re-plan our potential living/school arrangements.
I will say that this time around – since we've done a move before with a young baby – with a school-aged child, has been a lot more stressful, mostly because the school system in Boston is so tricky. Seriously, if you know ANYTHING about either greater Boston public schools and/or Boston private schools, send me an e-mail!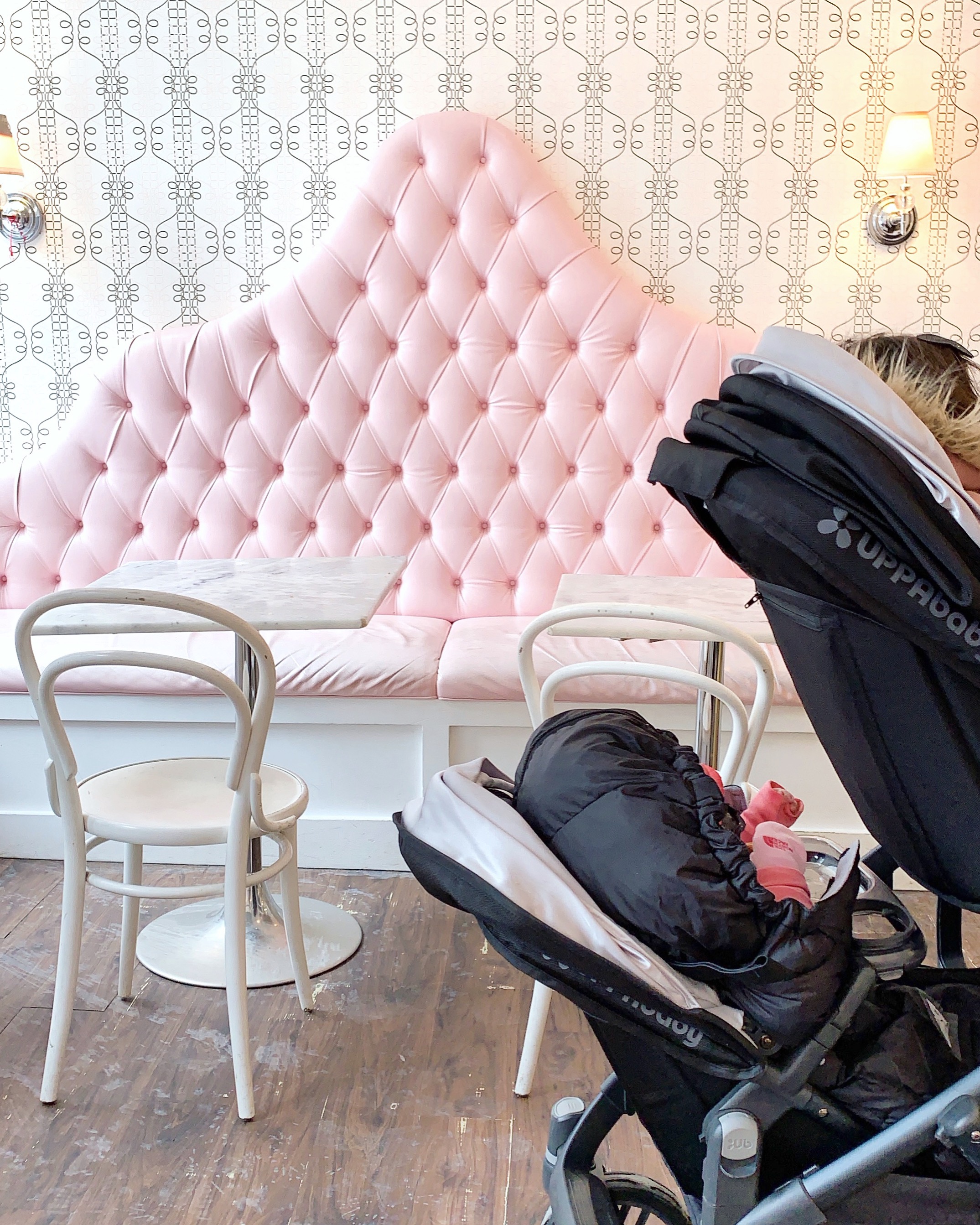 By the way, for those asking how we made our way around a walkable city like Boston with two young kids – we used our UPPAbaby Vista as a double stroller. You can read our full review on the UPPAbaby Vista. Also, why it's great for a growing family, here.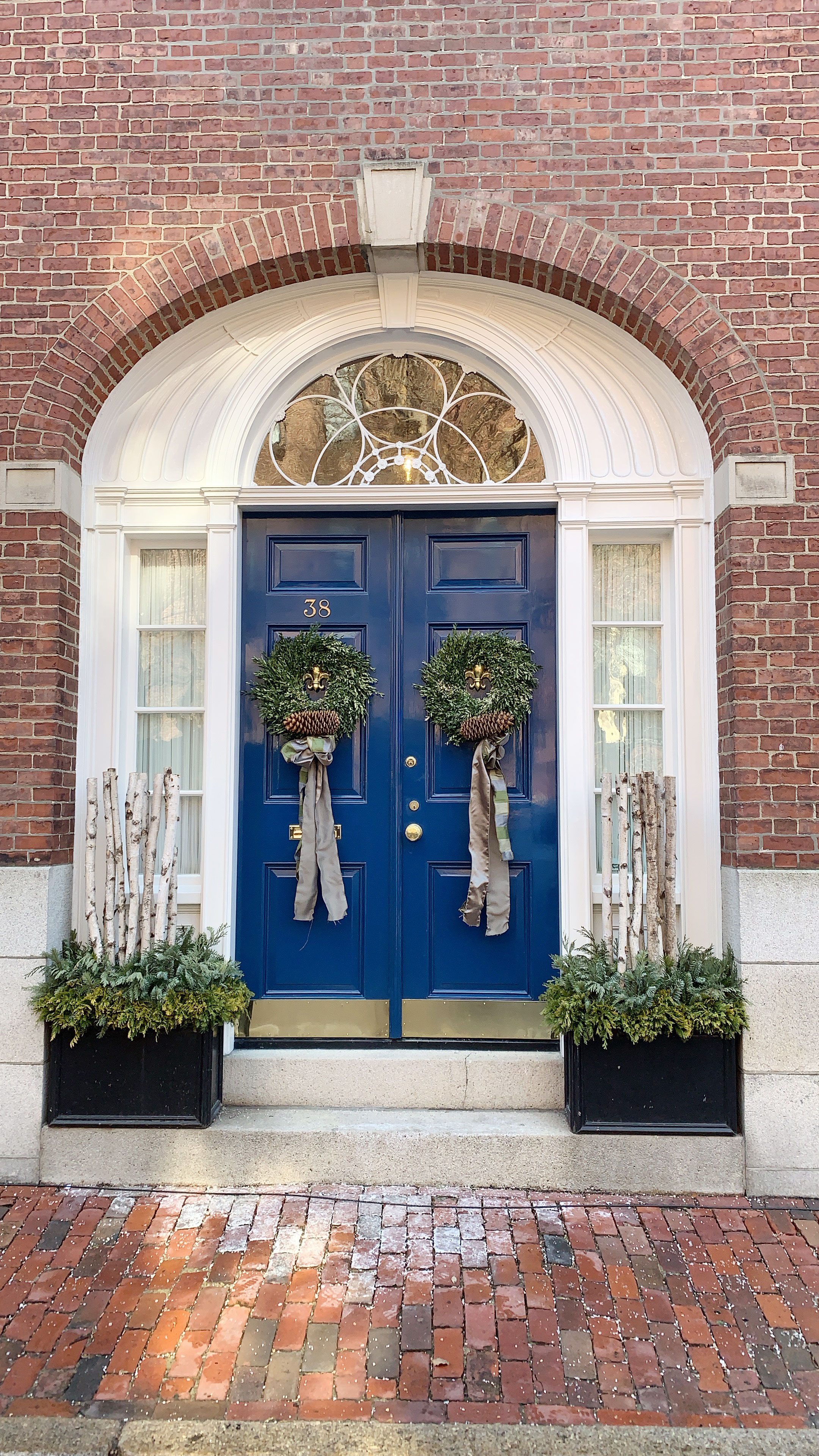 How to Spend a Long Weekend in Boston with Kids
Now let's get to the fun stuff! Our long weekend in Boston wasn't just school tours. We also managed to take a peek at a few potential apartments (in bigger managed properties – which I will say, weren't my favorite … but we'll talk about that on a different day!), and we did some really fun family-friendly activities.
So today, I'm sharing all of the places we visited over the course of our long weekend. Plus the must-see places we've ear-marked for next time!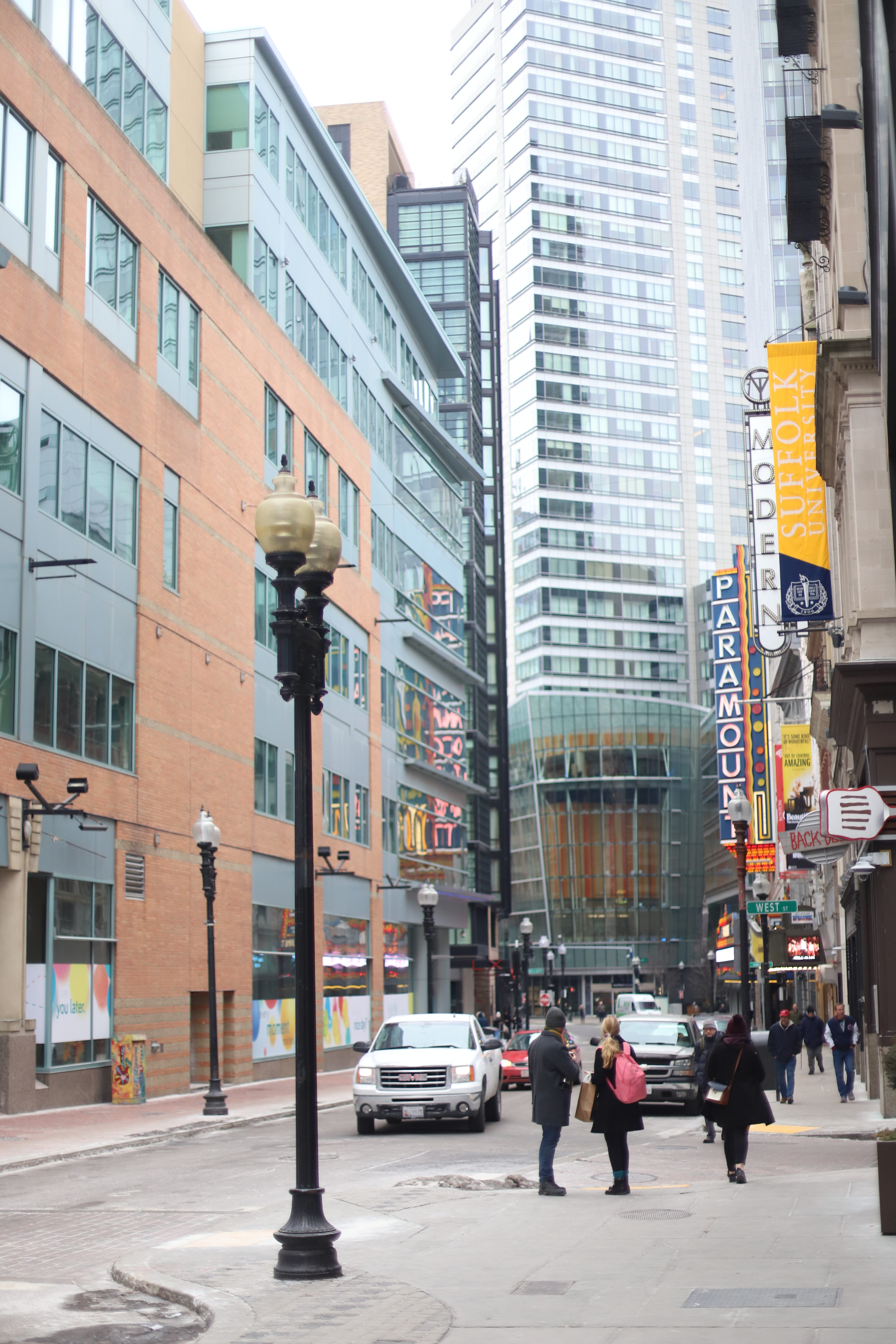 Theater District
We actually stayed in the Theater District at The Godfrey Hotel. It was a beautiful hotel with a perfect location. They also upgraded us to a MUCH bigger room for free, so that we'd have plenty of space for the pack-n-play and bed for Scarlett. SO nice. We loved staying in the theater district because it's pretty central to everything and makes walking to Boston Common, Beacon Hill, and Back Bay relatively simple and quick.
The theater district is a lively area, somewhat reminiscent to a MUCH smaller Times Square, and is home to Boston's theater scene. There are also plenty of big name chain stores, restaurants, and street performers.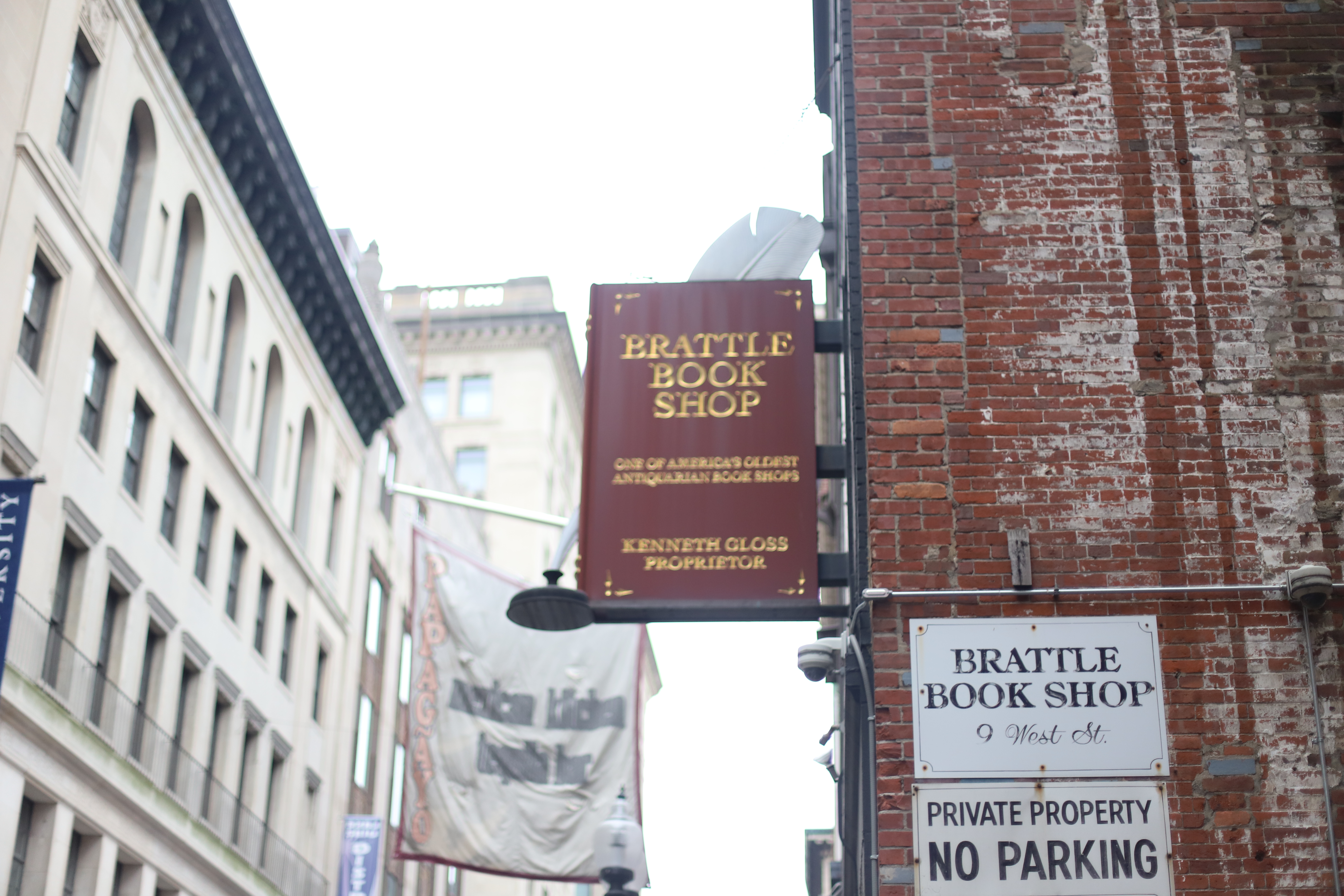 Brattle Book Shop
Nestled along a side street in the theatre district, Brattle Book Shop is one of America's oldest and largest Antiquarian book shops, established way back when in 1825. Come for the rows of sale books they line up in carts in the parking lot beside the store.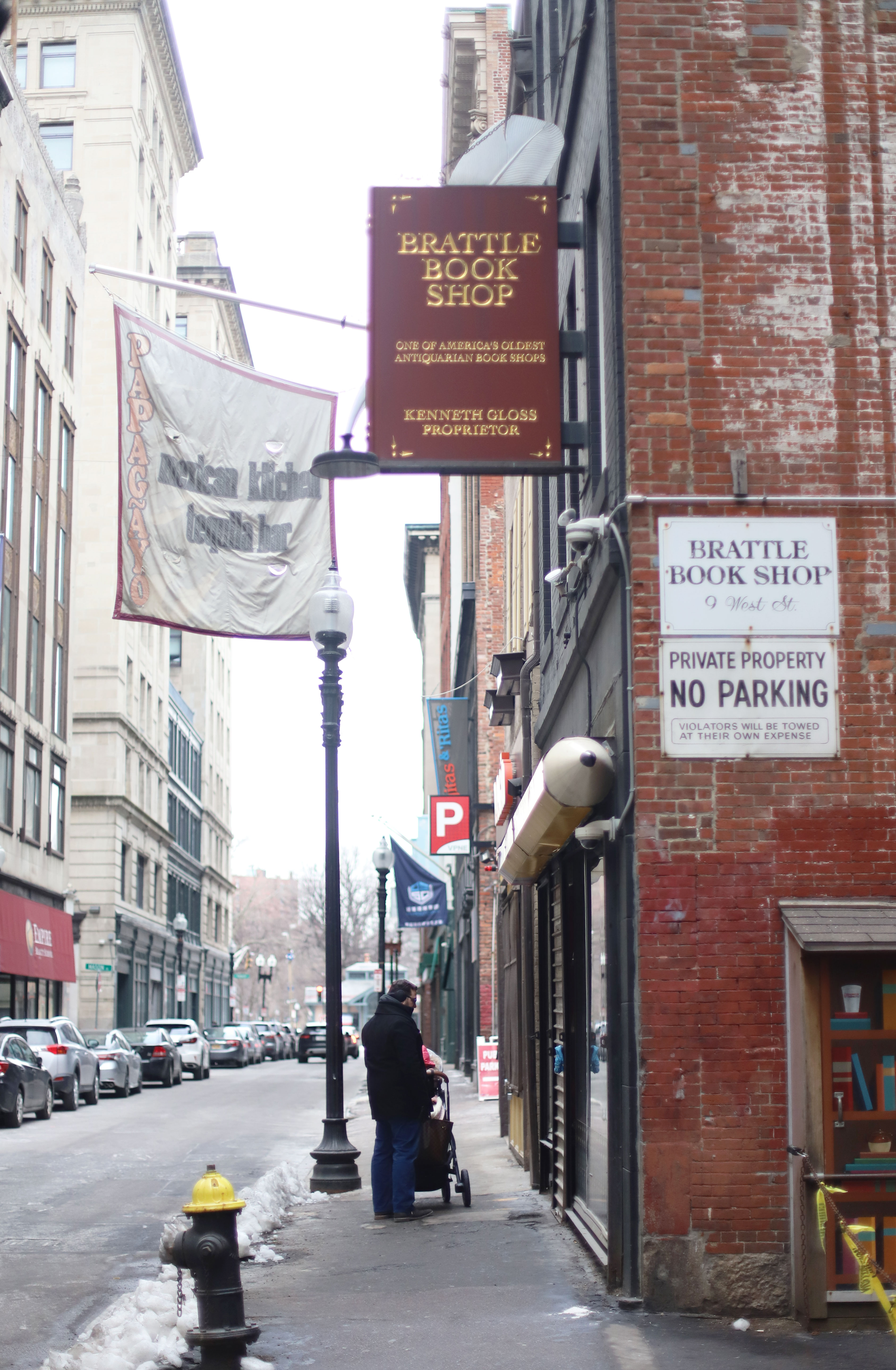 Hubby was in book heaven.
The North End
The North End, a.k.a., Boston's Little Italy, is a maze of narrow streets boasting some of the oldest buildings in the city. On the self-guided Freedom Trail, you'll pass historic sites like the 1680 Paul Revere House and the Old North Church. The North End is also home to plenty of Italian restaurants, coffeehouses, and pastry shops, especially on the crowded (and fun) Hanover Street.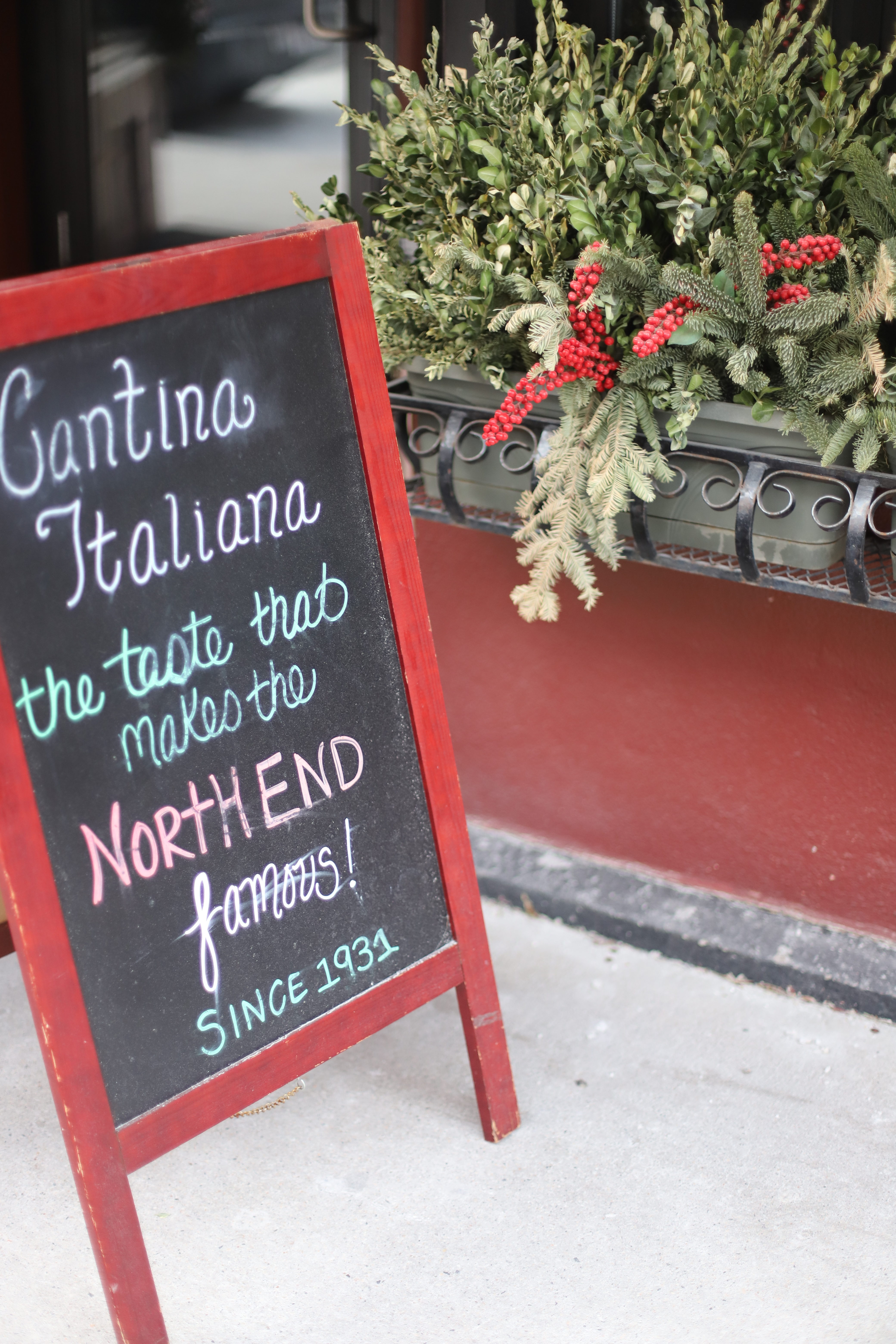 As far as authentic Italian food goes, you can pretty much fall into any restaurant and dive into an incredible, homemade bowl of pasta or pizza pie.
We fell into Cantina Italiana and it was delicious. They were also GREAT with the kids, which is always a plus in my book.
Giacomo's Restaurant was also HIGHLY recommended to us by several people, so we'll definitely be checking it out for a date night sometime this summer.
Last but certainly not least, don't miss Mike's Pastry. If you want an incredible cannoli – Mike's is the place to go. Brave the lines and get yourself a cannoli … or three. More on ALL of our favorite Boston bakeries (so far), later on in this post.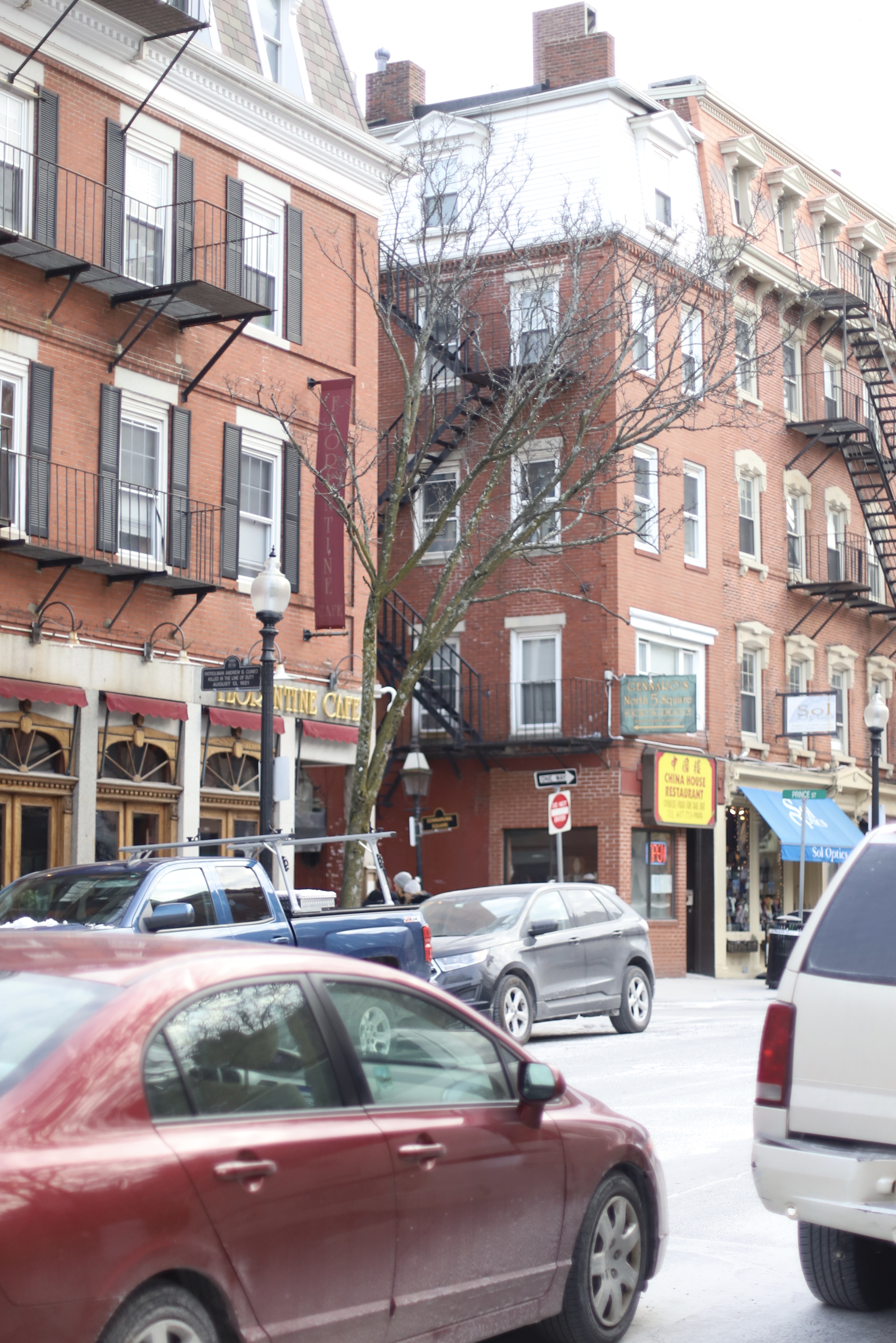 Museum of Science
We actually didn't get to spend much time at the Museum of Science, but still, totally impressed. This museum is huge, and full of amazing interactive exhibits for kids and families.
Boston Children's Museum
We also have the Boston Children's Museum at the top of our must-see list for next time. One of the oldest and largest children's museums in the world, founded in 1913, this interactive learn-and-play wonderland is not only great for big kids, but happens to be especially greater for younger kids. I have a feeling we'll be spending A LOT of time at the Children's Museum once we move to Boston.
New England Aquarium
Though we didn't get the chance to visit the New England Aquarium on this trip, I've been before, and absolutely love it.
Tip: The Aquarium is super popular, especially on weekends, so avoid lines by buying tickets in advance on their site, and consider going on a weekday rather than a Saturday or Sunday.
The Freedom Trail
We spent the vast majority of our visit to Boston walking. Boston is SUCH a walkable city. By following the 2 1/2-mile, red-brick line of Boston's Freedom Trail, you can get a great dose of American History with sites like the Old South Meeting House and Old State House. We checked out Boston Common and Fanueil Hall (where you can see the Paul Revere House), etc.
The Trail is part of Boston National Historic Park maintained by the National Park Service and brochures for self-guided tours and many popular guided tours are available at the Fanueil Hall Visitor Center as well as at the Boston Common Visitors Center.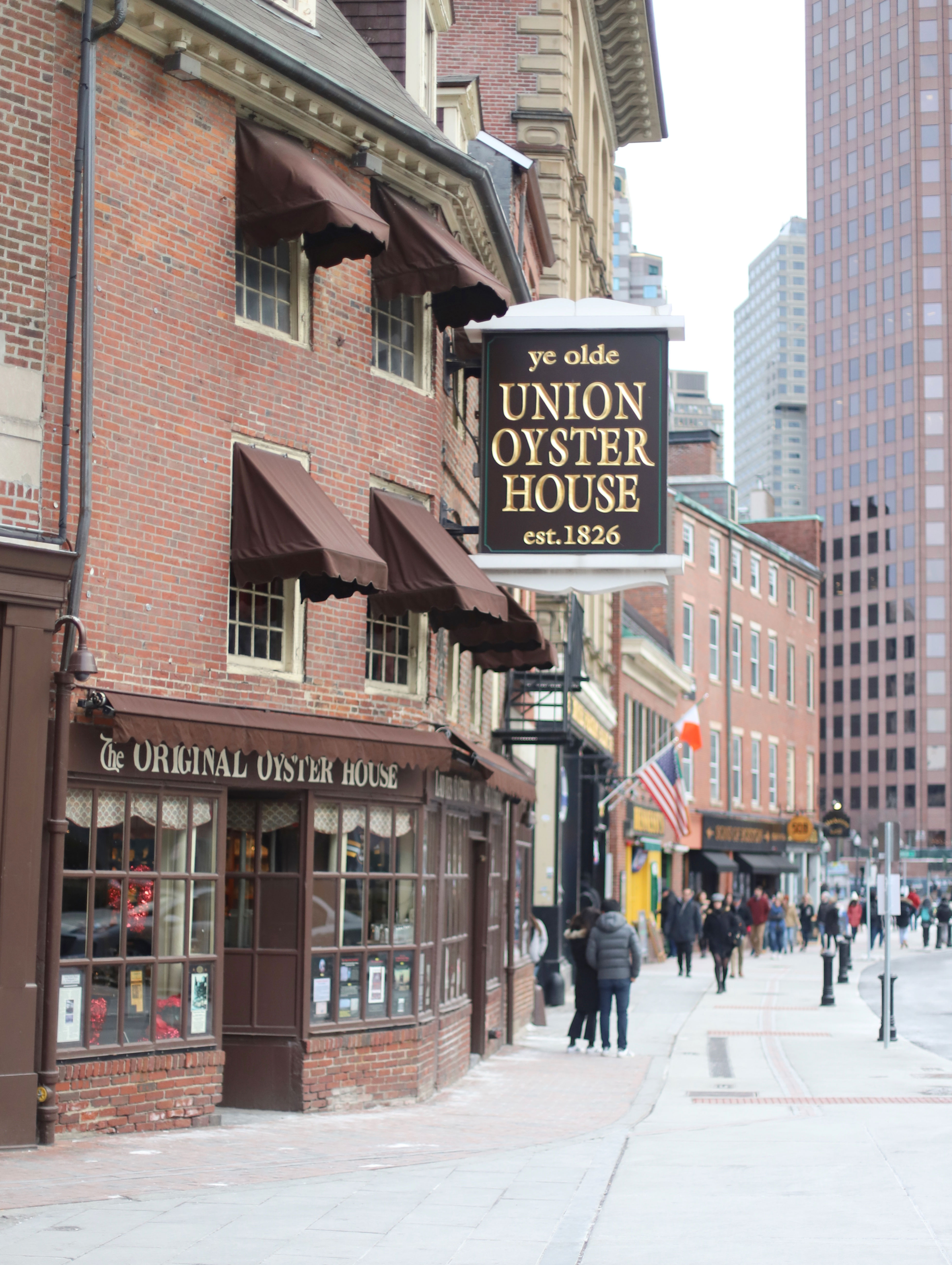 City Tours
Once we officially move to Boston, we'll definitely play tourists in our new town and try out things like a hop-on, hop-off trolley tour and one of the Boston Duck Tours.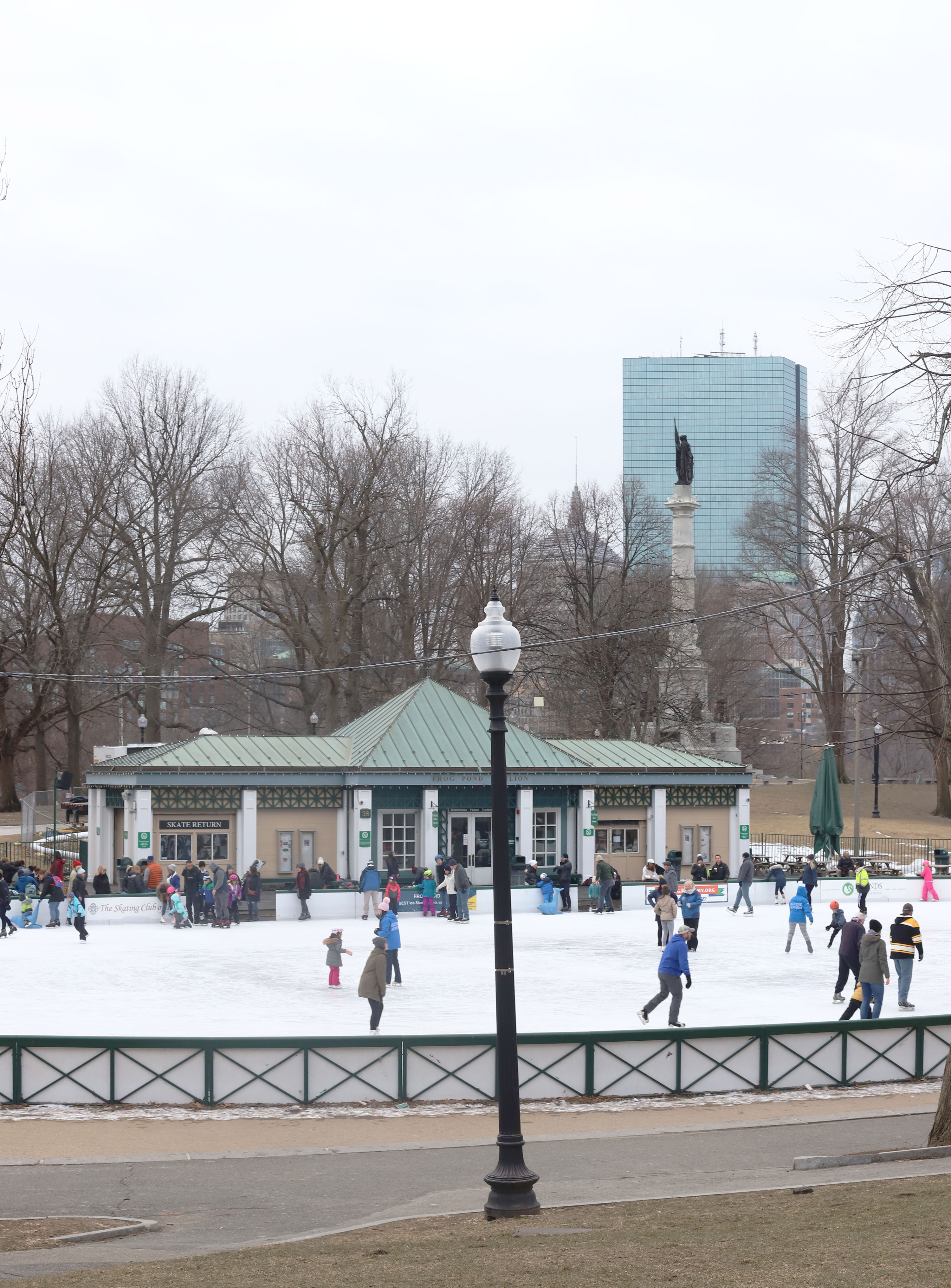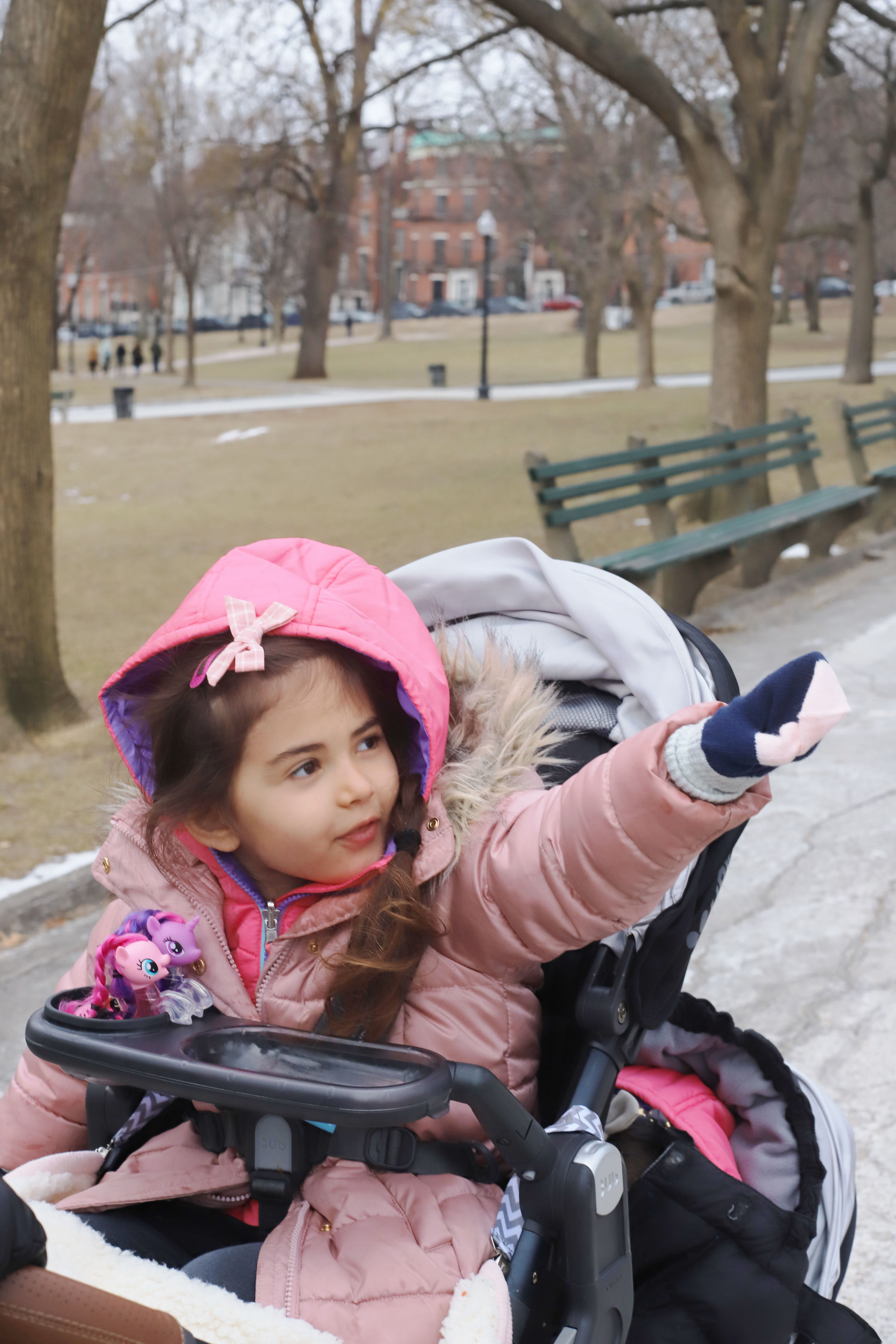 Boston Common
We walked through Boston Common several times throughout our long weekend trip. Not only is Boston Common America's oldest public park, it's also huge (at 50 acres), and is nestled right in the heart of the city. It's the perfect place for kids to get their wiggles out and recharge amid greenery and history. There are famous statues to see, regular speeches, demonstrations, shows, and more. We were lucky enough to go during Winter when the Frog Pond doubles as an ice skating rink; there's also a carousel and a playground nearby.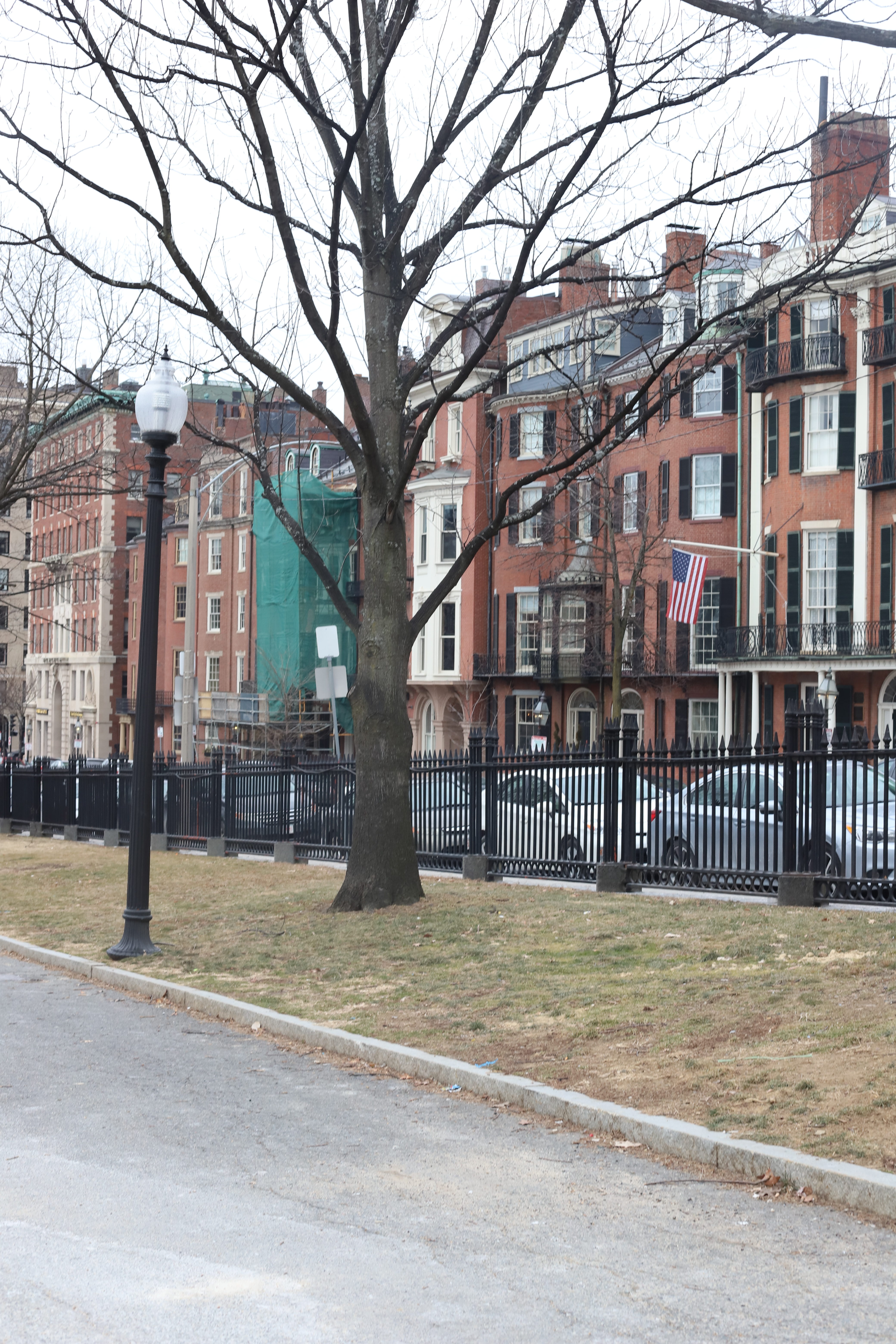 The homes along the Common are also super gorgeous, so I loved looking at all of the beautiful historical homes.
Back Bay
I'm not sure hubby and I will ever stop drooling over the incredible browntone homes in Back Bay. It was so much fun to walk around Back Bay, dreaming of one day living in one of those incredible homes. (HA, right. But hey, we can dream.)
Back Bay is also home to the Prudential Center – a big mall in the middle of Boston with over 75 shops & restaurants – and Newbury Street – window shopping at it's finest. Newbury Street is a mile-long street lined with historic 19th-century brownstones that house hundreds of shops and restaurants at the street level, making it a popular destination for tourists and locals. The most "high-end boutiques" are located near the Boston Public Garden end of Newbury Street; i.e., Chanel, Louis Vuitton, Cartier, Valentine, and more luxury eye candy. But fret not, there are also more affordable names like Zara, Urban Outfitters, Uniqlo, and a ton of really cool bohemian-esque small shops worth checking out.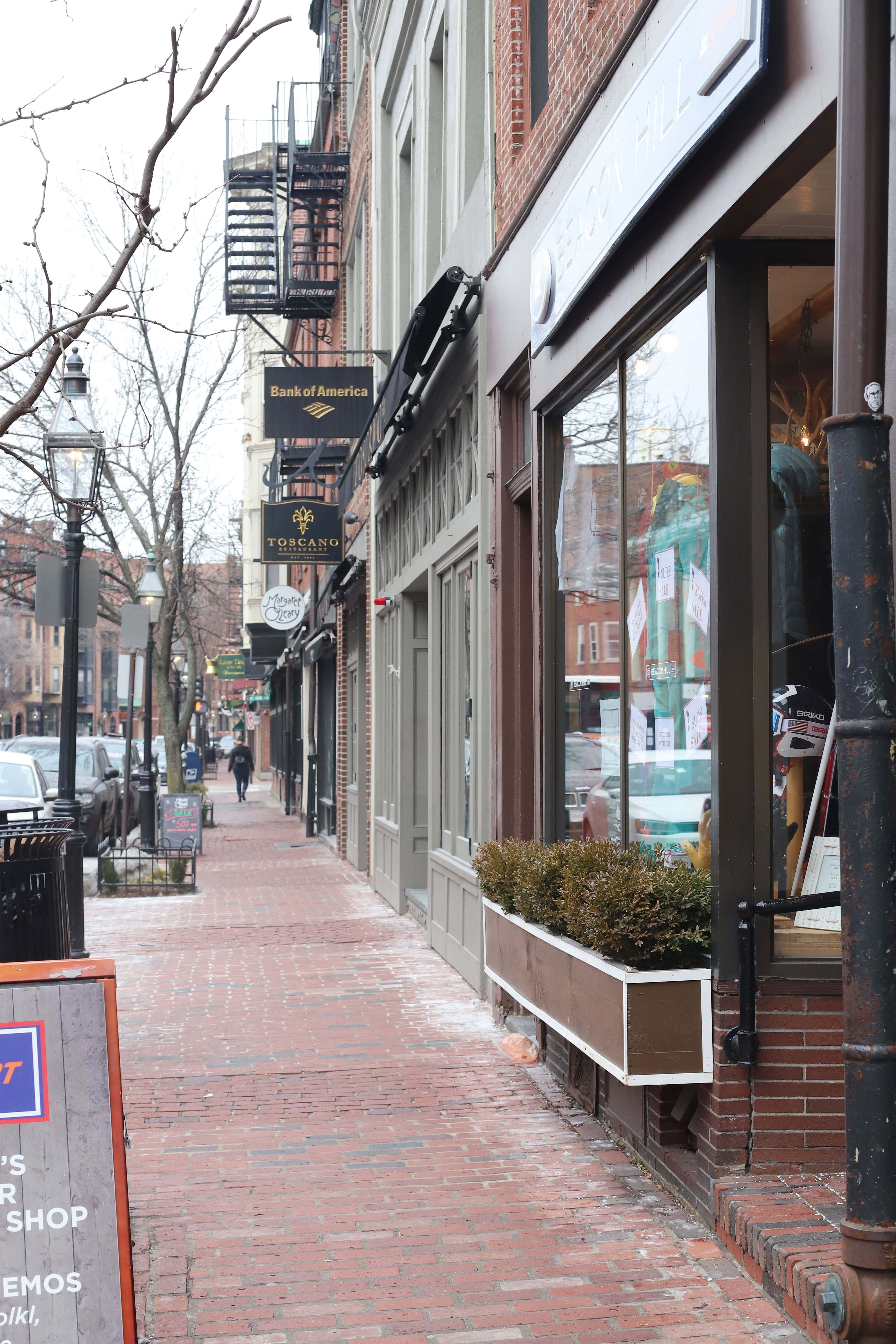 Beacon Hill
Beacon Hill is a historical neighborhood in Boston, Massachusetts, and the hill upon which the Massachusetts State House resides. We absolutely fell in love with Beacon Hill's charm. Federal-style rowhouses, narrow gaslit streets, and brick sidewalks are characteristics of the highly coveted neighborhood. The homes are beautiful, there are plenty of fun boutiques to shop and popular restaurants to stop in at. In some ways, Charles Street in Beacon Hill reminds me of M Street in D.C. (which I love!)
Tip:
Beacon Hill was probably the hilliest walking, with a lot of broken up cobblestone and brick stretches of road, making stroller travel a little bit dicey. Hubby navigating some of the tougher spots – pushing a heavy double stroller across tiny broken brick alleyways – made it doable. But I'm not sure I could have handled some of the rougher patches without pushing the stroller out into the street.
Bakeries
I would be remiss to not mention all of the incredible bakeries we visited in Boston. Thank goodness for walking, because otherwise, I'm not sure my pants would have buttoned by the end of our long weekend trip.
Our personal favorite bakeries in Boston: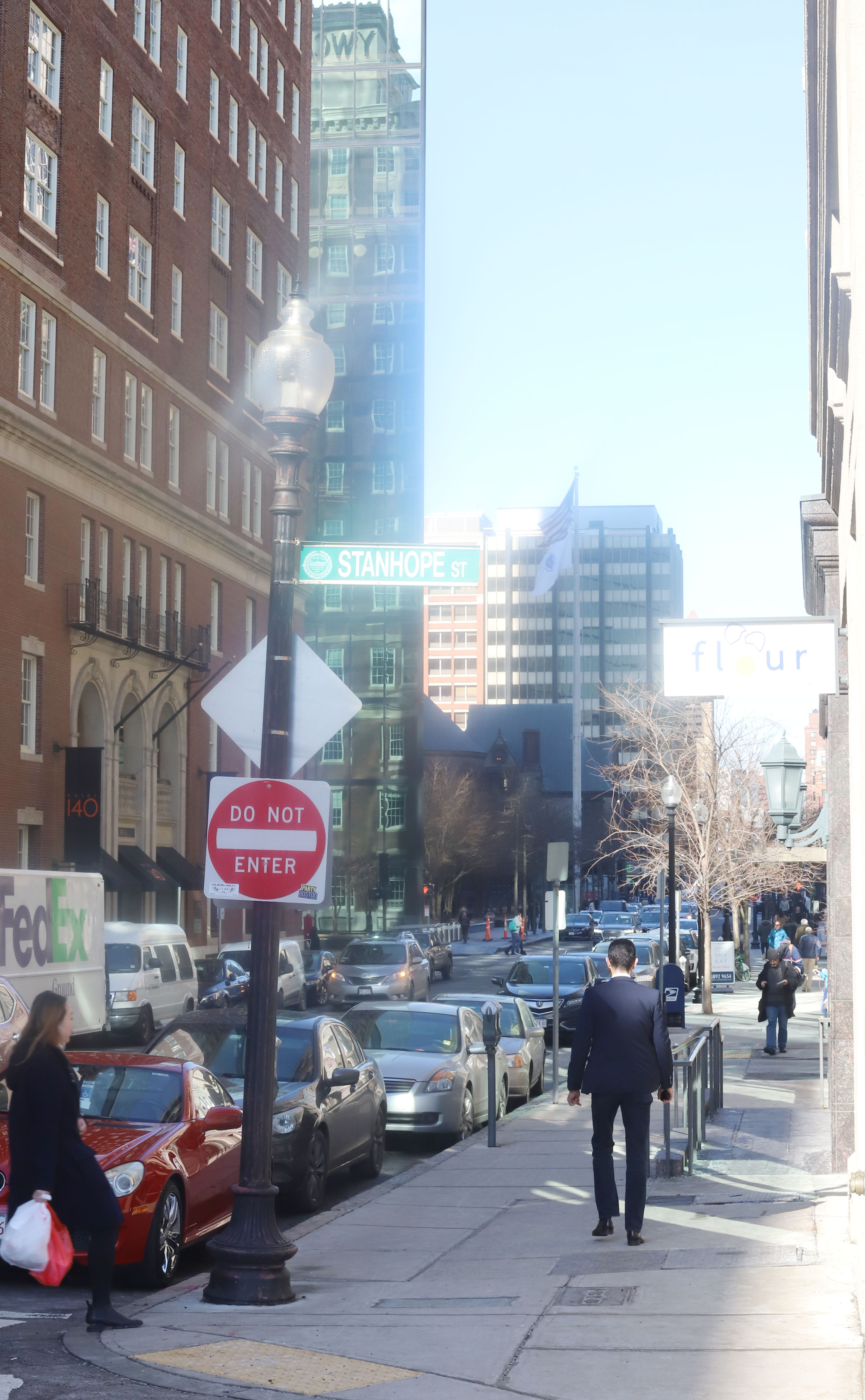 Flour Bakery + Cafe
I am a huge fan of Flour Bakery + Cafe. We went for a late breakfast one morning after one of the school interviews in Back Bay, and left full and happy. I LOVE the huge assortment of breakfast options, sandwiches, and baked goods they offer, and many have awesome healthy spins.
Hubby and I shared the currant spelt scone and a pecan sticky bun and both were fantastic.
They even have a handful of vegan options for breakfast, lunch, and in the bakery cabinet, which makes this allergy mama very happy. (It made Scarlett VERY happy too. She tore through the vegan chocolate muffin.)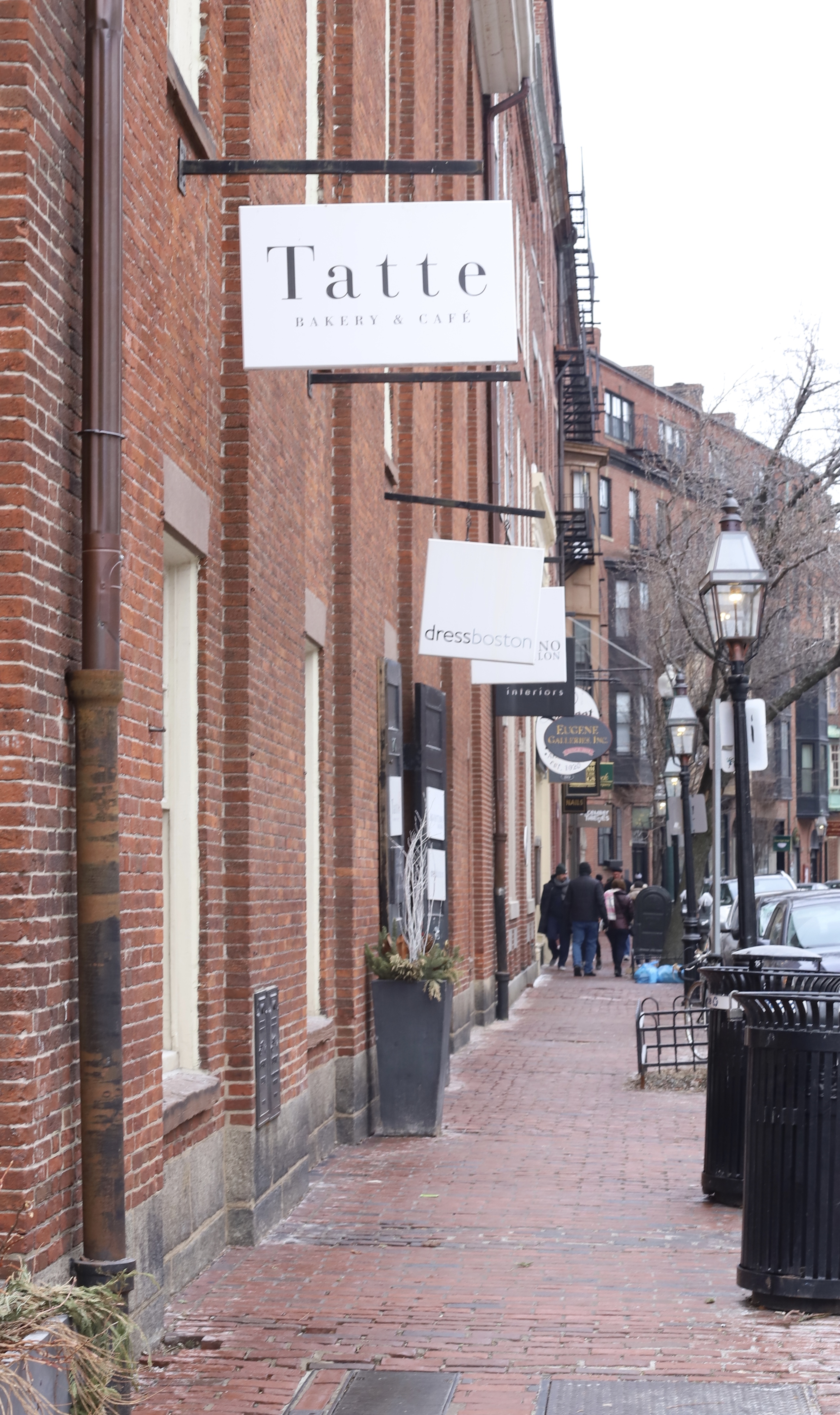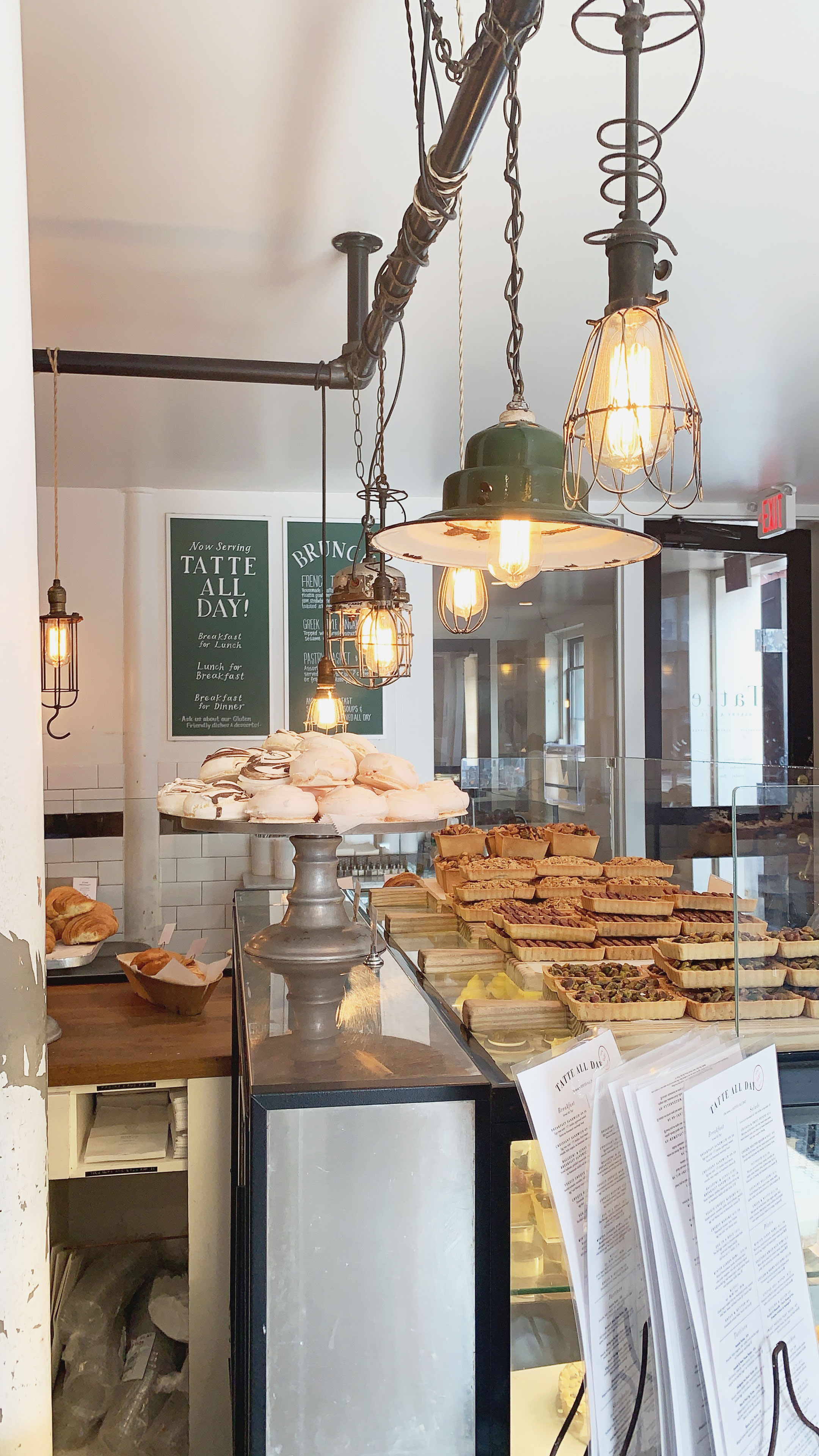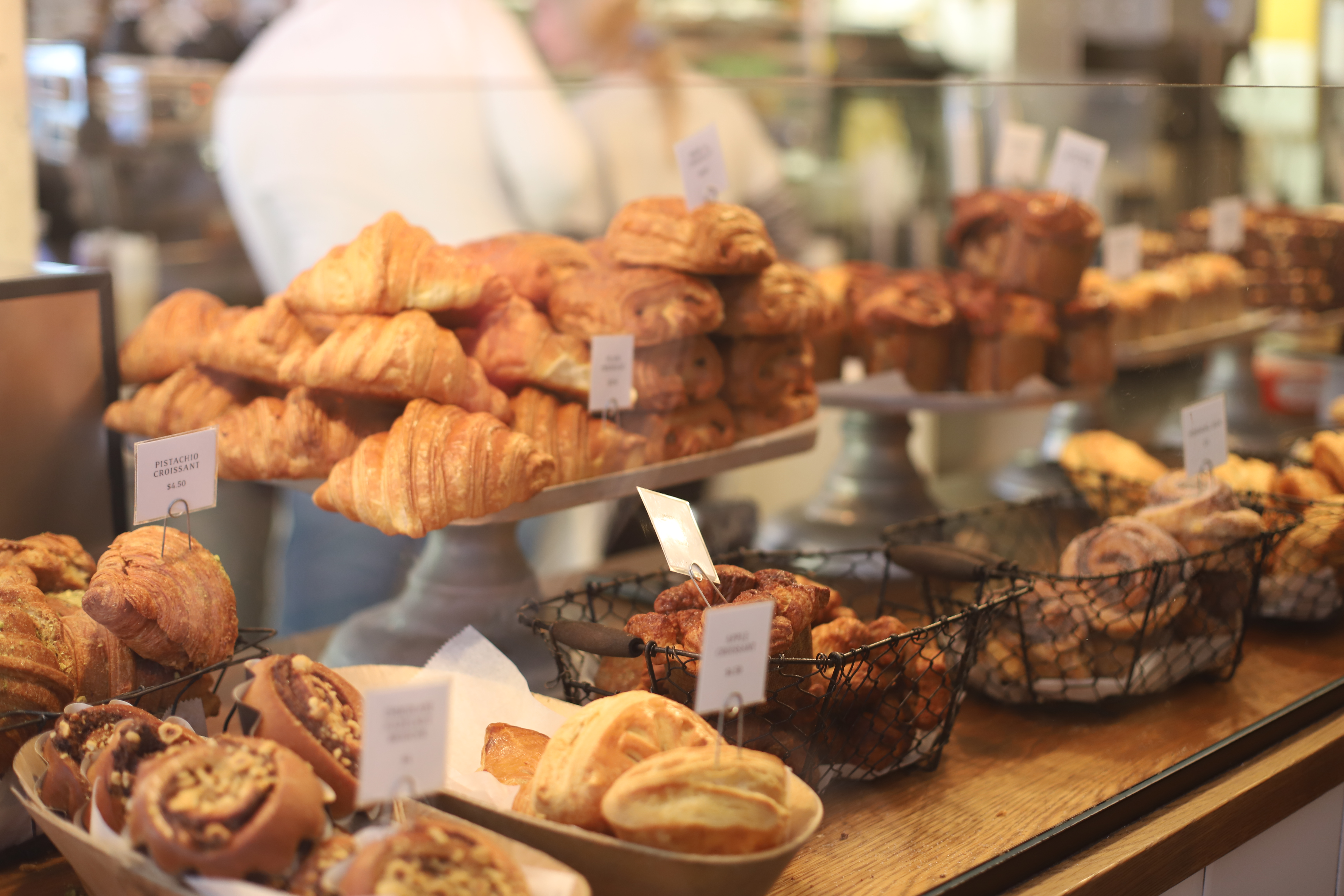 Tatte
So good, we ate at Tatte (pronounced like "latte" with a "T") TWICE. (The Tatte Beacon Hill location, to be exact. Though they're spreading throughout Boston like Guys, I LOVE Tatte. Yeah, yeah, as does EVERYONE else; but I mean, it's great.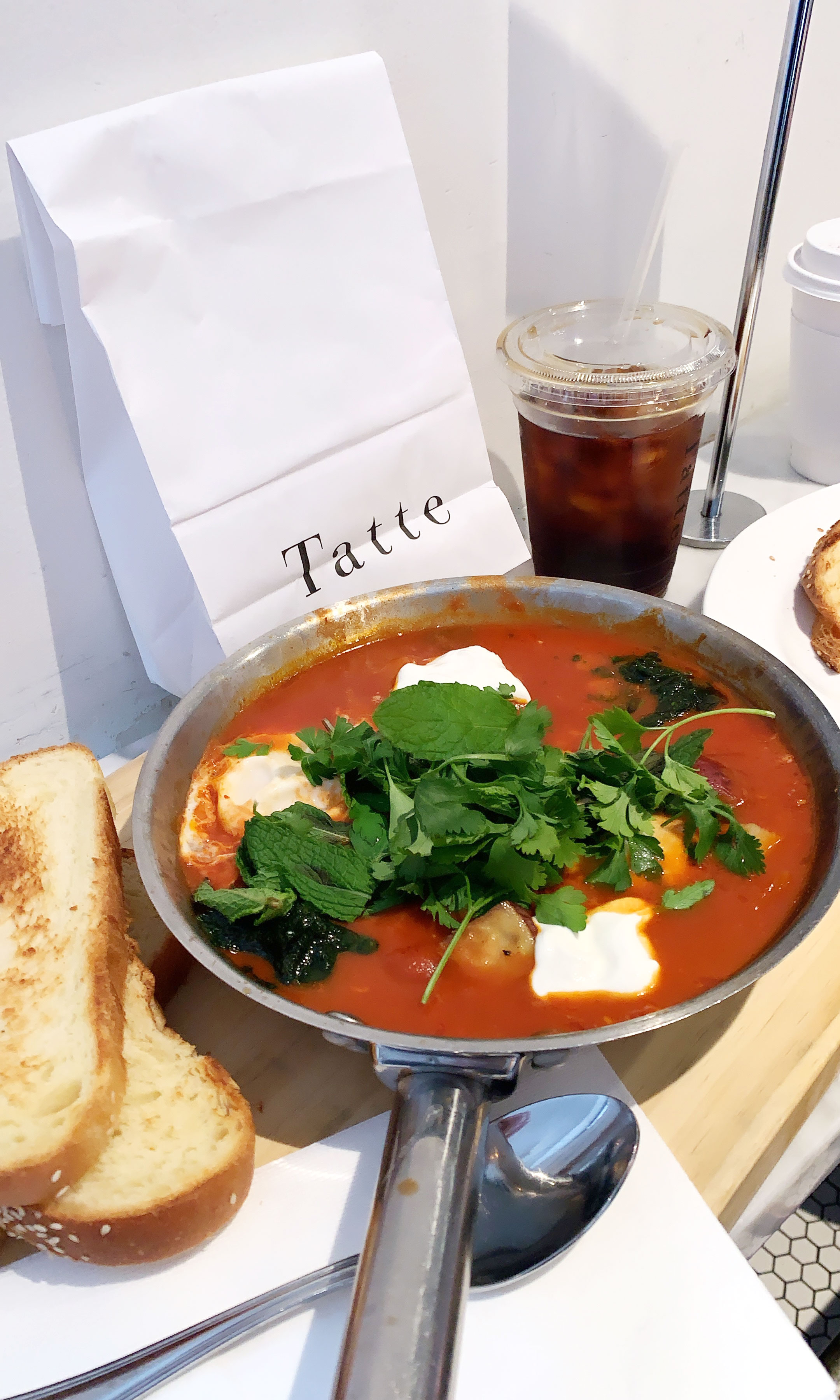 Try the shakshuka. I had the "Winter Shakshuka" with the tomato bell pepper sauce, roasted red potatoes, chickpeas, onions, eggs, labneh and cilantro sauce, and I'm still dreaming about it.
Also, have an almond croissant.
You're welcome.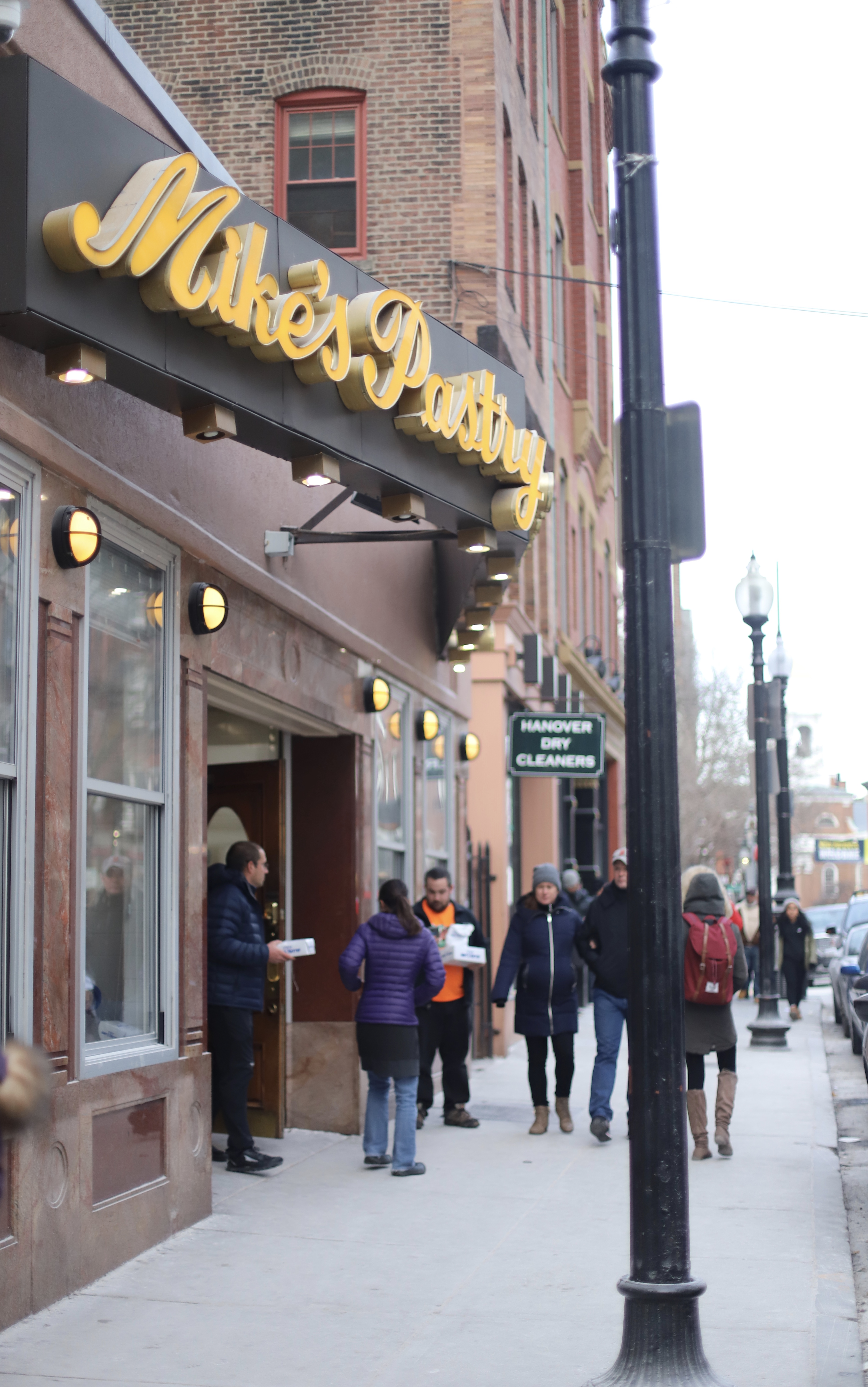 Mike's Pastry
My family has been picking up a box heavenly cannolis from Mike's Pastry for YEARS. This visit, we ventured outside of the box a bit and tried a few other North End favorites, including Modern Pastry (YES to the classic Italian cookies) and Maria's Pastry, but if I'm being honest, Mike's still takes the cake. Mike's cannolis are out of this world, come in dozens of crazy amazing flavors (DO NOT leave without trying the peanut butter cannoli), and if that doesn't convince you, the massive crowds lined up in and outside of the shop will.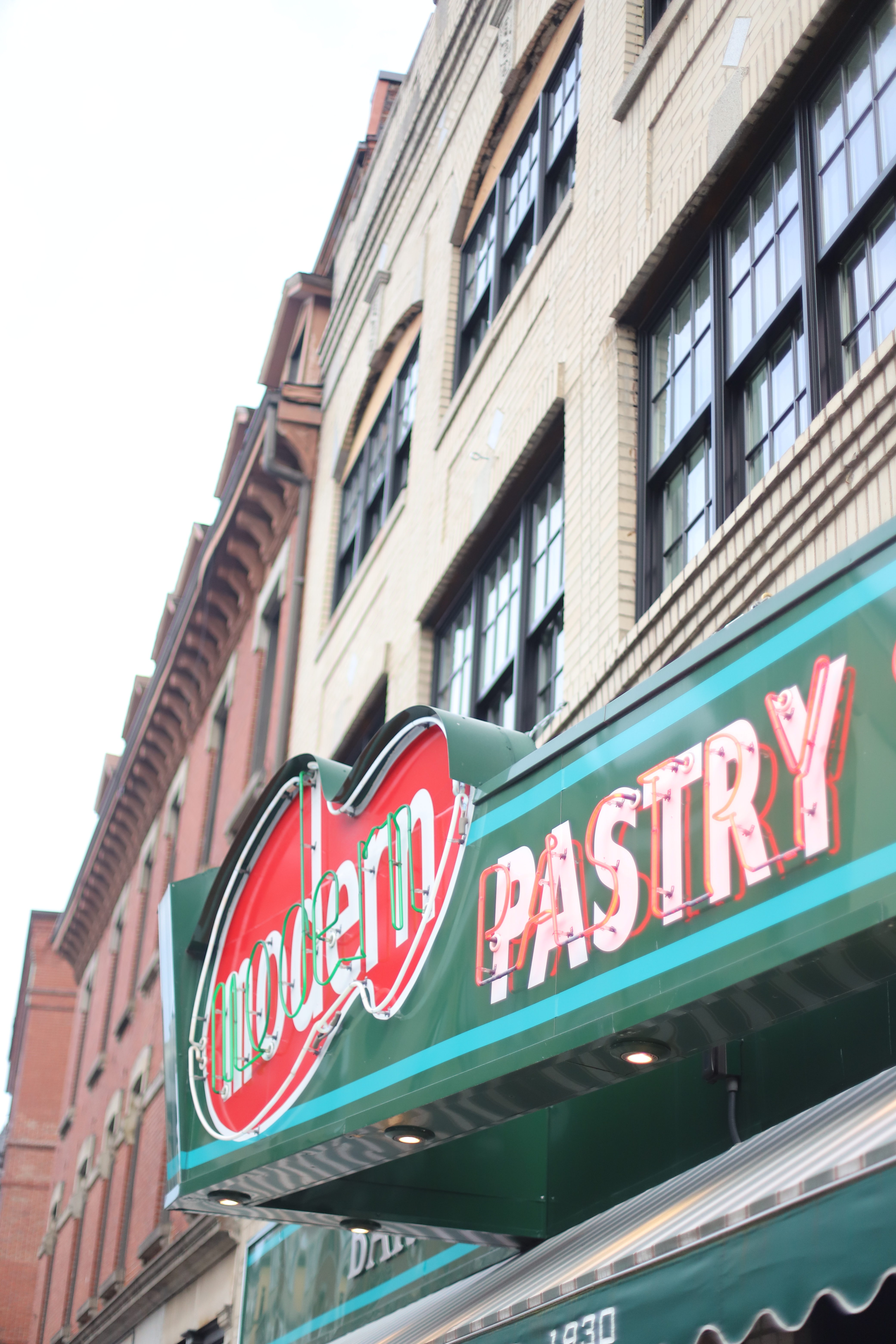 Public Garden
Anyone who's read Robert McCloskey's classic book, Make Way for Ducklings will want to see the Public Garden where the story took place. There you'll find the statues honoring Mrs. Mallard and her brood of ducklings. You can also go on a 20-minute swan boat ride on the lagoon. (A Boston tradition started more than 100 years ago.) The Public Garden is a dreamy oasis in the heart of the city.
Boston Tea Party Ships and Museum
I suspect this one will be more interesting as our girls get a bit older. But if you want a great history lesson, this museum is it. (Rumor has it, tickets are pricey, so try to snag them at a discounted rate in advance online.)
Quincy Market
Although a bit crowded, Quincy Market is a great stop for lunch and a bit of shopping. Quincy Market is sometimes known as Faneuil Hall Marketplace because one of its structures, Faneuil Hall, was built in 1742 as Boston's first market. Quincy Market is full of shops, restaurants, pushcarts, food stands and street entertainers. Grab a meal or a snack and sit outside with the family to take in a free show by one of the many talented street performers.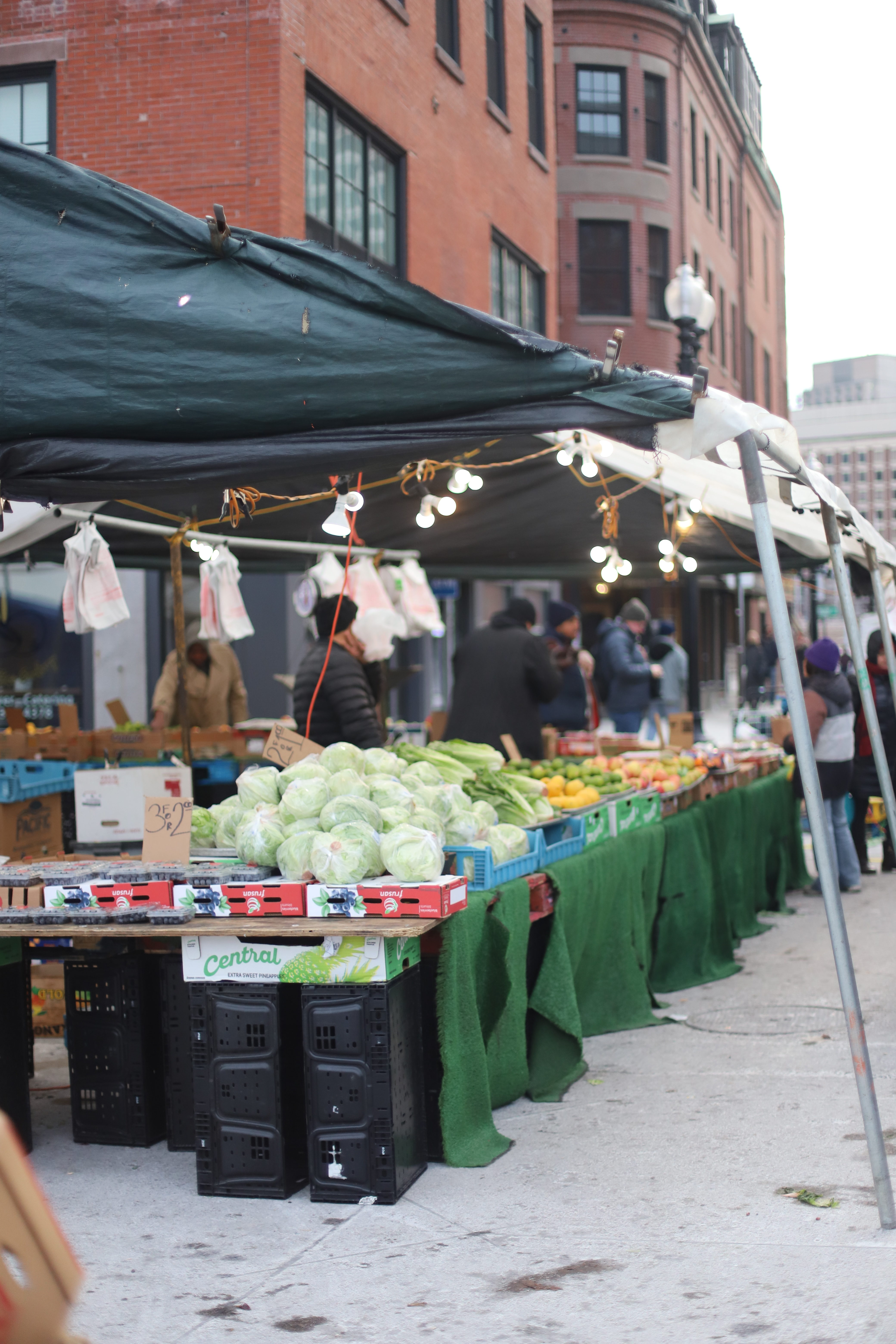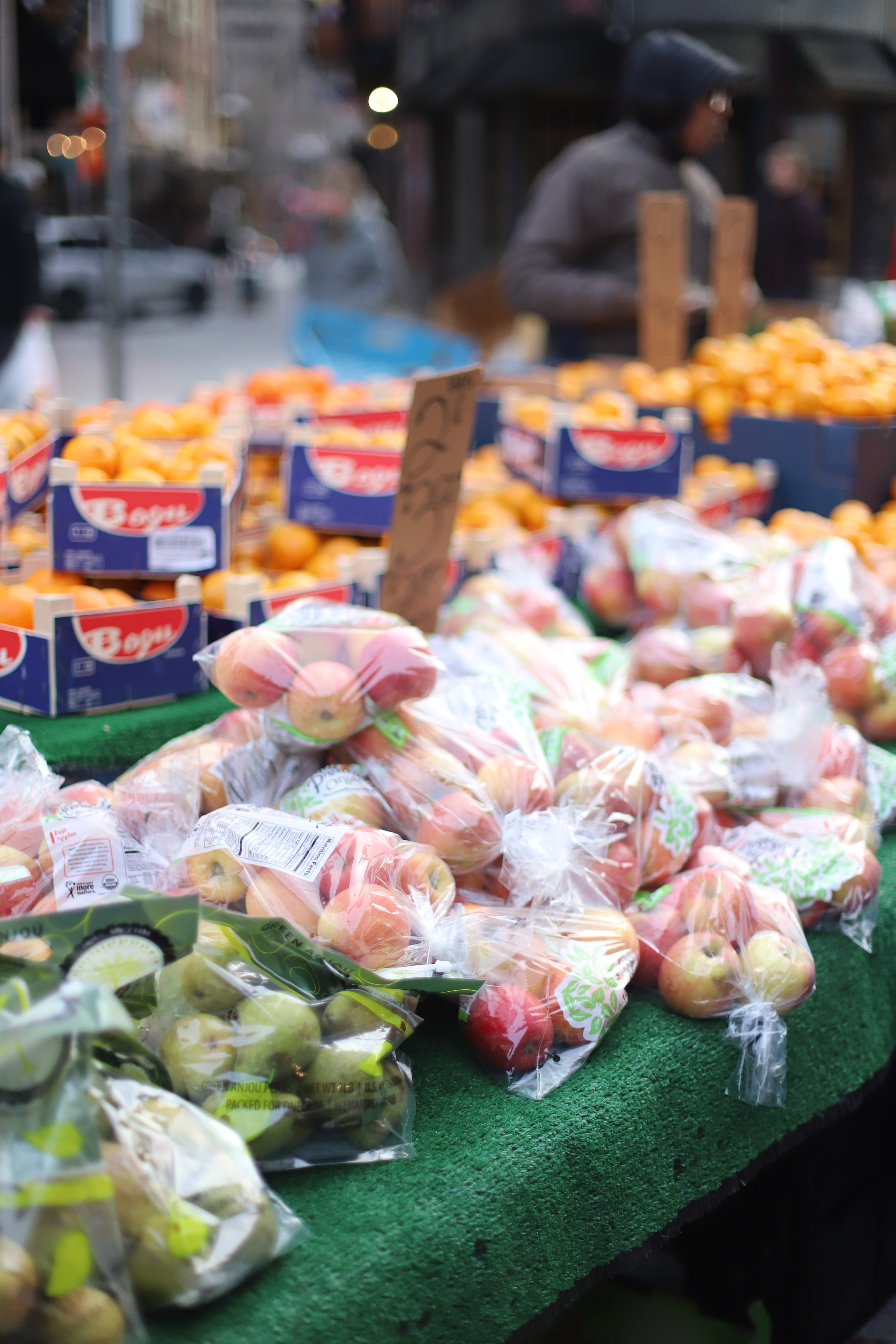 Farmers Markets
Check the local paper or online, and try to check out one of the many Farmers Markets that pop up around the city. We stumbled upon this one on our walk to Little Italy. I was amazed at all of the incredible produce for a fraction of the price of grocery stores, plus baked goods, fresh fish, and more.
The Esplanade
When you're ready for a break, walk to the Esplanade. A gorgeous stretch along the Charles River, running for three miles from the Museum of Science to the Boston University Bridge. The park offers walking and biking trails, playgrounds, boat rentals and plenty of scenic open space for playing, flying kites, picnicking, etc.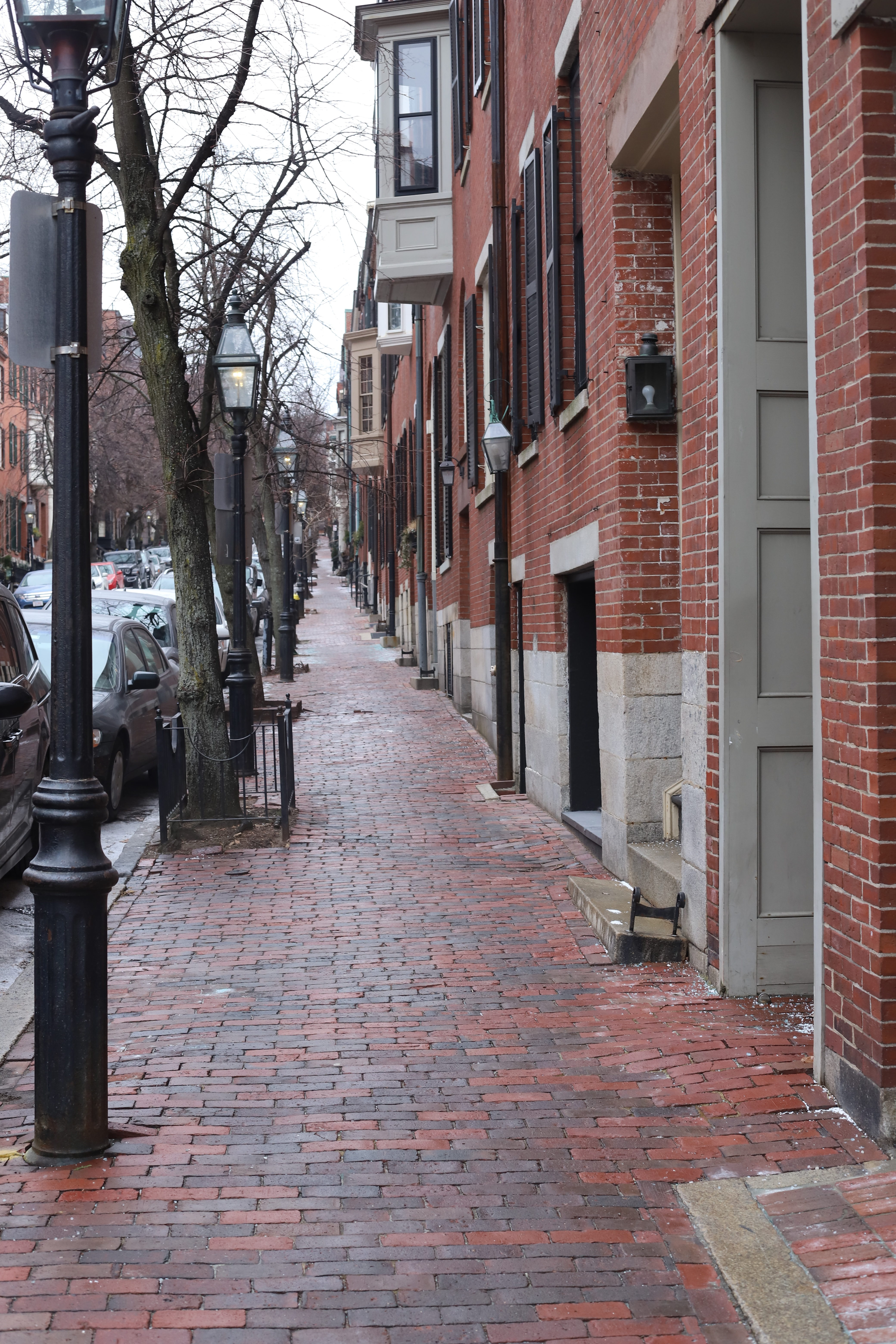 There is SO much more to experience in Boston from history to great restaurants to incredible shopping. Once we move to Boston (!!!), we'll share plenty more, but I wanted to give you an idea of some fun ways to spend a long weekend in Boston with kids.
SHOP OUR BOSTON LONG WEEKEND TRAVEL POST | CLICK LEFT & RIGHT ARROWS TO EXPLORE

AND IF YOU LOVED THIS POST, YOU CAN SEE MORE BEHIND-THE-SCENES OF OUR LIFE WITH TWO LITTLE ONES HERE.