This post contains affiliate links, which means that if you click on one of the product links, I'll receive a small commission. Thank you so much for clicking through and helping to support this little blog business of mine! Read more about our site, privacy, and disclosure policies here.
Winter boots – I've tried them all; these are my 4 favorite cold-weather winter boots that have gotten me through some seriously cold winters, snow, ice, and all. Plus, my thoughts on warmth, anti-slip ability, and more.
Now that we've lived in Boston for several years, and North Carolina for several years before that, plus regular trips up to our family's house in Maine, I've gotten a pretty good handle on what cold-weather winter boots work … and those that don't.
Visiting Boston? Check out our tips on what to do for a long weekend in Boston with kids, here. And read our big moving announcement, here.
I am a wuss when it comes to winter and cold weather, plain and simple. I was the lunatic living in Miami with UGGs on when it dipped below 65°. As you can imagine, adjusting first to North Carolina and then again to New England climates were quite the transitions for me.
So naturally, once we moved up to North Carolina, and then again to New England, I was forever on a hunt for the perfect winter boots to get myself through each winter. I had a few requirements when it came to cold-weather boots – warm, anti-slip (a.k.a., the boots can handle ice), and comfortable.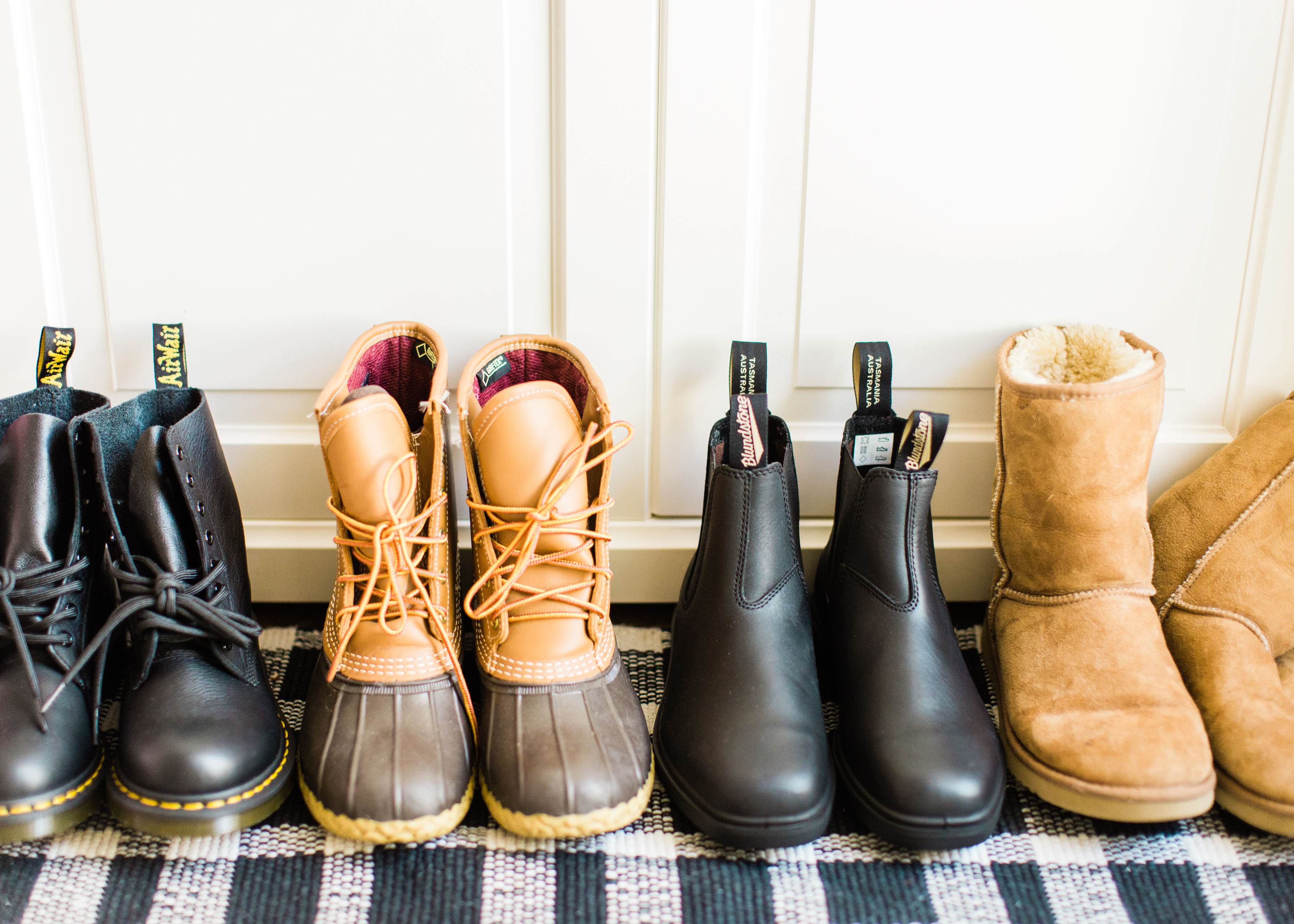 My 4 Favorite Cold-Weather Winter Boots
I'll say that I have yet to find a truly PERFECT pair of winter boots that tackles it all. I feel like there are pluses and minuses to each pair of cold-weather winter boots, and you have to accept that there are tradeoffs.
I also swear that there are different cold-weather boots for different and varying degrees of winter weather. I pretty much choose the winter boots I plan to wear on any given day based on what we intend to do that day. If we're playing in the snow, I reach for my Duck Boots; if we're walking all day in ice-y conditions, it's my Blundstones, for sure; if I just want to be cozy on a dry frigid day then I reach for my UGGs; and so on.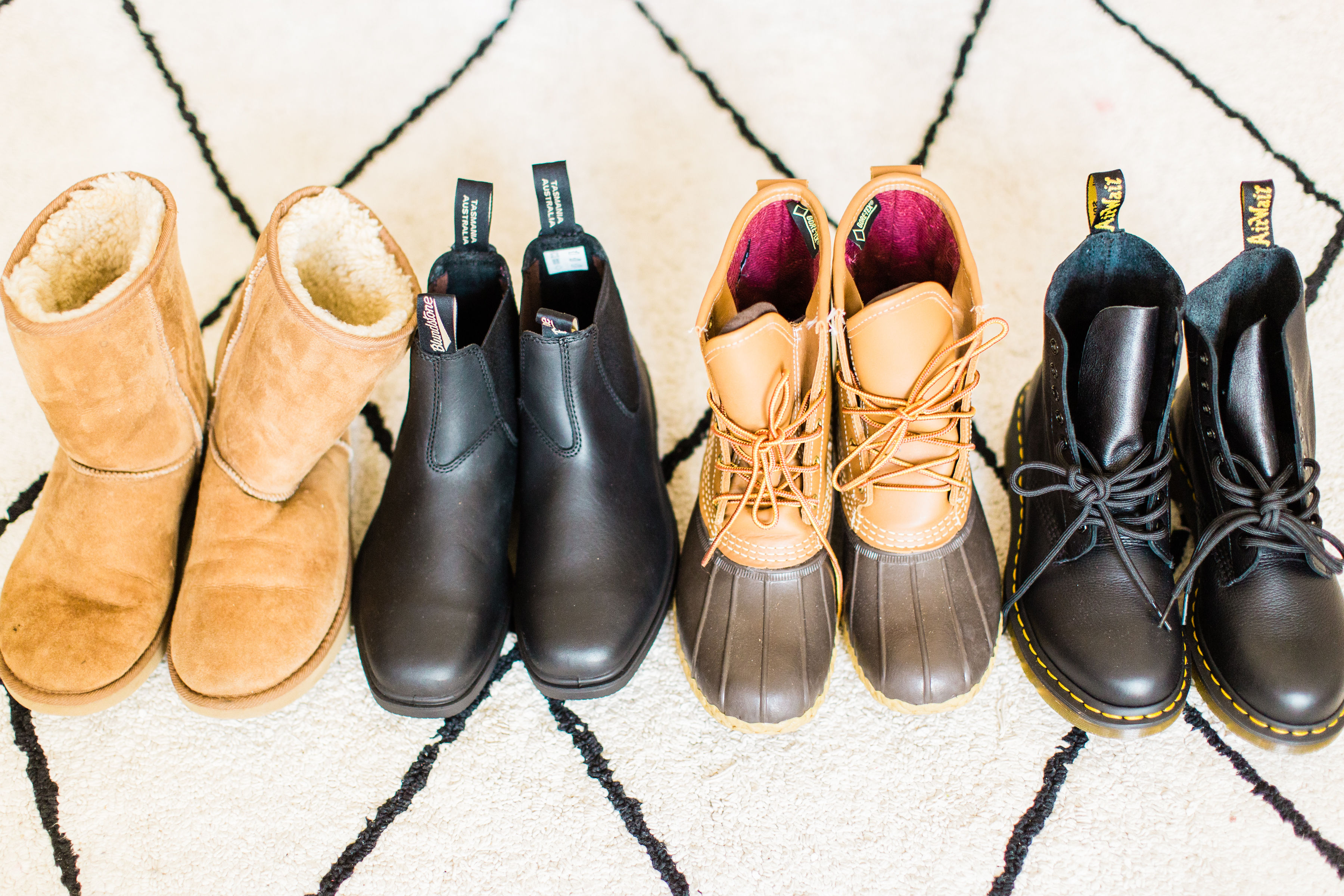 I'm breaking down all of the details about my 4 favorite cold-weather winter boots, why I love them, when I wear them, and more, in hopes that this will help you find just the cold-weather boots you've been searching for!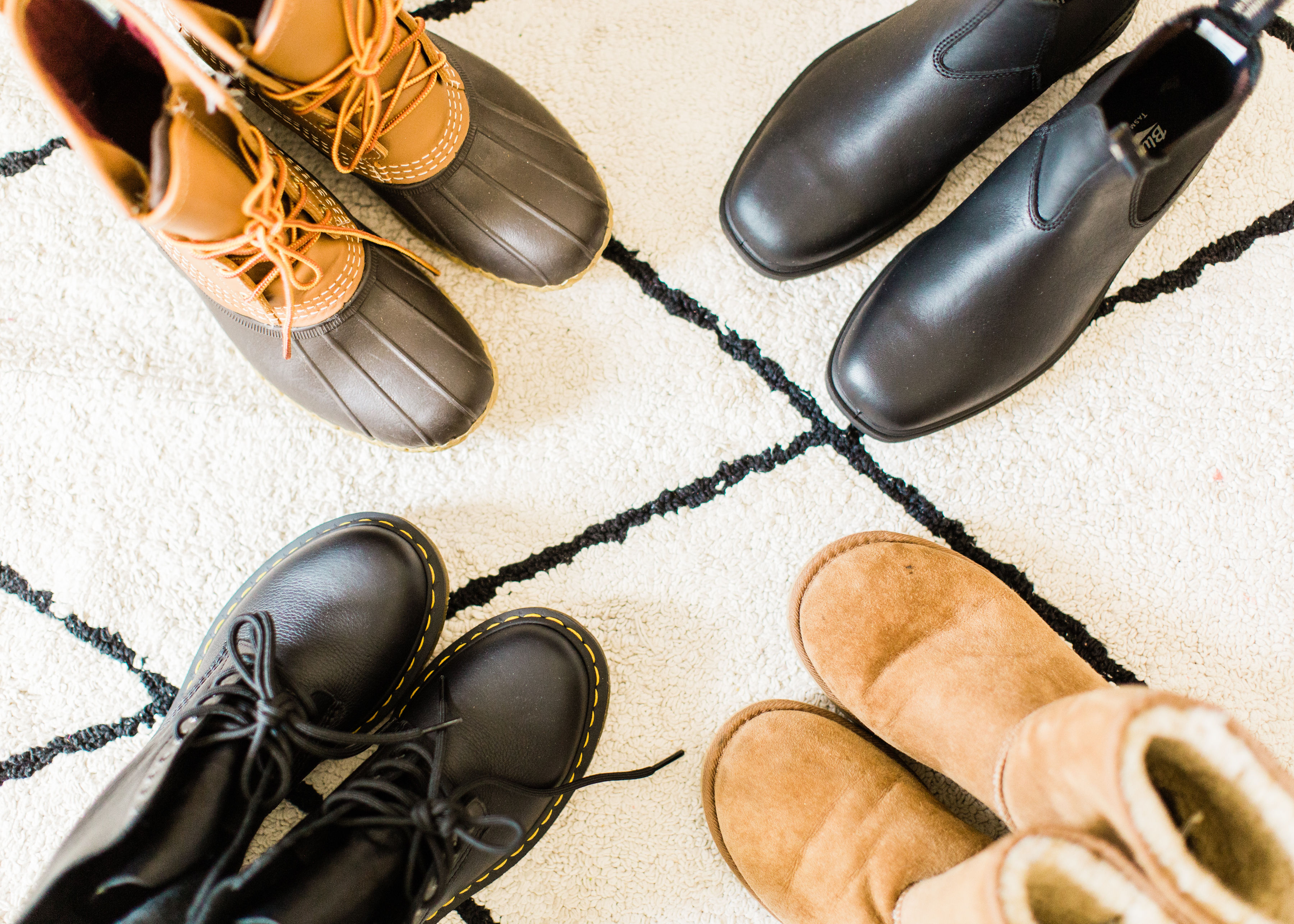 My 4 Favorite Cold-Weather Winter Boots
Until our move to North Carolina, I hadn't slipped into a pair of Doc Martens since middle school, but I finally decided to scoop up a pair of my retro favorites earlier this winter, and I couldn't be happier. Seriously, how I ever stopped wearing my beloved Docs is beyond me. These Pascal boots are a newer version of the classics, with a softer, more supple leather that needs no breaking in the way original 1460s do. I will say that they do still require a tiny bit of breaking in – right at the top of the foot – but the softer leather around the ankle and calf means no more painful rubbing in those spots. And of course, like any Dr. Martens, once you do break them in, they feel like buttah. They are a bit bottom-heavy as well, like all Doc Martens, but you get used to that pretty quickly.
Docs are great for day-to-day winter wear, keep your feet protected and relatively warm, and can also stand up to some snow, though you'll probably want to wear wool socks or a boot liner or insert if you really plan to wear these in snow, since they have no lining on their own.
Get a pair of Dr. Martens Pascal Virginia 8-Eye Combat Boots here. Also available at Urban Outfitters, Nordstrom, Shoes.com, and on Amazon.
I love my Duck Boots. So much so, that I wrote a whole post on How to Choose Classic Bean Boots (and when to buy them before they sell out!) Because my family has a vacation home in Maine, I've been seeing Duck Boots; a.k.a., Bean Boots, for yeeeeeaaaaarrrrssss. I'm actually not sure there's a single person in the state of Maine who doesn't own a pair.
Duck Boots are a cult favorite all up and down the East Coast. They're prevalent everywhere we travel, and for good reason: they're GREAT winter boots.
I have the classic 8″ Bean Boots, but they also sell Shearling-Lined Bean Boots for extra toasty warmth. (Even without the shearling lining, Bean Boots are still quite warm.) If you want a pair of Bean Boots for all seasons, my suggestion is to get a classic pair and buy the Shearling Insoles and/or the Snow Boot Liners, that way you can just slip in the added warmer lining when you need it. I actually have the Shearling Insoles and love them so much. They add so much coziness and warmth to my boots, and basically makes the foot bed of your boots feel like a pair of UGGs.
I actually also own a pair of Sorel Women's Joan of Arctic Boots and consistently found myself choosing the Bean Boots over the Sorels. The Sorels are just clunkier and harder to walk in, and I find the Bean Boots to be much more comfortable, useful, and they work on my shorter legs. The Sorels are definitely popular, just not my go-to pair for snow.
Get a pair of L.L. Bean Duck Boots here, or try a pair of Shearling-Lined Bean Boots here.
When we found out that we were officially moving to Boston, one of the first things I panicked about (naturally!), was all of the ice and snow that comes along with Boston winters. I am a Miami girl through and through, and though North Carolina has been a good introduction to all things winter, I'm not sure it can come close to preparing me for a New England winter.
The areas we're looking to live in particular, especially around Beacon Hill, are nothing but treacherous brick-lined and cobblestone streets with steep hills and a lot of uneven ground. I'll also be pushing a double stroller. Basically, I've been in how-do-I-survive-a-Boston-winter panic mode.
So I started researching like a madwoman. Guys, I've said it before, and I'll say it again: I LIVE for research. No lie, my favorite part of law school and practicing law, is the research.
And do you know what my winter boot research led me to? Blundstone. Blundstone boots are hands-down one of the best cold-weather winter boots that can truly handle ice-y conditions. Don't want to slip and slide and bust your bum walking on iced over roads and paths? Get yourself a pair of Blundstones.
After several orders and returns, I settled on a pair of Women's Blundstone Dress Boots that I love. Blundstones actually run like an Australian shoe, so half sizes just add some height/width to the shoe. Basically, if you're a women's size 8, but you know you'll be wearing your Blundstones with thick socks, or shearling inserts, size up to a women's 8.5. They're not a traditional 8.5; they're actually an 8, with a little more room for thicker socks, etc.
He can wear them to work, walk through ice and snow to and from work, and not have to change his boots once in the hospital.
I will say that Blundstone Boots do require a bit of breaking in. For me, the foot itself felt good right away, but the opening of the shoe that hits above the ankle can feel a bit stiff. My typical size 8 was also too tight with thick socks, so I returned those and ordered 8.5.
I also started with the Blundstone Thermal Boots, looking for that extra winter warmth, which is the same style and shape as the Blundstone Super 550 Series Boots, but with Thinsulate insulation and a sheepskin footbed; and to be completely honest, it just wasn't my style. The classic Blundstone boot shape is kind of clunky and industrial looking. Some girls pull the look off effortlessly, but for me, it was a big NO.
That's when I found the Blundstone Dress Boots; also called the Blundstone Chelsea Boots. I love this style because it is much sleeker. The classic Chelsea boot style is more fashion-forward, with a narrower, squared off toe that I love. To "winterize" my Blundstone Dress boots, I added in the Blundstone Sheepskin Footbed (which you can order on Amazon!), and now have my perfect dressed up winter boots. I love this option because a lot of typical-looking snow boots are pretty obviously "snow boots," a look that doesn't always work for everyday life in winter.
A note on Blundstone Boot Sizing:
Blundstones can be notoriously tricky for sizing and finding the right style, but stores like Backcountry, Nordstrom, and Urban Outfitters are AMAZING with their customer service, free shipping and returns, etc. I found that with the sites that list the US size, going with your regular US size is the way to go.
I wound up going with my regular size, plus the half size for extra room (for socks, a Blundstone Sheepskin Footbed Insert, etc.) and I'm very happy.
Get a pair of Blundstone Dress Chelsea Boots at Urban Outfitters, Nordstrom, Zappos, or Amazon.
What can I say – I love my UGGs. Though not nearly as "in style" as they once were many years ago, UGG Classic boots are still amazing for cold winter weather. I've had the same pair of UGG Classic II Genuine Shearling Lined Short Boots for years.
They're not waterproof like my other favorite cold-weather winter boots, but I still find myself reaching for them all of the time for quick errands – like carpool, to go for a walk around the neighborhood on super cold days, etc. I can't really wear UGGs to walk through snow, because they will eventually soak through, but some days, when I'm just slipping on a pair of shoes for warmth and comfort, UGGs are where it's at. It's like wearing cozy clouds on your feet. Or your favorite pair of buttery soft slippers, that you can actually leave the house in. They are just so warm and cozy and soft. Le sigh. I love them.
Get a pair of UGG Classic II Genuine Shearling Lined Short Boots at Nordstrom, Macys, UGG, Zappos, or Shoes.com.
UPDATE ON UGG MINI AND UGG ULTRA MINI BOOTS 2023:
I have since snagged a pair of UGG Classic Mini II boots (which I love) and chose over the super popular UGG Classic Ultra Mini, because I still wanted to keep my ankles warm. I absolutely LOVE the height on the UGG Classic Mini II boots; not too high, not too low. They slip on and off easily, and keep my feet toasty on dry, cold winter days.
A NOTE ON UGG TASMANS:
I also scooped up a pair of UGG Tasman Slippers this fall, and though I adore them, because of the same exposed ankles problem, I wouldn't go for this pick in the winter.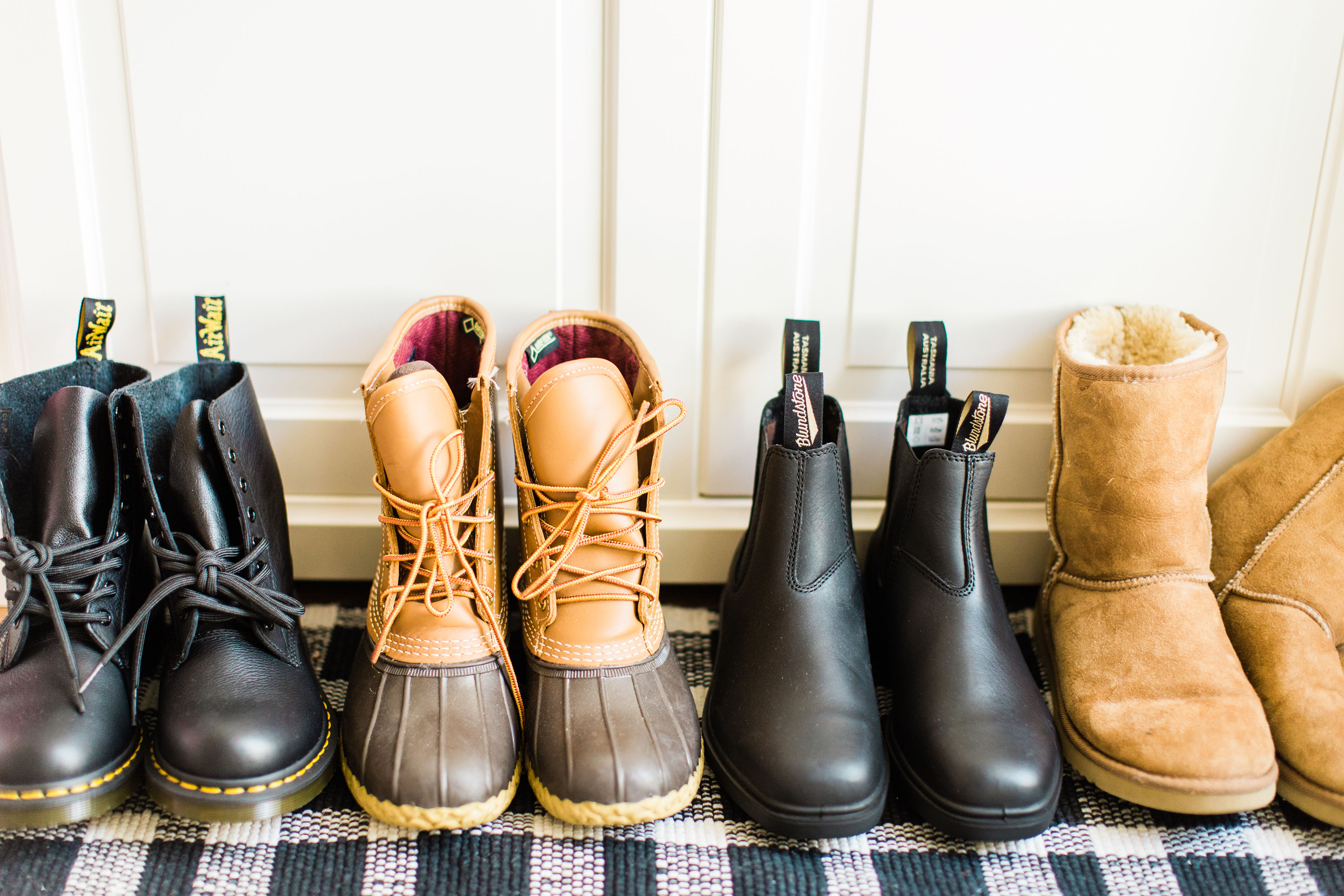 So there you have it: 4 of my favorite cold-weather winter boots that I reach for again and again. Do you have a favorite pair of winter boots? Tell me more!
SHOP THE COLD-WEATHER WINTER BOOTS POST | CLICK LEFT & RIGHT ARROWS TO EXPLORE

IF YOU LOVED THIS WINTER BOOTS POST, YOU CAN SEE MORE OF OUR STYLE POSTS HERE.
Photos by Annie Timmons Photography for Glitter, Inc.