This post contains affiliate links, which means that if you click on one of the product links, I'll receive a small commission. Additionally, as an Amazon Associate I earn from qualifying purchases. Thank you so much for clicking through and helping to support this little blog business of mine! Read more about our site, privacy, and disclosure policies here.
It's the most wonderful time of the year! Even though the holidays will look a little different this year, my mom taught me to never visit someone empty handed, and it's a lesson I'll never forget. Whether your holiday get togethers look the same, are smaller in scale, or look totally different (even leaving a little something on a friend's doorstep is oh so sweet!), it's important to always be prepared with a host/hostess gift or two and this gift guide will make finding the perfect thank you gift easier than ever.
With holiday invites on the horizon, figuring out what to gift the host/hostess can take a lot of time and thinking! I always recommend having a few gifts on hand to "shop" from, even at the last minute. I promise, you'll never know how you ever lived before once you start doing this! From friends to in-laws, these gifts make the perfect thank you.
Want even more holiday content? Right this way!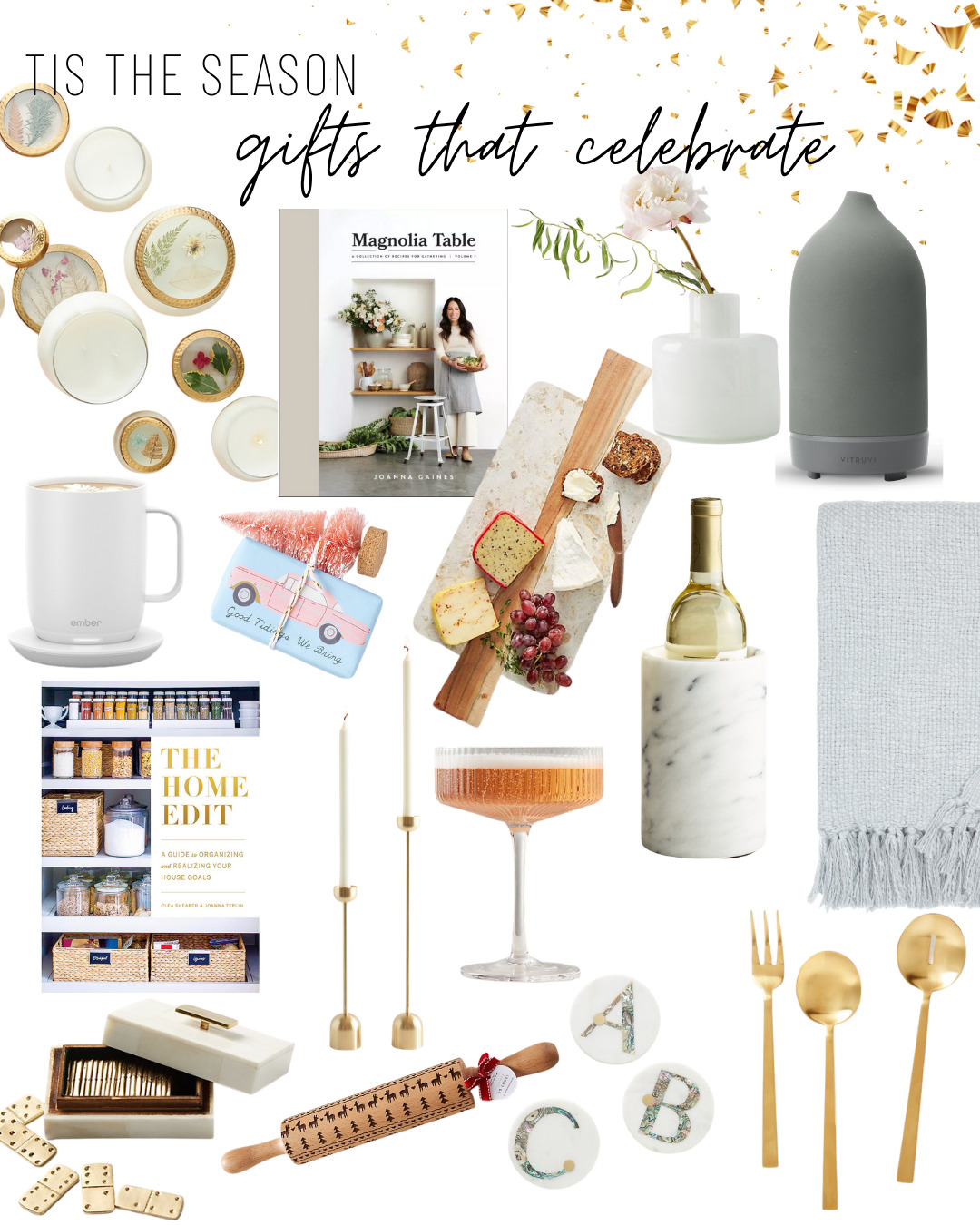 What to Bring for the Host/Hostess
I don't know about you, but I think that Anthropologie curates the best candles, ever! They always smell so good, even when they're lit and the jars are always gorgeous. As part of their holiday collection, they launched these floral press candles that come in the best scents, perfect for Thanksgiving, Hanukah, Christmas, and New Year's. Plus, the designs on the lids are stunning. Such a perfect gift as a small thank you to your holiday host/hostesses.
Coffee table books are such a great gift and with so many options out there, it's easy to find the perfect book for everyone! Magnolia Table by Joanna Gaines has become one of my favorite hostess gifts since the book launched, and I promise – your hostess won't be disappointed! I mean, who doesn't love Joanna?!
I might be biased, but I truly do not believe that there is such a thing as too many vases. They're practical, they're easy to decorate with, and when gifted with some flowers, they will make anyone smile! The sunset vase from Anthropologie is one of my favorites and it comes in four different color, size, and shape options. I'm especially loving the marigold color!
Diffusers are a must, especially in our household! We have a couple different ones and I love being able to quickly switch them on! We have one in the girls room and diffuse eucalyptus and lavender during the colder months and it essentially acts as a humidifier. I was surprised how much use we get out of ours and now love gifting them to other people, especially around the holidays!
Once the cold temperatures roll around, hot beverages are a must! This mug will keep drinks warm for hours and the recipient of it will no longer have to worry about multiple trips to the microwave to re-heat their coffee or tea that they forgot to drink. Basically, this is a busy parent's dream mug.
Whether you're looking for a small, budget-friendly gift or want to say thank you with a few items, this holiday bar of soap from Anthropologie is the cutest! With 14 different scents and wrapping available, it's the perfect way to say "thank you" to the hosts of your holiday celebrations.
What better gift to give a host than something they can use at their next get together? These cheeseboards will fit anyones style and the handles on both ends make it easy to carry and transport through the home during an event.
Talk about an easy gift! Paired with a bottle of your hosts favorite wine, this wine cooler is a quick and easy gift that will leave your host/hostess saying WOW!
The cold winter weather will be here before we know it and with so many people spending most of their time inside, what better gift to give than a cozy blanket? I'm loving the light blue color of this one, too, even for the winter months! This is also a great gift to stock up on and keep for events that come up unexpectedly.
Is anyone else totally hooked on The Home Edit on Netflix?! The Home Edit coffee table book is the perfect gift for your organization obsessed friends and family members, especially as we head into the new year!
The holidays are the perfect time to show off a festive tablescape and these spindle candle holders will instantly transform a space. Plus, they're chic and will match anyone's home decor style!
Another great gift that can be given by itself or in addition to your host/hostess' favorite liquor! These coupe glasses are absolutely beautiful and make a statement without breaking the bank.
Who loves a great game of dominos?! I love gifts that have dual purposes and this domino set does just that! Whether your host/hostess is fond of the game of dominos or not, this set has breathtaking details.
Does it get any more festive than this rolling pin?! Help your loved ones knead a little extra love into everything they bake this holiday season with this rolling pin that leaves a vintage-inspired print behind after it's used.
An easy gift that is luxe and personalized? Count me in! I love anything monogrammed and these coasters are so cute! I love the abalone shell detailing and I'm sure your hostess will, too!
Have you ever seen such a chic serving set?! I will definitely be gifting this for future holiday events, and I might even gift a set to myself; it's that good!
Do you always bring a thank you gift for the host/hostess during the holiday season? What's your go-to gift?
SHOP THE HOST/HOSTESS GIFT GUIDE POST | CLICK LEFT & RIGHT ARROWS TO EXPLORE