Next up in the Glitter, Inc. Gift Guide series: the best gifts for mom.  I actually love shopping for my own mom.  It's fun to spoil her, especially when she, like most moms, rarely spoils herself.  On the list for your favorite mom: cashmere, something monogrammed, a sweet I Love You, the go-anywhere tote, the perfect flats, and more.  (There might also be a few adorable gifts for the young mom in last week's Gift Guide for the Blogger.)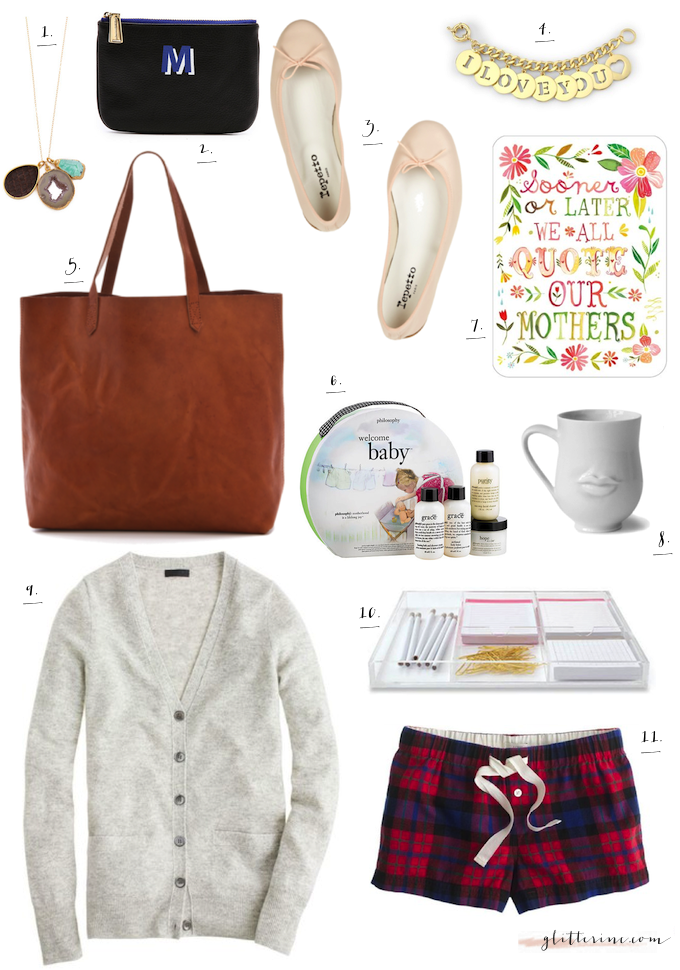 Get the Gifts for Mom:
1.  Dara Ettinger Kimmy Charm Necklace:  This is the perfect everyday accessory.
2.  Rebecca Minkoff Cory Monogram Pouch:  Moms love all things monogrammed.  Fact.
3.  Repetto Cendrillon Leather Ballet Flats:  There are so many comfy cute ballet flats out there, but word on the street is, these are hands down, the best.
4.  C. Wonder I Love You Charm Bracelet:  How sweet is this charm bracelet?  Love.
5.  Madewell Transport Tote:  This is the tote of the season, and is made for wear and tear.
6.  philosophy 'for mommy with love' Set:  For the new mom's in your life, the perfect pampering kit.
7.  We All Quote Our Mothers Print: So true.
8.  Mrs. Muse Mug by Jonathan Adler:  A morning pick-me-up in an oh so cute mug.
9.  J.Crew Collection cashmere boyfriend cardigan:  Cashmere is the perfect little indulgence, and most women's favorite gift.
10.  Acrylic Desk Organizer:  For the working mama, this adorable acrylic organizer, is the perfect desk top accessory.
11.  J.Crew Sleep Plaid Flannel Sleep Shorts: PJ's are my favorite Holiday gift to give and receive.  We rarely get ourselves cute new pajamas, and these J.Crew shorts are the perfect sweet little gift.