This post is sponsored by Sears. Thank you so much for supporting the sponsors that help make Glitter, Inc., possible!
This past week, I finally got my gift-giving in order and made a list. Unfortunately, since then, my list just keeps on growing. The good news is we have so many amazing people in our lives to be thankful for, both old and new to us here in North Carolina. The bad news: I've got a whole lot of gift shopping to get done. The trick with finding gifts for so many special people on your list is keeping it all in budget, so I'm determined to find thoughtful gifts coming in at just under $5, $10, and $30.
From cozy pajamas and slippers to baking and grilling must-haves to chic accessories for him and her to winter-ready items for the home, this handy (and affordable) gift guide has got you covered!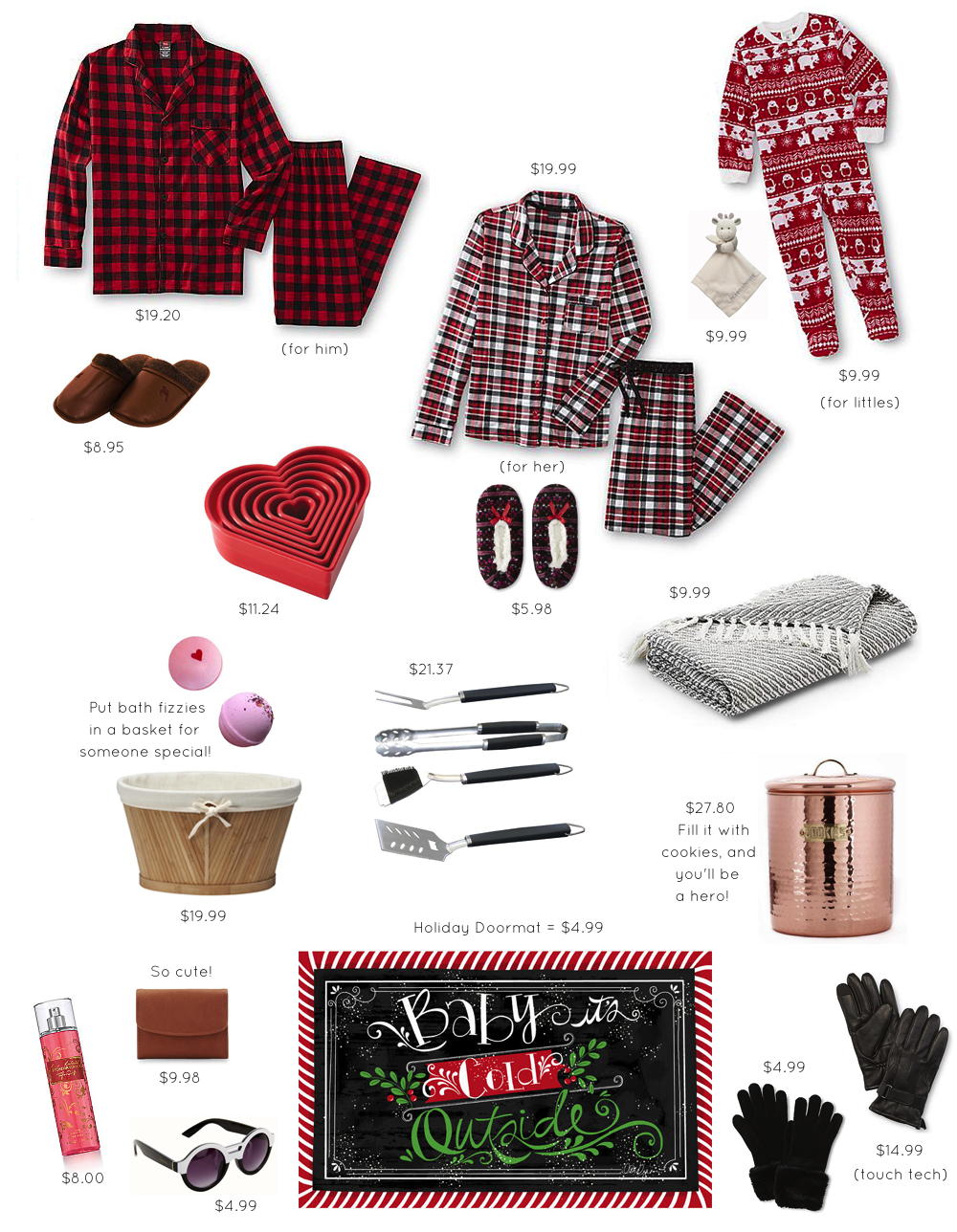 Under $5: Round Frame Sunglasses, $4.99 // Essential Home Cold Outside Holiday Doormat, $4.99 // Women's Faux Fur Chenille Gloves, $4.99
Under $10: Infant & Toddler's Fleece Sleeper Pajamas, $9.99 // Snuggle Buddy Giraffe Security Blanket, $9.99 // Men's Faux Leather Scuff House Shoes Slippers, $8.95 // Fair Isle Fleece Slipper Socks, $5.98 // Cake Boss Decorating Tools 7-Piece Nylon Heart Fondant and Cookie Cutter Set, $11.24 // Blissful Bath Romance Bath Bomb, $6.75 // Blissful Bath Fresh Roses Bath Bomb, $6.75 // Cotton Throw, $9.99 // Taylor Swift Wonderstruck Enchanted Body Spray, $8.00 // Women's Wallet, $9.98
Under $30: Men's Flannel Pajama Shirt & Pants, $19.20 // Women's Plaid Pajama Top & Pajama Pants, $19.99 // Creative Ware Home Eco Styles Oval Storage Basket, $19.99 // Kenmore 4pc Stainless Steel Grilling Tool Set, $21.37 // Old Dutch Décor Copper Hammered Cookie Jar, $27.80 // Men's Touch Tech Leather Gloves, $14.99
If you're trying to keep your holiday shopping simple this year (because, really, who isn't?), shop at a store that carries it all. Sears is great because they have a huge selection for every single person on your holiday list. I mean, where else can you snag adorable booties and grilling tools? For the record: Yes, my husband is still grilling in this crazy weather … wearing a parka. And he will most definitely be getting grill accessories for the holidays. (Thanks, Sears!)
Happy gift-wrapping!
(Adorable "Hey, Y'all" gift wrapping by my friend Sarah.)
Don't forget to check out all of the gift guides!
target="_blank" rel="attachment wp-att-22615″>

The hottest trends, celebrity styles, and fashion tips you can afford to try. #SearsStyleFind