This post contains affiliate links, which means that if you click on one of the product links, I'll receive a small commission. Additionally, as an Amazon Associate I earn from qualifying purchases. Thank you so much for clicking through and helping to support this little blog business of mine! Read more about our site, privacy, and disclosure policies here.
I'm not sure if I've ever shared the story of how I found my (perfect) wedding dress here on the blog, but on the heels of my wedding anniversary, I wanted to share. My hunt for the great wedding dress started off with a bang …
My mom, dad, and I went to one of those crazy "Running of the Brides" type sales at a Filene's in North Miami. Hell hath no fury like a bride-to-be on a mission. Girls were butt naked in the aisles, scrambling to slide couture over their frames in the hopes of stumbling upon the perfect dress amongst racks of what seemed like thousands of dresses. Needless to say, I gave up very quickly. Our next stop was a posh boutique in Miami. They served champagne, the gowns were gorgeous, everything I tried on, I liked. But there was one designer, one very expensive designer, that I kept coming back to: Oscar de la Renta. And I had a budget in mind. Trust me, Oscar was not in the budget. So we went to store after store, I scoured the internet, but nothing sang to me the way the Oscar de la Renta gowns did.
Nearly defeated, I one day found preownedweddingdresses.com. I was skeptical, to say the least. I've always been the kind of girl to splurge on the good stuff. I'd rather save up for months for a pricey handbag, than buy three cheap and trendy purses off the rack. The idea of a pre-owned wedding dress had me a bit uneasy, but then, there it was, a plethora of Oscar de la Renta. And more importantly, there it was: the kind of dress that makes your head spin, the detailing, the bust, the flowers, I knew I was in love. So I took a chance and e-mailed the seller. Other than the random ebay purchase, I had never done much online shopping via any kind of seller.
But to my luck – and I now realize – thanks to preownedweddingdresses.com and their impressive vetting process – the seller was fantastic. She loved her dress, but wanted to see another bride get the same kind of joy out of wearing it. Ironically enough, we became fast friends e-mailing back and forth about the dress, the wedding, and shopping for the perfect dress. She was also unbelievably candid about size and fitting — my biggest concern was that the dress wouldn't fit, but I had tried on other Oscar de la Renta dresses in boutiques and she and I seemed to measure up pretty similarly. She sent dozens of pictures of the dress and her in the dress at the wedding. She wore the dress a whopping two hours for the wedding ceremony, then promptly had the dress cleaned, boxed, and put into a closet. And there it was, for sale at a fraction of the price I had seen in so many boutiques.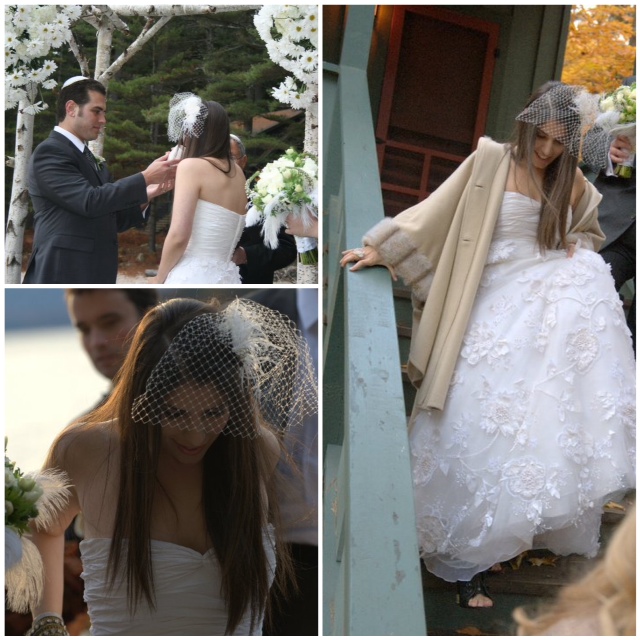 So I went for it. And I never looked back. The dress arrived in perfect condition. Not a single alteration was needed (and though I got pretty lucky on that front, most wedding dresses have to be altered no matter what, so I was more than happy to oblige after getting my dream dress at such a steal!)
You really never can tell how you'll find your perfect wedding dress, but the idea that I managed to get a couture wedding gown – the kind of dress I always dreamed of – at a crazy discount from an incredible seller – makes me a-okay with going the pre-owned wedding dress route. In fact, I encourage it – in a big way!
Disclosure: This post was sponsored by preownedweddingdresses.com. All opinions are my own.