This post contains affiliate links, which means that if you click on one of the product links, I'll receive a small commission. Thank you so much for clicking through and helping to support this little blog business of mine! Read more about our site, privacy, and disclosure policies here.
Oatmeal banana bread is the most amazing twist on a more classic banana quick bread. Filled with oats and yogurt, the recipe results in a delicious banana bread that is fluffy, moist, and has the perfect chewy crust.
There are pretty much always bananas in our kitchen. We also often have a few remaining over-ripe bananas on hand, and I find myself constantly making things like banana bread and banana cake to make use of all of that yummy fruit. And I think we can all agree, banana bread might just be the perfect quick bread; it's easy to make, tastes like home, and is always a huge hit. (I often gift loaves of banana bread to teachers, neighbors, and friends, because honestly, everyone just loves it! And it's a way to make use of the leftover bananas. Win, win!)
In addition to the classic takes on banana bread we already love, I recently stumbled upon the recipe for this easy oatmeal banana bread, made a few tweaks to keep it dairy free for our oldest daughter who is allergic to dairy, and woah were the results AMAZING.
When I made this oatmeal banana bread several weeks back, I actually shared a few photos on my Instagram Stories and I couldn't believe how many questions and requests for the updated recipe I got, so today I'm sharing the most amazing easy oatmeal banana bread, in all of it's perfectly tweaked glory!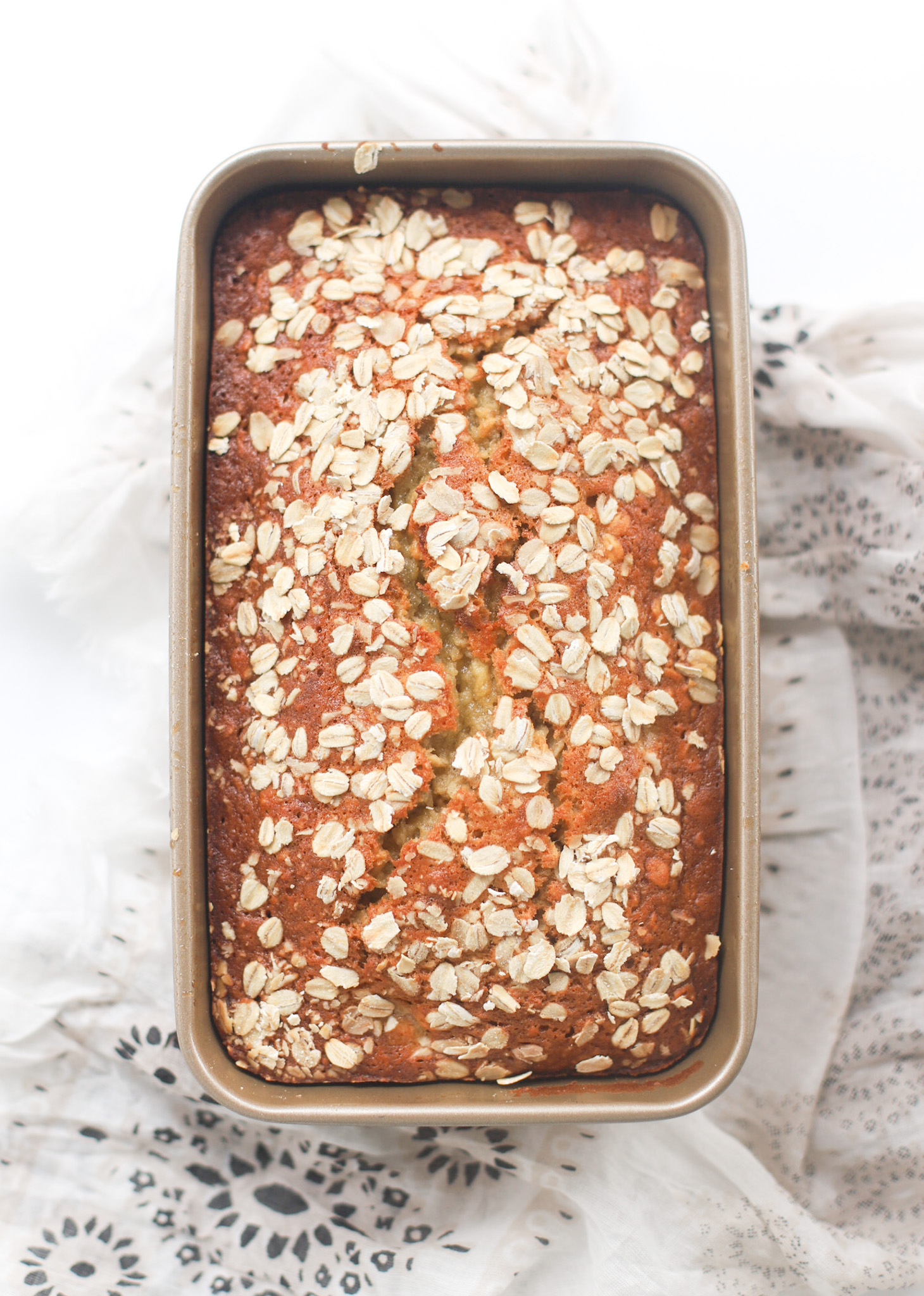 Easy and Delicious Oatmeal Banana Bread
This banana bread is made extra special because it's full of hearty oats. The recipe for this banana bread results in a quick bread that is super moist, fluffy, and has that perfect chewy, golden crust that's the hallmark of any great banana bread loaf, plus it's packed with healthy oats.
I love that this easy and delicious oatmeal banana bread is great for breakfast or brunch, but also totally works as a dessert.
If you love bananas and oats, you are going to freak out over this amazing take on classic banana bread.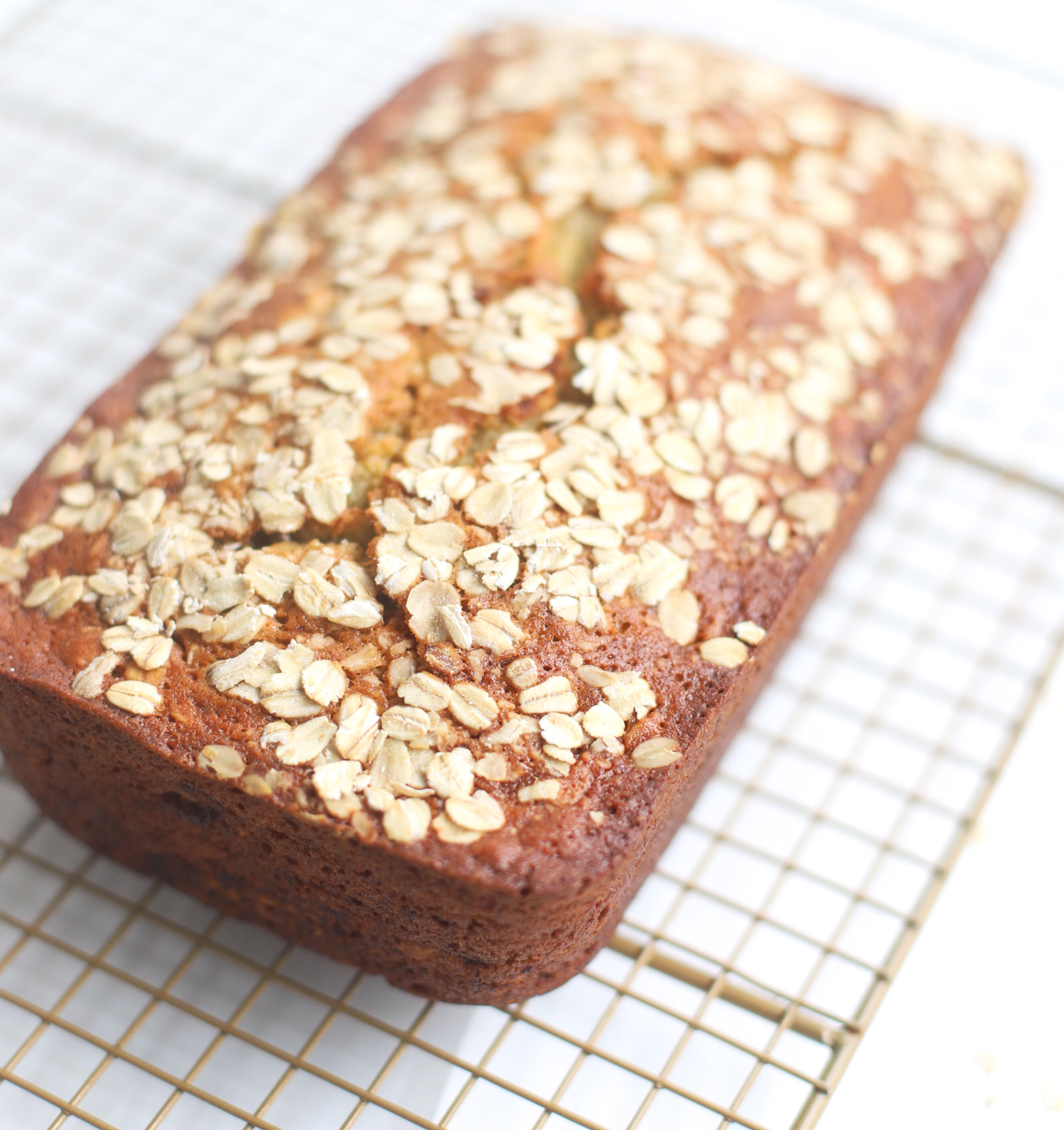 Looking for more amazing ways to use those leftover bananas? Check out our favorite:
Healthier Vegan Banana Cake with Almond Flour
Vegan Chocolate Chunk Banana Bread
Milk Chocolate Chip Banana Bread
Told you we were obsessed!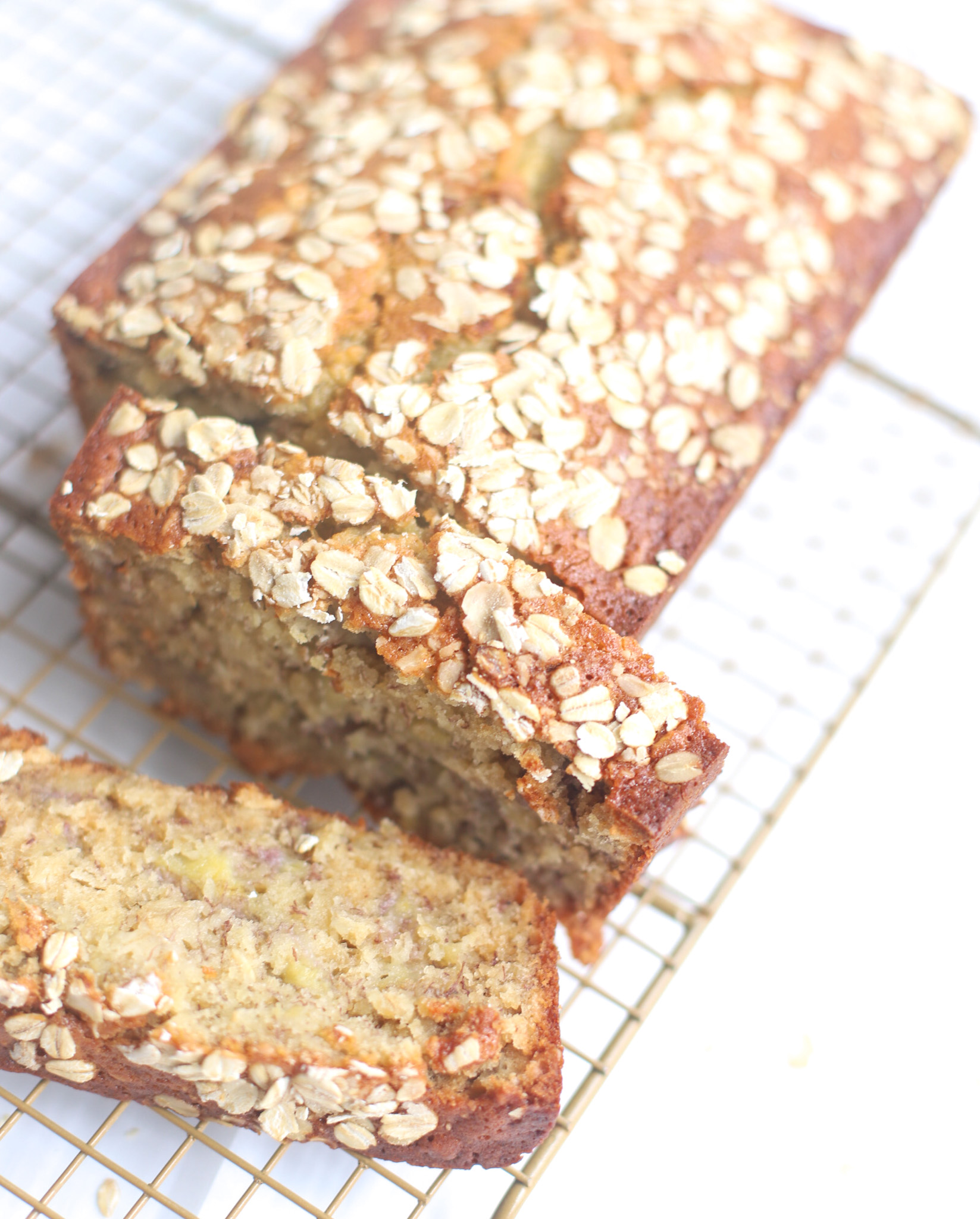 Now let's dive right into the details of our latest oatmeal banana bread, shall we?
What You'll Need
vegetable oil or sunflower oil
granulated sugar
eggs
very ripe bananas
vanilla extract
Greek yogurt or coconut milk yogurt (to keep it dairy free)
all purpose flour
old fashioned oatmeal
baking powder
baking soda
A Few Notes for the Perfect Oatmeal Banana Bread:
As with any banana bread, choose the ripest bananas possible; a.k.a., over-ripe is best. The darker the skin of the bananas, the riper they are. Ripe bananas are sweeter, softer (easier to mash), and will make your banana bread super delicate and moist.
To make this banana bread recipe, you need old fashioned oats and not quick cook oats. Old fashioned oats provide all of that dreamy texture to the banana bread.
To make this oatmeal banana bread dairy free, sub out the yogurt for a dairy-free yogurt like coconut milk yogurt (our favorite for baking) or cashew milk or almond milk yogurt.
You can store the leftovers in an airtight container for around 3 days at room temperature or in the refrigerator for up to 7 days.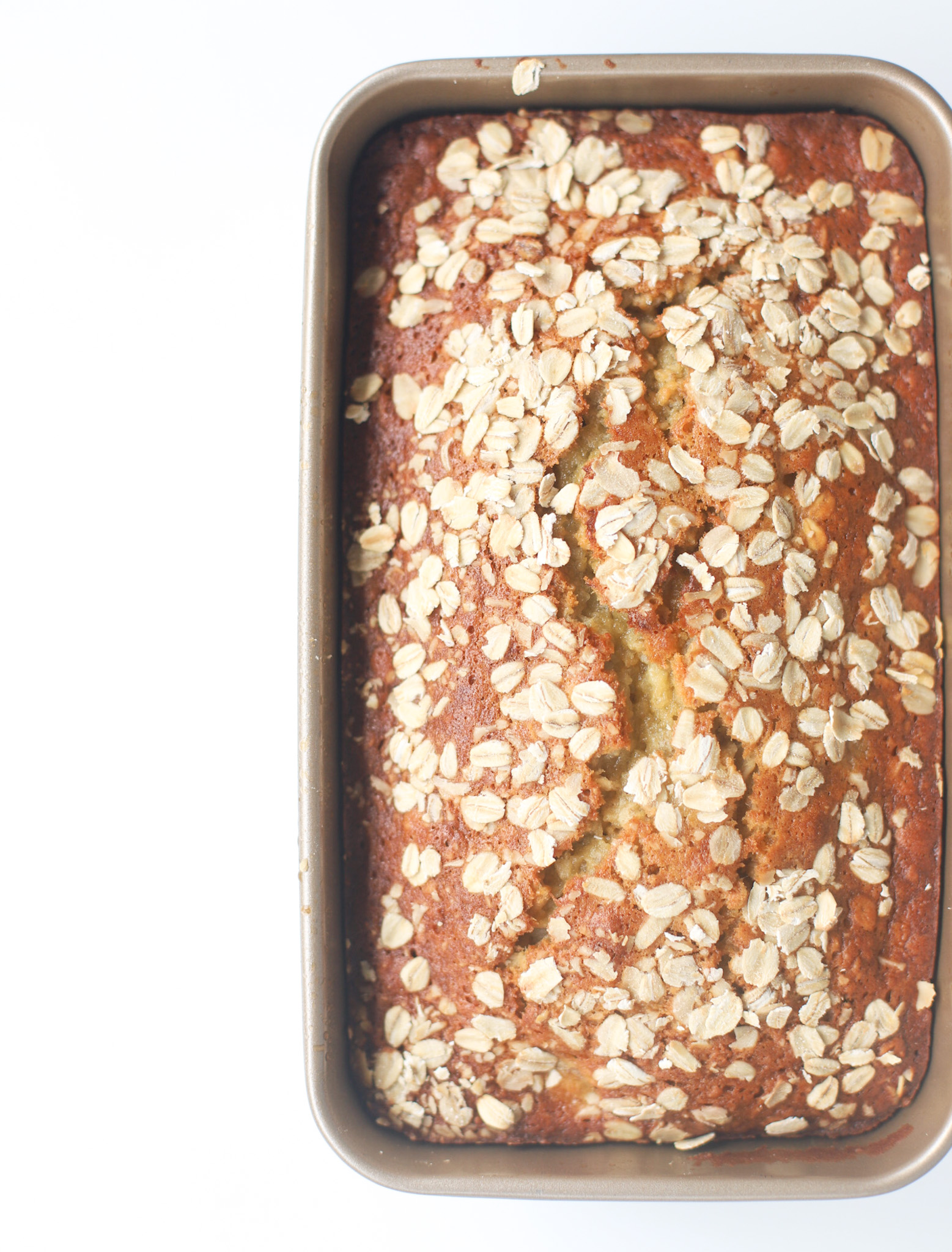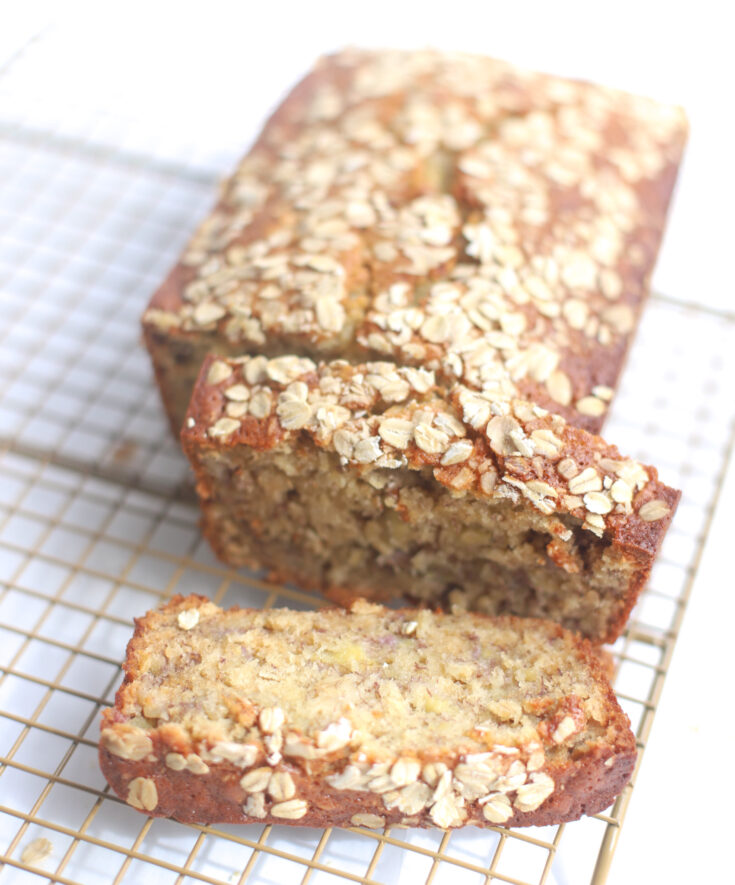 Easy and Delicious Oatmeal Banana Bread
This super yummy oatmeal banana bread is a healthier twist on the classic. Oats and yogurt make this delicious quick bread moist, fluffy, And with a perfect chewy, golden crust.
Ingredients
1/2 cup vegetable oil or sunflower oil
1 cup granulated sugar
2 eggs
3 very ripe bananas mashed
1 tsp vanilla extract
1/4 cup Greek yogurt or dairy-free yogurt* (to keep it dairy free)
1 1/4 cup all purpose flour
1 cup old fashioned oatmeal
1/2 tsp baking powder
1/2 tsp baking soda
Instructions
Preheat your oven to 350F. Coat a 9x5 loaf pan with baking spray and set aside.
In a large bowl or bowl of a standing mixer, whisk oil and sugar until incorporated.
Add in eggs one by one and mix well.
Add in mashed bananas, vanilla and yogurt. Whisk very well to make sure everything is fully combined.
In a separate bowl, stir together the all purpose flour, old fashioned oatmeal, baking powder and baking soda, and then add those dry ingredients to the wet ingredients and mix once more.
Pour the oatmeal banana bread batter into the prepared pan and sprinkle 1 1/2 tablespoon of old fashioned oatmeal on the top of the batter.
Bake in the oven for 50 -60 minutes. A toothpick inserted in the middle of the banana bread should come out with little to no crumb.
Allow the banana bread to cool completely before slicing. Enjoy!
Notes
*To keep this oatmeal banana bread dairy free, all you'll need to do is sub out the yogurt for a dairy-free yogurt alternative. I really like using coconut milk yogurt for baking, but I suspect an almond milk or cashew milk yogurt would work as well.

Recipe adapted via Unicorns in the Kitchen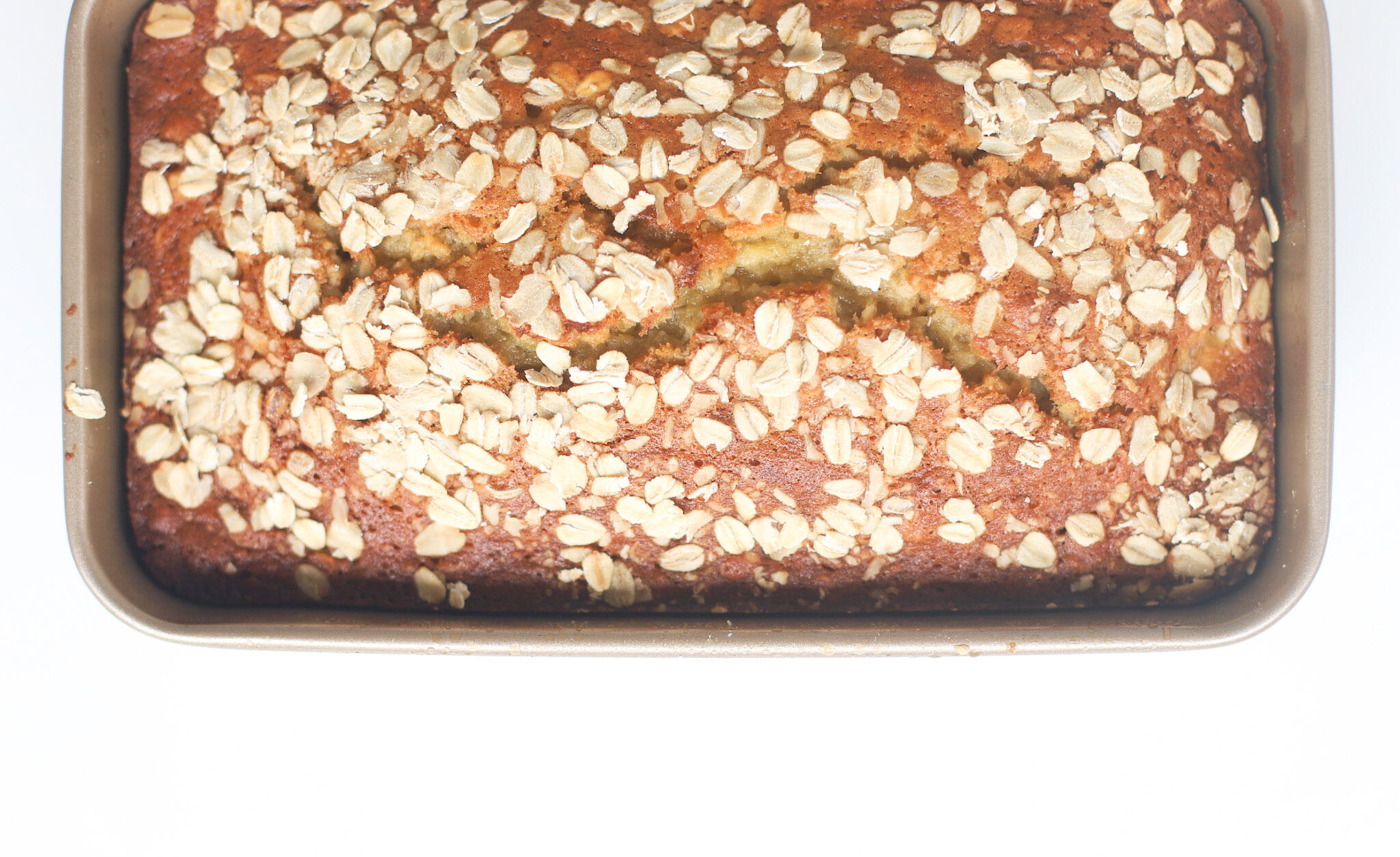 How GOOD does this oatmeal banana bread look? So moist, so fluffy, the perfect crumb, and that chewy, golden brown crust. YUM.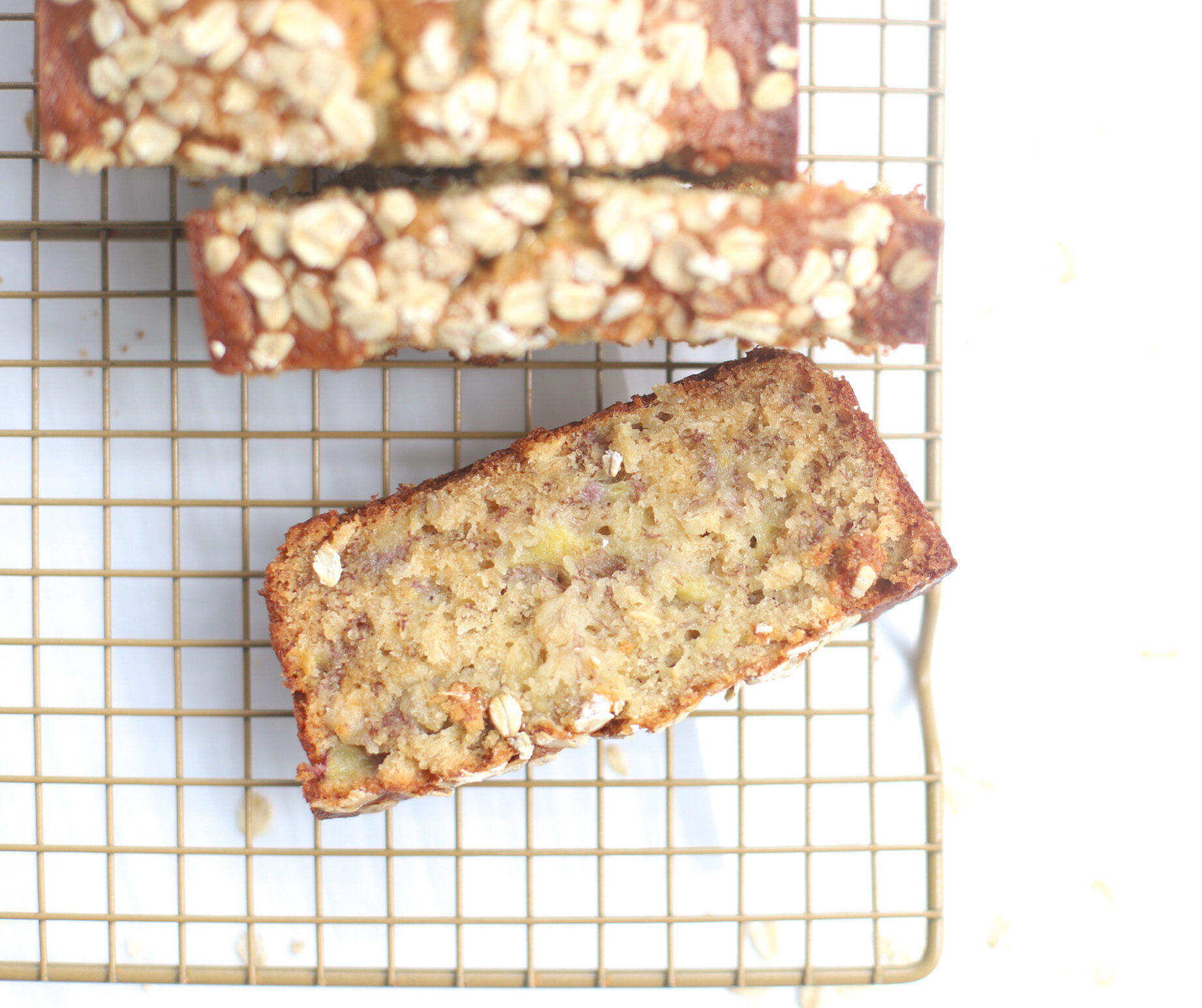 Have leftover bananas? Make this oatmeal banana bread, stat!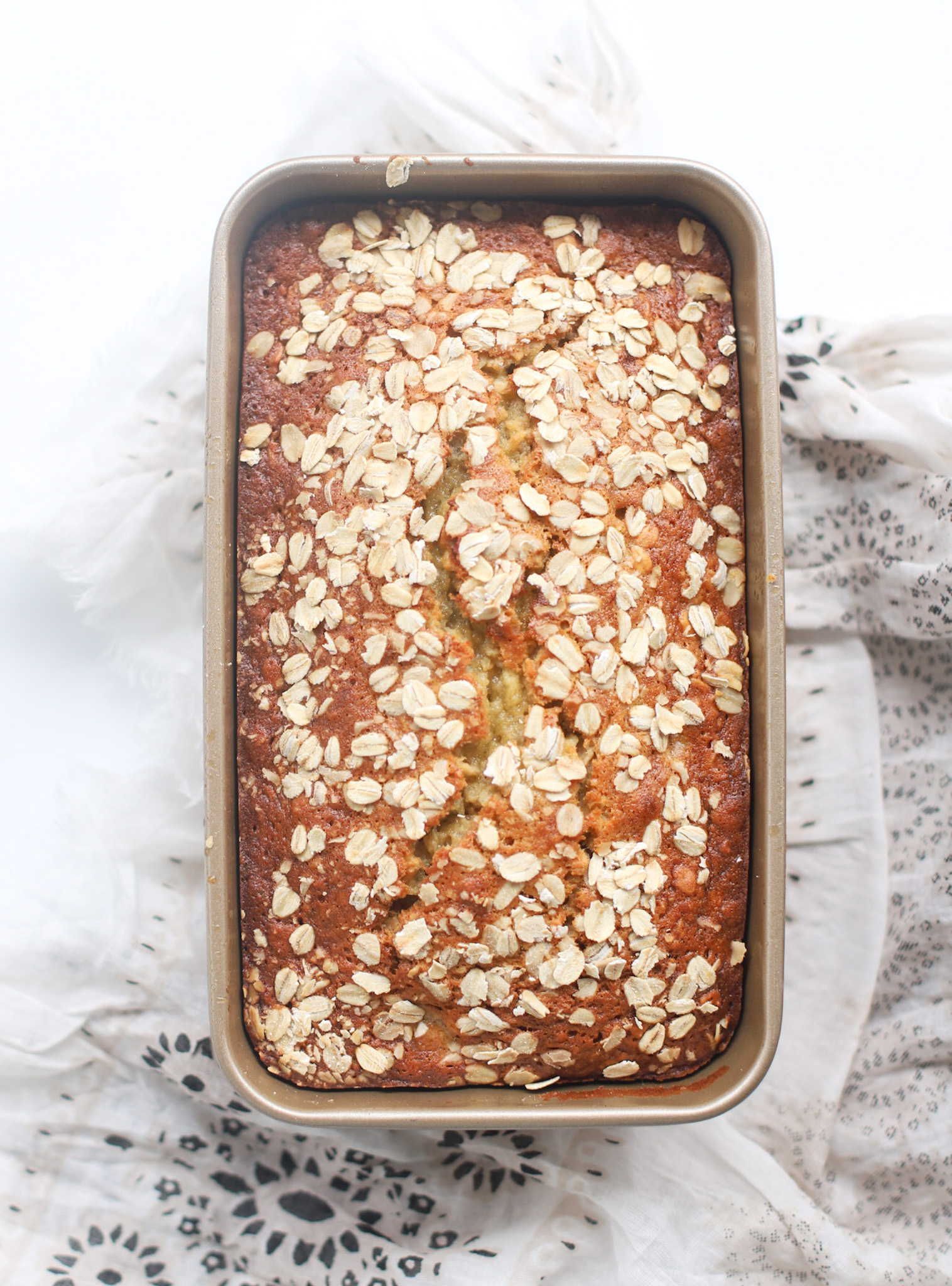 SHOP THE EASY AND DELICIOUS OATMEAL BANANA BREAD RECIPE POST | CLICK LEFT & RIGHT ARROWS TO EXPLORE

Love this oatmeal banana bread? Head to our recipe page to check out what else we're dreaming up in the kitchen!
If you make your own amazing oatmeal banana bread, be sure to tag me on social media (@glitterinclexi) so I can live vicariously through all of your sweet creations! Plus, I'd love to hear how yours turn out (and if you're just as obsessed as we are!)