Disclosure: Compensation was provided by Suave Professionals via Mode Media. The opinions expressed herein are those of the author and are not indicative of the opinions or positions of Suave Professionals.
As a new mama, I've learned that long hair can be double trouble; it's both a pain to try to style in the morning when I'm tip-toeing around trying to make bottles, wash dishes, and gulp down a cup of coffee all before baby girl wakes up, and it's a bit of a curse – Scarlett can't get enough of my long hair, grabbing fistfuls of it at a time (cute, but painful, to say the least.) Today's post is sponsored by Suave Professionals, and I couldn't be more excited to share. Meet my new secret hair weapon: Suave Professionals® Luxe Style Infusion Smoothing Anti-Humidity Hairspray (combined with one easy-as-pie SIY -"Style It Yourself" – hairstyle), and I am good to go for the day ahead.
The NEW Suave Professionals® Luxe Style Infusion Range is incredible; it's all salon quality and found at your local drugstore. Amazing. And Suave Professionals® Luxe Style Infusion Smoothing Anti-Humidity Hairspray in particular is a lifesaver; especially if I'm going to get through a long day of work and motherhood in one piece.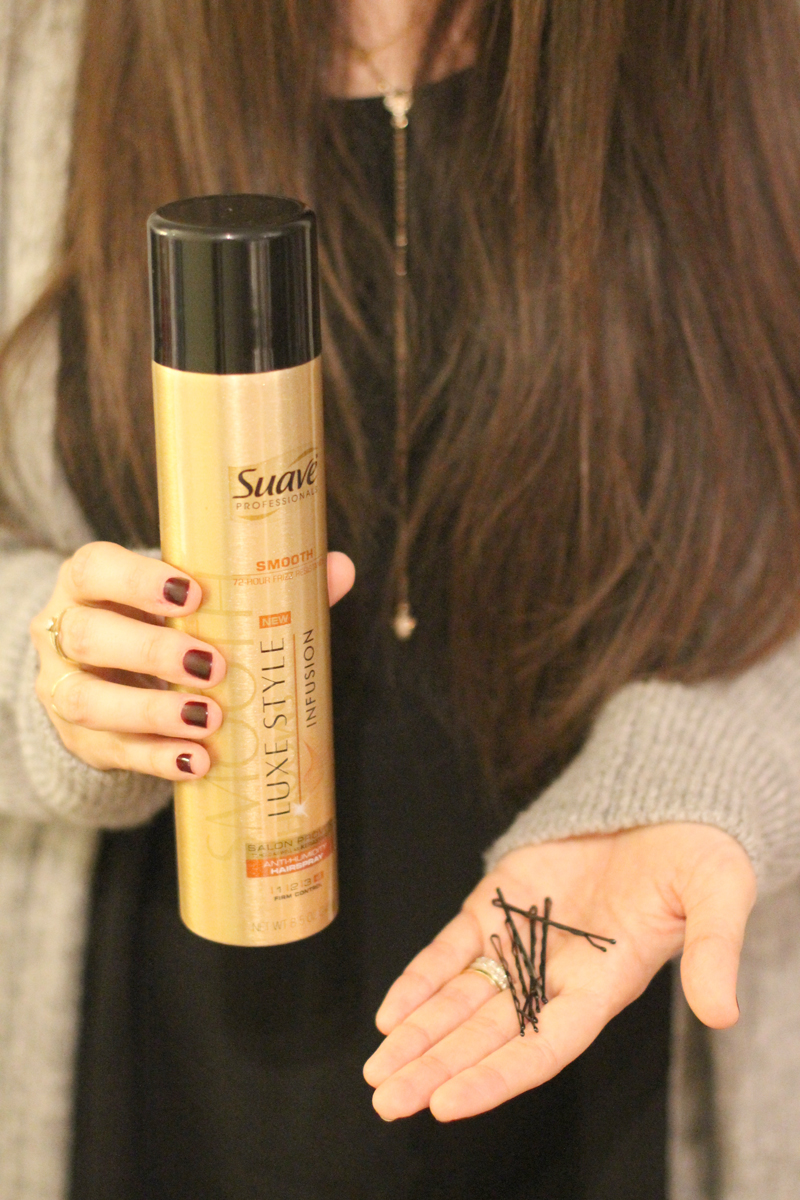 Now let's talk SIY. You can in fact "Style It Yourself". We've all looked at the Pinterest tutorials with the intricate hairstyles that may look beautiful, but also totally impossible to achieve (especially when you have a whopping five minutes in the morning to devote to your hair.) I'm here to share one of my favorite oh-so-easy hairstyles that I wear all of the time. I'm talking, sleep on your wet hair, wake up the next morning, throw it into this hairstyle in just three steps, spray a bit of Suave Professionals® Luxe Style Infusion Smoothing Anti-Humidity Hairspray, and you are ready. (By the way, even if frizz is not a huge problem for you – and boy, are you lucky – this smoothing spray really works wonders for keeping your hair in place, while still looking completely soft. No stiff hair over here. Talk a bout a perfect finish.) You can totally do this one. Meet your new favorite hairstyle: the milkmaid braid (or double braid).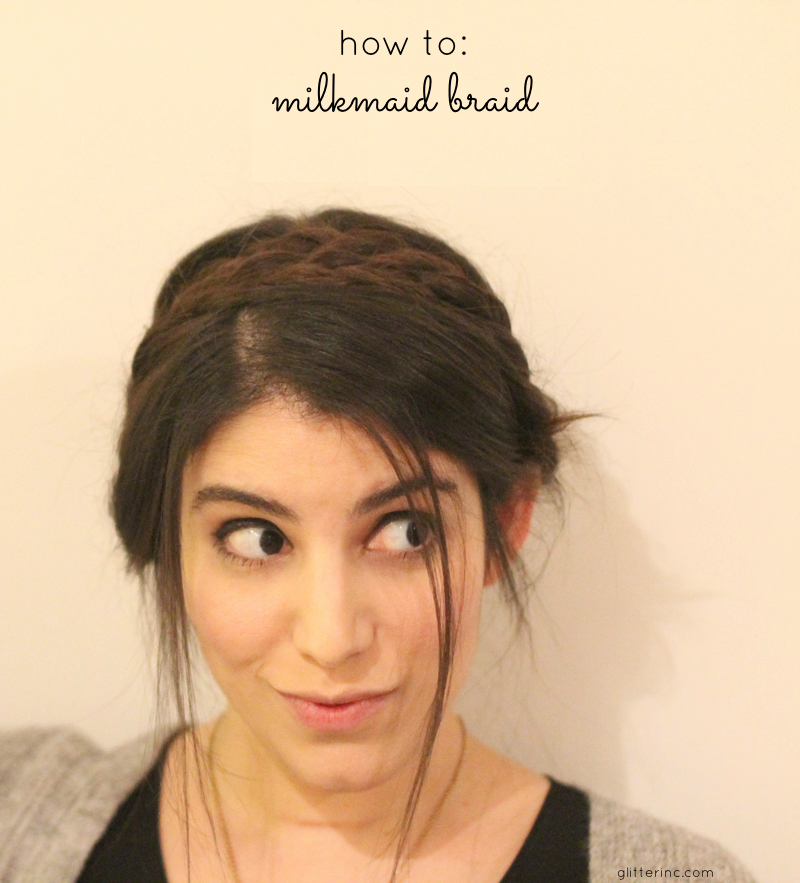 SIY DOUBLE BRAIDED UPDO, A.K.A., MILKMAID BRAIDS 
Step 1. Start by parting your hair roughly down the middle creating two sections, like pigtails. Don't worry about your part being perfect, mine never ever is. Then braid each side, you know, so you look like Pippi Longstocking. You can use clear elastics to secure the braids to be sure they stay put. Again, don't stress about perfection. One of my braids is always thicker than the other, whoops.
Step 2. Pull one braid over the crown of your head and pin to the other side, roughly behind your opposite ear. I like to use two bobby pins to create an X over the braid so I know that it is secure. Take the other free braid and bring it over the opposite side of the crown of your head and secure again with bobby pins. I like to bring my second braid forward, in front of the first braid to add the illusion of full-ness because I have thin wavy/straight hair.
Step 3. Pull a few wisps of hair/bangs down in front to give your updo that messy "undone" look and spray with your favorite finishing spray (Seriously, love Suave Professionals® Luxe Style Infusion Smoothing Anti-Humidity Hairspray.)
Voilà!
Here's a handy (and pinnable) step-by-step image for ya!

target="_blank" rel="attachment wp-att-20290″>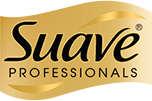 NEW Suave Professionals® Luxe Style Infusion is a luxurious line of salon-inspired styling products that allow women to "#Style It Yourself", or "#SIY," and get the salon looks they love at home every day.
Suave Professionals® makes it easy to "Style It Yourself", or "SIY", with on-trend style products that work as well as a salon brand, and simple, three step-style instructions that are even on the back of packaging to help women achieve salon-quality styles quickly and easily at home.
You can do it! Show us how you #StyleItYourself with @Suavebeauty on Facebook, Pinterest, Twitter and Instagram.