This post contains affiliate links, which means that if you click on one of the product links, I'll receive a small commission. Additionally, as an Amazon Associate I earn from qualifying purchases. Thank you so much for clicking through and helping to support this little blog business of mine! Read more about our site, privacy, and disclosure policies here.
If you don't yet have a classic apple cake in your baking arsenal yet, jump on board. This traditional Jewish apple cake is made up of big cinnamon-sugar chunks of apples nestled into a super moist coffee cake, best served warm with a cup of coffee or tea. Basically, it's apple bliss in Bundt cake form.
I pretty much love ALL apple desserts. So, give me an apple pie, apple cobbler, apple crisp, or slice of my favorite Jewish apple cake, and I'm a happy girl.
Also, because I've already shared recipes for a heavenly salted caramel apple pie, my all-time favorite apple crisp shortbread pie bars, lightened up apple cobbler, and apple crumble made in a skillet, classic apple crumb cake, and even an apple crisp that you can make in your slow cooker or Instant Pot, I thought it was about time I share a family secret: Jewish apple cake. Yes, it doubles as the most amazing fall dessert, especially for the Thanksgiving holiday when you may or not be ready for a change from all of that pie.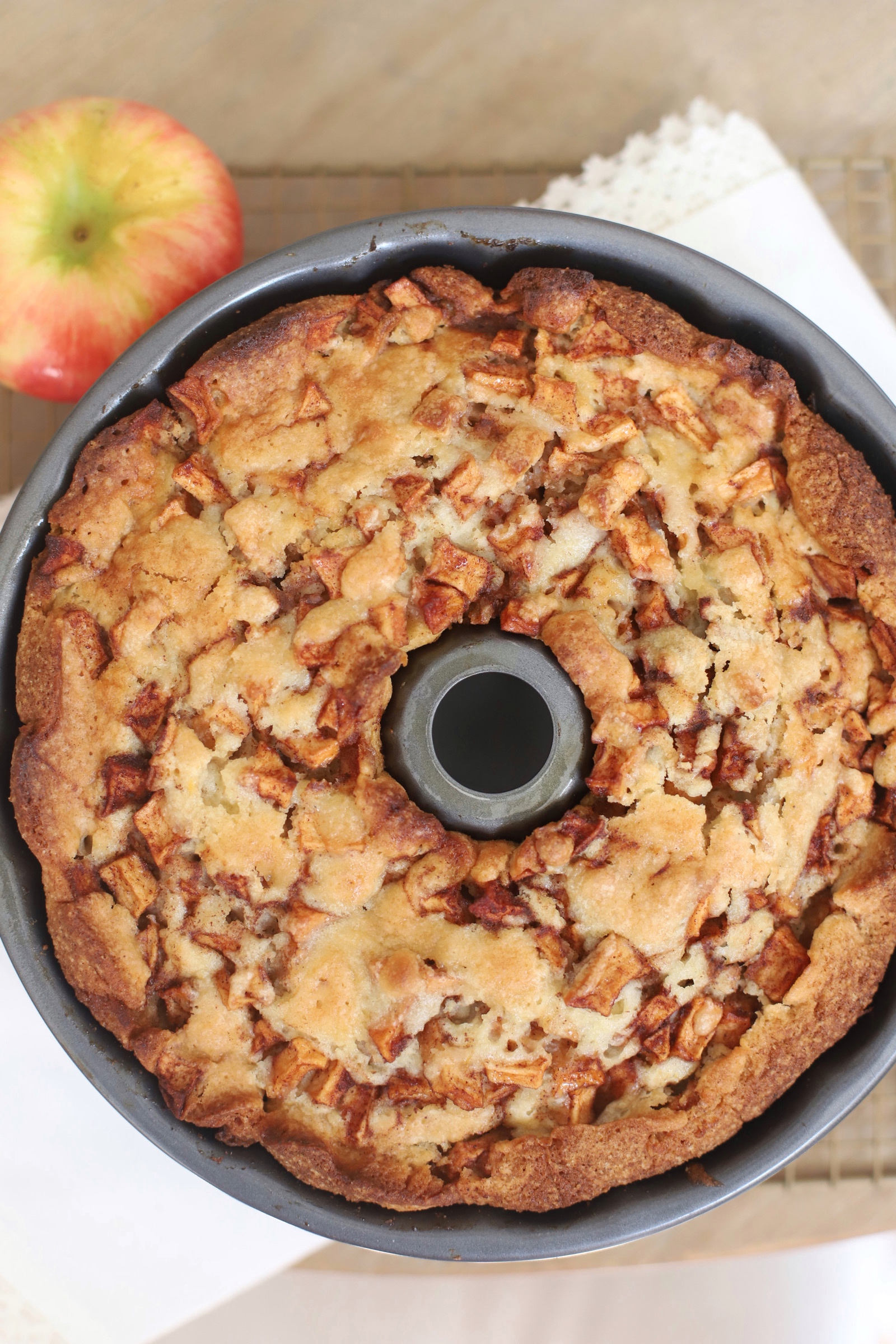 Classic Apple Cake; a.k.a., Jewish Apple Cake
So, we pretty much eat this apple cake all fall long, from Rosh Hashanah (the Jewish New Year) to Thanksgiving. Also, every excuse to serve up warm apple cake in between.
The beauty of this classic apple cake is that it's made with simple ingredients. Moreover, there aren't many steps and the end result is an incredibly moist, decadent, full of nostalgia coffee cake you'll keep on coming back for.
Bonus points: this glorious cake is traditionally made without dairy products, and honestly, you'd never know it.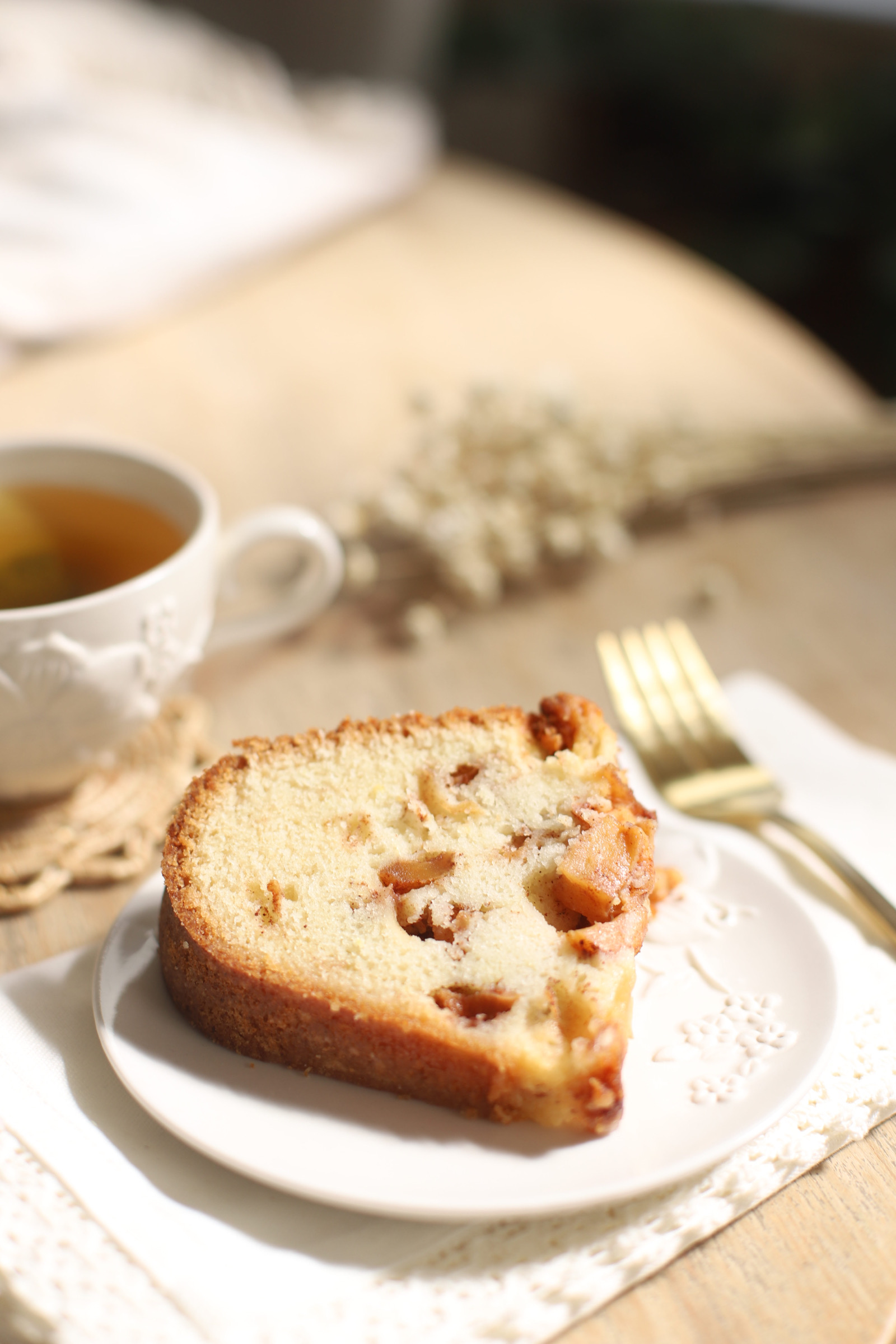 One of the things I love most about this cake, aside from how comfortingly delicious it is, is the fact that it's made with simple ingredients I always have on hand in my kitchen.
Classic Apple Cake Ingredients
apples
cinnamon
nutmeg
granulated sugar
All Purpose flour
baking powder
salt
vegetable oil (other oils and and melted butter also work)
orange juice
vanilla extract
eggs
walnuts (optional)
Note: I'm also including the details for a super simple optional glaze to pour over the top of your cake. So, this is made of milk or milk substitute, powdered sugar, and vanilla.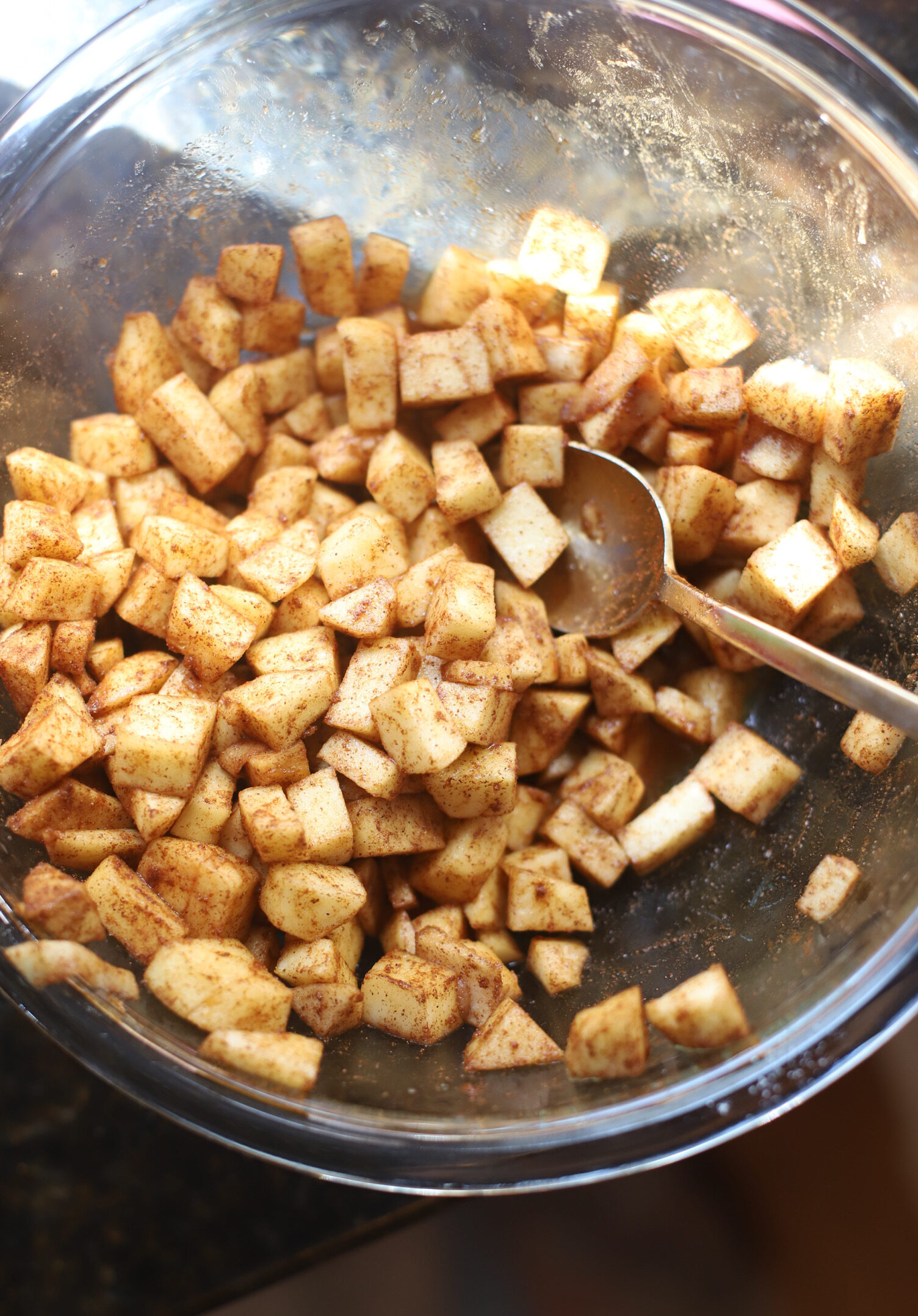 And the way the spiced apples are layered between that thick, moist dough. So, it creates an almost pudding-like texture once the cake is baked; it's everything good about a tried-and-true recipe.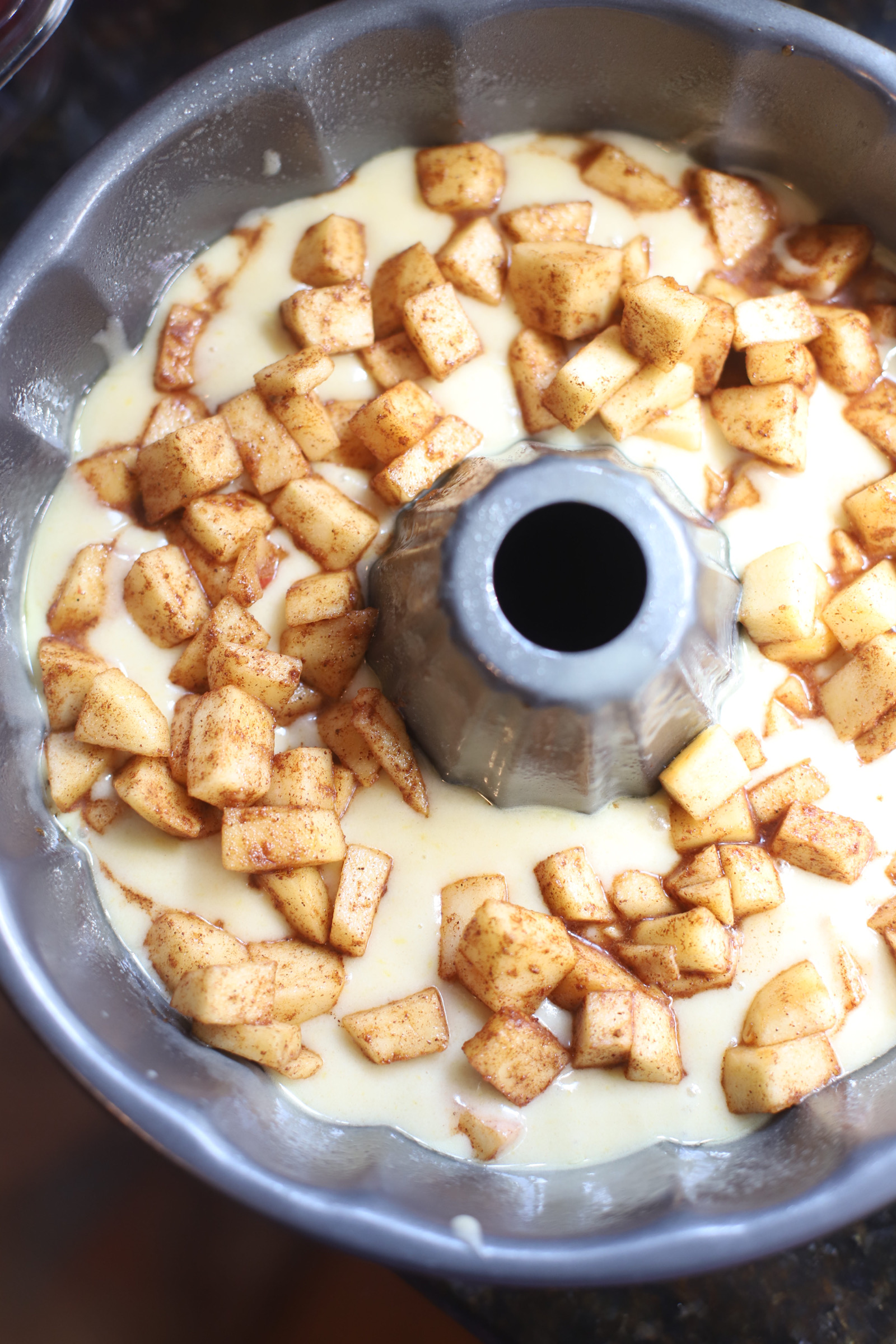 Just putting this post together has me adding this classic apple cake to our Thanksgiving menu right this very second, even though we totally already devoured one for Rosh Hashanah back in September.
Ready for the recipe for this heavenly apple cake?
Scroll down for the details!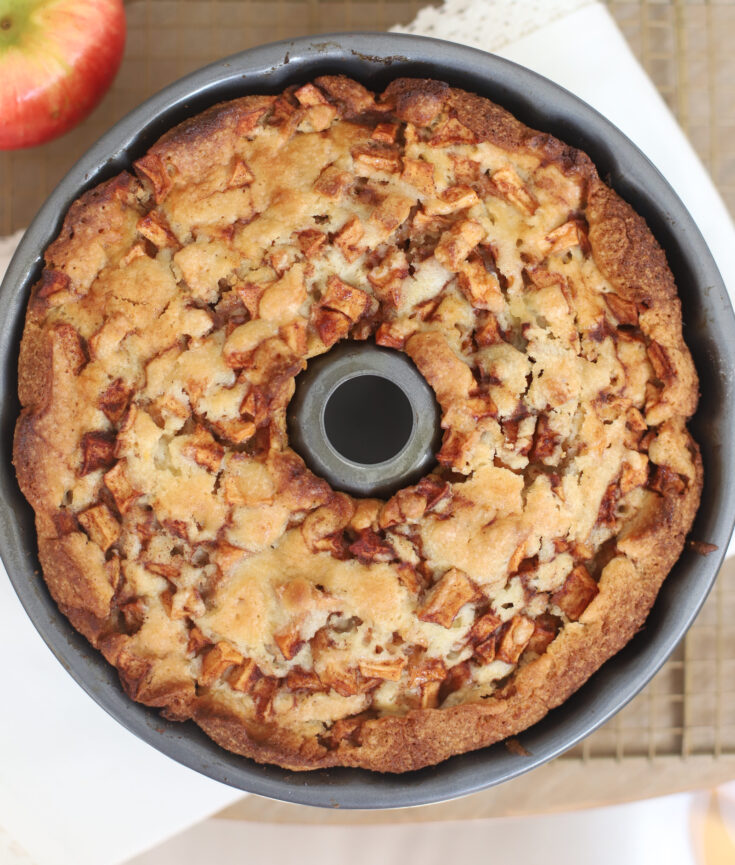 Classic Apple Cake
This super moist cake, layered with melt-in-your-mouth cinnamon-sugar chunks of apple and a decadently rich coffee cake batter, is the perfect fall dessert from Rosh Hashanah to Thanksgiving.
Ingredients
For the Apples
6 apples, peeled and chopped
1 tablespoon ground cinnamon
1/2 teaspoon nutmeg
5 tablespoons granulated sugar
For the Cake
2 3/4 cups AP flour
1 tablespoon baking powder
1 teaspoon salt
1 cup vegetable oil (sunflower, olive, coconut oil, and melted butter also work)
2 cups granulated sugar
1/4 cup orange juice
2 1/2 teaspoons vanilla extract
4 large eggs
1 cup walnuts, chopped (optional)
For the Glaze (optional)
1/2 to 1 cup powdered sugar (depending on how thick you like your glaze)
3 tbsp milk or milk substitute (I used soy milk)
1/2 tsp vanilla extract
Instructions
Heat oven to 350°F. Grease or spray with baking spray a tube pan; a.k.a., a Bundt pan, well.
Peel, core and chop apples into 1-inch chunks.Toss with cinnamon, nutmeg, and 5 tablespoons sugar and set aside.
Stir together flour, baking powder and salt in a large mixing bowl.
In a separate bowl, whisk together oil or melted butter, orange juice, sugar, vanilla and eggs.
Mix wet ingredients into dry ones; scrape down the bowl to ensure all ingredients are incorporated.
Pour around 1/3 of the batter into the prepared pan. Spread around 1/3 of the wet apples (and their juice) over it. Keep alternating between batter and apple mixture Unit you're out of both.
Bake cake for about 1 1/2 hours, or until a tester comes out clean. (Typically, at about the 60 minute mark, I open the oven, cover the cake loosely with a piece of foil, and allow the cake to cook the last 30 minutes gently covered to avoid the cake over-browning.)
Cool completely before running a butter knife between cake and pan, place a large plate over the top of the Bundt pan, gently turn the pan over while holding the plate and pan, tap a few times to release the cake onto the platter.
Optional: Make a quick glaze to pour over the top of your cake. To make the glaze, mix together 1/2 cup powdered sugar, 3 tablespoons of milk or milk substitute, and 1/2 teaspoon of vanilla extract. You can keep on adding powdered sugar as you stir to get your desired consistency. Pour over the top of your cake and serve.
Notes
Note: This cake is delicious served warm on the first day and just keeps on getting better, and more moist a the days go on. We tend to keep it at room temperature on a cake stand with a lid or covered well with foil.

Are you just as in love with apple deserts as I am? So, do you have a favorite? I'm always looking for fun new recipes to re-create with our own spin!
Want to dive into even more INCREDIBLE apple recipes this fall? Try one of these other apple dessert and treat recipes:
The Most Amazing Apple Crisp Shortbread Bars
Salted Maple Caramel Apple Pie (The Most Delicious Twist on Apple Pie!)
Applesauce Snack Cake with Cream Cheese Frosting
Slow Cooker Apple Cinnamon Steel Cut Oats
Healthy Gluten-Free Apple Cinnamon Almond Muffins
Apple Honey Greek Yogurt Breakfast Muffins
DIY Caramel Apple Bar (Perfect for a Party!)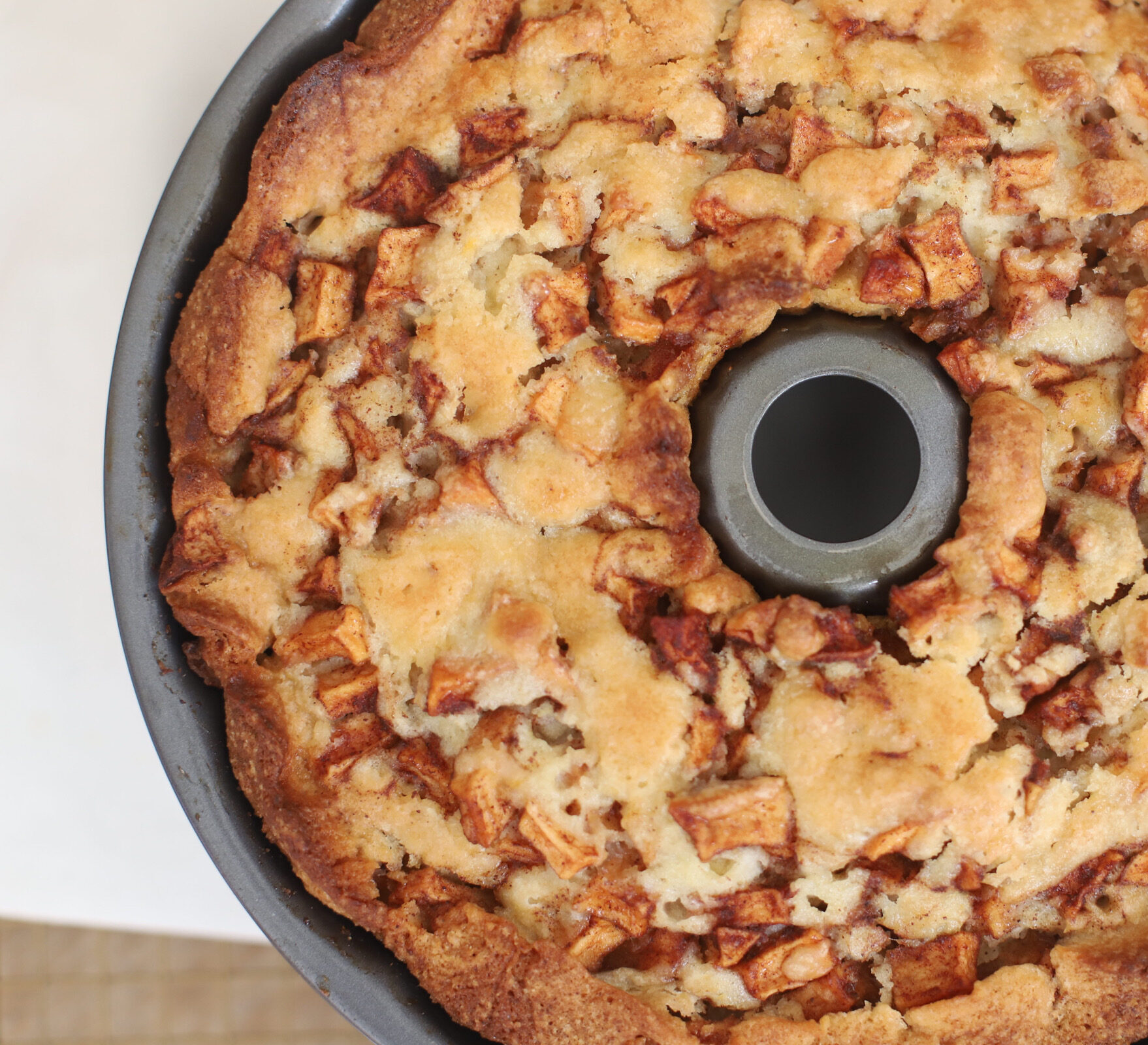 SHOP THE JEWISH APPLE CAKE RECIPE POST | CLICK LEFT & RIGHT ARROWS TO EXPLORE

Love this super moist apple cake? Head to our recipe page to check out what else we're dreaming up in the kitchen!
If you make your own Jewish apple cake this holiday season, be sure to tag me on social media (@glitterinclexi) so I can live vicariously through all of your delicious desserts!