This post contains affiliate links, which means that if you click on one of the product links, I'll receive a small commission. Thank you so much for clicking through and helping to support this little blog business of mine! Read more about our site, privacy, and disclosure policies here.
I'm practically bursting because Scarlett's second birthday party was featured on Style Me Pretty Living last week! You can see the full feature there, but I wanted to share some fun behind-the-scenes details (and a whole lot of beautiful images taken by the ever-talented Annie Watts Photography) over here on the blog.
Being new-ish to North Carolina, we're fairly smitten with the weather. We grew up in Miami, where it's 90° and humid most of the year. In North Carolina, we take advantage of the gorgeous weather every chance we get, and Scarlett's 2nd birthday party was no exception. Odds are, we'll be throwing ALL of her birthday parties outdoors for the foreseeable future.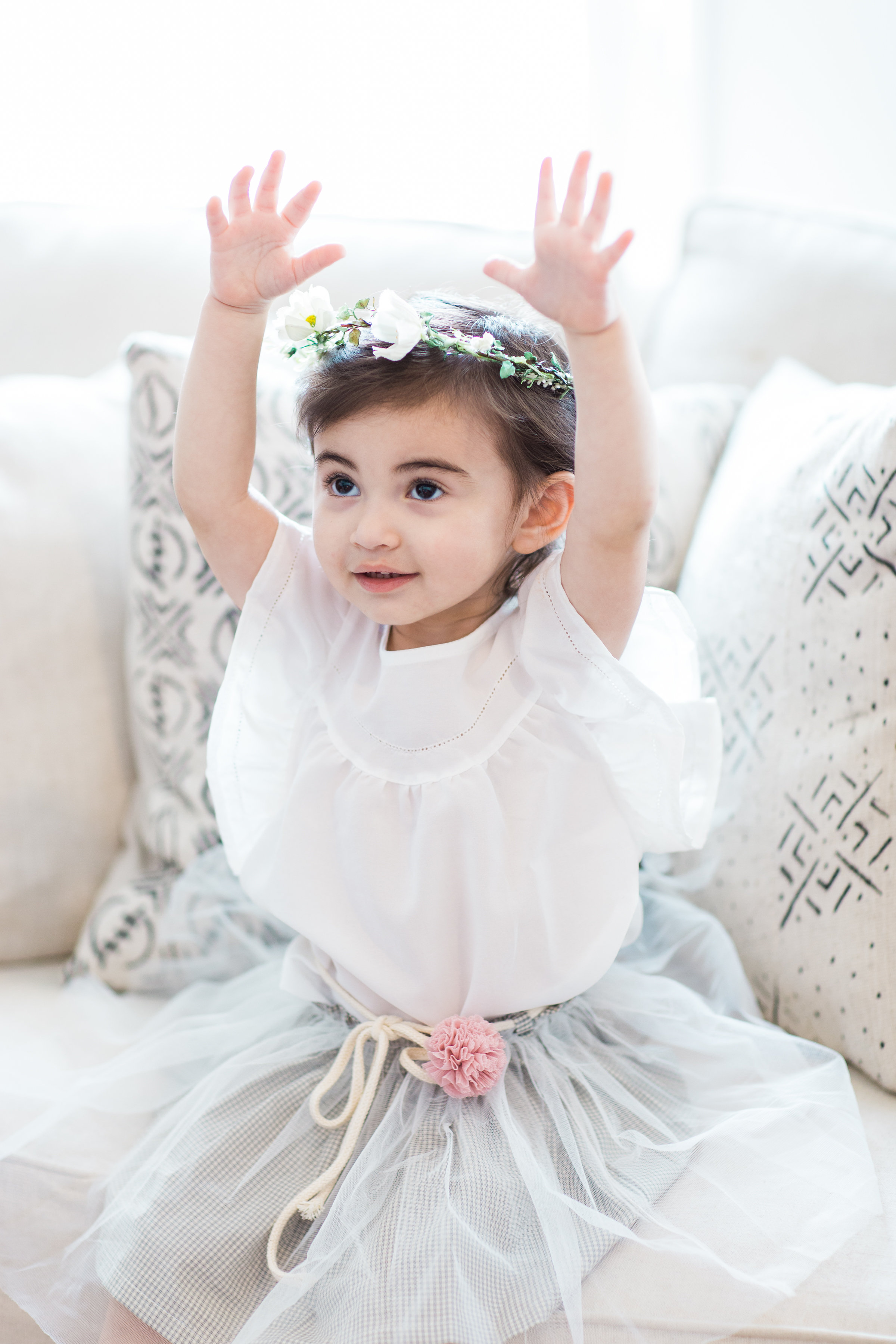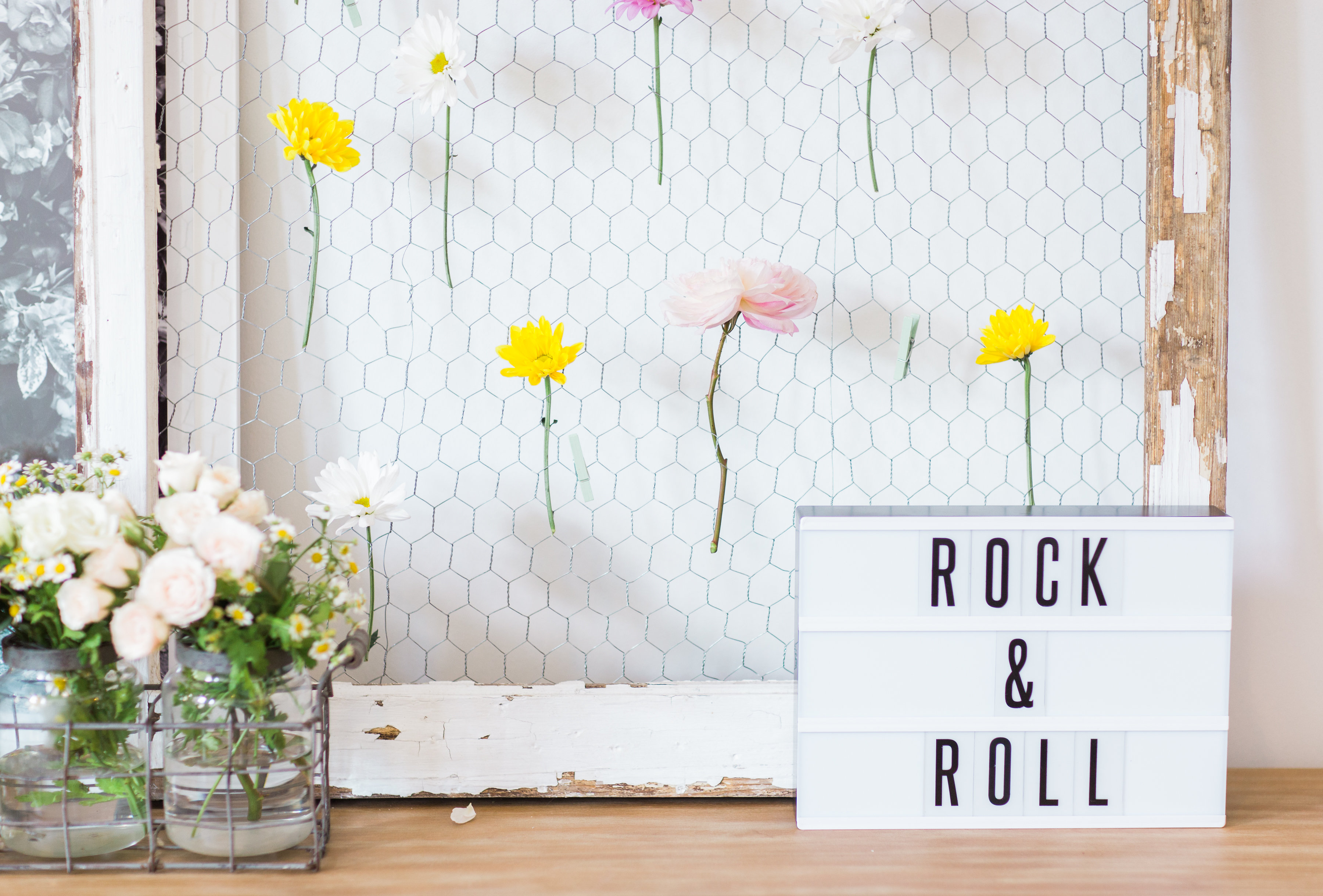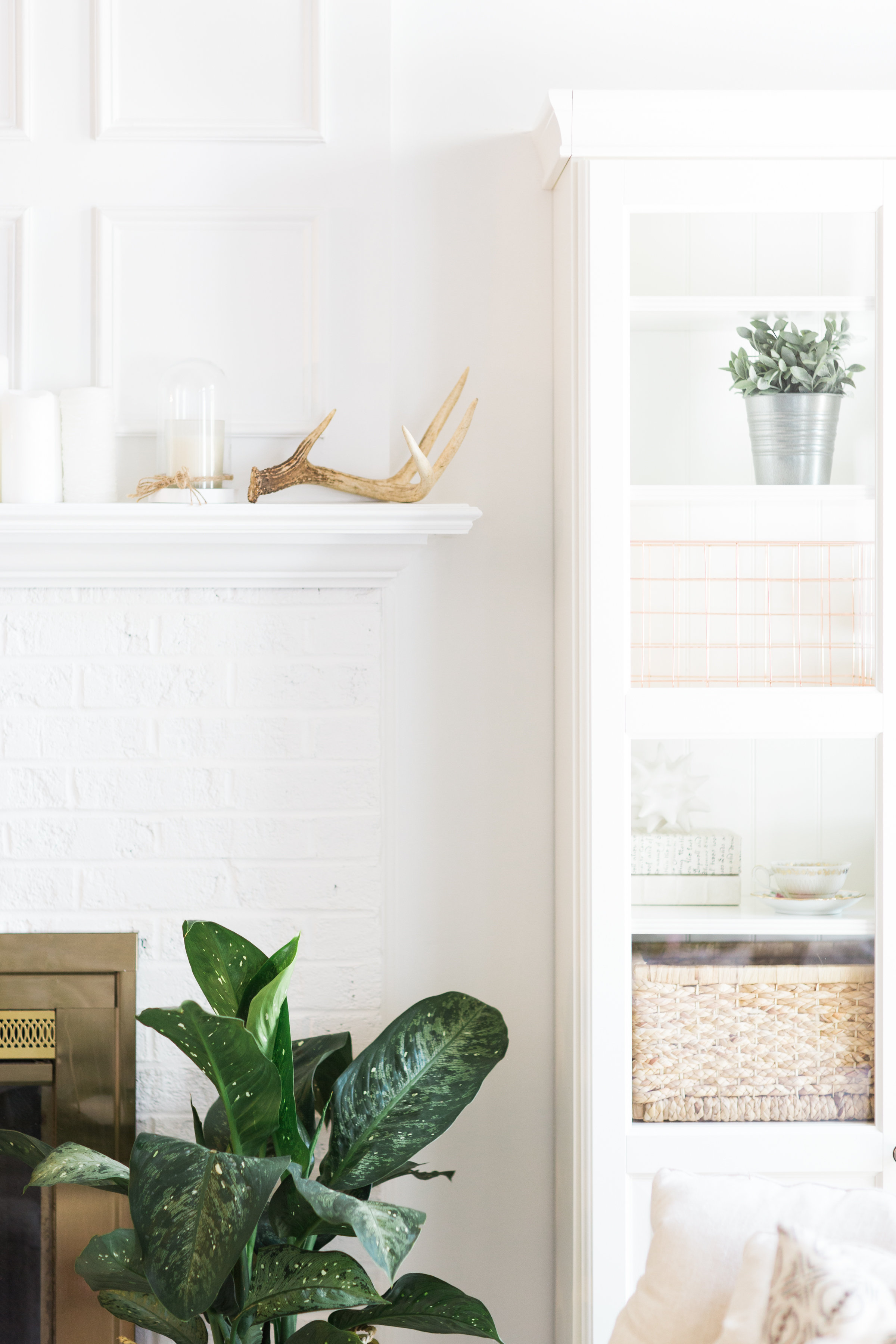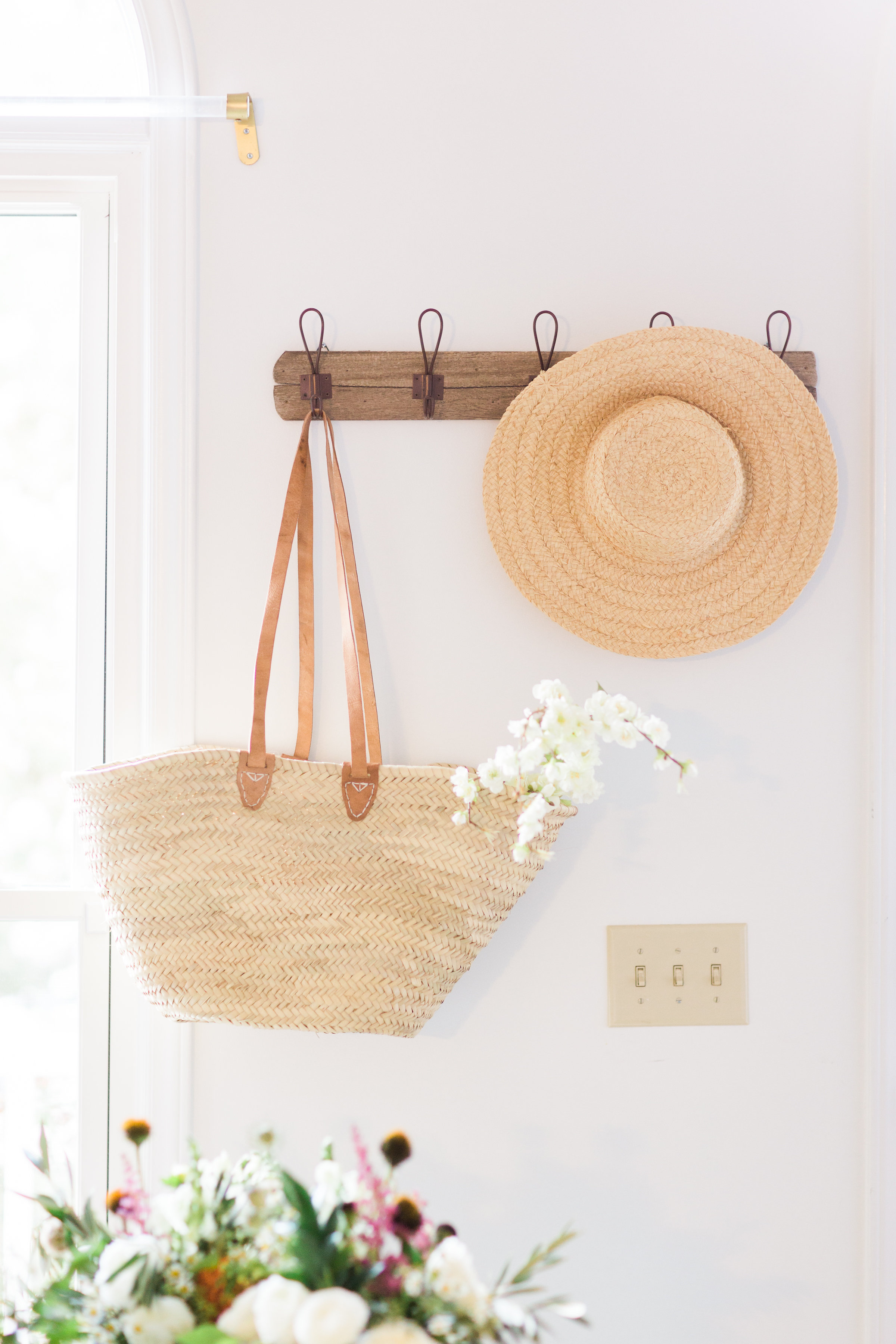 Someone was THRILLED to be having a birthday.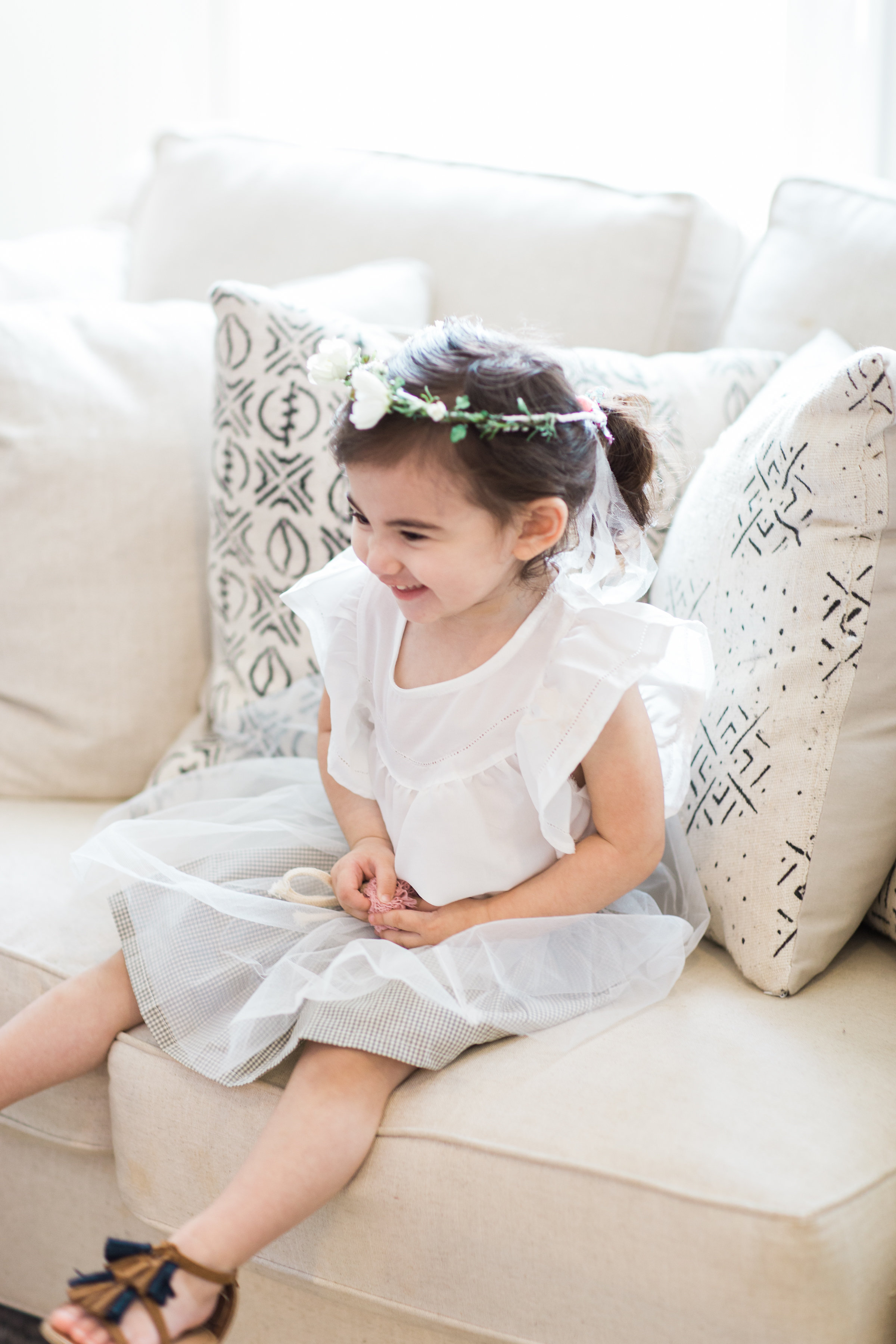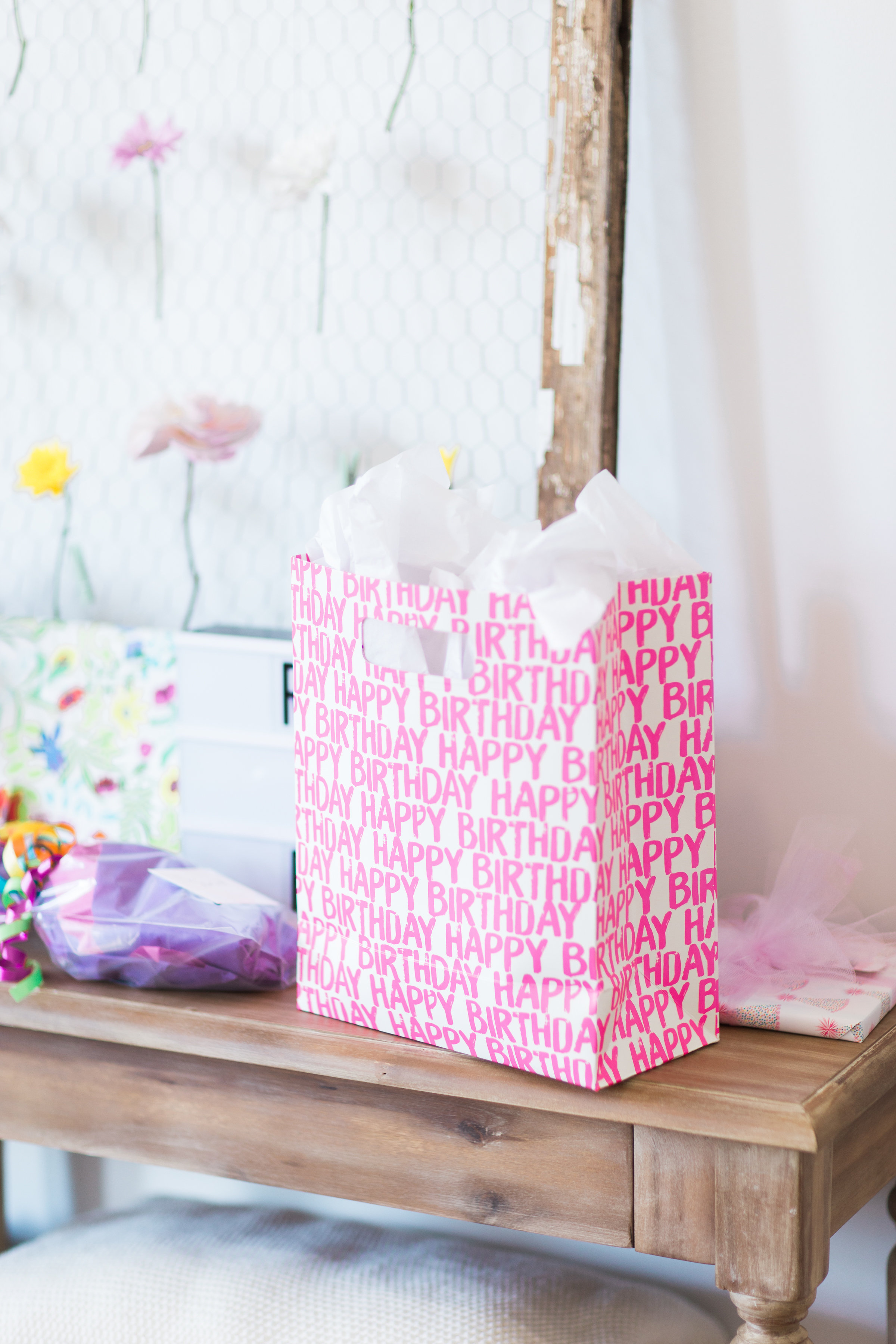 As for the party's inspiration – a whimsical mini bohemian backyard festival – I pulled from a few ideas I had floating around in my head. As a blogger, I'm constantly surrounded by on-trend party and décor ideas, and one of the trends I can't get enough of: parties with bohemian vibes. I knew for Scarlett's party that I wanted to borrow from that bohemian feel, giving it a more feminine, fairytale-like twist, and weaving in a bit of the South (in honor of our new home.)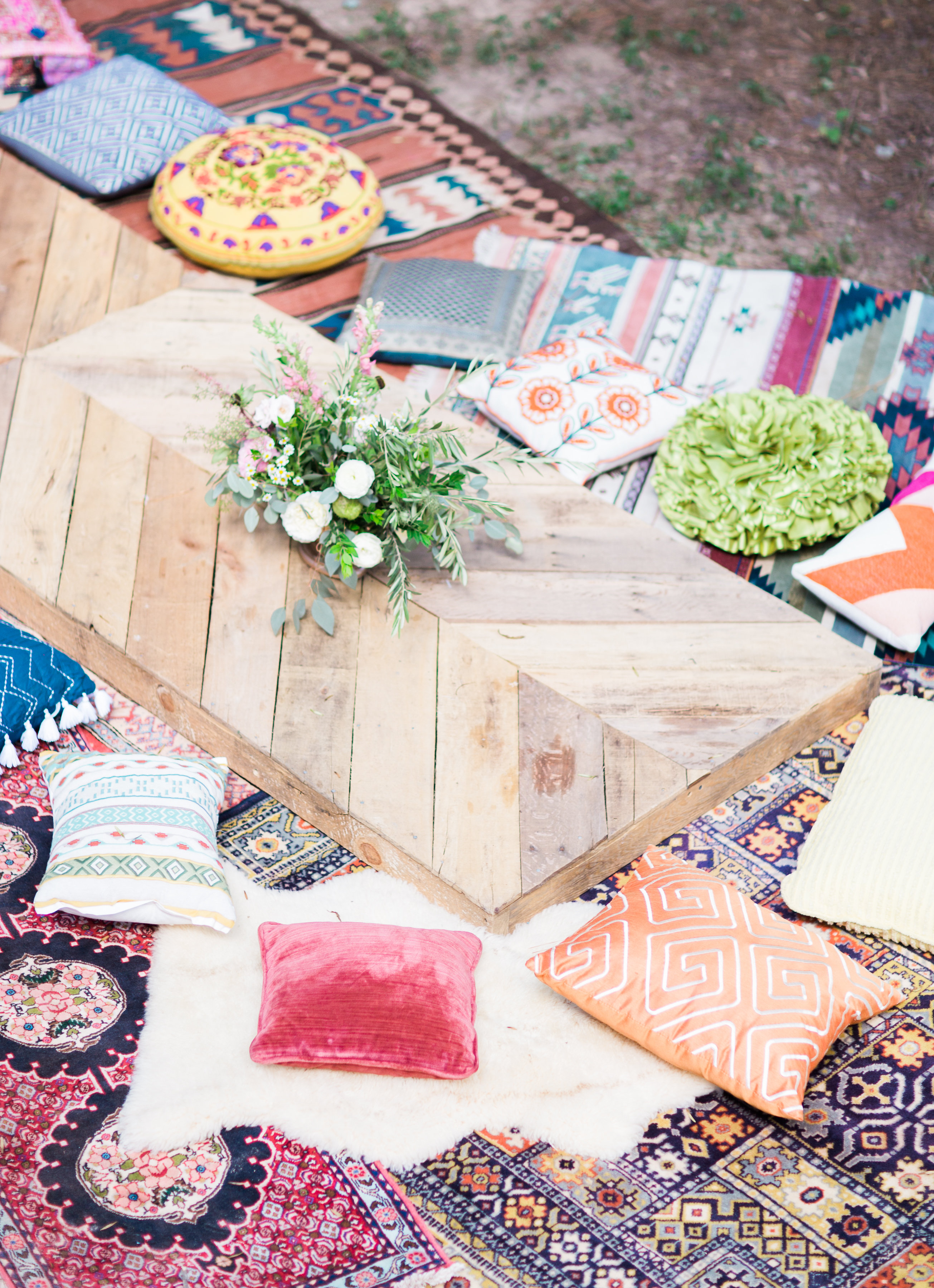 The first thing I dreamed up were the low tables, rugs and floor cushions, and the brilliant ladies behind Greenhouse Picker Sisters helped me bring the idea to life. There was also a VIP lounge and plenty of chic places to eat, gather, and have a good time.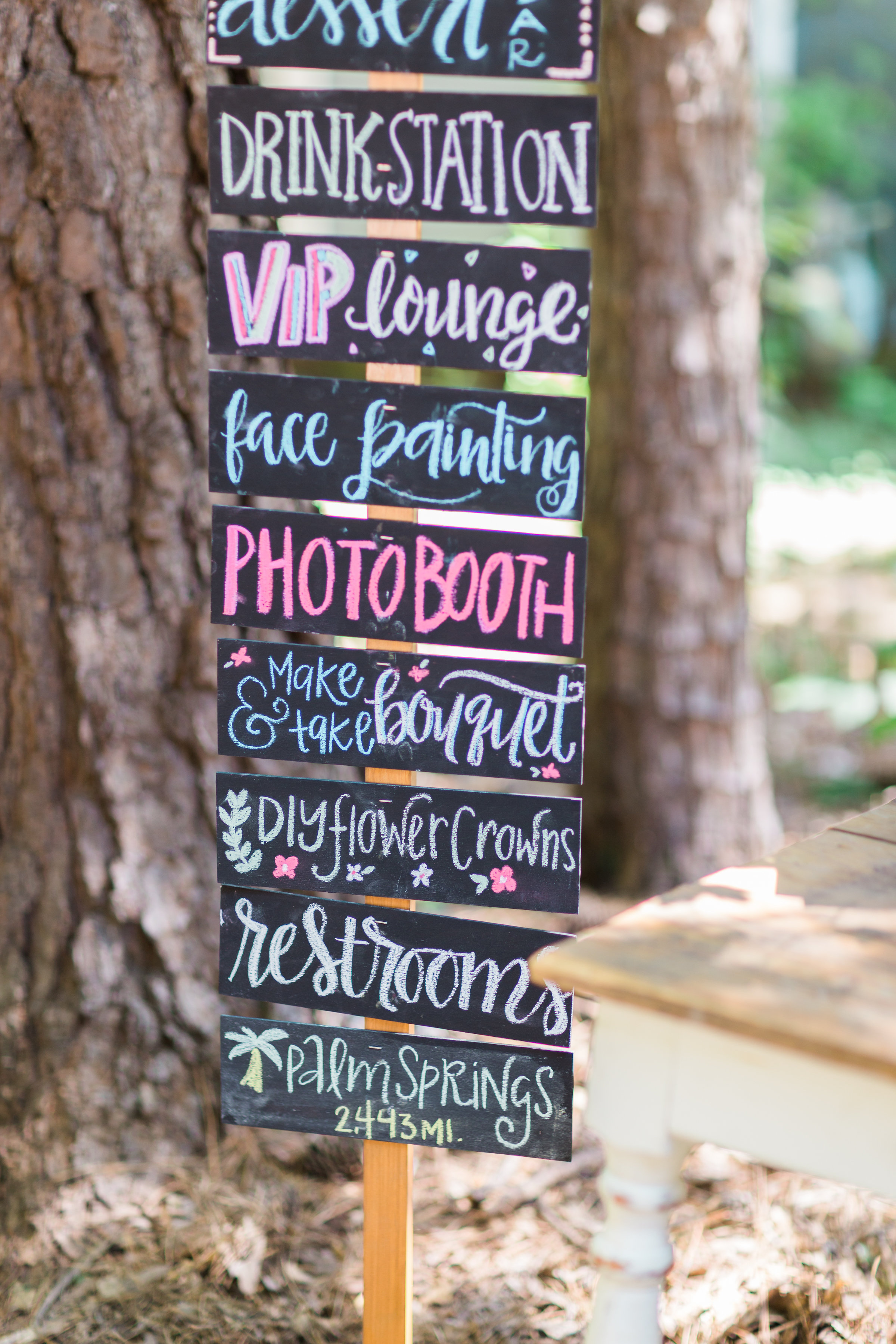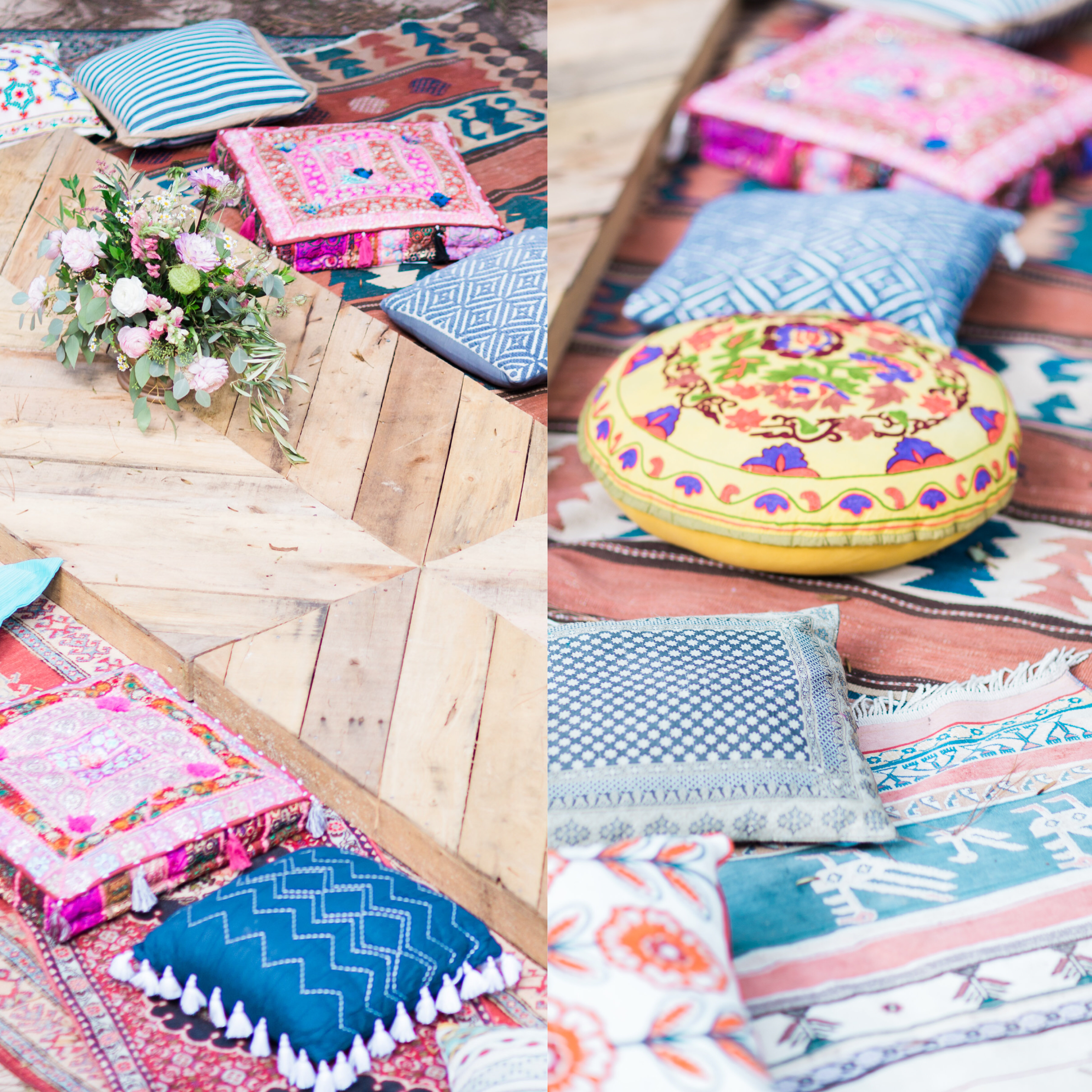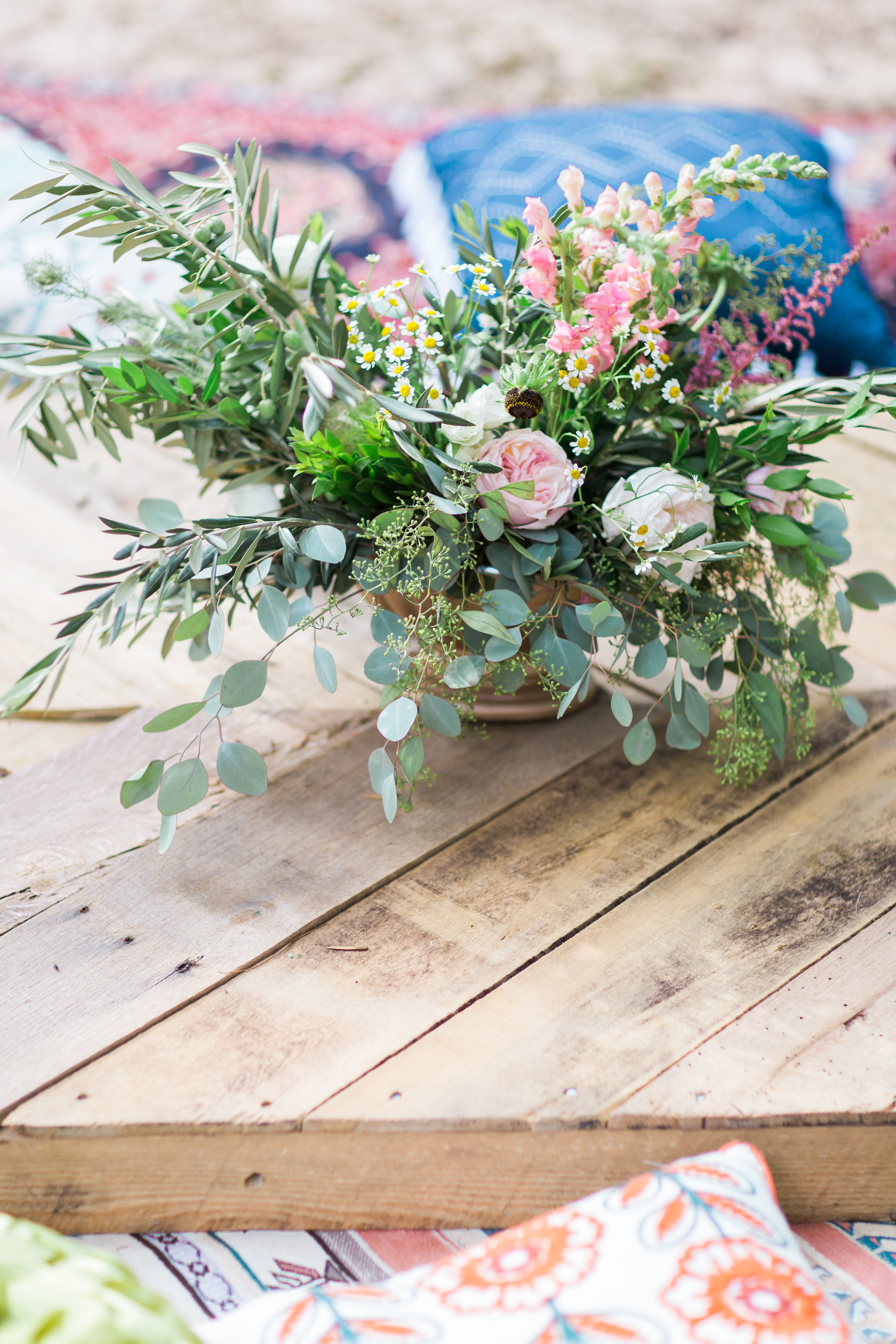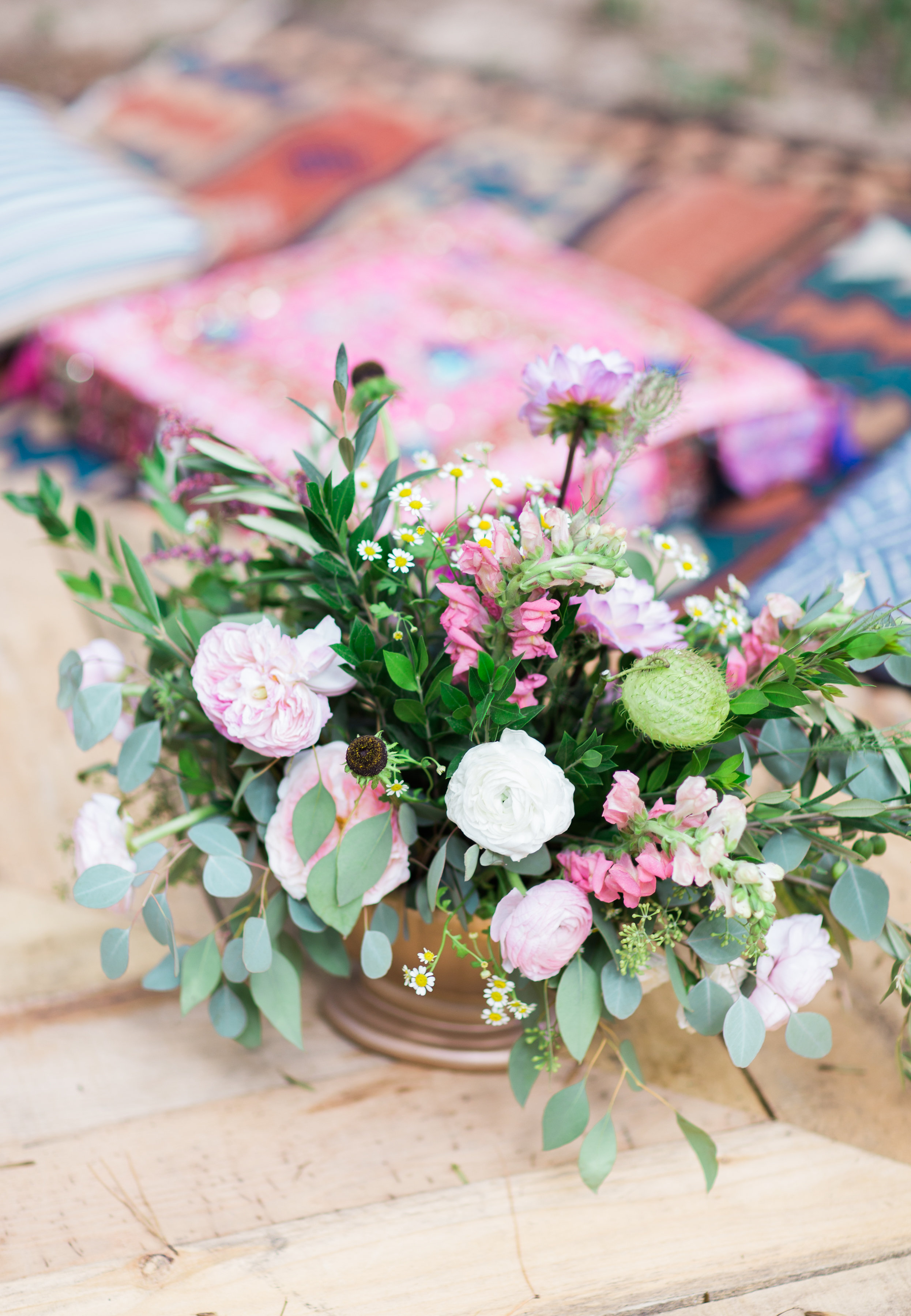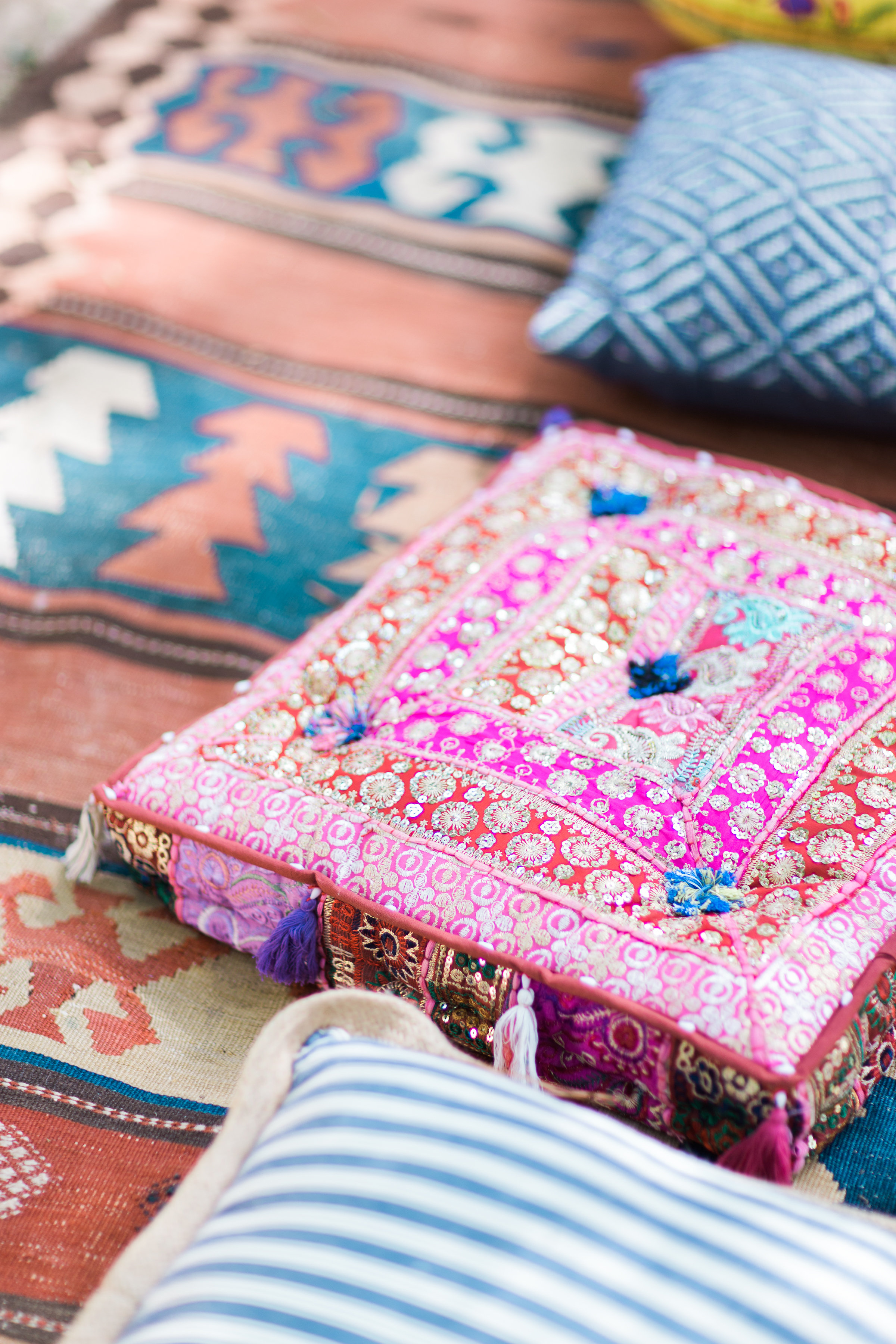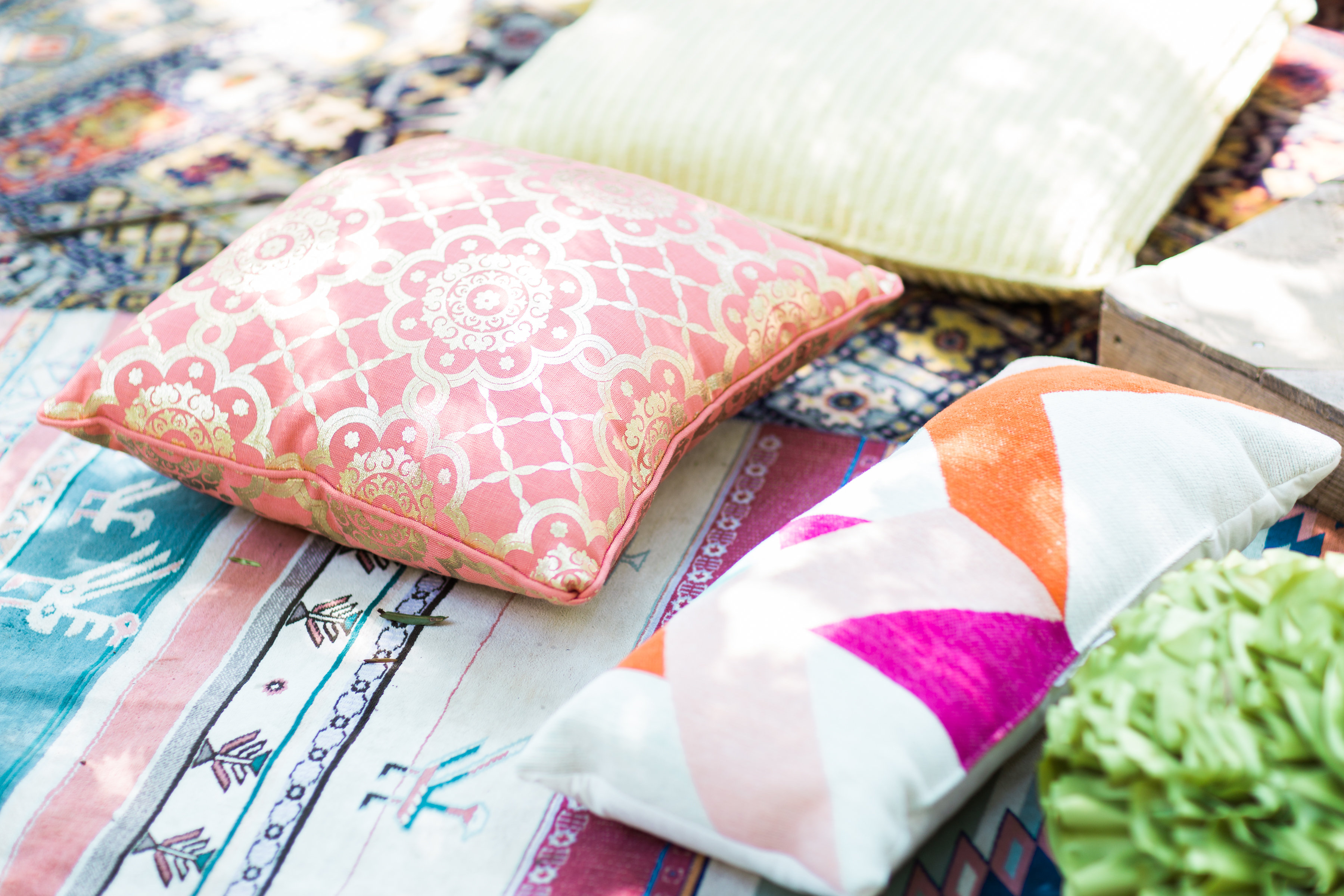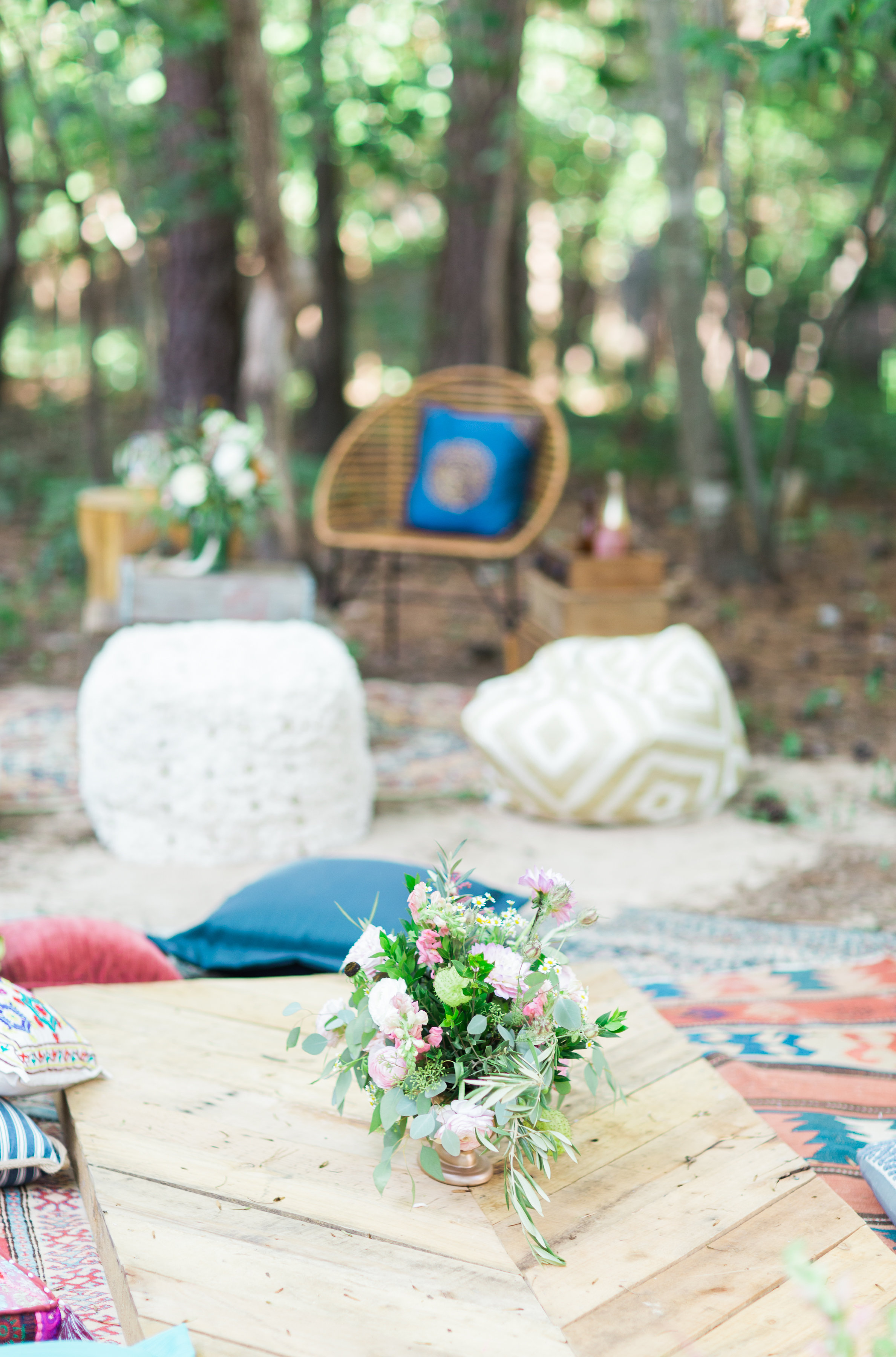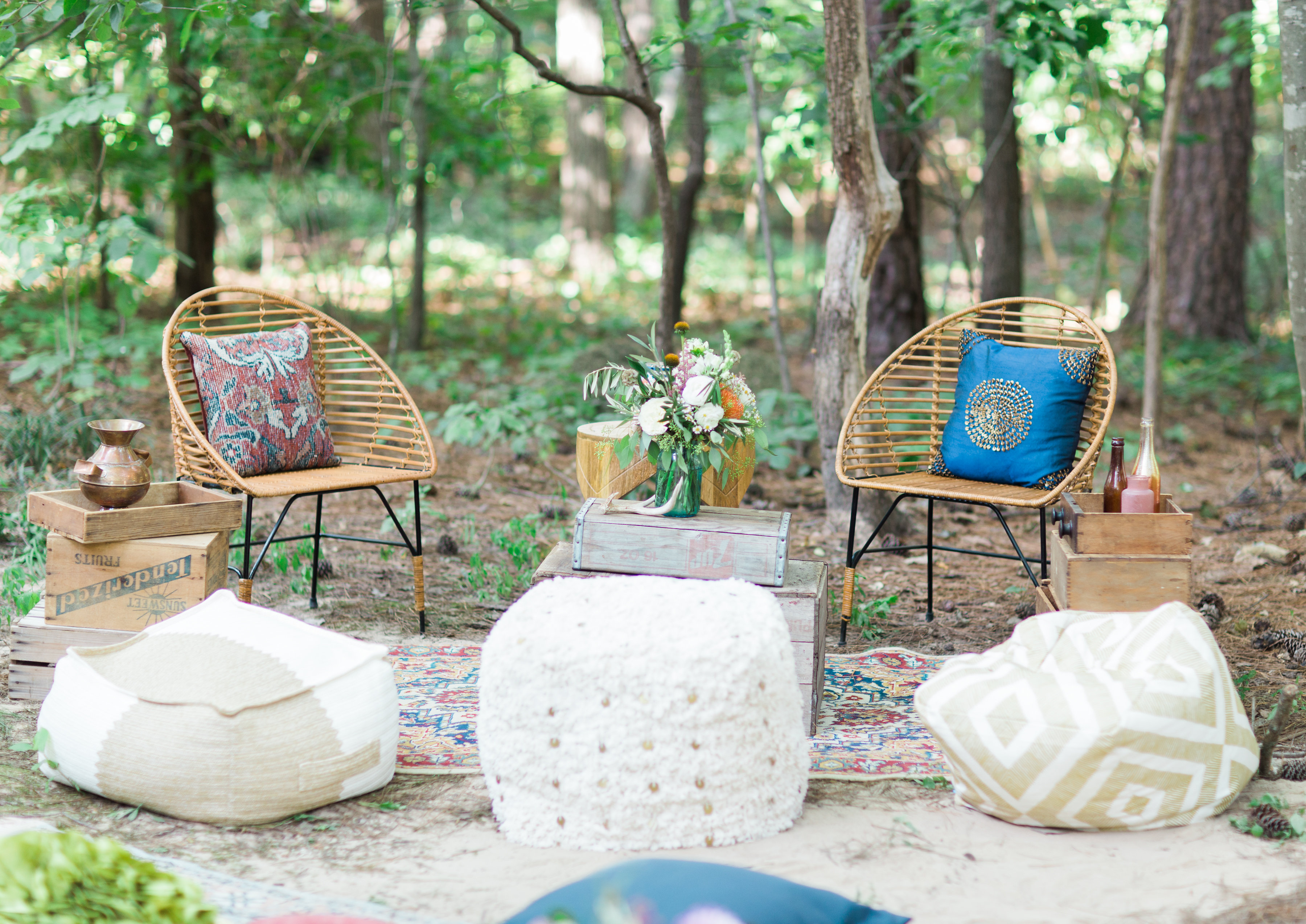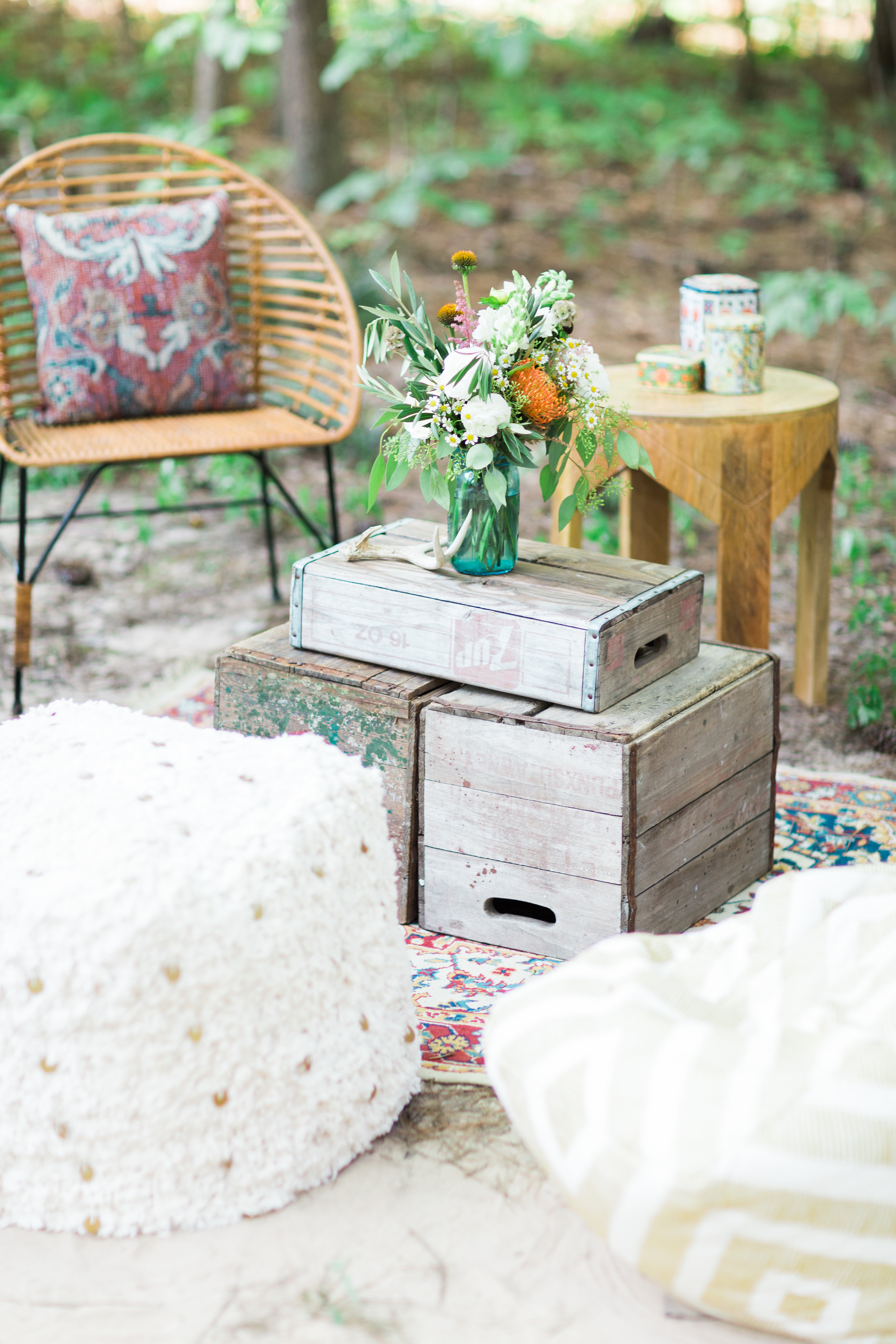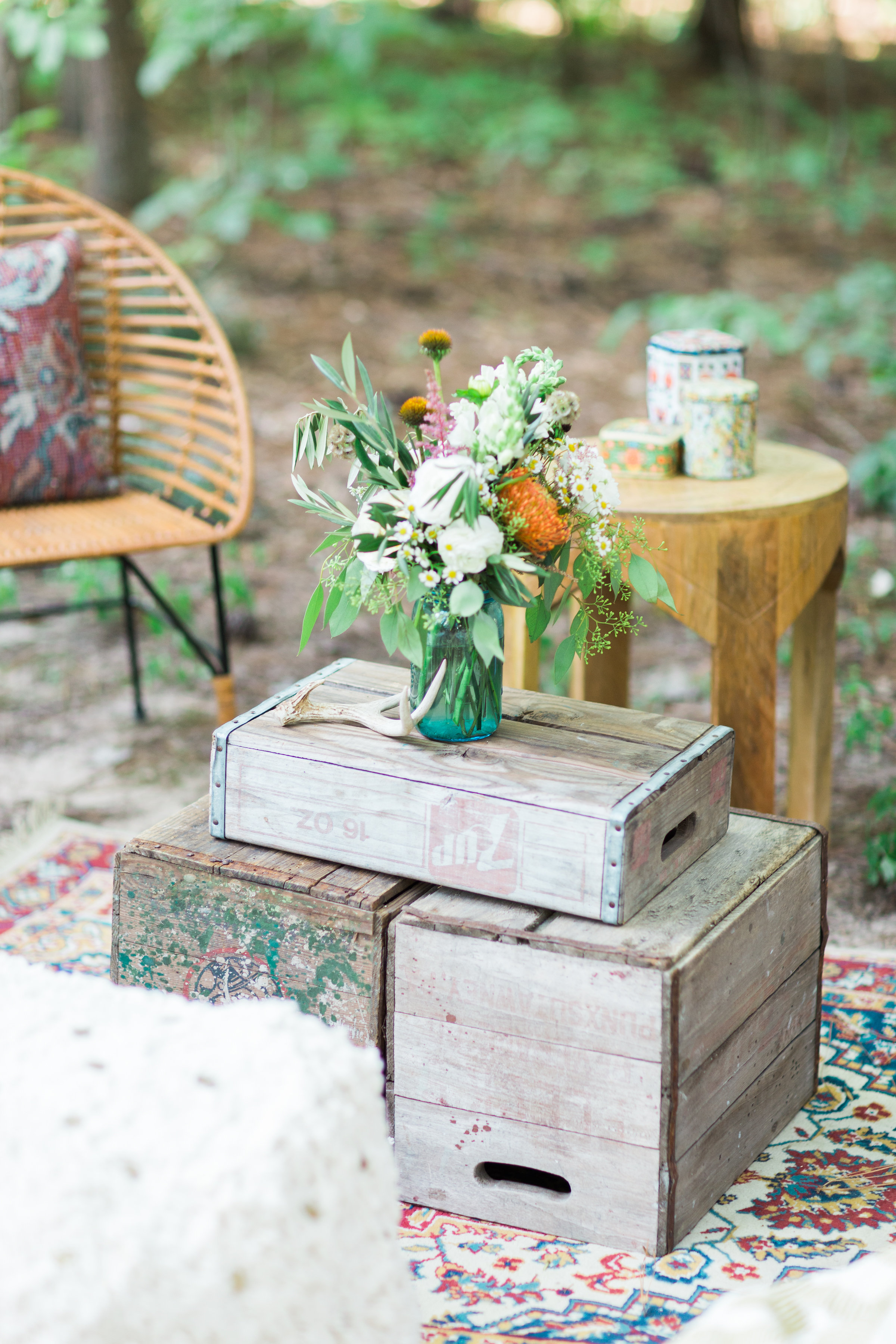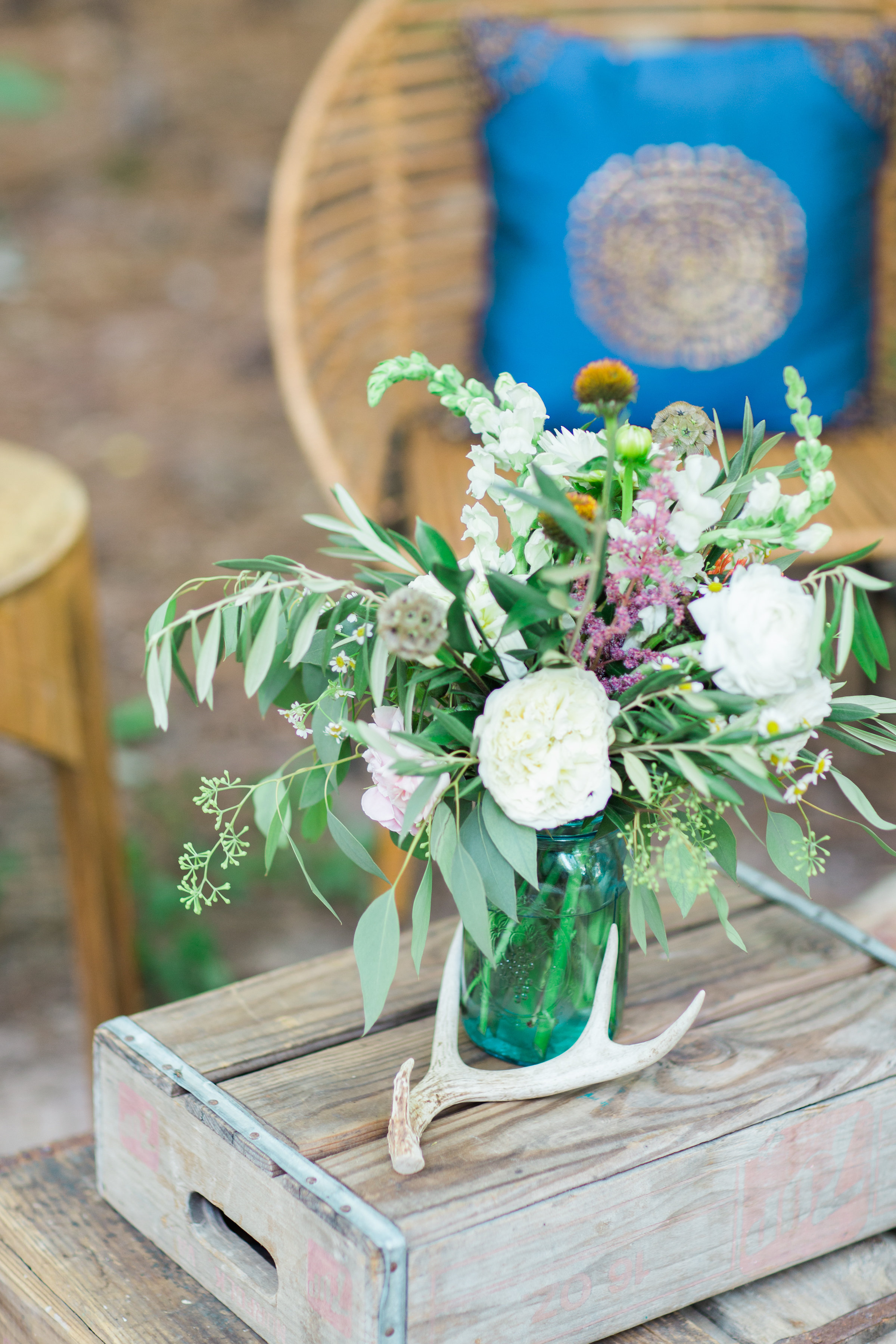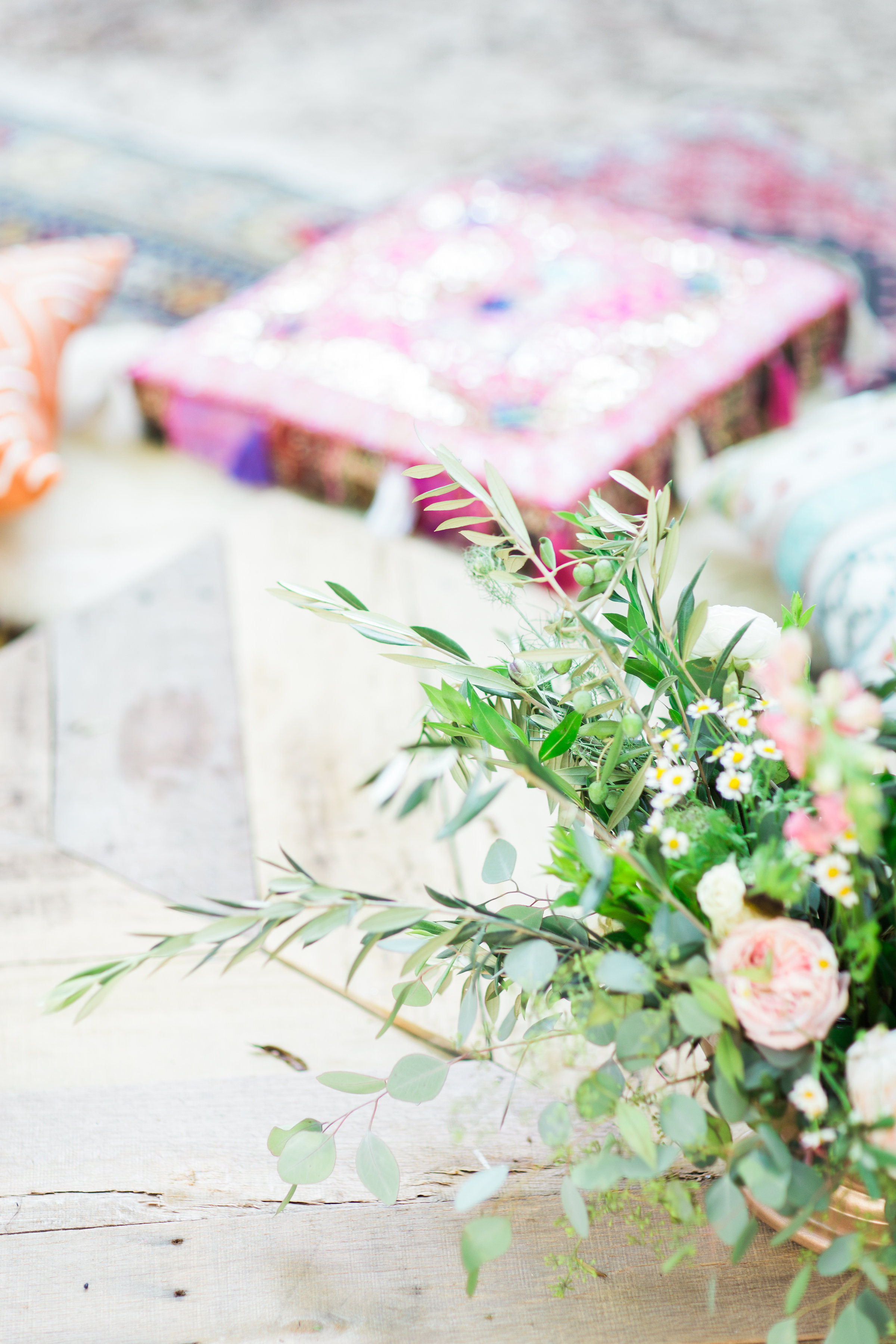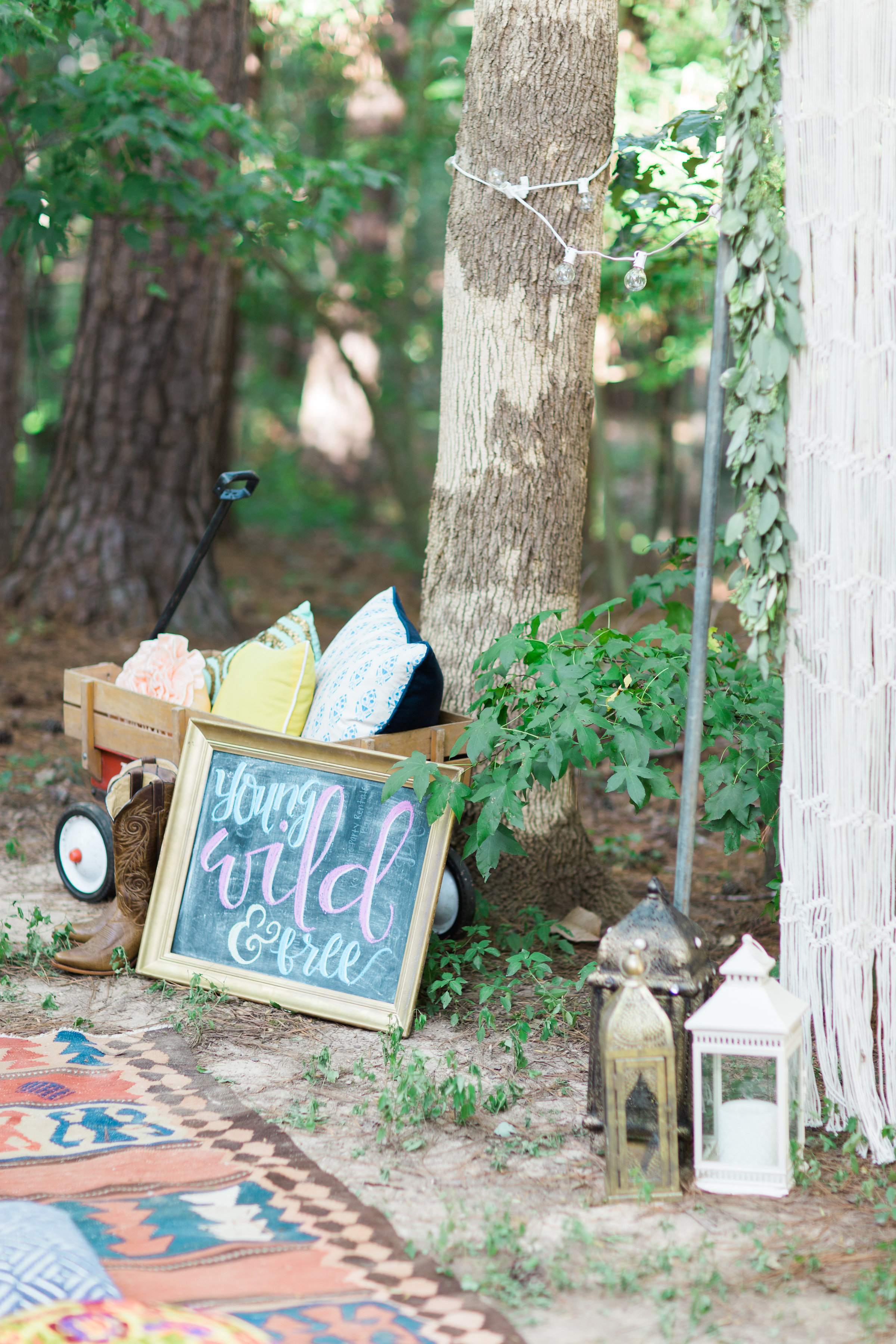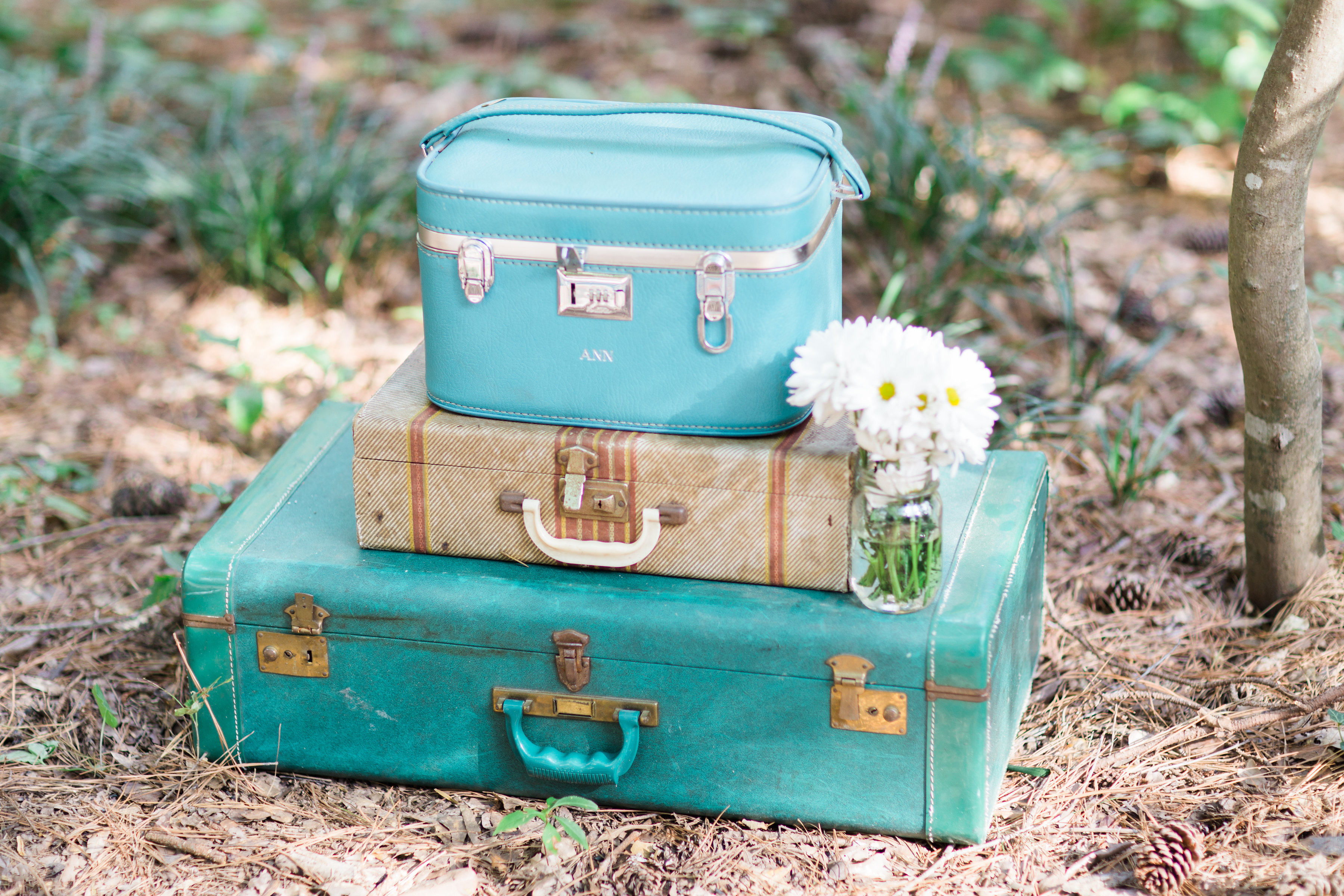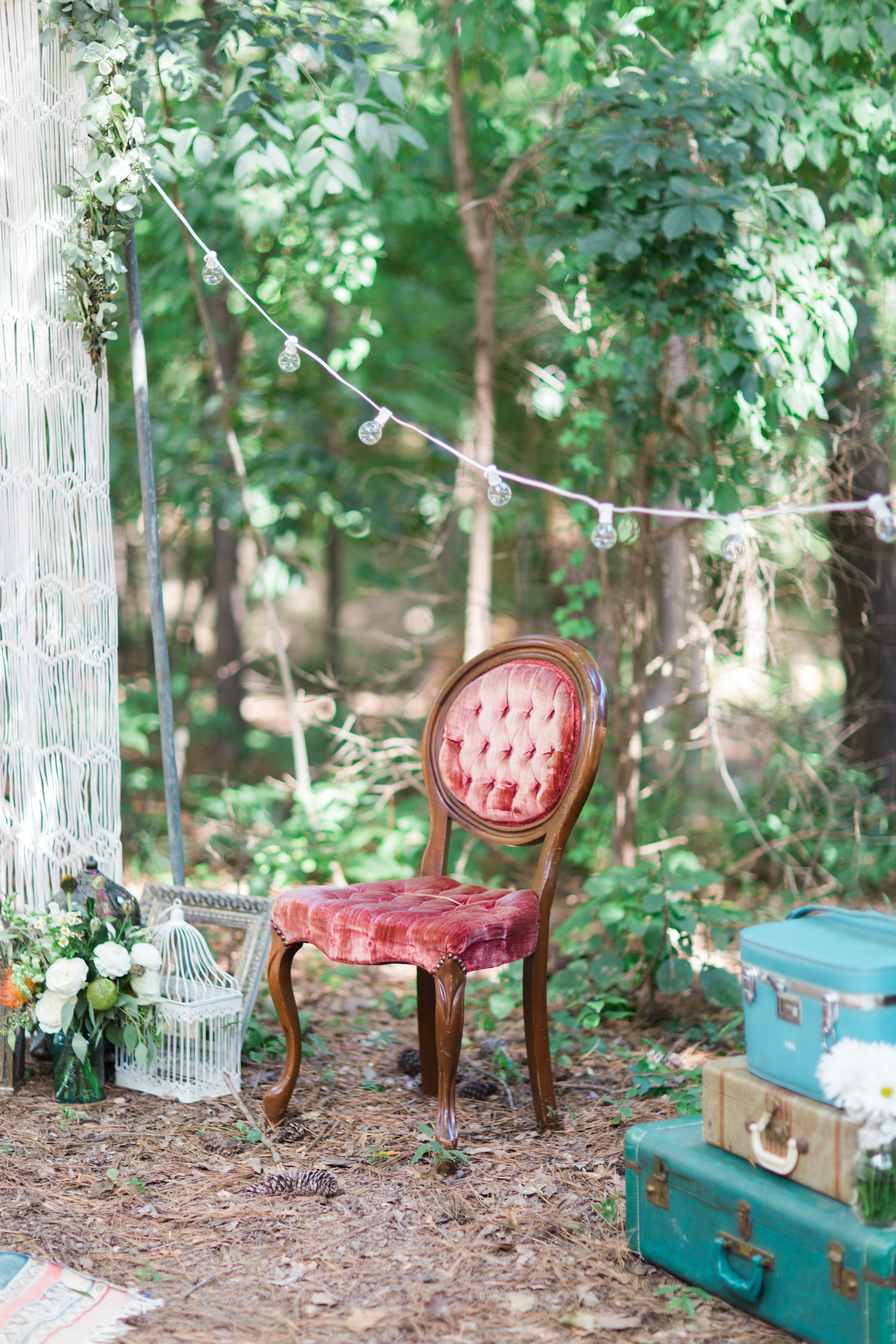 Using macramé curtains that I already had and a backdrop made out of industrial pipes (created by GHPS), along with a whole lot of green garland and fresh flowers from Fifty Flowers, we built the photo booth/backdrop. Who doesn't want an excuse to take an adorable photo? And speaking of flowers: Fifty Flowers is a company that sells wholesale flowers at amazing prices; perfect for parties. I will forever be a fan.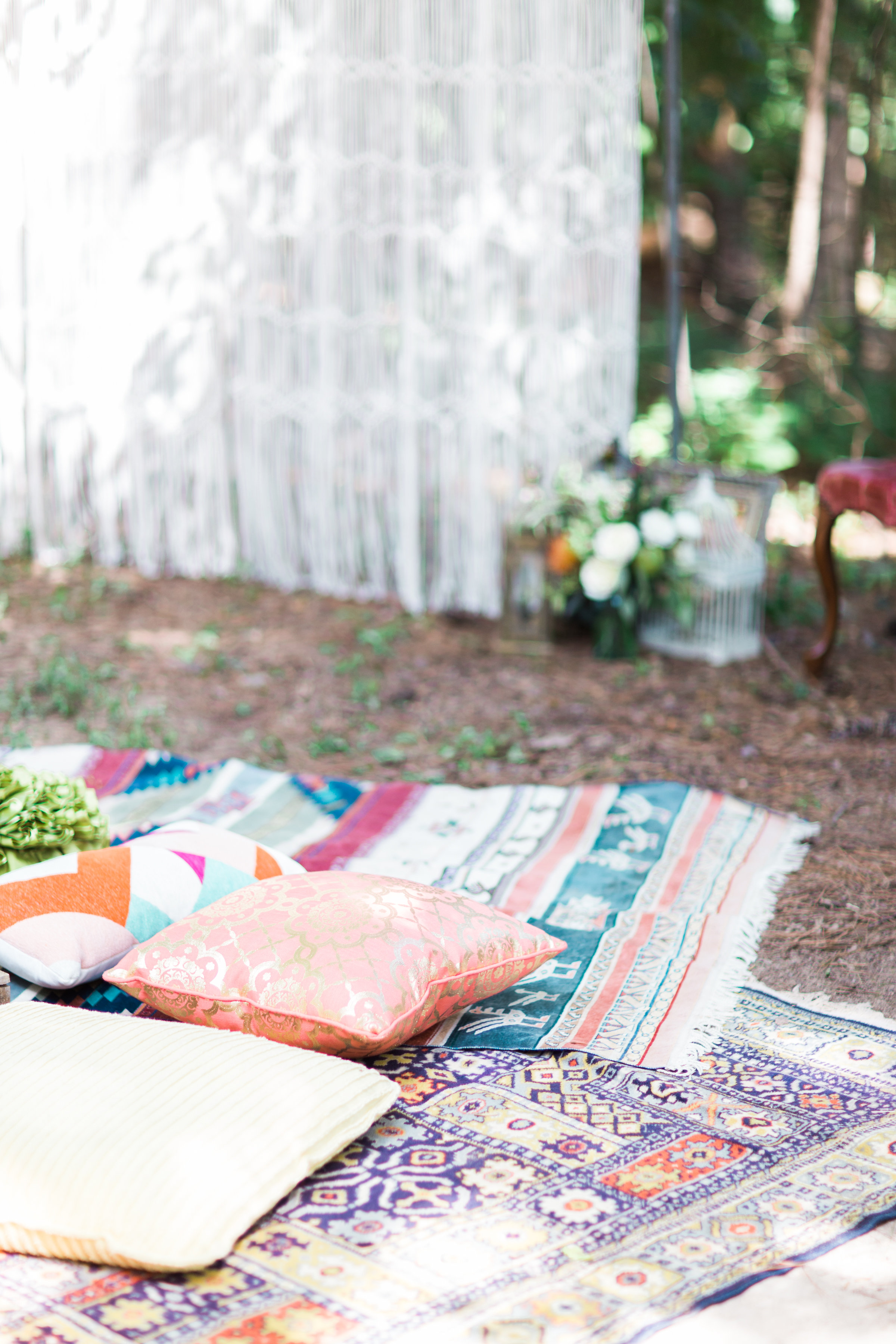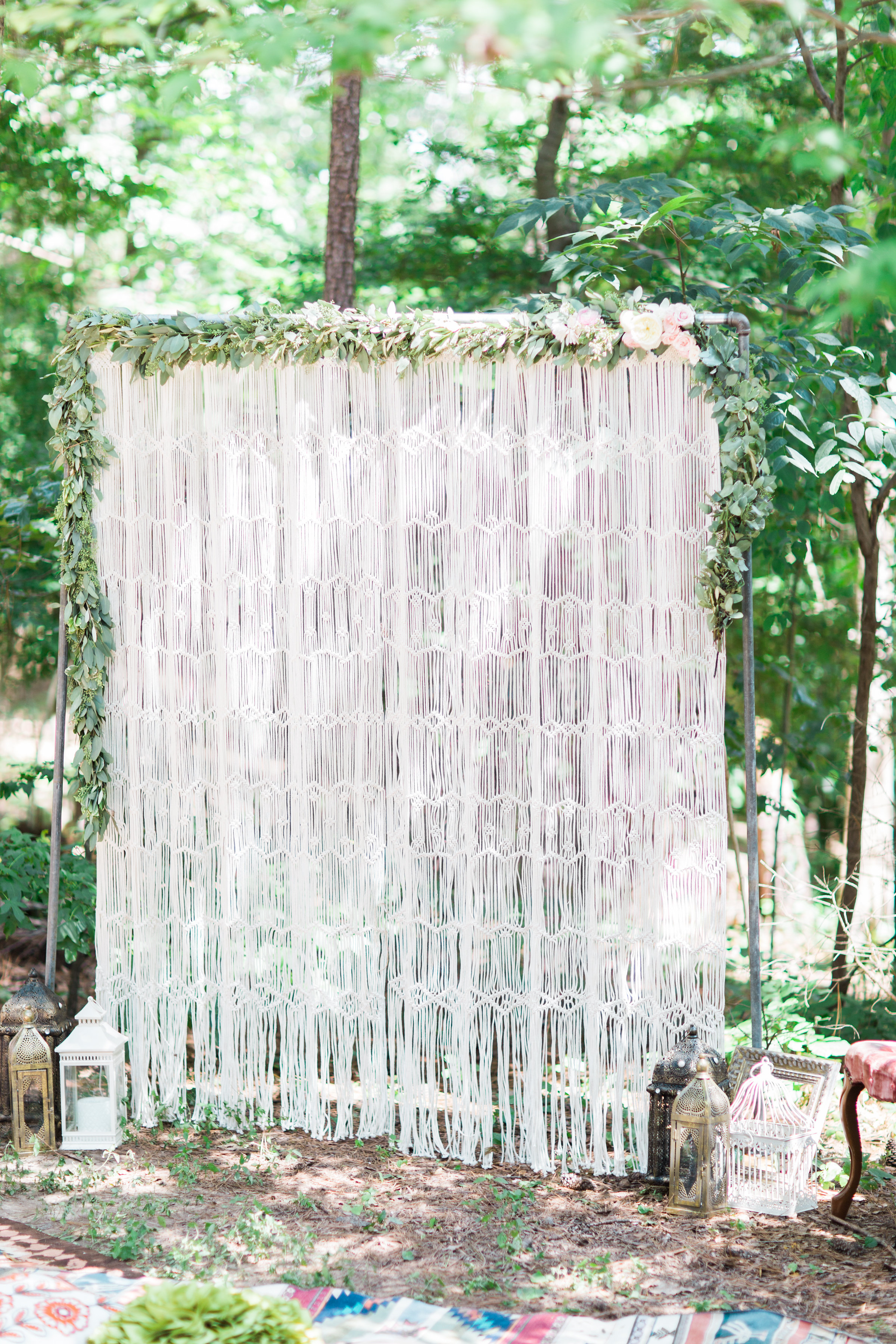 Because the party had a distinctly "festival" feel, I wanted there to be bohemian activities that the kids would enjoy.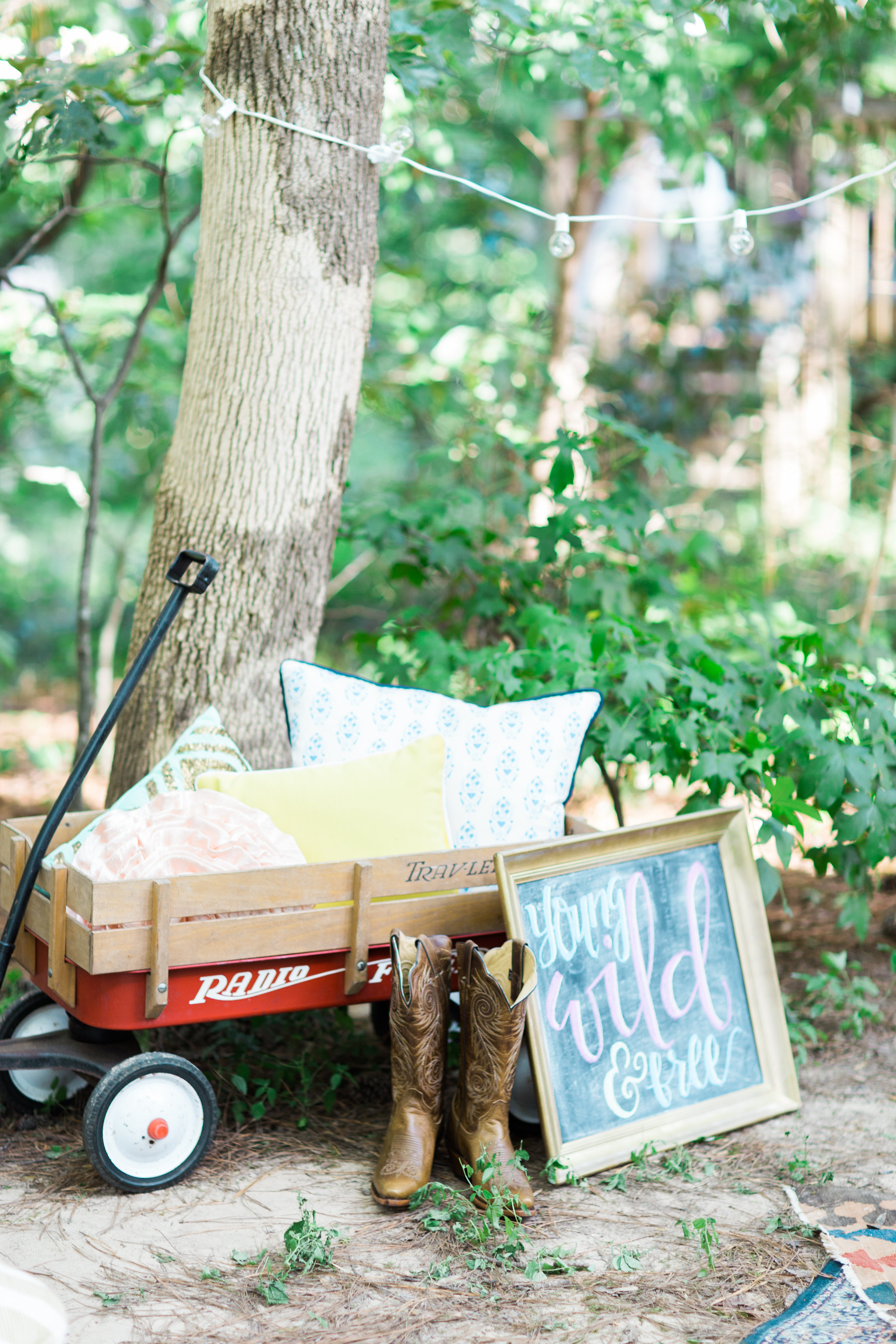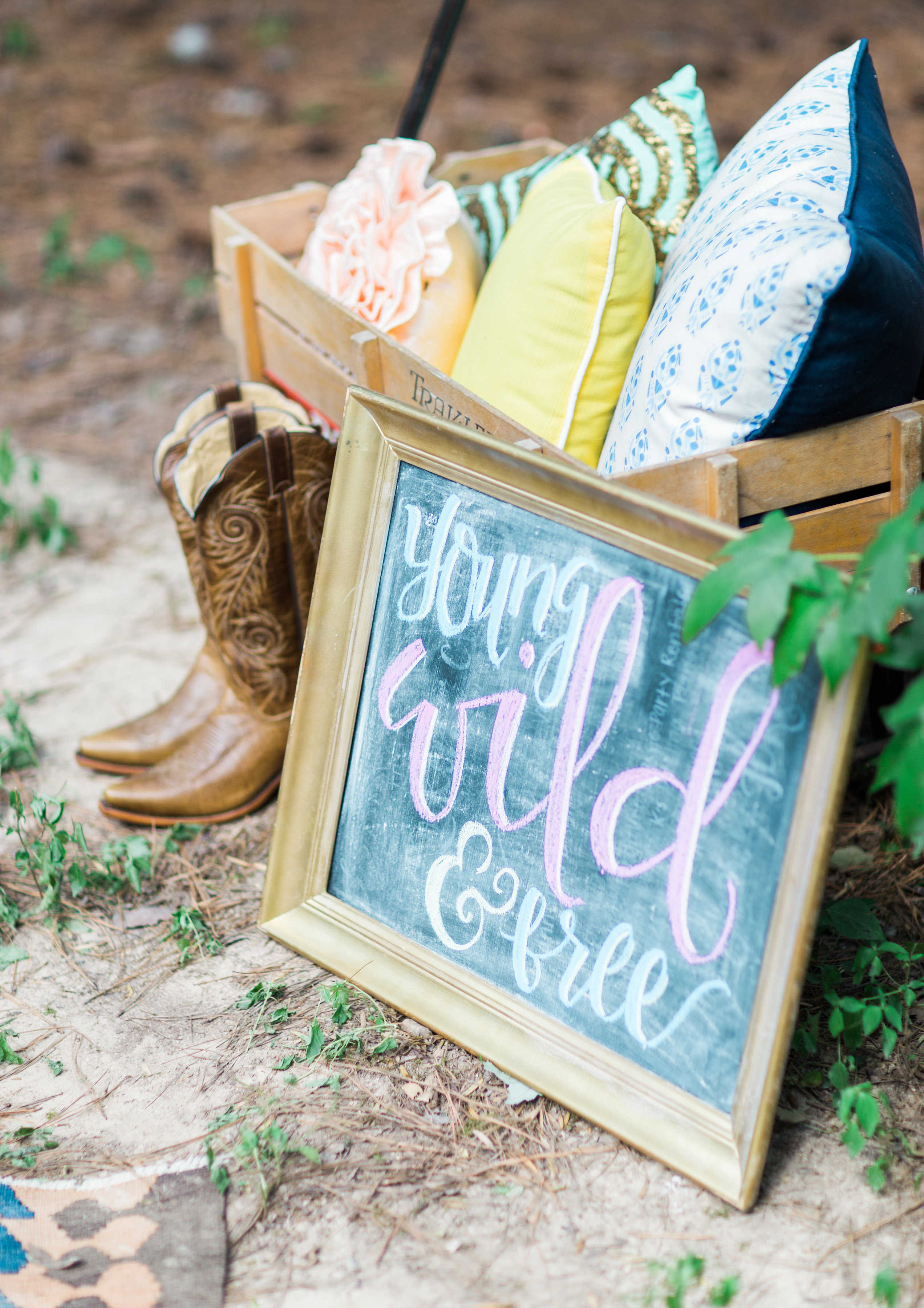 I had this idea for a simpler flower crown – one that kids would love as much as us grownups, and thus the flower crown headband came to be. Wide plastic headbands that Alana of  Serendipity Designs thought up held the fresh flowers beautifully (with a little bit of glue and flower wire), but the animal ear headbands were just the cutest and felt so whimsical and fun. (Big thanks to Mary Claire who helped me glue those cuties together just hours before the shindig and my husband who did basically everything else. He's kind of a rockstar.)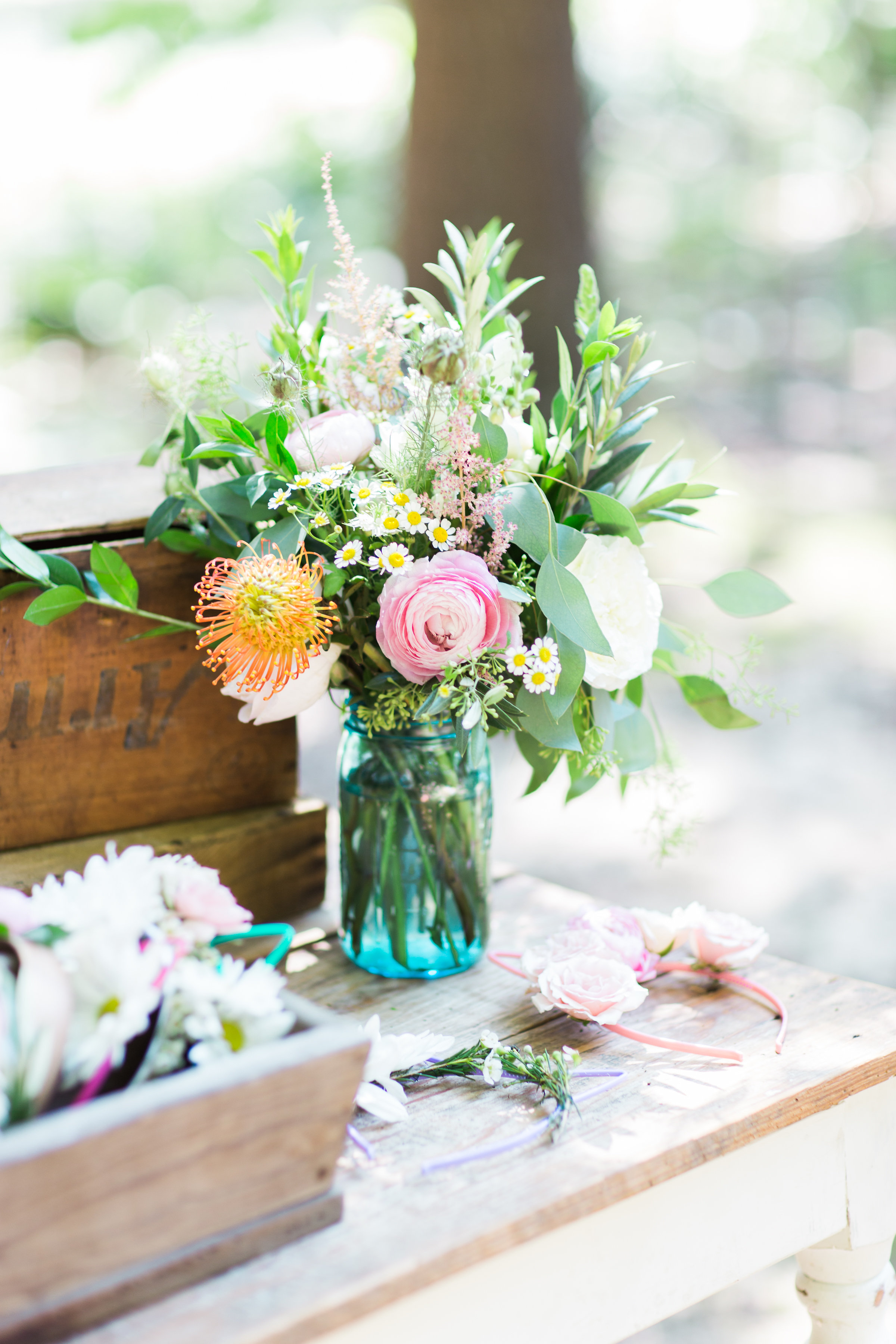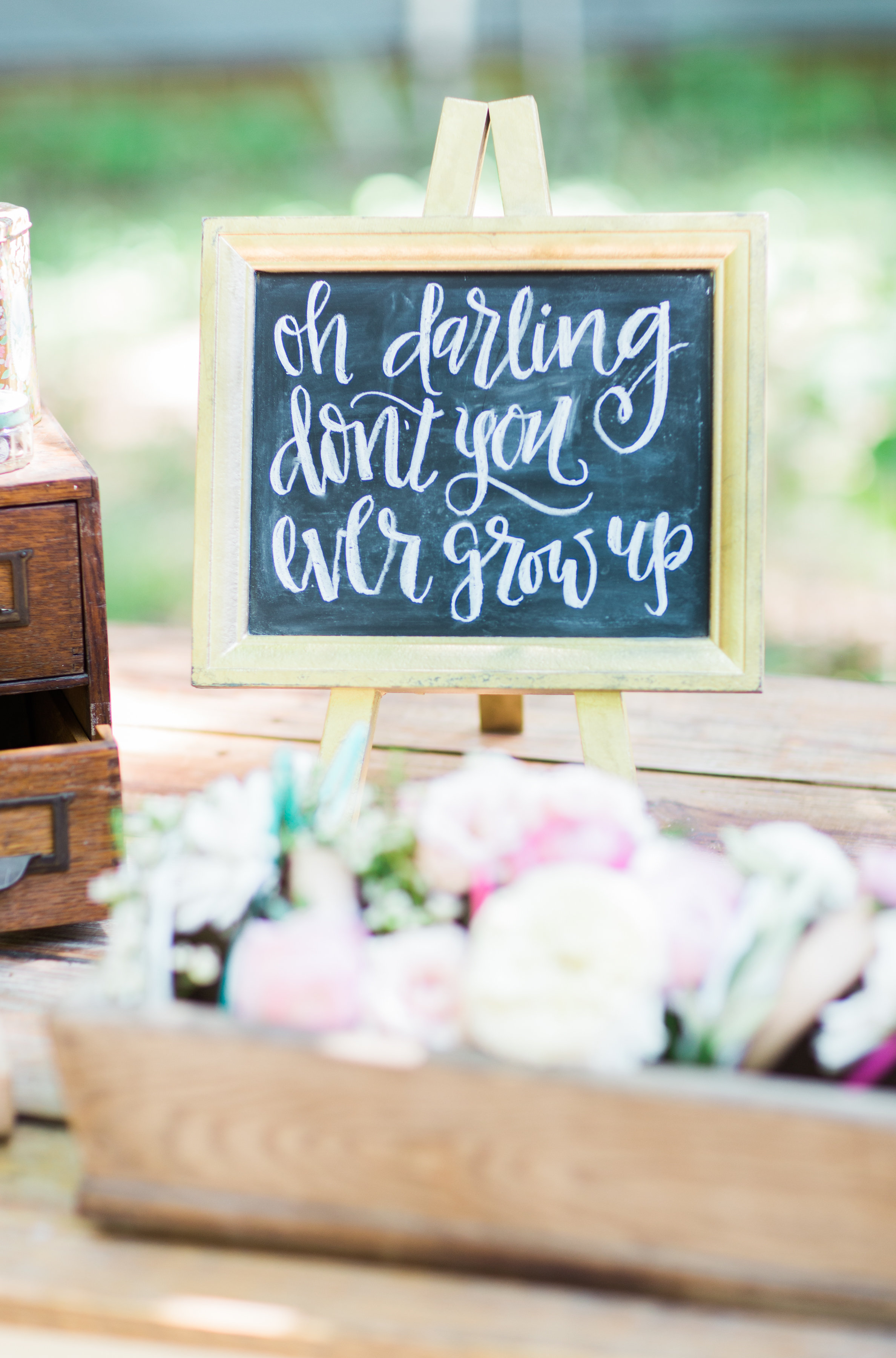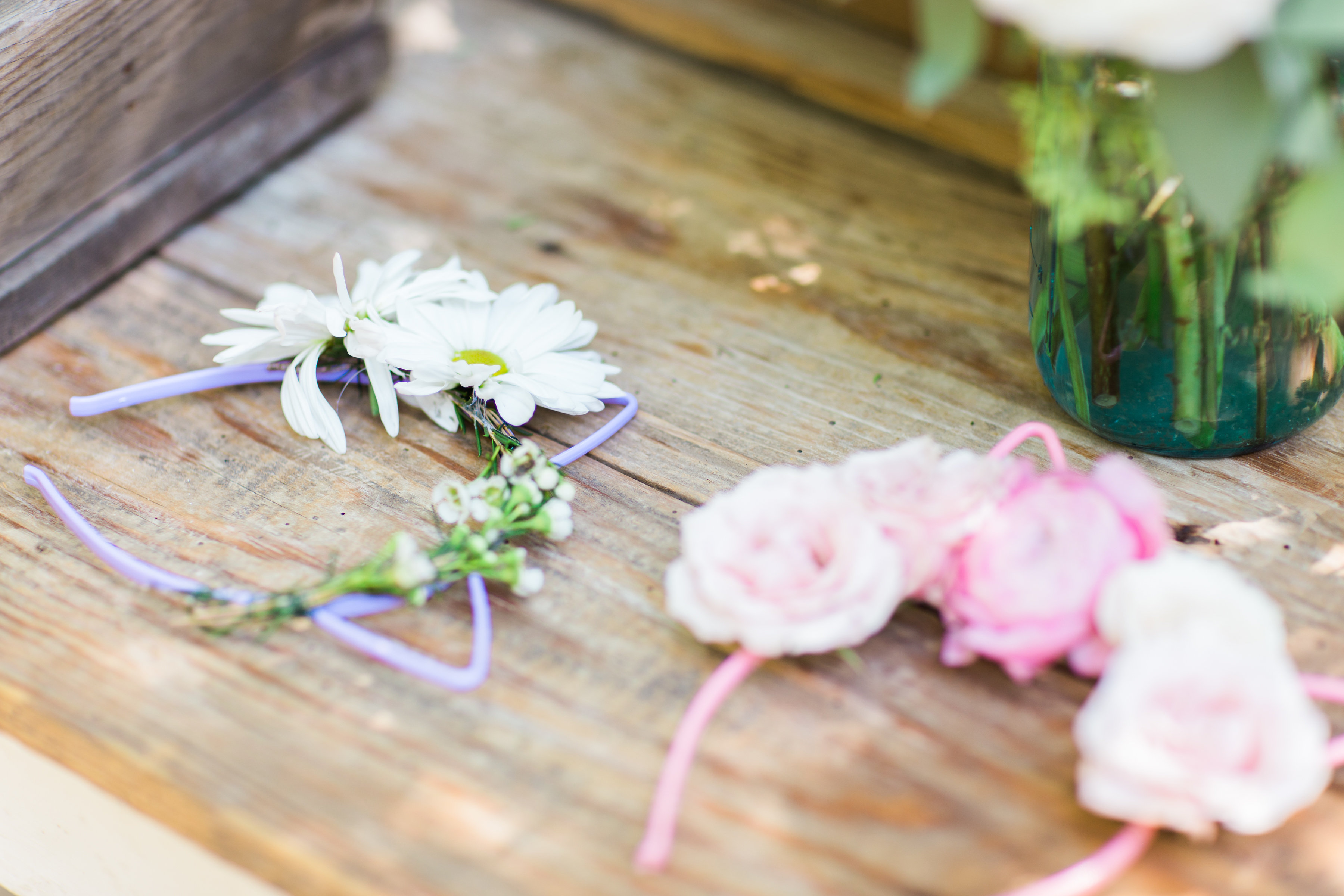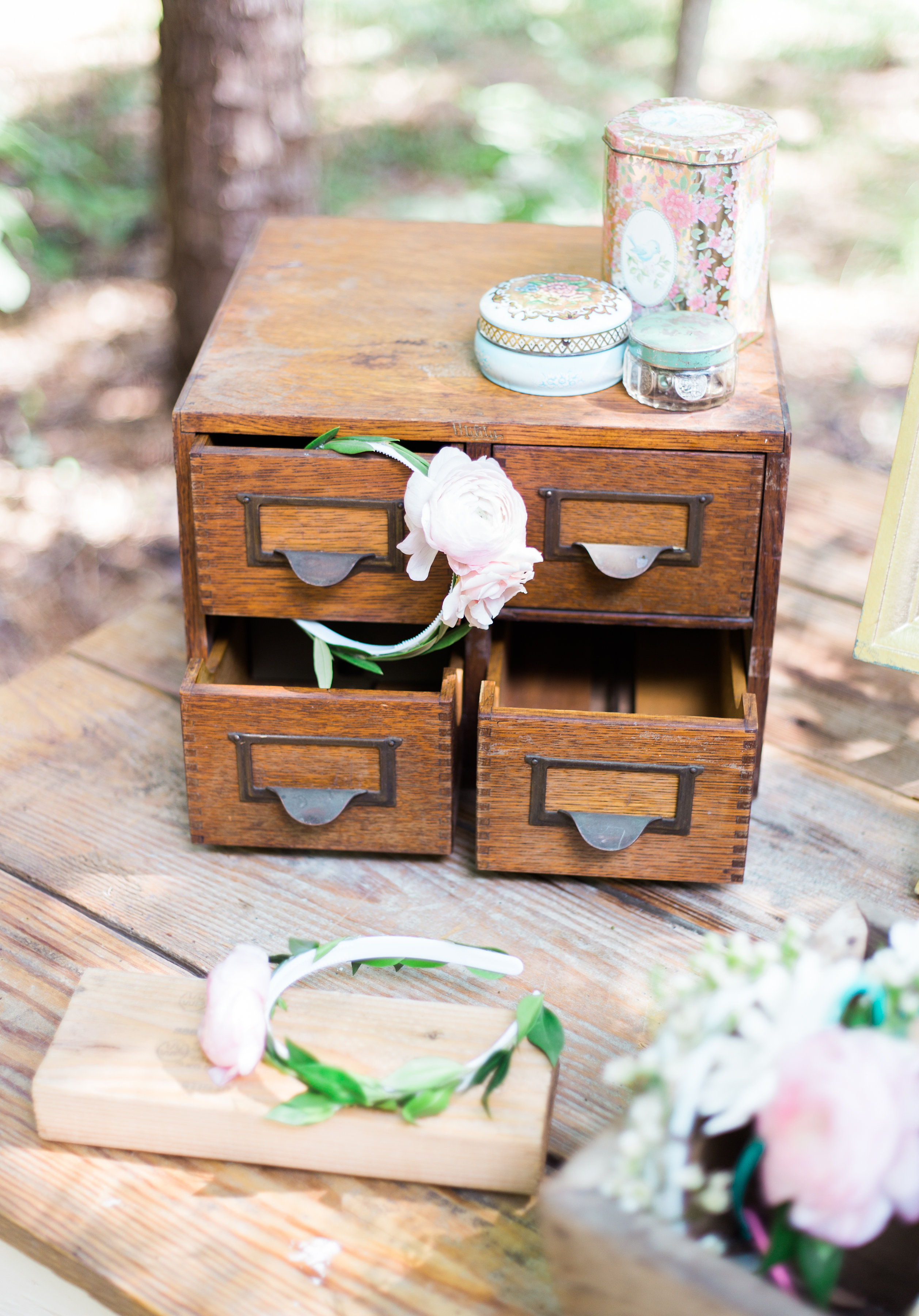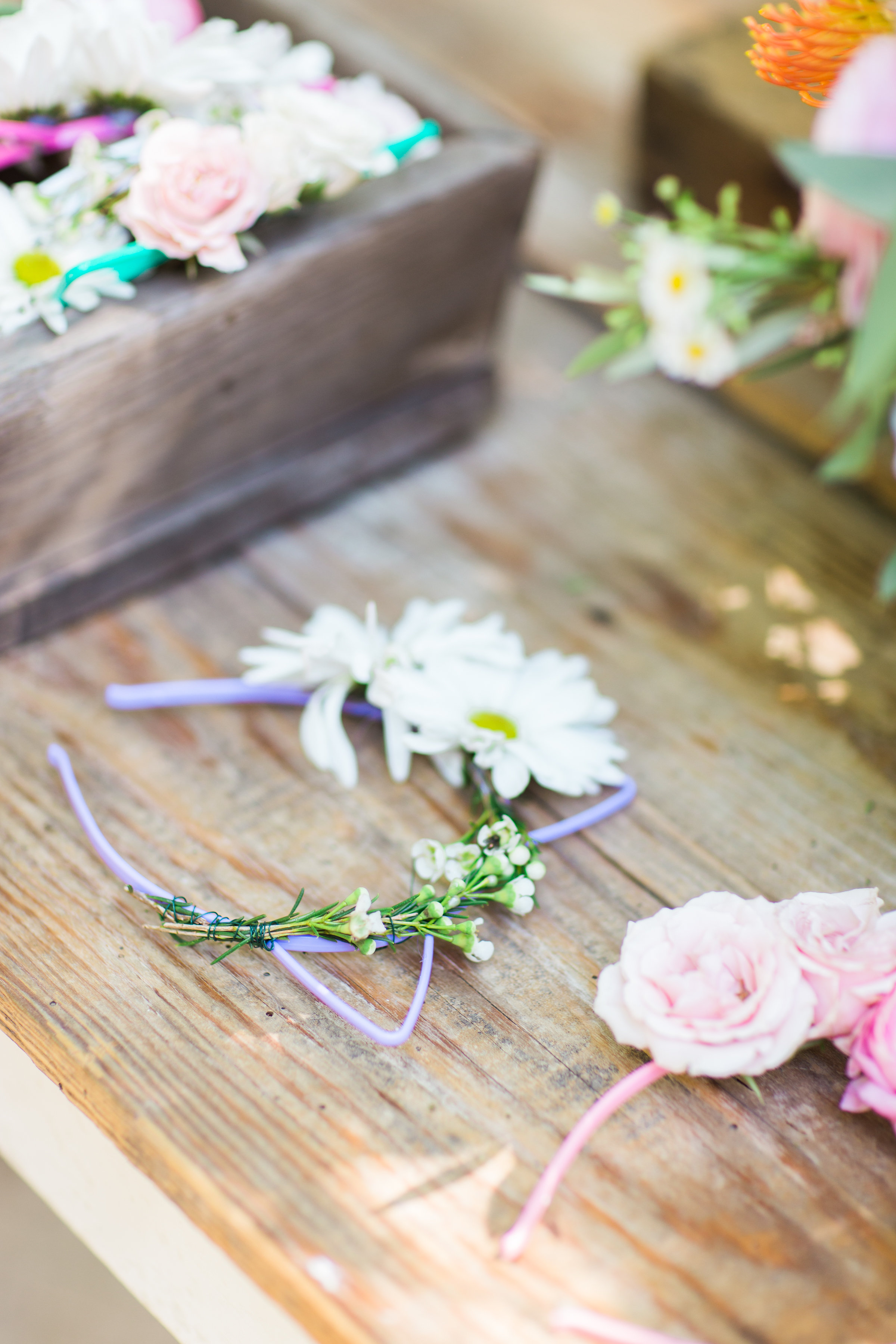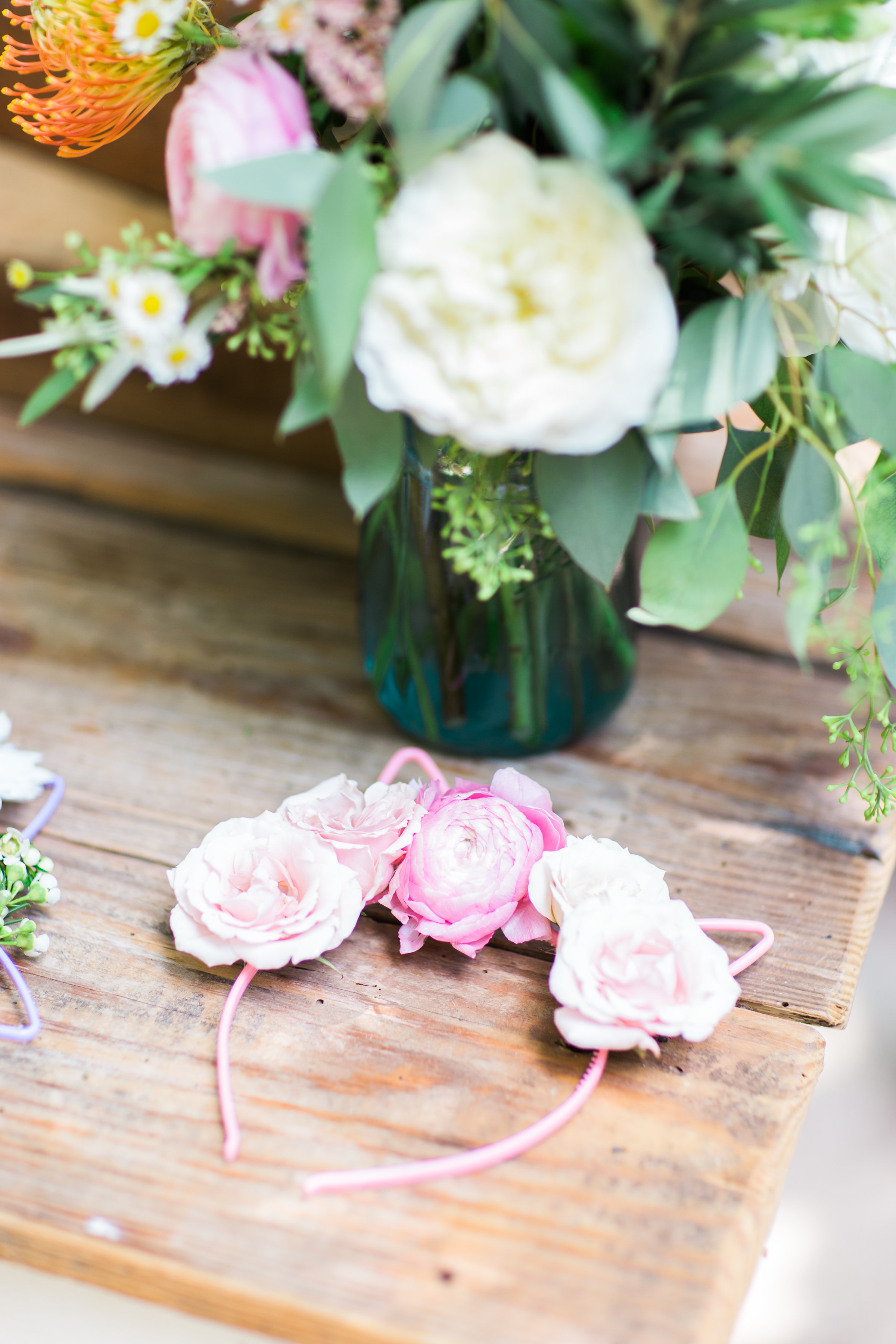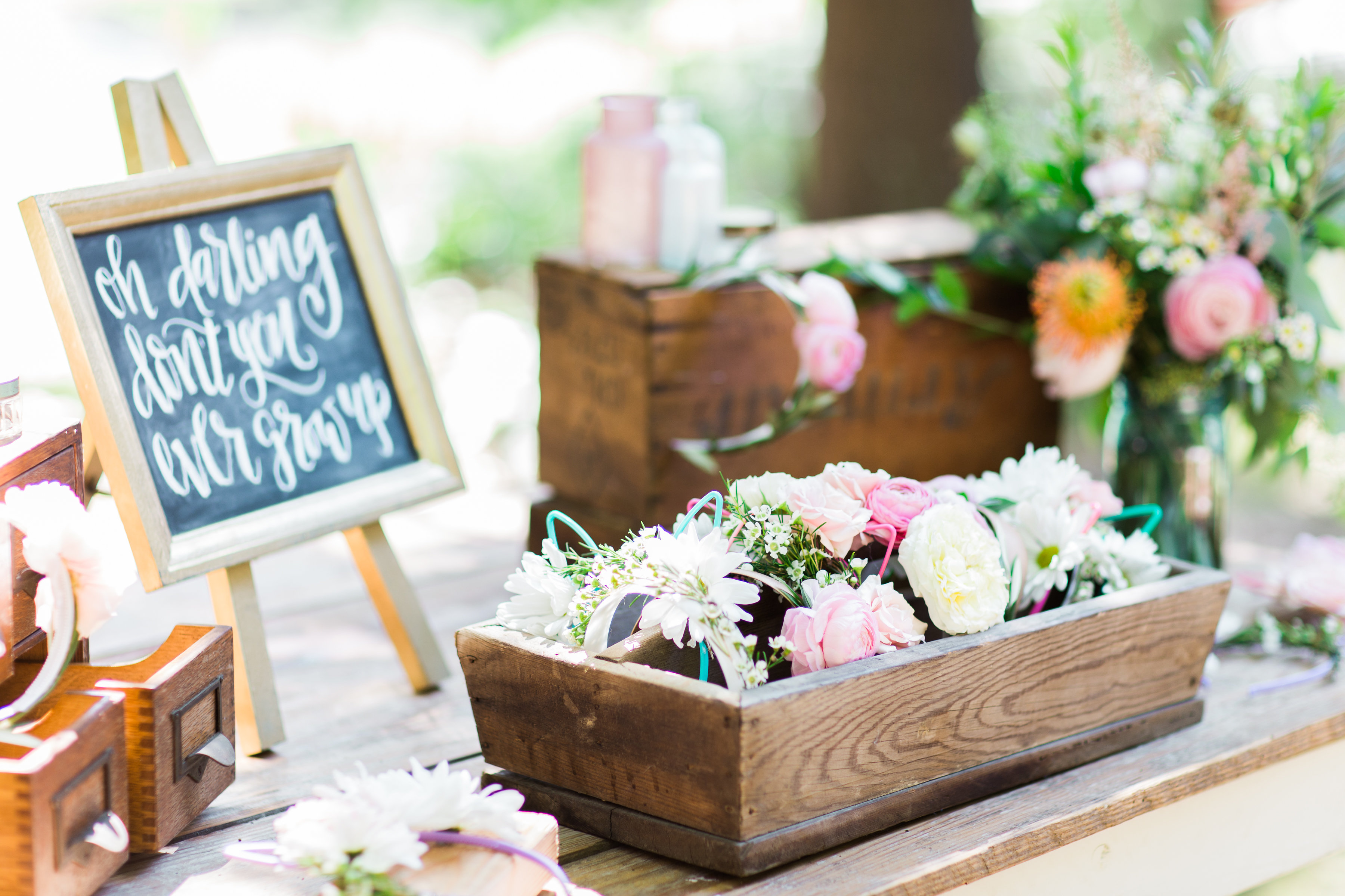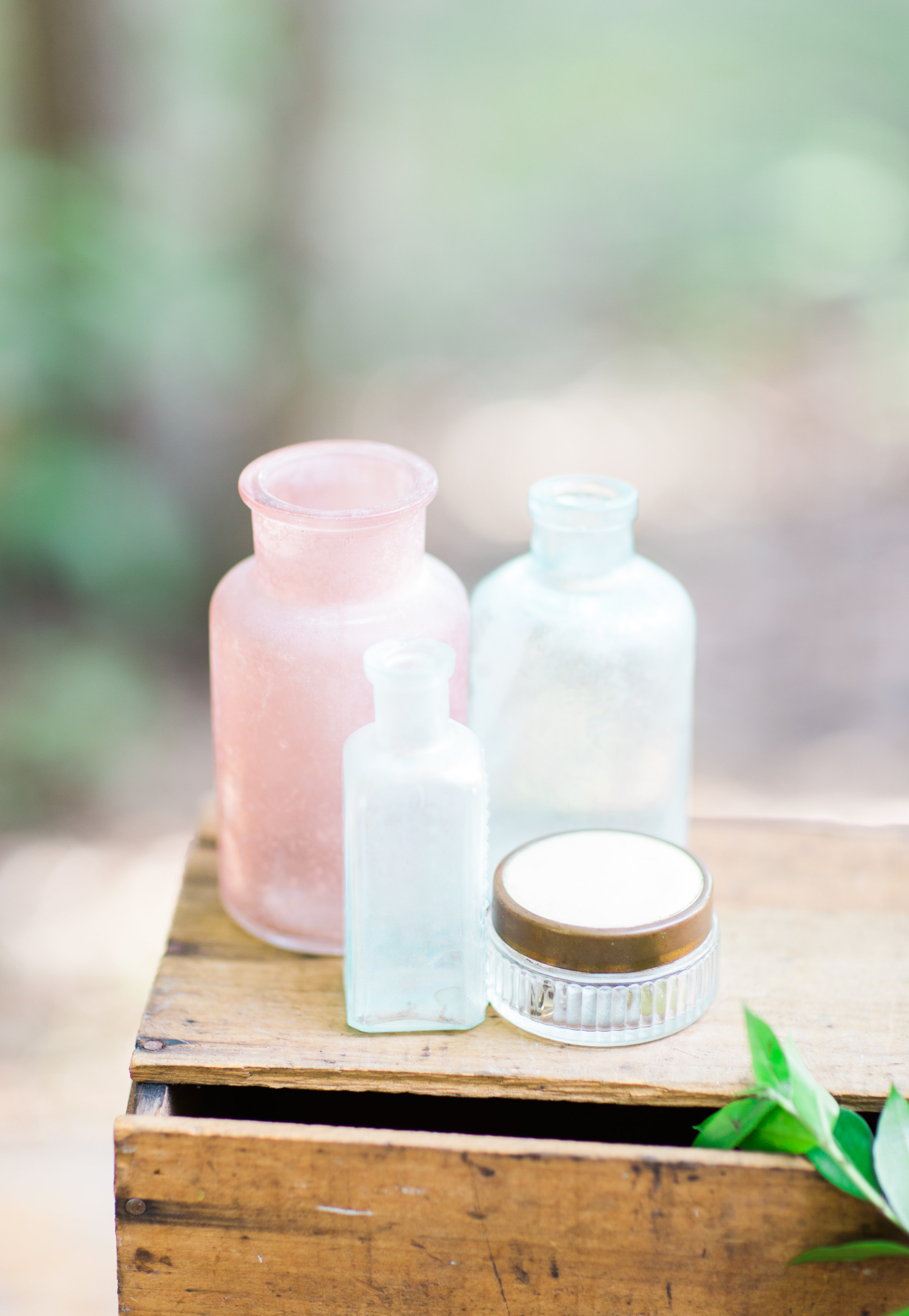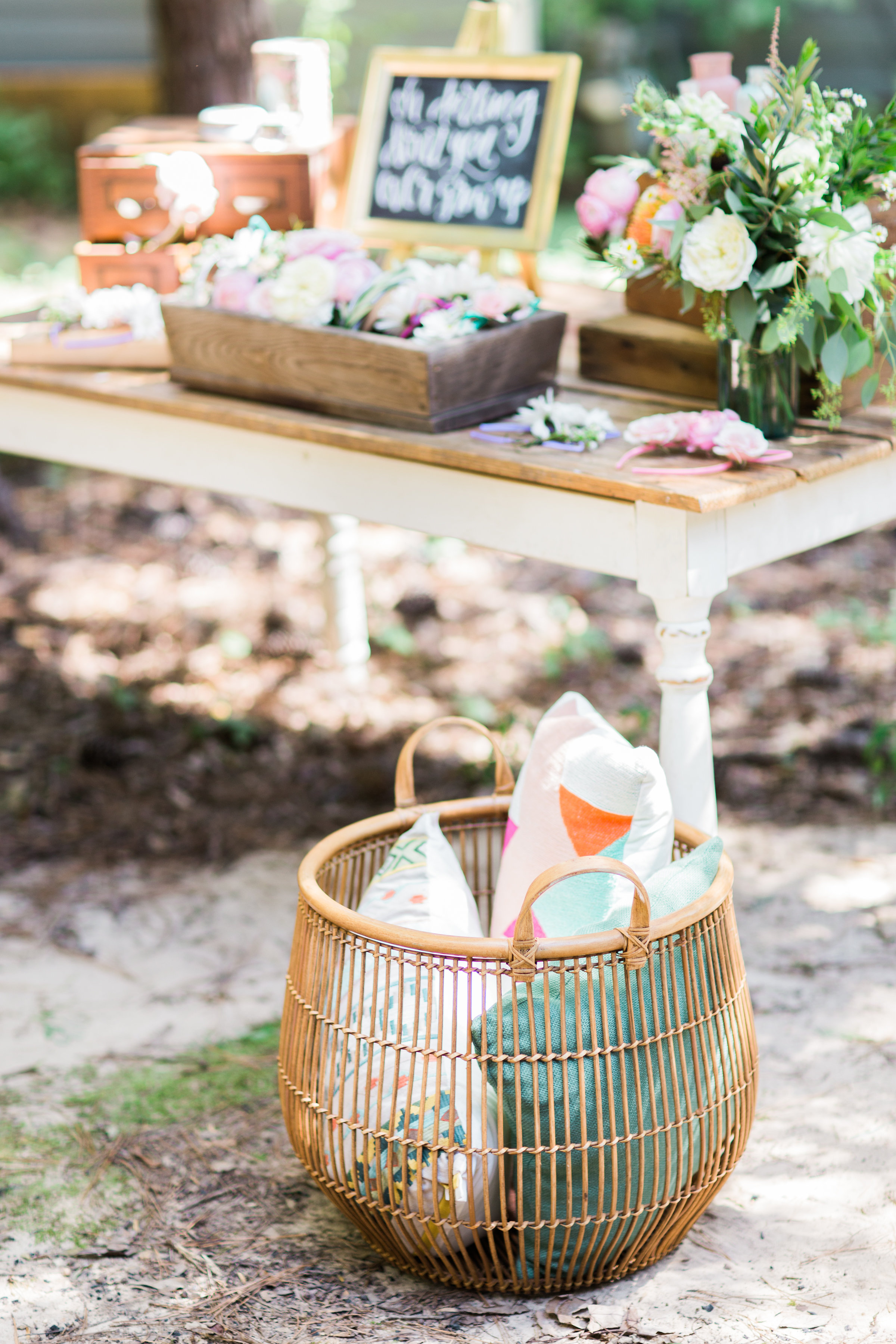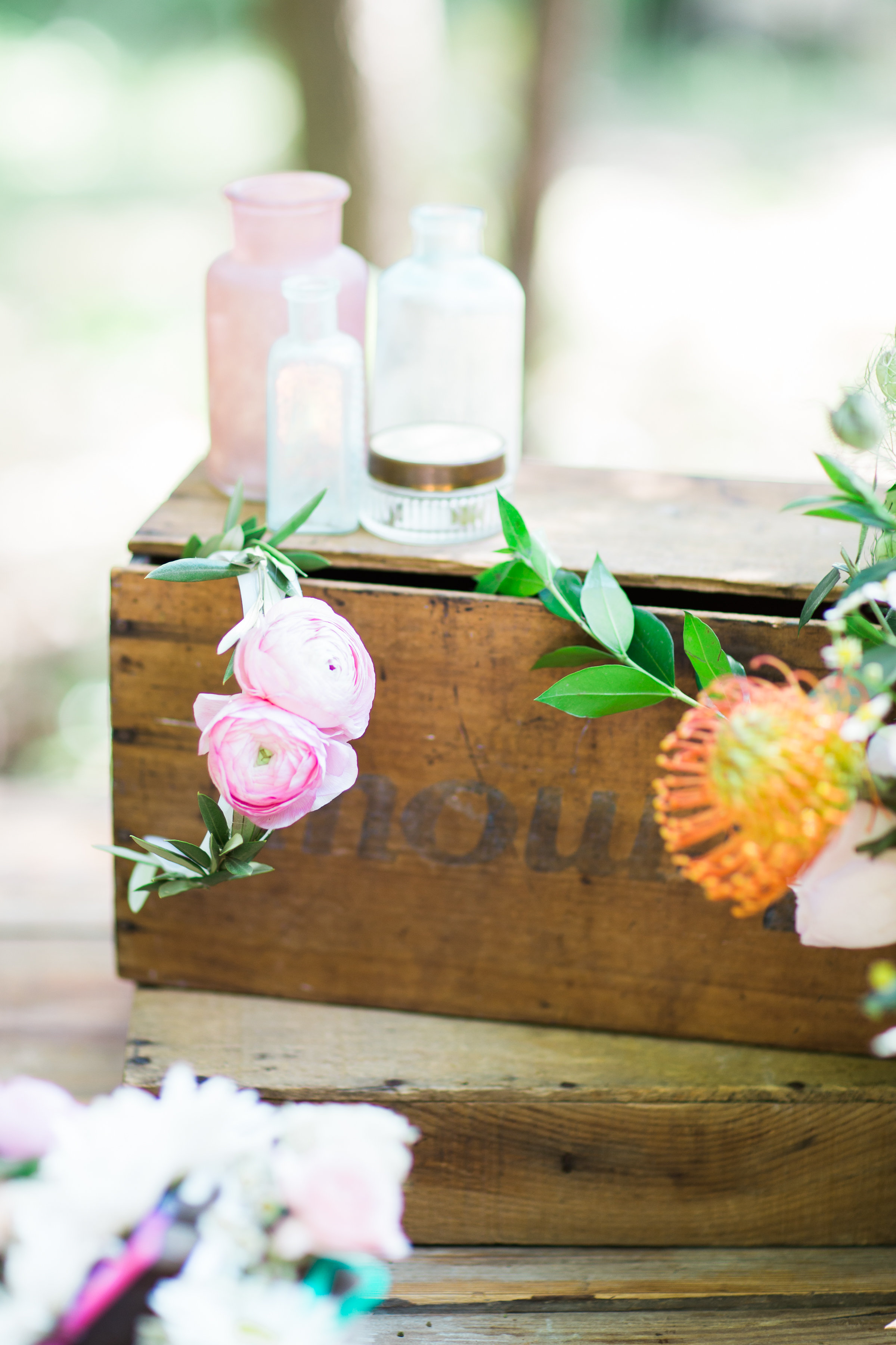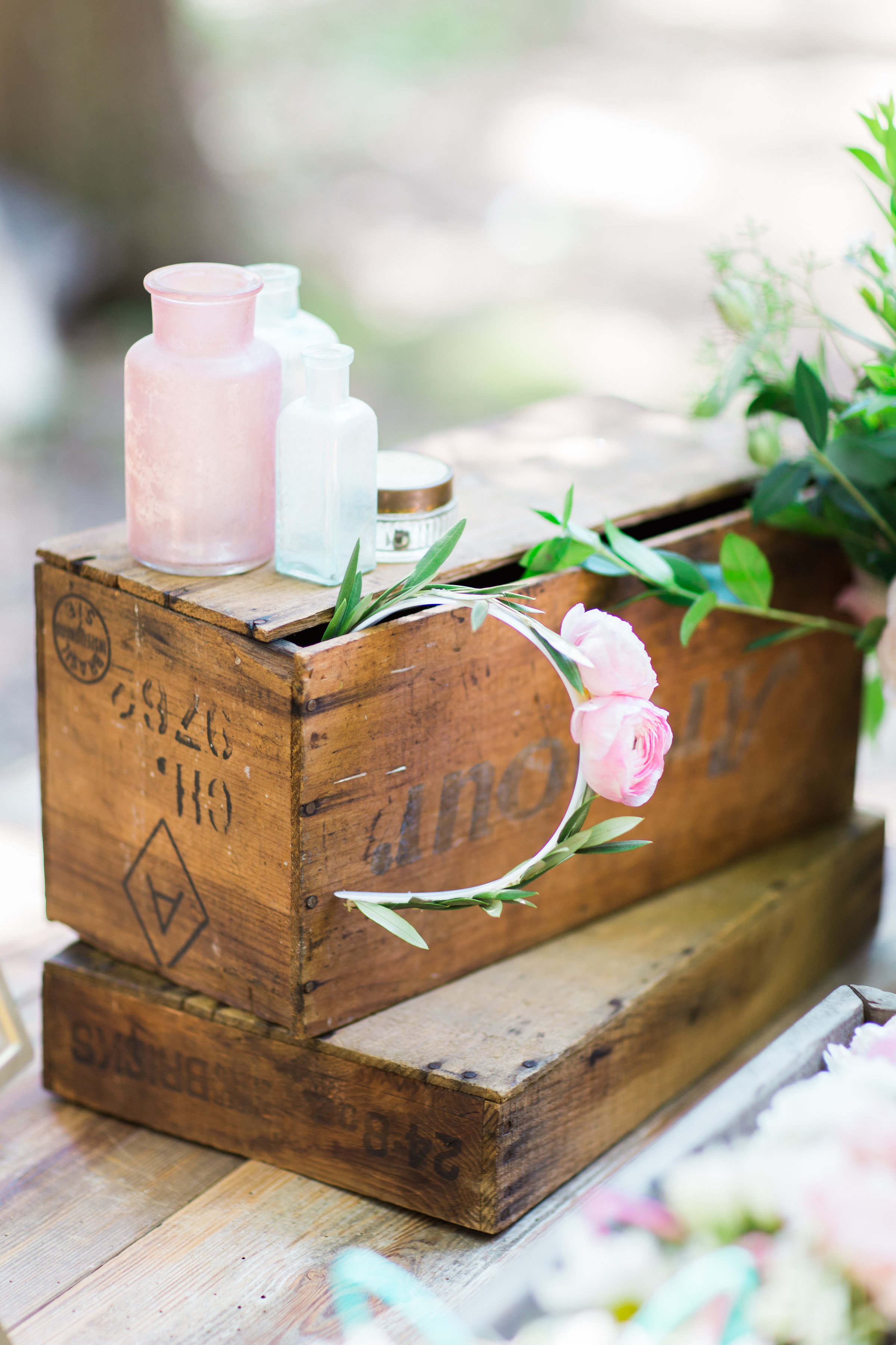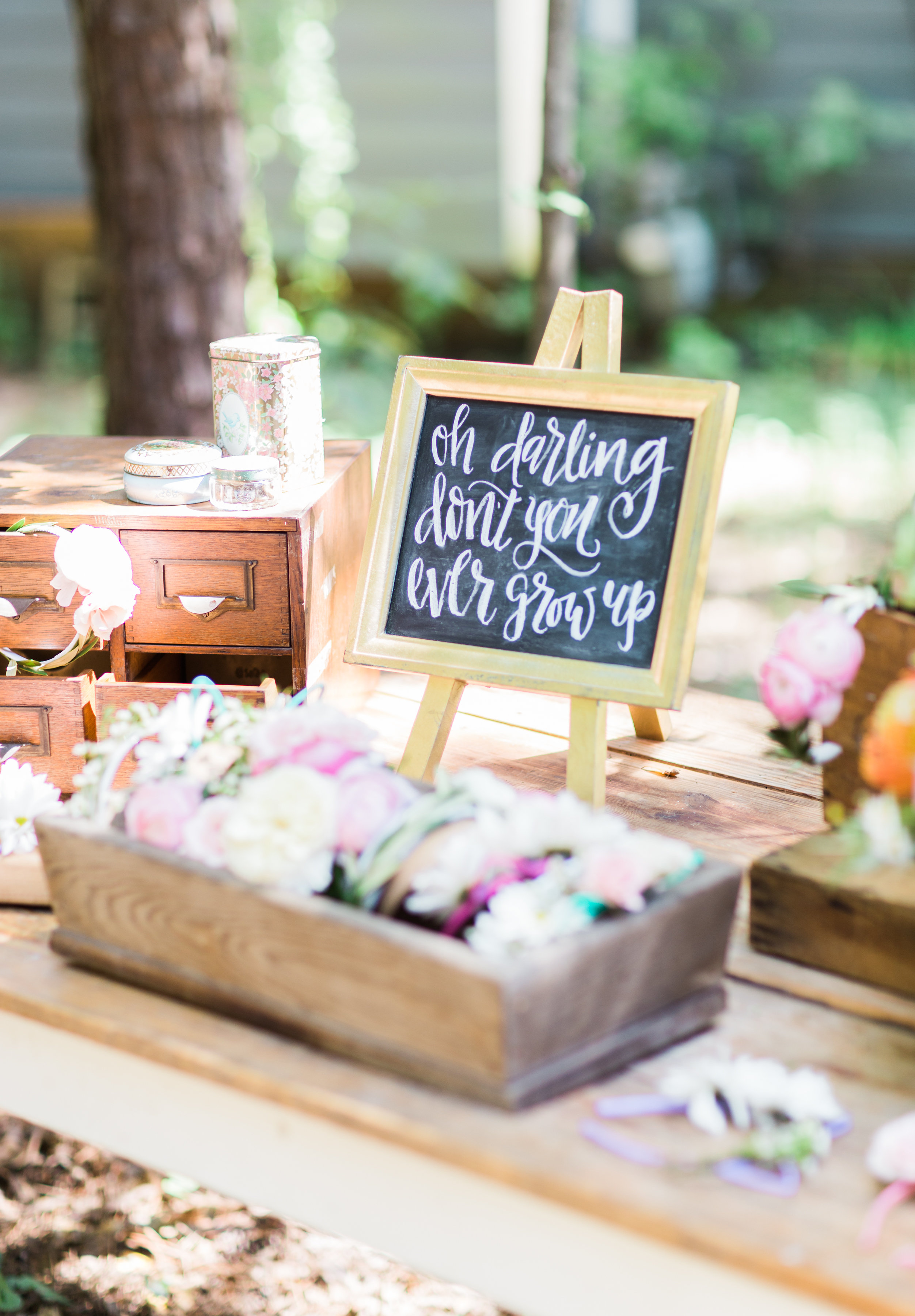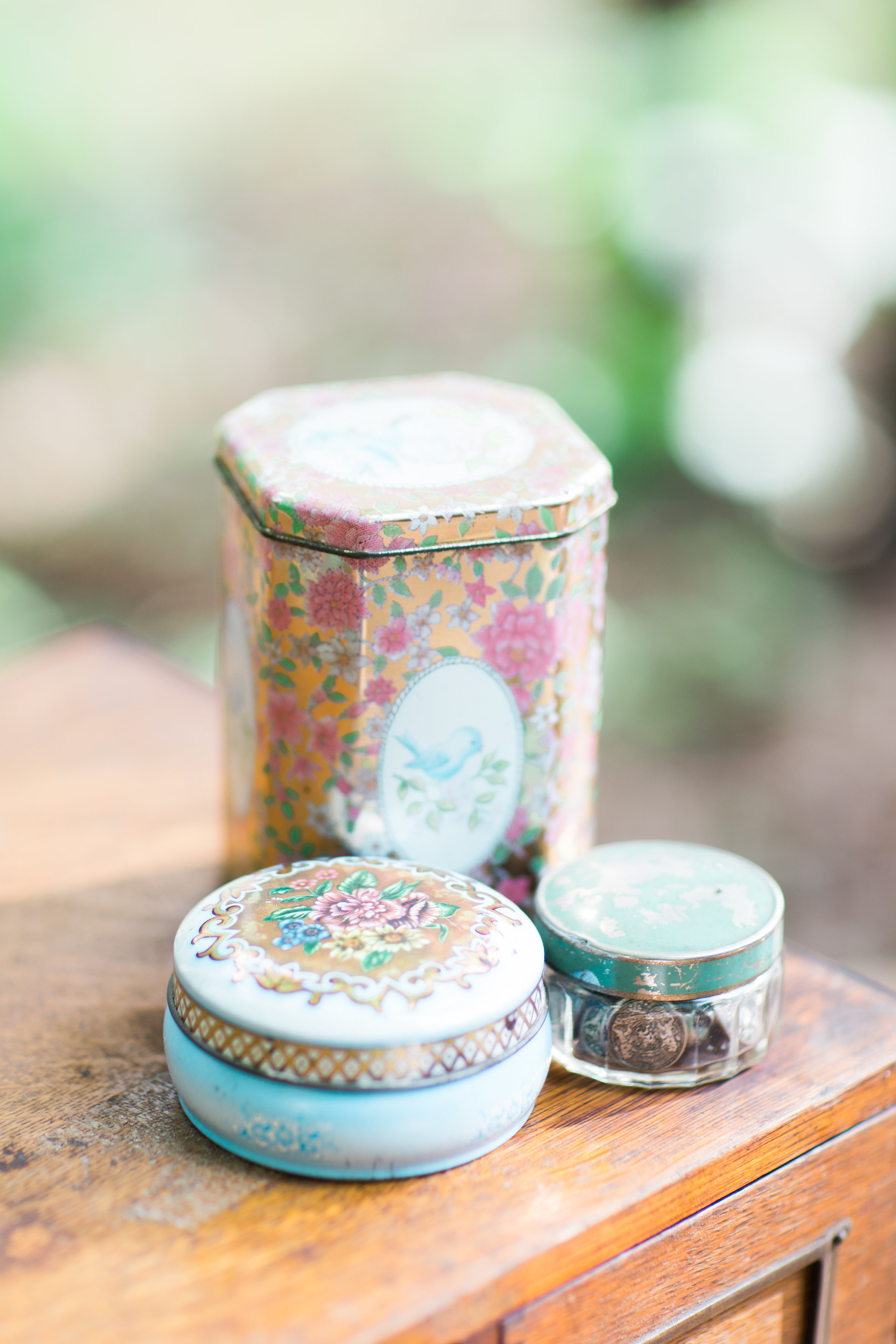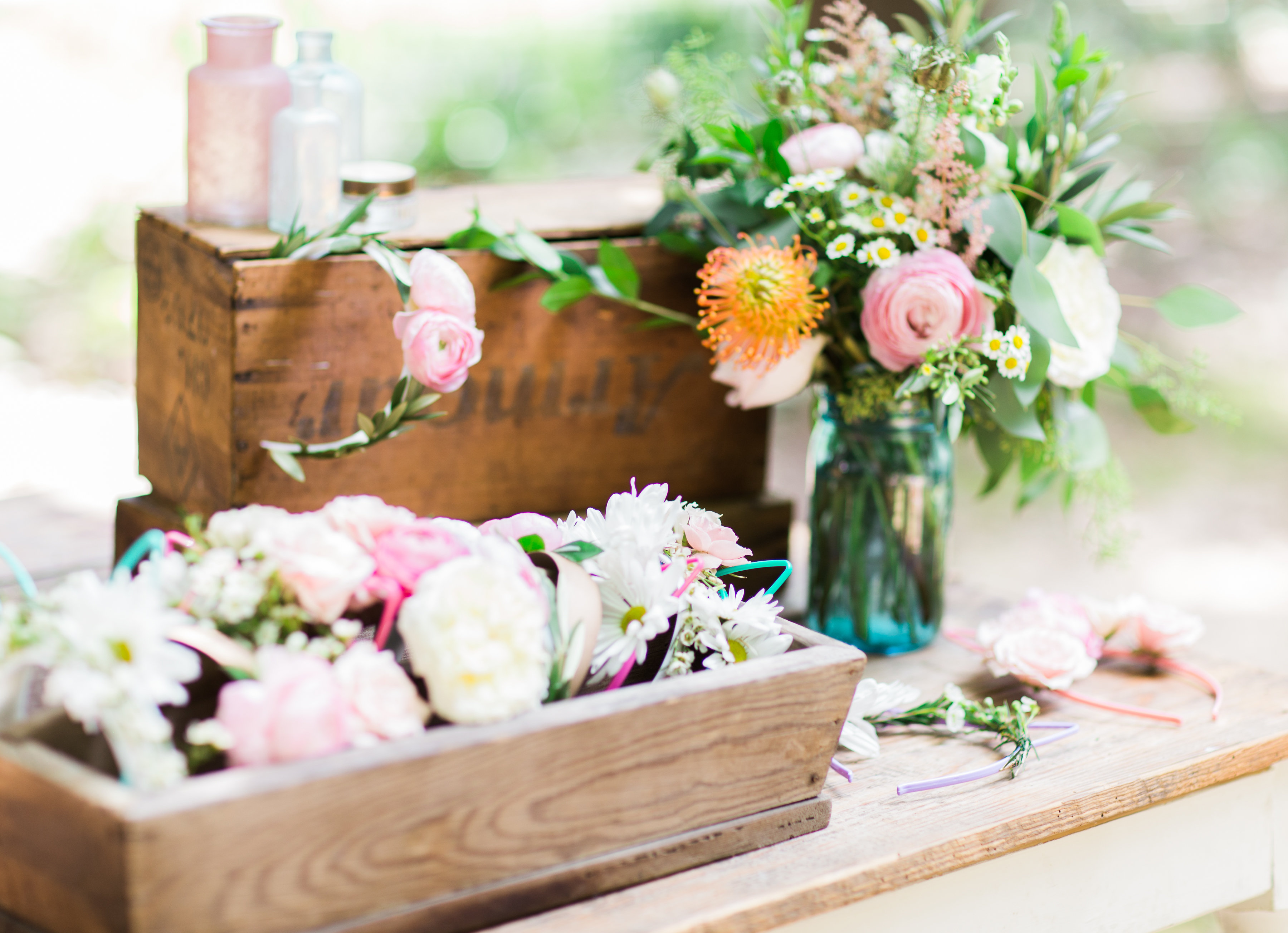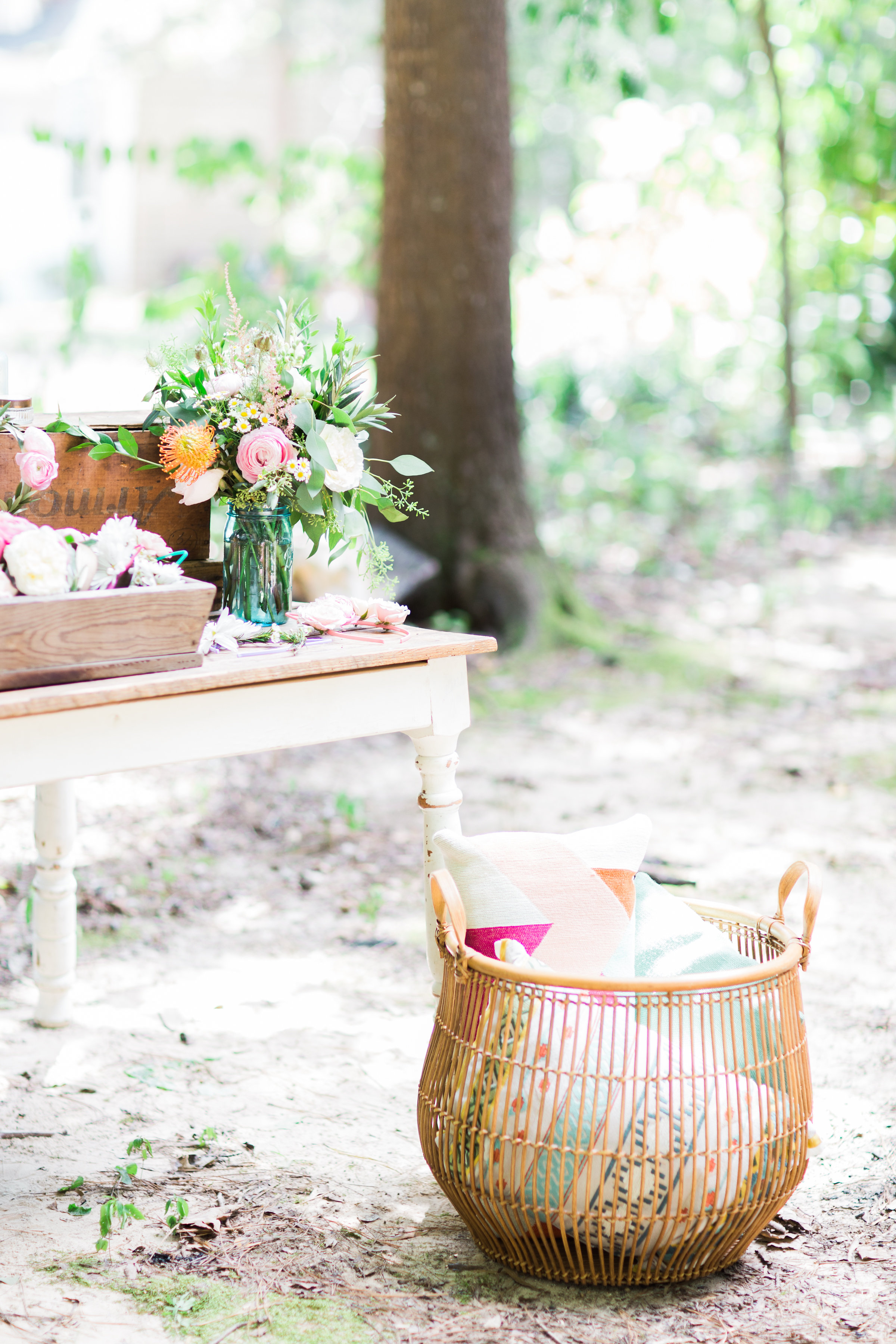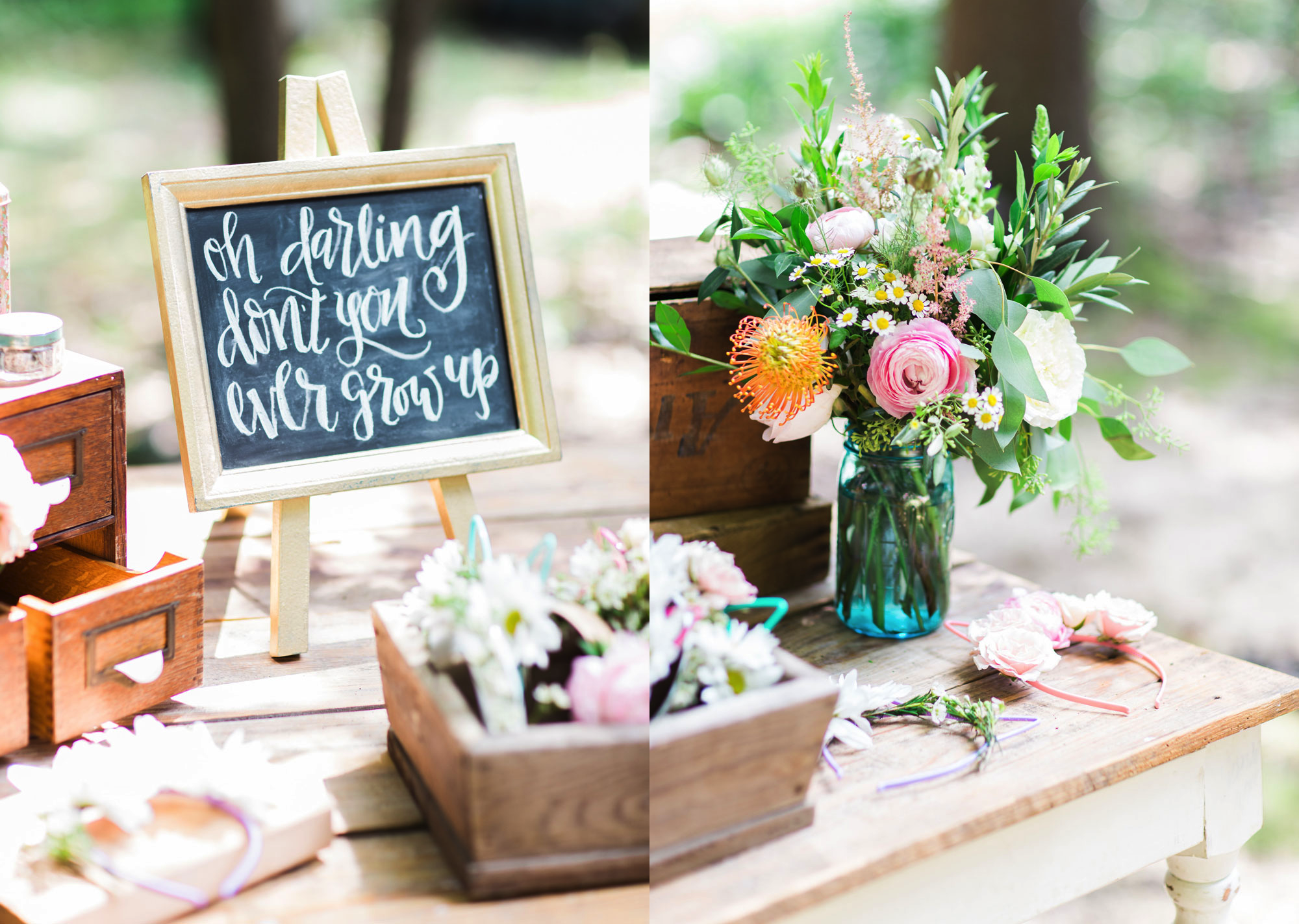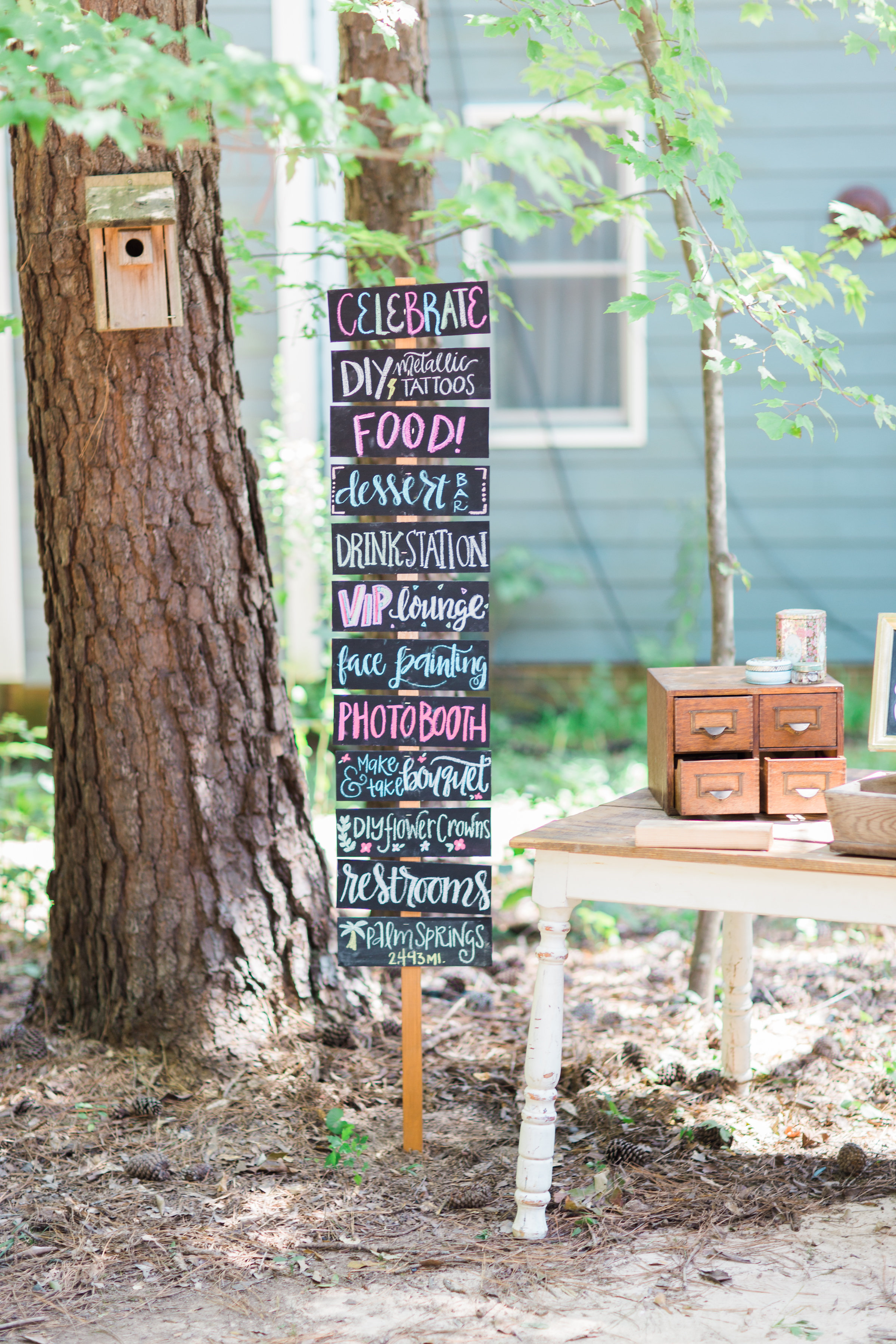 The kids went crazy for face (and arm) painting and the metallic tattoos were a huge hit with the adults too.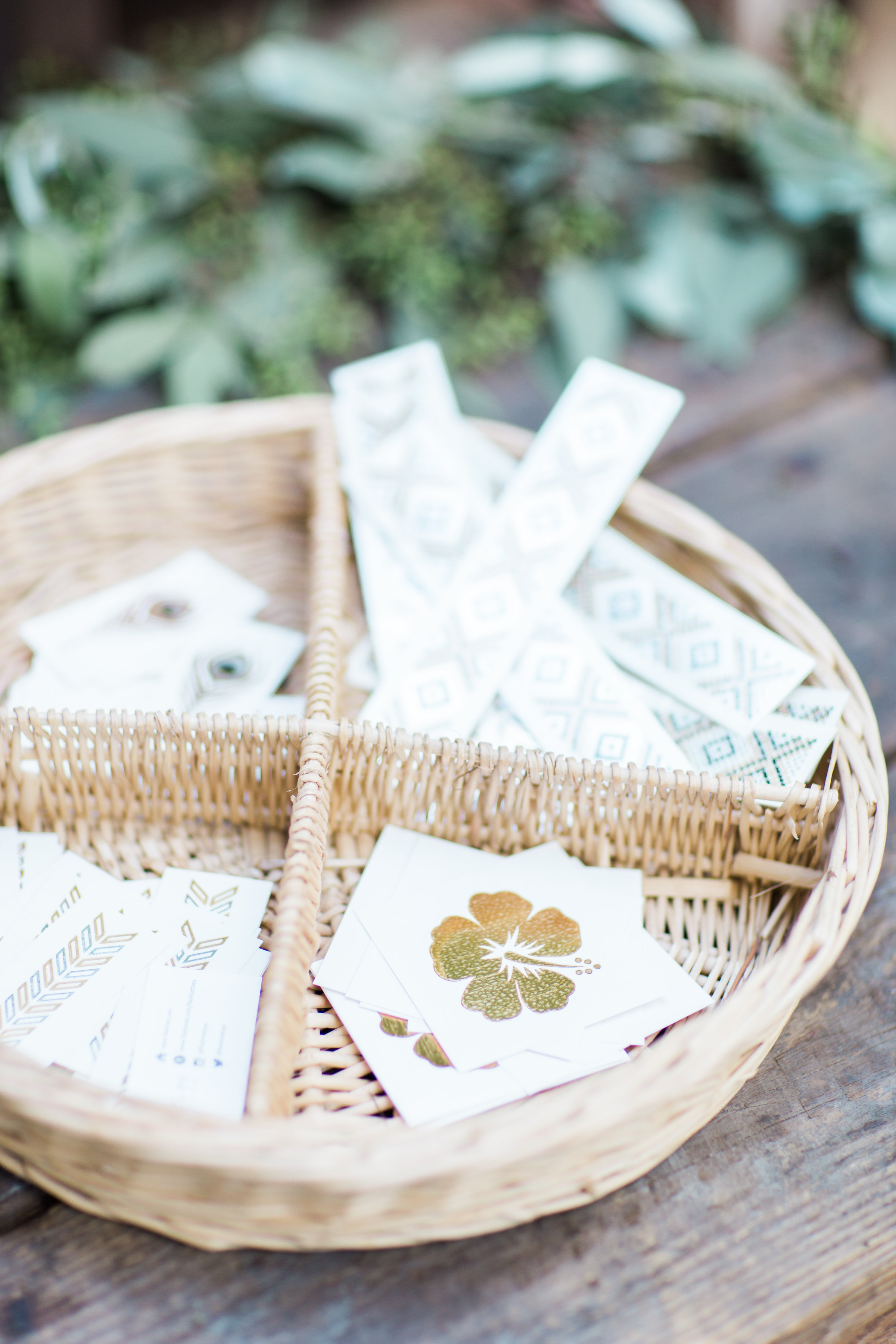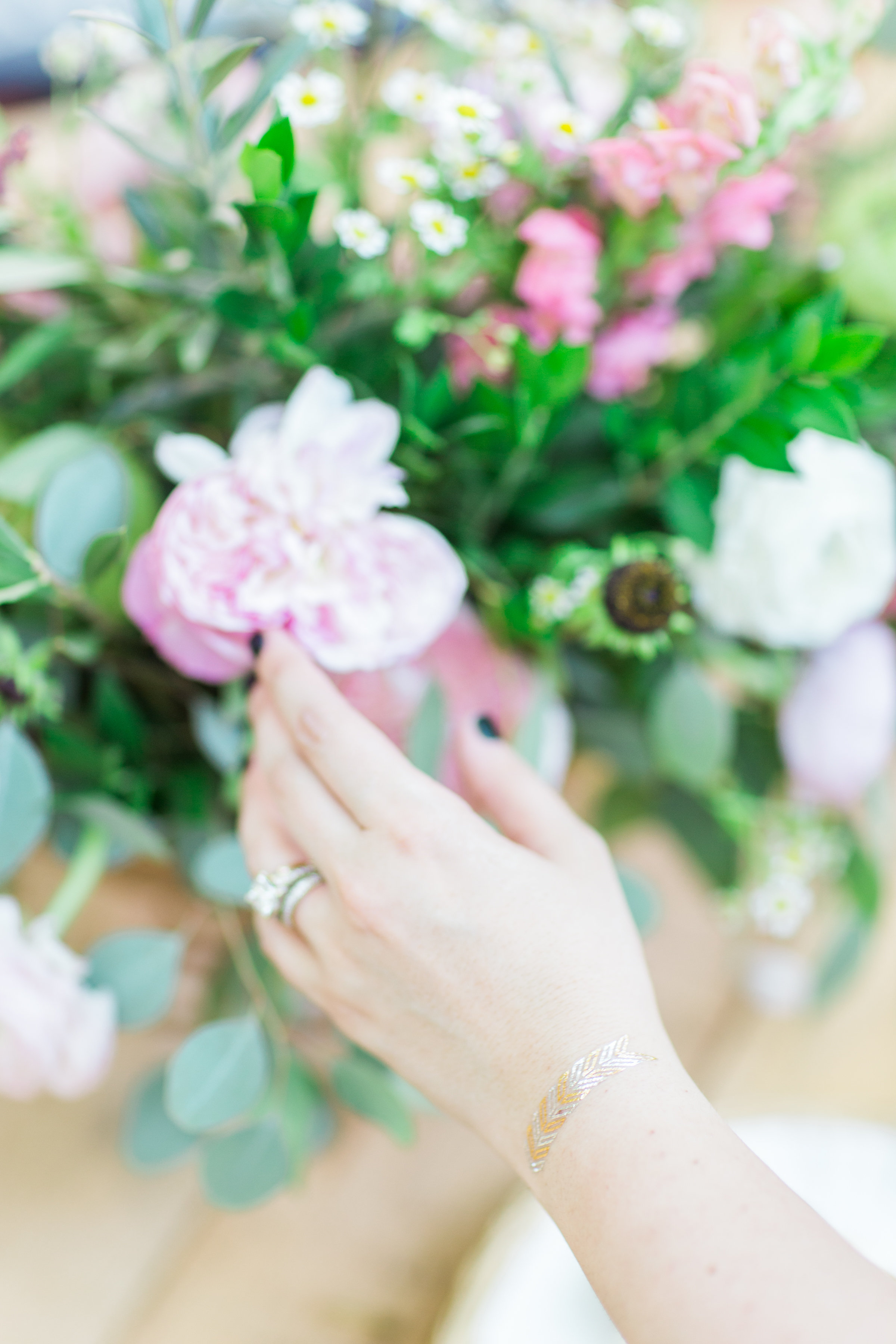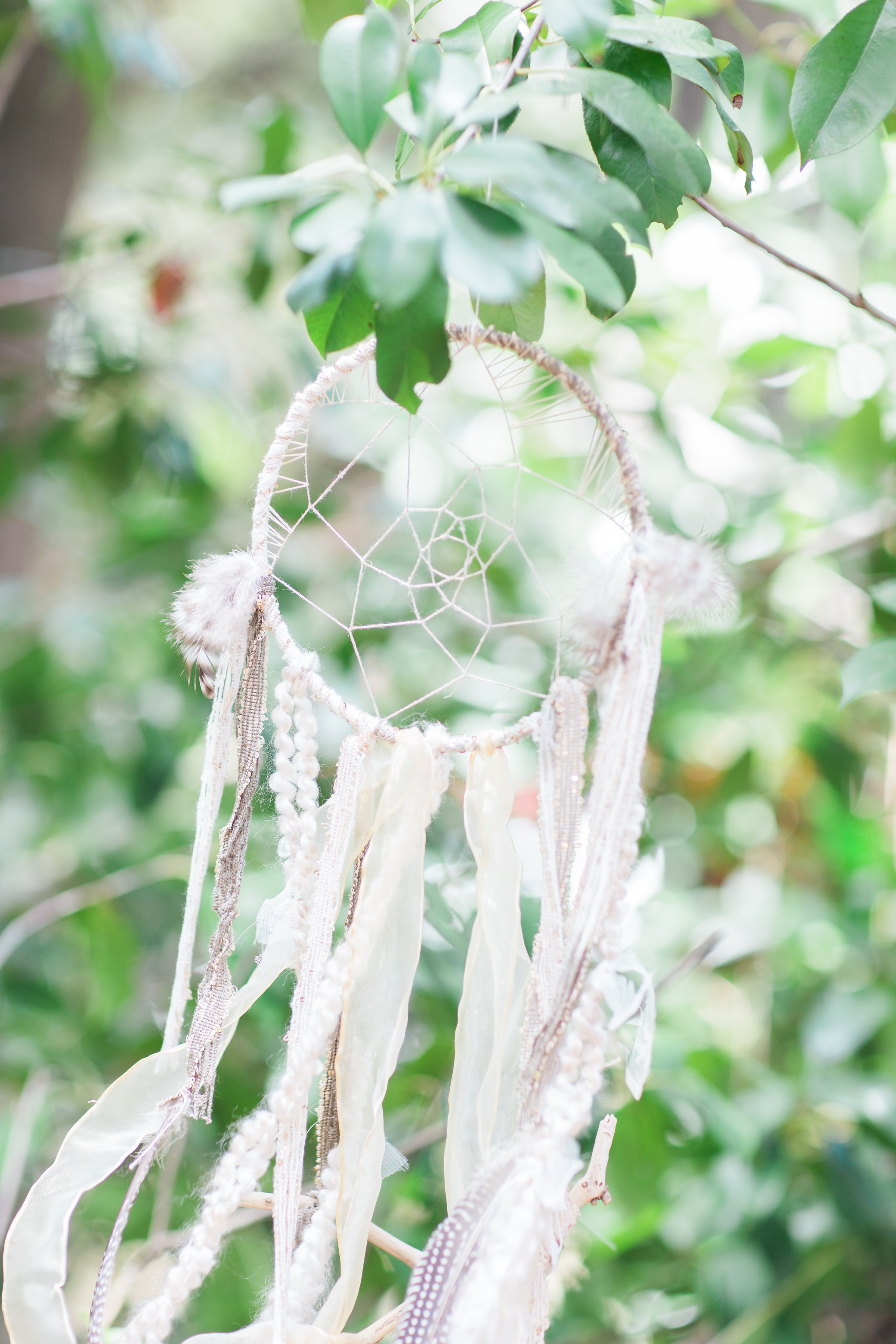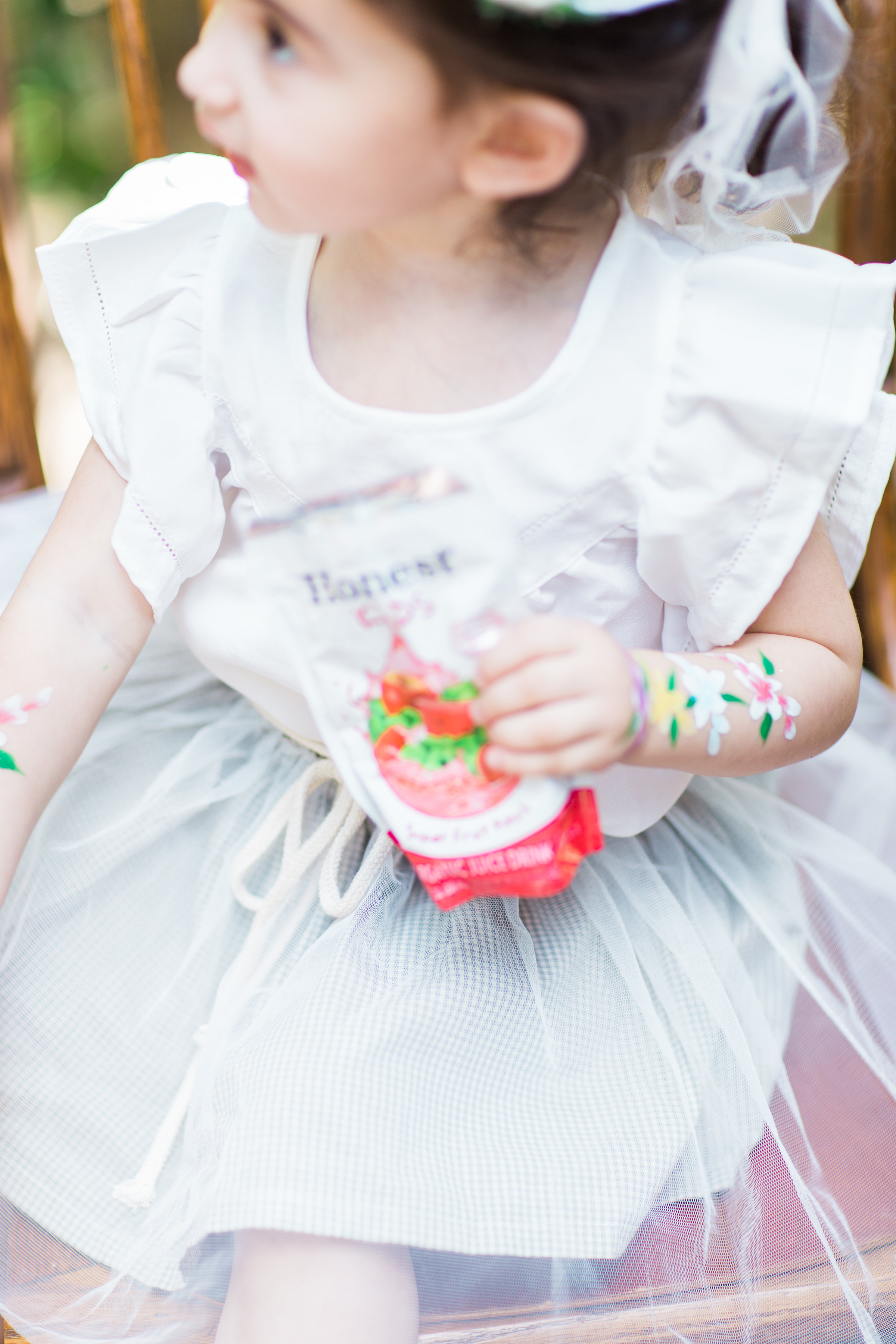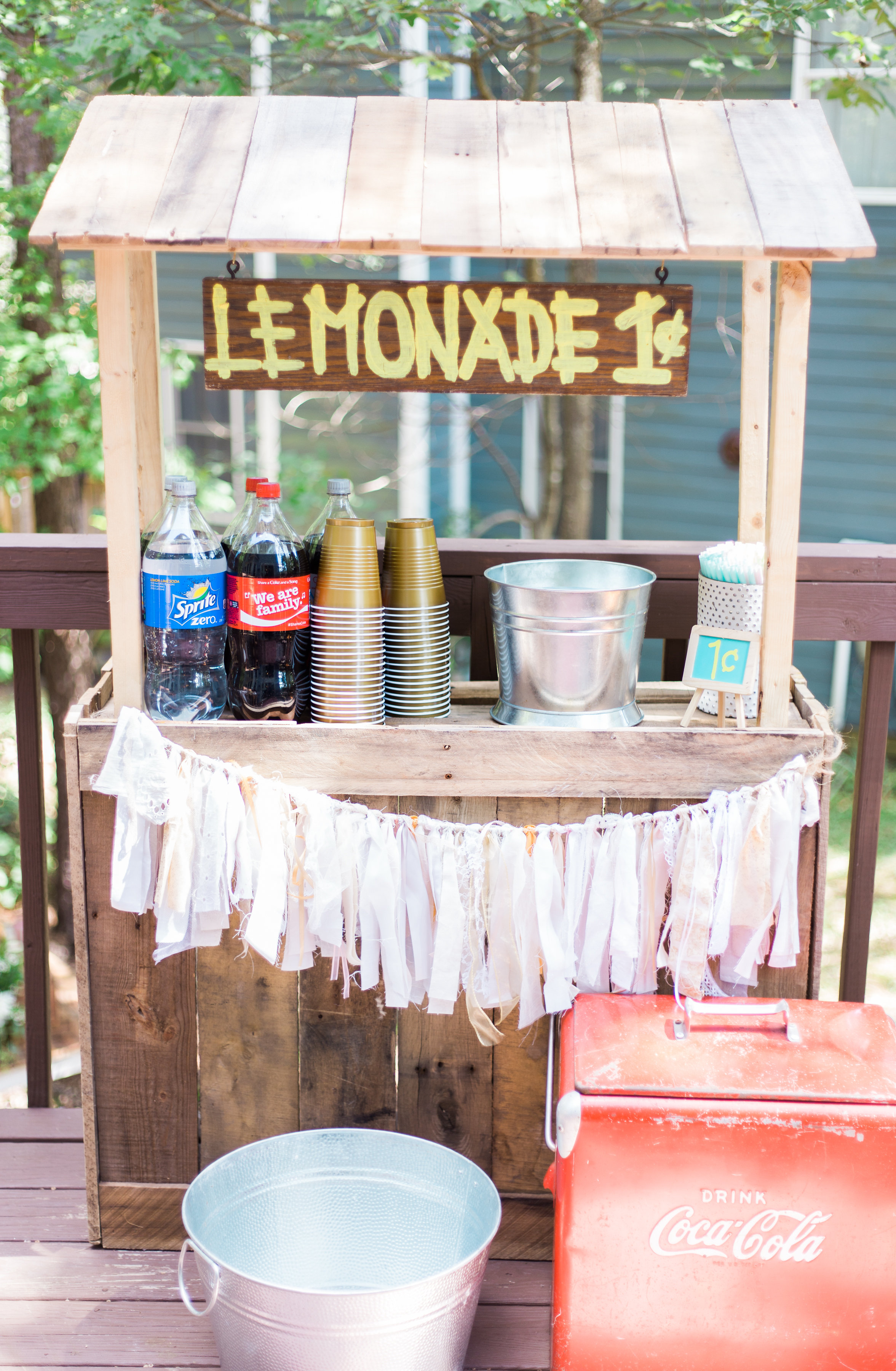 We had a "lemonade stand" for all of the drinks (juice boxes for the kids, sodas and craft beer for the rest of us.)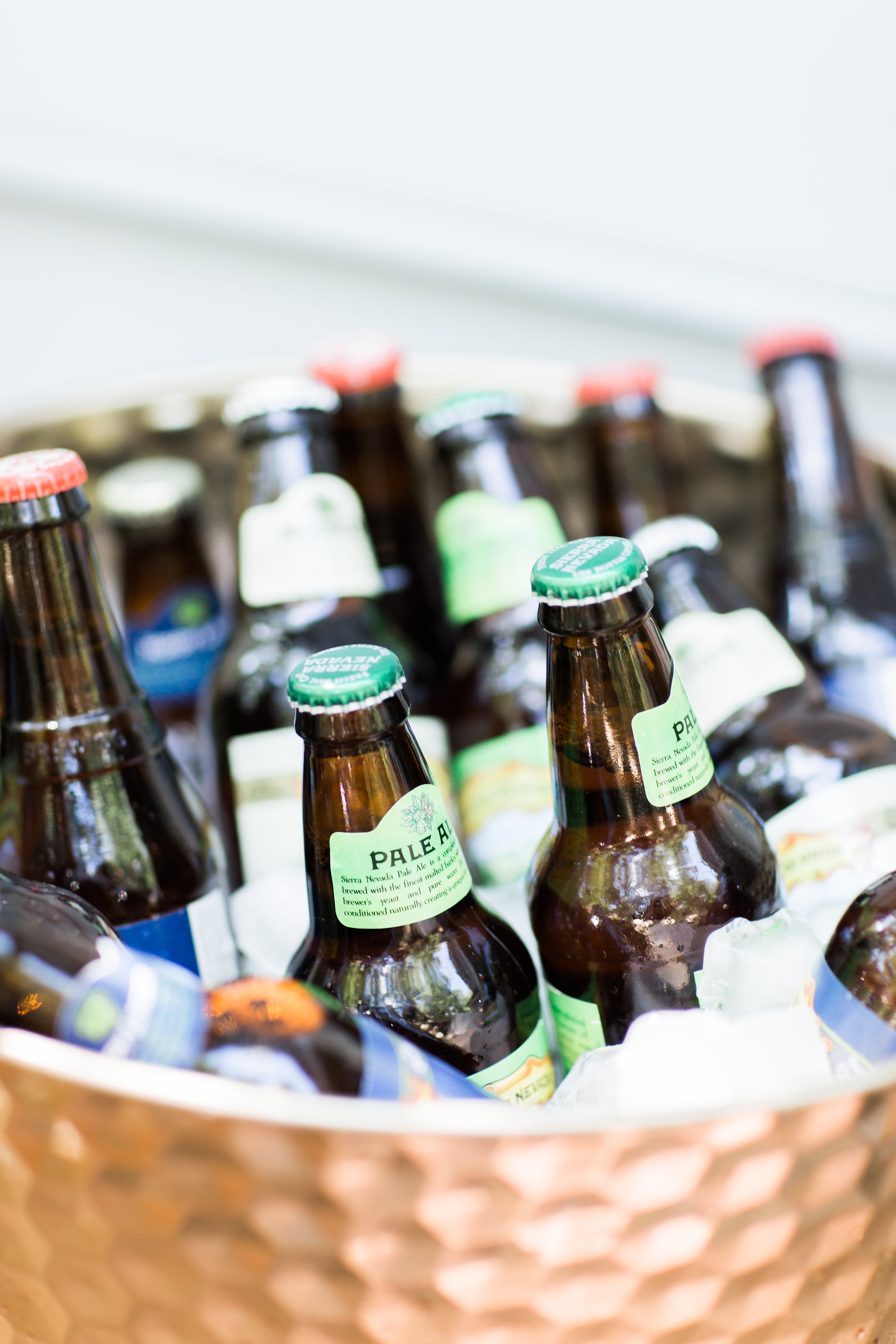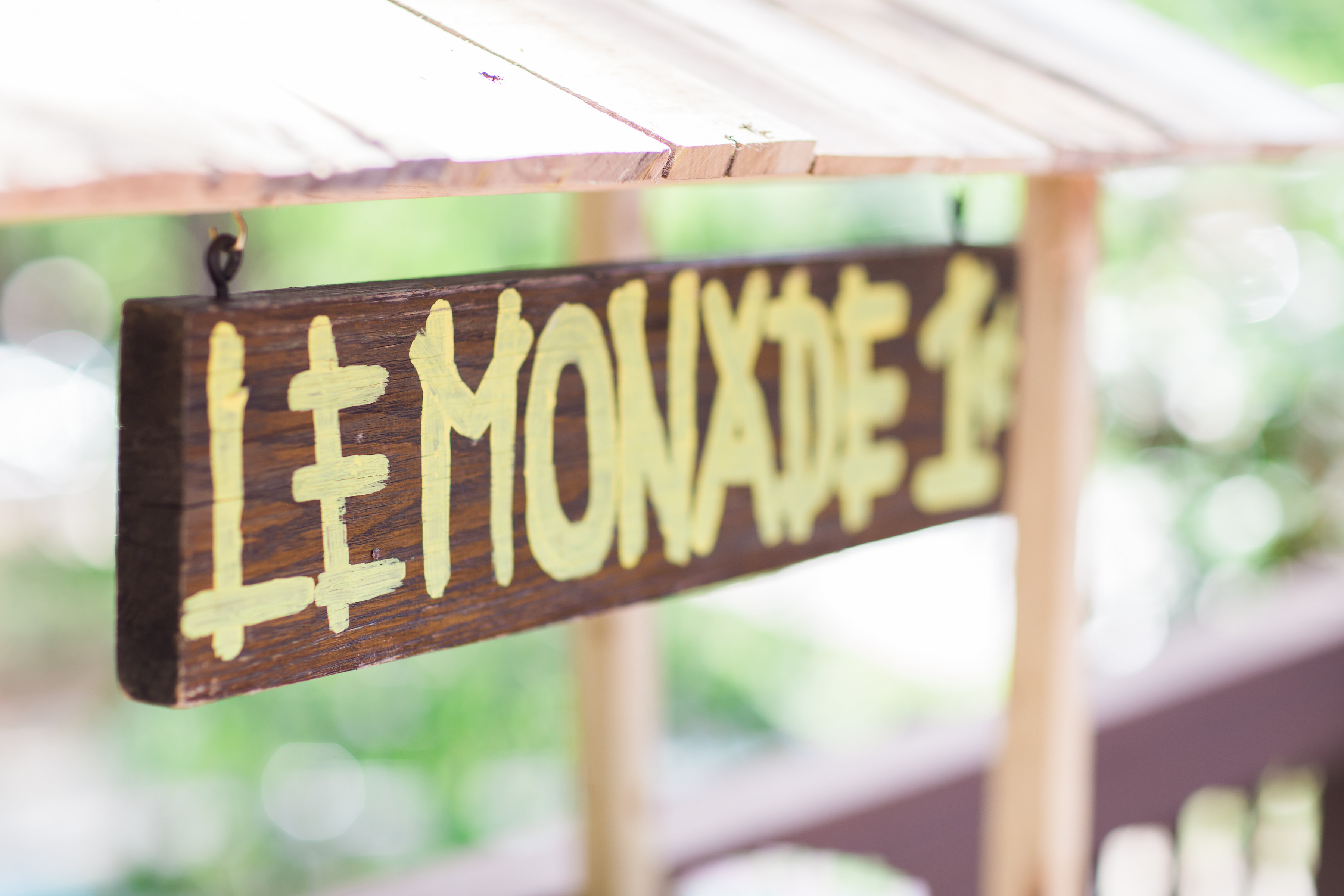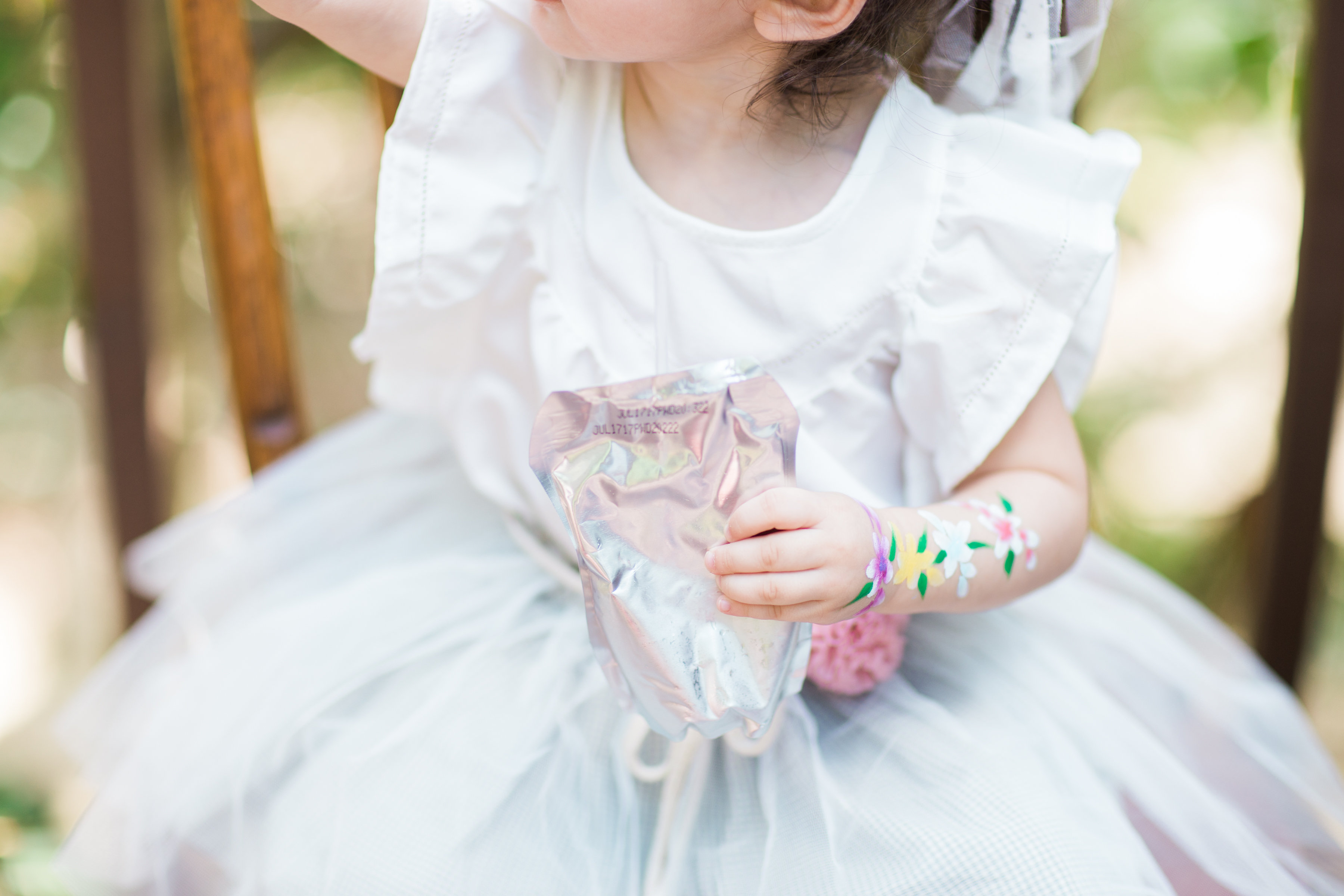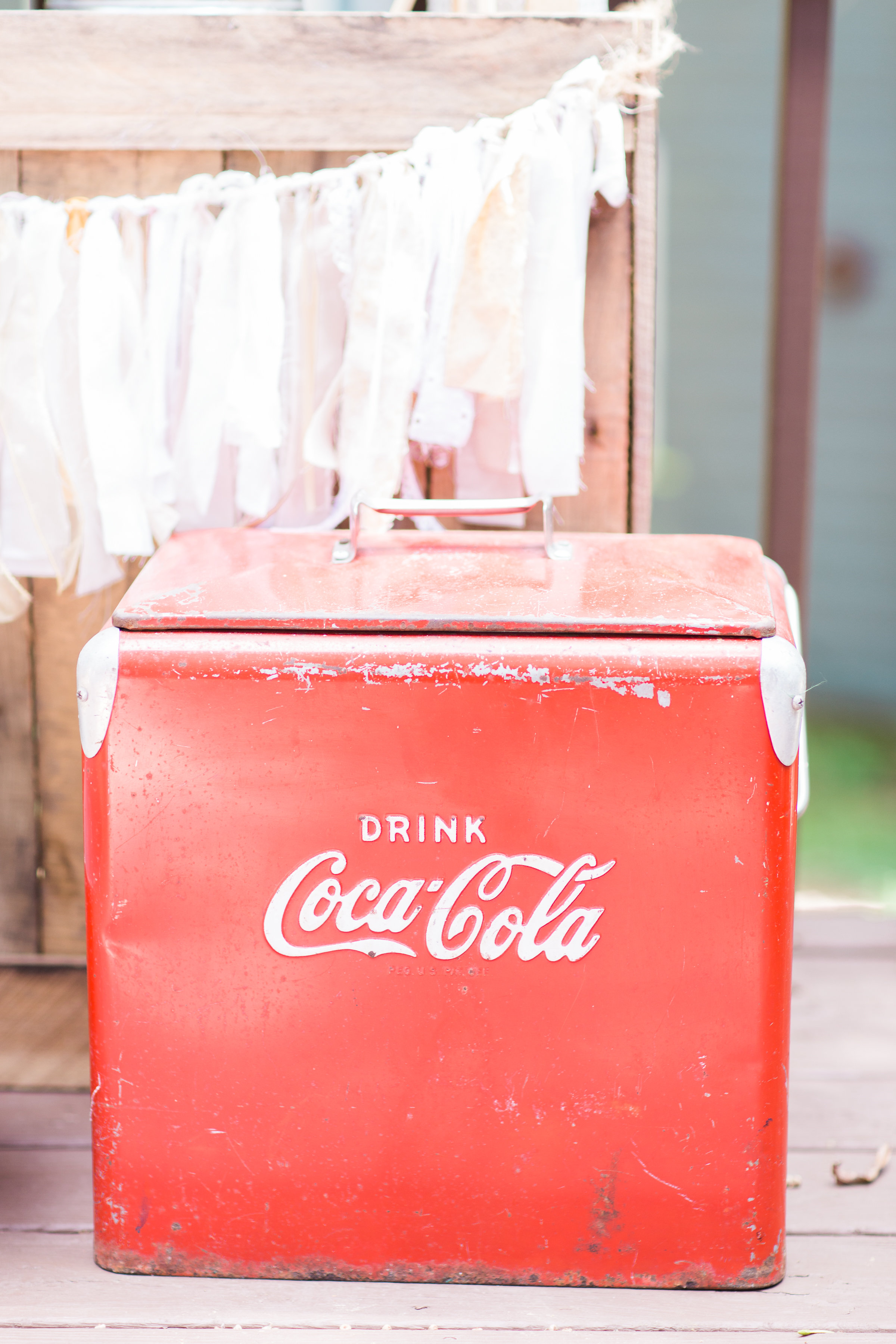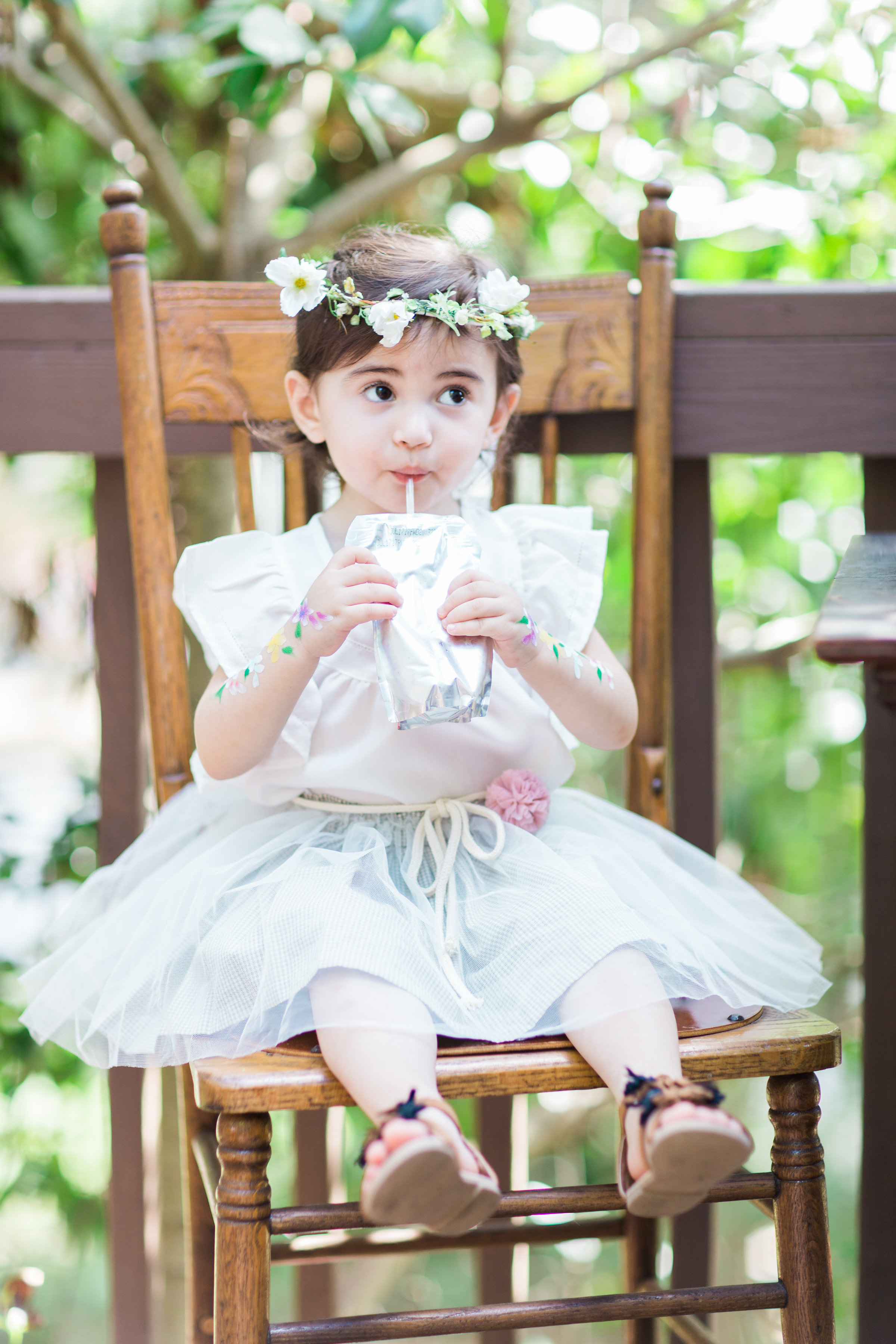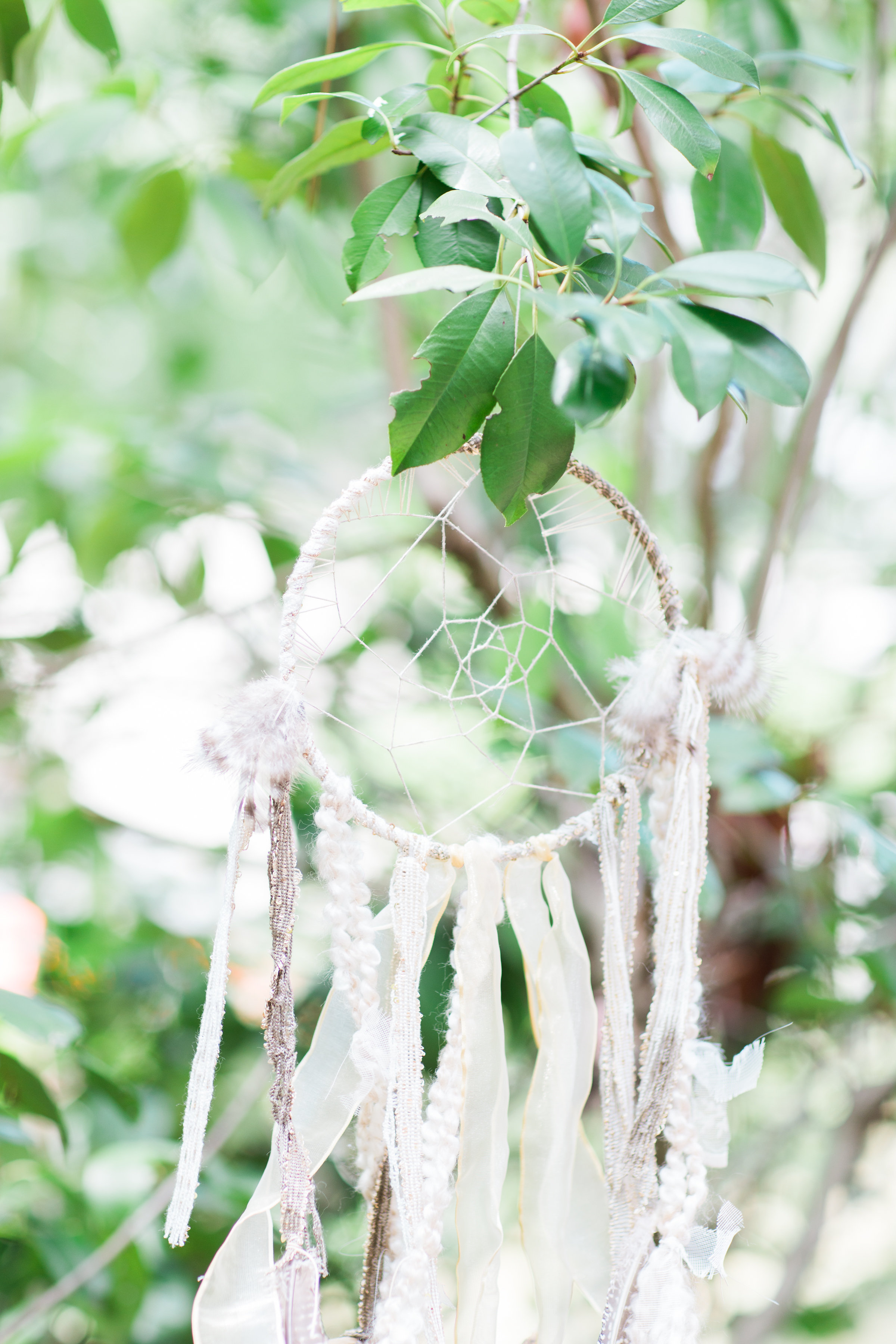 All of the incredible hand-lettered signs were created by Sarah of Bella Joviality.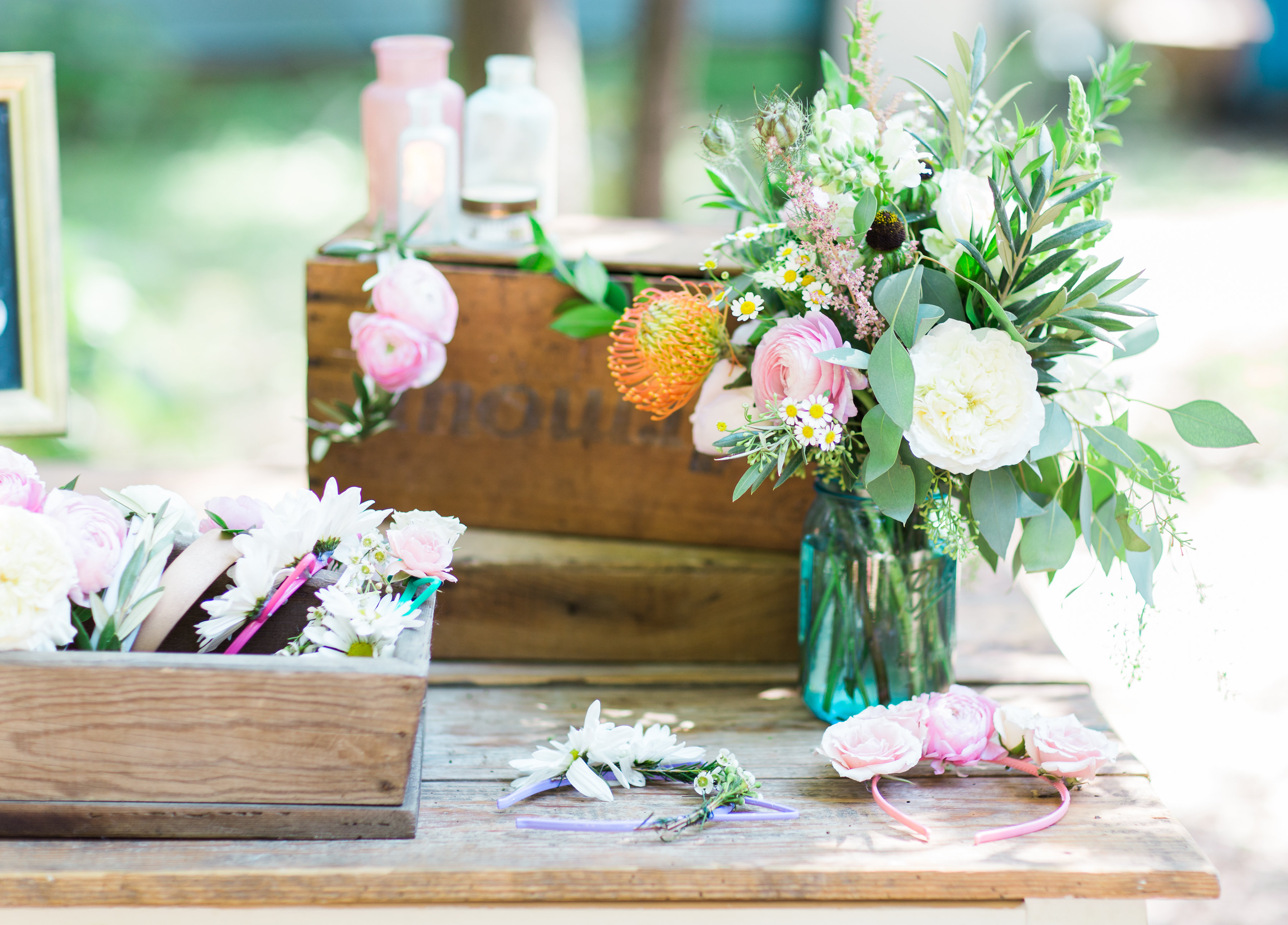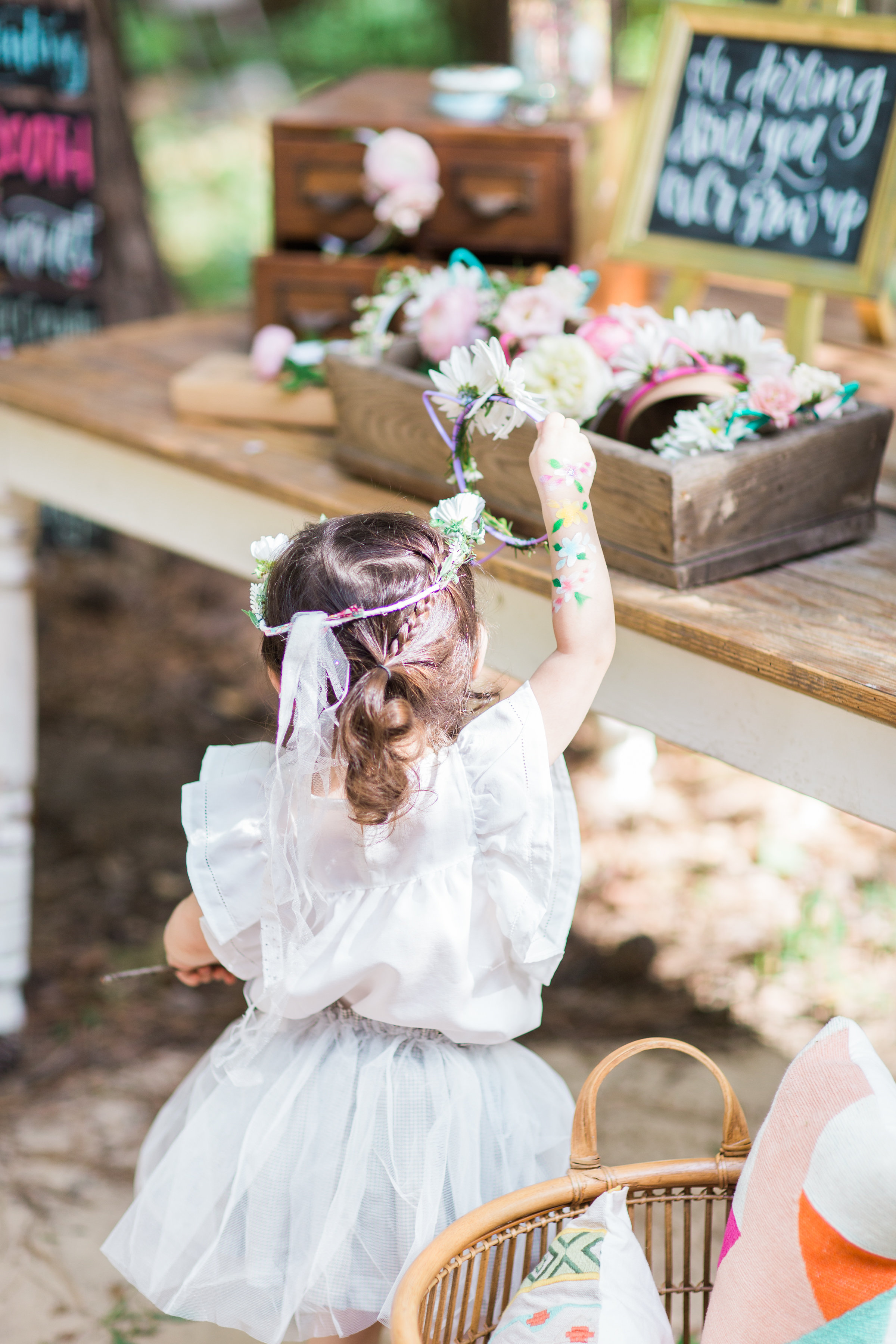 The menu was chock full of Southern favorites: homemade macaroni and cheese (my Mama's recipe), fried chicken, shrimp, artichoke dip, plenty of veggies and fruit, and a huge dessert bar complete with strawberry shortcake, vegan chocolate cake, classic trail mix, cherry handpies and strawberry cake and peach cobbler shooters.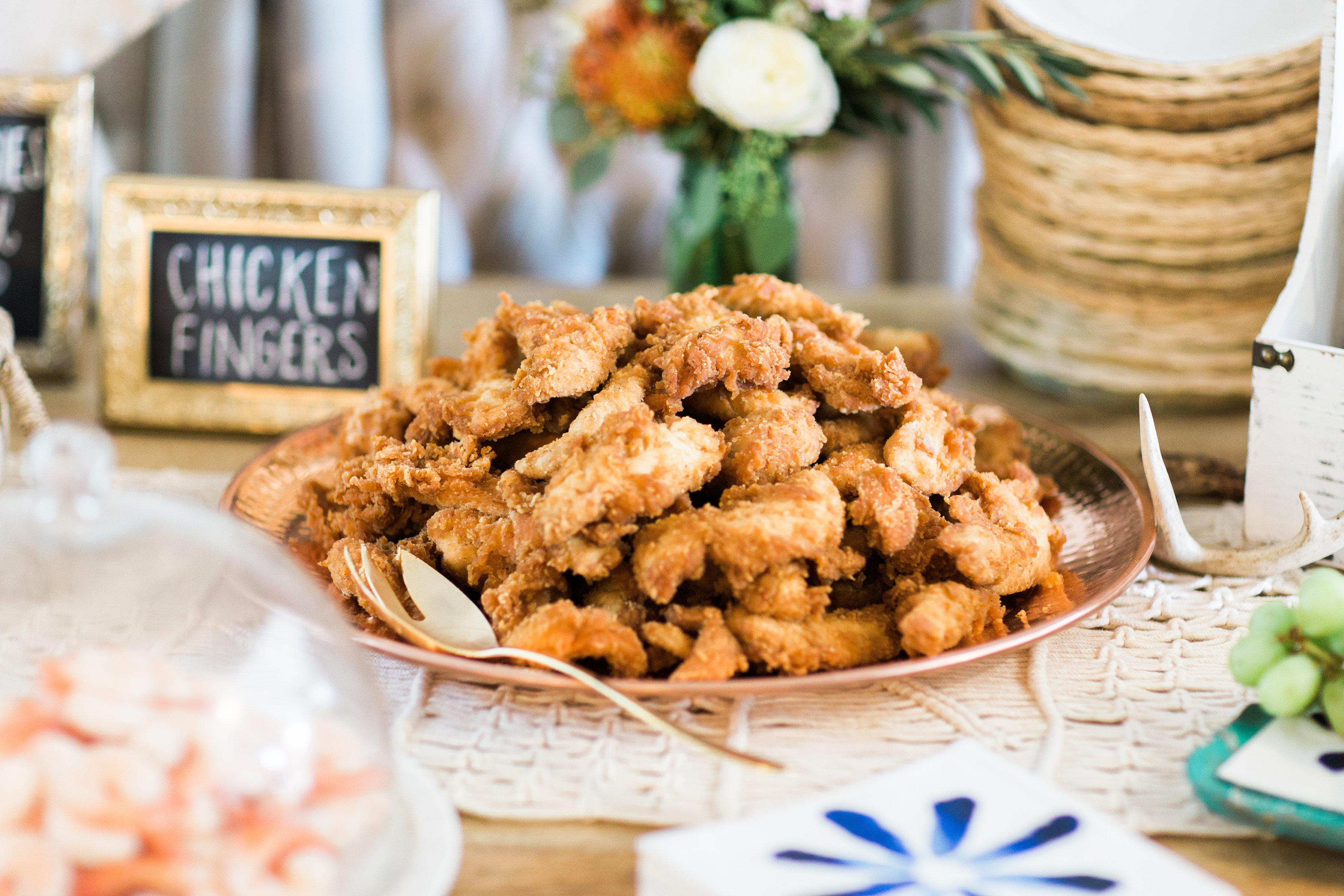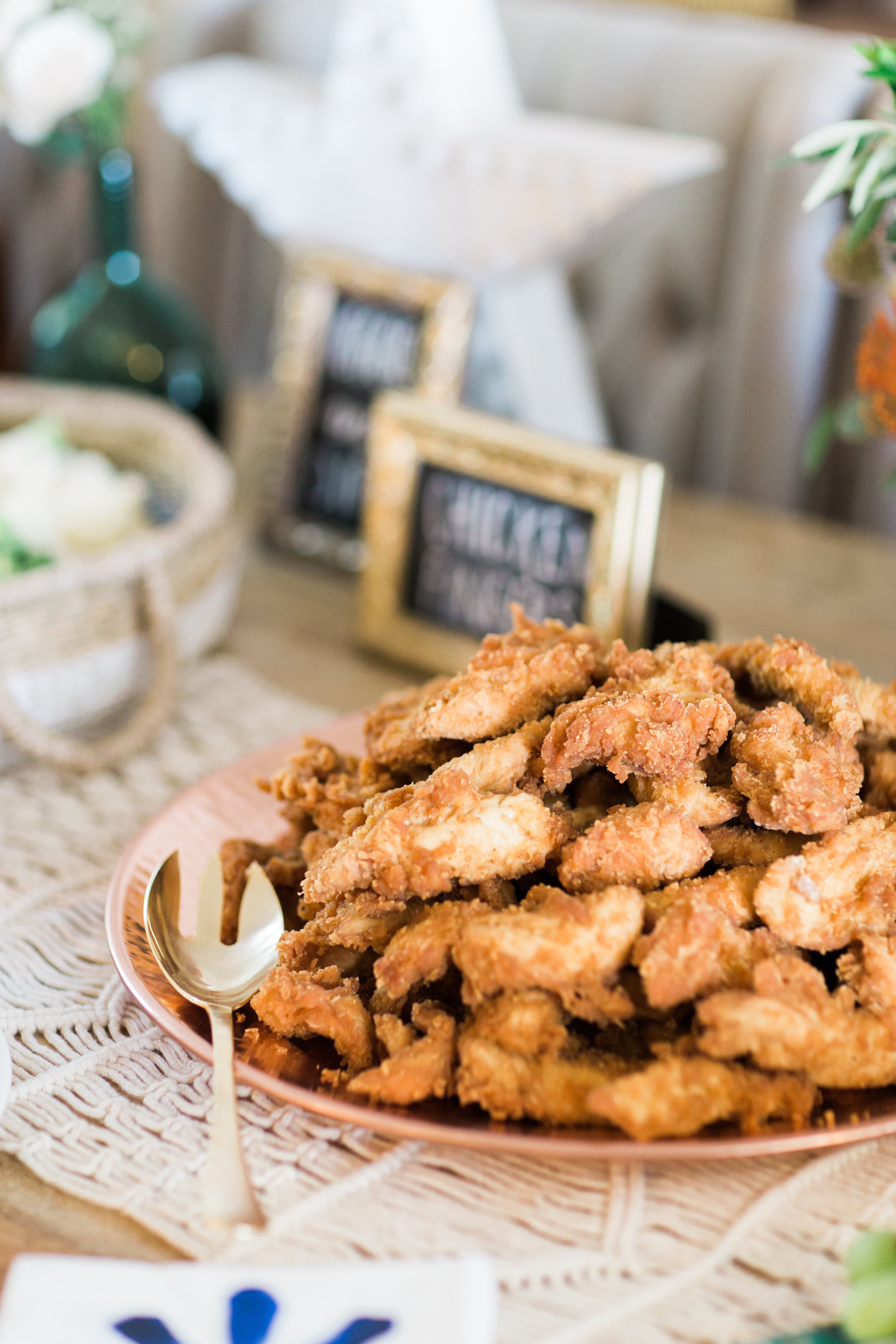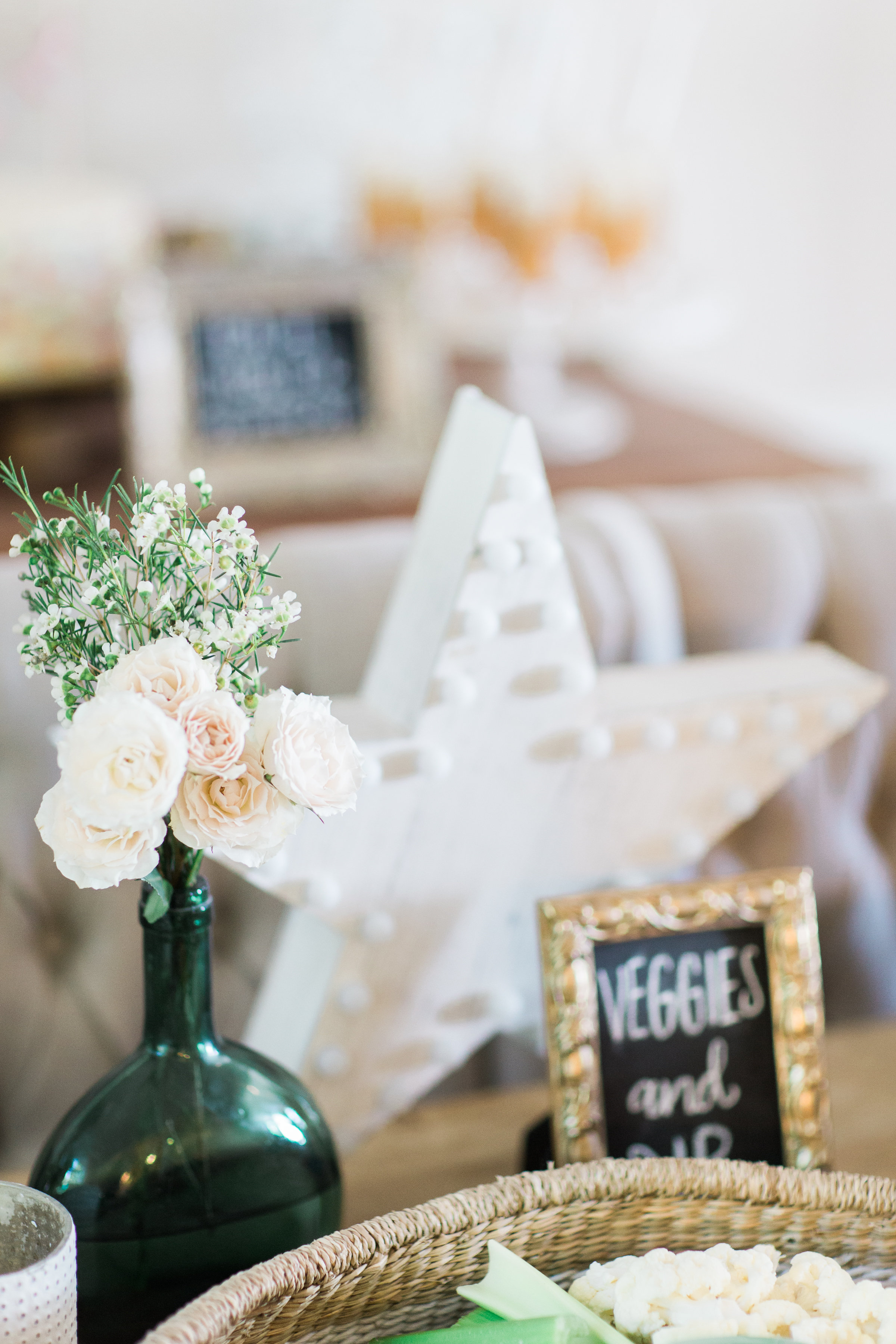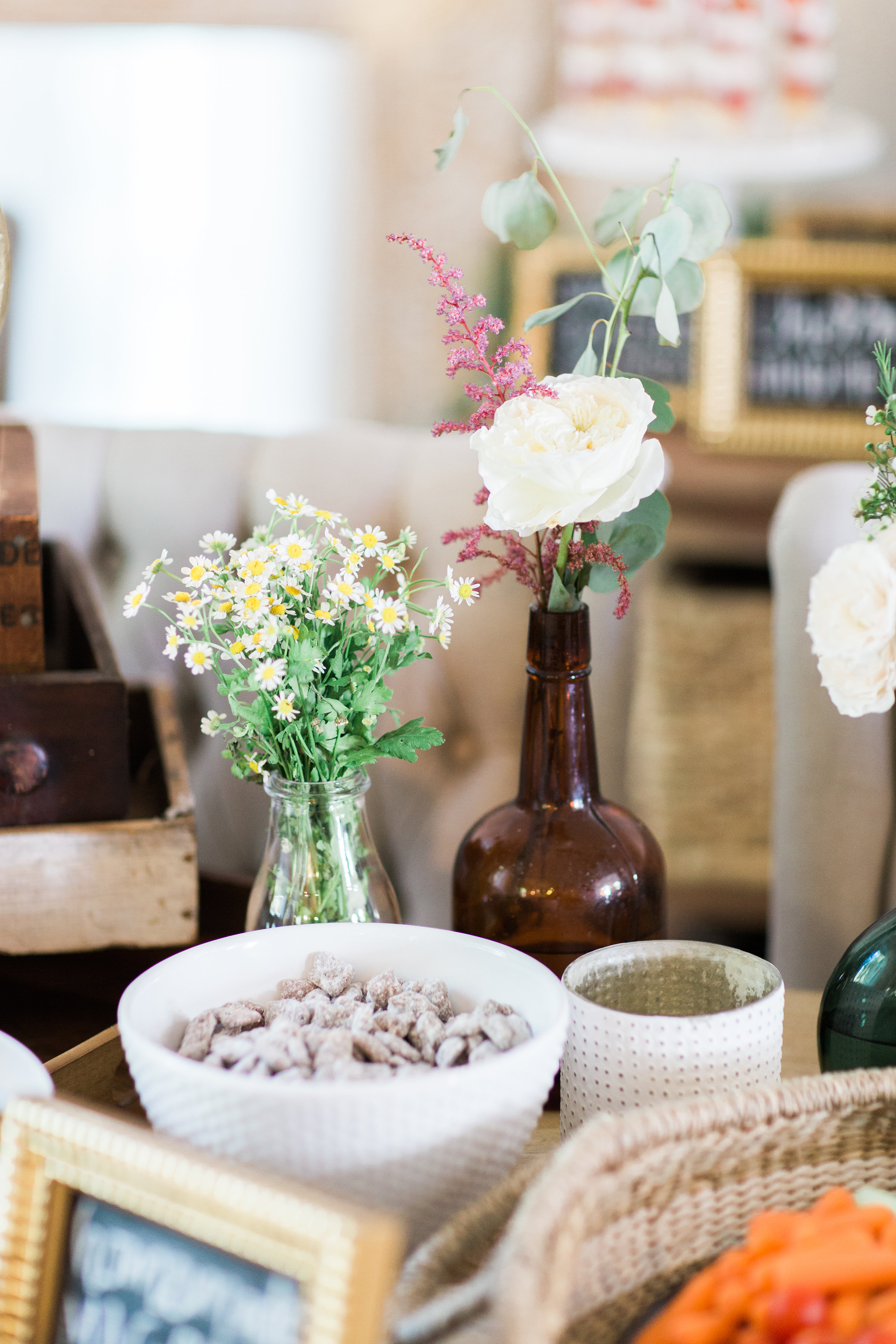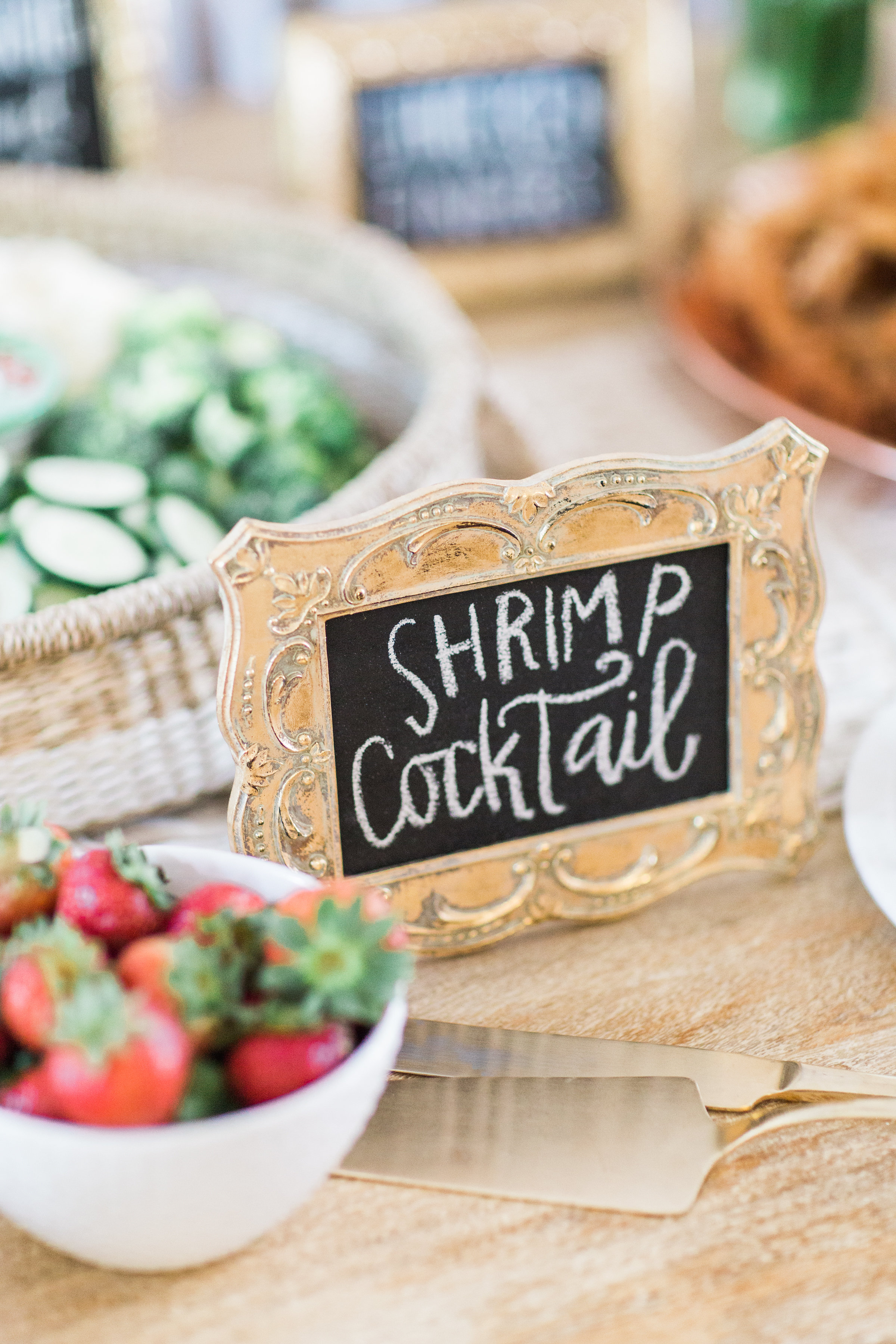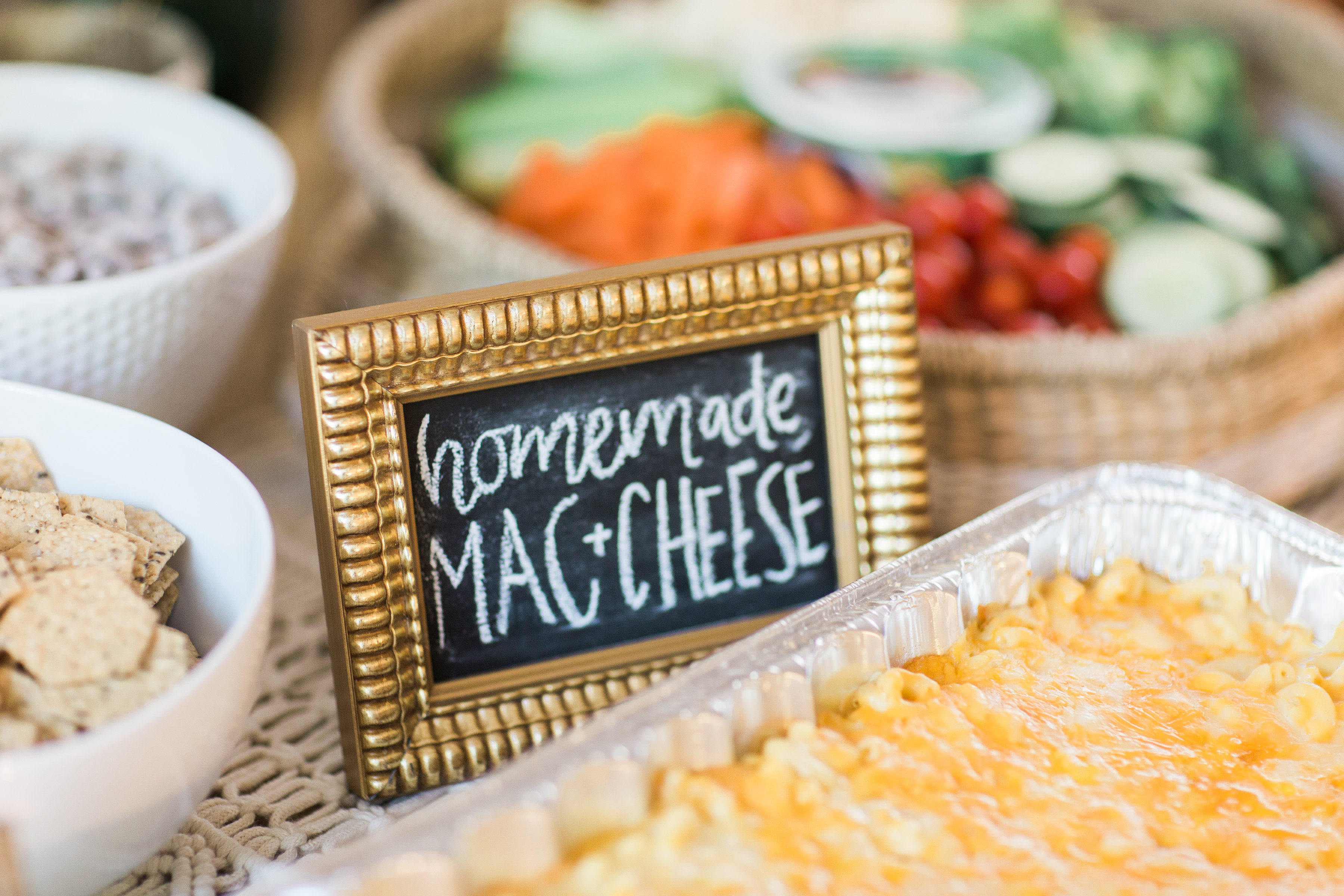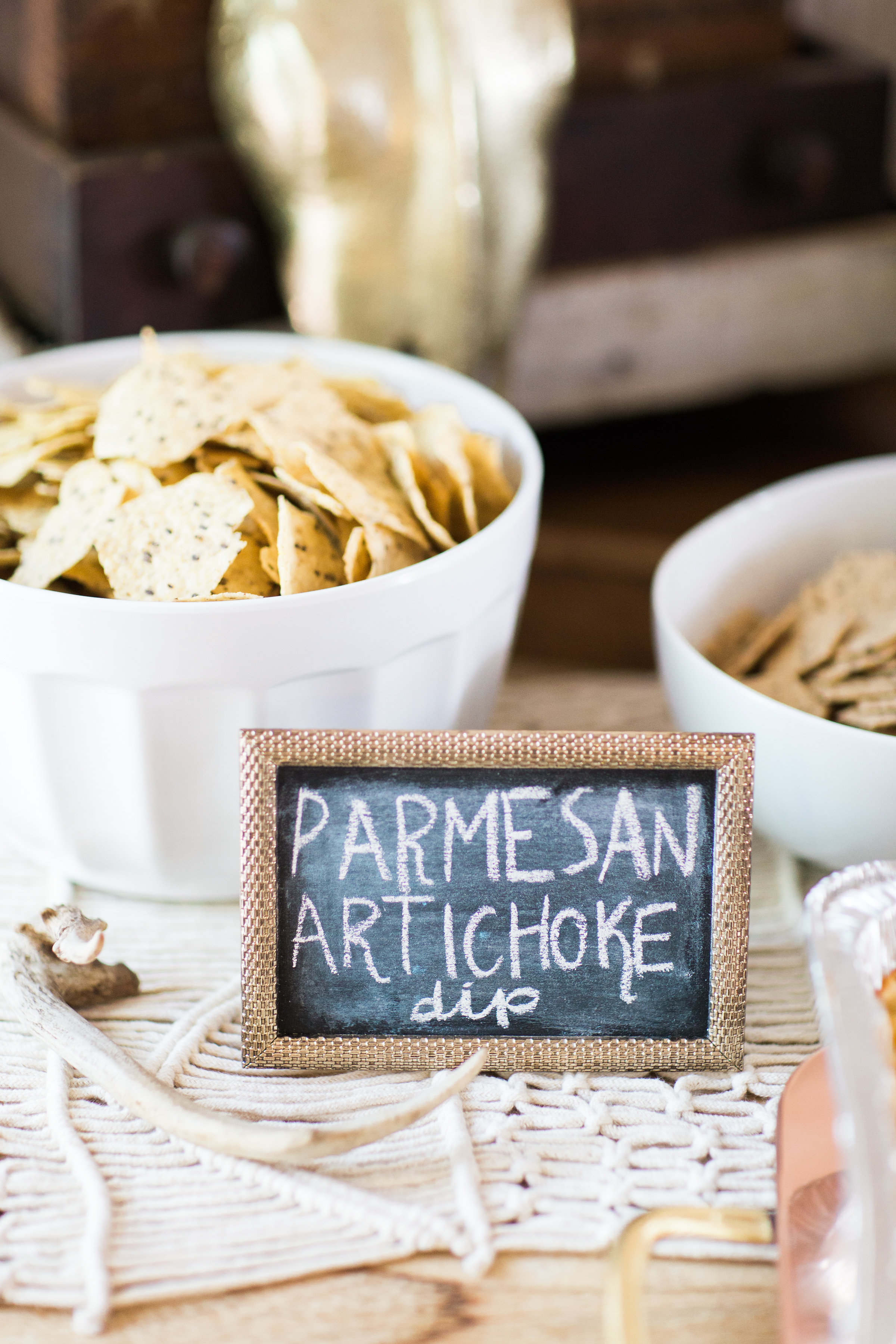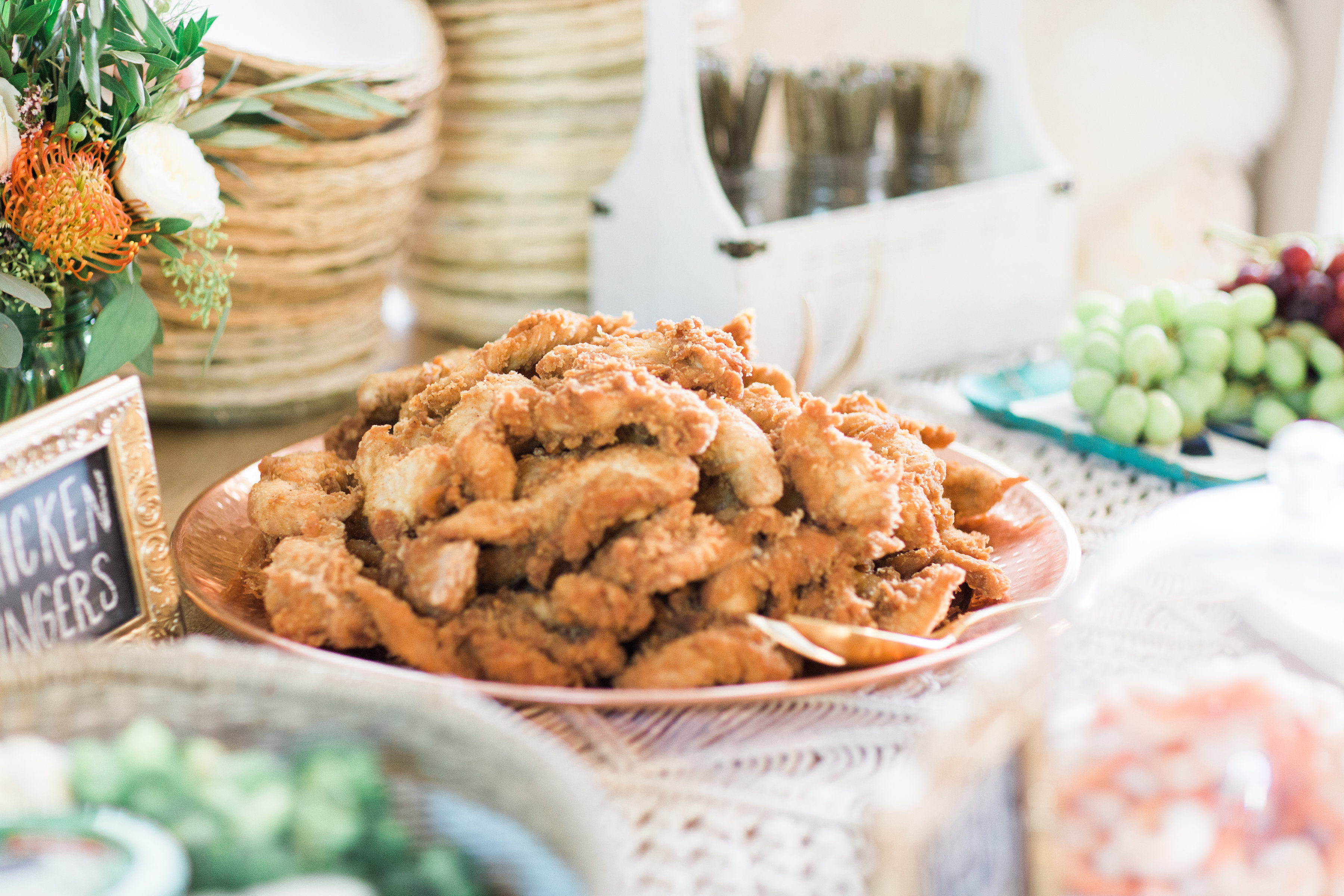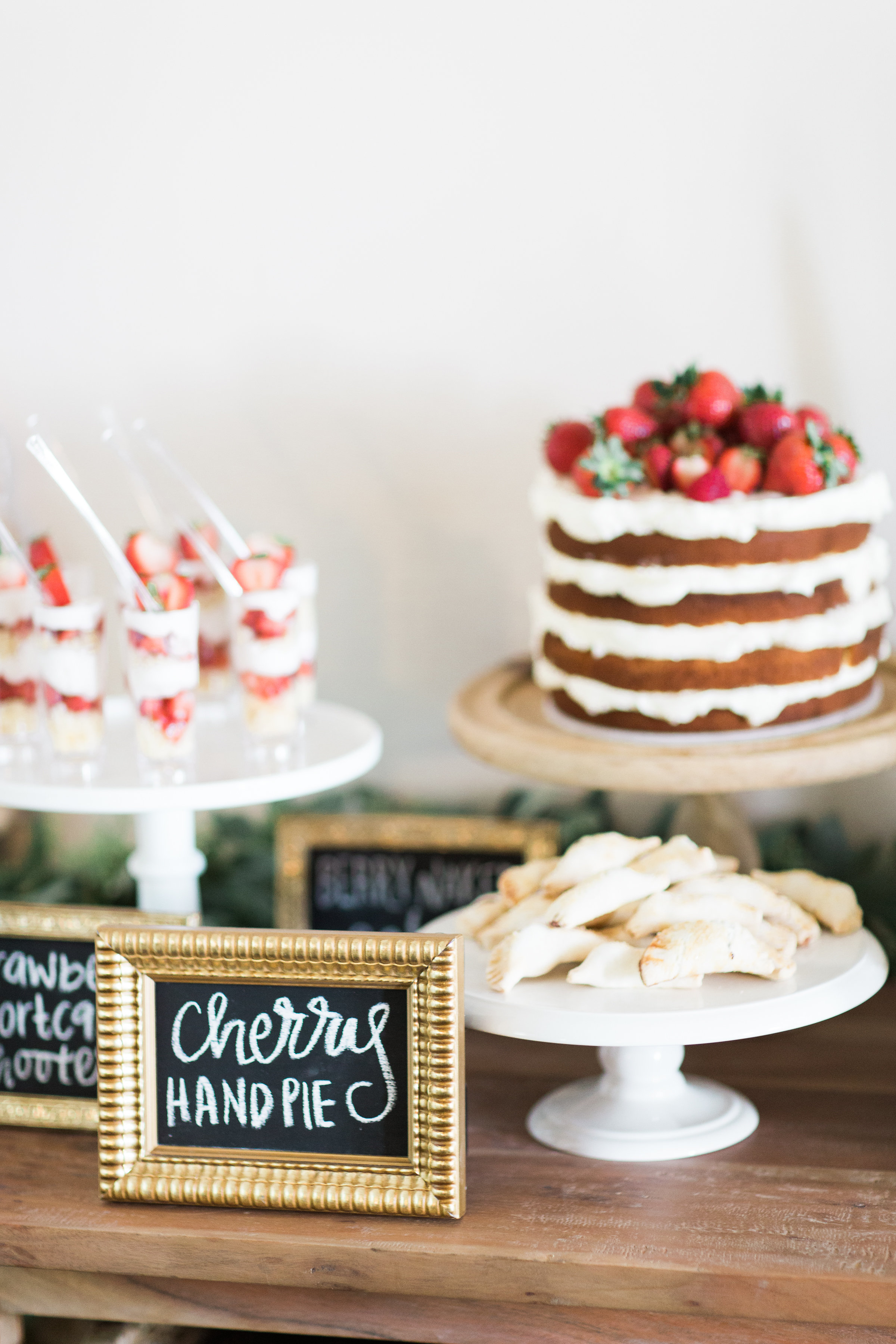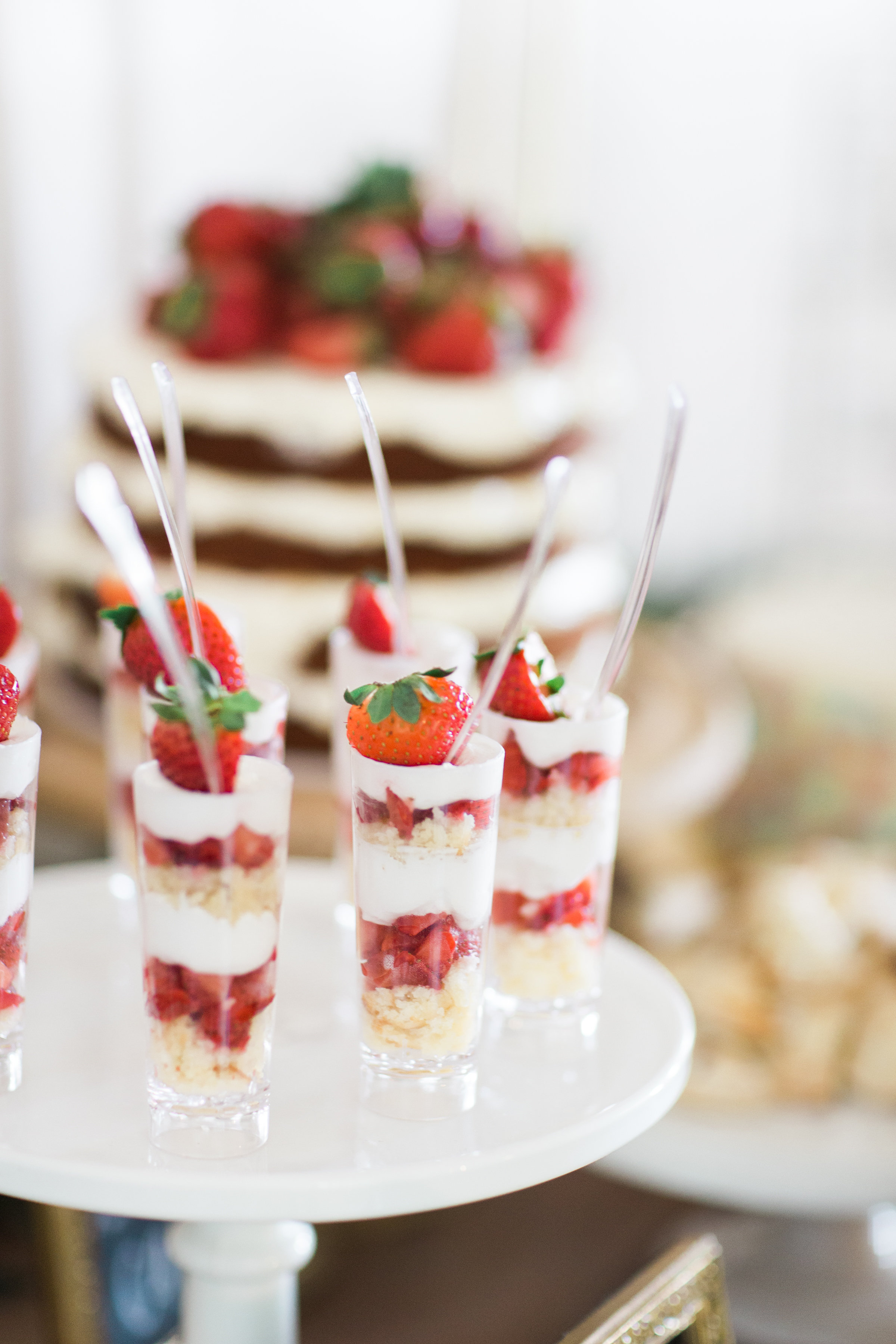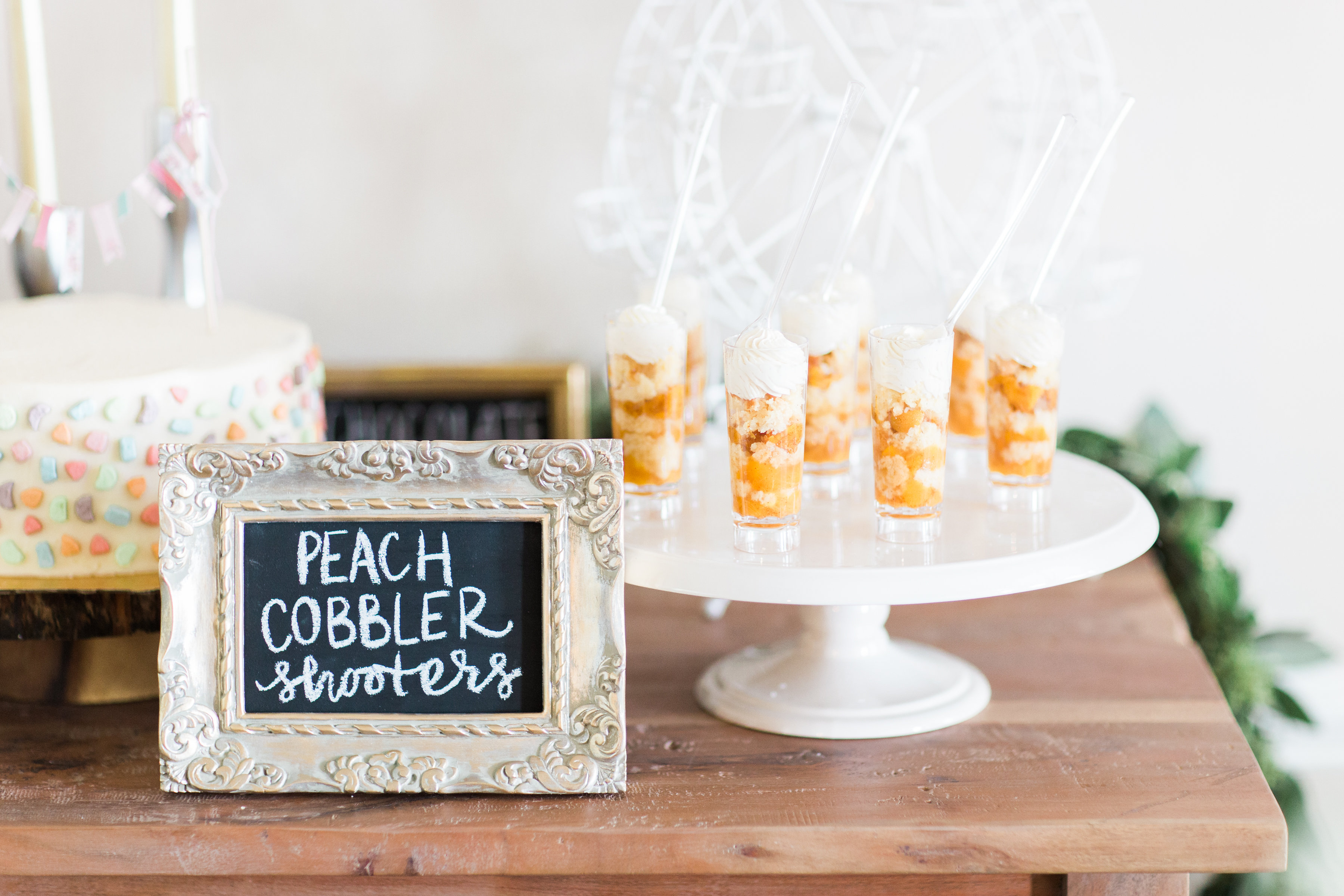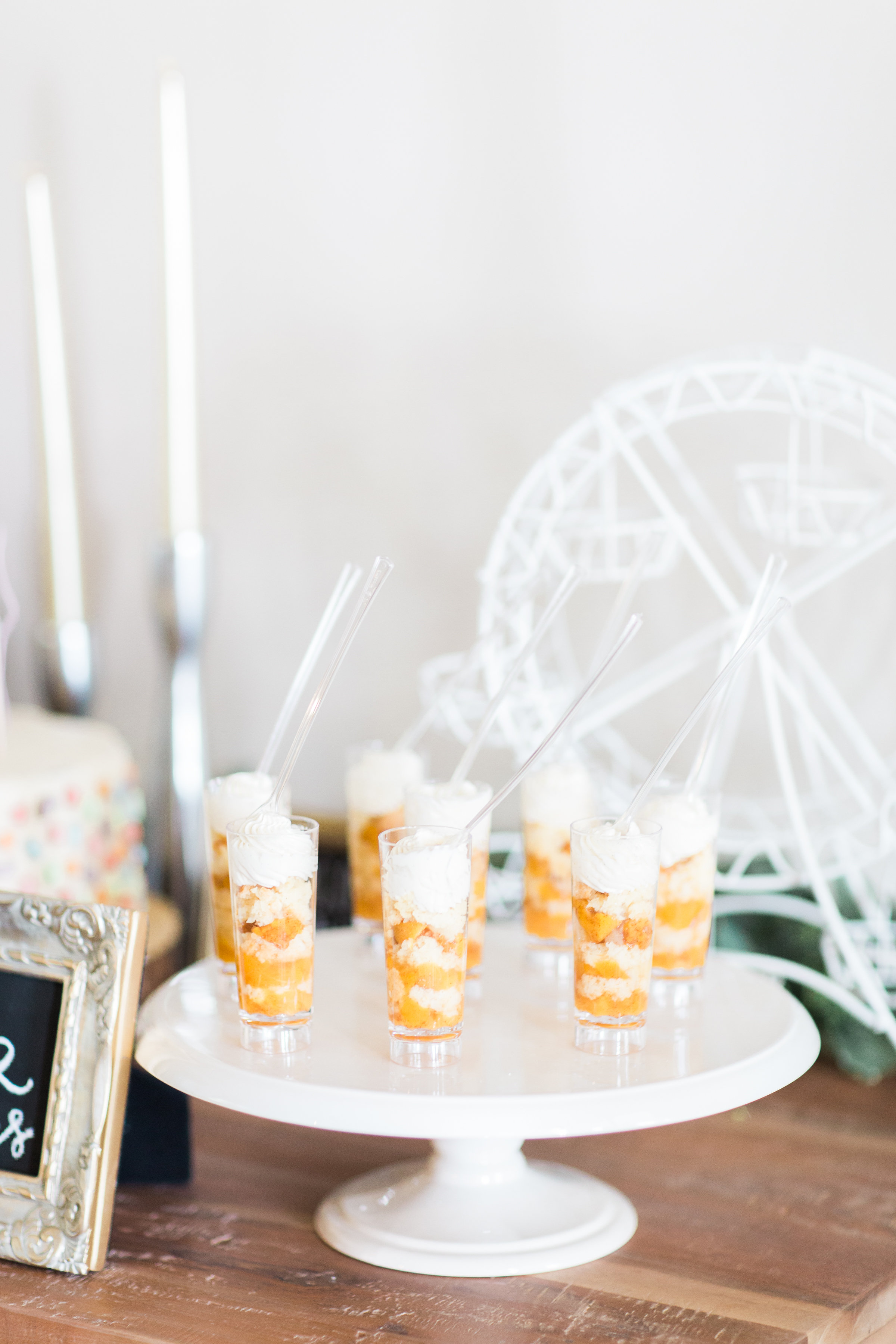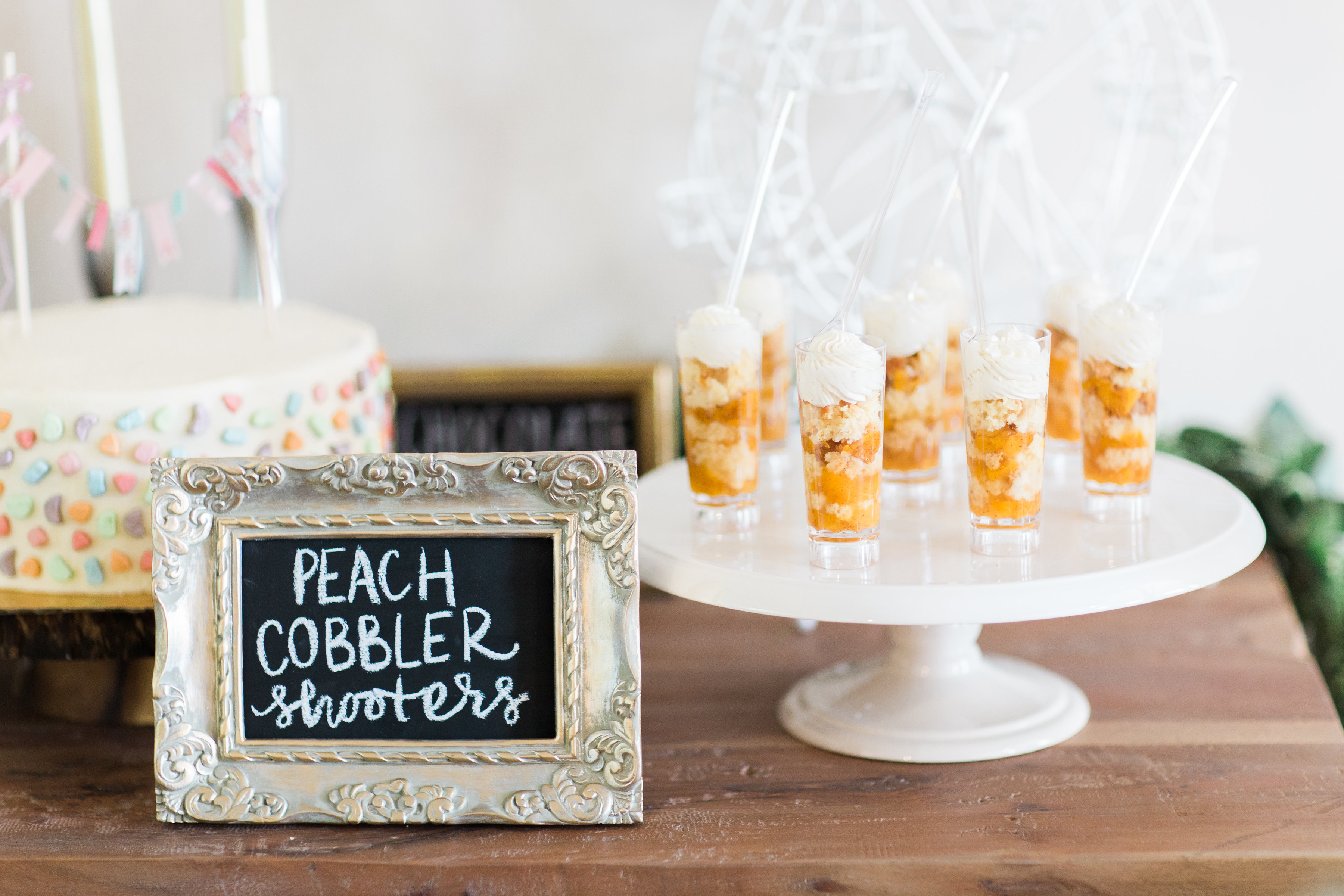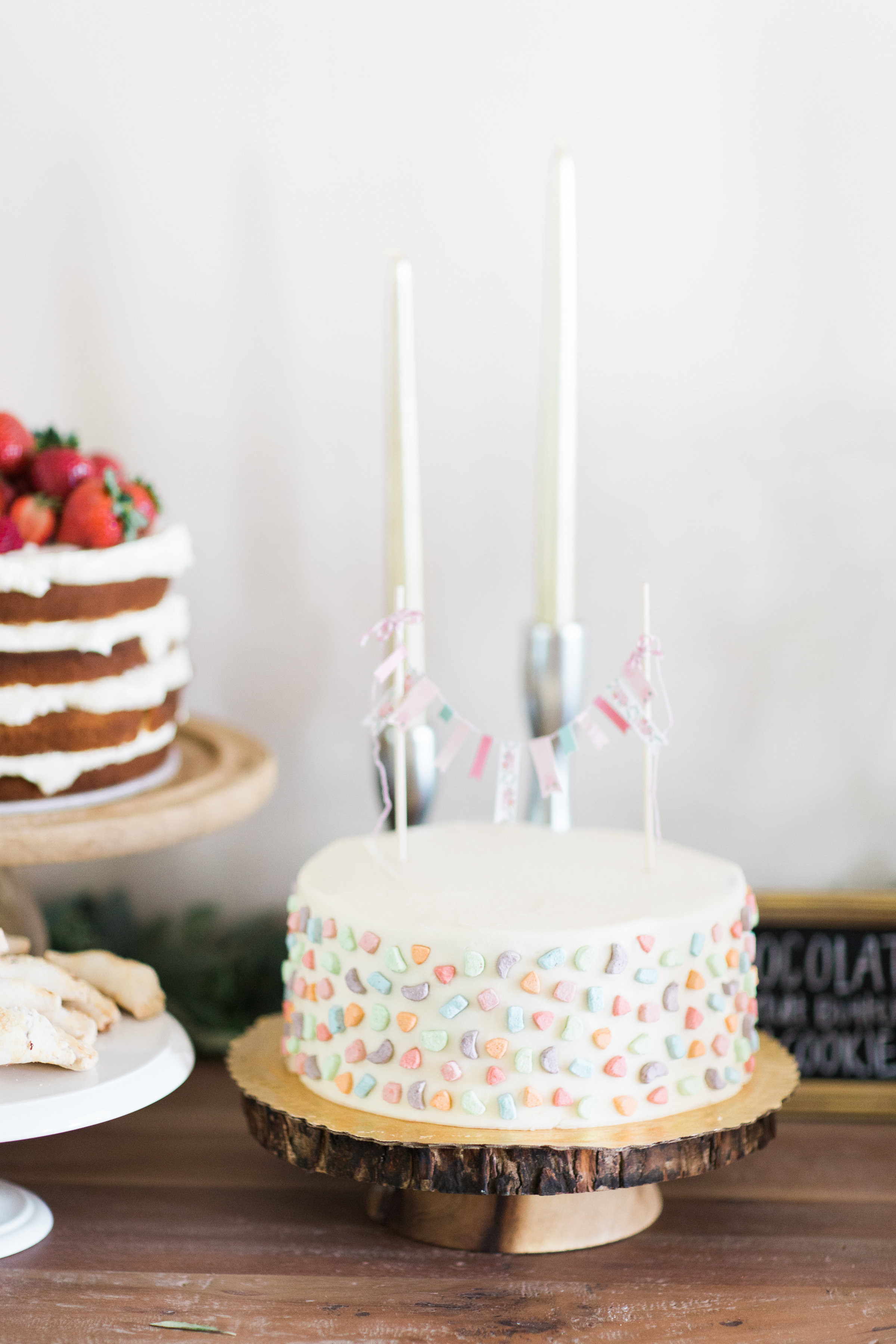 In addition to Sugar Euphoria's incredible desserts, I bought a vegan cake at Whole Foods for Scarlett (she has a milk protein allergy) and used cereal charms marshmallows to decorate the cake. (Kudos to hubby for finding these Lucky-Charms-like cereal marshmallows on Amazon!) It was a HUGE hit! (And in case, you're ever curious, Whole Foods makes the most amazing vegan cakes and cupcakes. Most of our guests didn't even realize the cake had no dairy.)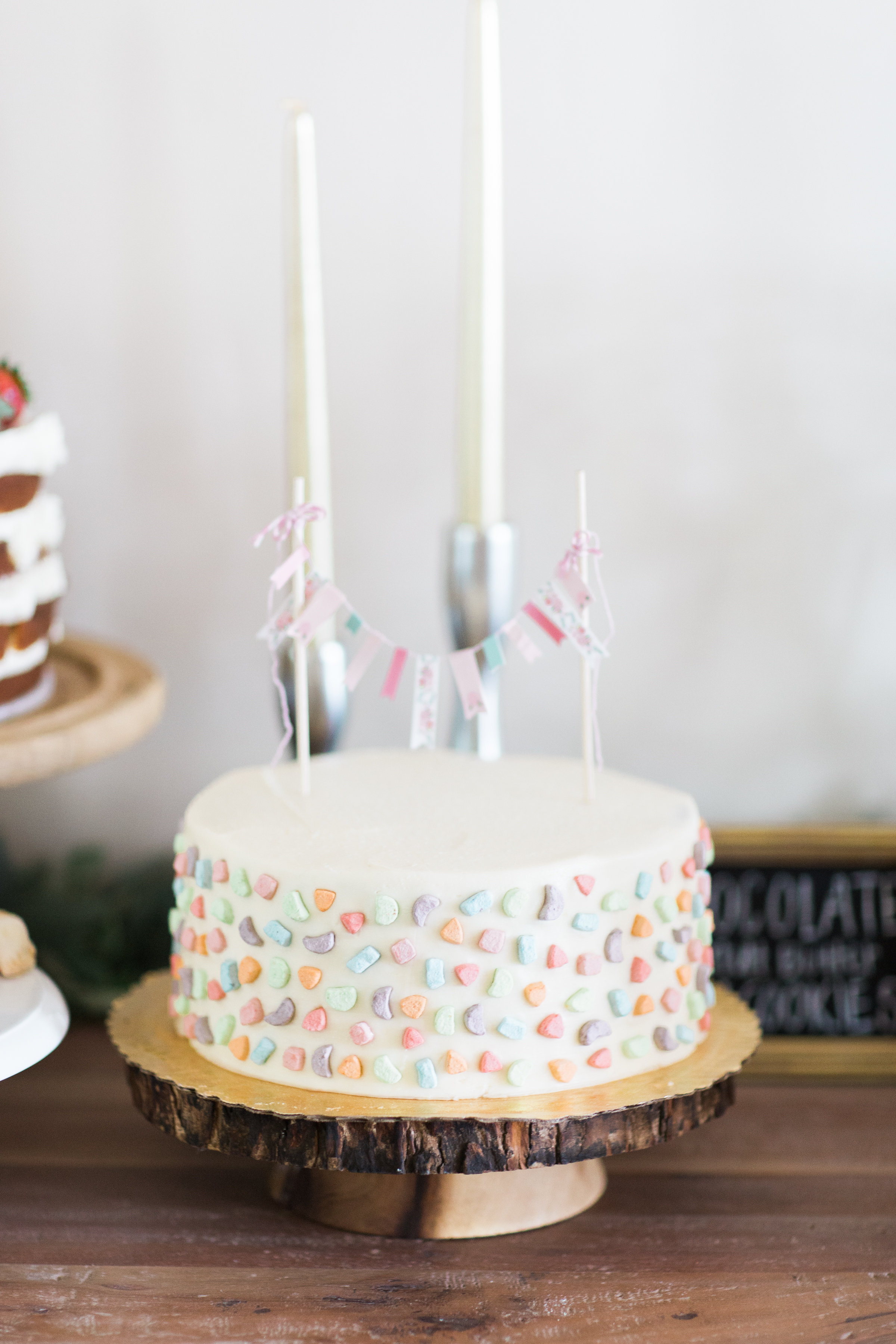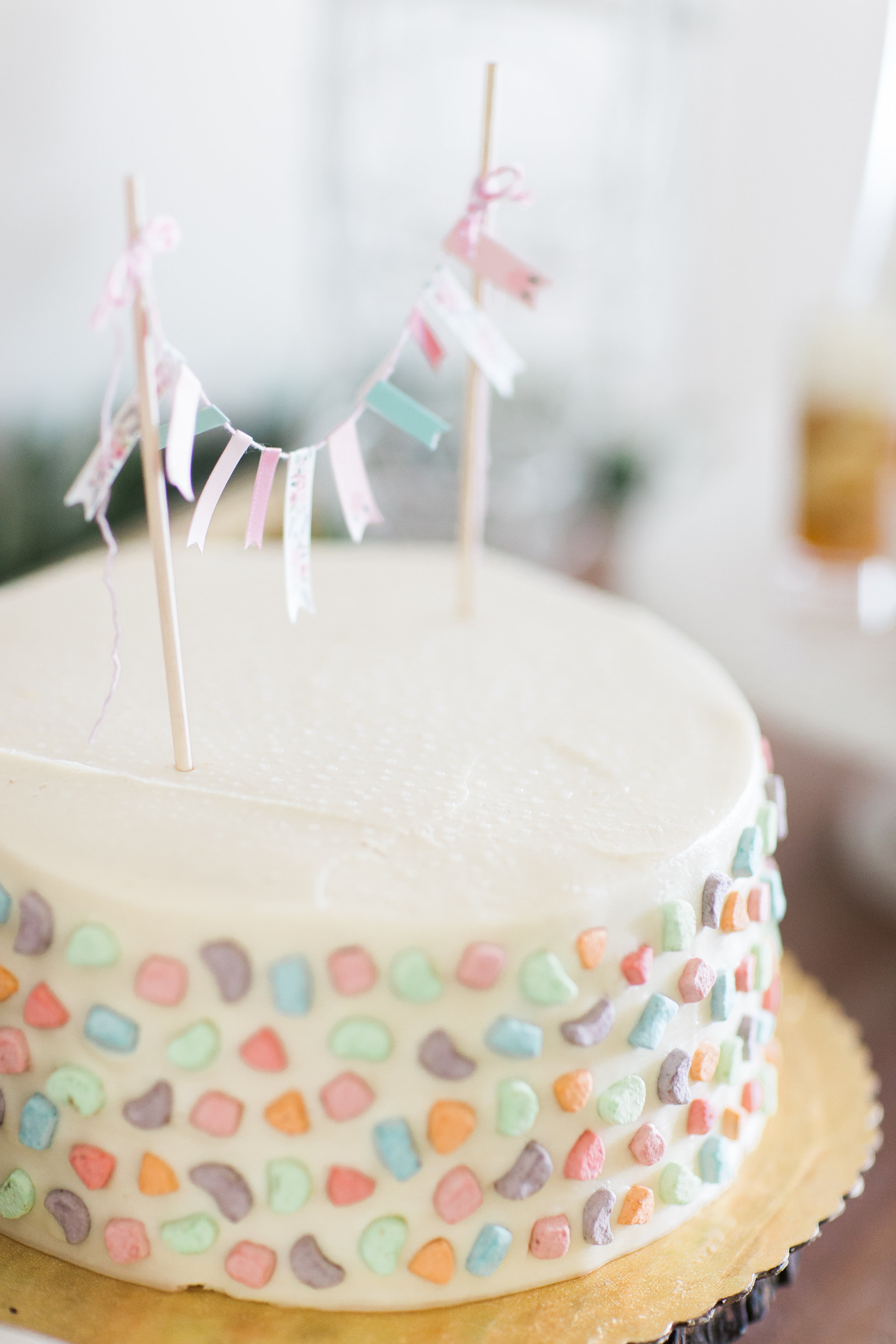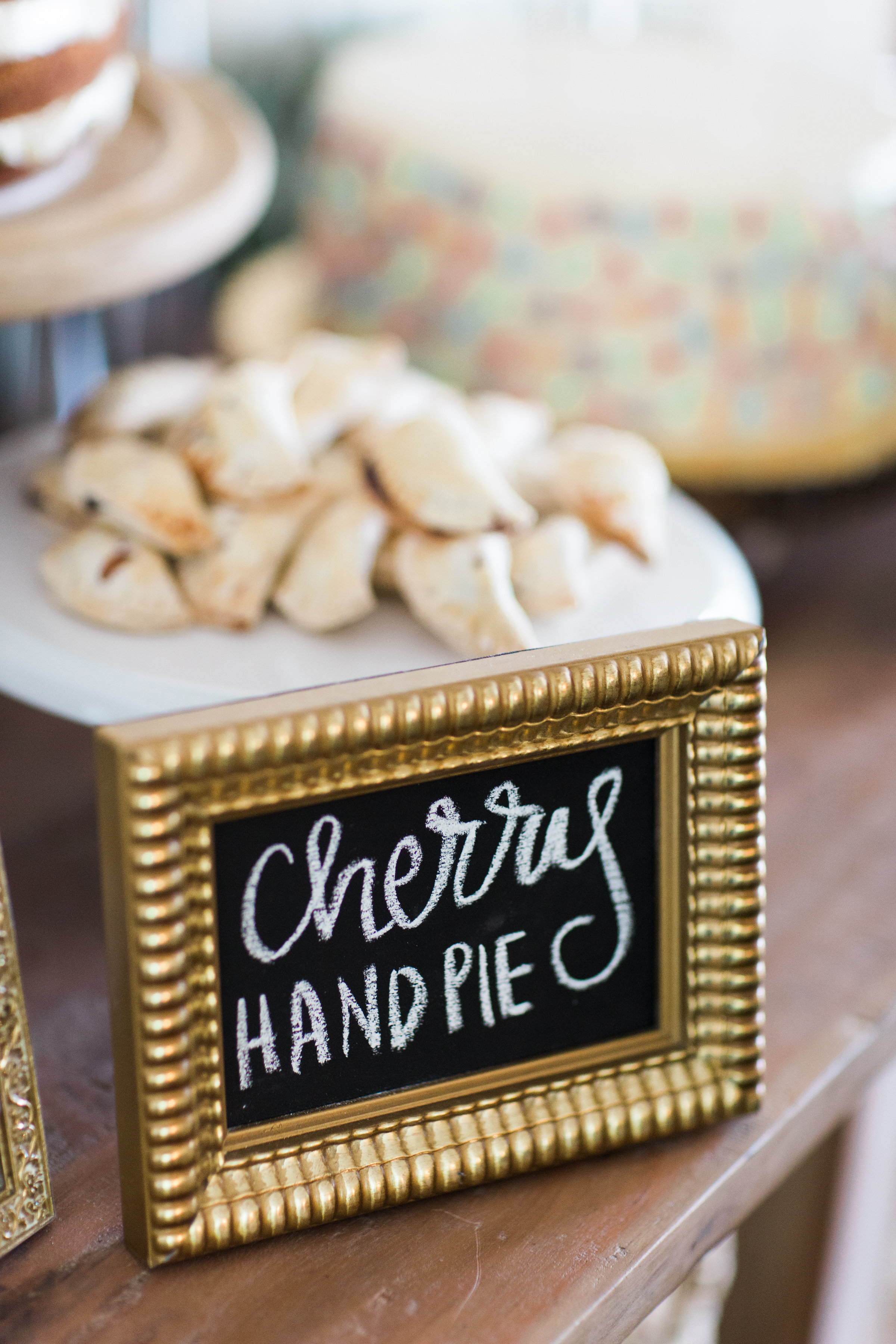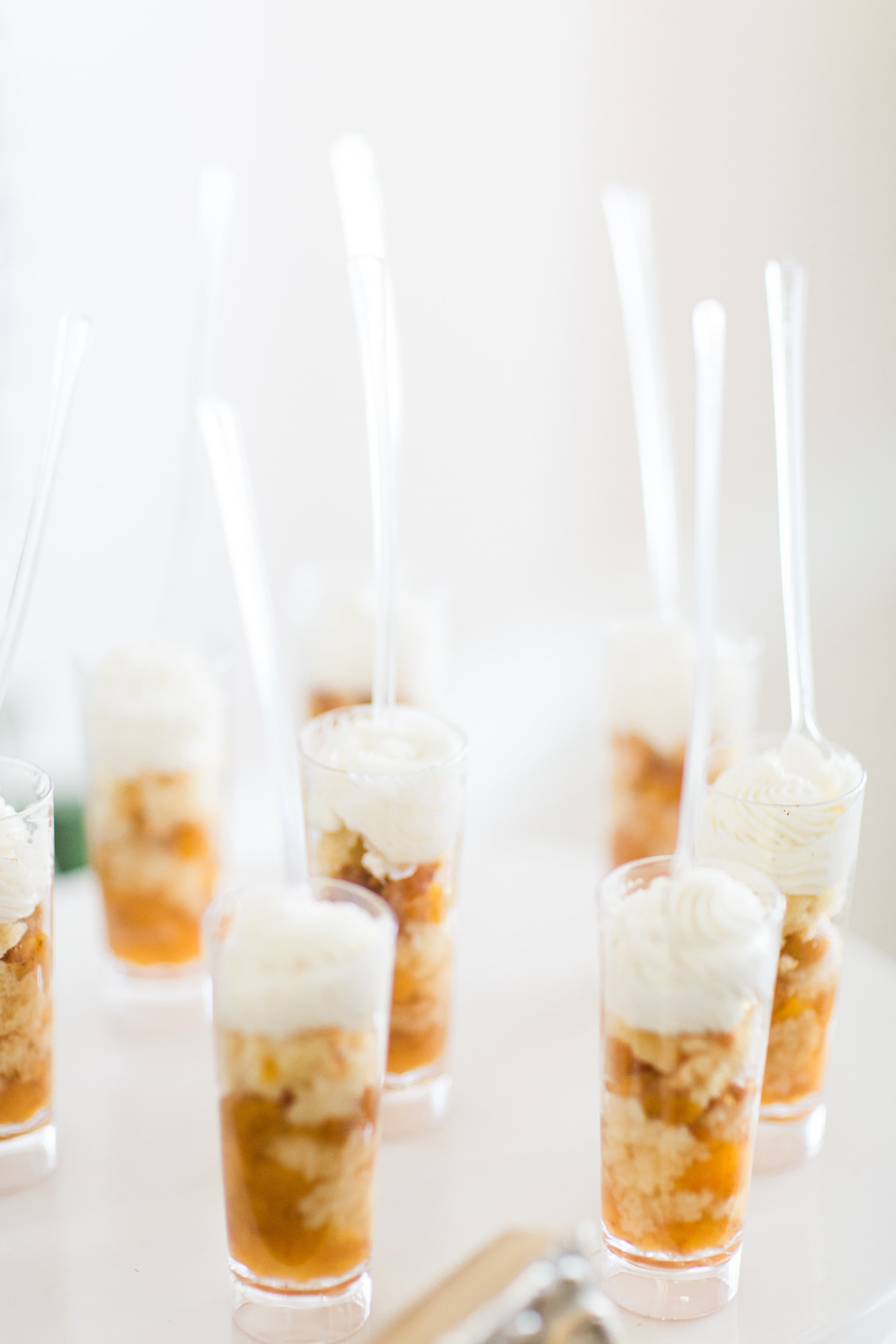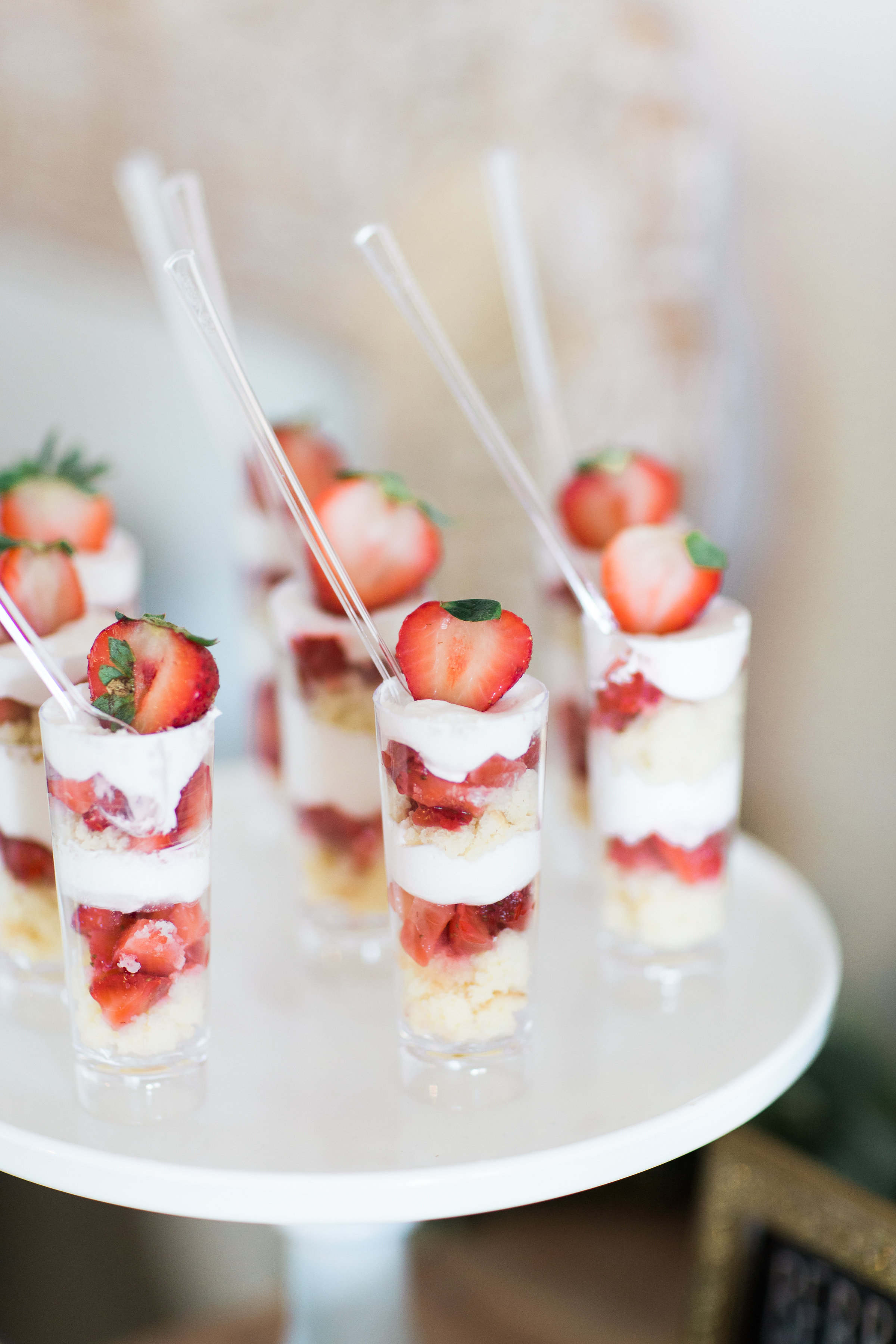 Because we had so many gorgeous flowers leftover, we decided to set up a make-and-take bouquet station as guests left the party.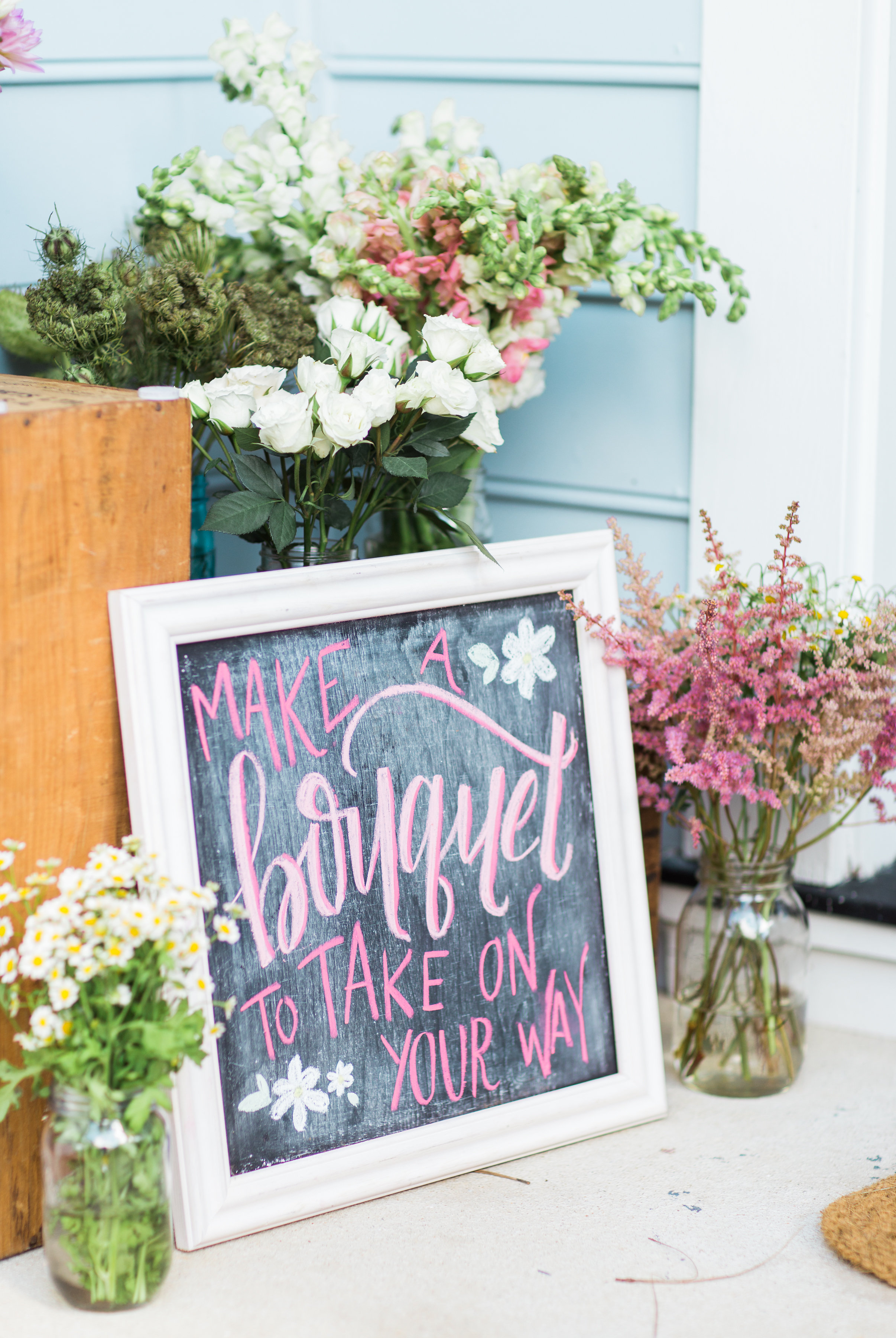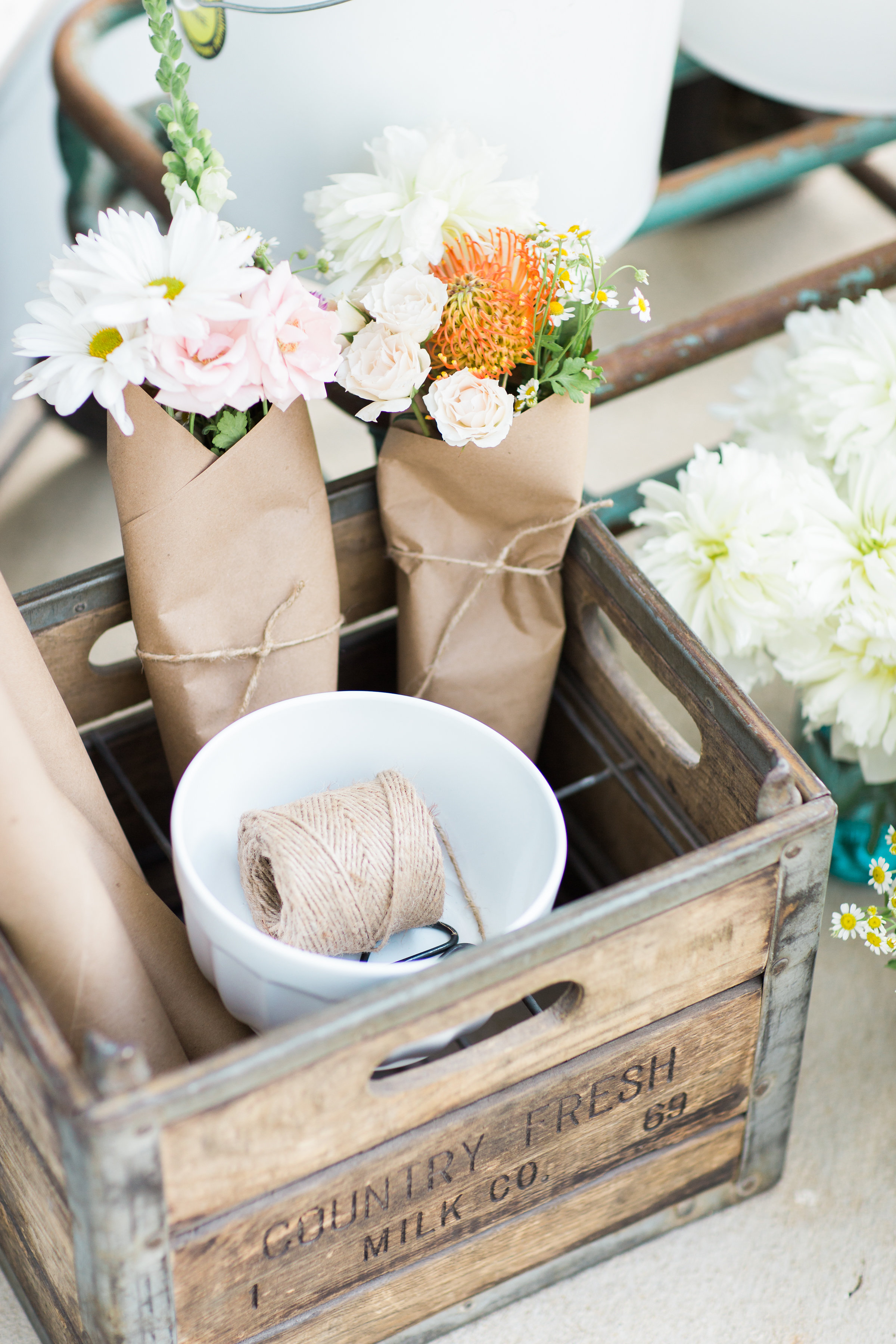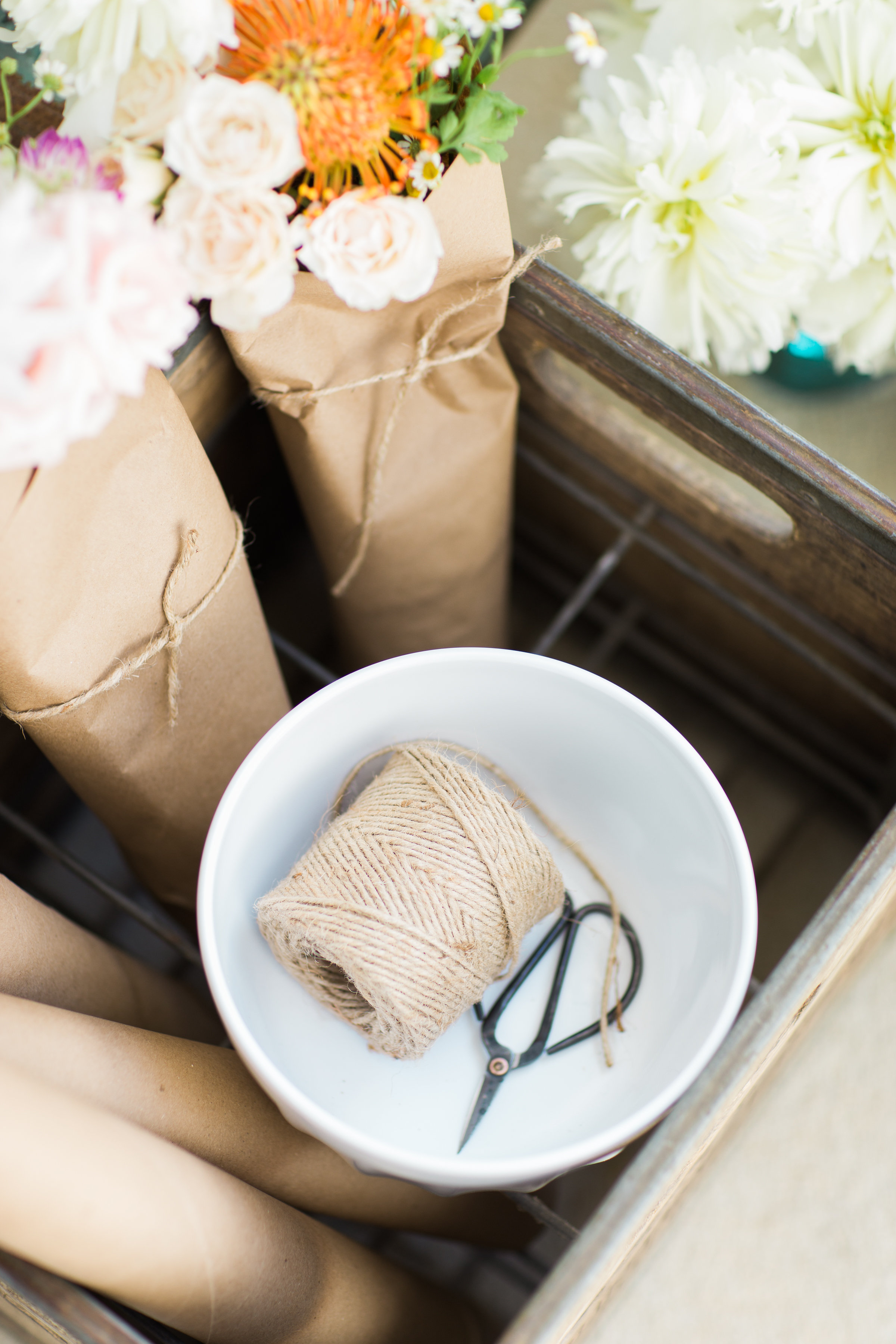 We set out craft paper, scissors, twine, and buckets of flower stems for guests to pull together their own bouquet to take home.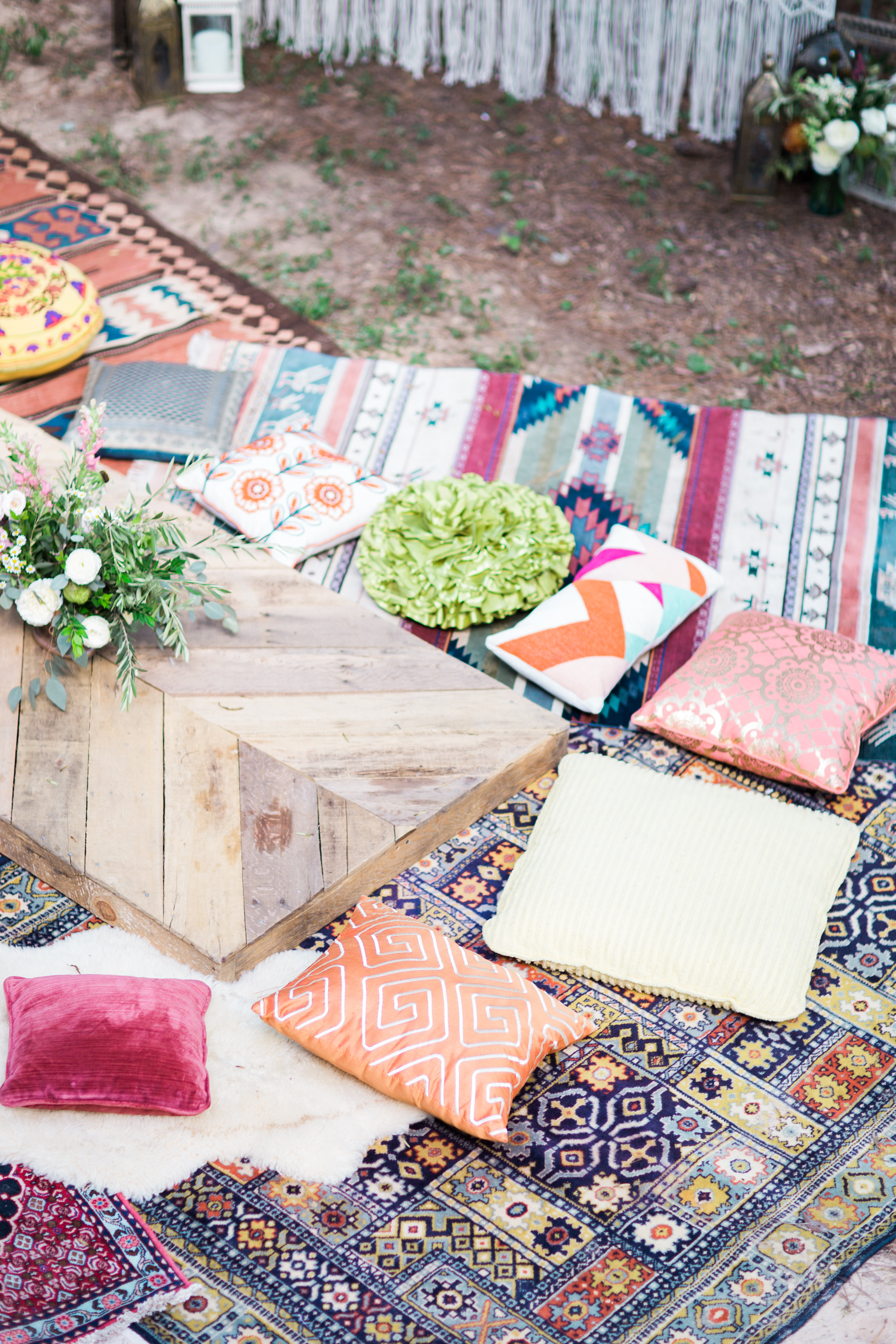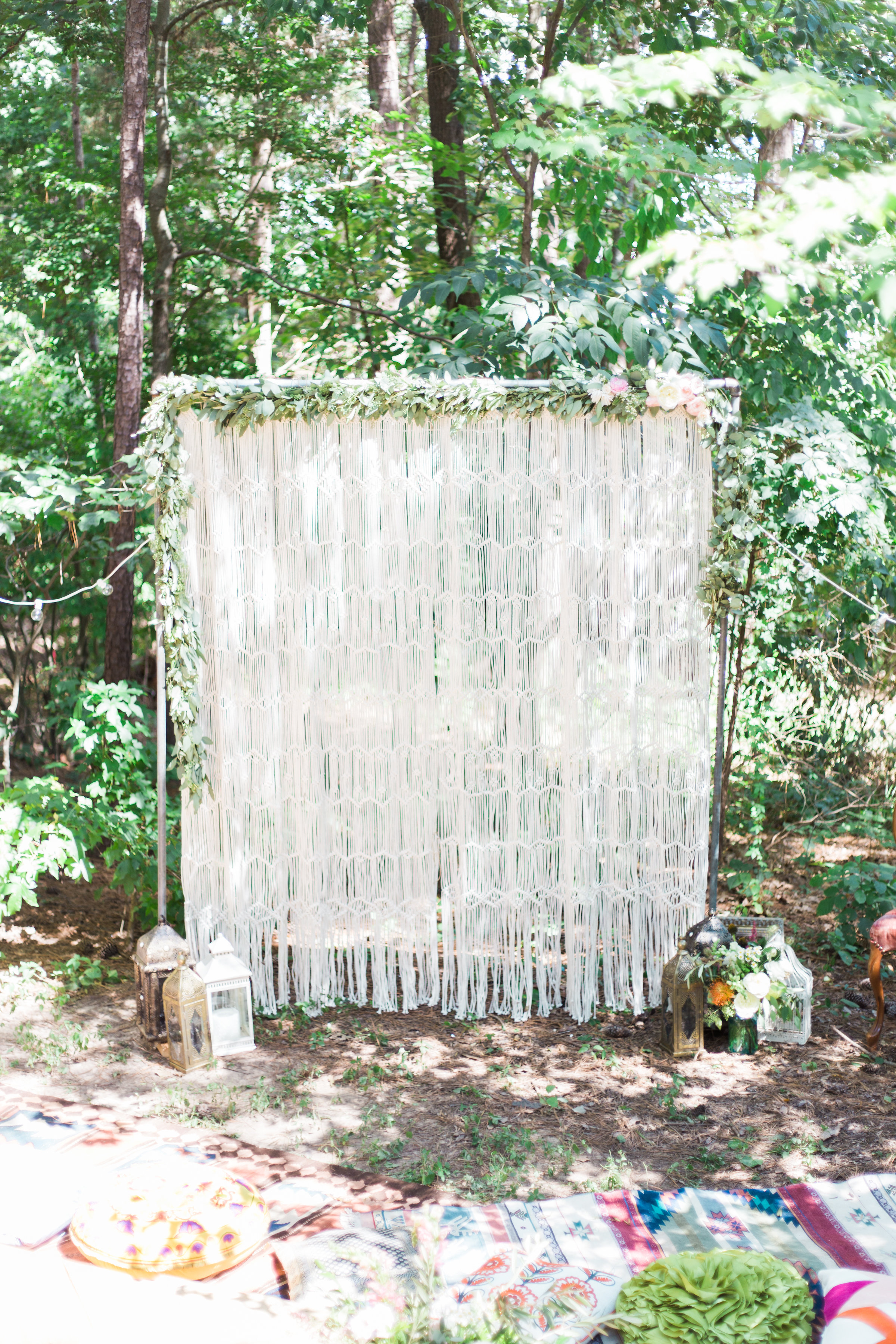 It was almost sad to take apart our backyard fairytale festival grounds at the end of the day. I'm pretty sure I'll be pulling cushions and our coffee table out into our backyard for many months to come.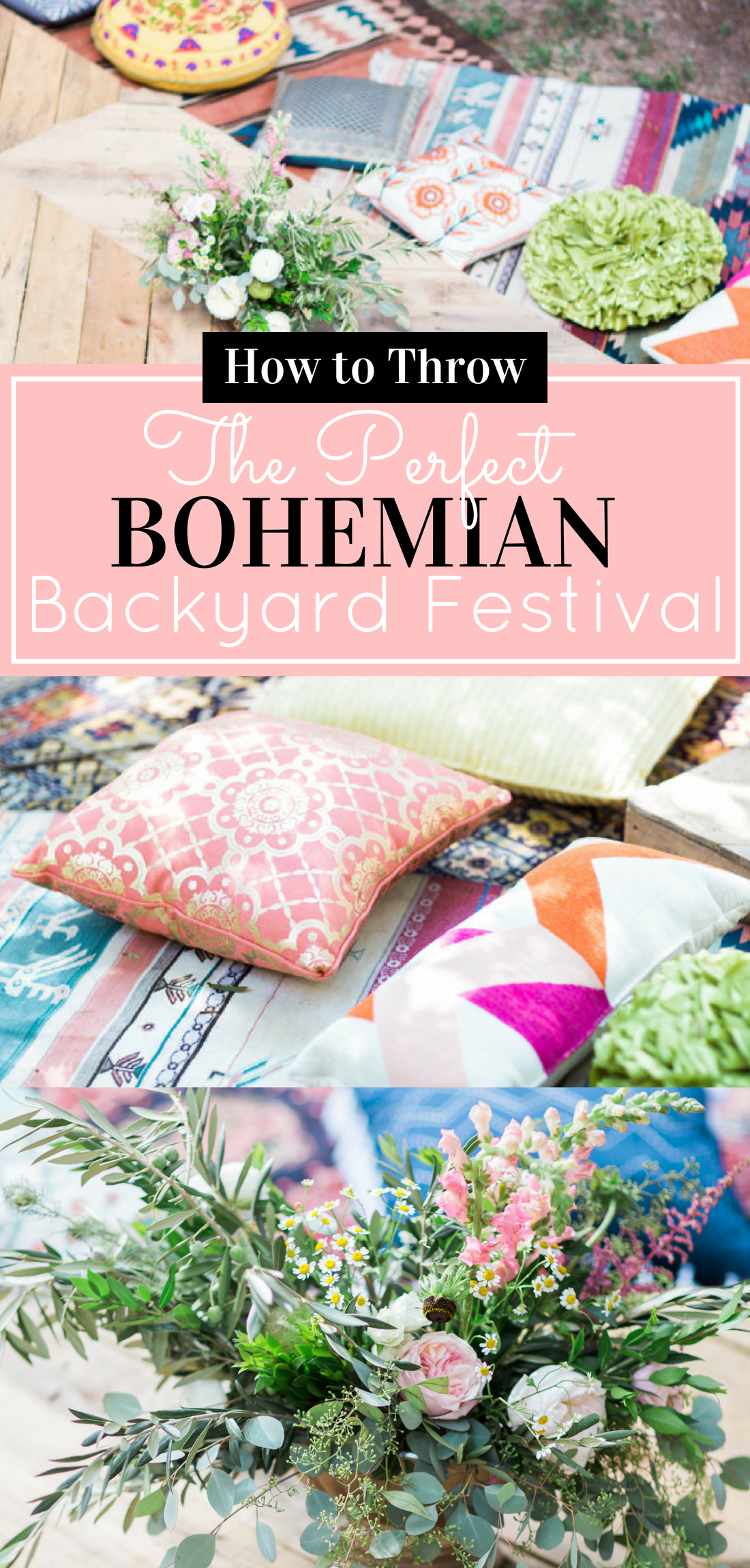 Photography: Annie Watts Photography // Styling + Party Planning: Glitter, Inc. // Flowers: Fifty Flowers //  Table Flower Arrangements: Serendipity Designs // Signs: Bella Joviality // Furniture Rental: Greenhouse Picker Sisters // Naked Cake, Strawberry Shortcake and Peach Cobbler Shooters: Sugar Euphoria // DIY Cereal Charms Marshmallow Cake: Glitter, Inc. // Birthday Cake Bunting Topper: Ginger Ray // Face Painting: Flutterby Faces // Temporary Metallic Tattoos: Flash Tattoos // Macramé Curtains: Urban Outfitters // Light Box: Cotton On // White Cake Stands: Martha Stewart Collection // Wood Bark Cake Stands: World Market // Plate Holders: Fox Run // Gold Glitter Cutlery: Creative Converting // Recycled Wood Wall-Mount Coat Rack: Kalalou // French Market Basket: Traders & Company // Ferris Wheel Cupcake Holder: Home Essentials // Scarlett's Outfit: 3Claps // Boots: Justin Boots