I've always been a fan of classic beauty.  In fact, I'm so committed to the trend, that truth be told, my all-day-every-day makeup look is black eyeliner, black mascara, pale skin, with the added swipe of red lipstick for nights out.  I actually didn't buy my first pink lipstick until about a year ago (NARS Schiap … it's adorable and fabulous and still has that vintage nod that I love!)
And last year, when I sat in Rimmel Headquarters discussing the upcoming beauty launches, I nearly jumped out of my seat when the team presented their upcoming Retro Glam line of beauty products.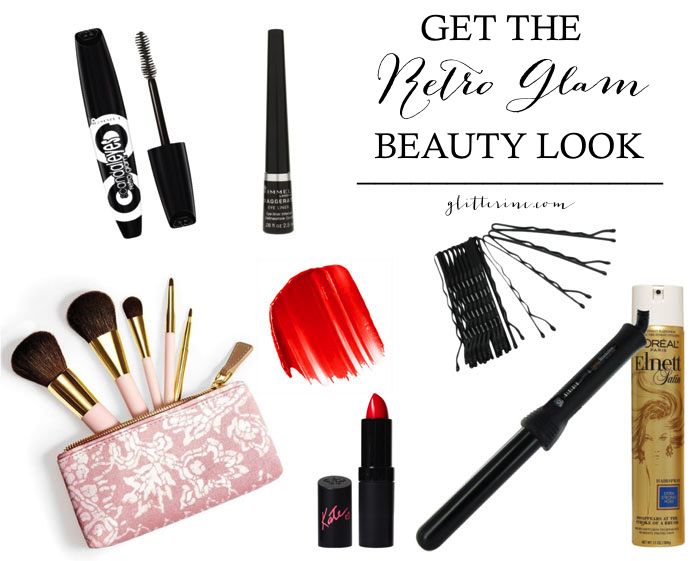 Get the Retro Glam Beauty Look:  Rimmel London Scandaleyes Retro Glam Mascara // Rimmel London Exaggerate Liquid Eyeliner // Aerin Brush Essentials // Rimmel London Kate Lipstick // Conair Bobby Hair Pins // Sedu Revolution 1″ Clip-Less Curling Iron // L'Oreal Paris Elnett Extra StrongHold Hairspray
In collaboration with their crazy amazing Rimmel London Scandaleyes Retro Glam Mascara, Rimmel has started these Modcasts with tips and tutorials on how to get the Retro Glam look.  They are also hosting a #ModMonday contest where users can enter on Instagram, Tumblr or Twitter and submit an image of their mod look with the hashtag, #ModMonday.
In the past few months, I've really learned to utilize youtube beauty tutorials, found mostly through social media, and I can't tell you how much they have taught me.  And Rimmel's Modcasts are all that and more!  (By the way, totally trying the Glam Half-up Bouffant.)
And side note, get your hands on a bottle of Retro Glam Mascara, all of Rimmel's mascaras pack a serious punch, but this new formula and technology creates that bold, wide-eyed false lash look, and the hour-glass brush really plumps lashes, fanning them up and out for bold, wide-eyed volume.
By the way, how cool are these storyboards from Rimmel's Retro Glam campaign?