This post contains affiliate links, which means that if you click on one of the product links, I'll receive a small commission. Additionally, as an Amazon Associate I earn from qualifying purchases. Thank you so much for clicking through and helping to support this little blog business of mine! Read more about our site, privacy, and disclosure policies here.
By baby number three we've gotten newborn baby photo shoots down pat. These are our best tips for taking newborn photos – including your big kids – from the comfort of your home.
This is a reminder to all of the parents out there (myself included), to take the pictures. Time is fleeting and babies don't keep. Especially those newborn photos.
If you have the opportunity to take newborn photos at home with your family (big kids included), I highly recommend it. The memories of those first days with your newborn and their siblings bonding will last a lifetime on film.
That's what's so amazing about photos, isn't it? You can't ever get a moment back, but you can hold onto that glimpse of it forever with a photo.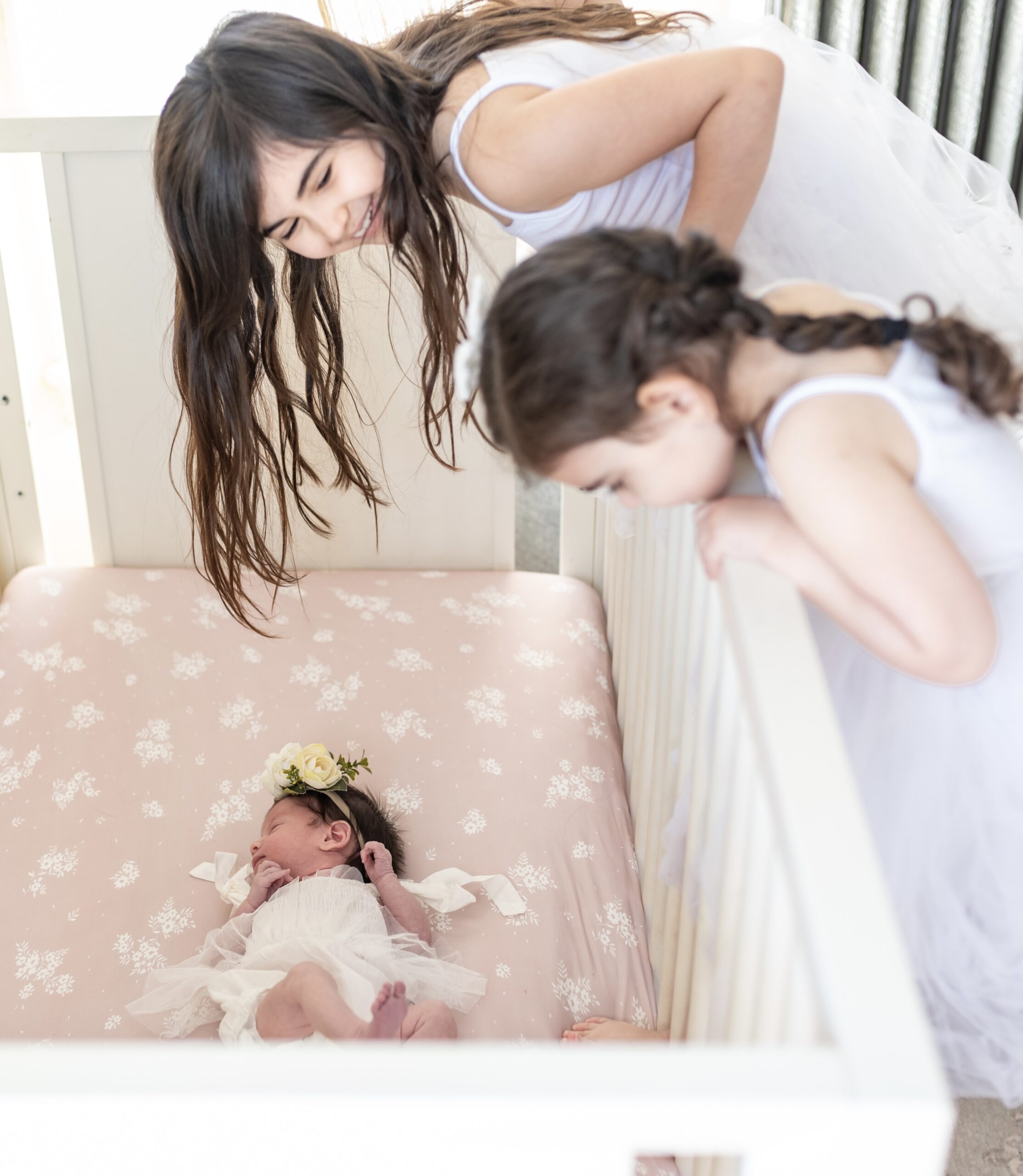 Sure, it's always chaos to pick the outfits for all of the kids, coordinate the photographer, finding the right day and time, dodging nap time and feeding schedules, and get everyone ready on time, the final product is oh so worth it.
Every single time I see those final photos come in from our photographer, I can't help but smile at all of the preserved family memories.
The same goes for capturing the memories on your own camera or cell phone. I cherish each and every picture and video I take, and bonus points for being able to send out those pictures to friends and family since we don't live all that close to family.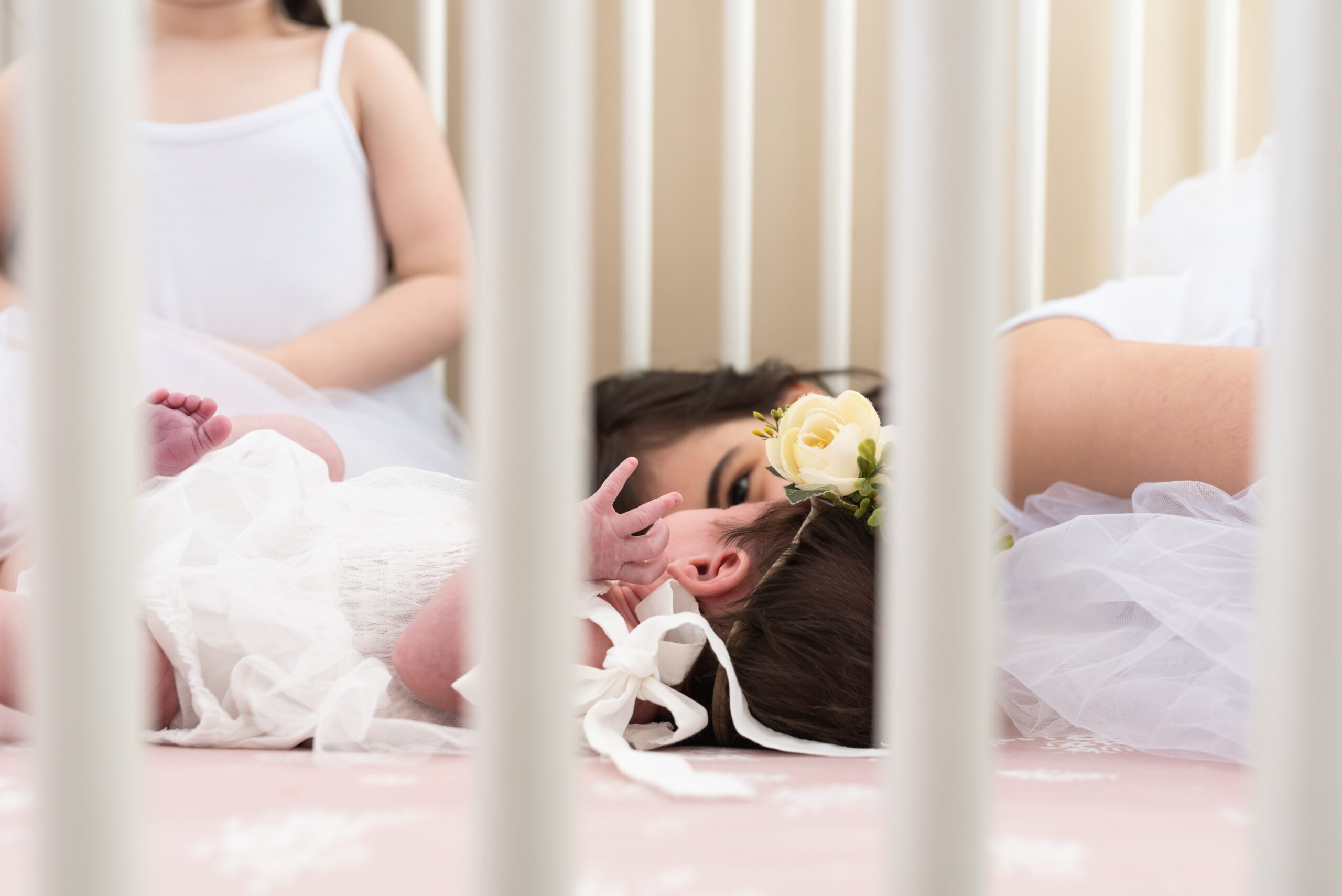 Because we got so many beautiful photos of our three girls a few weeks back, prepare for a whole lot of little girl cuteness the next few weeks (and well, basically forever more.)
Plus, of course, 5 of my favorite tips for taking newborn family photos at home.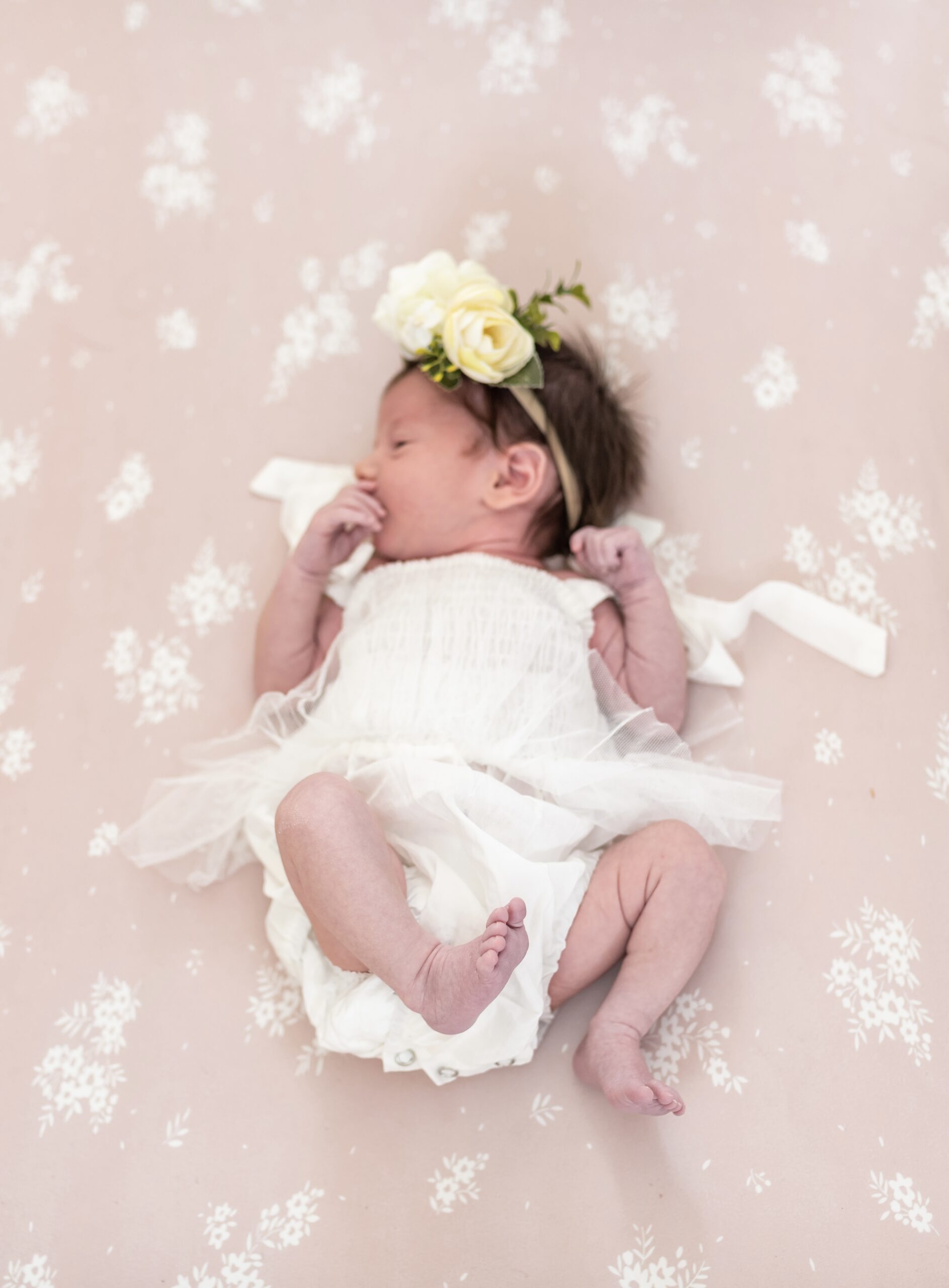 When to take newborn photos at home.
Ideally, aim to take your newborn photos when your new baby is somewhere between 10 days old and about two weeks old. A little younger works as well.
Just before two weeks old feels like that sweet spot for taking newborn photos because baby is still in that super sleepy state and is more likely to sleep like a rock through most of the shoot.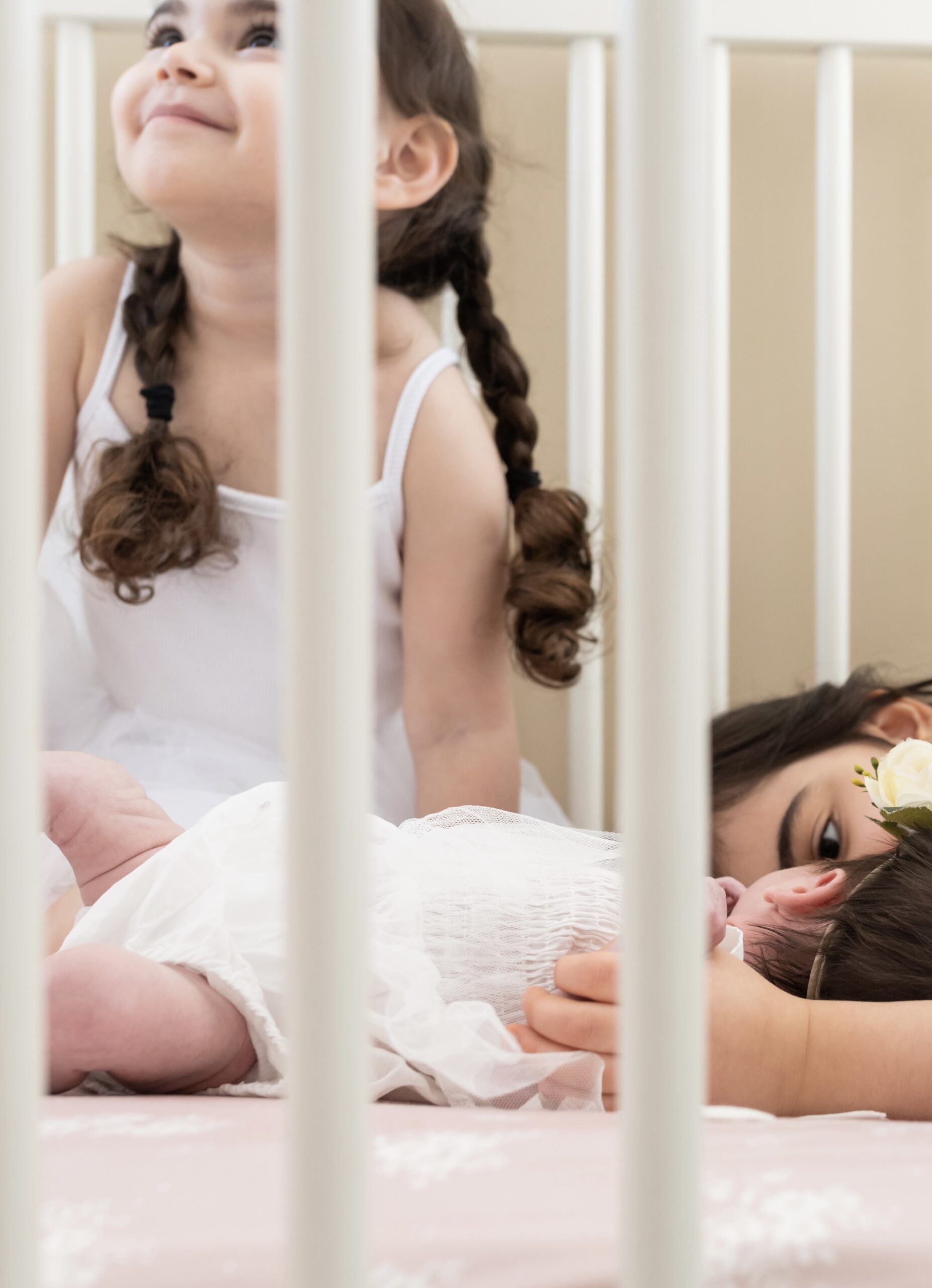 5 Tips for Taking Newborn Photos (Including Siblings) at Home
|

1

|

Coordinate matching sibling outfits.

Whether it's matching pajamas for the kids or coordinating outfits, dressing the siblings in matching outfits makes everything feel cohesive and a bit more intentional; i.e., a step up from the typical photos you'd snap on your phone of the kids.

Pro tip: have a backup newborn outfit and even an extra swaddle/blanket or two in case baby has a blowout, spits up, etc. No use crying over spilled milk.

By the way, all three of the girls' outfits are from Amazon. We've long adored these tulle dresses from Amazon. They're adorable on and totally affordable; plus, the girls are obsessed and call them their princess dresses.

When I found this unbelievably sweet tulle baby romper on Amazon, I knew it would be the perfect match for Adelaide's newborn photo shoot.
|2
| Have a few props ready for the newborn photo shoot.
Adorable bonnets, headbands, and hats all make sweet newborn baby props. Same goes for small stuffed toys, blankets, and even a Moses basket. These wood milestone markers are also a great way to document the time.
A few of my favorite newborn photo shoot props:

|3
|
Set up a simple space to shoot photos.
For newborn photos, it's simplest to set up a neutral space with a simple background that's not overly busy. A clear space on the rug, on a bed, or in baby's crib; all make for the perfect newborn photo shoot backdrop. Neutral bedding, white sheets, crib sheets with a simple pattern, all work really well as a backdrop for newborn photos.
Less is more when it comes to a newborn baby photo shoot, keeping the focus on your baby and kids.
|4
| When choosing an area to shoot, head towards natural light.
I always shoot our photos in or near natural light, and particularly with newborn, baby, and family shoots, natural light will best highlight the subjects and make for those perfectly light and airy photos.
Baby Adelaide's nursery happens to have two big windows on either side of her crib, so her nursery and the crib in particular wound up being a perfect place to shoot photos, with plenty of natural light pouring in on either side.
|5
| Time your photo shoot around baby.
Timing is everything, after all. Most babies tend to be most relaxed just after eating (mine often passed out while eating), so try to coordinate taking photos after you've fed baby.
Don't be afraid to feed baby mid photo shoot as well, if they start fussing during photos.
A sleepy, calm baby is definitely the easiest to photograph.
Pro tip: keep the room you're shooting in nice and warm too. Baby will drift off to sleep easier when they're warm and cozy.
|6
| Capture all different angles.
Whether you're shooting yourself or having a photographer shoot your baby and family, aim to take photos of baby at all different angles. Some of my favorite newborn baby photos are those capturing tiny toes, little hands, pouty lips, downy hair, and more.
|5
| Allow your baby and kids to have fun with it.
Our girls are obsessed with their baby sister, and especially at a little less than two weeks old, when our amazing photographer took these photos, the girls were still very much in awe of their baby sister.
Once we placed Adelaide, we let Addie's big sisters take the lead on posing, allowing them to act naturally, and to hug and kiss and coo over their new baby. The resulting photos are everything I could have hoped for.
The key is to take way more photos than you think you'll need. Just have that camera ready and shoot often. Some of the best shots are captured in the moments you least expect something magical to happen, particularly with young kids and babies.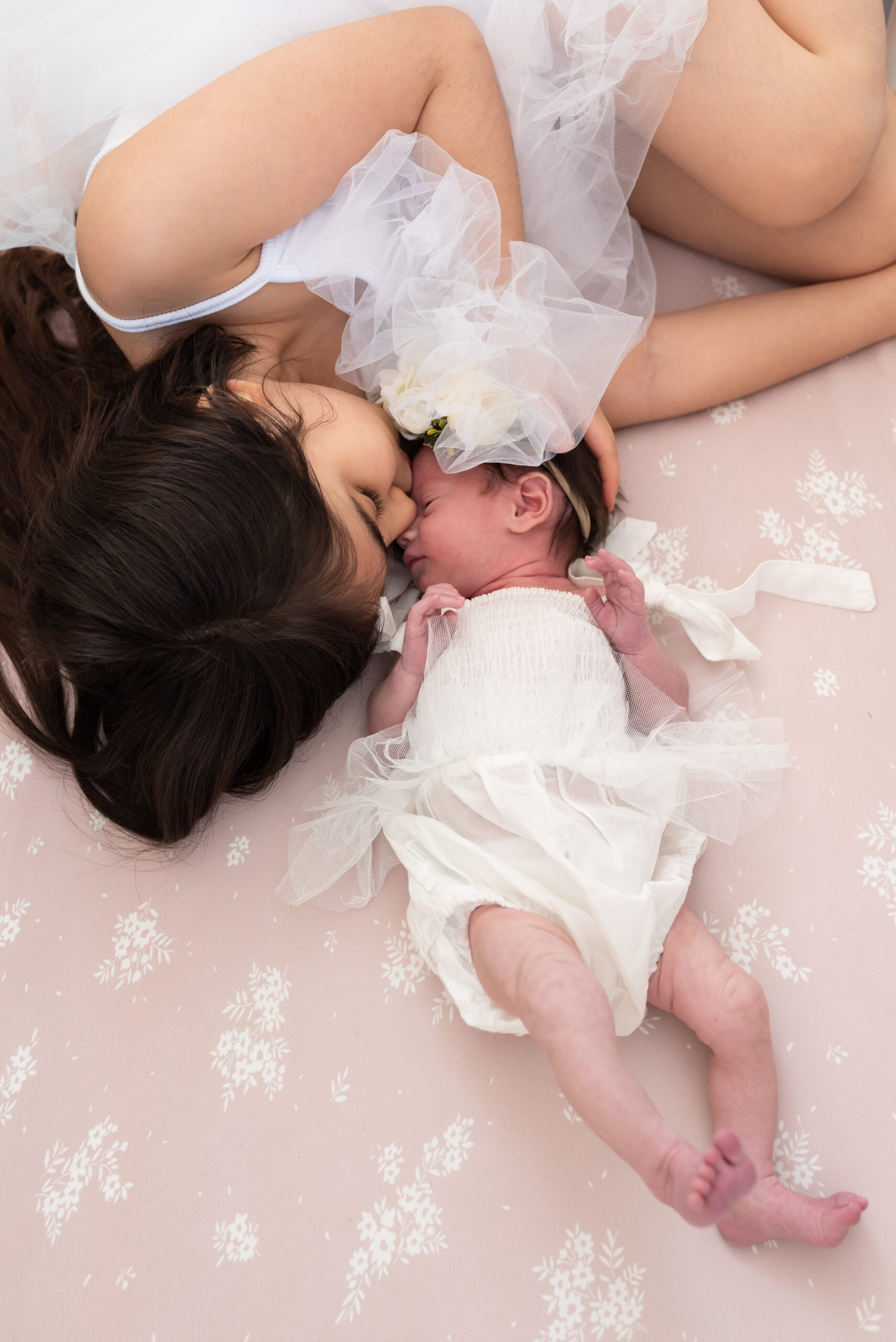 Have you had newborn photos done at home? Hav you taken some of your own? If you have more than one baby at home, have you included the big kids in those newborn family photos?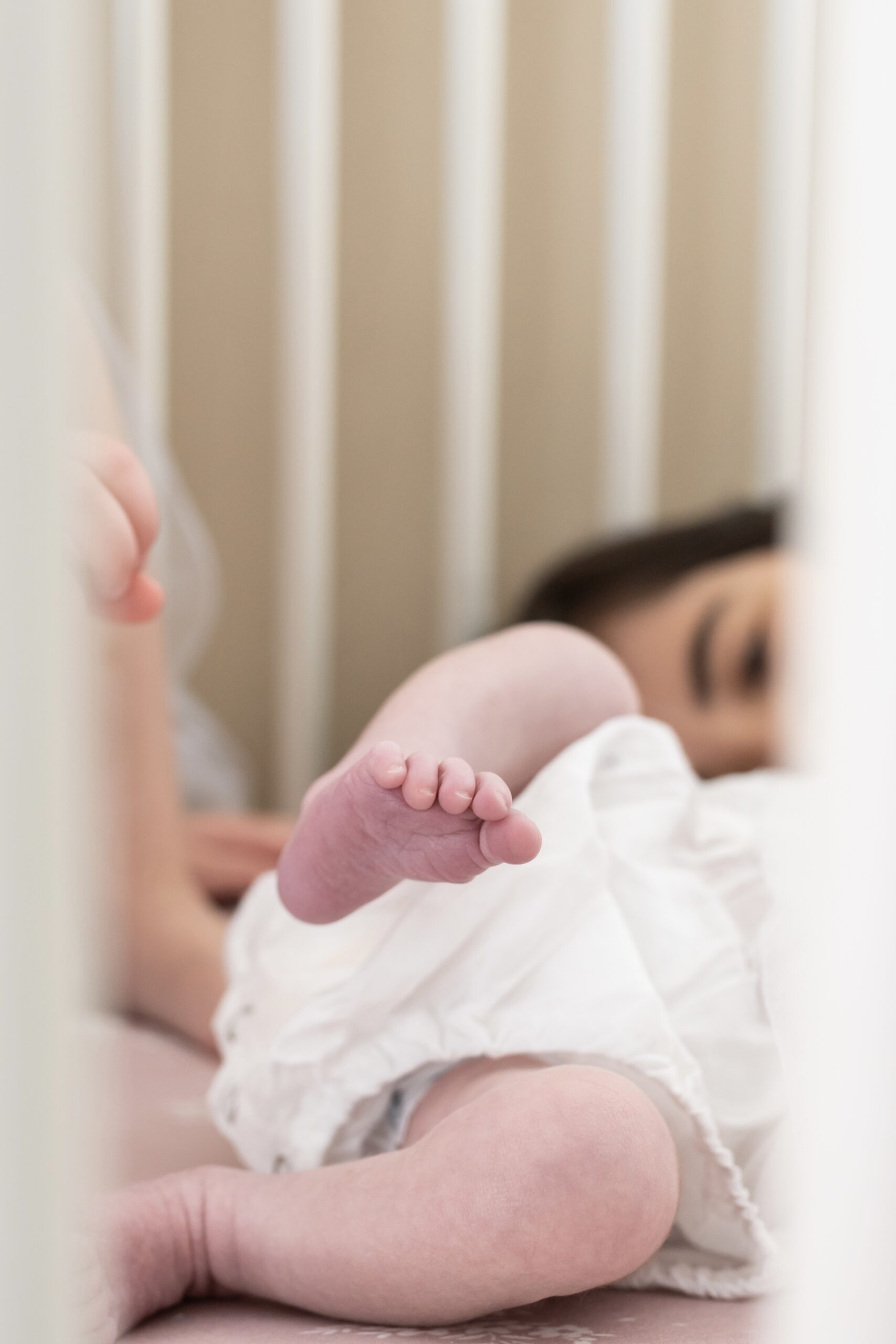 Goodness, I love those baby toes. 😍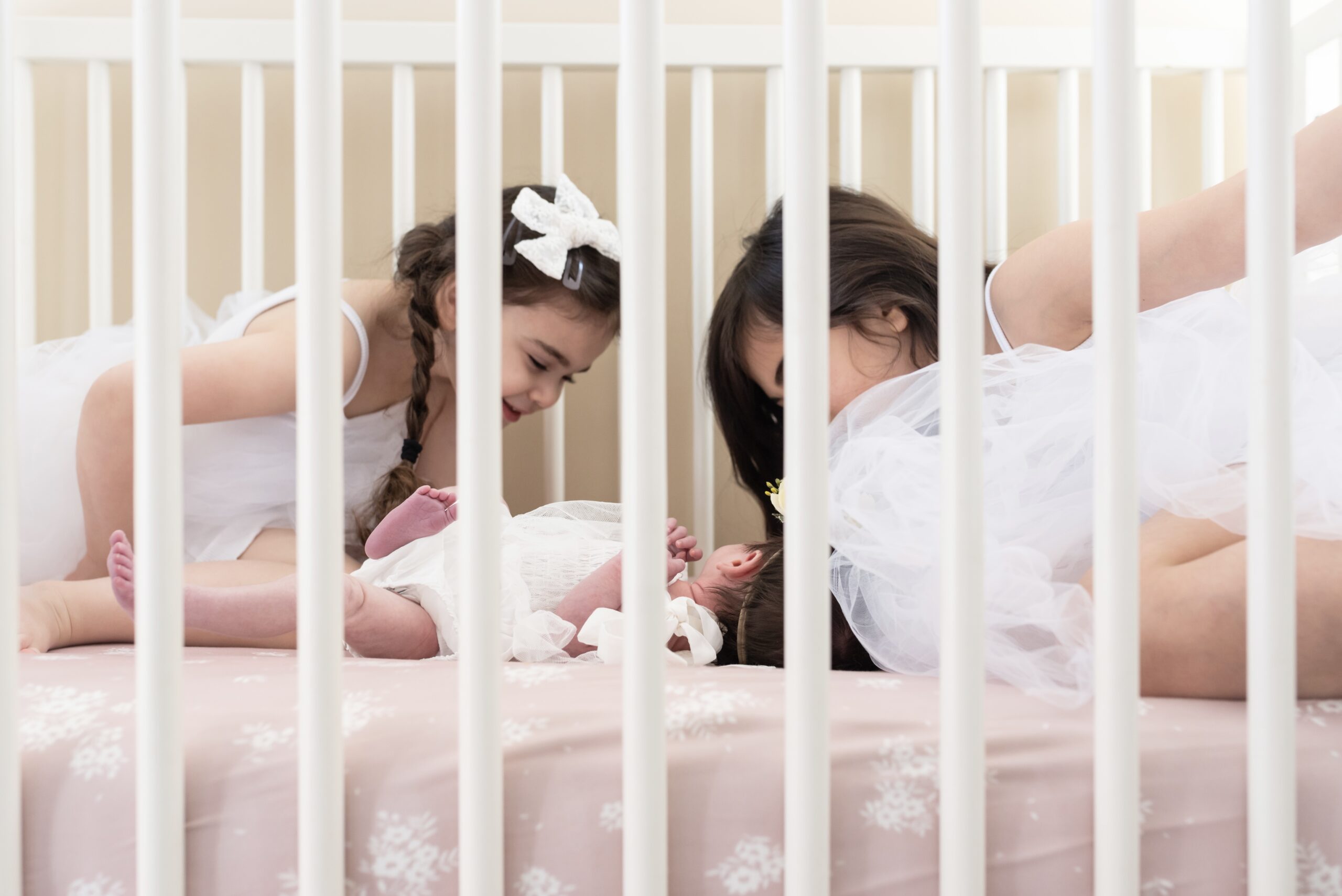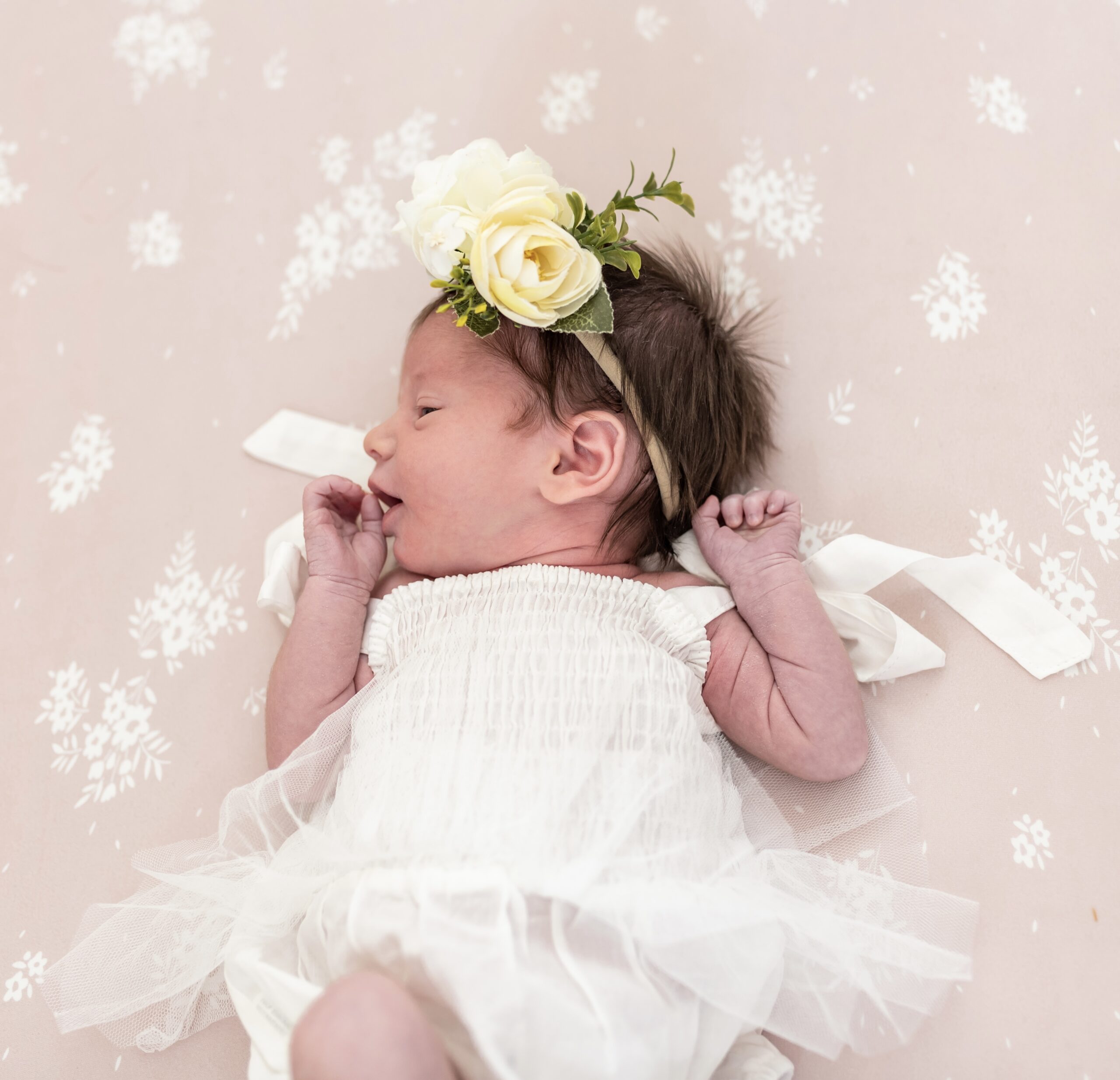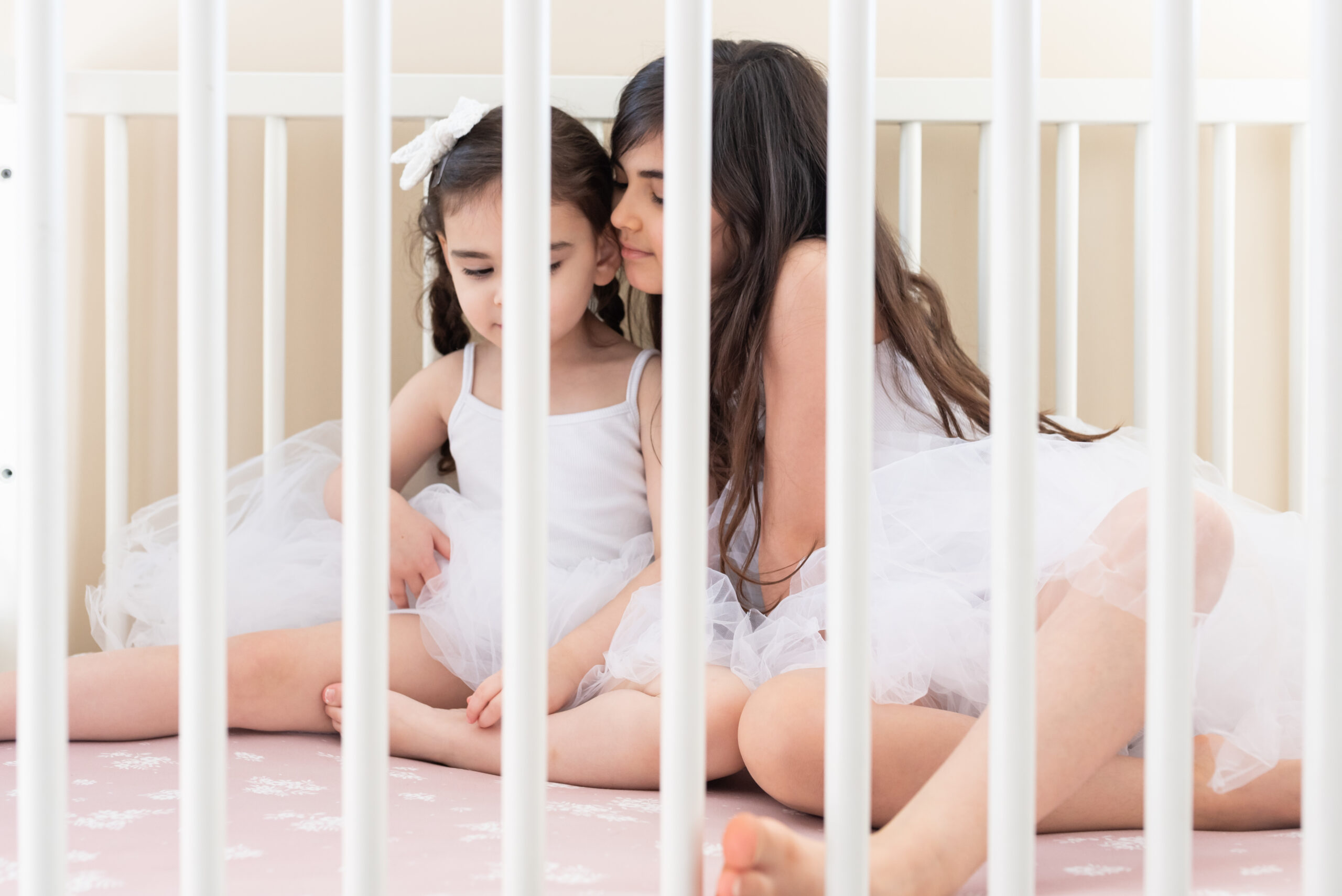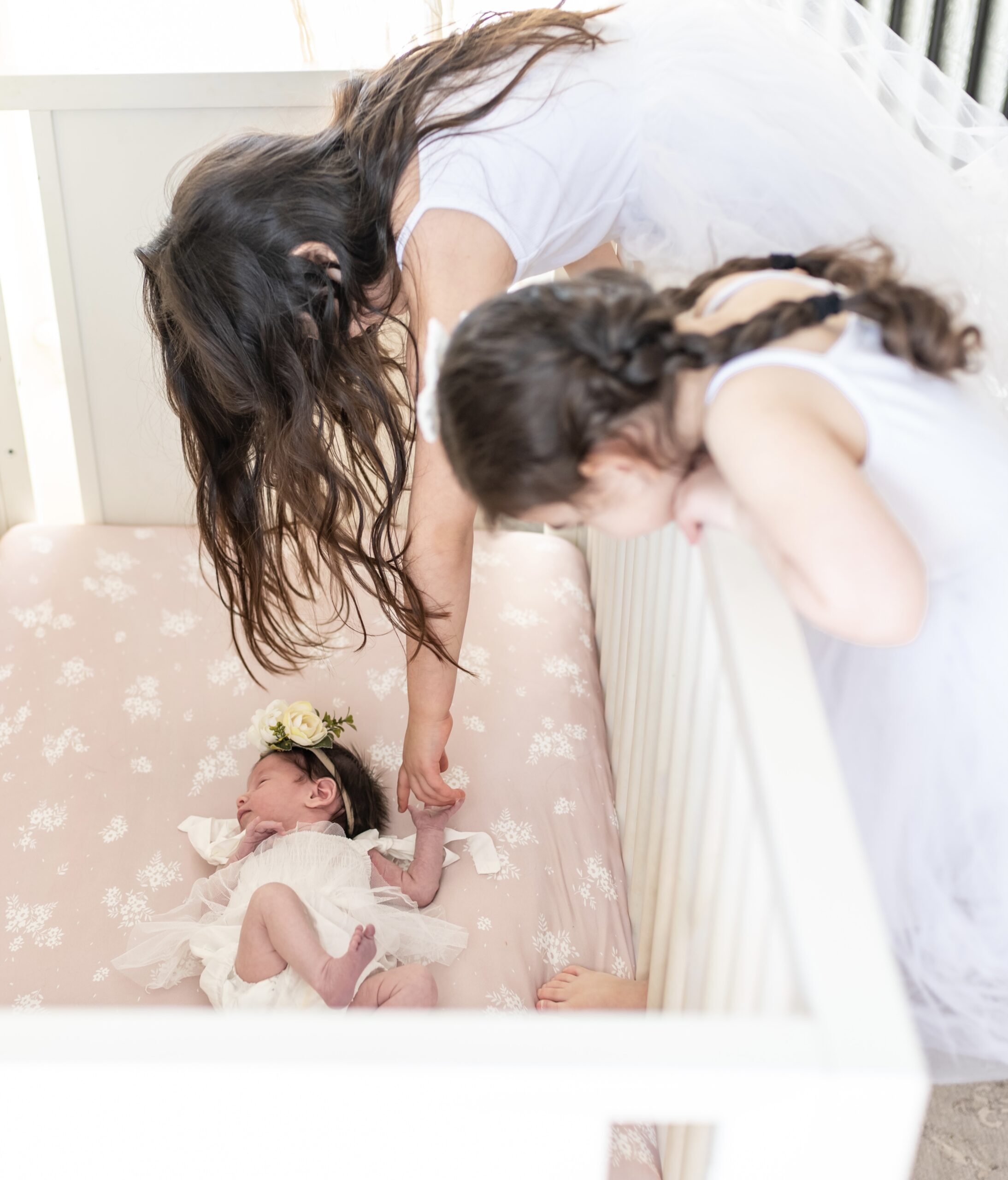 I love that you can see just how much our older girls adore their baby sister. Their excitement is nearly palpable in these photos and goodness, my heart can barely handle it.
Taking newborn family photos at home this time around = amazing decision.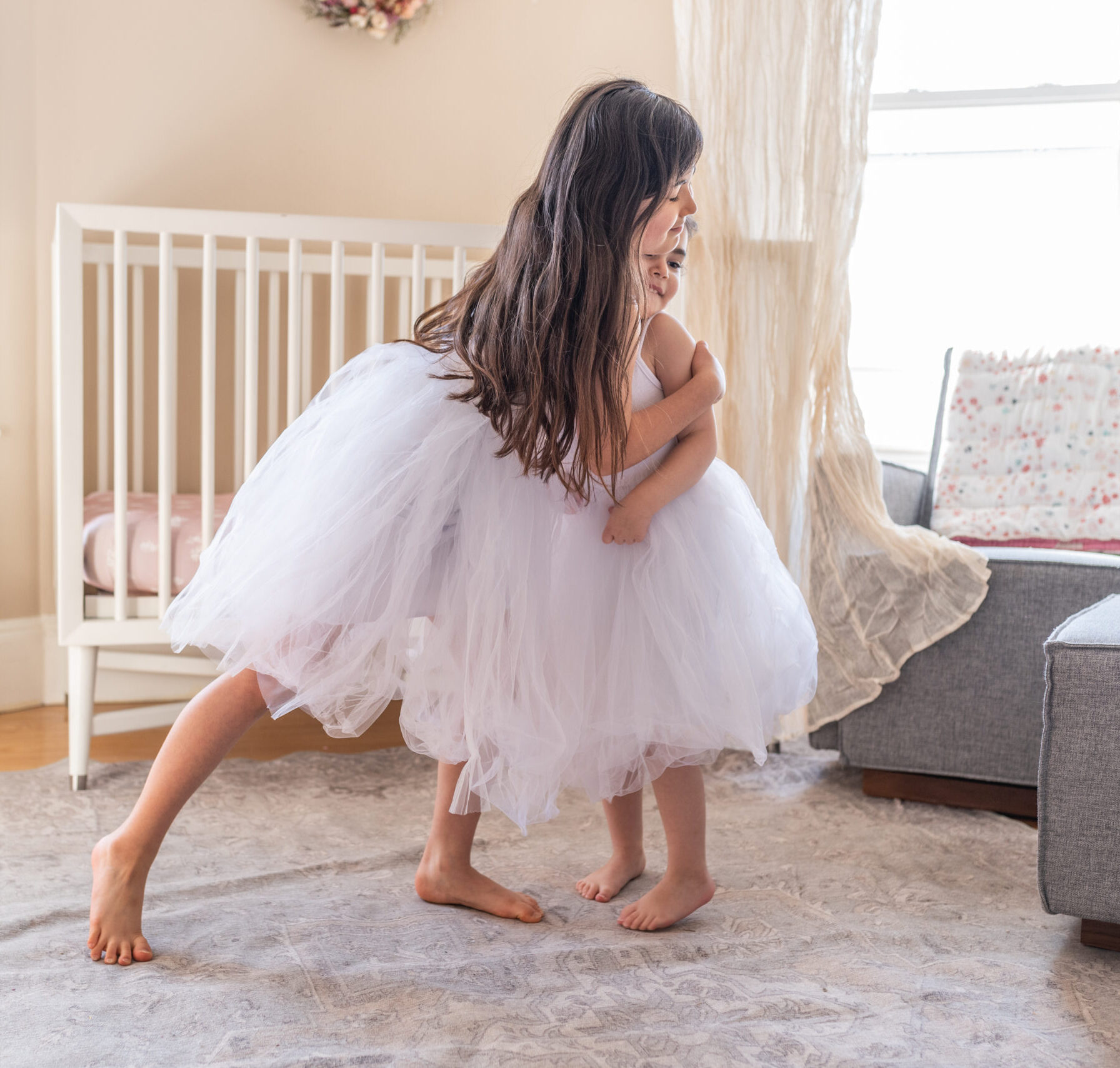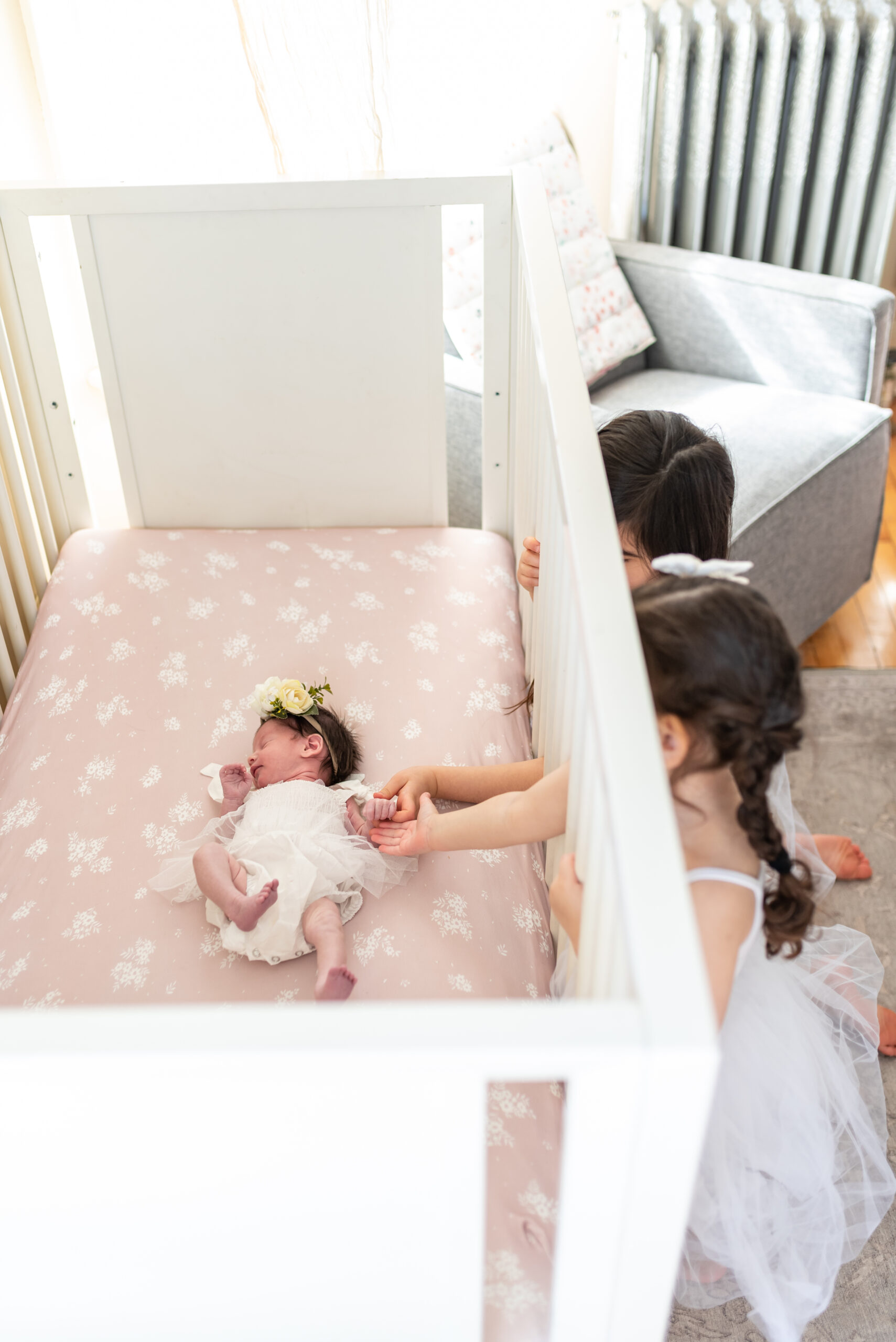 SHOP THE NEWBORN FAMILY PHOTOS POST | CLICK LEFT & RIGHT ARROWS TO EXPLORE

IF YOU LOVED THIS POST, YOU CAN SEE MORE OF OUR LIFE WITH THREE LITTLE ONES HERE OR FOLLOW ME ON INSTAGRAM TO SEE THE LATEST.
Photos by Sarah Rachel Marchwiany for Glitter, Inc.