This post contains affiliate links, which means that if you click on one of the product links, I'll receive a small commission. Additionally, as an Amazon Associate I earn from qualifying purchases. Thank you so much for clicking through and helping to support this little blog business of mine! Read more about our site, privacy, and disclosure policies here.
Now that school is in full swing, fall is here, the temperatures are noticeably starting to drop, and the after school activities are aplenty, easy and delicious weeknight dinners – perfect for school nights – are the name of the game.
30 Delicious and Easy Weeknight Dinners
I want weeknight dinners that the whole family will love, made with wholesome and simple ingredients that take minimal prep and produce flavorful, crowd-pleasing meals. Dinners that come together in 30 minutes or less are pretty much all I want in my dinner wheelhouse on these busy school nights!
Crowd-Sourcing for the Best Easy Week Night and Back-to-School Dinner Recipes
I tend to fall into dinner ruts, making the same handful of easy dinner recipes again and again. So I'm back to the proverbial drawing board; a.k.a., my internet besties, who have happily shared their favorite go-to weeknight family meals, perfect for cooking and getting on the table in 30 minutes or less! When it comes to easy weeknight meals, I'm looking for delicious and nutritious dinners made on one sheet pan, in the crockpot, with few ingredients and with minimal dishes. Bonus points for meals my kids will actually eat (and enjoy!)
A Note on Searching the Post for Easy and Delicious Weeknight Dinner Ideas:
This post is chock full of amazing and easy weeknight dinner recipes, though it is a lot to comb through. My advice is to search through the post for keywords based on what you have on hand for dinner.
To search any post, just use the keyboard shortcut by pressing the ⌘ Cmd key and the letter F (for "find") at the same time.
So for example, say you have chicken defrosted for dinner tonight, just search the post for "chicken" and you'll find all of the easy dinner recipes using chicken.


30 Easy and Delicious Weeknight Dinners To Add to the Back-to-School Dinner Rotation
Now let's take the stress out of weeknight and school night cooking and try working a few of these delicious simple dinners into your weekly dinner rotation!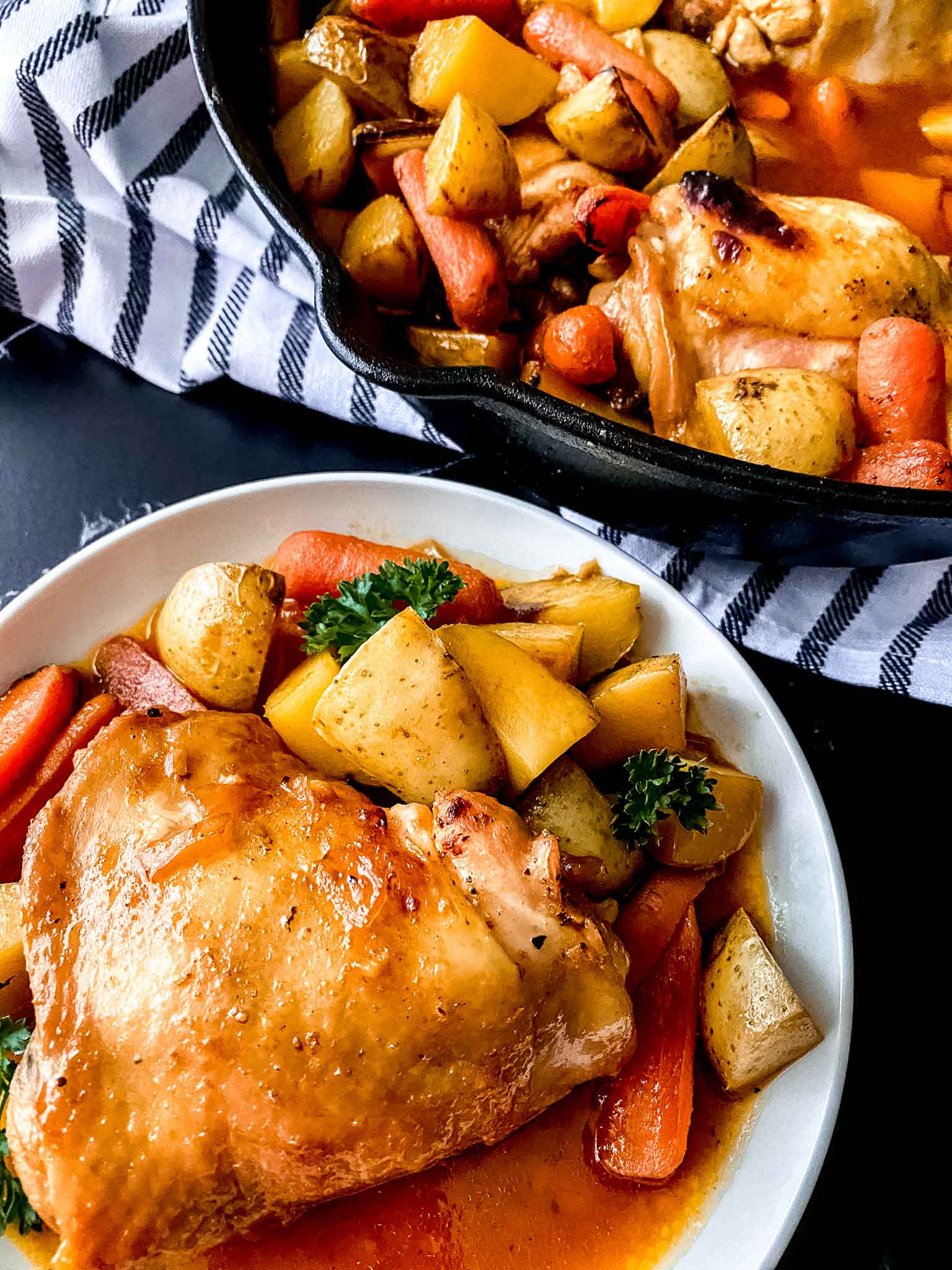 This simple One Pan Honey Garlic Chicken recipe is so good for a quick dinner. You can cook a flavorful meal in one skillet, eliminating all of the extra dishes, all while still making the most delicious, healthy dinner for the family.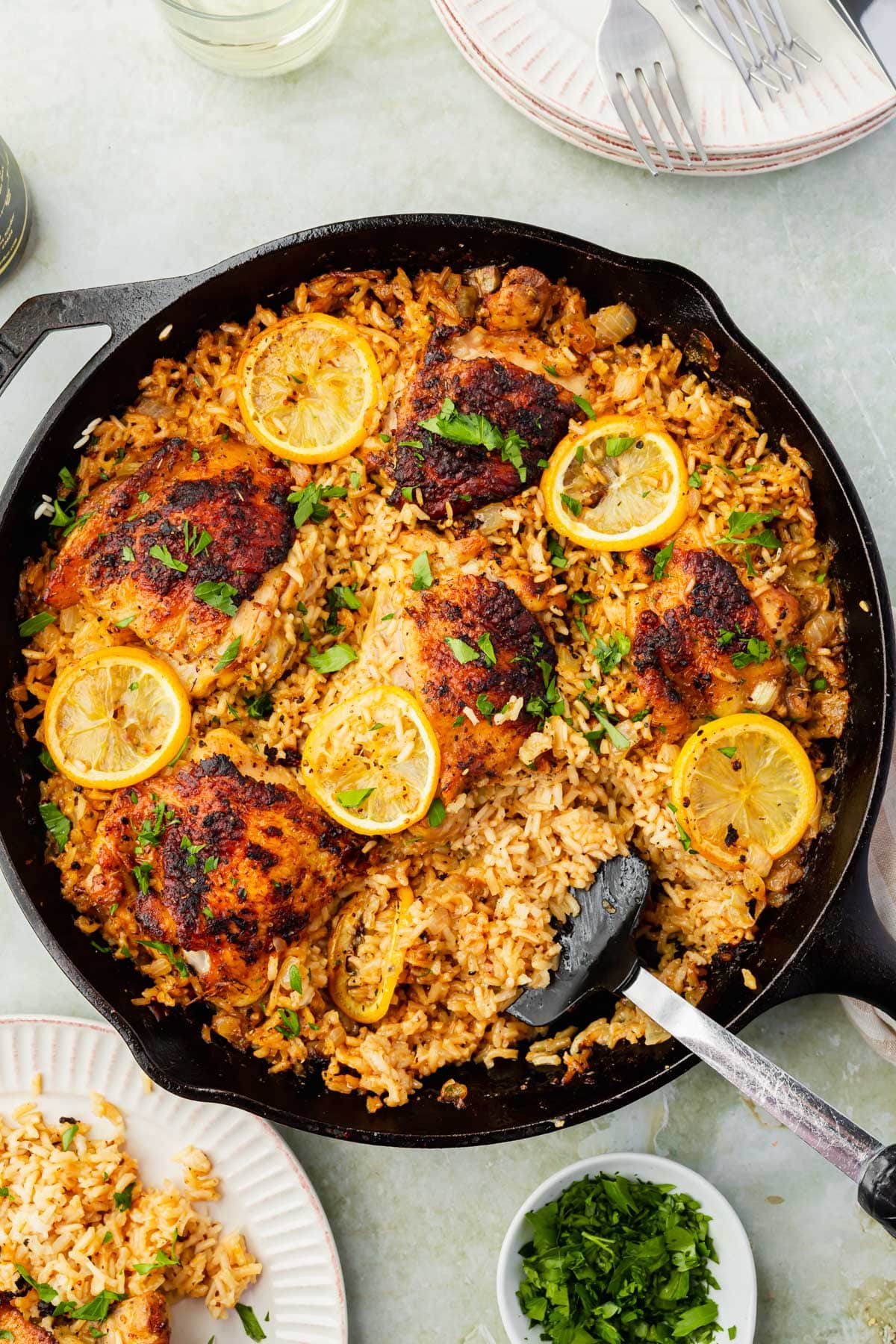 This one pot chicken and rice meal is the perfect dinner to feed the whole family. It's so flavorful and easy to make!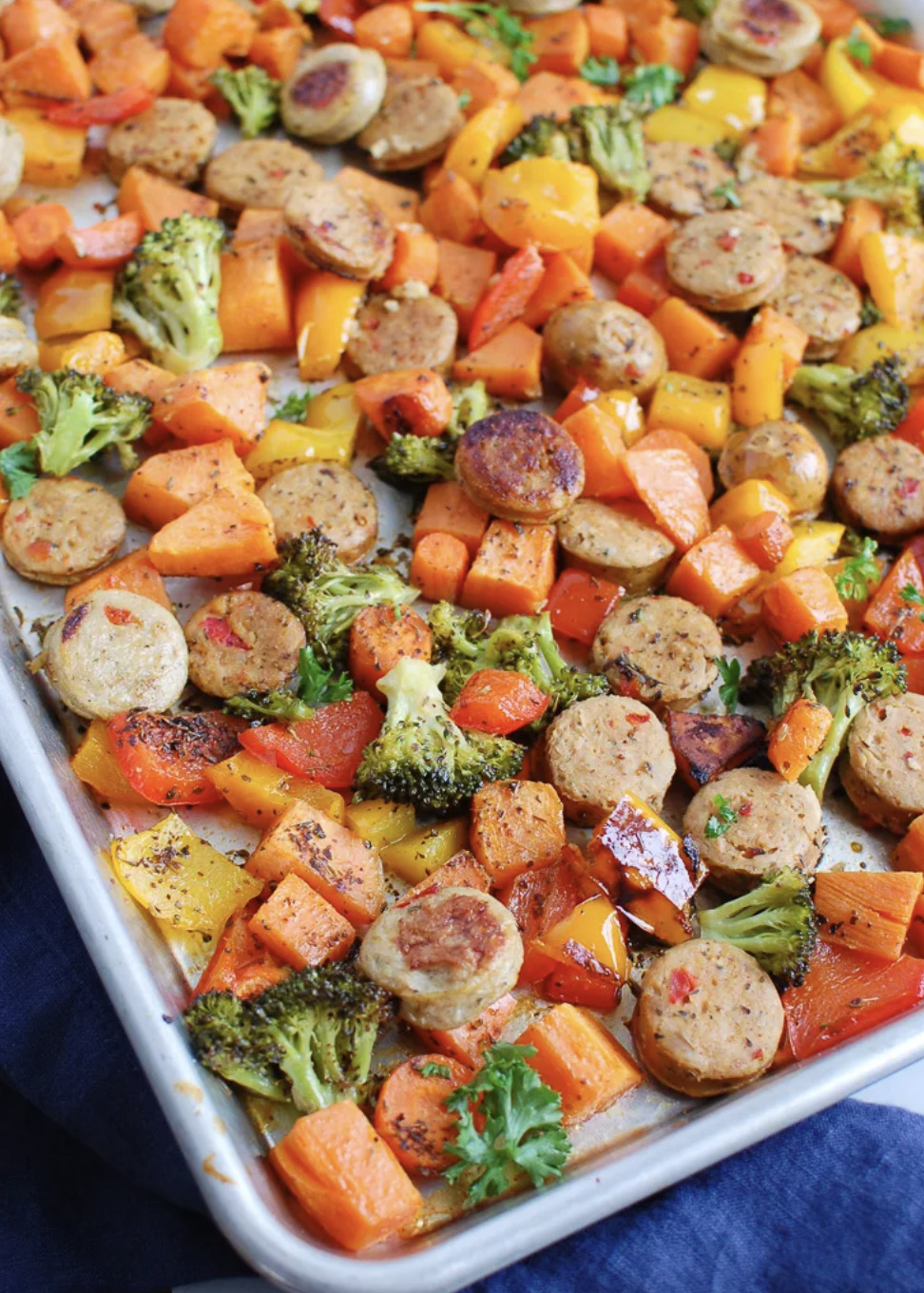 Sheet Pan Chicken Sausage and Vegetables is great for meal preparation for the week. All of your ingredients roast on one baking sheet for minimal clean-up and an easy, healthy meal. Chicken sausage and colorful vegetables are mixed with olive oil and your favorite spices for the perfect lunches or dinners during the week.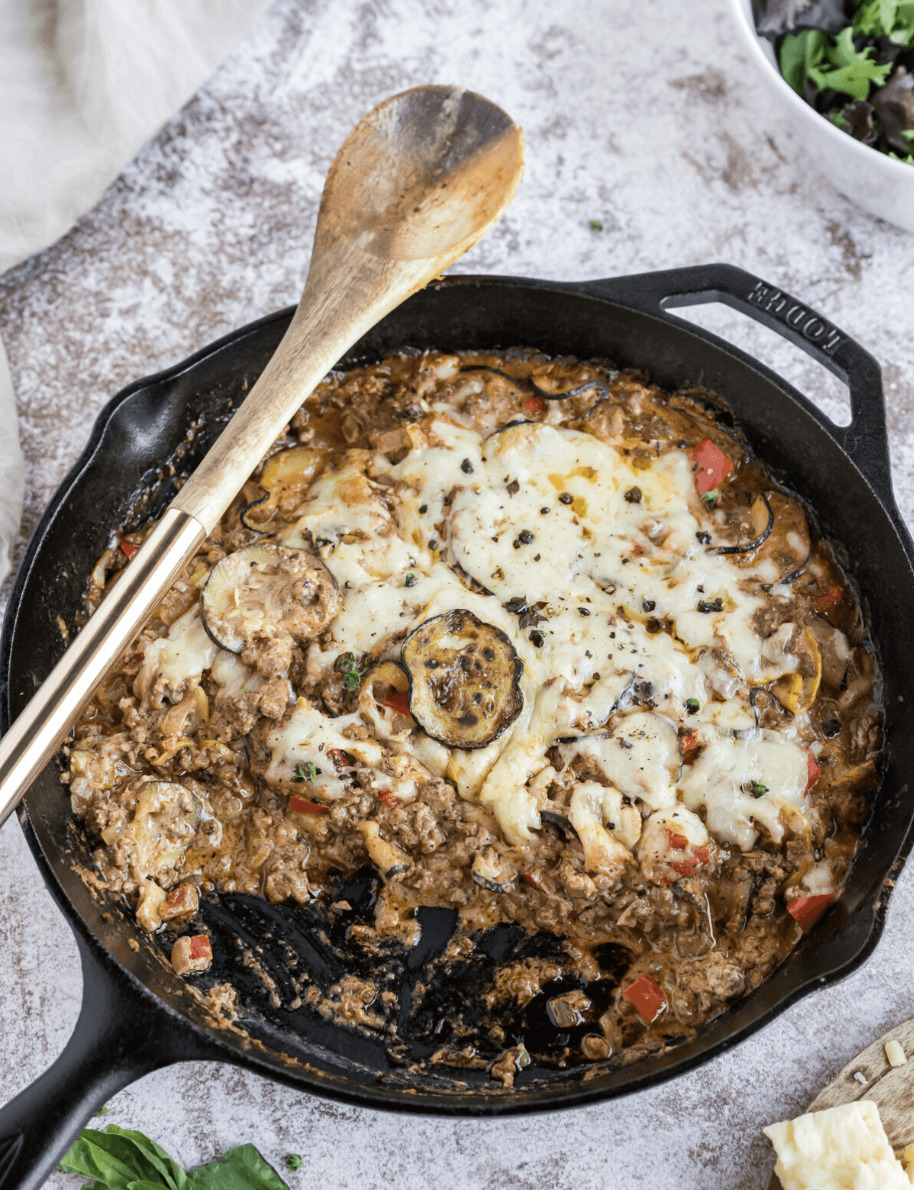 Utilize all of that fresh garden zucchini and make this healthy, one skillet ground beef and zucchini casserole. Kids and parents alike love this hearty low-carb dinner!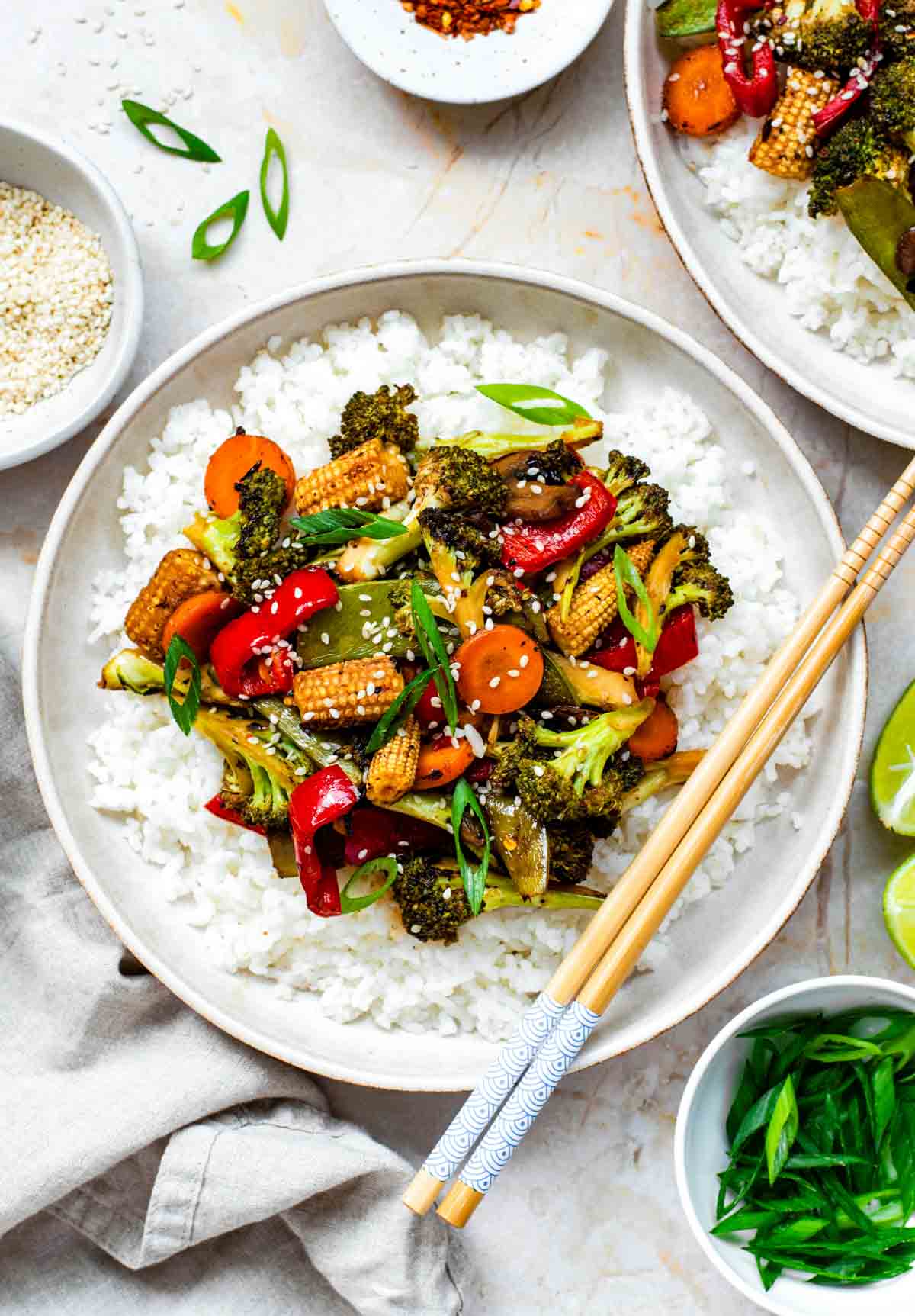 Elevate your back-to-school routine with this pad pak, a quick and wholesome Thai recipe showcasing crisp veggies and a delectable stir-fry sauce. This dish boasts a symphony of salty, sweet, and umami flavors with simple ingredients. Plus, it's ready in a mere 30 minutes, making it a perfect addition to your busy schedule!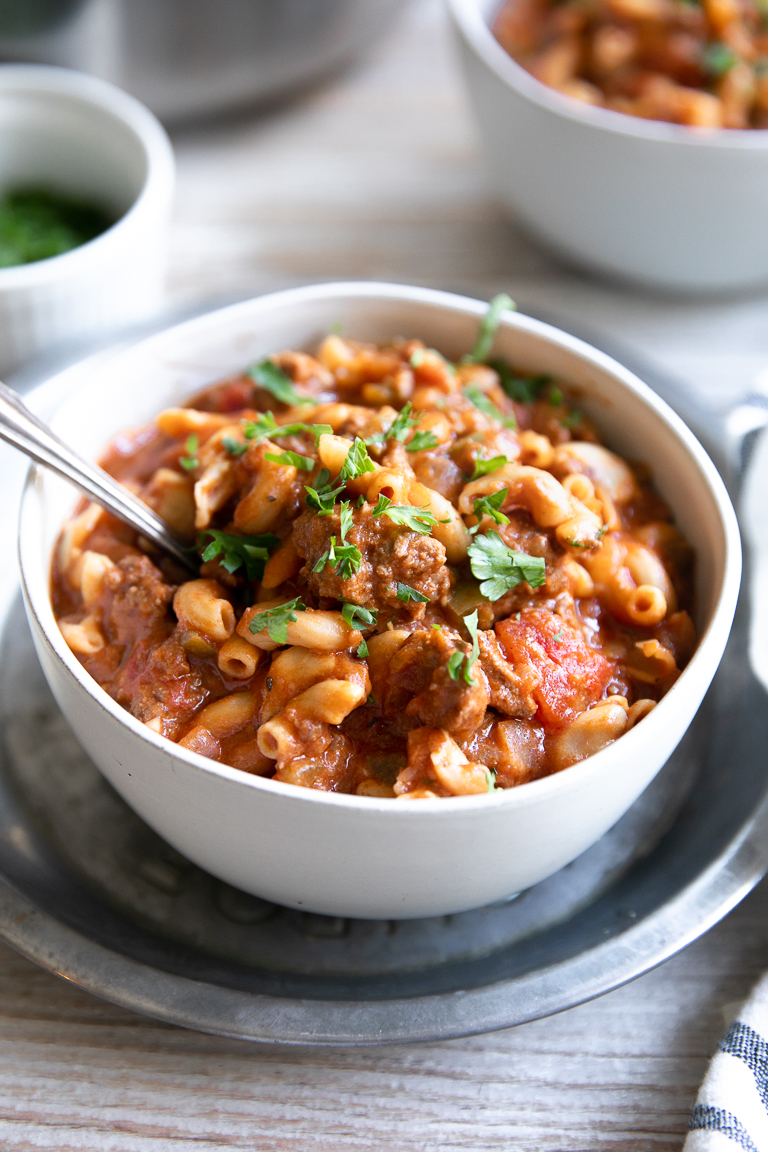 American Goulash is a comforting one-pot dish blending ground beef, tomatoes, and macaroni noodles, perfect for year-round enjoyment. This delightful recipe ensures to impress even the most discerning eaters, especially as a weeknight treat.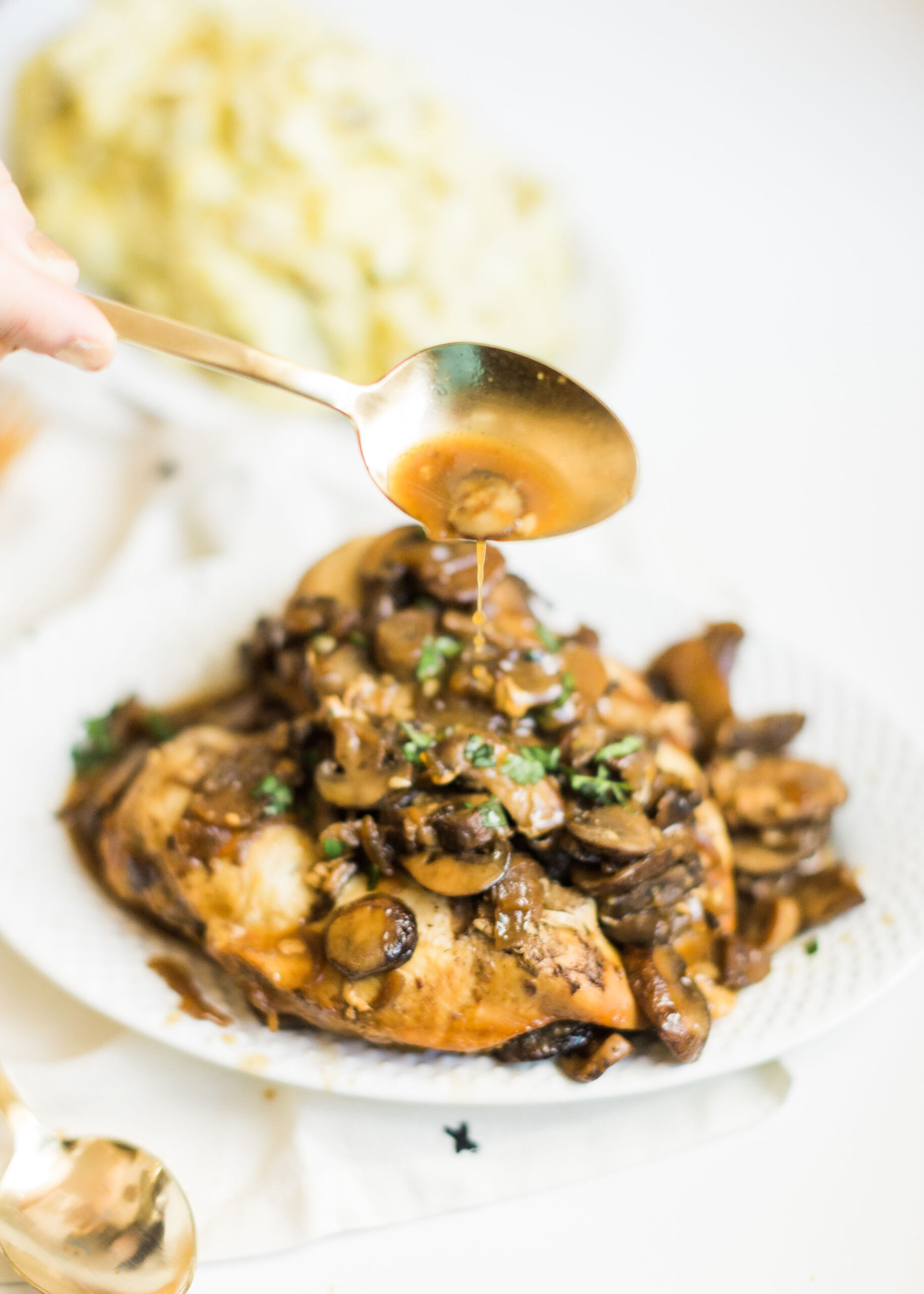 This easy and tender Instant Pot chicken marsala is an explosion of flavor – seared chicken breasts in a rich mushroom and onion gravy – all thrown together in minutes in your crockpot or instant pot – no extra pans required. Serve it with mashed potatoes for a knockout dinner the whole family will love!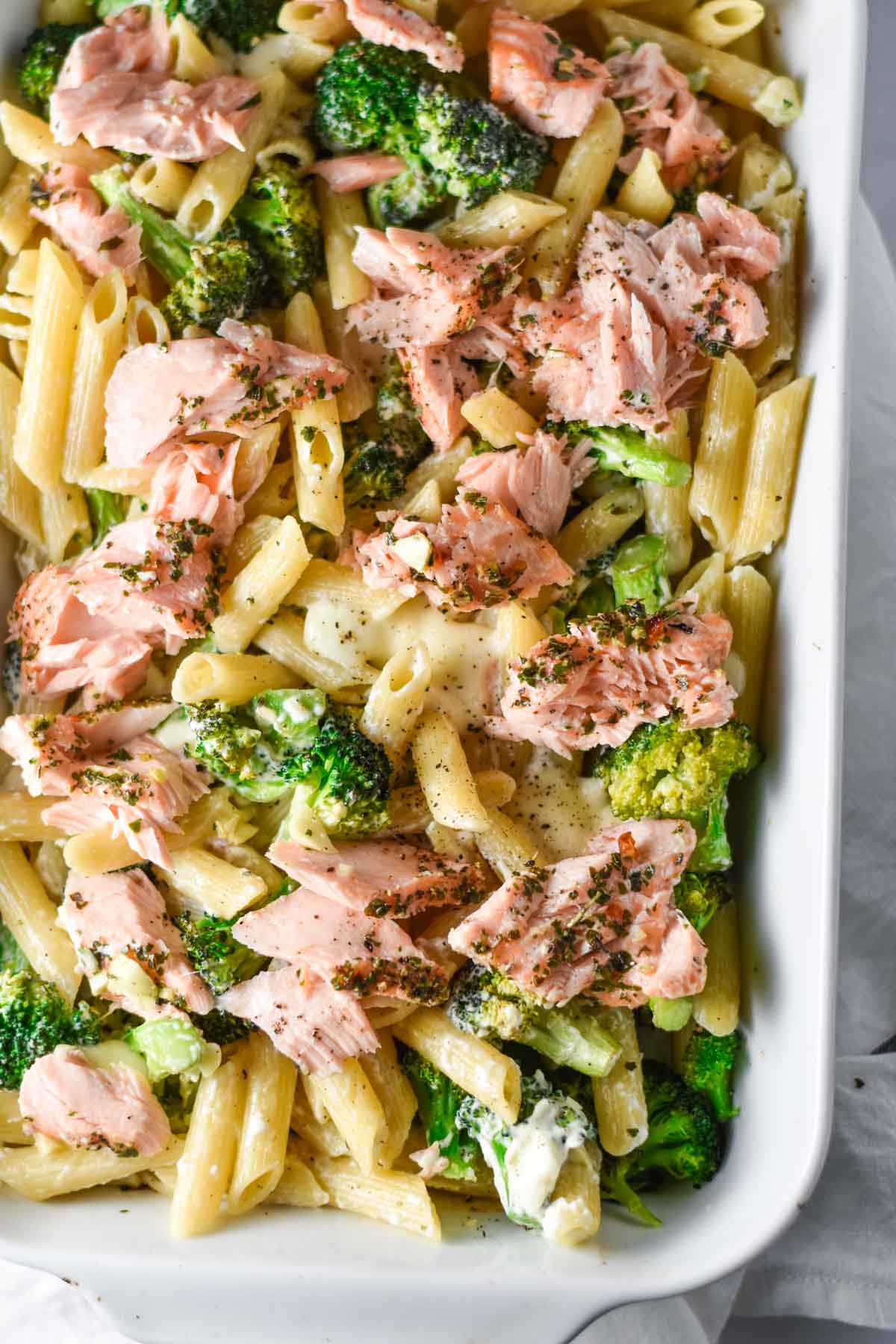 This Salmon Broccoli Pasta is perfect for busy weeknight dinners. Baked in a single dish, roasted broccoli, salmon, and cheesy pasta combine for a family-friendly dish that's healthy and has minimal ingredients.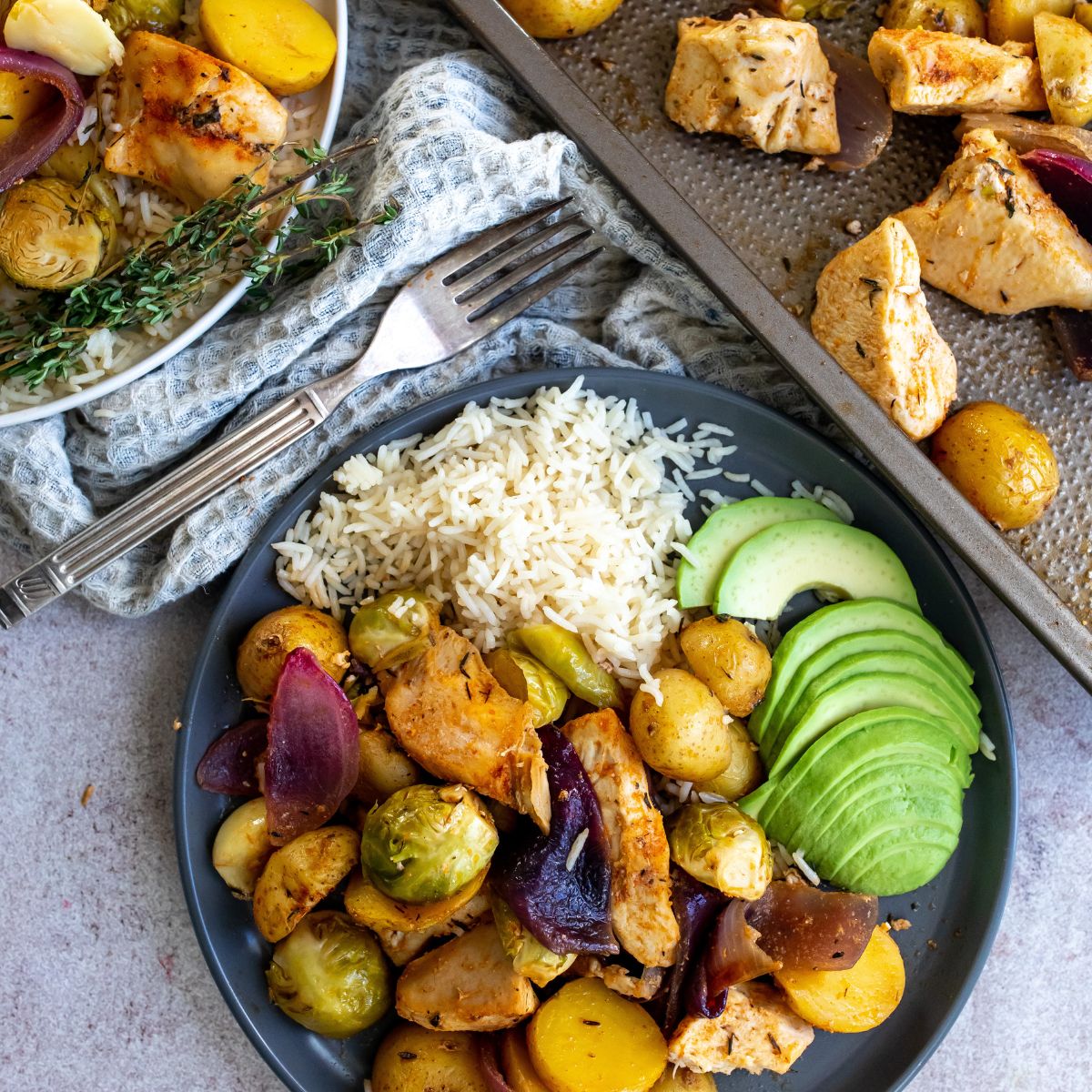 This tasty garlic, lemon one pan chicken and veggies recipe is made using boneless chicken breasts, new potatoes and your favorite veggies. This is a standout delicious, simple chicken recipe using only one pan that churns out a quick and easy dinner recipe that the whole family is going to love.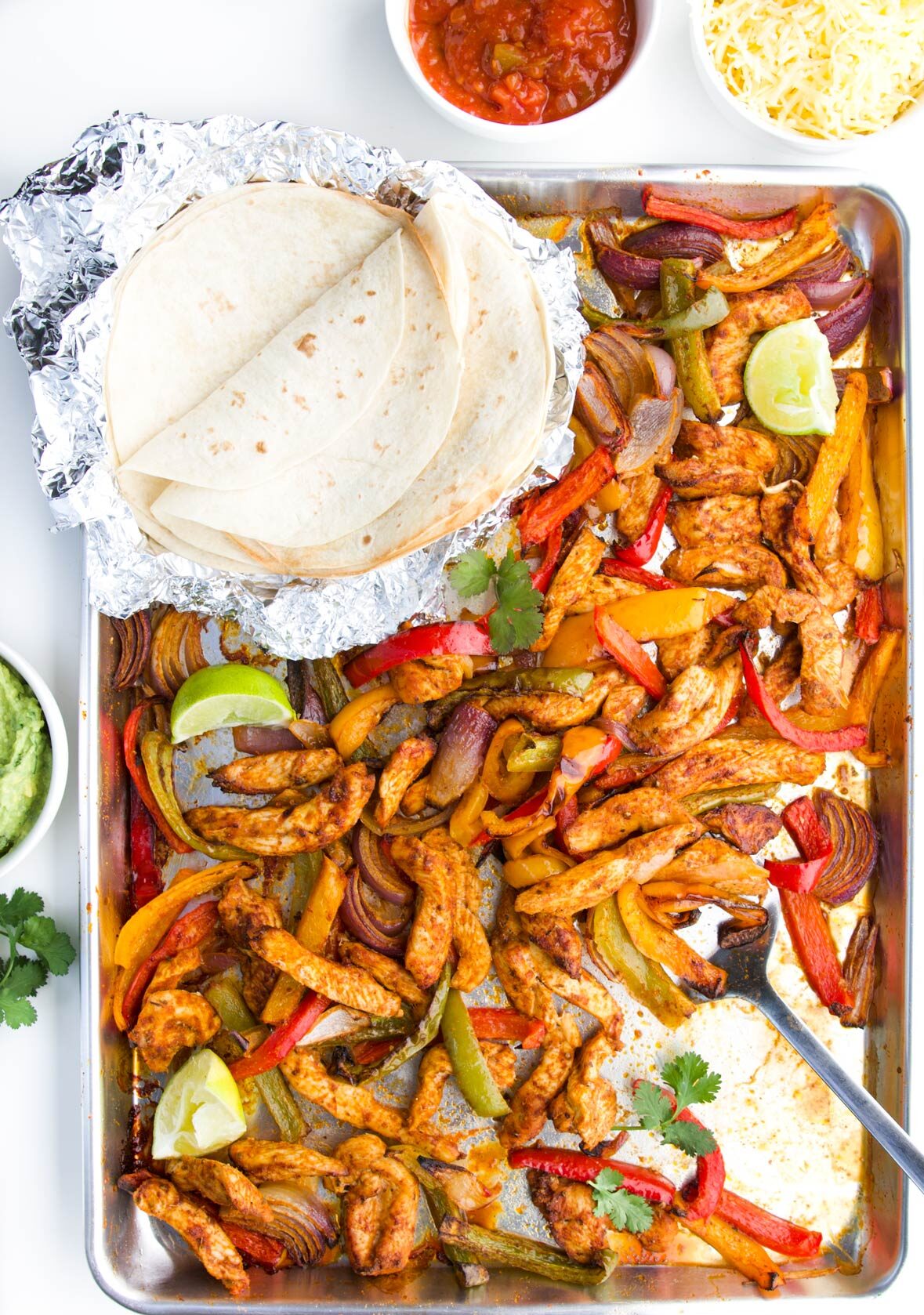 Baked Chicken Fajitas are quick to throw together and require minimal effort. There's no need to slave at the stove, just pop all of your ingredients in the oven and let it do the hard work for you. Sheet pan fajitas are colorful, tasty, easy, and a favorite weeknight meal for families.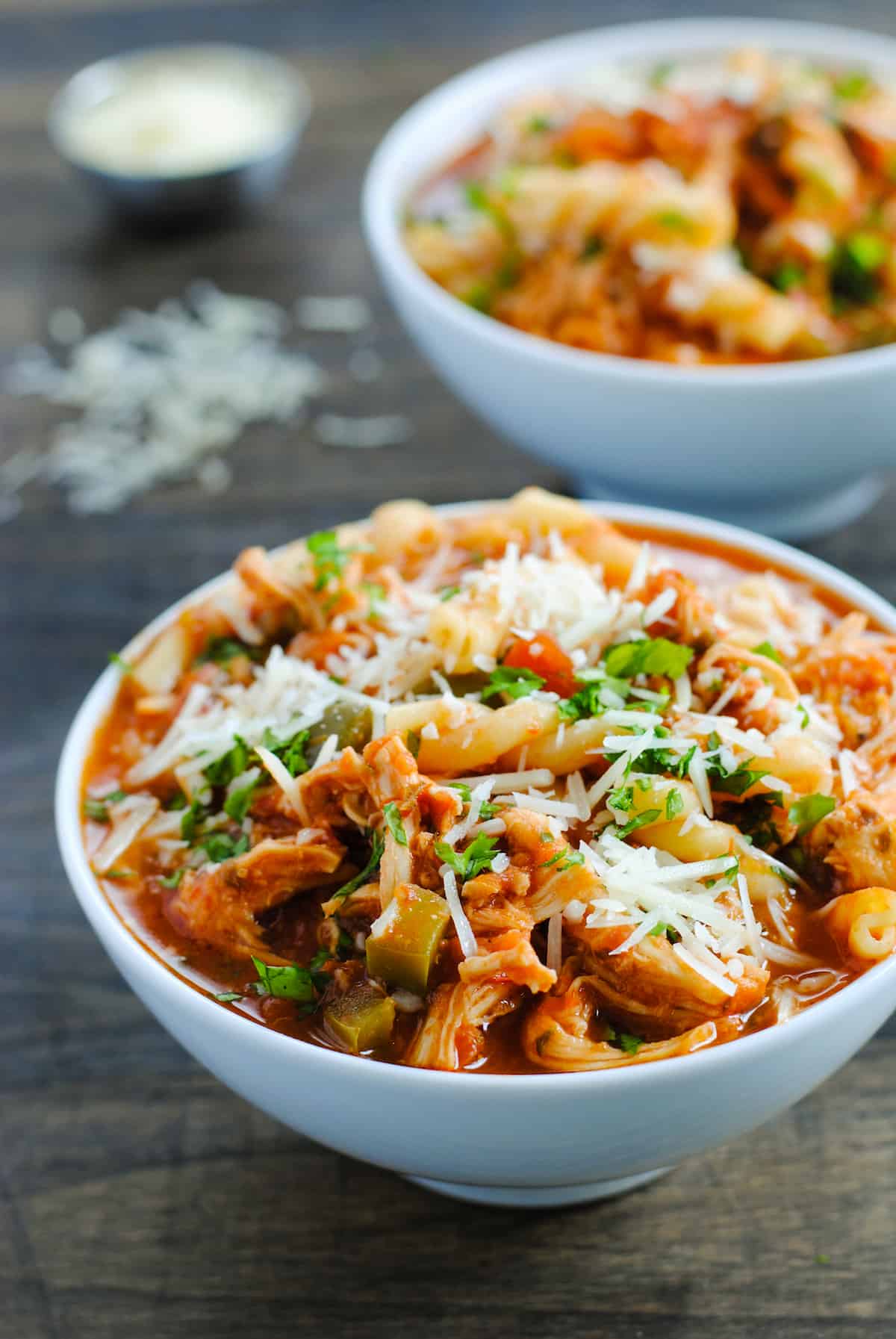 This Crockpot Chicken Parmesan Soup has all of the flavors of a decadent comfort food classic in a much healthier slow cooker soup! This family-friendly dinner recipe takes just minutes to prep and is a fan favorite.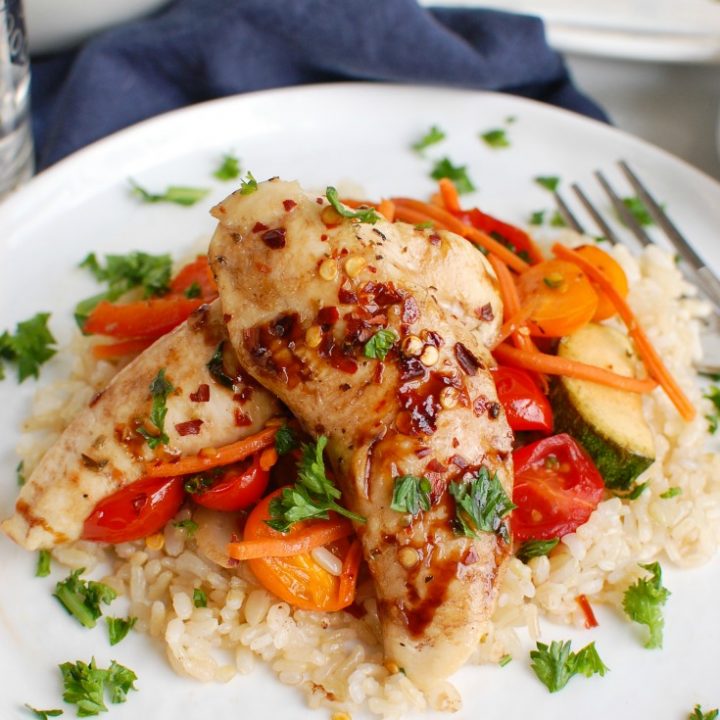 Sheet Pan Honey Balsamic Chicken Tenders and Vegetables is an easy no-fuss meal that cooks on one sheet pan with little clean-up required. Chicken breast tenderloins are roasted in a honey balsamic sauce along with a mixture of colorful vegetables to create a healthy, filling meal the whole family will love.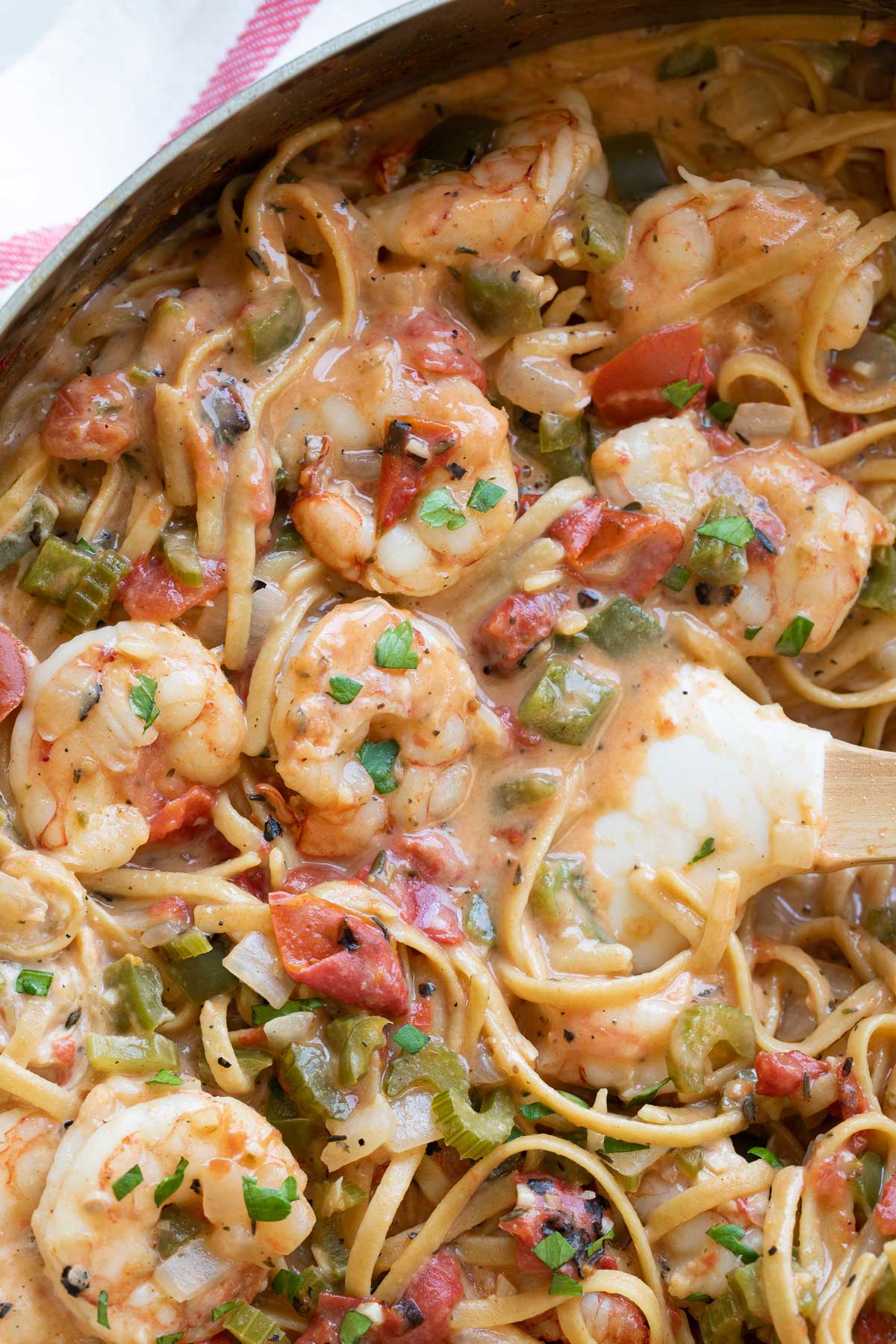 This ultra easy Cajun Shrimp Pasta recipe features tender, succulent shrimp in a flavorful cream sauce. But unlike many other recipes, this version leverages the one-pot method and some clever ingredients to create all those popular, restaurant-quality Cajun flavors quickly and easily (and it rewarms nicely for those days when you need to prep dinner ahead of time)!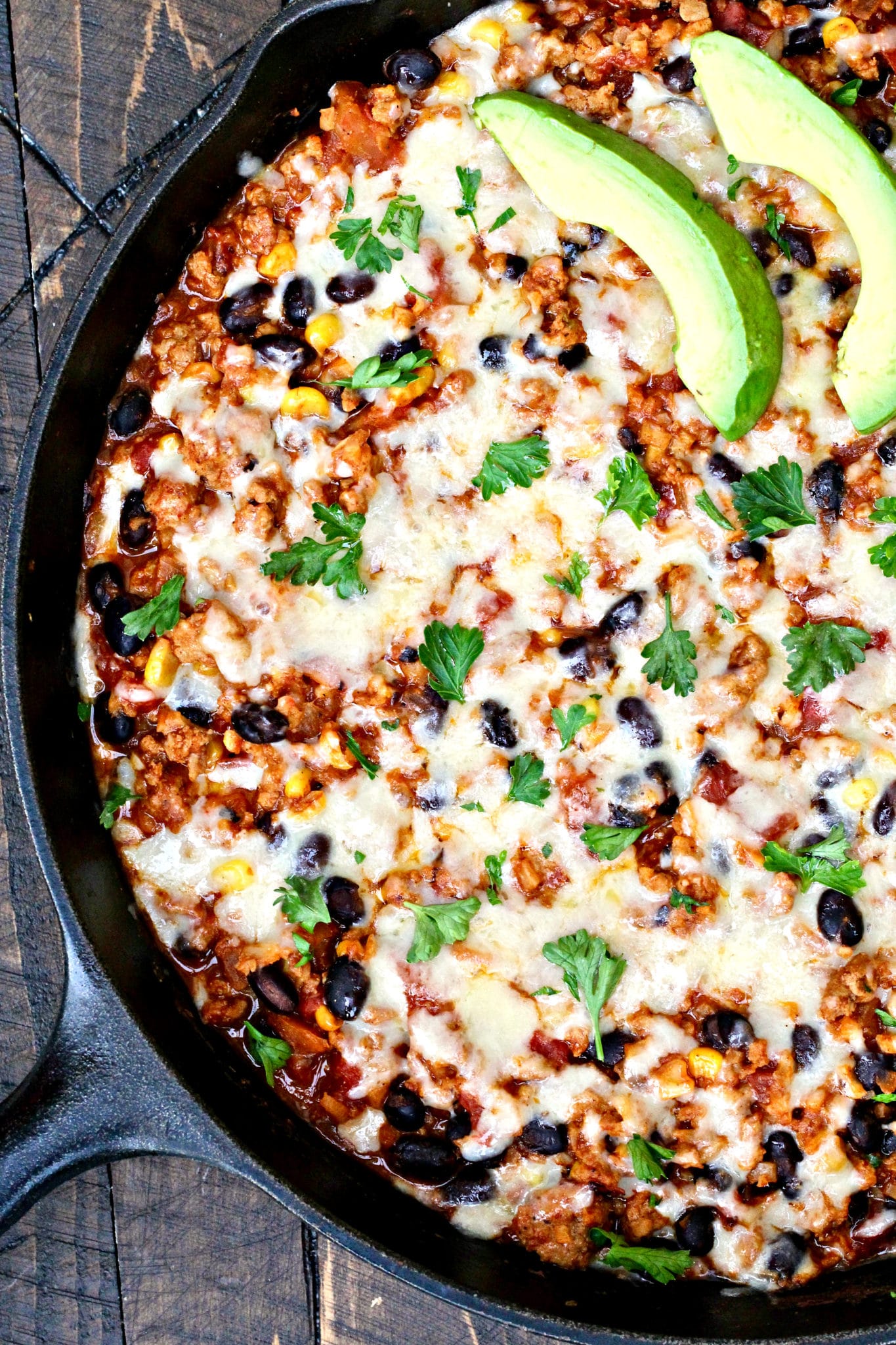 This healthy Turkey Taco Skillet takes all of the flavors of delicious tacos and incorporates them into a simple and satisfying skillet meal. A taco skillet is the perfect budget-friendly weeknight dinner, and it comes together in under 30 minutes!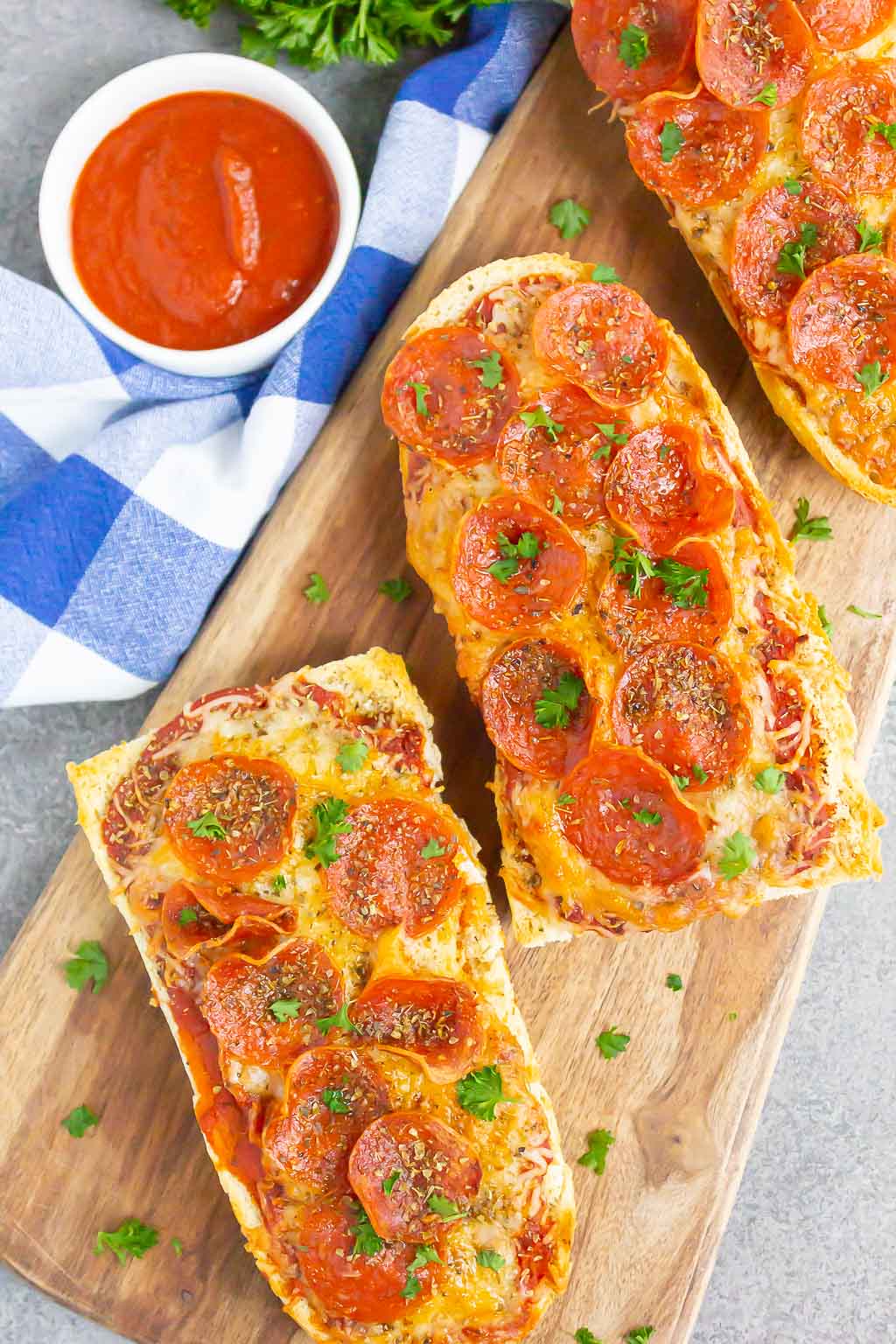 Air Fryer French Bread Pizza is an easy dinner that comes together minutes. With your favorite pizza toppings, mozzarella cheese, and a loaf of French bread, this homemade French bread pizza is perfect for the whole family!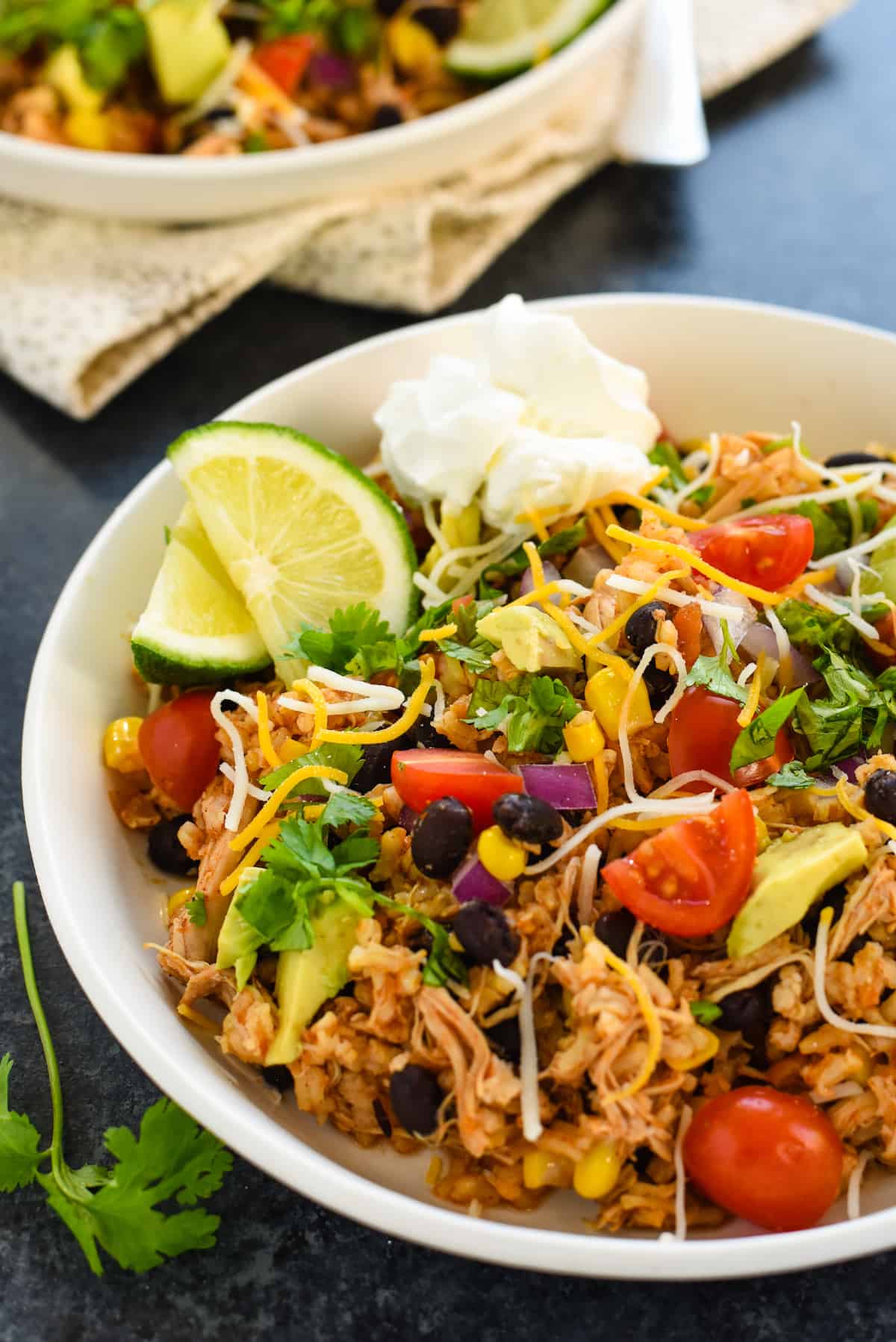 Let your crockpot do the heavy lifting for this Slow Cooker Chicken Burrito Bowl. Your family will love these crockpot burrito bowls filled with chicken, beans, corn and rice and topped with all of the best burrito toppings.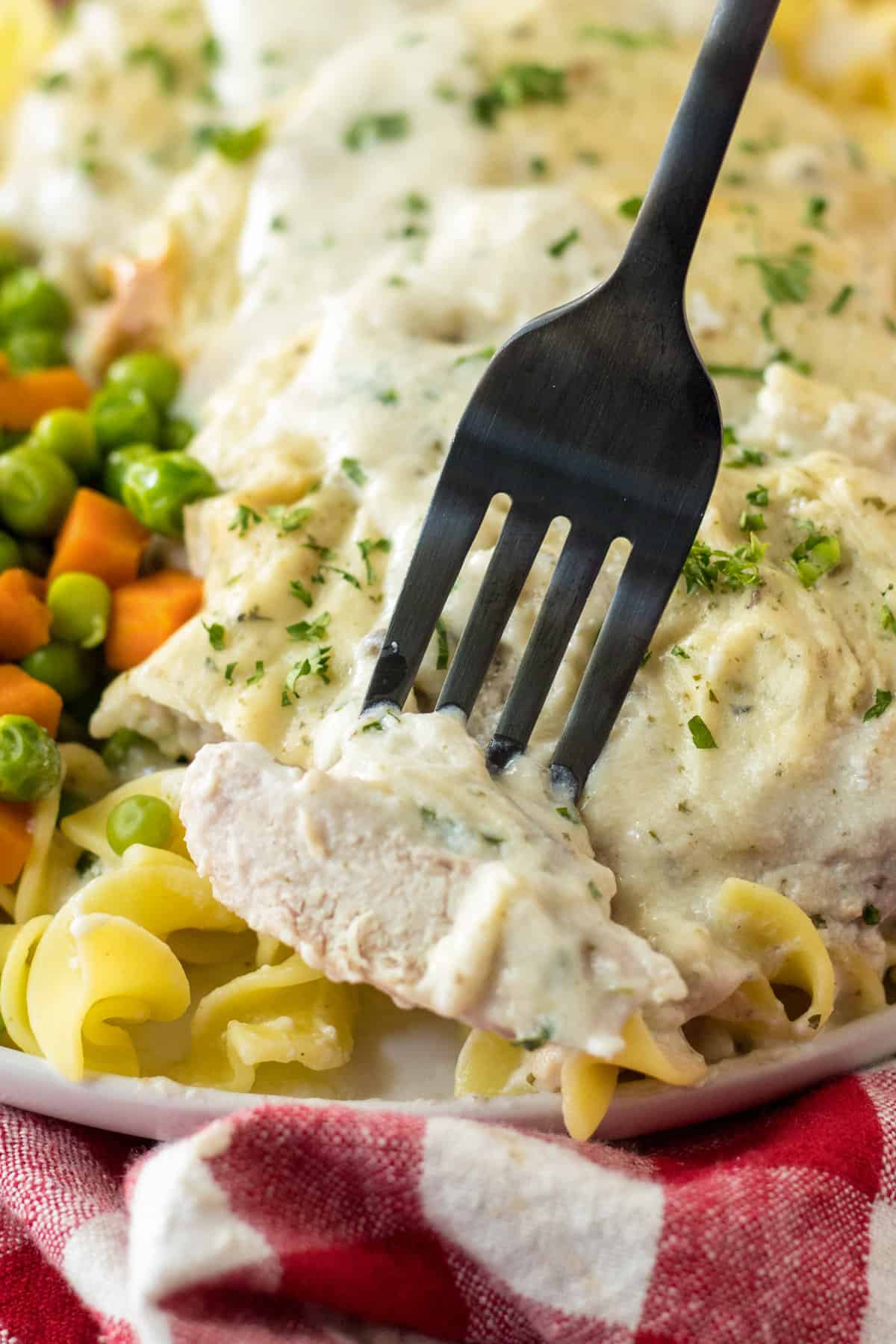 These 4-Ingredient Oven Baked Pork Chops come together quickly, smothered in a creamy mushroom-ranch sauce that's pure deliciousness over mashed potatoes, rice, or pasta. It's a fast, flavor-packed meal for busy weeknights that your family will ask for again and again.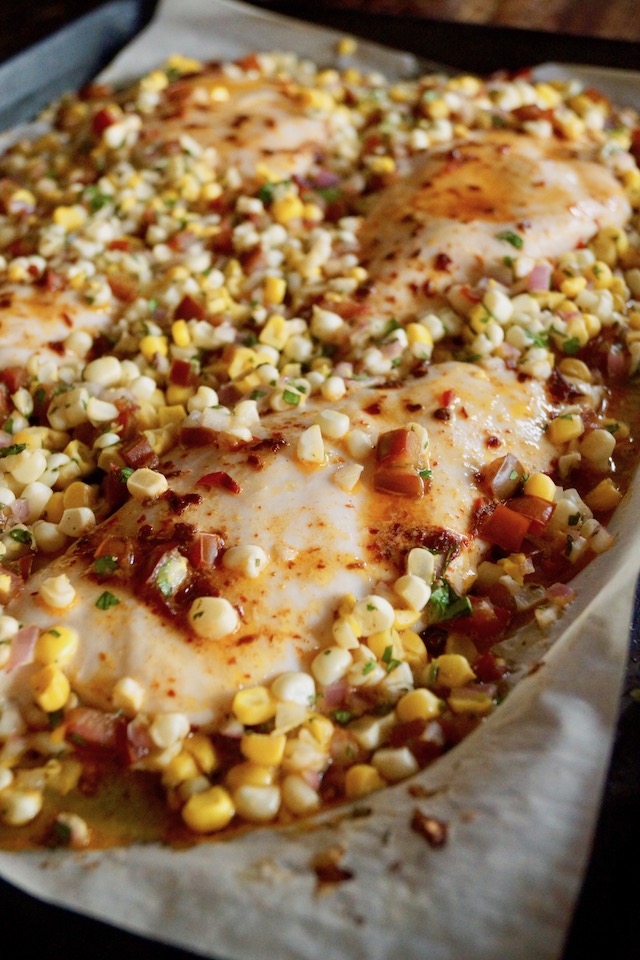 Sheet Pan Chicken with Corn Salsa bursts with sweet, spicy and smoky flavors from chipotles and corn. It's a delicious, unique dinner that can be made is 30 minutes. This is the perfect dinner for a busy weeknight.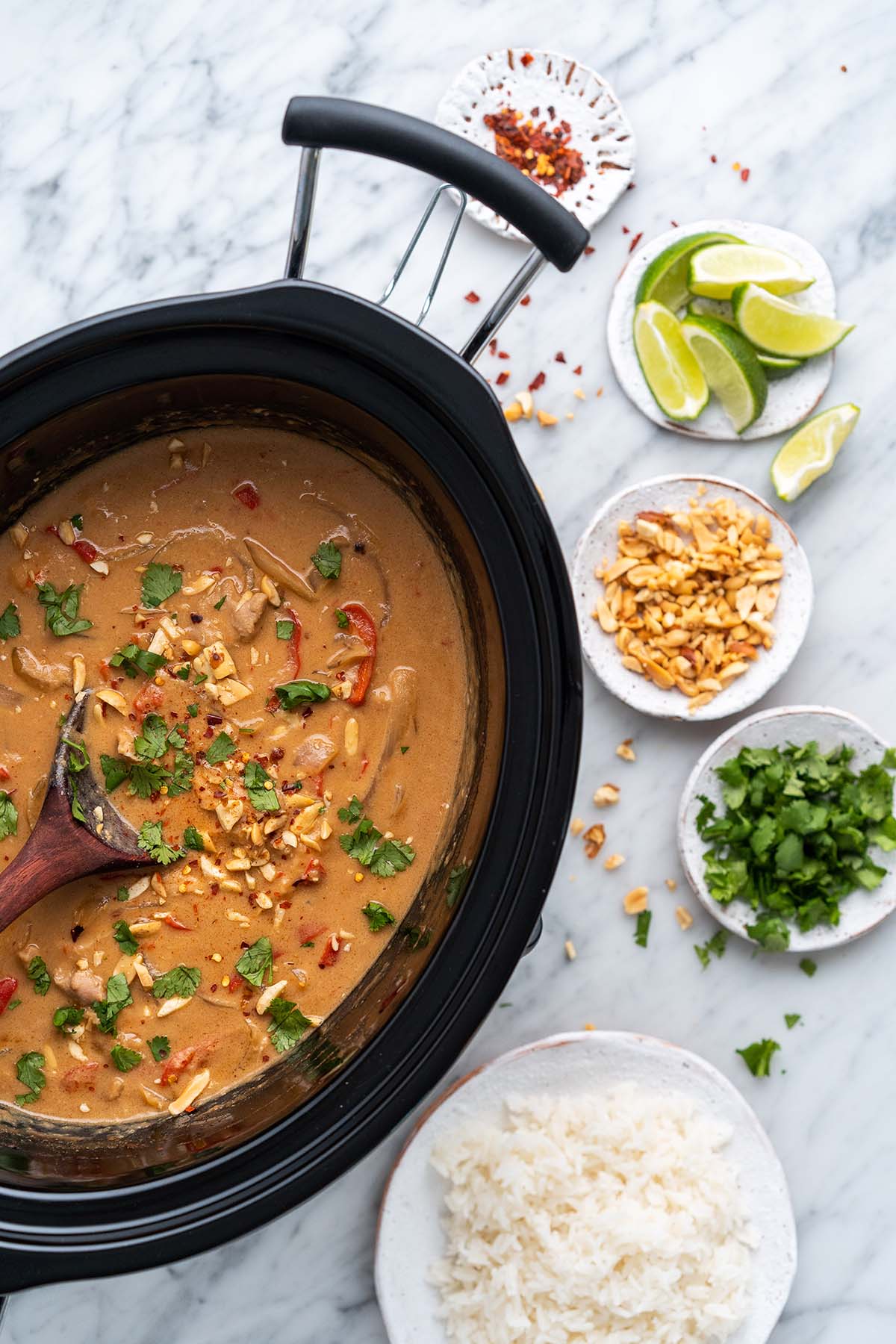 Use your crockpot or slow cooker to effortlessly make this rich and creamy Thai Peanut Chicken for an easy weeknight dinner! It takes just 15 minutes to prep and doesn't dirty any other dishes in the process. Serve it with rice, noodles, or cauliflower rice. And it freezes well, which means it's great for meal prep!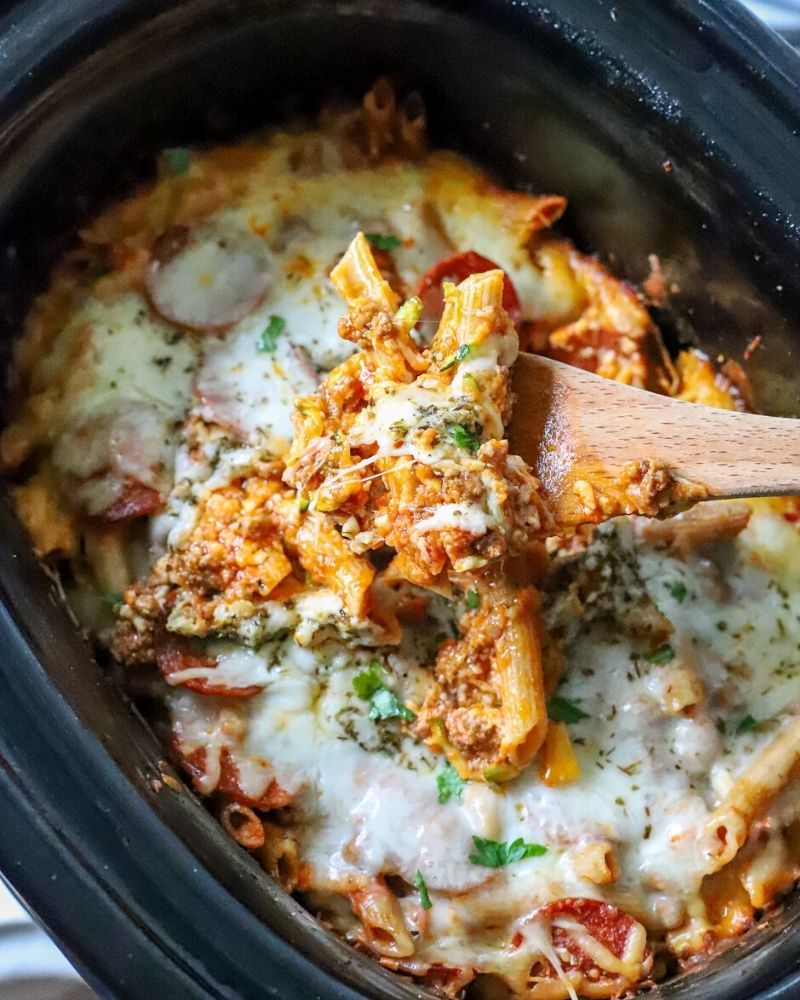 Let your slow cooker work its magic as layers of zesty marinara, gooey cheese, tender pasta, savory pepperoni, and your favorite pizza toppings meld into a flavorful family-friendly back-to-school weeknight meal.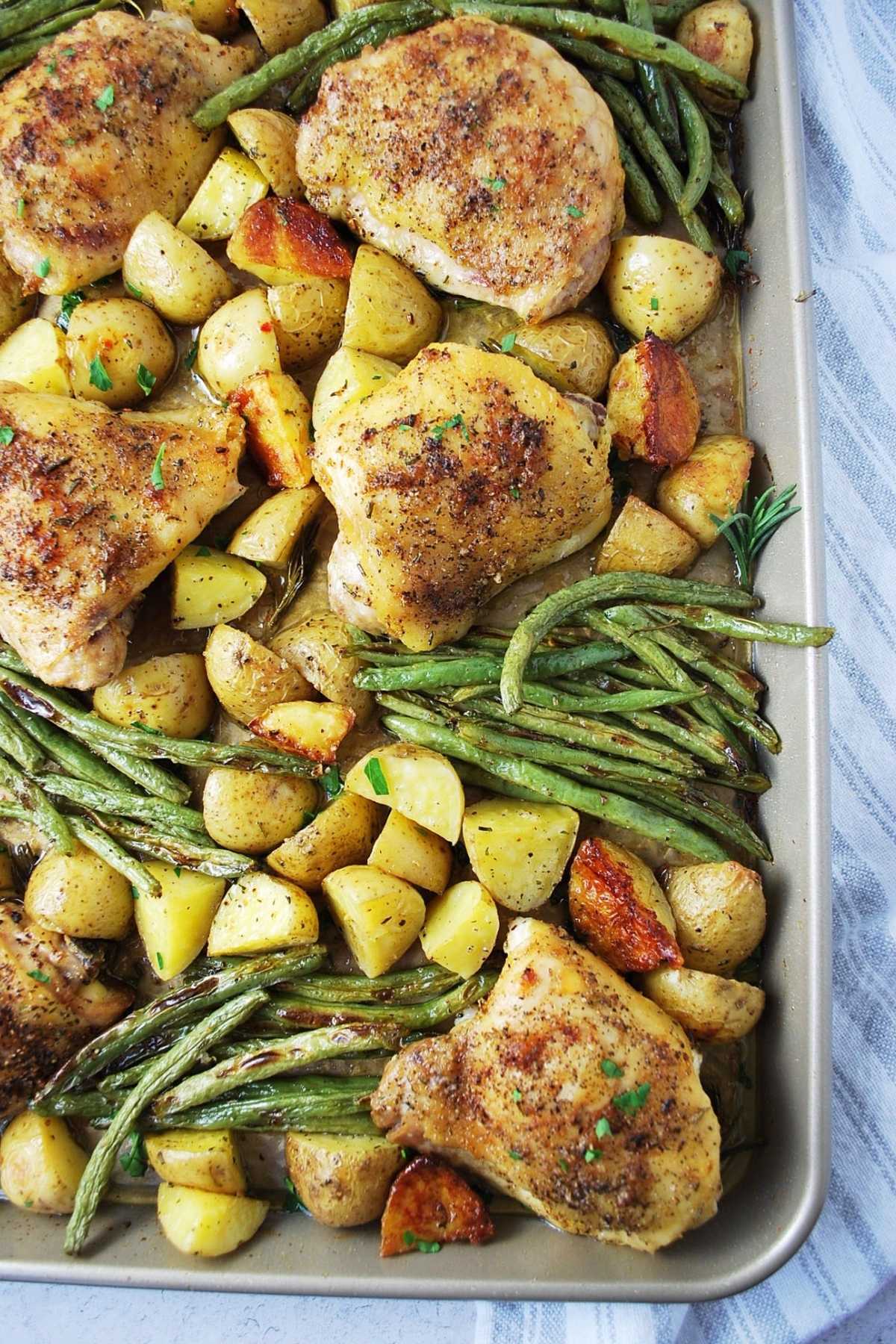 This nutritious sheet pan chicken dinner with potatoes and green beans is an easy hearty meal – perfect for a weeknight dinner – that the whole family will devour!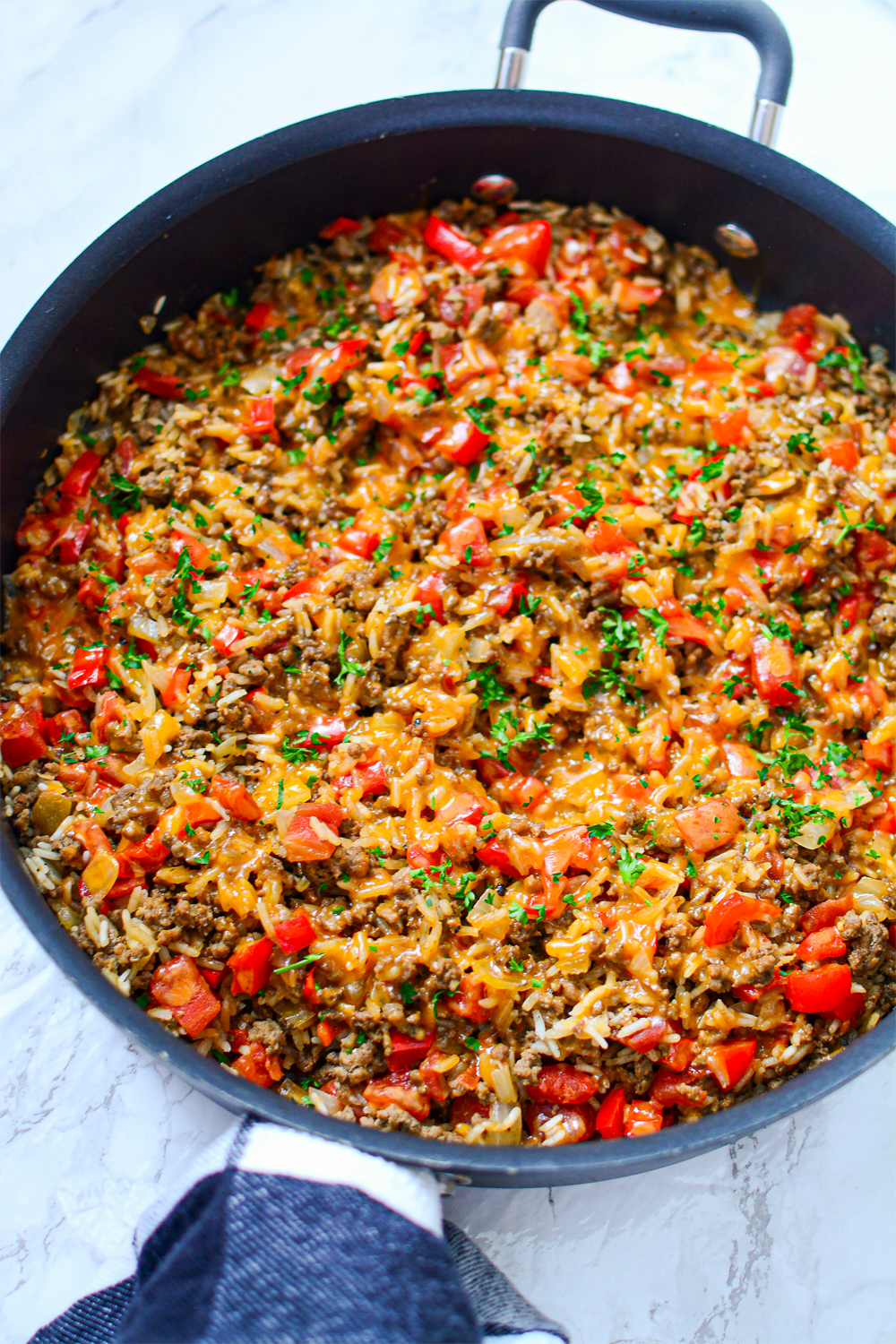 Looking for an easy weeknight meal? This ground beef and rice skillet dinner is quick, delicious, filling, and can be customized to meet your specific dietary needs.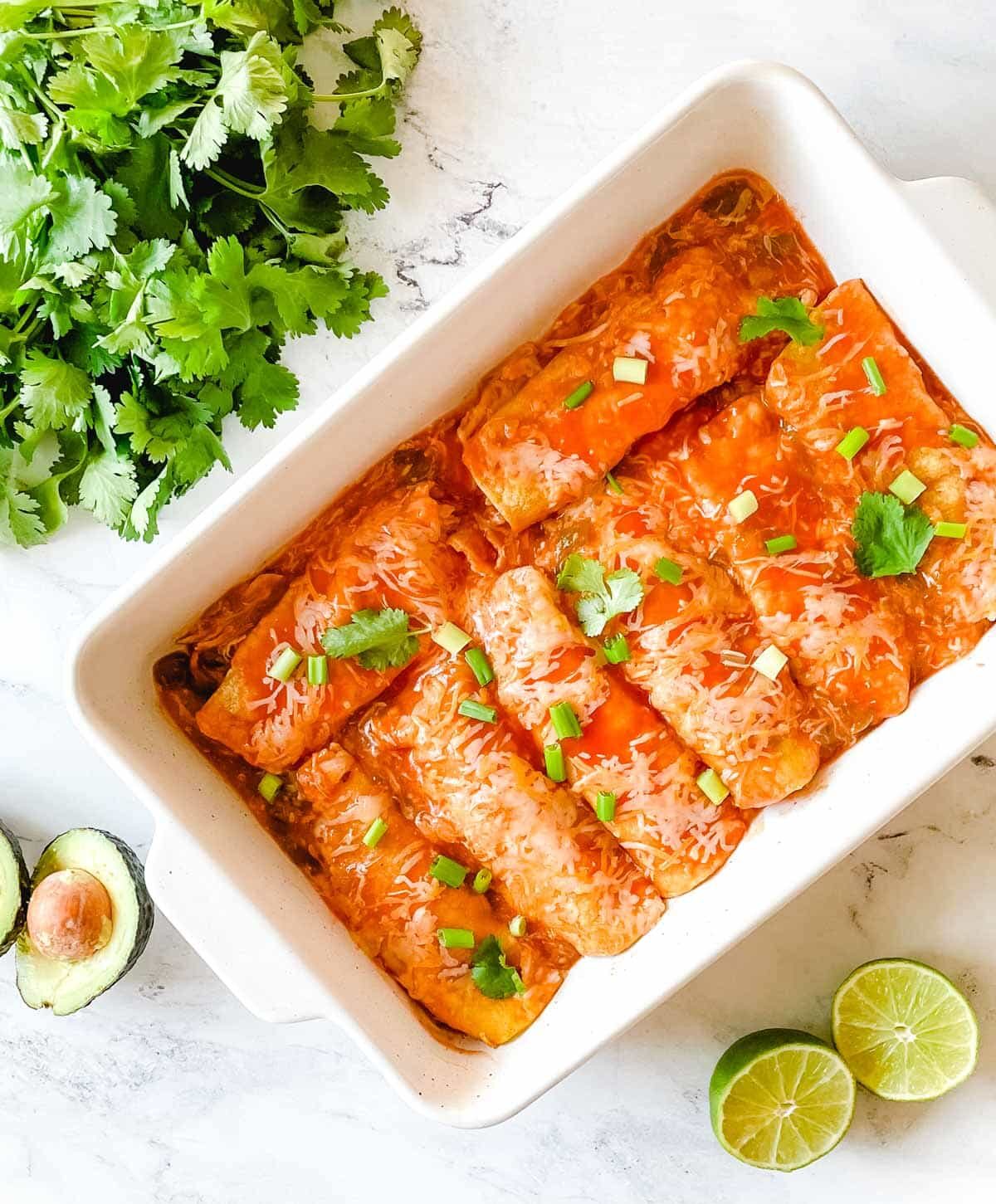 These Chicken Slow Cooker Enchiladas are spicy, tangy, cheesy, and delicious. Tender chicken, tangy enchilada sauce, chewy tortillas, and rich, melty cheese combine to make a dish the whole family will love during back-to-school time!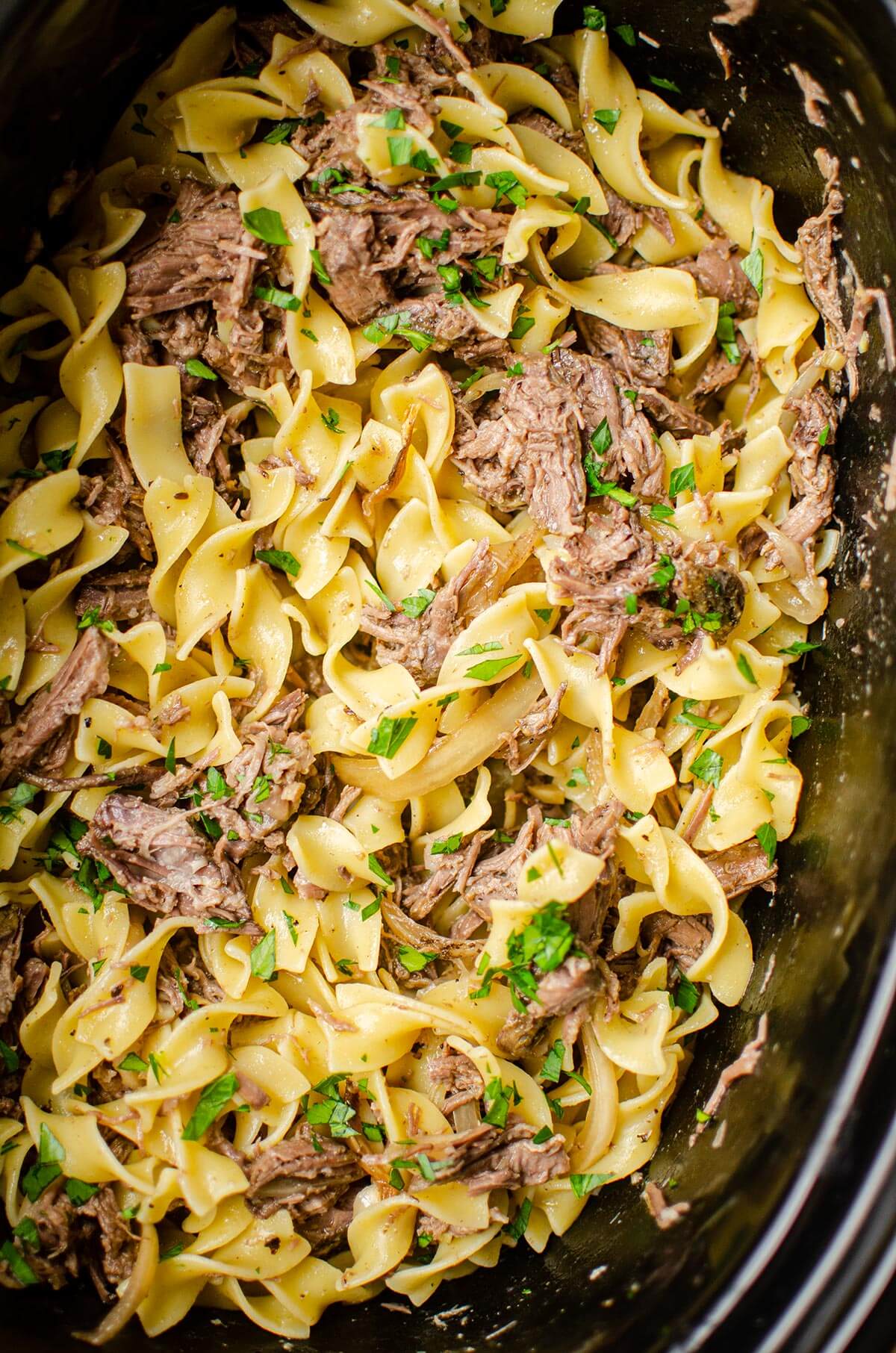 This recipe for Slow Cooker Shredded Beef is not only simple to make, but it's also incredibly versatile. The juicy and flavorful beef is perfect to use in so many dishes, like shredded beef sandwiches, tacos, or pasta.
Meet your new favorite dinner: perfectly crispy baked panko chicken. Parmesan cheese and toasted panko bread crumbs create a superbly crispy crust on chicken breast cutlets. Simply bake them in the oven for juicy, golden perfection. Ready in less than 25 minutes, this will become a staple weeknight dinner.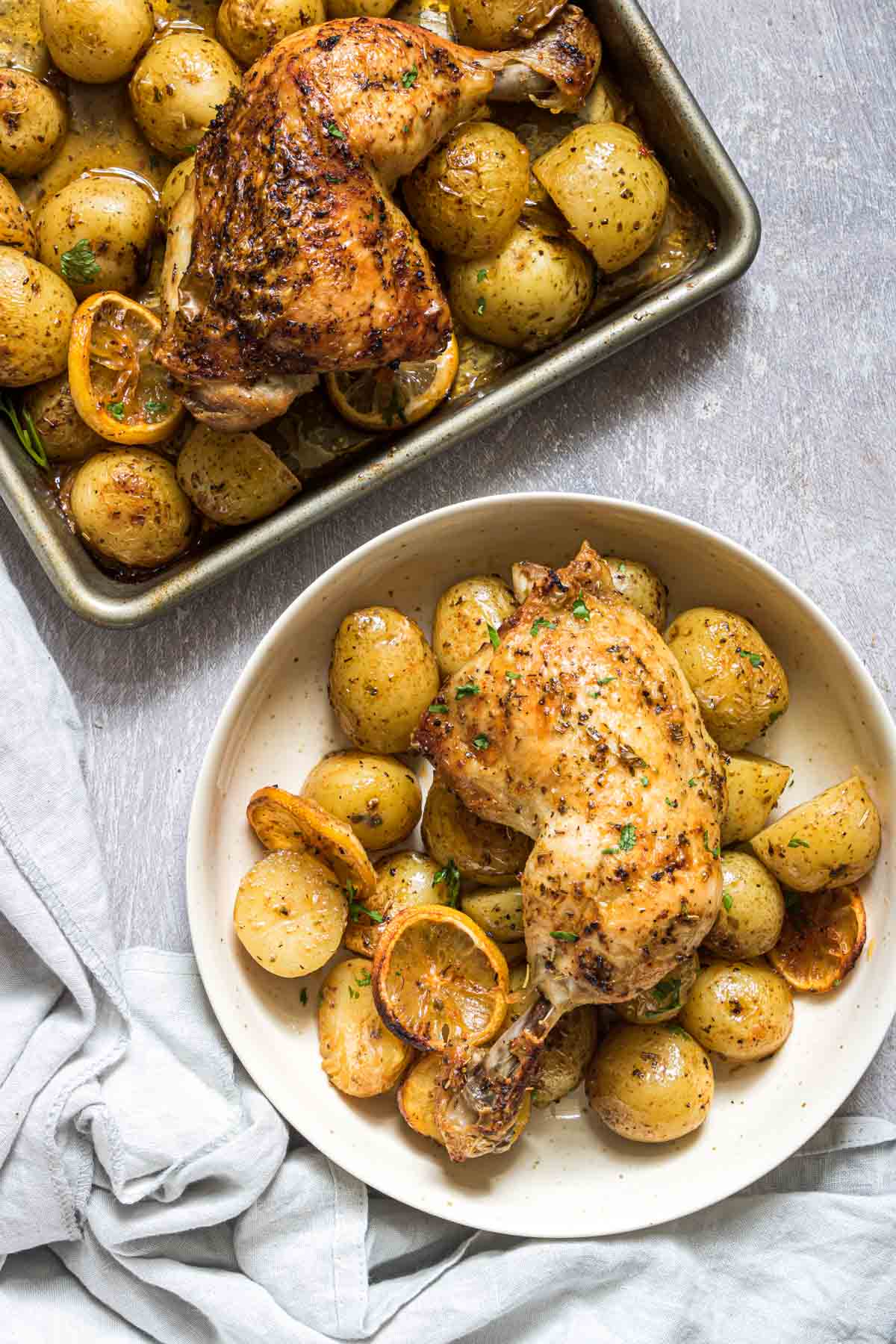 Budget-friendly baked chicken leg quarters and roasted potatoes serve as a great all-in-one meal. The perfect recipe for back-to-school weeknight dinners at home without a lot of work or expense.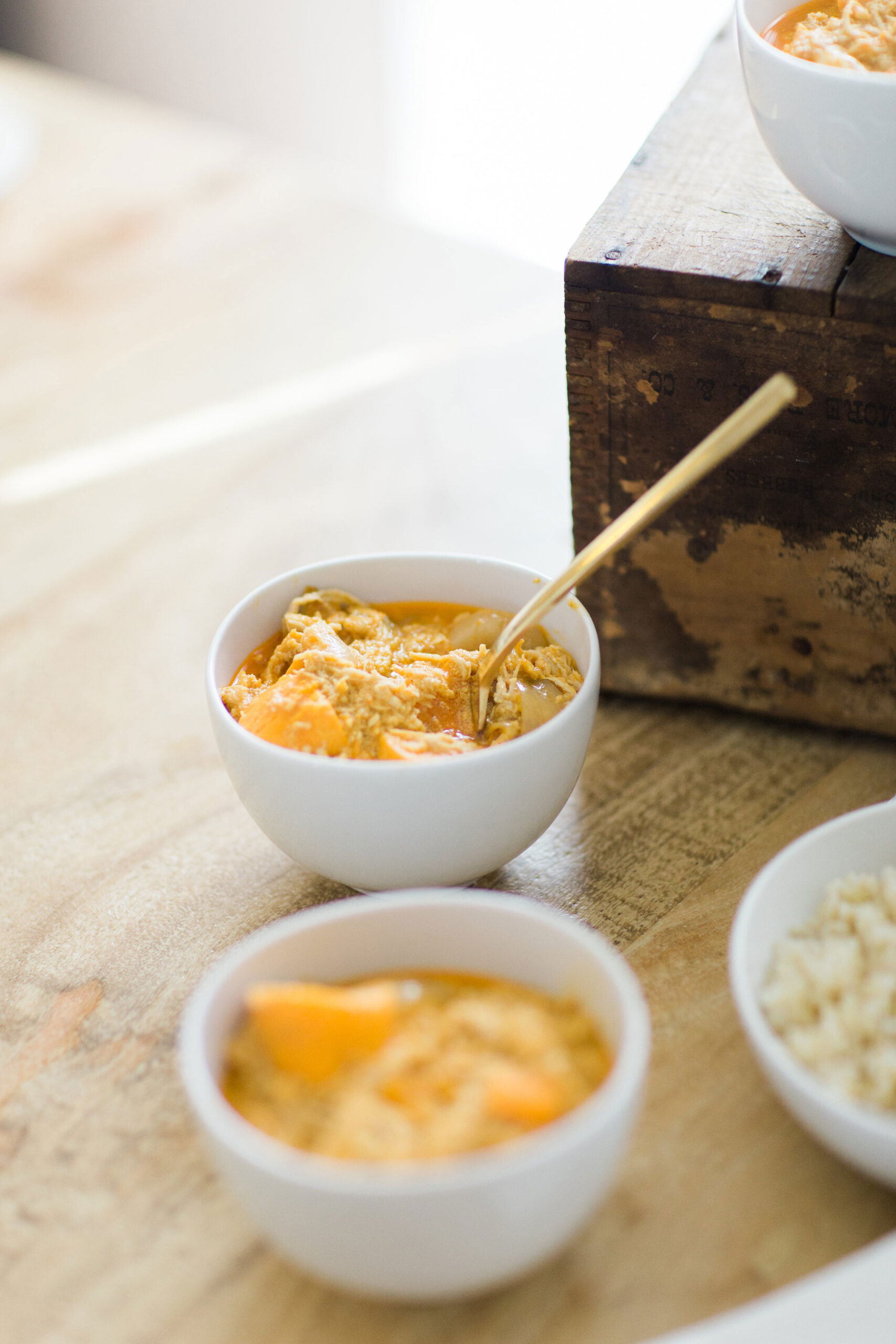 This 3-Ingredient Trader Joe's Thai coconut curry chicken recipe is a favorite in our house. Not only is this dinner unbelievably easy to make — I think it takes all of 5 minutes to prepare — the whole thing can be made in your slow cooker. As in, you throw all of the ingredients in. Let it slowly cook up into something magical. Lift the lid when you're ready to eat, and dinner is served!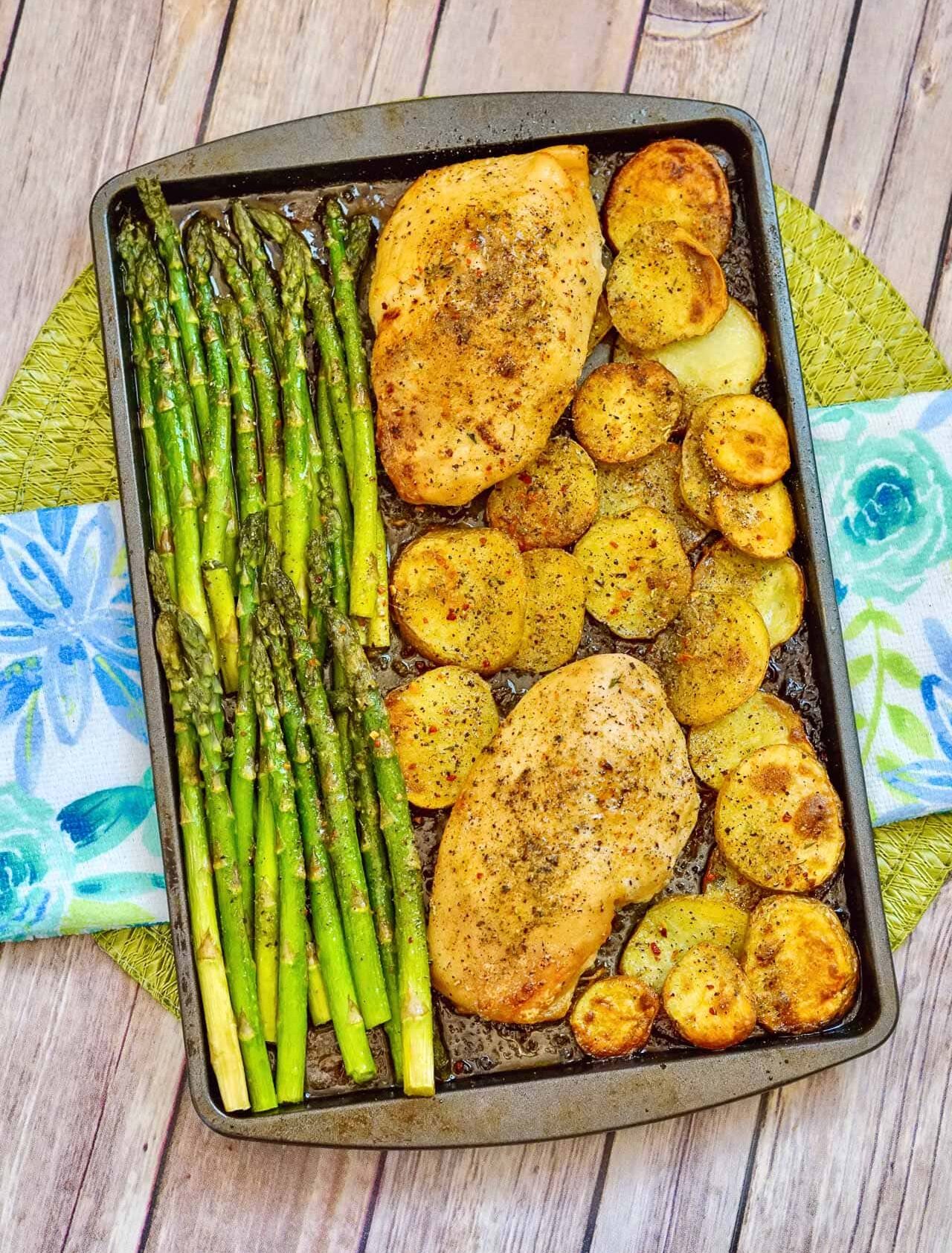 Sometimes the easiest thing to do is throw everything in the oven and let the magic happen! This Italian Chicken Sheetpan dinner (with crispy potatoes) is delicious and easy.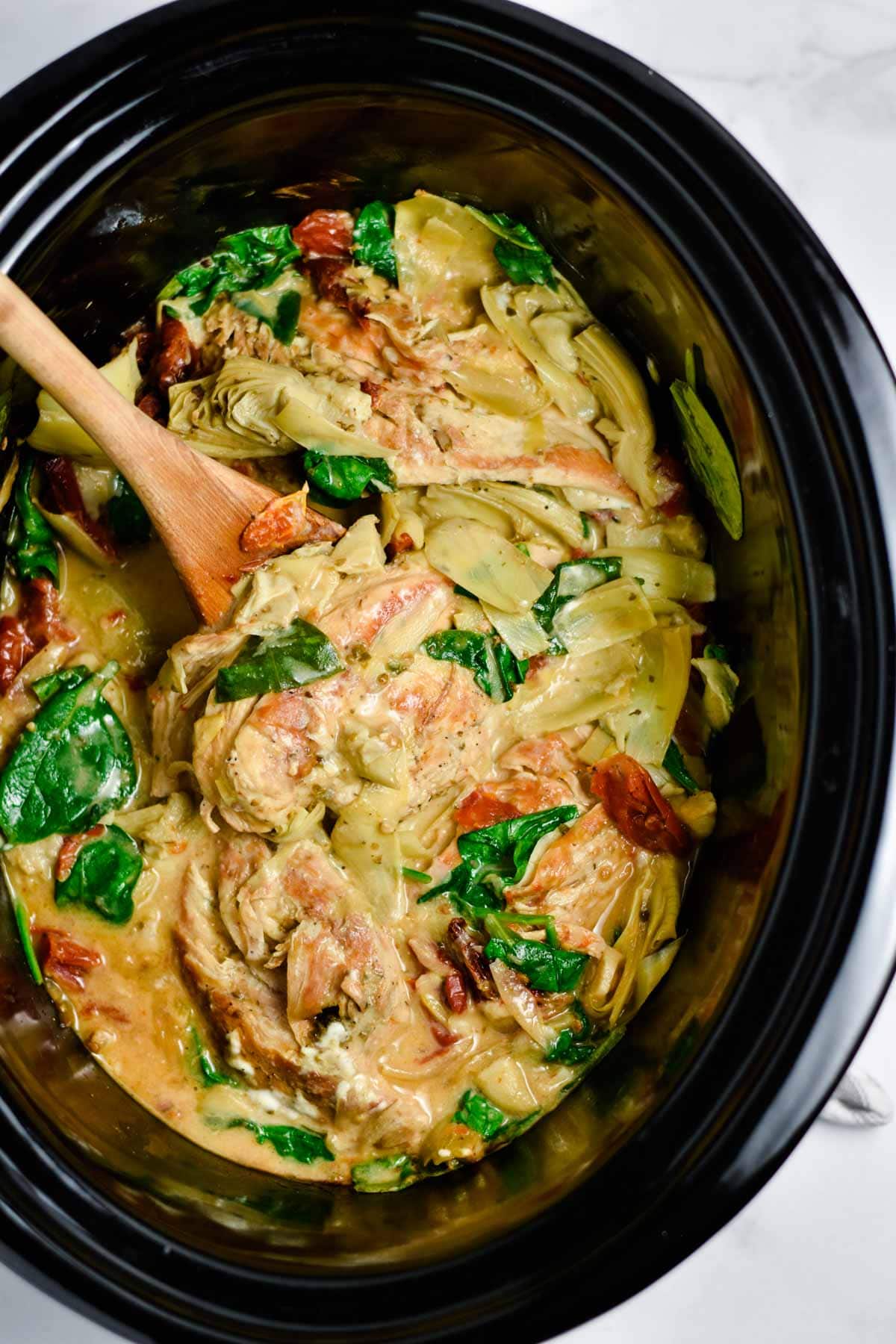 With artichoke hearts, sun-dried tomatoes, spinach, and cream cheese, Crockpot Tuscan Chicken is the perfect simple recipe for weeknight dinners! Chicken breasts are slow cooked with all the vegetables in a light and creamy sauce, and best of all this recipe doesn't require you to use another pan just to make the sauce! Just pour everything into the crock pot and dinner is ready in about 3 hours.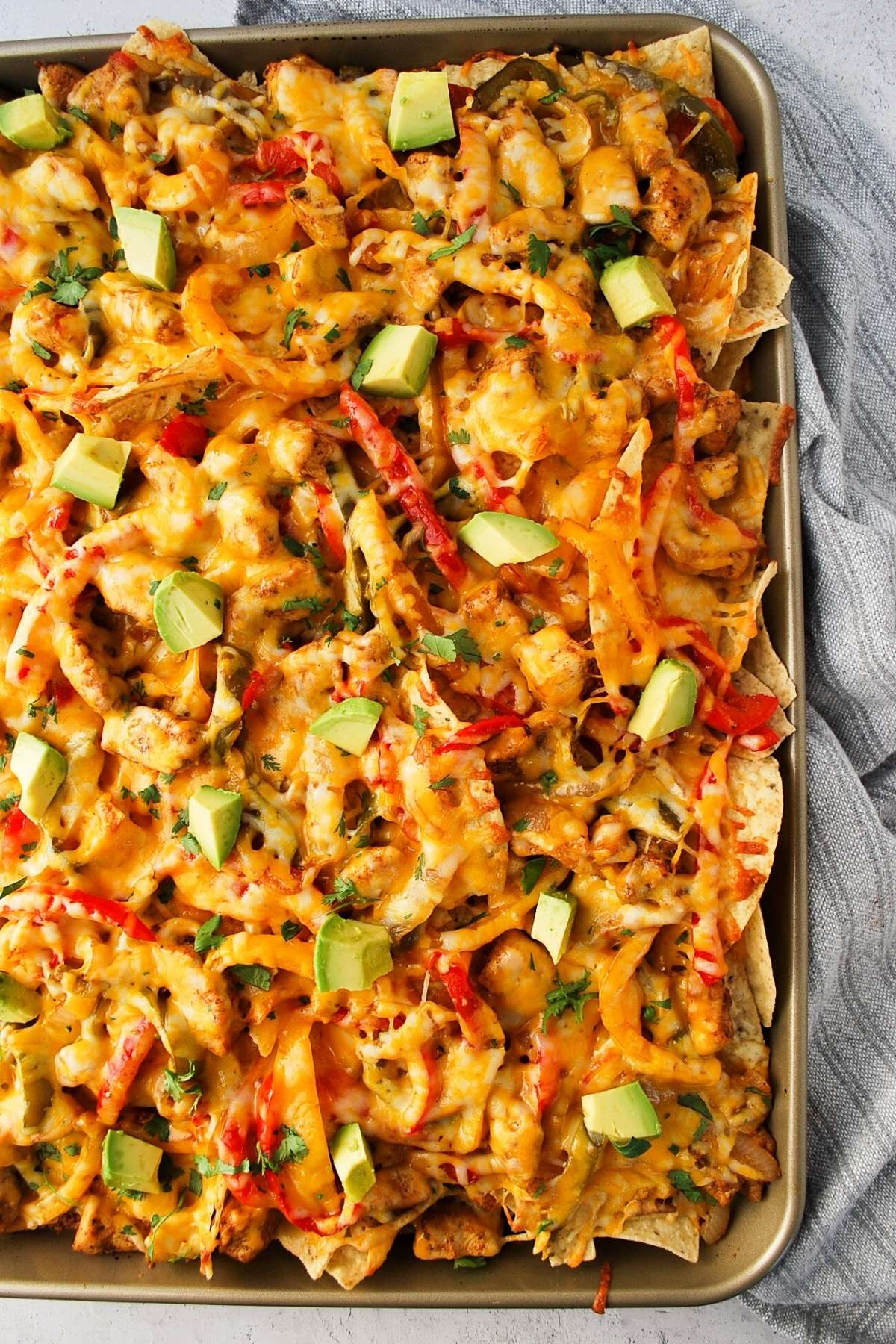 These Chicken Fajita Nachos combine fajita seasoned chicken and veggies with tortillas, cheese, and toppings to create a crowd-pleasing heap of fully loaded nachos. Enjoy the best of sizzling fajitas and cheesy nachos straight from a sheet pan! (Perfect for a fun Friday night dinner!)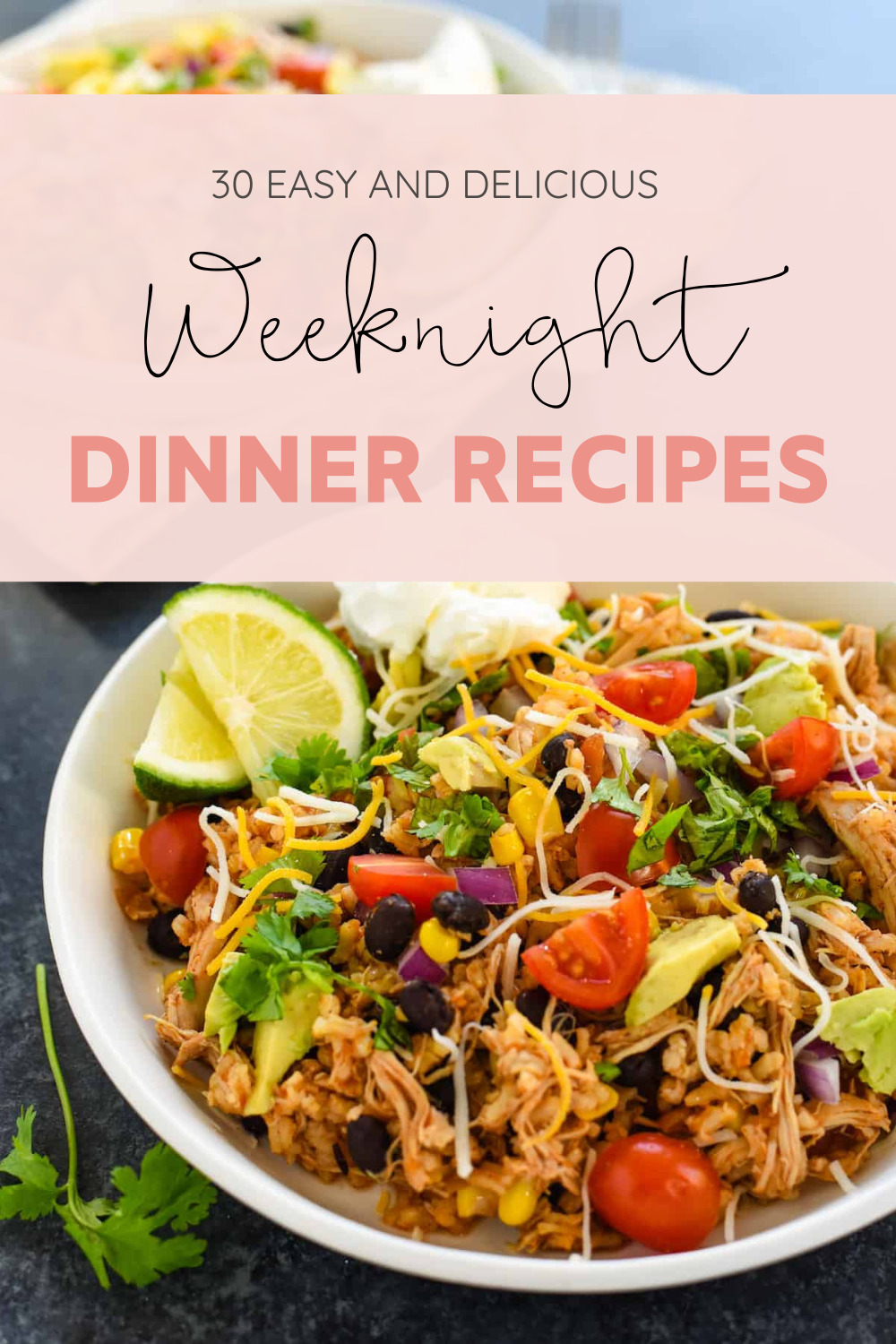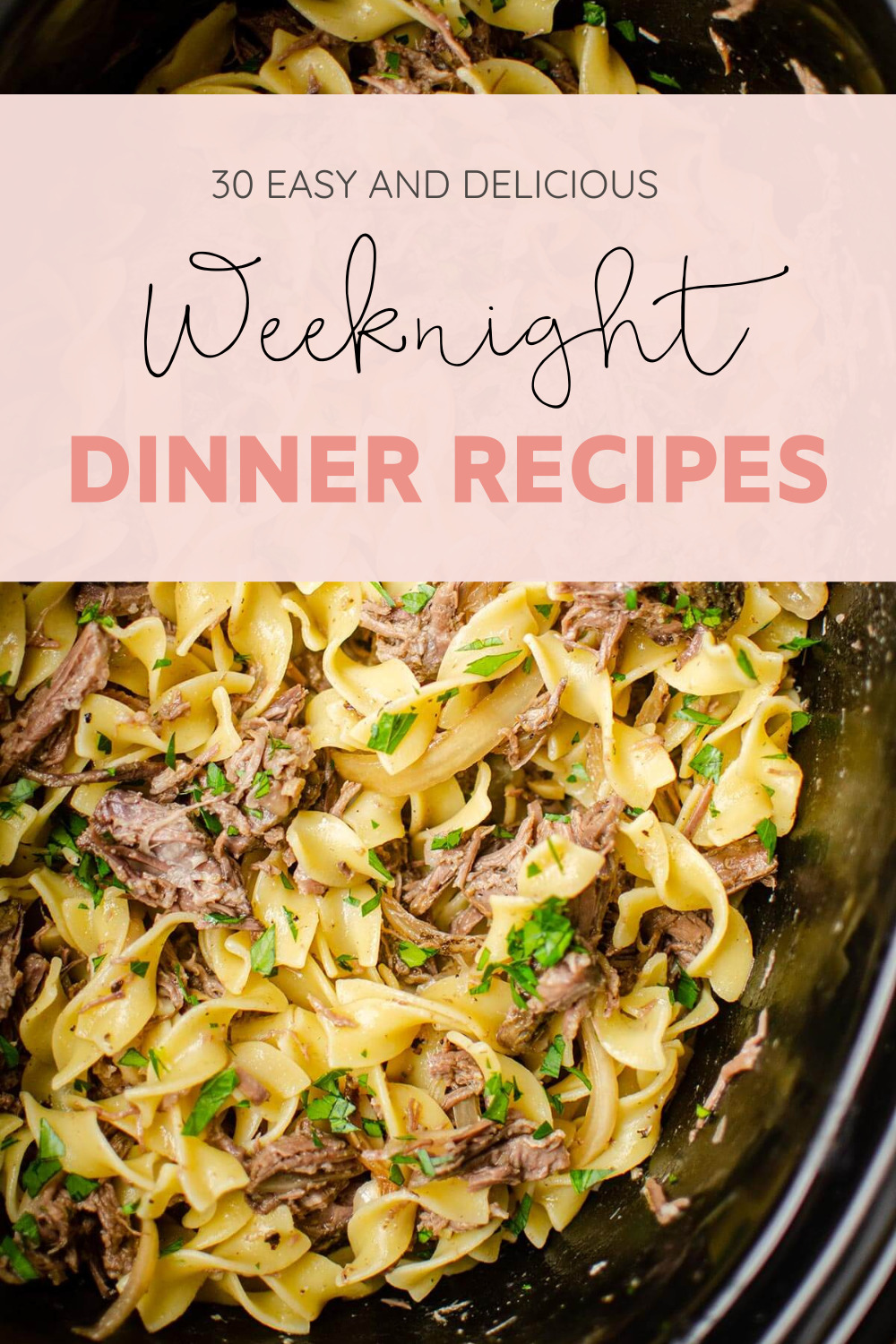 Love this Easy Weeknight Dinner Recipe Roundup? Head to our recipe page to check out what else we're dreaming up in the kitchen!
SHOP THE 30 DELICIOUS AND EASY WEEKNIGHT DINNER RECIPES POST | CLICK LEFT & RIGHT ARROWS TO EXPLORE
Need More Weeknight Dinner Inspiration? Check Out →
65 Crockpot and Instant Pot Dinner Recipes
50+ Easy and Delicious Weeknight Dinner Recipes for Busy Parents
More than 100 Pantry and Freezer Meals
I'll be sure to update this post whenever I stumble across another amazing and easy weeknight dinner recipe. If you try and love any of these yummy recipes, be sure to tag me on instagram @glitterinclexi or leave me a comment below!

Cover Image: Sheet Pan Chicken Sausage and Vegetables via A Cedar Spoon