Hello friends! My name is Ashlyn & I blog over at Let It Be Beautiful & I am so excited to be guest posting today for Lexi while she enjoys this exciting new stage of her life.
Lexi, I hope you have a safe & quick delivery & that your little girl is as healthy & as happy as can me. I can't wait to see your little bundle of joy!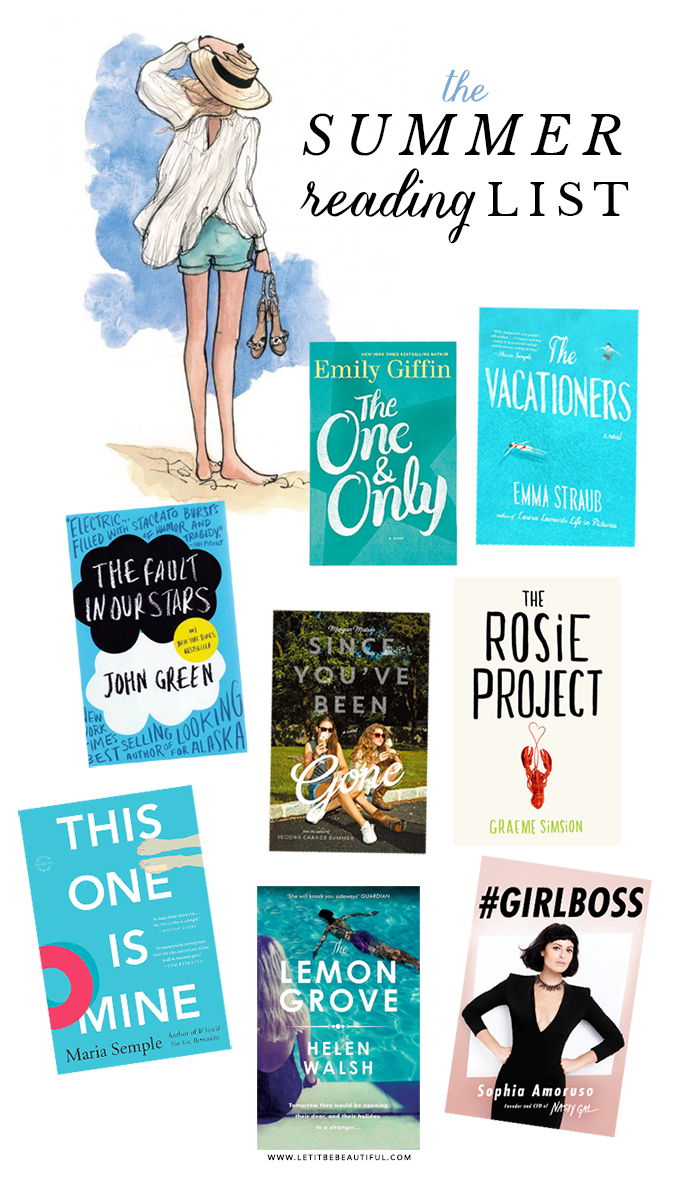 I don't know about y'all, but I can't believe that July is already here. I feel like summer just started! One of my goals this summer was to get some summer reading in! I started putting together a list a little while back & have honestly only managed to start reading one of them (shame on me!). Today, I wanted to share with you some of the books on my 2014 Summer Reading List & maybe they might peak your interest too.
The One & Only by Emily Giffin: A young woman has spent her entire life in a small town in Texas & finally one day she starts to wonder if the path is on is going to be enough for her. This story is all about chasing your dreams & following your heart.
The Vacationers by Emma Straub: According to Amazon this story as "An irresistible, deftly observed novel about the secrets, joys, and jealousies that rise to the surface over the course of an American family's two-week stay in Mallorca."
The Fault In Our Stars by John Green: Insightful, bold, irreverent, and raw, The Fault in Our Stars is award-winning-author John Green's most ambitious and heartbreaking work yet, brilliantly exploring the funny, thrilling, and tragic business of being alive and in love. They say you should bring a box of tissues for this one!
Since You've Been Gone by Morgan Matson: Emily met Sloane one summer & what was thought to be an epic summer turned out a little different then expected. There is certainly a whole lot of firsts during this chic summer read.
The Rosie Project by Graeme Simsion: This romantic comedy is about a socially awkward professor who uses a scientific approach to find a wife. Does he or does he not find true love? That is the question!
This One Is Mine by Maria Semple: This book is by the same author as Where'd You Go, Bernadette. This One Is Mine, is a satirical look at life and love in modern-day Hollywood.
The Lemon Grove by Helen Walsh: According to Amazon, this book is a "highly charged, sultry, beautifully written and compulsive one-sit read, The Lemon Grove is an intense novel about obsession and sex—the perfect summer book."
#GirlBoss by Sophia Amoruso: I have spotted this book all over the web. This book is a Cinderella Story about Nasty Gal co-founder. The reviews say that you will be ready to build your own empire after this read.
I hope you are able to add two or three of these novels to your 2014 Summer Reading List, if you haven't read them already. Be sure to stop by my blog, Let It Be Beautiful, & share your favorite 2014 Summer Reads!