I'm a creature of habit, and one of those habits is wearing the same jewelry always. It got me thinking: what everyday jewelry do you wear most?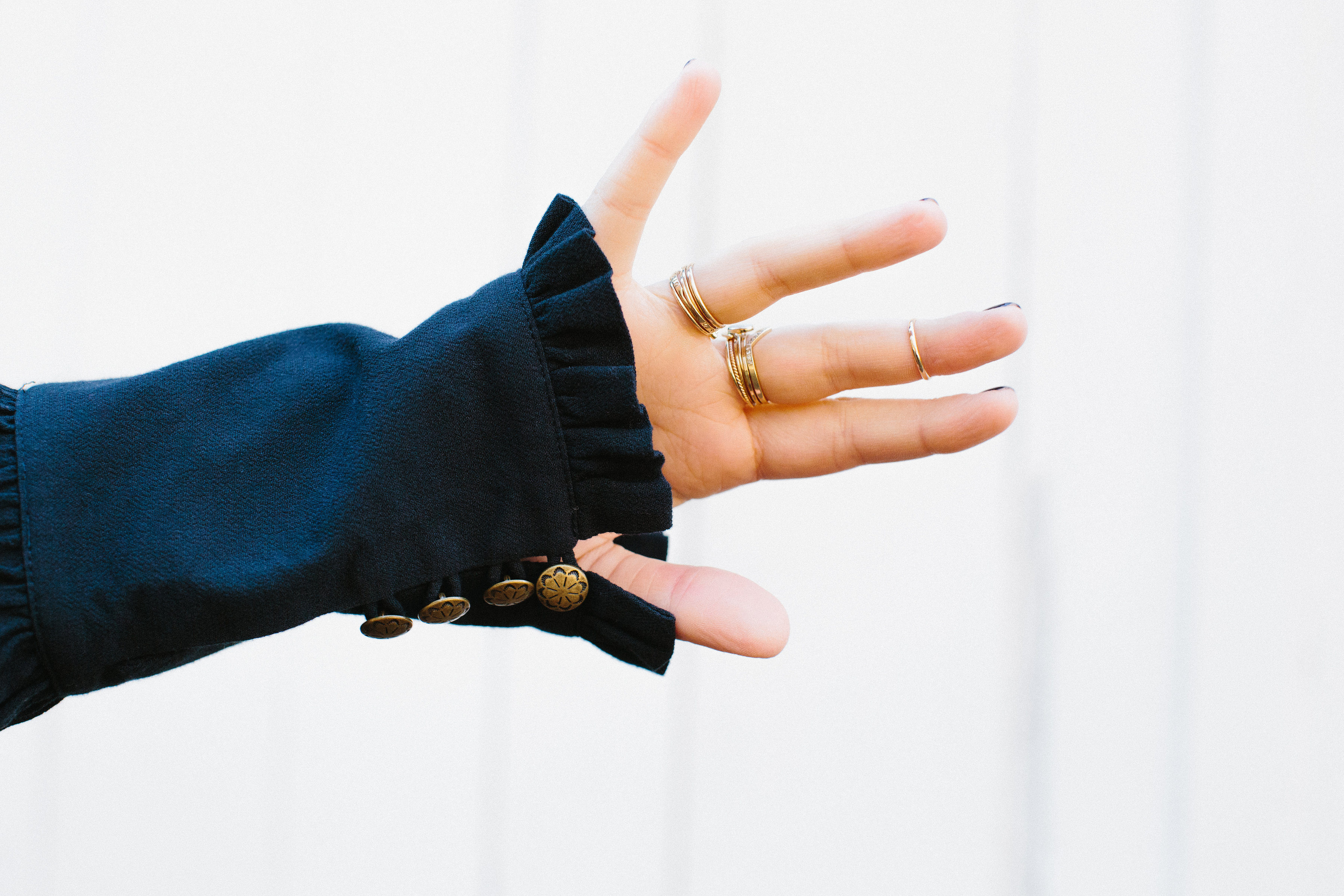 I am undoubtedly a ring girl. Stacks for days. I started with one or two simple gold bands, and from there the collection just sort of grew. Obviously I wear my wedding ring and wedding band on my left hand every day; and a few years back, I added my mom's ring to the stack. (My Dad gave my mom the ring when she had me, and when I had Scarlett, she gave it to me. I love it, and never take it off.) I'll also sometimes add another delicate gold ring to the stack (love this one from Catbird), for a little extra drama. Told you I like to stack my rings up high.
Because I like my jewelry simplified, all of my rings are made of real gold. As much as I love costume jewelry, I'm not the best about remembering to wear it. With rings that are real gold and/or silver, I can sleep in it, shower with it, basically never take it off, which suits me perfectly. The gold also feels a bit vintage and classic, and the thin bands keep them subtle.
My favorite go-to companies for delicate gold rings are Catbird and Bittersweet NY. These Bittersweet NY letter stamp rings are my favorite for collecting special memories – right now I have one that says "Scarlett," one with her birthdate, one with our wedding anniversary date, and one that says, "Glitter, Inc." I have and love this Catbird heart ring, teardrop ring, twisted ring, threadbare ring, V ring, and hammered ring. I also love adding these Catbird delicate gold memory rings to break up stacks with a lot of texture and as knuckle rings.
I want to add the tomboy ring to my pointer finger, stat.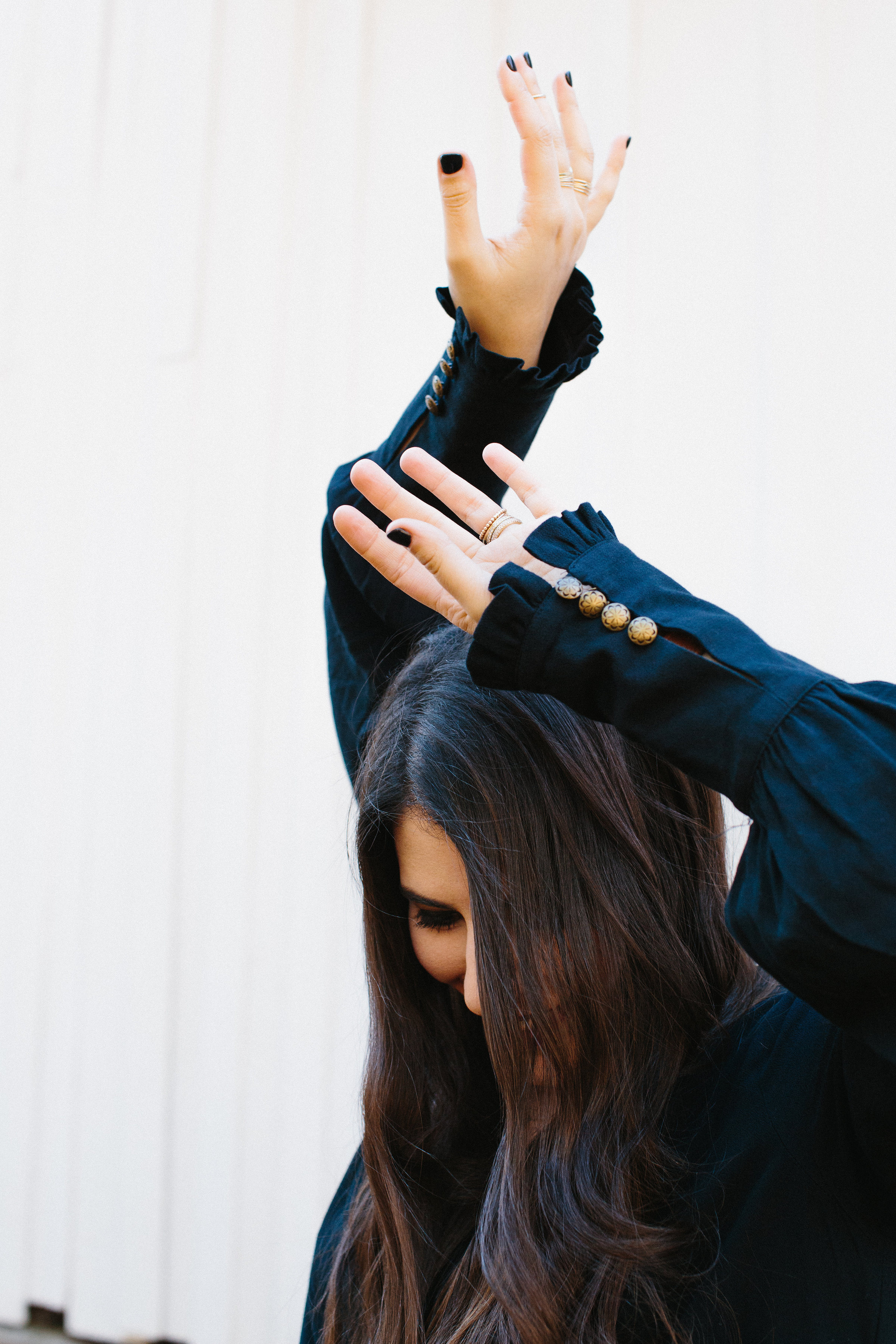 I wear a gold nameplate necklace with the words "Scarlett Everly" for my little girl. It's light enough that I can also sleep with and even shower with that one. I got this nameplate necklace a few years back when Jennifer Meyer did a collaboration with BaubleBar.
I also layer a longer chain with a few charms and wear it every few days. My charm necklace is costume jewelry, but it's light and fun and layers beautifully. I actually fell out of the habit of wearing long necklaces for a while because babies and necklaces don't mix. (It took years to get Scar to stop eating my necklaces.)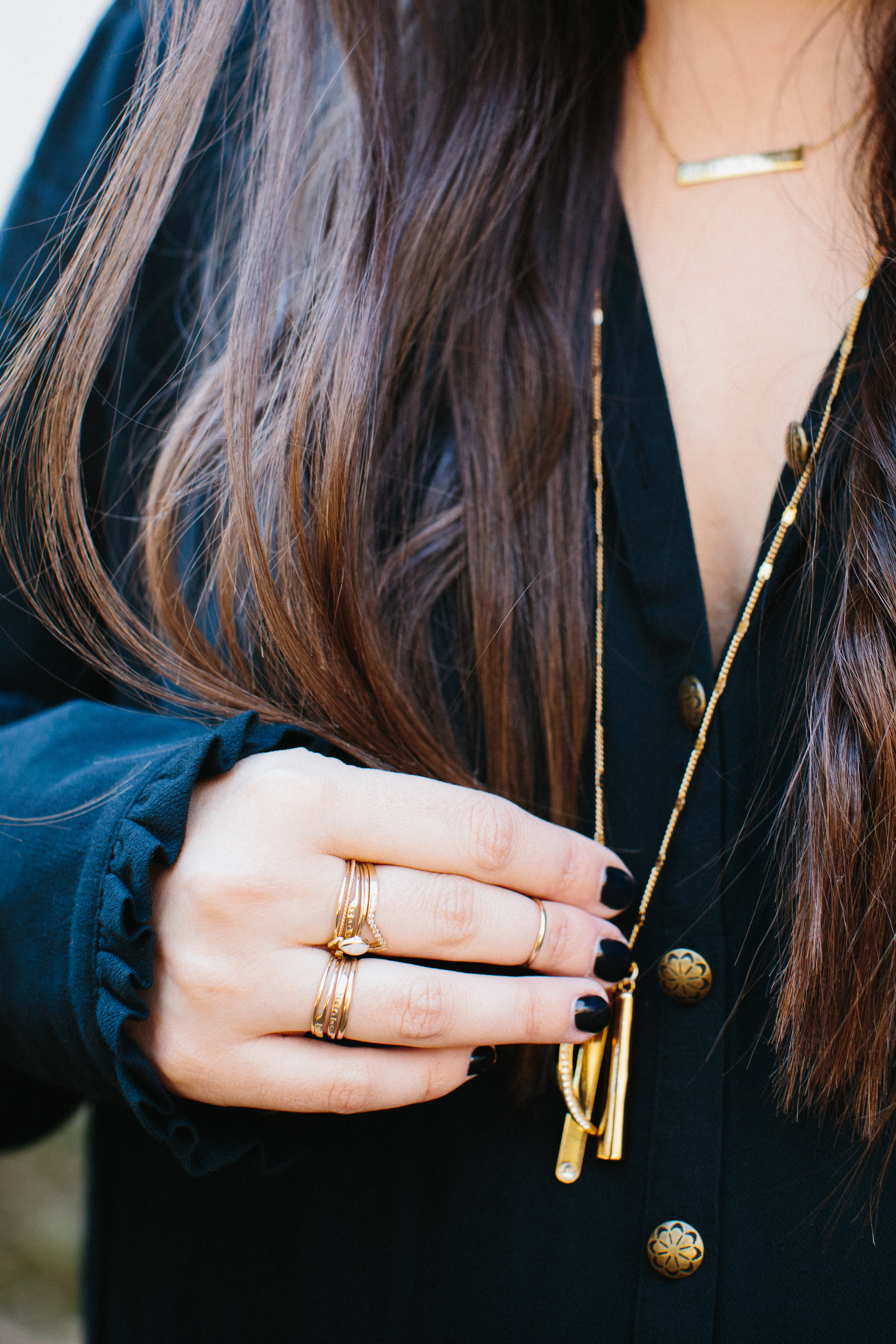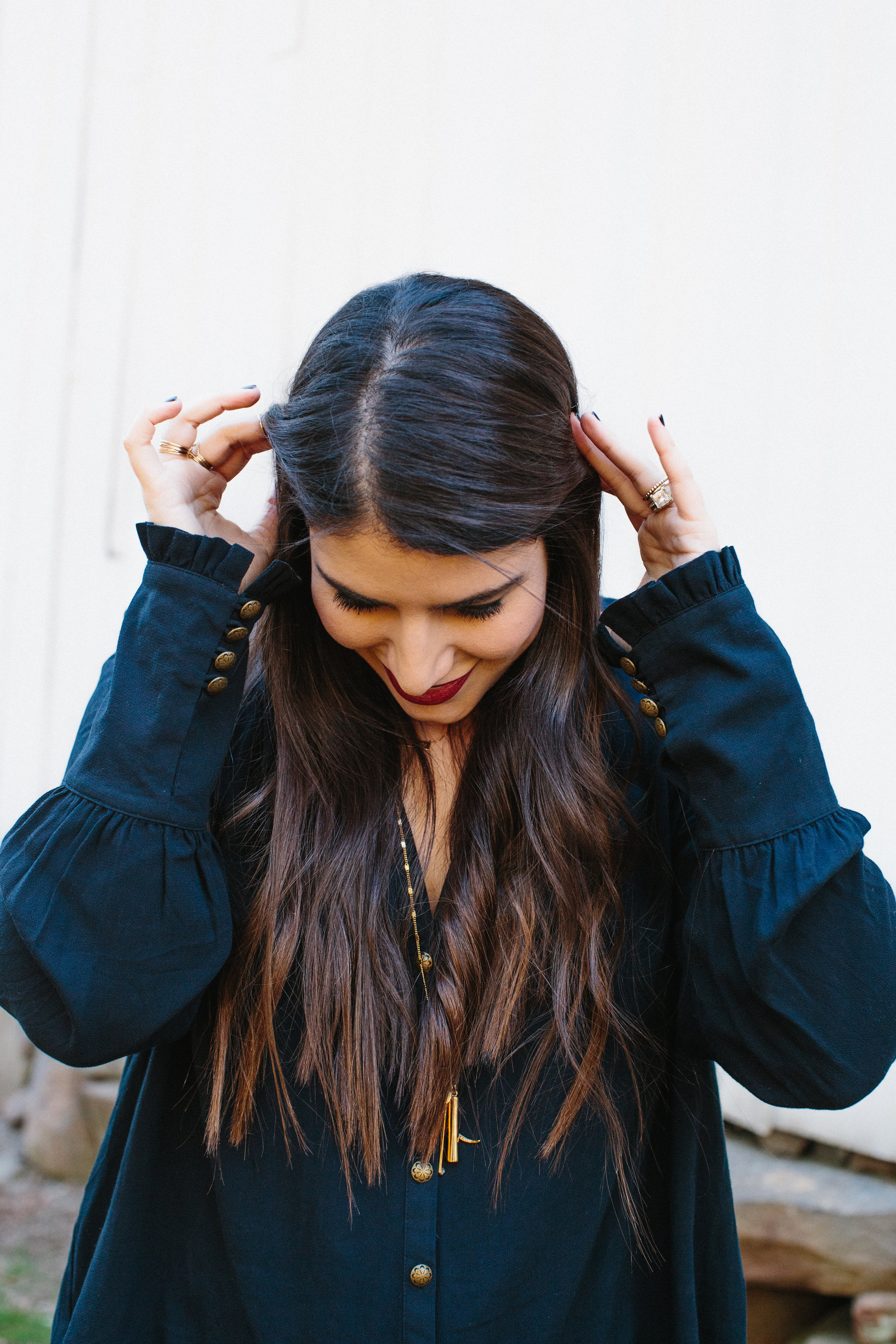 You may have noticed that I'm rather shy around these parts. I haven't been super comfortable on the other side of the lens for a long time (here's why, in case you're curious), and as a mom, I'm always the one snapping pictures of Scarlett. Back in December, my friend Merritt helped me come out of my shell just a little bit, and took the prettiest family photos for us. As we were wrapping up, Merritt said to me, "Come on, it's your turn!" Admittedly, I was awkward, but she helped pull me out of that shell and I love the result.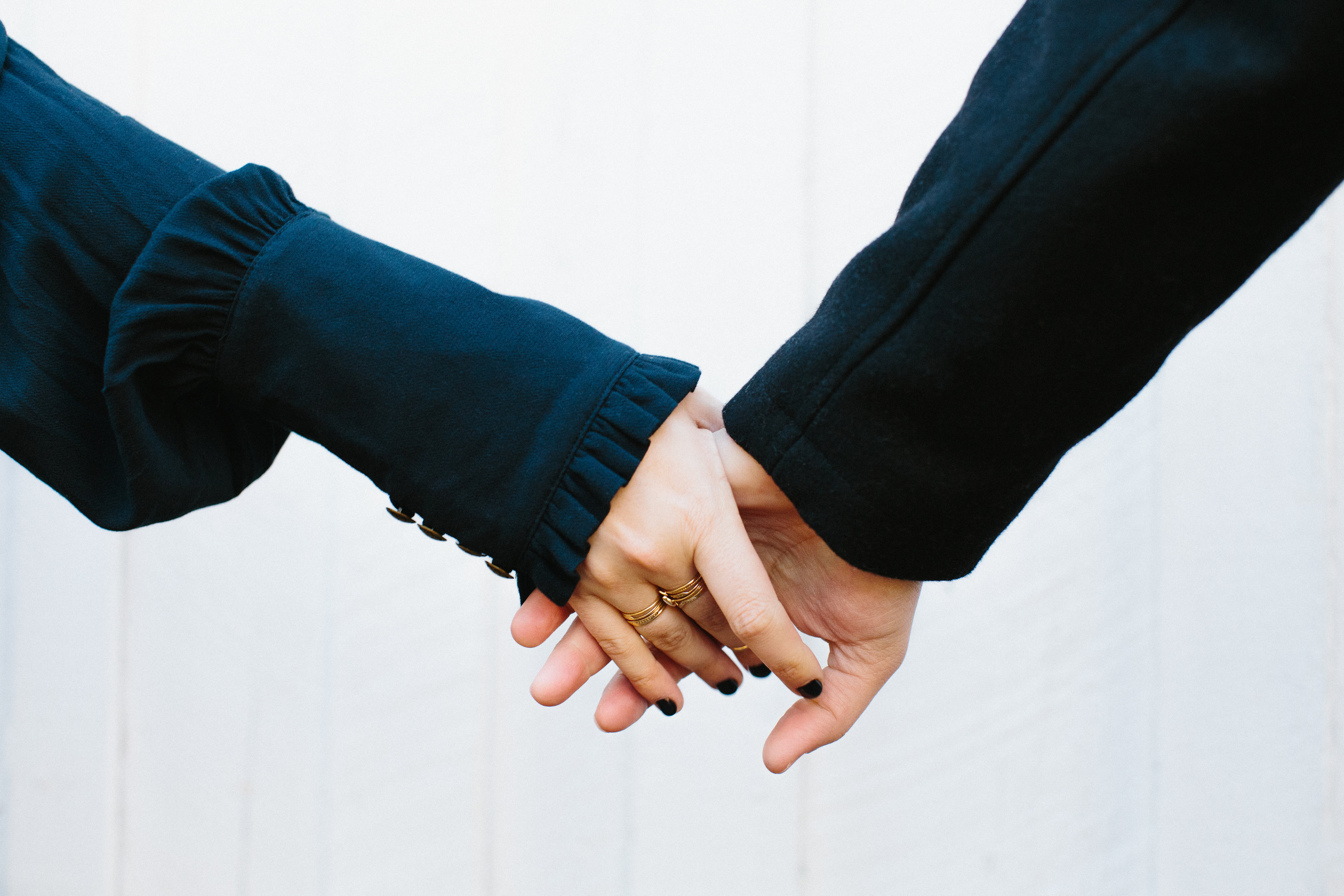 What I'm Wearing: MAC Lipstick in Diva // Free People Lieutenant Ruffled Shirtdress (also available here) // Spanx Luxe Leg Blackout Tights // Free People Joe Lace Up Boots // Vince Coat (similar)
SHOP MY OUTFIT | CLICK LEFT & RIGHT ARROWS TO EXPLORE

SHOP MY JEWELRY | CLICK LEFT & RIGHT ARROWS TO EXPLORE

Photography by Merritt Chesson
This post contains affiliate links, which means that if you click on one of the product links, I'll receive a small commission. Thank you so much for clicking through and helping to support this little blog business of mine! Read more about our site, privacy, and disclosure policies here.