This post contains affiliate links, which means that if you click on one of the product links, I'll receive a small commission. Additionally, as an Amazon Associate I earn from qualifying purchases. Thank you so much for clicking through and helping to support this little blog business of mine! Read more about our site, privacy, and disclosure policies here.
Sharing 9 of my favorite recent reads that happen to double as seriously good beach reads; a.k.a., utterly perfect vacation books – escapism at its finest – to add to your summer reading list!
A few weeks back we snuck away to Maine. It was our spring break vacation and I read through so many great books that week. There's something about vacation that always puts me in the mindset to just read for pleasure (and to actually make time for it!)
Since then, I've been on a reading kick (okay, admittedly, I'm pretty much always on a reading kick), and I realized it would probably be the perfect time to share a few great new-ish vacation reads; especially with summer right around the corner. You know the type – beach reads – perfect for reading in a different zip code, right on the beach or up in the mountains, or even just when you need a little escape from the daily chaos.
So whether you're devouring one of these awesome books on a vacation far away or you're cuddled up from the comfort of your living room in your favorite worn out pajamas with a cup of re-heated coffee (#momlife) – I hope you absolutely LOVE these books!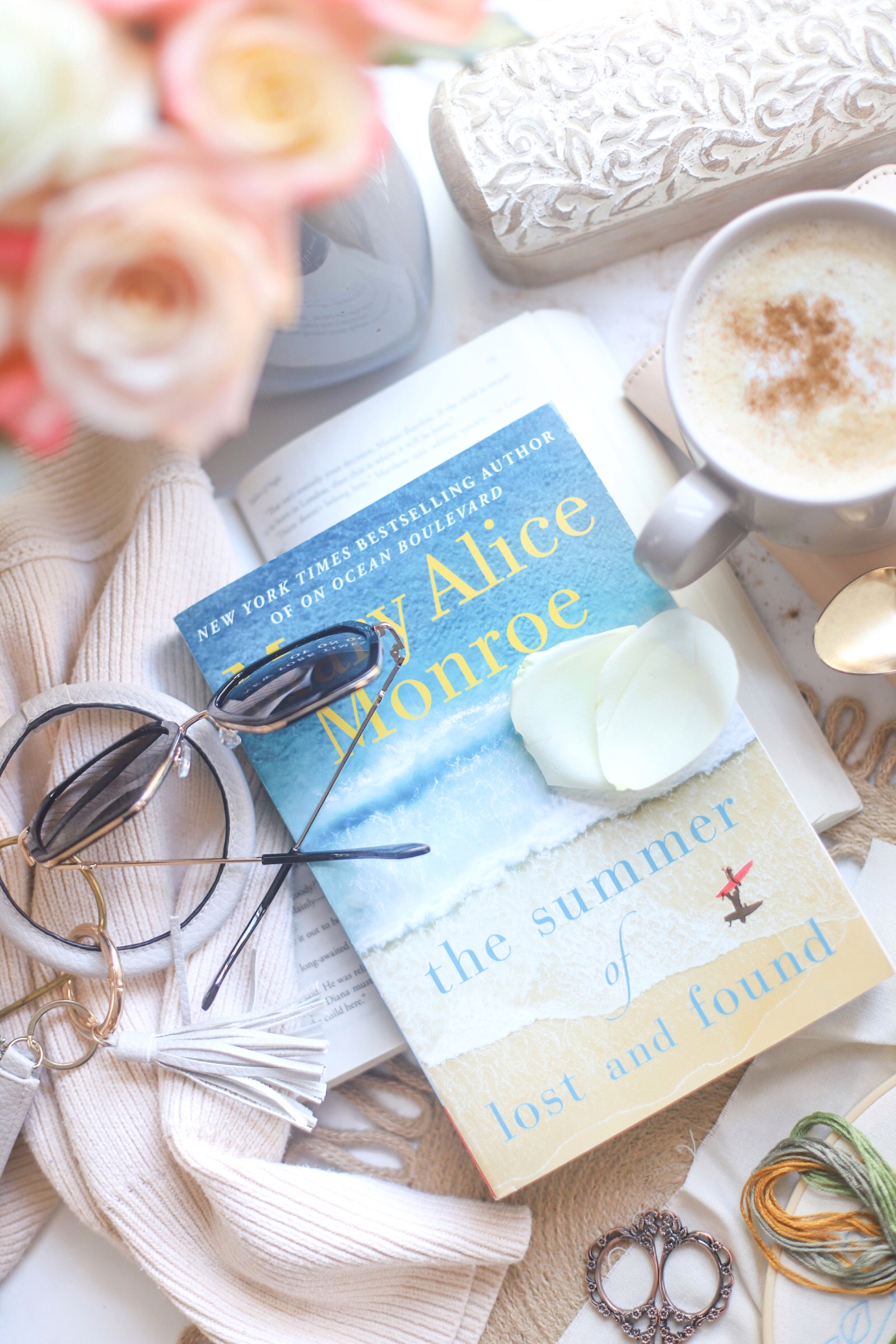 9 Really Great Beach Reads (Perfect Vacation Books to Add to Your Summer Reading List)
Scroll on down for 9 seriously good beach reads; all completely perfect vacation reads to add to your summer reading list!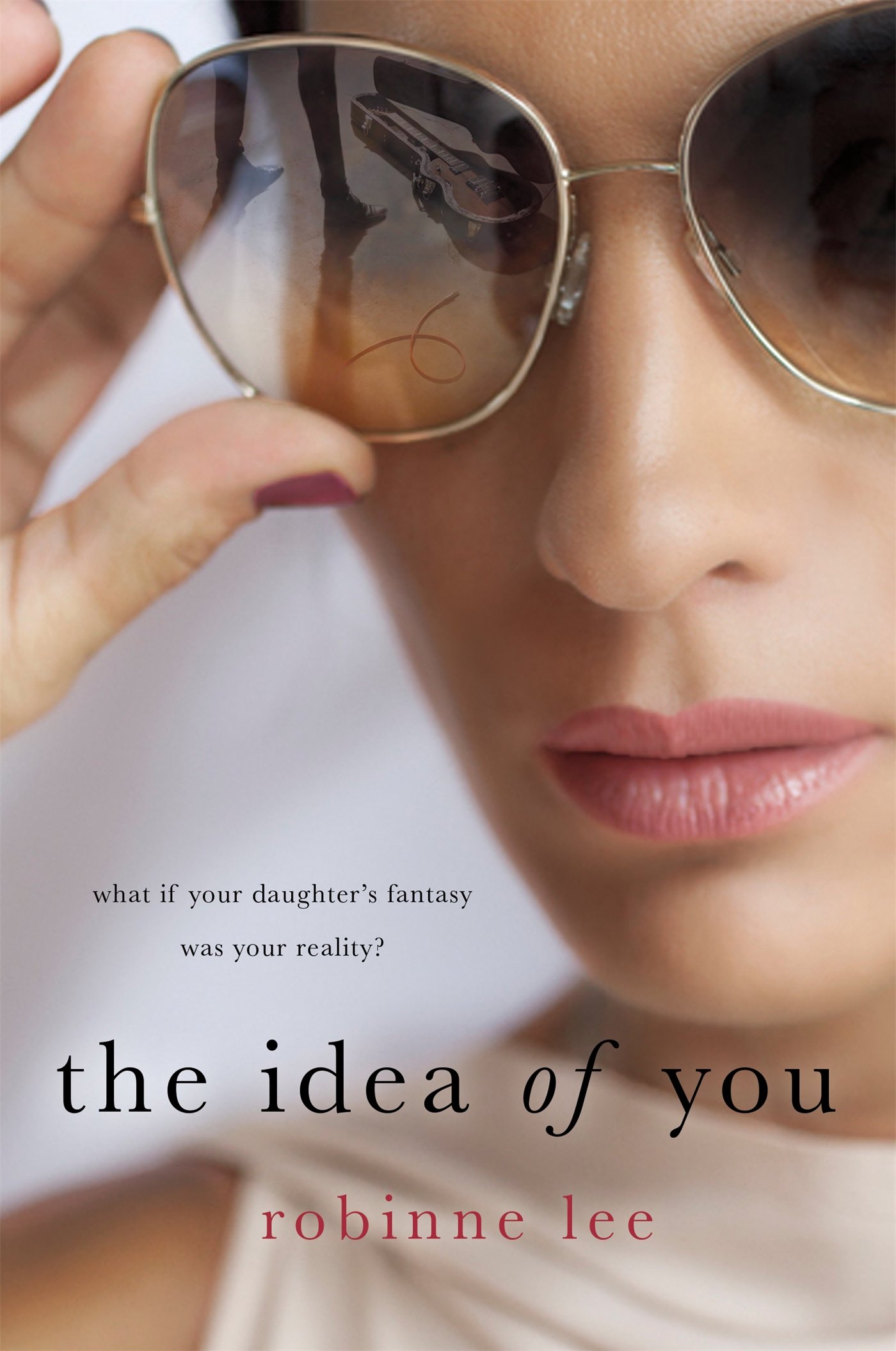 Oh, my heart. THIS book. I cannot say enough good things about this book. I was hooked from the first few pages and my obsession never really let up.
Dubbed "the sleeper hit of the pandemic" by Vogue.com, this book really is the perfect indulgence; i.e., ideal for a vacation read. Within it's pages are escapism at it's finest. Written by a celebrity herself, the inner workings of leading a life amidst crazed fans, paparazzi, and intense scrutiny. It's combined with a story of a single mom trying to find her own footing and power after a divorce. It is as complex as it is intriguing and beautiful. The writing is also very good. The dialogue flows fairly effortlessly and the characters are complex. The passion is intense and practically seeps through the pages. I felt nearly heartbroken when the book came to an end for so many reasons. Read this one. It's worth all of the hype.
Solène Marchand is a thirty-nine-year-old owner of an art gallery in Los Angeles. She is reluctant to take her daughter, Isabelle, to meet her favorite boy band. But since her divorce, she's more eager than ever to be close to Isabelle. The last thing Solène expects is to make a connection with one of the members of the world-famous August Moon. But Hayes Campbell is clever, winning, confident, and posh, and the attraction is immediate. That he is all of twenty years old further complicates things.
What begins as a series of clandestine trysts quickly evolves into a passionate and genuine relationship. It is a journey that spans continents. Solène and Hayes navigate each other's worlds. From stadium tours to international art fairs to secluded hideaways in Paris and Miami. For Solène, it is a reclaiming of self, as well as a rediscovery of happiness and love. Solène and Hayes' romance becomes a viral sensation. Both she and her daughter become the target of rabid fans and an insatiable media. Solène must face how her romantic life has impacted the lives of those she cares about most.
Buy the book here.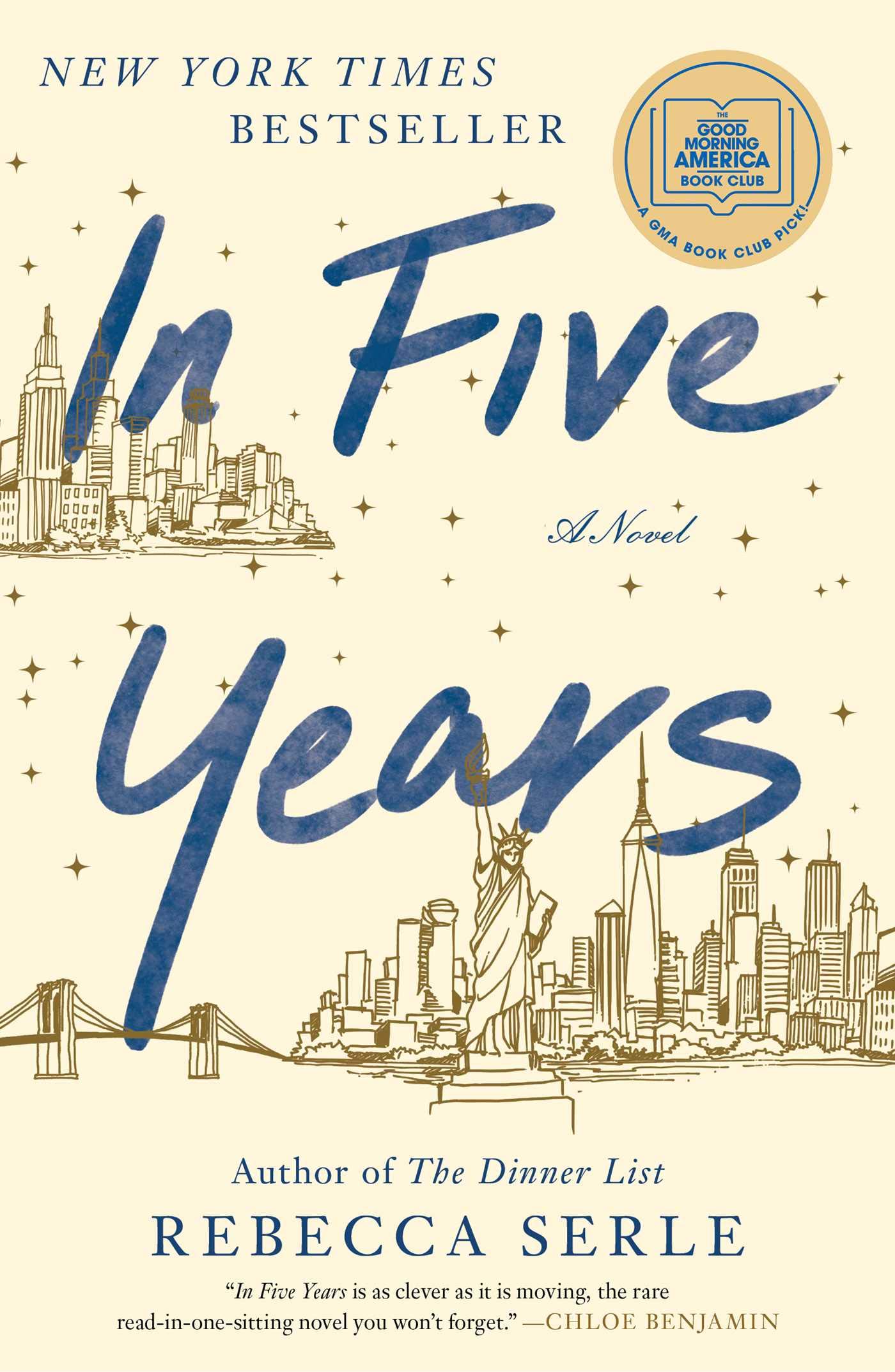 Goodness was this book ever a triumph. I love, love, loved this one. The premise – an ambitious, no nonsense lawyer who experiences an out-of-the-blue vision that feels entirely real is faced with deciding whether that other life she imagined is in fact meant for her.
My only real grip about this book is that I wanted a little more at the end. Still, the author paints such a powerful story, that mostly I was just sad when it ended.
Where do you see yourself in five years?
Dannie Kohan lives her life by the numbers.
She is nothing like her lifelong best friend—the wild, whimsical, believes-in-fate Bella. Her meticulous planning seems to have paid off after she nails the most important job interview of her career and accepts her boyfriend's marriage proposal in one fell swoop, falling asleep completely content.
But when she awakens, she's suddenly in a different apartment, with a different ring on her finger, and beside a very different man. Dannie spends one hour exactly five years in the future before she wakes again in her own home on the brink of midnight—but it is one hour she cannot shake. In Five Years is an unforgettable love story, but it is not the one you're expecting.
Buy the book here.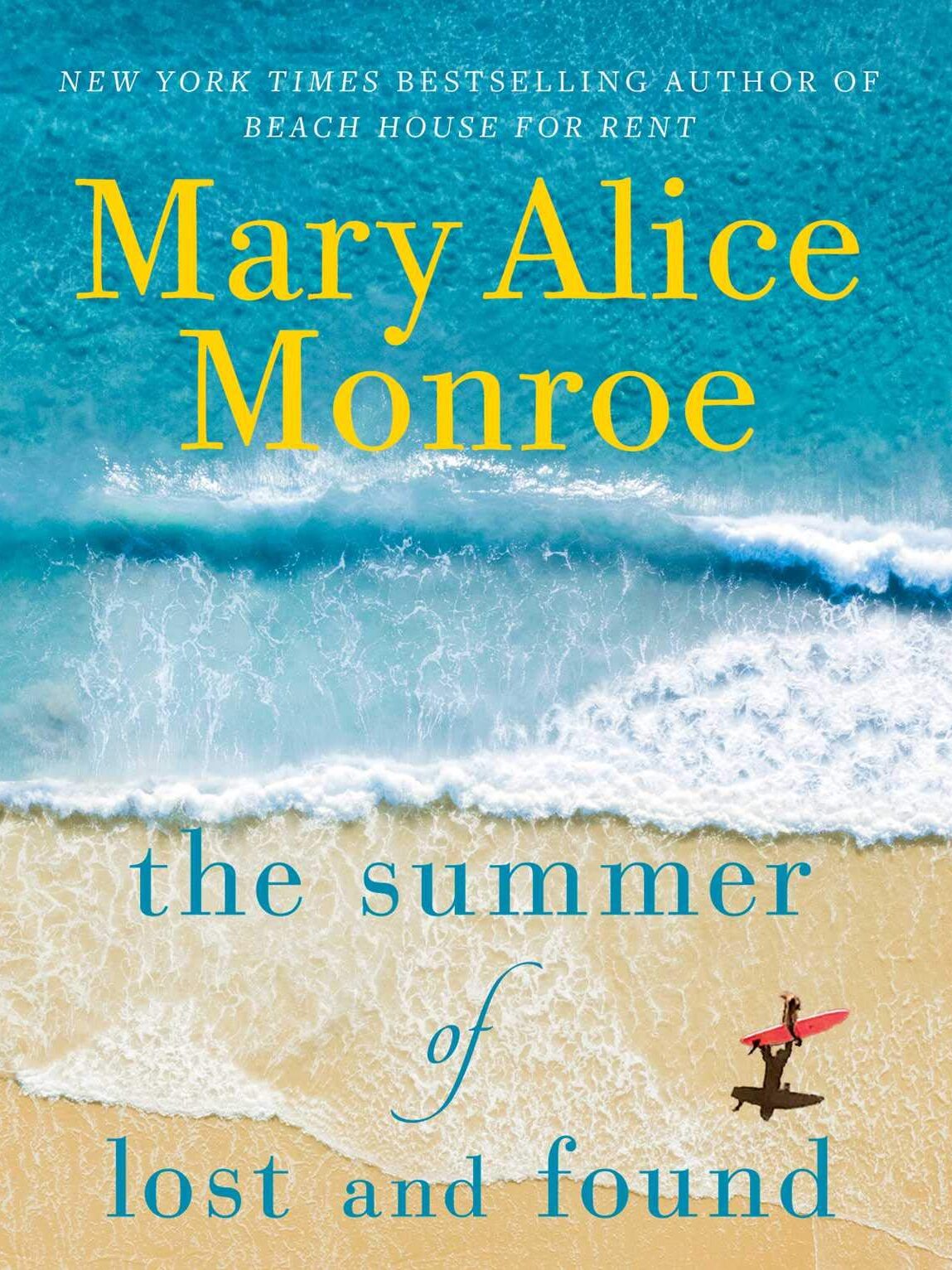 This book is actually a part of a bestselling series, although I read it as a standalone. (And admittedly now need to get my hands on the whole series.) The story focuses on the Rutledge family as they face a summer of upheaval and sweeping change in the midst of 2020 and a raging pandemic.
It was refreshing to read a book about this past year and all of the change that has come along with it, and because of that, it all felt very relatable and real. Plus, one woman choosing between two men while going through her own struggles, set on the beach, what's not to love?
The coming of Spring usually means renewal, but for Linnea Rutledge, Spring 2020 threatens stagnation. Linnea faces another layoff, this time from the aquarium she adores. For her—and her family—finances, emotions, and health teeter at the brink. To complicate matters, her new love interest, Gordon, struggles to return to the Isle of Palms from England. Meanwhile, her old flame, John, turns up from California and is quarantining next door. She tries to ignore him, but when he sends her plaintive notes in the form of paper airplanes, old sparks ignite. When Gordon at last reaches the island, Linnea wonders—is it possible to love two men at the same time?
Love in the time of the coronavirus proves challenging, at times humorous, and ever changing. Relationships are redefined, friendships made and broken, and marriages tested. As the weeks turn to months, and another sea turtle season comes to a close, Linnea learns there are more meaningful lessons learned during this summer than opportunities lost, that summer is a time of wonder, and that the exotic lives in our own back yards. In The Summer of Lost and Found, Linnea and the Rutledge family continue to face their challenges with the strength, faith, and commitment that has inspired fans for decades.
Mary Alice Monroe once again delves into the complexities of family relationships and brings her signature storytelling to this poignant and timely novel of love, courage, and resilience.
Buy the book here.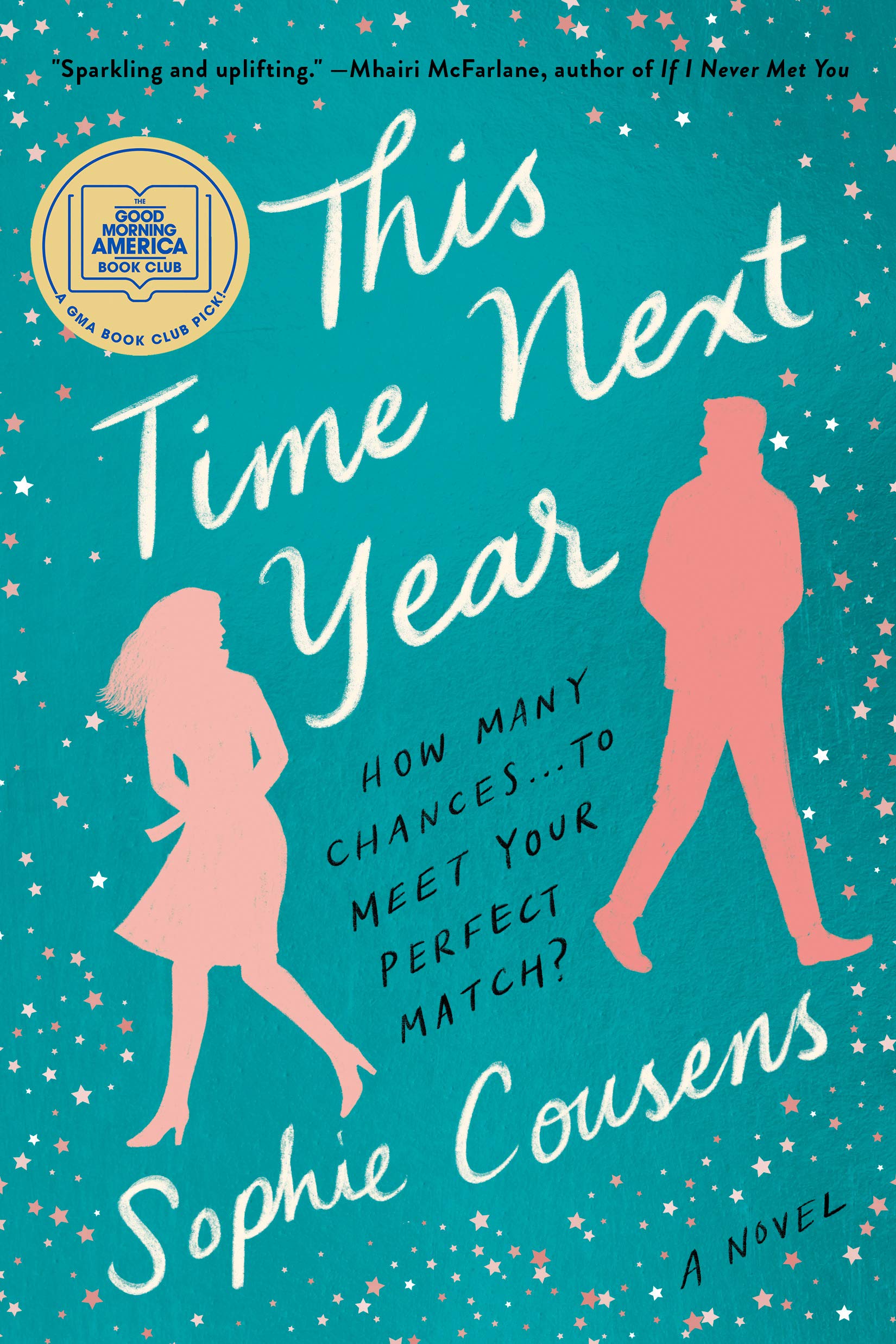 This book is all about fate and timing, and I've always been fascinated by those ideas, so I was hooked right from the get-go with this book. The protagonists, Minnie and Quinn are both likable, flawed, and well developed characters. I liked how relatable Minnie was, and how much I found myself rooting for her. My guess: this one will be turned into an adorable Rom Com film in no time.
Minnie Cooper knows two things with certainty: that her New Year's birthday is unlucky, and that it's all because of Quinn Hamilton, a man she's never met. Their mothers gave birth to them at the same hospital just after midnight on New Year's Day, but Quinn was given the cash prize for being the first baby born in London in 1990–and the name Minnie was meant to have, as well. With luck like that, it's no wonder each of her birthdays has been more of a disaster than the one before.
When Minnie unexpectedly runs into Quinn at a New Year's party on their mutual thirtieth birthday, she sees only more evidence that fortune has continued to favor him. The gorgeous, charming business owner truly seems to have it all–while Minnie's on the brink of losing her pie-making company and her home. But if Quinn and Minnie are from different worlds, why do they keep bumping into each other? And why is it that each fraught encounter leaves them both wanting more?
A moving, joyful love story, This Time Next Year explores the way fate leads us to the people we least expect–no matter what the odds.
Buy the book here.
I'm going to start by saying that this book is extremely sex positive, meaning, there are plenty of overt sexual encounters and discussions (two of the main characters work in the porn industry), so if that's not your cup of tea, I'd say skip this one. The book is incredibly well written, the characters are flawed, interesting, and very likable, some of the steamier scenes are unapologetically sexy but somehow don't feel trite or cheesy, and all in all I was surprised at how much I really enjoyed this book.
I'm already onto Dana's second book in the series – The Intimacy Experiment – and I love that it has Jewish main characters!
The Wheatons are infamous among the east coast elite for their lack of impulse control, except for their daughter Clara. She's the consummate socialite: over-achieving, well-mannered, predictable. But every Wheaton has their weakness. When Clara's childhood crush invites her to move cross-country, the offer is too tempting to resist. Unfortunately, it's also too good to be true.
After a bait-and-switch, Clara finds herself sharing a lease with a charming stranger. Josh might be a bit too perceptive—not to mention handsome—for comfort, but there's a good chance he and Clara could have survived sharing a summer sublet if she hadn't looked him up on the Internet…
Once she learns how Josh has made a name for himself, Clara realizes living with him might make her the Wheaton's most scandalous story yet. His professional prowess inspires her to take tackling the stigma against female desire into her own hands. They may not agree on much, but Josh and Clara both believe women deserve better sex. What they decide to do about it will change both of their lives, and if they're lucky, they'll help everyone else get lucky too.
Buy the book here.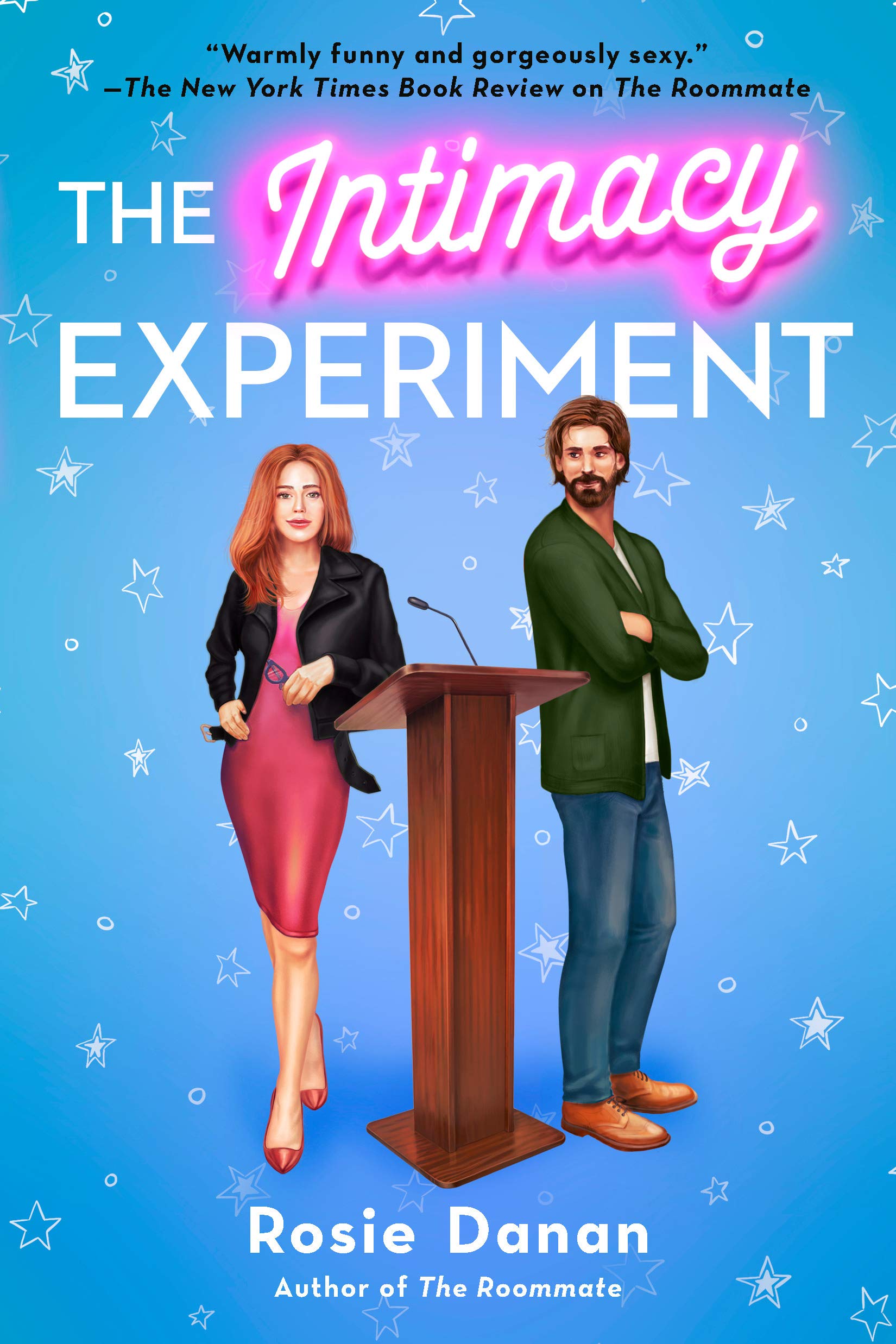 On the heels of reading Rosie Danan's breakout success first novel, The Roommate, I was more than excited to read The Intimacy Experiment, and it did not disappoint.
Just as I mentioned in my review of Danan's first book, the author tackles sex in a really fantastic, sex positive way. The main character in this story, Naomi Grant, is an adult film star turned sex education start-up CEO. She also turns out to be Jewish, which of course I found really relatable and refreshing to see.
The writing is strong, the dialogue even stronger. The author nails butterflies and sexual tension and character development in such a beautifully modern way. And the love story is complicated by the fact that Naomi's love interest is a former physics teacher turned rabbi.
Just as with The Roommate, this second book in the series is well written, the characters are flawed, layered, and extremely likable despite their shortcomings, and while there are some very steamy scenes, even those scenes are unapologetically sexy and real, and manage to somehow not feel trite or cheesy. Such a good book, series, you name it.
Naomi Grant has built her life around going against the grain. After the sex-positive start-up she cofounded becomes an international sensation, she wants to extend her educational platform to live lecturing. Unfortunately, despite her long list of qualifications, higher ed won't hire her.
Ethan Cohen has recently received two honors: LA Mag nominated him as one of the city's hottest bachelors and he became rabbi of his own synagogue. Low on both funds and congregants, the executive board of Ethan's new shul hired him with the hopes that his nontraditional background will attract more millennials to the faith. They've given him three months to turn things around or else they'll close the doors of his synagogue for good.
Naomi and Ethan join forces to host a buzzy seminar series on Modern Intimacy, the perfect solution to their problems–until they discover a new one–their growing attraction to each other. They've built the syllabus for love's latest experiment, but neither of them expected they'd be the ones putting it to the test.
But the book here.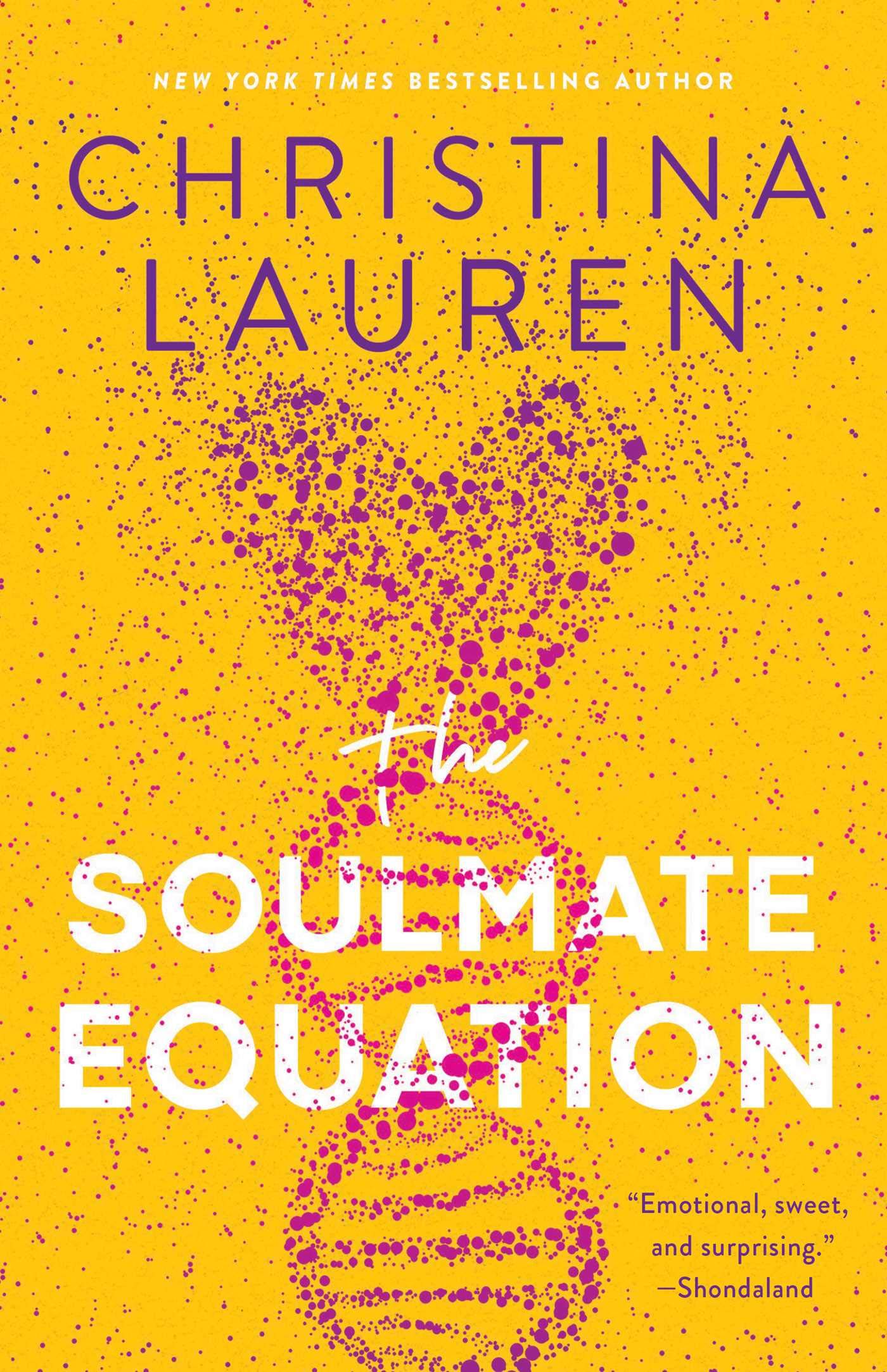 I've been a huge fan of the writing duo behind Christina Lauren for years. This book was decidedly likable. I can't say it was my favorite of their books, but definitely still an easy and fun read that I zipped through in no time.
I really enjoyed all of the descriptions of science and DNA and it was obvious that this book was wel-researched. There was also a bit of an unexpected plot twist that gave the book a bit more depth. All in all, definitely worth the read.
Single mom Jess Davis is a data and statistics wizard, but no amount of number crunching can convince her to step back into the dating world. Raised by her grandparents—who now help raise her seven-year-old daughter, Juno—Jess has been left behind too often to feel comfortable letting anyone in. After all, her father's never been around, her hard-partying mother disappeared when she was six, and her ex decided he wasn't "father material" before Juno was even born. Jess holds her loved ones close, but working constantly to stay afloat is hard…and lonely.
But then Jess hears about GeneticAlly, a buzzy new DNA-based matchmaking company that's predicted to change dating forever. Finding a soulmate through DNA? The reliability of numbers: This Jess understands.
At least she thought she did, until her test shows an unheard-of 98% compatibility with another subject in the database: GeneticAlly's founder, Dr. River Peña. This is one number she can't wrap her head around, because she already knows Dr. Peña. The stuck-up, stubborn man is without a doubt not her soulmate. But GeneticAlly has a proposition: Get to know him and we'll pay you. Jess—who is barely making ends meet—is in no position to turn it down, despite her skepticism about the project and her dislike for River. As the pair are dragged from one event to the next as the "Diamond" pairing that could make GeneticAlly a mint in stock prices, Jess begins to realize that there might be more to the scientist—and the science behind a soulmate—than she thought.
Funny, warm, and full of heart, The Soulmate Equation proves that the delicate balance between fate and choice can never be calculated.
Buy the book here.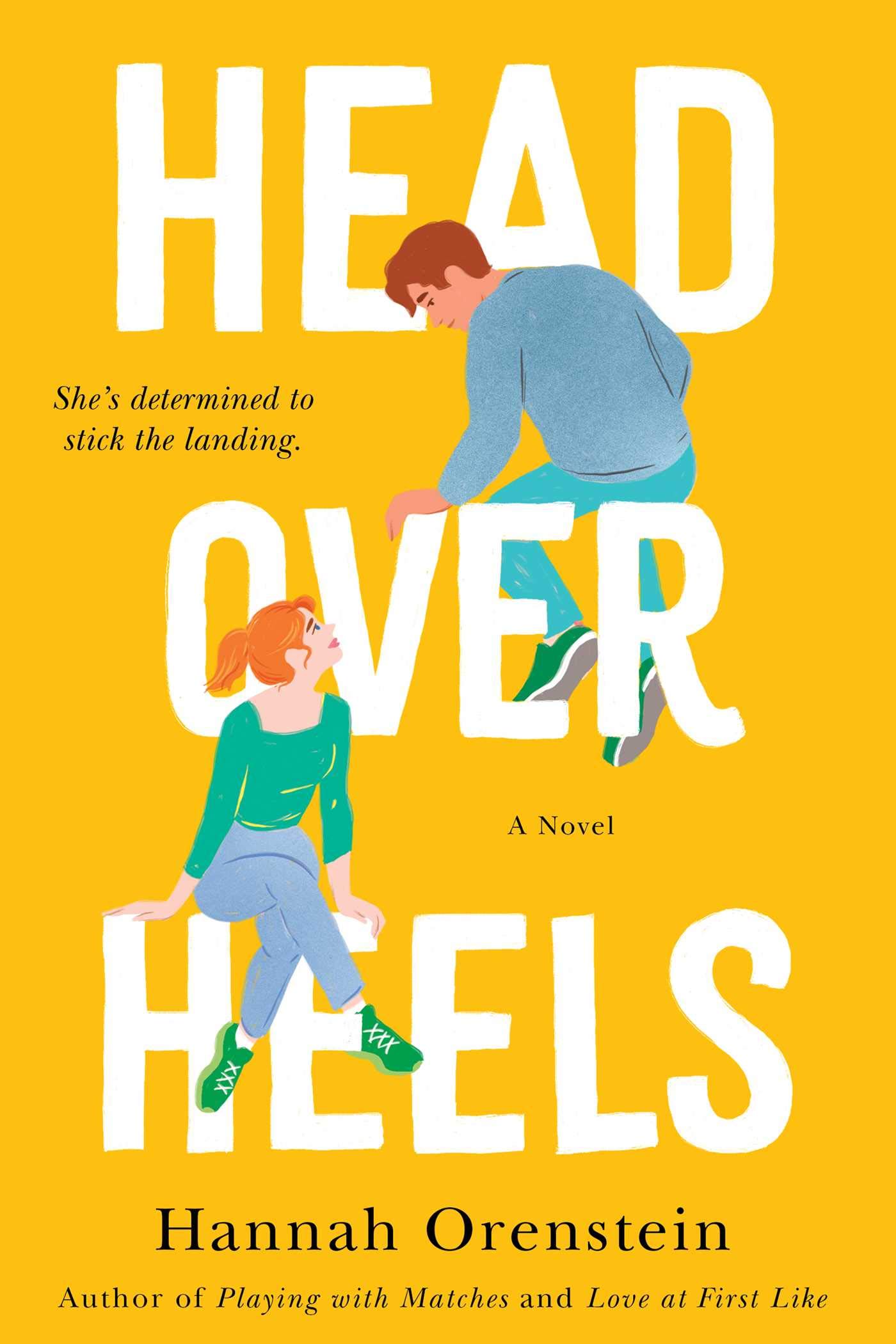 This was a really interesting read, with a lot of heart. For starters, I learned so much about the world of competitive gymnastics. I also learned about qualifying for the olympics and what it takes to rise to the highest ranks as an athlete. Though this is a love story, it doesn't follow a straight line. It s much more about the protagonist, Avery's own path to identity outside of gymnastics. I teared up at so many points throughout the story, and truly felt Avery's triumphs as well as her failures.
The past seven years have been hard on Avery Abrams. After training her entire life to make the Olympic gymnastics team, a disastrous performance ended her athletic career for good. Her best friend and teammate, Jasmine, went on to become an Olympic champion. She committed the ultimate betrayal by marrying their emotionally abusive coach, Dimitri.
Now, reeling from a breakup with her football star boyfriend, Avery returns to her Massachusetts hometown. Here, her new coach Ryan asks her to help him train a promising young gymnast with Olympic aspirations. Despite her misgivings and worries about the memories it will evoke, Avery agrees. Back in the gym, she's surprised to find sparks flying with Ryan. But when a shocking scandal in the gymnastics world breaks, it has shattering effects not only for the sport but also for Avery and her old friend Jasmine.
Buy the book here.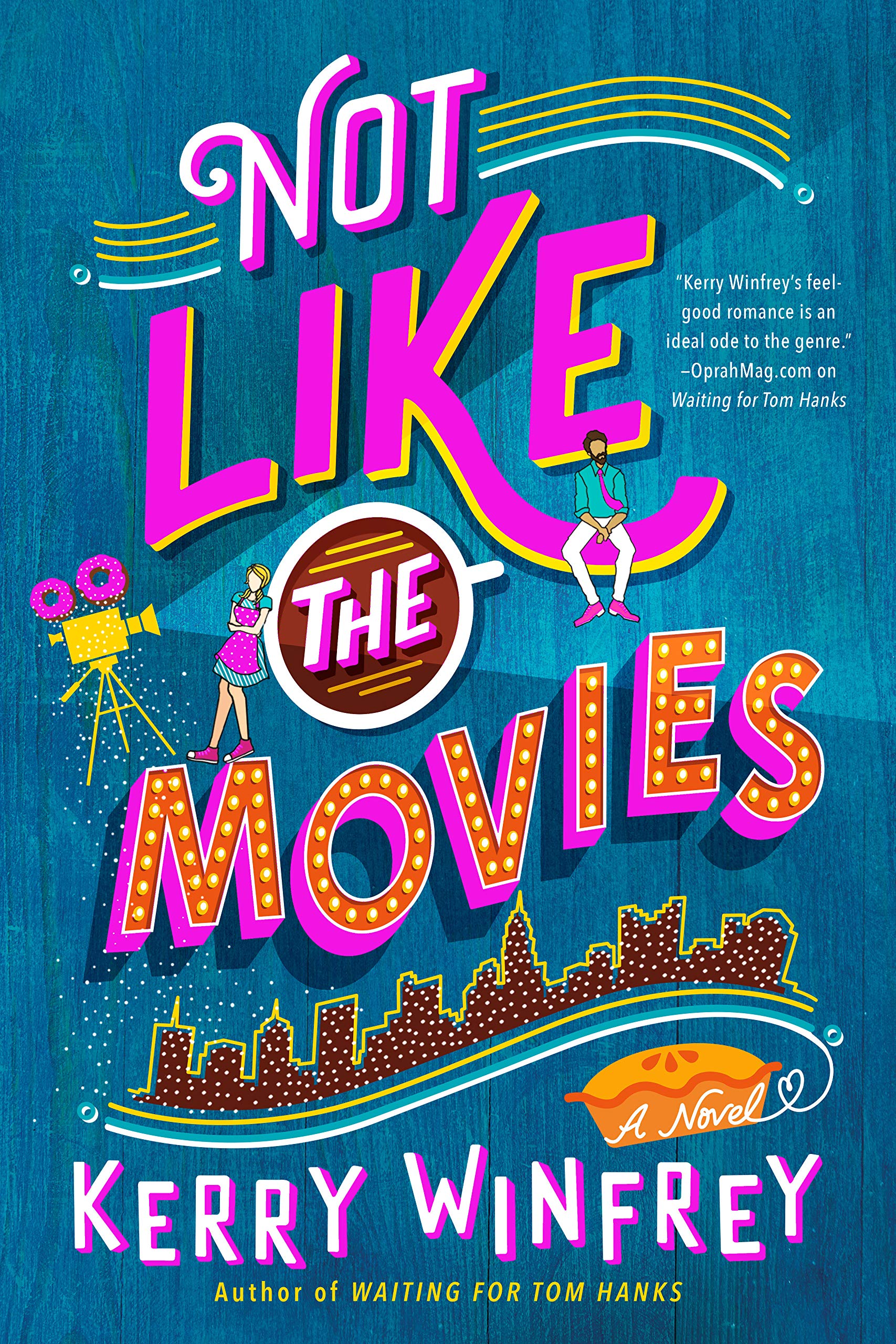 I previously read Waiting for Tom Hanks by Kerry Winfrey and really enjoyed it. (You can read my full review on that book, plus four other great books, right here.) As soon as I could get my hands on another one of Kerry Winfrey's books, I was excited to give it a try.
Not Like the Movies is the sequel to Waiting for Tom Hanks and focuses on Chloe Sanderson, Annie from the first book's BFF, and the exact opposite of a hopeless romantic. Chloe has quite literally turned Chloe's real life into a rom com. The only trouble: Chloe is the farthest thing from a romantic. She plain old doesn't believe in love. Both books are romantic comedies in the truest sense. Yet, the characters are easy to understand, have a lot to them, and the stories flow so well. If you're looking for a super sweet romance novel, then Kerry Winfrey's books are just the ticket. It has a bit more story and character development,
Chloe Sanderson is an optimist, and not because her life is easy. As the sole caregiver for her father, who has early-onset Alzheimer's, she's pretty much responsible for everything. She has no time—or interest—in getting swept up in some dazzling romance. Not like her best friend, Annie, who literally wrote a rom-com that's about to premiere in theaters across America. Also, happens to be inspired by Chloe and her cute but no-nonsense boss, Nick Velez.
As the buzz for the movie grows, Chloe reads one too many listicles about why Nick is the perfect man. Now she can't see him as anything but Reason #4: The scruffy-bearded hunk who's always there when you need him. But unlike the romance Annie has written for them, Chloe isn't so sure her own story will end in a happily-ever-after.
Buy the book here.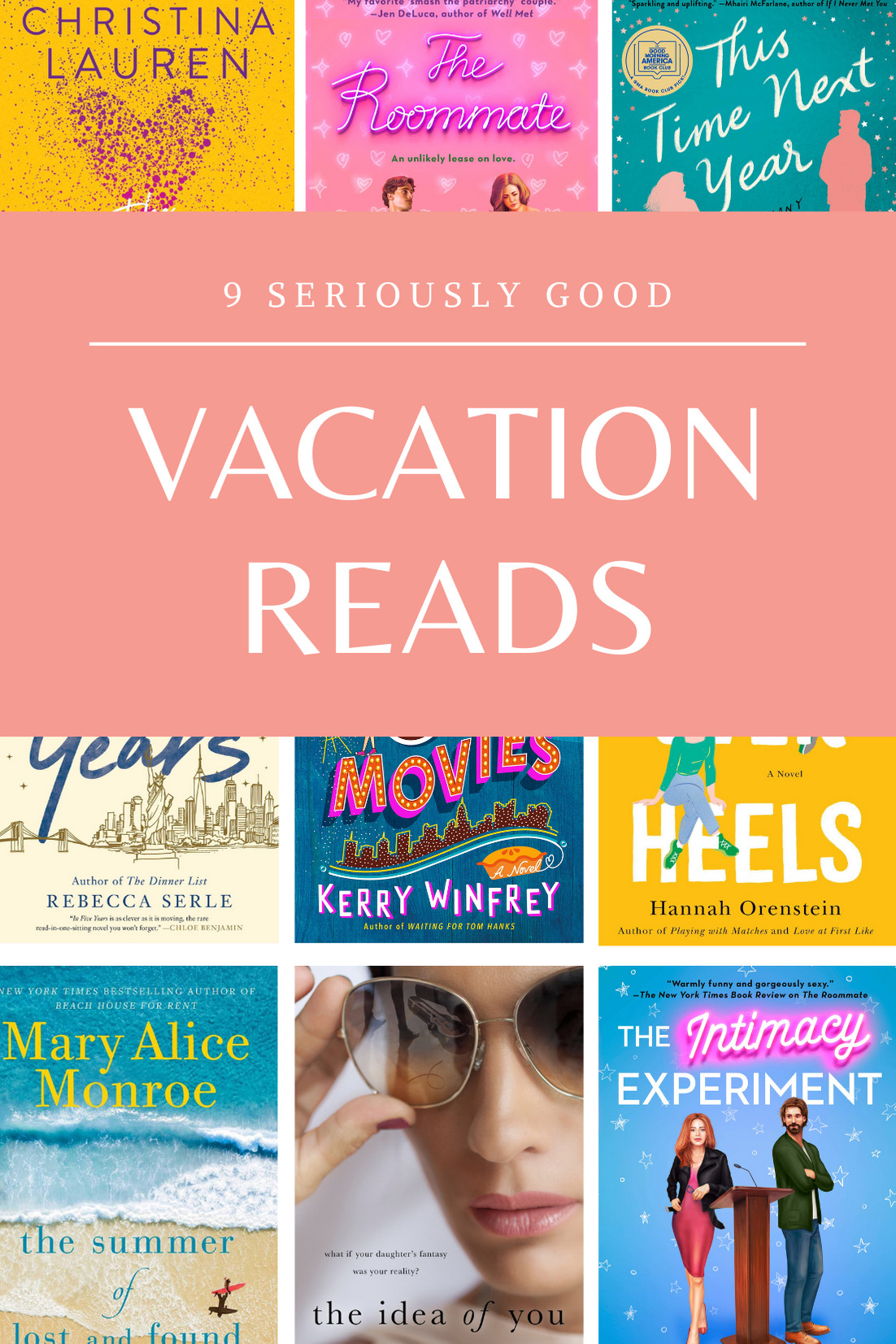 So grab a margarita, curl up on that lounge chair, and dive into a good book. Then head back to this post, or find me (on Instagram, Facebook, and Twitter), and let me know what you're reading and how you're liking it! You can also always share your favorite books by tagging your picture and/or review with #GlitterBookClub on Instagram!
SHOP THE BOOK POST | CLICK LEFT & RIGHT ARROWS TO EXPLORE

Yep, I like books a lot.
And in case you're curious, you can read all about why I started a book club right here. Happy reading!