This post contains affiliate links, which means that if you click on one of the product links, I'll receive a small commission. Thank you so much for clicking through and helping to support this little blog business of mine! Read more about our site, privacy, and disclosure policies here.
Looking for a great book to read? Here are 9 must read books that I recently read and absolutely loved!
I've been on a bit of a reading spree since the new year. Sometimes – okay, scratch that – all of the time – it just feels good to turn off the noise of worries, technology, etc. and climb into the arms of a great story. Admittedly, most of my my book leanings of late have skewed towards the romantic comedy genre, with a few tear-jerkers, and the new Margaret Atwood novel mixed in. I'm also a total fan of historical fiction and I'm on the hunt for a few new goods ones to add into the rotation.
If you've read a great book (or two or three) lately, be sure to send them my way!
As for today's books, I'm only sharing the great ones. I've said it before, I'll say it again: I only read books I'm really enjoying. These days, I'm so busy (and tired), that to commit to a book – from cover to cover – that I'm just feeling MEH about, just doesn't make sense for me anymore. These books were all really good – at least in my humble opinion – the kind I couldn't put down; and my hope is: you'll feel exactly the same!
Want even more books I've read and loved?

9 Must Read Books I Recently Read and Loved
So in case you're looking for a great new book to pick up, I'm sharing 9 books I recently read; a.k.a., stayed up way too late devouring the words on the pages, and absolutely loved.
Happy reading!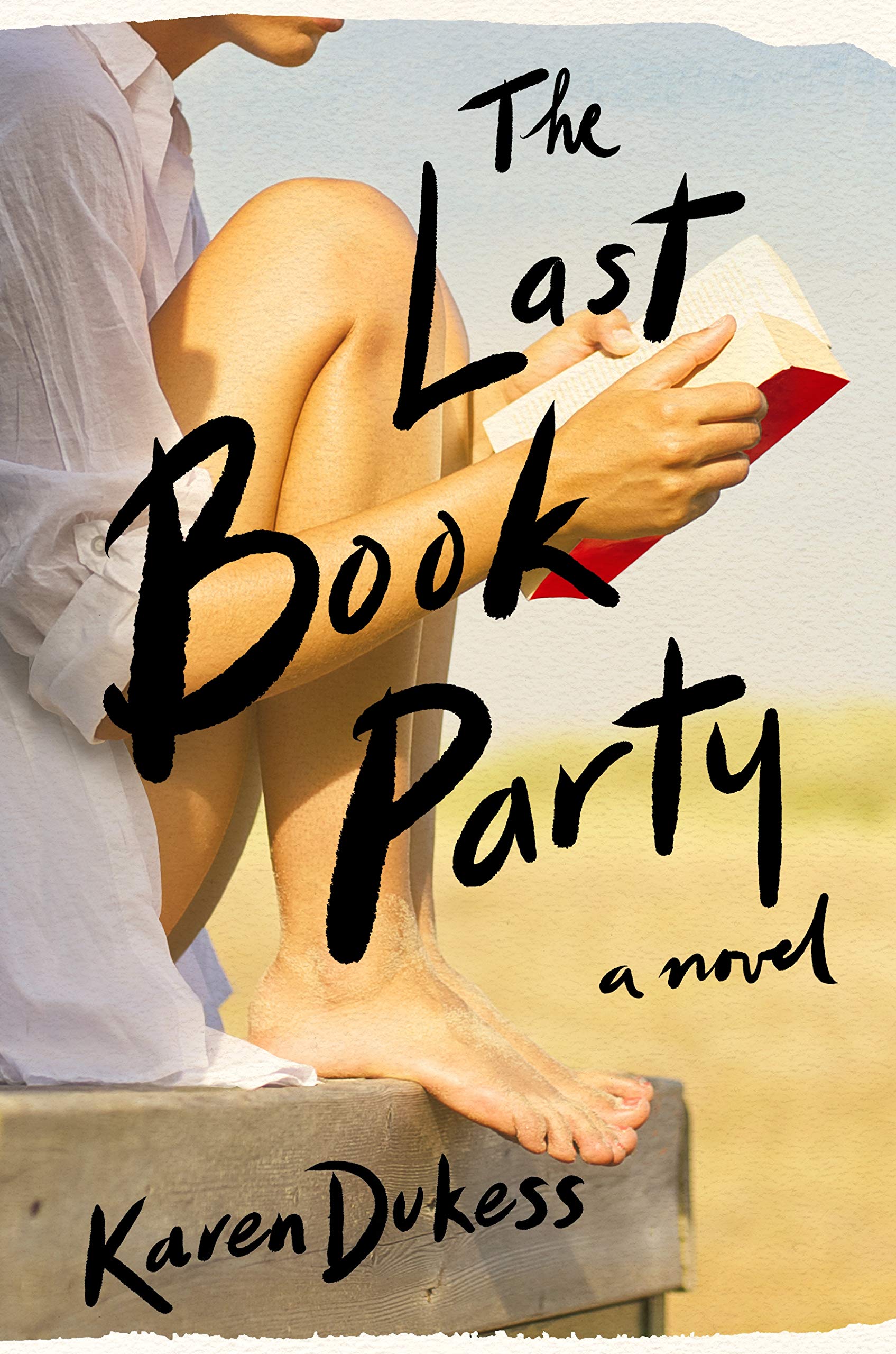 Easily my favorite thing about The Last Book Party is the cultural history/setting. The story is about a young woman trying to find herself during the bohemian literary scene over a summer on the Cape in the late '80s. I learned SO MUCH about Cape Cod, writers and the process of writing, the publishing world, and the whole Cape Cod backdrop of the 1980s.
The main character makes mistakes, she worships wrong heroes, she bounces back. If you look books, read this one, for sure.
From Amazon:
A propulsive tale of ambition and romance, set in the publishing world of 1980's New York and the timeless beaches of Cape Cod.
In the summer of 1987, 25-year-old Eve Rosen is an aspiring writer languishing in a low-level assistant job, unable to shake the shadow of growing up with her brilliant brother. With her professional ambitions floundering, Eve jumps at the chance to attend an early summer gathering at the Cape Cod home of famed New Yorker writer Henry Grey and his poet wife, Tillie.
Dazzled by the guests and her burgeoning crush on the hosts' artistic son, Eve lands a new job as Henry Grey's research assistant and an invitation to Henry and Tillie's exclusive and famed "Book Party"― where attendees dress as literary characters. But by the night of the party, Eve discovers uncomfortable truths about her summer entanglements and understands that the literary world she so desperately wanted to be a part of is not at all what it seems.
A page-turning, coming-of-age story, written with a lyrical sense of place and a profound appreciation for the sustaining power of books, Karen Dukess's The Last Book Party shows what happens when youth and experience collide and what it takes to find your own voice.
Buy the book here.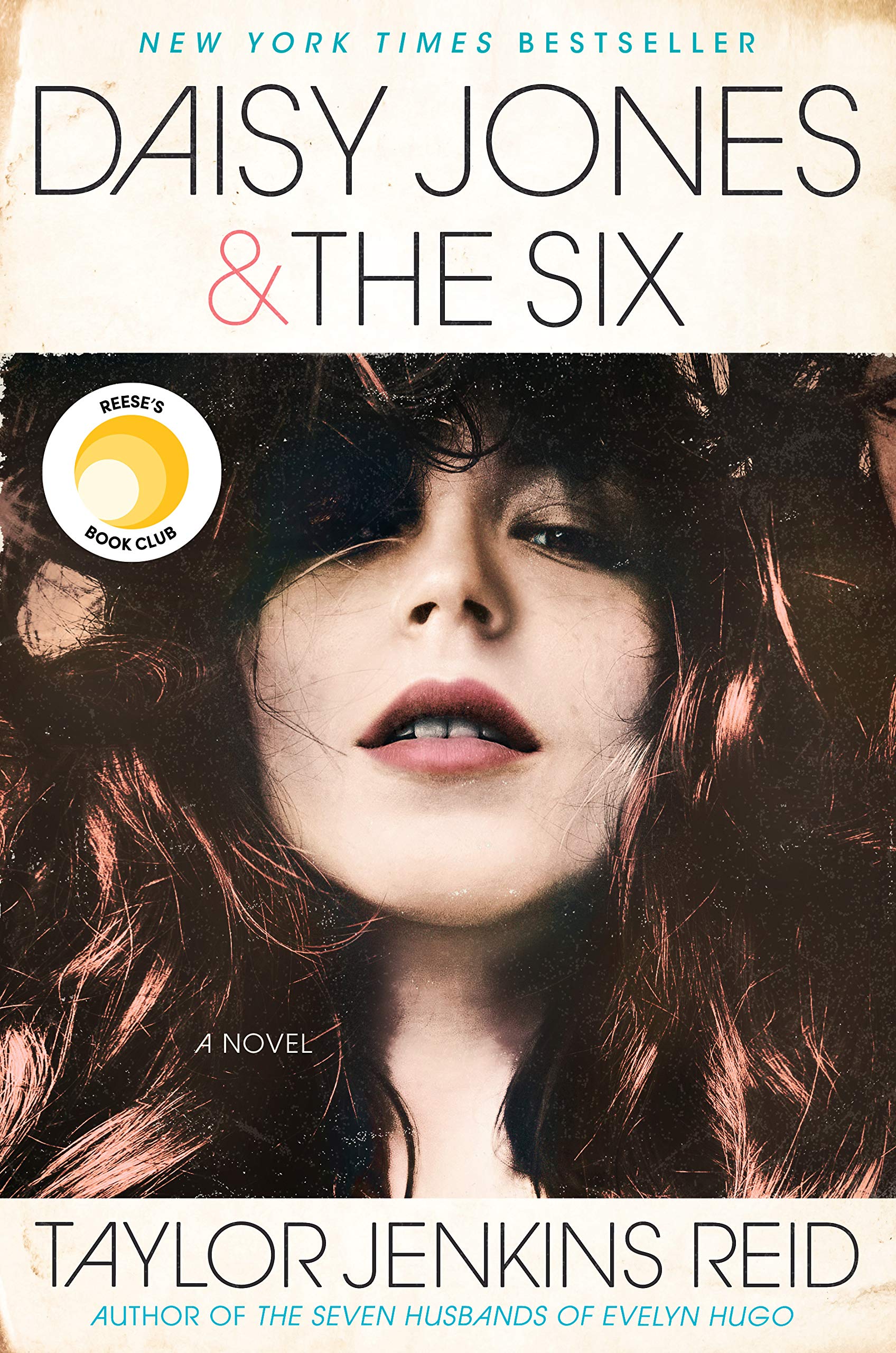 Everyone is talking about this book for good reason. I LOVED stepping inside the tumultuous rise and fall of two iconic rock 'n' roll leads. The characters and the story are just SO believable in this story. I loved the songwriting process, a behind-the-scenes look at how celebrity and music rumor-fueled sagas are woven, and a look at a wild, unapologetic, free-spirited female musician who you can't help but follow.
From Amazon:
NEW YORK TIMES BESTSELLER • A gripping novel about the whirlwind rise of an iconic 1970s rock group and their beautiful lead singer, revealing the mystery behind their infamous breakup.
Everyone knows DAISY JONES & THE SIX, but nobody knows the reason behind their split at the absolute height of their popularity . . . until now.
Daisy is a girl coming of age in L.A. in the late sixties, sneaking into clubs on the Sunset Strip, sleeping with rock stars, and dreaming of singing at the Whisky a Go Go. The sex and drugs are thrilling, but it's the rock 'n' roll she loves most. By the time she's twenty, her voice is getting noticed, and she has the kind of heedless beauty that makes people do crazy things.
Also getting noticed is The Six, a band led by the brooding Billy Dunne. On the eve of their first tour, his girlfriend Camila finds out she's pregnant, and with the pressure of impending fatherhood and fame, Billy goes a little wild on the road.
Daisy and Billy cross paths when a producer realizes that the key to supercharged success is to put the two together. What happens next will become the stuff of legend.
The making of that legend is chronicled in this riveting and unforgettable novel, written as an oral history of one of the biggest bands of the seventies. Taylor Jenkins Reid is a talented writer who takes her work to a new level with Daisy Jones & The Six, brilliantly capturing a place and time in an utterly distinctive voice.
Buy the book here.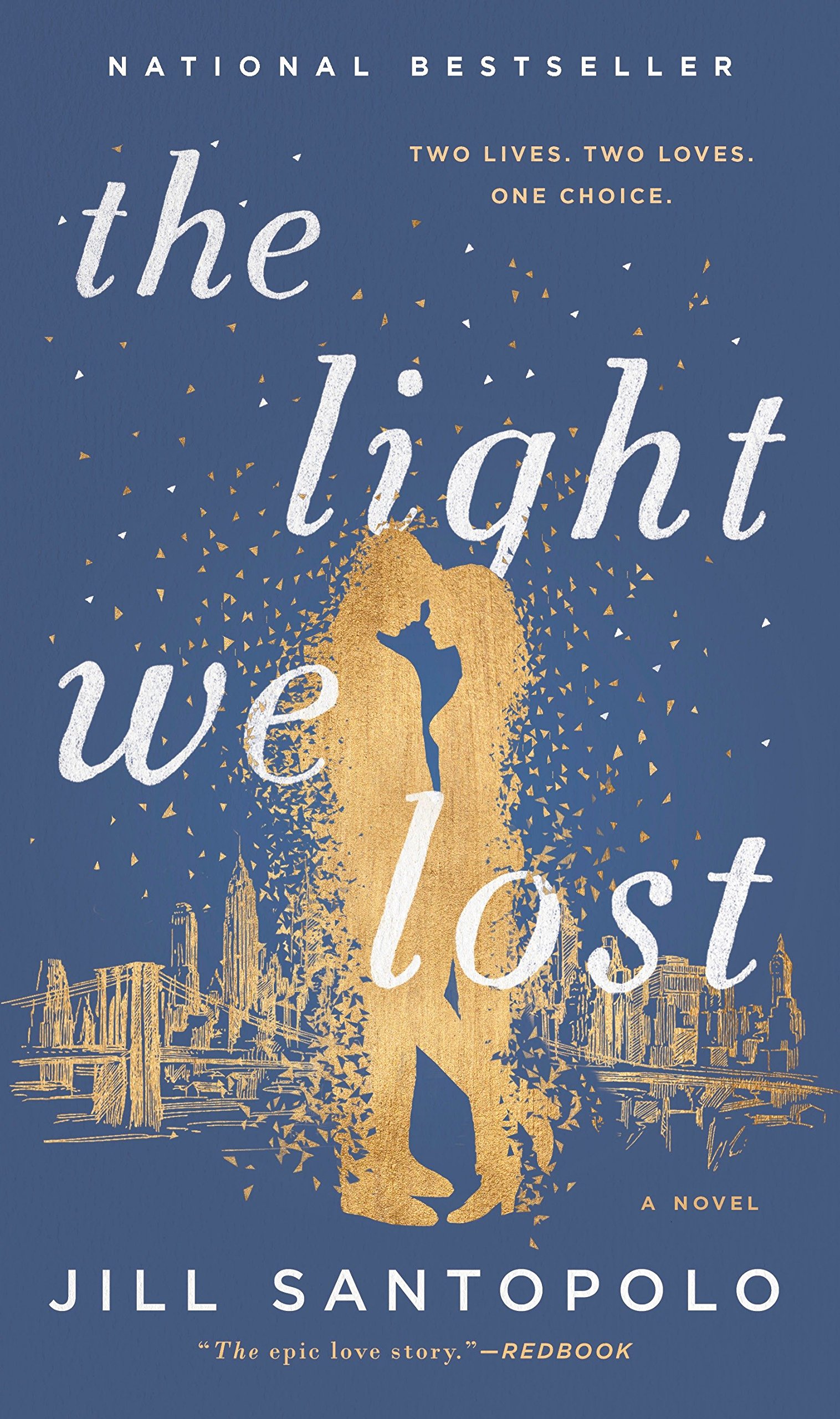 This was one of the books I recently read that absolutely kept me up at night, devouring the words on the pages until my eyelids grew too heavy to read another line. It certainly helped that Mike has been working a lot of night shifts, and I found myself staying up way past an acceptable bed-time for a mom of two little kids who wake up at the break of daylight every.single.day. It was worth it.
There were several moments in the book, where I plain old didn't like the characters, and typically, that's the kiss of death for me with any book. Somehow, though, Santopolo kept my interest, and I found myself needing to know what happens to these star-crossed, albeit flawed, characters.
From Amazon:
The New York Times Bestseller and Reese Witherspoon Book Club Pick
He was the first person to inspire her, to move her, to truly understand her. Was he meant to be the last?
Lucy is faced with a life-altering choice. But before she can make her decision, she must start her story—their story—at the very beginning.
Lucy and Gabe meet as seniors at Columbia University on a day that changes both of their lives forever. Together, they decide they want their lives to mean something, to matter. When they meet again a year later, it seems fated—perhaps they'll find life's meaning in each other. But then Gabe becomes a photojournalist assigned to the Middle East and Lucy pursues a career in New York. What follows is a thirteen-year journey of dreams, desires, jealousies, betrayals, and, ultimately, of love. Was it fate that brought them together? Is it choice that has kept them away? Their journey takes Lucy and Gabe continents apart, but never out of each other's hearts.
This devastatingly romantic debut novel about the enduring power of first love, with a shocking, unforgettable ending, is Love Story for a new generation.
Buy the book here.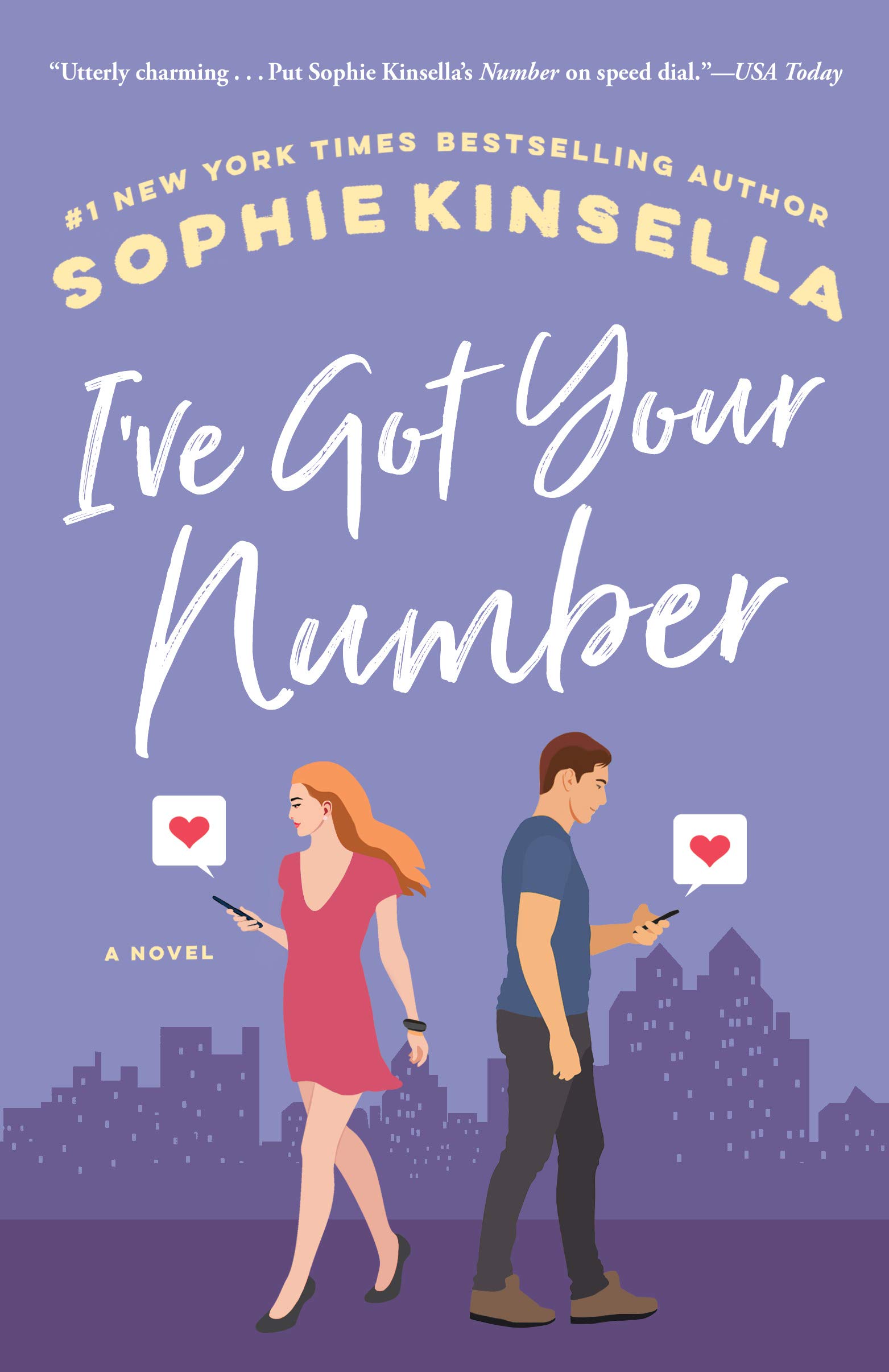 This cheeky rom com was a total page-turner. I've always enjoyed a good Sophie Kinsella; admittedly, some are better than others. (Sometimes her books are too syrupy for my taste, but I've Got Your Number hits all of the right notes.)
The main character – Poppy – is very real and very likable, though at times, you may want to reach through the pages of the book and shake her. Like any great romantic story, there is a tension-filled plot, and a really great back-and-forth dialogue, that keeps the story moving forward at a rapid pace.
I really liked this one!
From Amazon:
Poppy Wyatt has never felt luckier. She is about to marry her ideal man, Magnus Tavish, but in one afternoon her "happily ever after" begins to fall apart. Not only has she lost her engagement ring in a hotel fire drill, but in the panic that follows, her phone is stolen. As she paces shakily around the lobby, she spots an abandoned phone in a trash can. Finders keepers! Now she can leave a number for the hotel to contact her when they find her ring. Perfect!
Well, perfect except that the phone's owner, businessman Sam Roxton, doesn't agree. He wants his phone back and doesn't appreciate Poppy reading his messages and wading into his personal life.
What ensues is a hilarious and unpredictable turn of events as Poppy and Sam increasingly upend each other's lives through emails and text messages. As Poppy juggles wedding preparations, mysterious phone calls, and hiding her left hand from Magnus and his parents, she soon realizes that she is in for the biggest surprise of her life.
Buy the book here.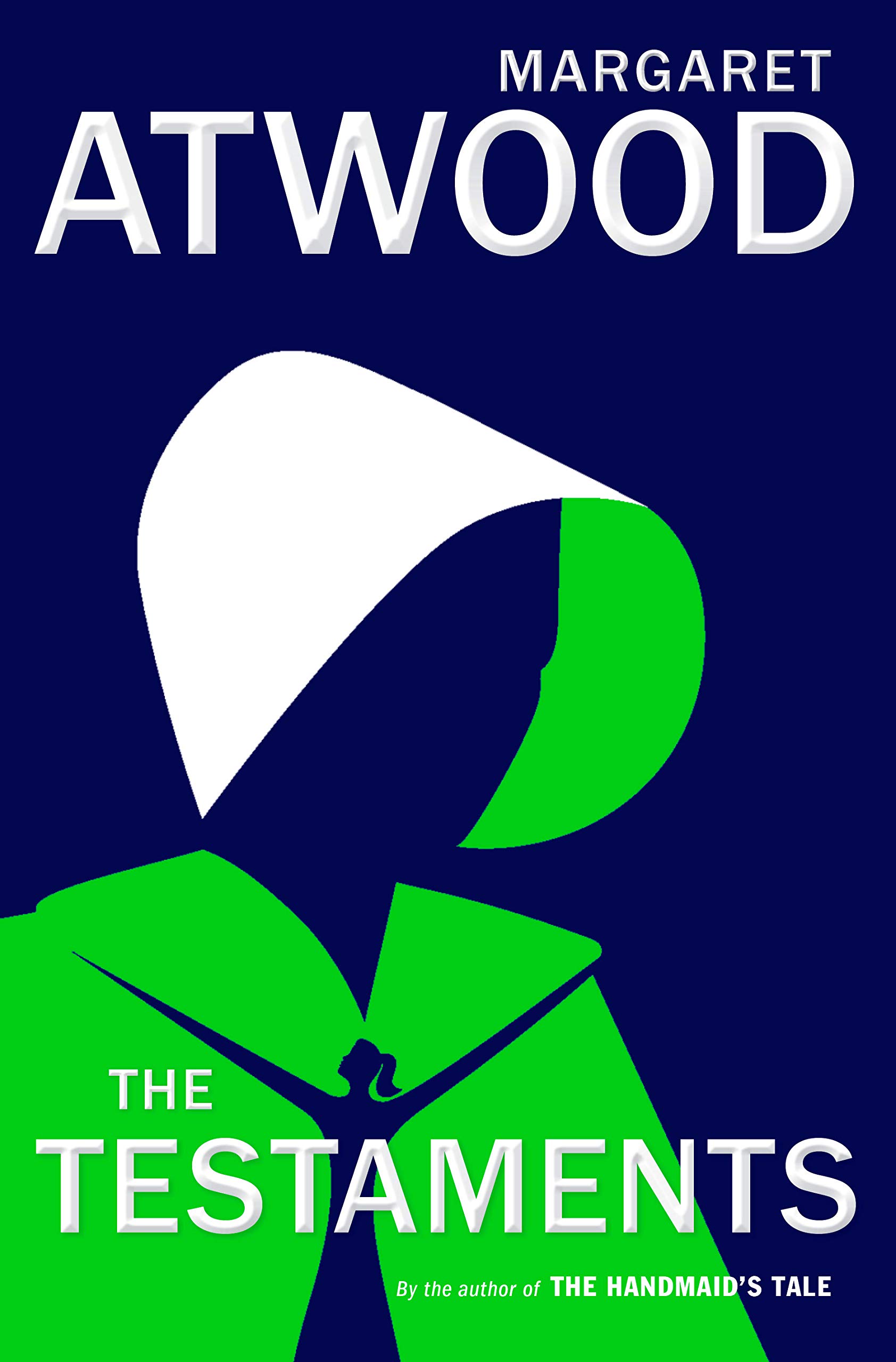 As a lover of books, it's hard not to pick out books that really defined my literary love affair; books that carved a path towards my fascination with books, with writing, with falling completely for the written word. Margaret Atwood's The Handmaid's Tale was one of those books. In many ways, it defined the kind of writer I wanted to become; the kind of reader as well. The first time I read The Handmaid's Tale, I fell head in. The idea that a writer could conjure up an entire world, with characters I felt hopelessly devoted to, blew my then pre-teen mind. To say I was eager for The Testaments, The Sequel to The Handmaid's Tale to be released all of these years later, after the huge success of the HBO television version of The Handmaid's Tale, would be an understatement.
The book didn't disappoint, though I think I still crave more. (If you were hoping for closure, or even a "happily ever after" story about "Offred," this book isn't it.) Written as letters, or testimonies, of three characters – two young women we get to know through the story, and Aunt Lydia (an exceptionally written and complex character) – the pages of The Testaments detail the fall of the dystopian (and failing) Gilead from the point of view of both the women, gender-traitors, who run the regime, and also the younger women born into the system.
100% worth the read.
From Amazon:
#1 NEW YORK TIMES BESTSELLER
WINNER OF THE BOOKER PRIZE
The Testaments is a modern masterpiece, a powerful novel that can be read on its own or as a companion to Margaret Atwood's classic, The Handmaid's Tale.
More than fifteen years after the events of The Handmaid's Tale, the theocratic regime of the Republic of Gilead maintains its grip on power, but there are signs it is beginning to rot from within. At this crucial moment, the lives of three radically different women converge, with potentially explosive results.

Two have grown up as part of the first generation to come of age in the new order. The testimonies of these two young women are joined by a third: Aunt Lydia. Her complex past and uncertain future unfold in surprising and pivotal ways.

With The Testaments, Margaret Atwood opens up the innermost workings of Gilead, as each woman is forced to come to terms with who she is, and how far she will go for what she believes.
Buy the book here.
This book is How To Lose a Guy in 10 Days in reverse, and I ate it up. This is sharp and smart contemporary romance at its best. You wont be able to put this one down.
From Amazon:
How To Lose a Guy in 10 Days gets a millennial makeover in this romantic comedy by USA Today bestselling author Andie J. Christopher.

Jack Nolan is a gentleman, a journalist, and unlucky in love. His viral success has pigeon-holed him as the how-to guy for a buzzy, internet media company instead of covering hard-hitting politics. Fed up with his fluffy articles and the app-based dating scene as well, he strikes a deal with his boss to write a final piece de resistance: How to Lose a Girl. Easier said than done when the girl he meets is Hannah Mayfield, and he's not sure he wants her to dump him.
Hannah is an extremely successful event planner who's focused on climbing the career ladder. Her firm is one of the most prestigious in the city, and she's determined to secure her next promotion. But Hannah has a bit of an image problem. She needs to show her boss that she has range, including planning dreaded, romantic weddings. Enter Jack. He's the perfect man to date for a couple weeks to prove to her boss that she's not scared of feelings.
Before Jack and Hannah know it, their fake relationship starts to feel all too real—and neither of them can stand to lose each other.
Buy the book here.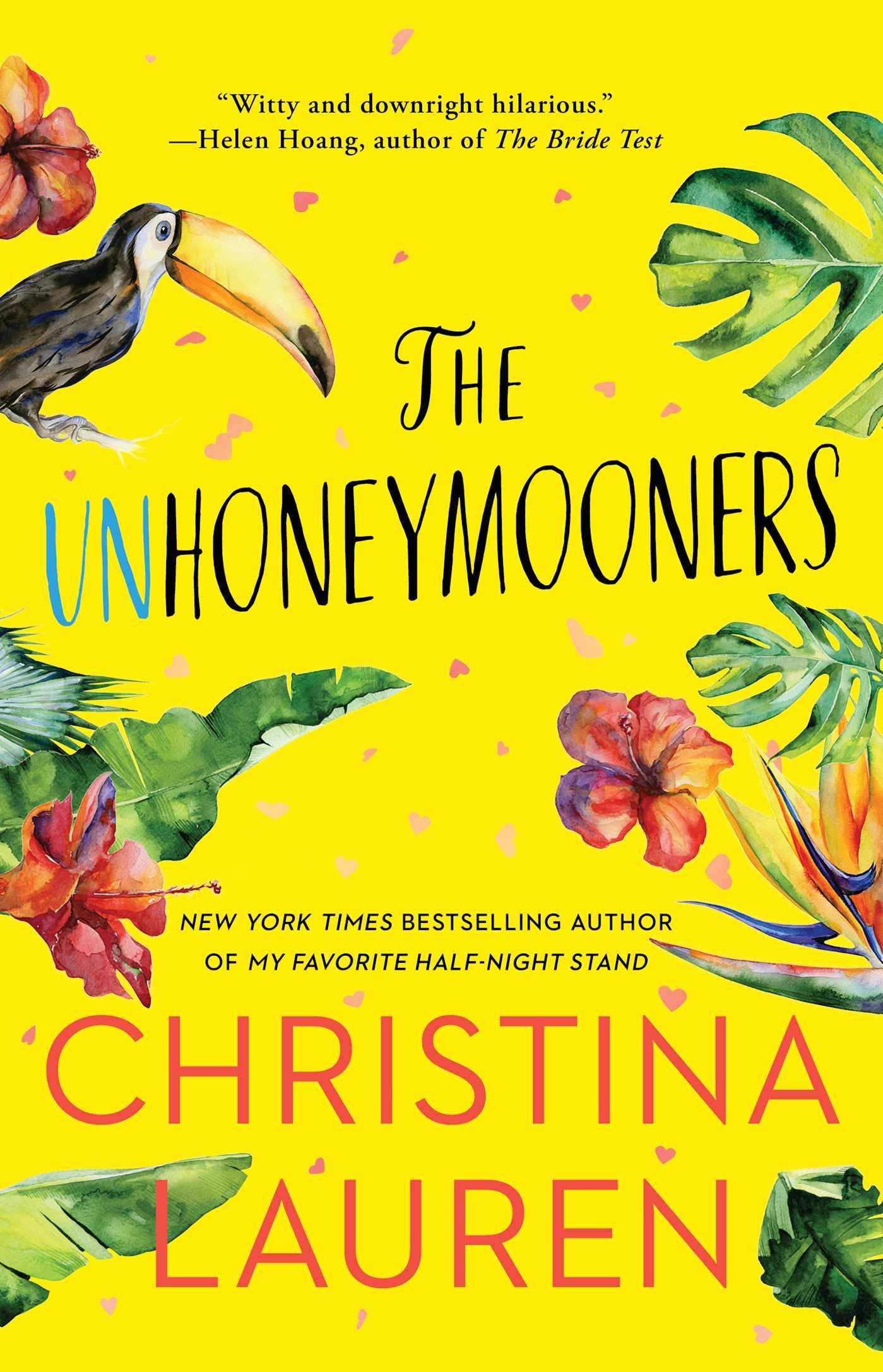 The Unhoneymooners was basically the gateway drug/book that got me addicted to Christina Lauren's novels. Christina Lauren is the combined pen name of longtime writing partners and best friends Christina Hobbs and Lauren Billings. Their books are lighthearted, sassy, and fun, with great writing and strong plots to carry them along. The real-life love stories, and totally relatable characters make all of the books great reads.
This book in particular is brilliantly penned, so funny, and will leave you smiling from ear to ear. Loved it.
From Amazon:
For two sworn enemies, anything can happen during the Hawaiian trip of a lifetime—maybe even love—in this romantic comedy from the New York Times bestselling authors of Roomies.
Olive Torres is used to being the unlucky twin: from inexplicable mishaps to a recent layoff, her life seems to be almost comically jinxed. By contrast, her sister Ami is an eternal champion . . . she even managed to finance her entire wedding by winning a slew of contests. Unfortunately for Olive, the only thing worse than constant bad luck is having to spend the wedding day with the best man (and her nemesis), Ethan Thomas.
Olive braces herself for wedding hell, determined to put on a brave face, but when the entire wedding party gets food poisoning, the only people who aren't affected are Olive and Ethan. Suddenly there's a free honeymoon up for grabs, and Olive will be damned if Ethan gets to enjoy paradise solo.
Agreeing to a temporary truce, the pair head for Maui. After all, ten days of bliss is worth having to assume the role of loving newlyweds, right? But the weird thing is . . . Olive doesn't mind playing pretend. In fact, the more she pretends to be the luckiest woman alive, the more it feels like she might be.
With Christina Lauren's "uniquely hilarious and touching voice" (Entertainment Weekly), The Unhoneymooners is a romance for anyone who has ever felt unlucky in love.
Buy the book here.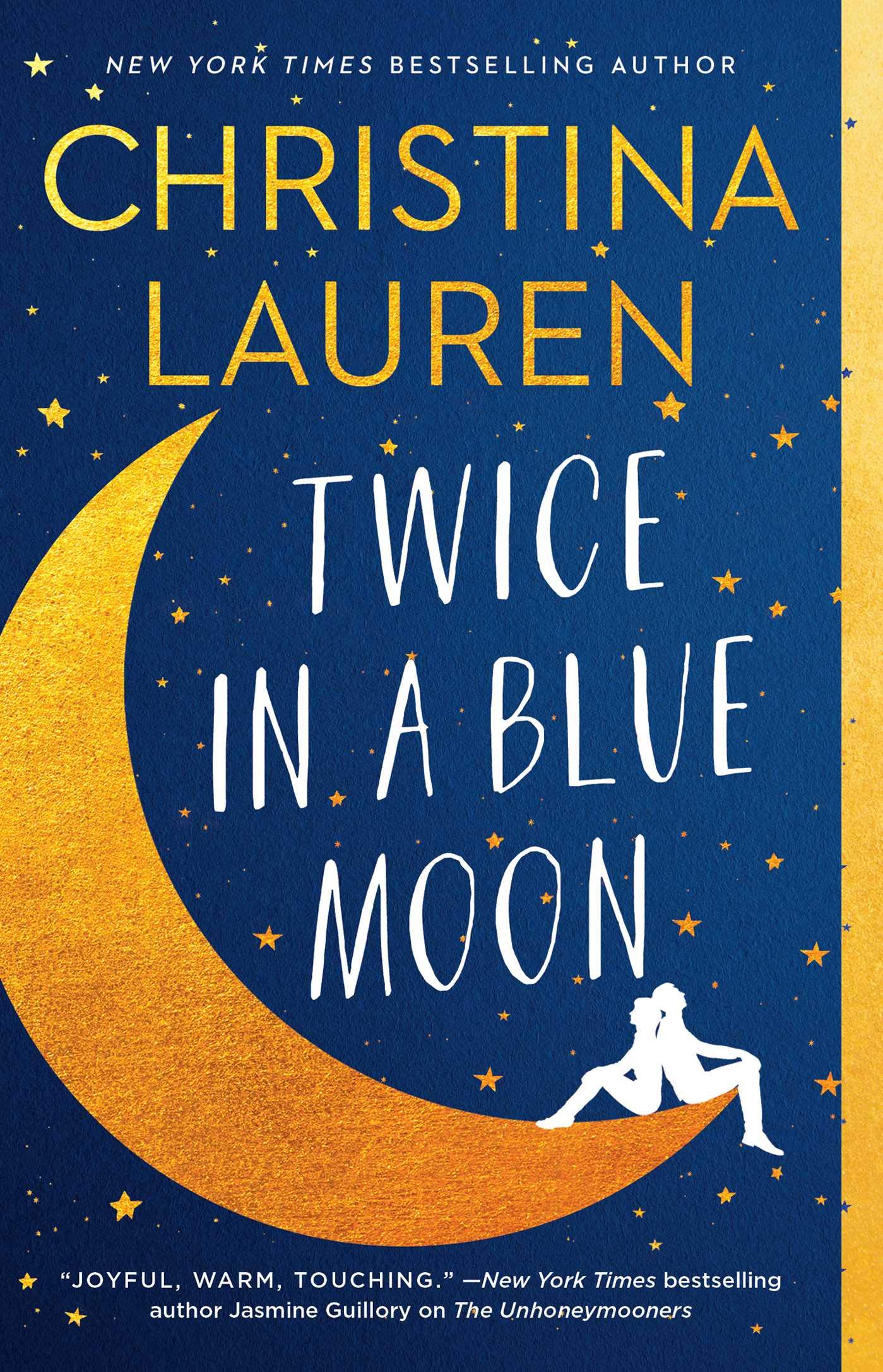 I'm a sucker for a great romance, and this book is most definitely a guilty pleasure kind of romance novel. Sure, romance novels get a bad rep, but when they're this good, why not get sucked in? Christina Lauren nails great character development; in this case, two great characters wrapped up in a world of celebrity. There's also a pretty big plot twist, and I'm impressed at how the authors manage to write about acceptance, even though it feels difficult both for the reader and the protagonist.
Pick this one up for a fun romance you can get sucked into.
From Amazon:
Sam Brandis was Tate Jones's first: Her first love. Her first everything. Including her first heartbreak.
During a whirlwind two-week vacation abroad, Sam and Tate fell for each other in only the way that first loves do: sharing all of their hopes, dreams, and deepest secrets along the way. Sam was the first, and only, person that Tate—the long-lost daughter of one of the world's biggest film stars—ever revealed her identity to. So when it became clear her trust was misplaced, her world shattered for good.
Fourteen years later, Tate, now an up-and-coming actress, only thinks about her first love every once in a blue moon. When she steps onto the set of her first big break, he's the last person she expects to see. Yet here Sam is, the same charming, confident man she knew, but even more alluring than she remembered. Forced to confront the man who betrayed her, Tate must ask herself if it's possible to do the wrong thing for the right reason… and whether "once in a lifetime" can come around twice.
With Christina Lauren's signature "beautifully written and remarkably compelling" (Sarah J. Maas, New York Times bestselling author) prose and perfect for fans of Emily Giffin and Jennifer Weiner, Twice in a Blue Moon is an unforgettable and moving novel of young love and second chances.
Buy the book here.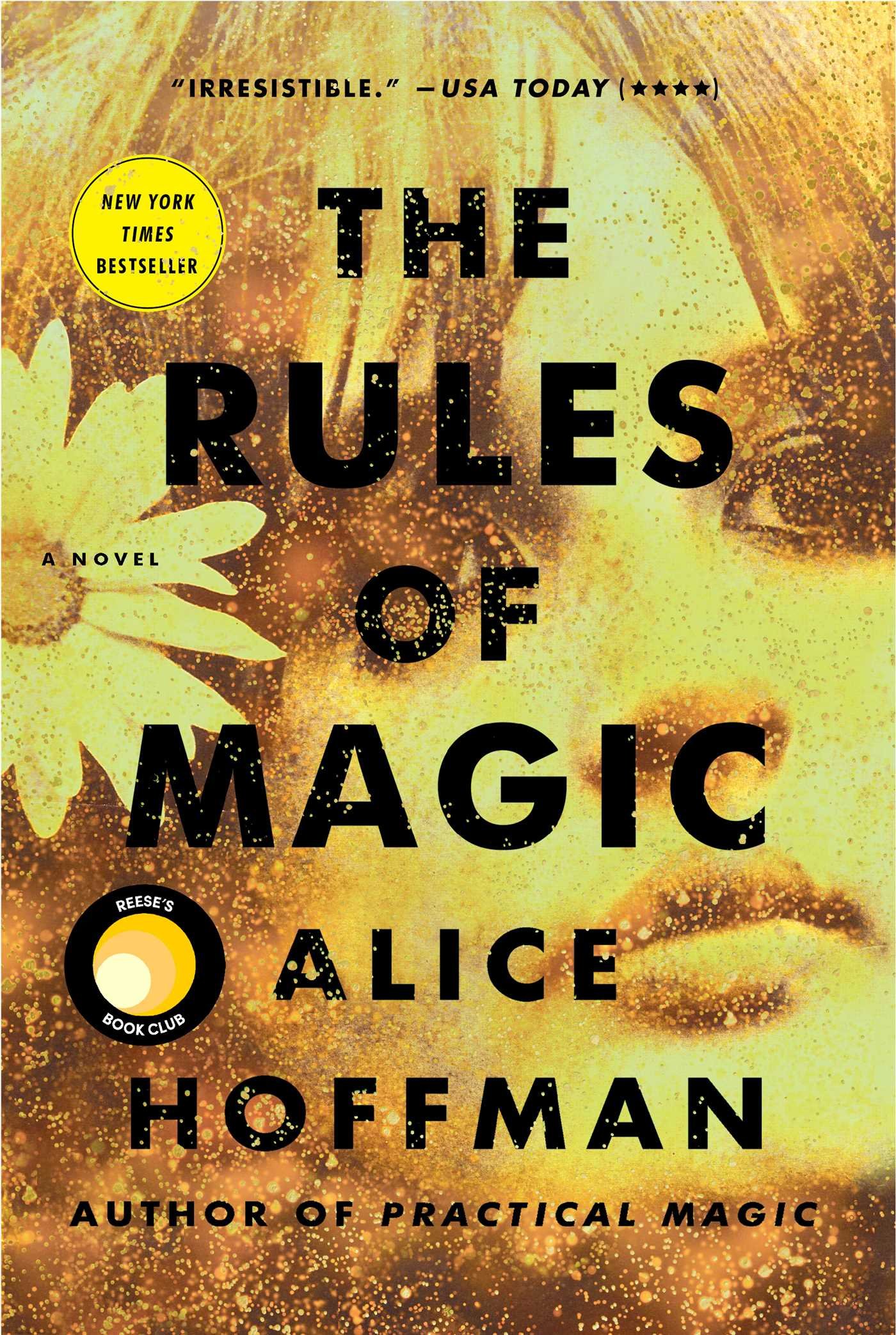 This is actually my second time reading this book, I loved it so much. Admittedly, I'm fascinated by witches and witchcraft and all of the illustrious history surrounding them. And in case you didn't know, The Rules of Magic is actually the prequel to Practical Magic; yep, the very popular Sandra Bullock and Nicole Kidman movie (first a book by Alice Hoffman.)
Hoffman is a story teller like none other. I devour every last page. Her descriptions, the characters; you're drawn into the rich setting from the very first page. Her books are positively spellbinding.
From Amazon:
An instant New York Times bestseller and Reese Witherspoon Book Club pick from beloved author Alice Hoffman—the spellbinding prequel to Practical Magic.
Find your magic.
For the Owens family, love is a curse that began in 1620, when Maria Owens was charged with witchery for loving the wrong man.
Hundreds of years later, in New York City at the cusp of the sixties, when the whole world is about to change, Susanna Owens knows that her three children are dangerously unique. Difficult Franny, with skin as pale as milk and blood red hair, shy and beautiful Jet, who can read other people's thoughts, and charismatic Vincent, who began looking for trouble on the day he could walk.
From the start Susanna sets down rules for her children: No walking in the moonlight, no red shoes, no wearing black, no cats, no crows, no candles, no books about magic. And most importantly, never, ever, fall in love. But when her children visit their Aunt Isabelle, in the small Massachusetts town where the Owens family has been blamed for everything that has ever gone wrong, they uncover family secrets and begin to understand the truth of who they are. Yet, the children cannot escape love even if they try, just as they cannot escape the pains of the human heart. The two beautiful sisters will grow up to be the memorable aunts in Practical Magic, while Vincent, their beloved brother, will leave an unexpected legacy.
Alice Hoffman delivers "fairy-tale promise with real-life struggle" (The New York Times Book Review) in a story how the only remedy for being human is to be true to yourself. Thrilling and exquisite, real and fantastical, The Rules of Magic is "irresistible…the kind of book you race through, then pause at the last forty pages, savoring your final moments with the characters" (USA TODAY, 4/4 stars).
Buy the book here.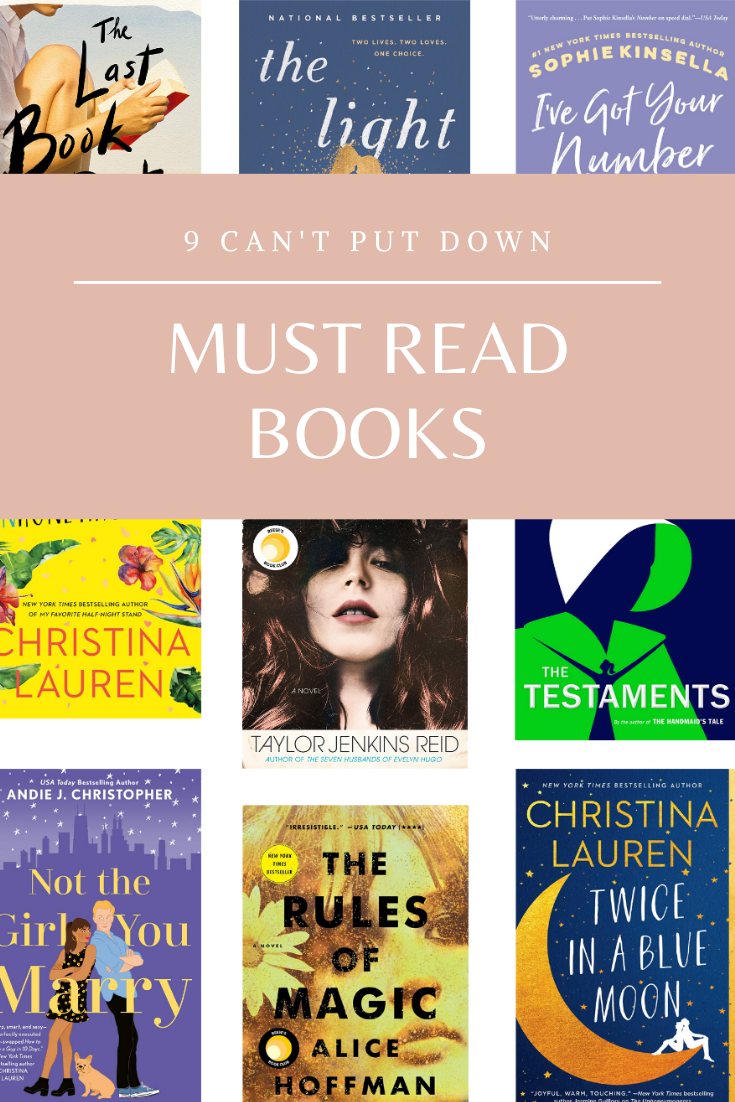 Have you read any great books lately? what's on your must read list for Spring?
SHOP MY FAVORITE RECENT READS | CLICK LEFT & RIGHT ARROWS TO EXPLORE
Did you know that there's a whole catalog of my favorite books over on my BOOK CLUB page? And if you need even more book recommendations, here's my Spring Reading List. Yep, I like books a lot.
And in case you're curious, you can read all about why I started a book club right here.
If you do pick up any of these books, join the conversation by tagging me (@glitterinclexion Instagram, Facebook and Twitter) and #GlitterBookClub in your posts.