This post contains affiliate links, which means that if you click on one of the product links, I'll receive a small commission. Additionally, as an Amazon Associate I earn from qualifying purchases. Thank you so much for clicking through and helping to support this little blog business of mine! Read more about our site, privacy, and disclosure policies here.
Hellllloooo almost weekend! This week has both crawled and sped by and either way, I'm happy to have the weekend in sight. Mostly because the kids' February break starts today and I'm just excited to take a break from school and have a chance to get out and explore the winter wonderland outside. I also see a lot of takeout and movies in our future as well. 🙌🏻
Not to mention, it's Valentine's Day weekend! In fact, I'm a total sucker for Valentine's Day! Gimme all of the hearts, pinks, roses, and chocolate. So much chocolate.
Our big Valentine's Day weekend plans include brunch complete with heart-shaped waffles, Italian food takeout from the North End (one of the greatest perks of living in Boston is having the North End in our back yard!), and in all likelihood, a recreation of our Valentine's Day dessert charcuterie board. We also have big plans to turn our living room into a "movie theater" per the girls' request. In addition,we're even going to print movie tickets, hang theatre curtains, and bust out all of the traditional movie theater snacks. I promise to share details so soon!
I'll be sharing what we're up to over on instagram (lots of fun behind-the-scenes on my insta stories too!), facebook, and twitter. So follow along!
How about you? Any exciting weekend plans? Do you get a February break where you live? (In fact, it's a totally new concept to us since moving to Boston!)
Little Love Notes + Valentine's Day Weekend Plans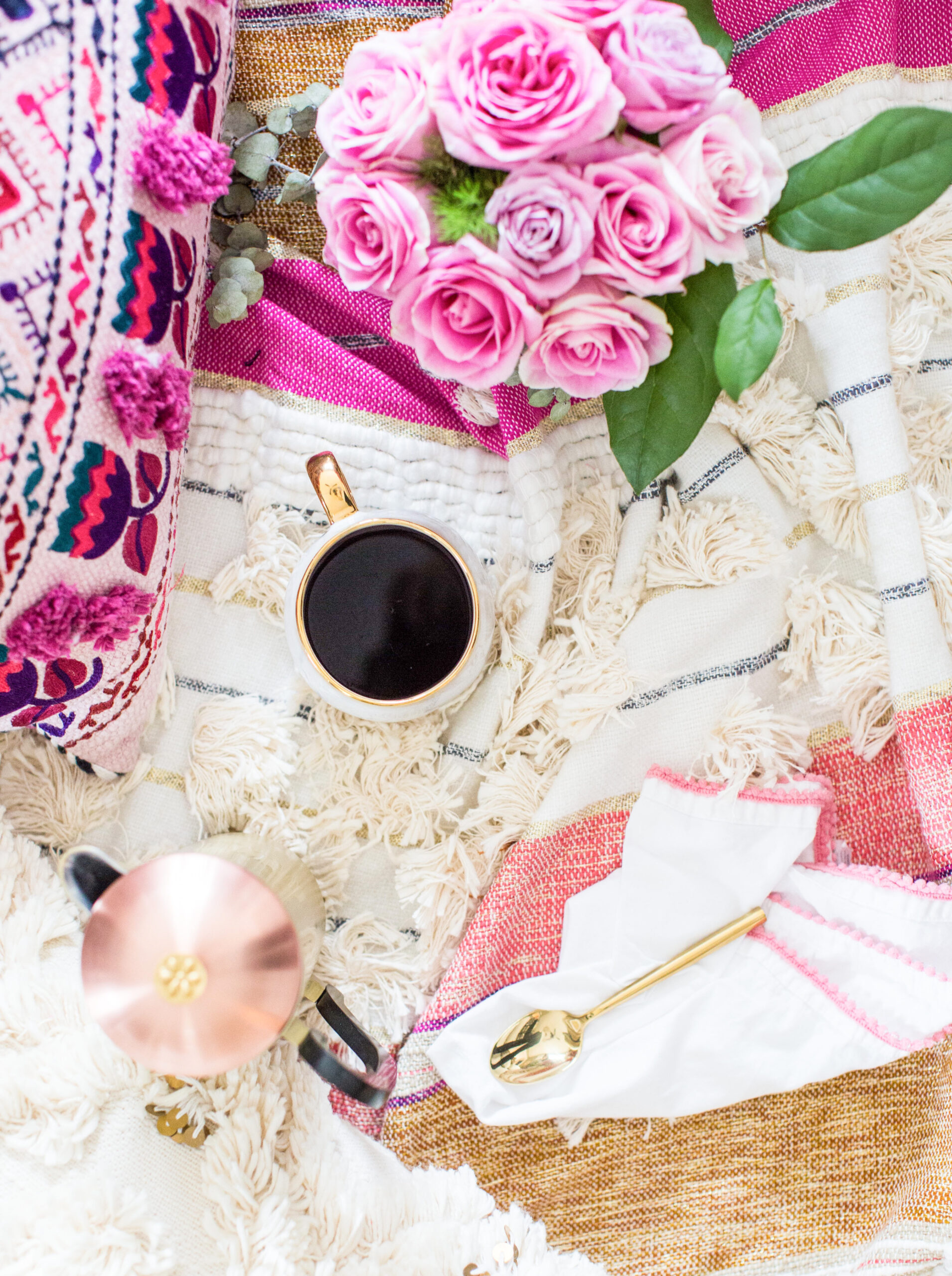 With that, a few little love notes to the things I loved most this week …
Dear date night plans, 12 inexpensive Valentine's Day date night ideas – all from the comfort of your sofa.
Dear can't miss sales, Anthropologie is offering an extra 50% off all sale items (including fresh cuts) – and there are so many amazing finds!
Dear binge-worthy, 40 of the most romantic Valentine's Day movies!
Dear weekend snuggles, this looks like THE coziest top ever.
Dear design lust, this colorful Parisian apartment is a work of art. And I WANT that dining table, chairs, and also the bench set-up, stat.
Dear great reads, We Don't Live in a Colorblind World—And I Would Never Want To.
Dear bedroom sprucing, 6 easy styling tips to instantly pull your bedroom together. (I'm fully in support of number 1. Ahem, husband.)
Dear weekend baking, the yummiest easy Marbled Graham Cracker Toffee Bark. (Plus, 50 Homemade Valentine's Day Treats!)
Get the origins of these sweet little love notes, here, and catch up on love notes of the past.
SHOP THIS WEEK'S LITTLE LOVE NOTES POST | CLICK LEFT & RIGHT ARROWS TO EXPLORE

Has anything inspired you this week around the web? Send it my way! And what are your big plans for Valentine's Day weekend? Are you headed out or keeping it low key?
Image via our Valentine's Day Inspired Dessert Party (Photography by Coffee Beans & Bobby Pins)