This post is sponsored by BUBBA burger. This post contains affiliate links, which means that if you click on one of the product links, I'll receive a small commission. Additionally, as an Amazon Associate I earn from qualifying purchases. Thank you so much for clicking through and helping to support this little blog business of mine! Read more about our site, privacy, and disclosure policies here.
One of our newfound summer entertaining repeats: an epic burger charcuterie board. Today on Glitter, Inc., I'm sharing how to make a delicious burger board that is perfect for feeding a crowd.
It's no secret that our family loves any excuse to entertain. In the summer, entertaining for us is all about simplicity and fun. Whether we randomly have the neighbors over for burgers and playing in the sprinklers (I'm pretty sure our kids could run through the sprinklers for hoooouuuurrrrsss) or we plan an afternoon shindig on our back porch, I always try to keep the menu easy and accessible.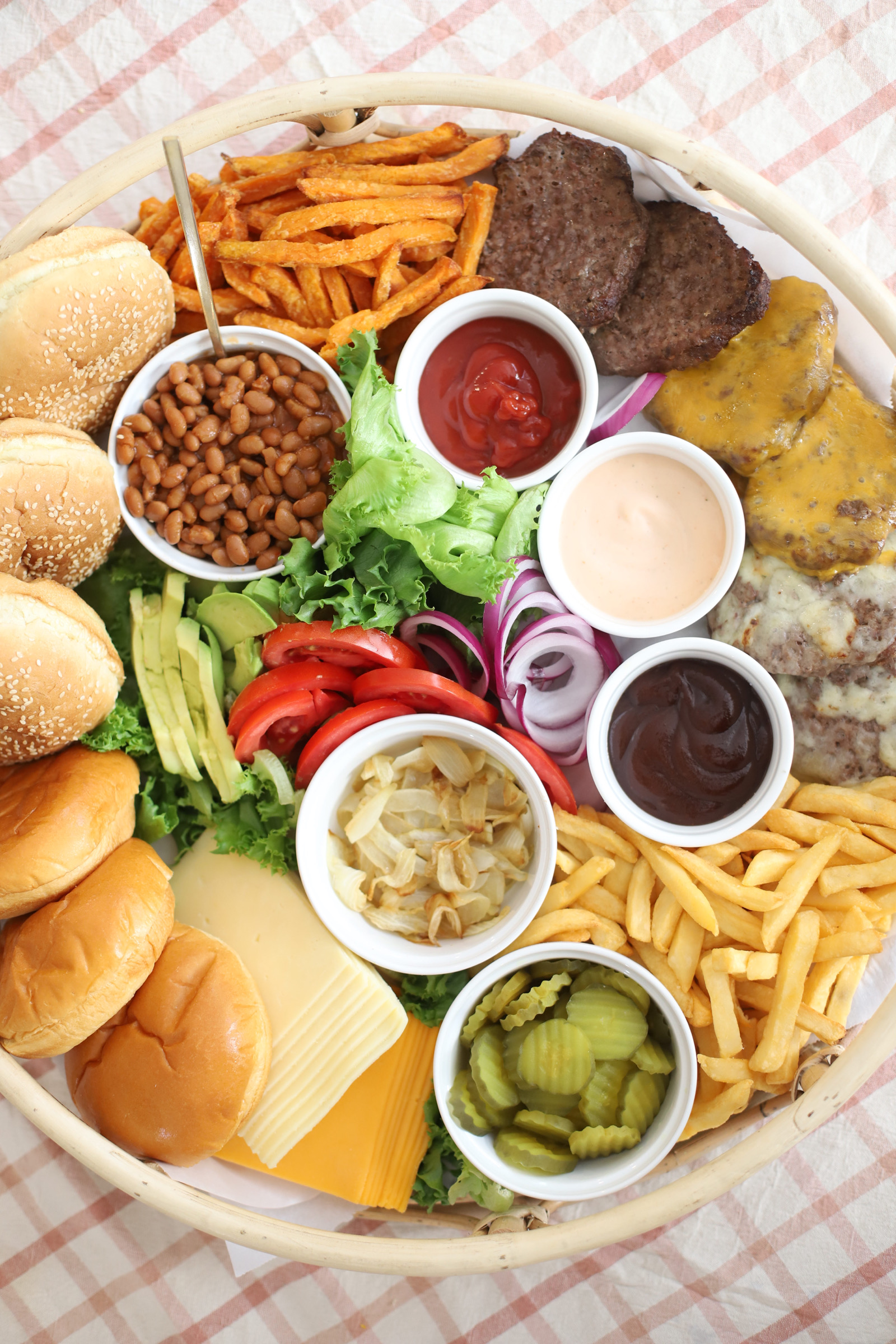 How to Make a Delicious Burger Charcuterie Board
This summer, that meant testing out the burger charcuterie board complete with the best BUBBA burgers, and let me tell you: a giant burger board is one epic (and easy!) way to serve burgers to a crowd.
The idea is simple: pull out your favorite wood serving board or big platter, cook up and set out your favorite burger ingredients and toppings, and assemble that bad boy!
Per usual, I had my tiny helpers along for the ride, and they absolutely loved squirting things like ketchup and our famous burger sauce into little bowls, helping mommy to slice up avocado, tomatoes, and lettuce, and sneaking pickle slices every chance they got.
I added our own spin to the burger charcuterie board, making a quick side dish of classic baked beans and cooking up onions (because cooked onions are SO good.) We also threw french fries and sweet potato fries into the air fryer to add to our burger charcuterie board so that the burger board was a complete (and delicious) meal all in one.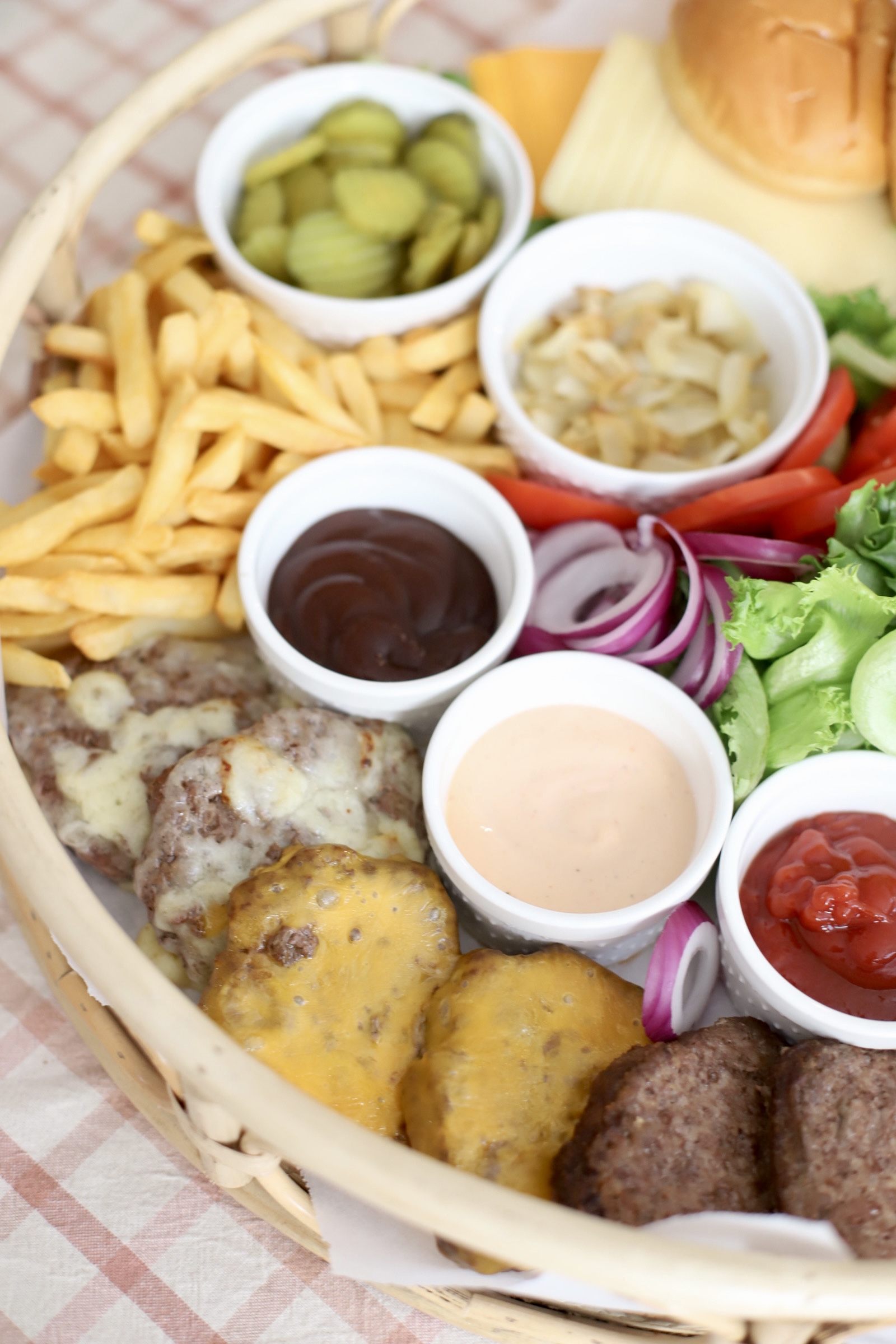 Our Favorite Burgers
The most important part of our burger charcuterie board are the delicious, juicy BUBBA burgers. We like to keep a box of BUBBA burgers in our freezer for quick meals that don't give up on quality; especially in the summertime months when we throw together random dinners quite often.
BUBBA burgers are made with 100% USDA Choice Chuck; no fillers, no artificial ingredients, and no preservatives – and you can just cook your burgers straight from the freezer on the grill or in a skillet. BUBBA burgers are ready in about 10 minutes – and taste so good! Find your favorite BUBBA burger near you.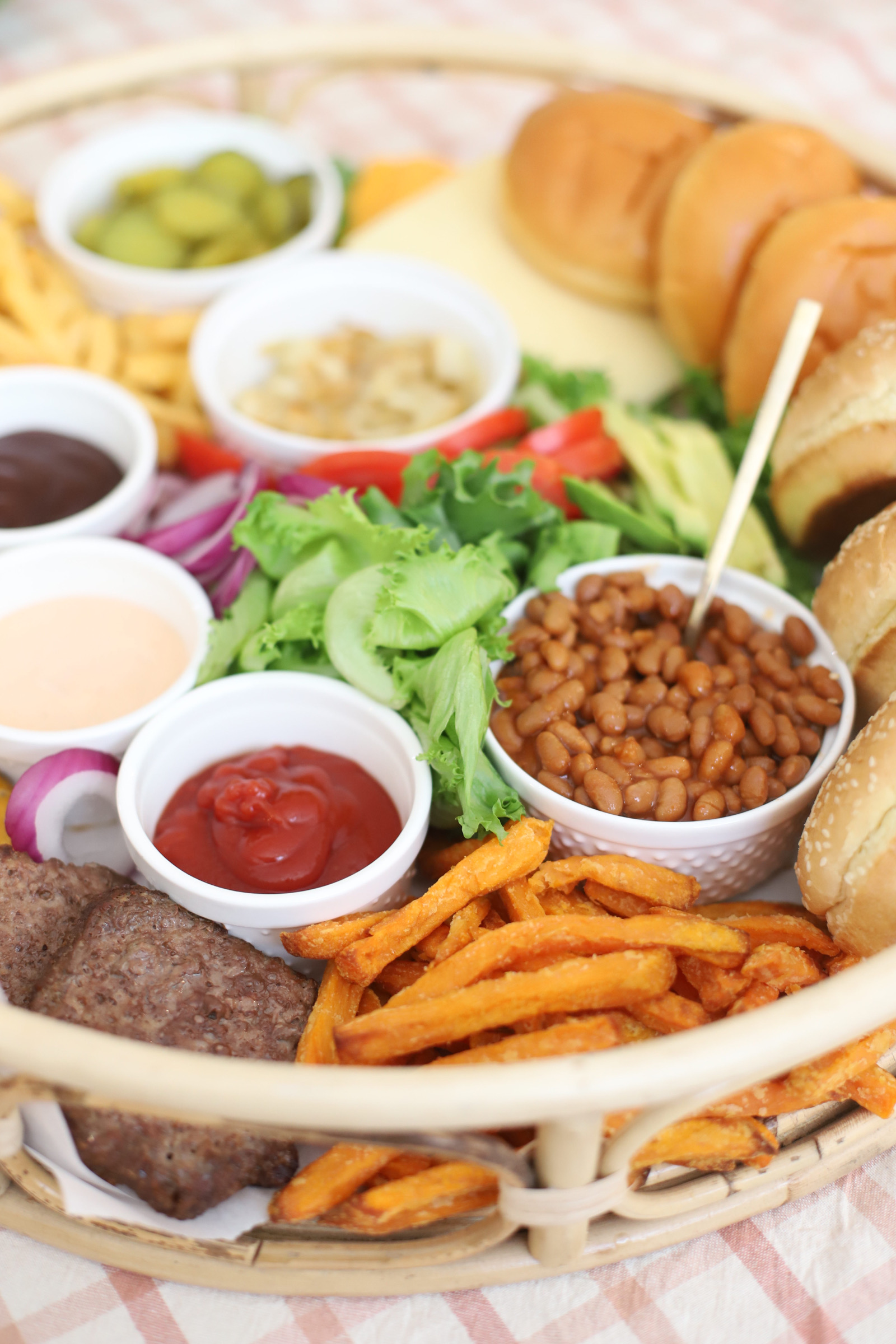 Burger Charcuterie Board Ingredients
BUBBA burgers
sliced cheese (we went with two different kinds of cheddar)
sliced red onions
grilled onions
sliced tomatoes
lettuce
sliced avocado
pickle slices or relish
ketchup
bbq sauce
mustard
mayonnaise
baked beans
bacon slices
buns (we used sesame and brioche buns)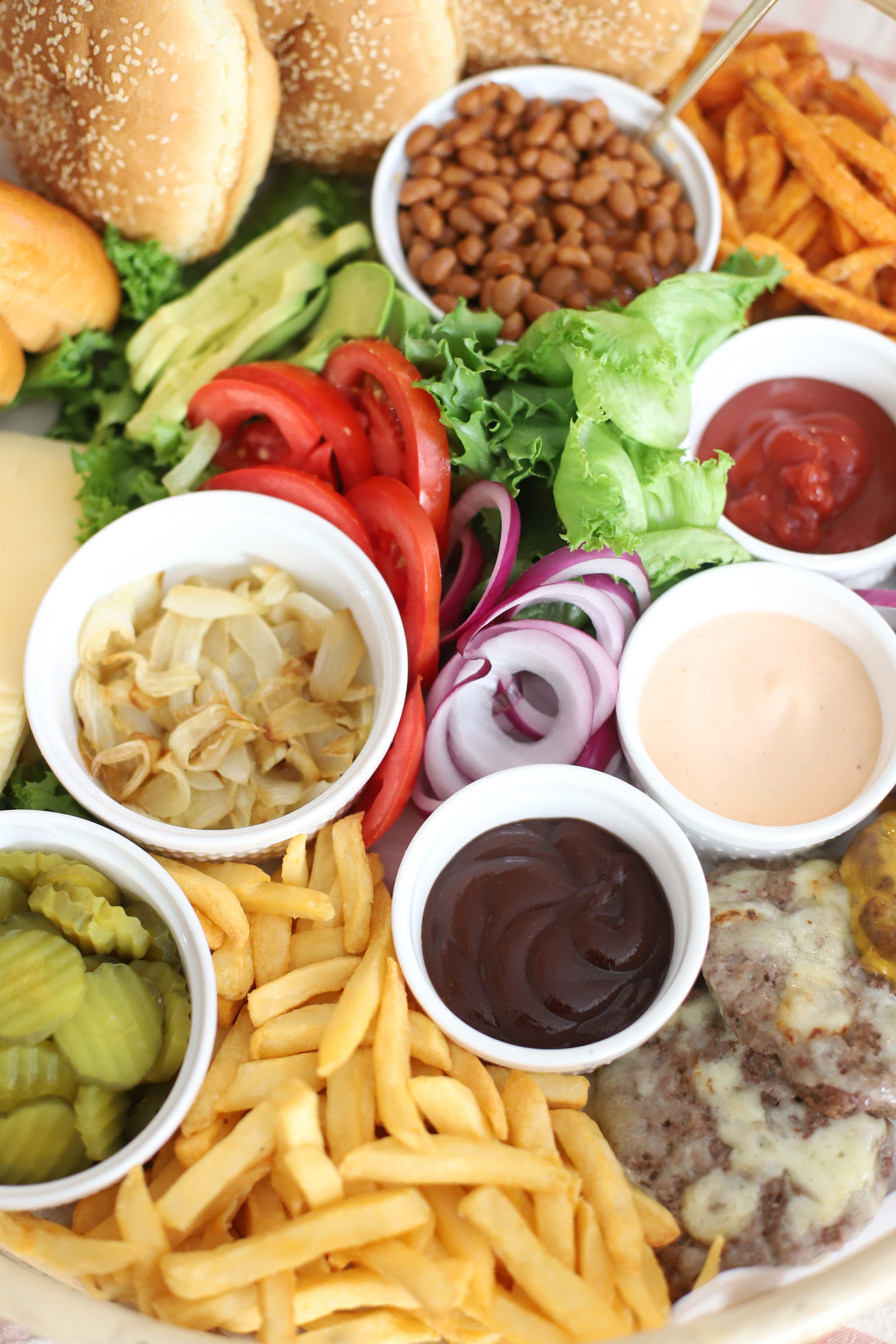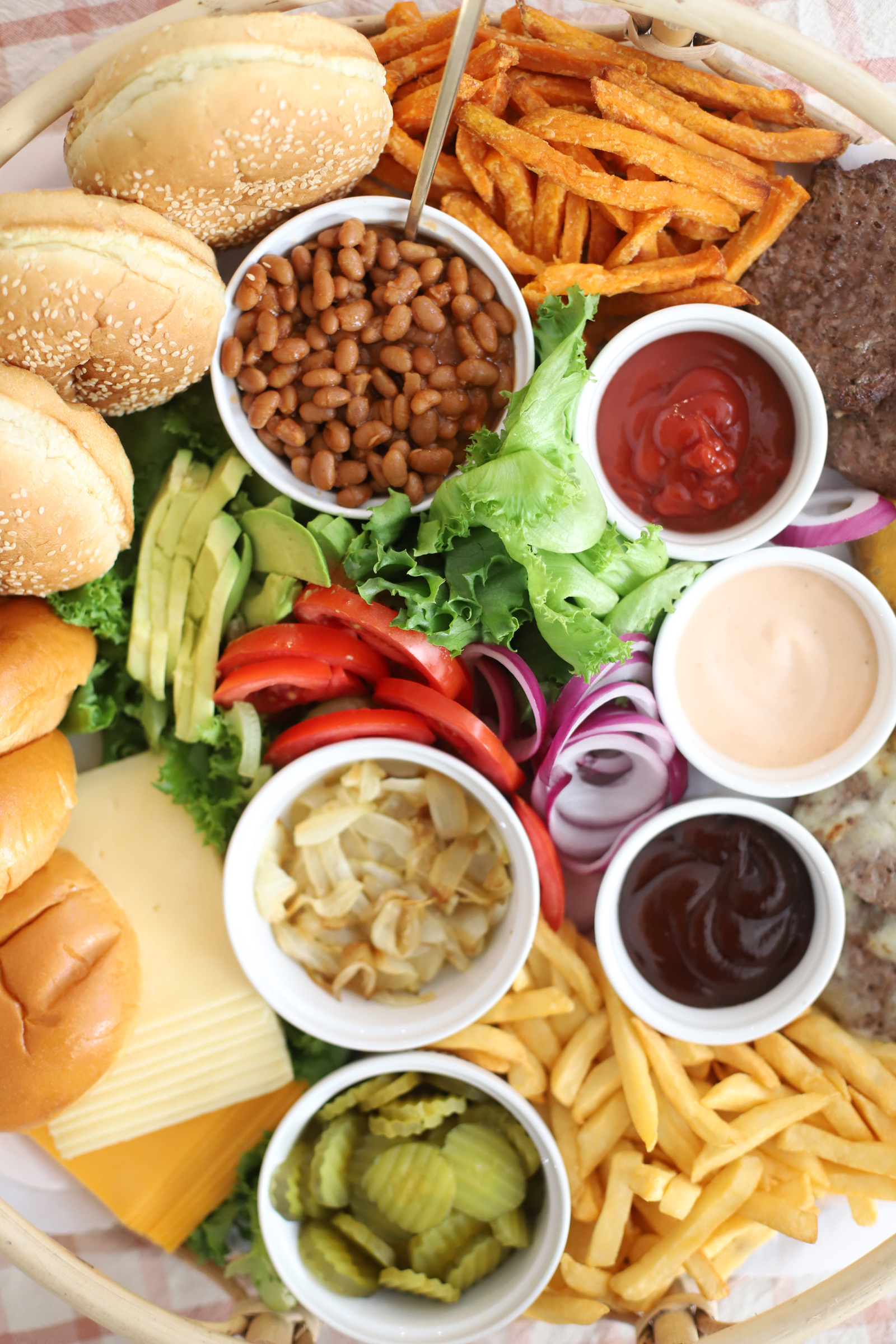 How do you serve up your burgers at parties? Would you try a burger charcuterie board? We've found that we can enjoy quality time in no time with BUBBA burgers and the burger board is such a fun, crowd-pleasing, simple way to serve up those burgers!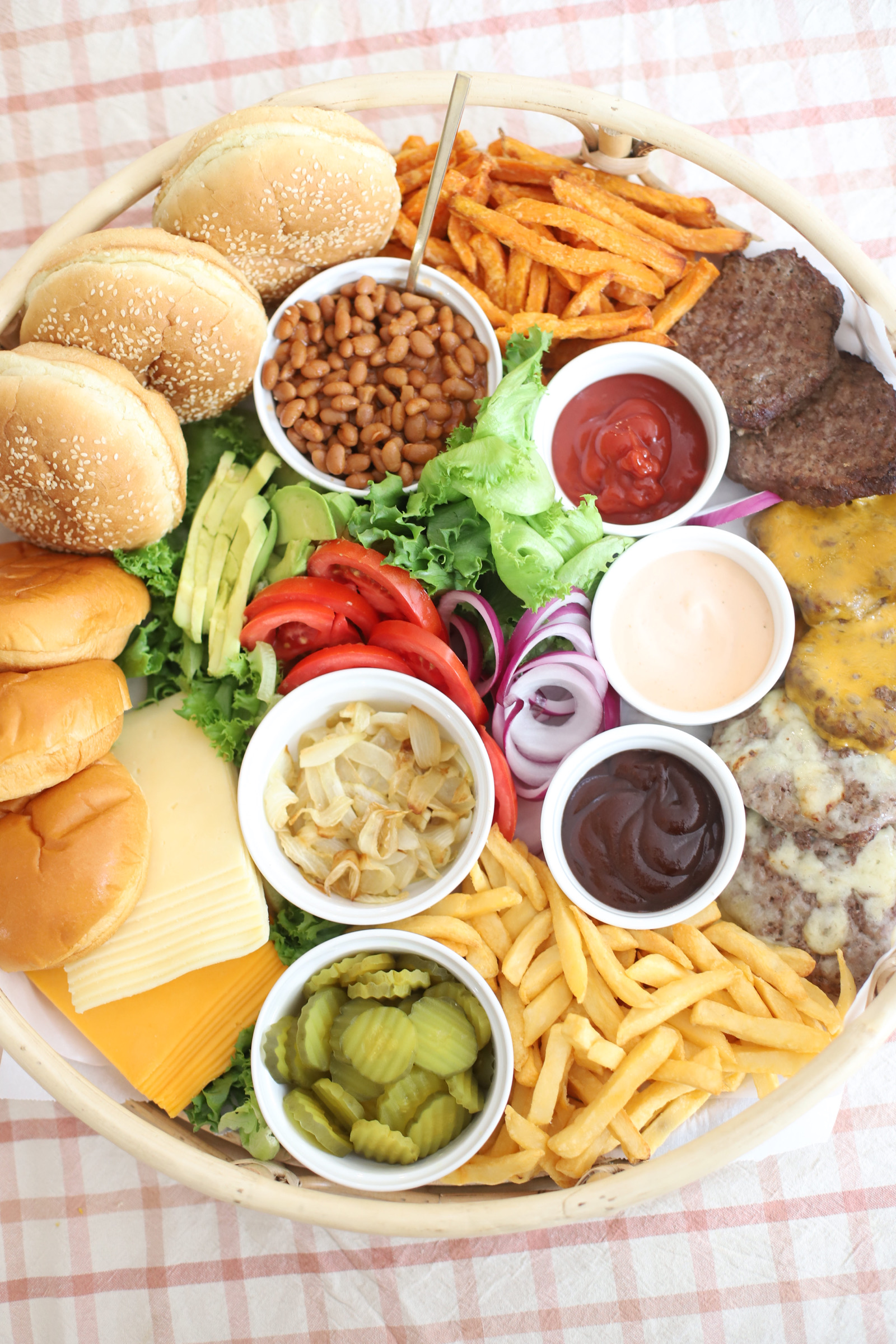 If you're loving this easy and delicious summer entertaining idea, be sure to check out our recipe page to take a look at what else we're dreaming up in the kitchen. And if you put together your own burger charcuterie board, be sure to tag me on social media (@glitterinclexi) so I can live vicariously through all of your delicious dinner creations!