Next up in the Glitter, Inc. Gift Guide series: the best gifts for your favorite dads.  Shopping for dads is tough.  You want to get them something they'll really love, something unique and memorable, and something they'll actually use (and not just add to the growing collection of Christmas ties).  I tried to think about Dads young and old, what my own Dad would want (and use!) and I came up with a pretty fun list of the perfect gifts for Dad.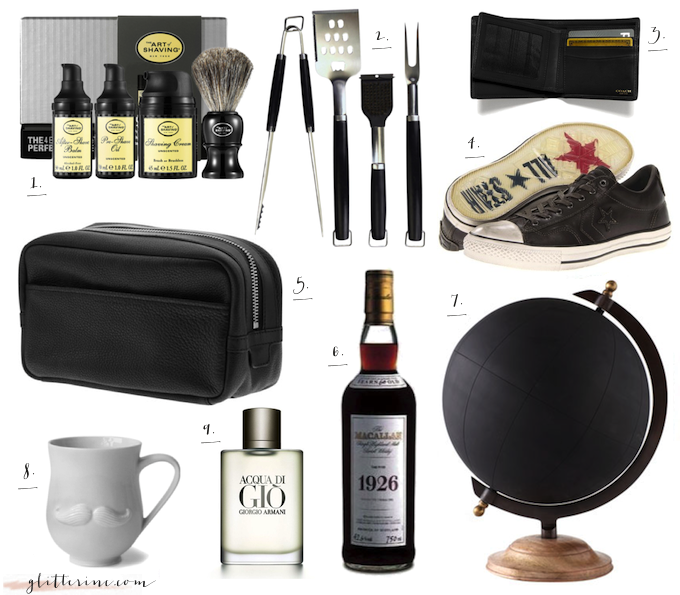 Get the Gifts for Dad:
1.  The Art of Shaving The 4 Elements of the Perfect Shave™:  Give Dad the gift of the perfect shave!
2.  Charcoal Companion 4pc Perfect Chef Barbecue Tool Set:  Because Dads love to barbeque … or rather, light stuff on fire, give them the tools to cook something.  Mom will appreciate it.
3.  Coach Crosby Compact Id Wallet:  What Dad couldn't use a new wallet?  And Coach makes the best of the best.
4.  Converse by John Varvatos Star Player Ox:  I love these sneakers, so any cool Dad must like them too, right?
5.  Marc by Marc Jacobs Classic Leather Dopp Kit:  Get them excited for traveling (and staying organized … if that's even possible) with a quality dopp kit.
6.  Macallan Whisky:  This one was easy!
7.  Jamie Young Chalkboard Globe:  For the Dad with plenty of smarts, he will fall instantly for this crazy cool chalkboard globe.
8.  Jonathan Adler Mr. Muse Mug:  This adorable mustachioed mug is perfect for Dad.
9.  Giorgio Armani Acqua Di Gio Eau De Toilette:  I've always loved this scent; it's clean and fresh and well-liked by almost every guy I've met.