A few years ago, if someone asked me what I did to keep my skin healthy and fresh, I would have laughed, shrugged my shoulders, and admitted, "eh, I guess I wash my face every night?" Which was true then, and still is true now. (By the way, thank you, Mama.) Washing my face every night (and every morning) and never ever sleeping with a face full of makeup on is and remains one of the best things I do for my skin. But now that I'm older, and a new mom myself, I've learned to embrace aging with grace, plus I've got a few tricks up my sleeve. Especially as the toughest Winter months begin to roll in, keeping your face fresh and moisturized will ensure beautiful skin year-round. I've teamed up with Olay to share my fool-proof tips for ageless and healthy skin …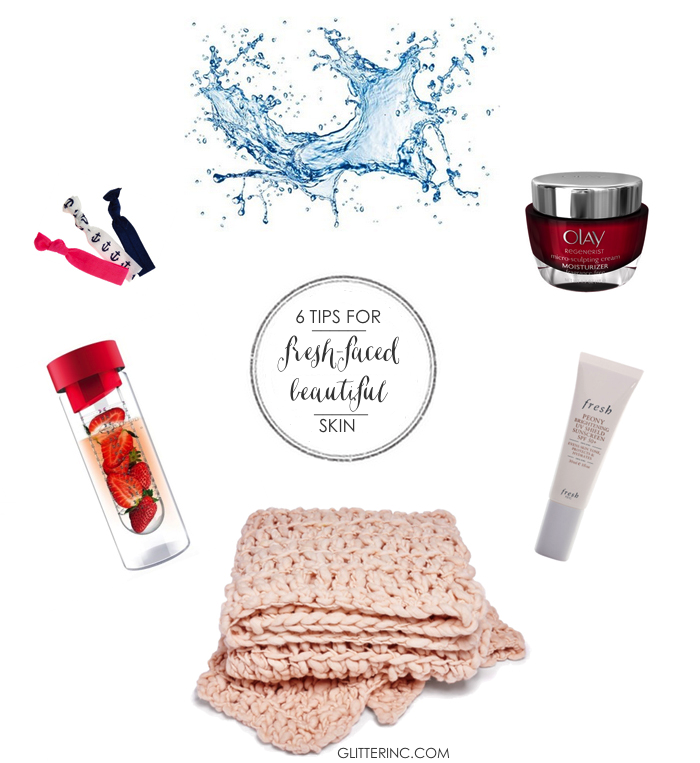 hair ties // water // olay regenerist micro-sculpting cream // sunscreen // blanket // water bottle
You guessed it, the very first tip I can give is to keep your face clean. Don't ever go to bed with a dirty face or a face caked on with makeup, no matter how many margaritas you had. No excuses, wash your face. (Or at the very least, break out the makeup remover wipe or even a baby wipe and get that makeup off your face.) I love an oil-free cleanser, and when my skin is looking a bit dull, I like a gentle exfoliator.
Let your skin breathe now and then. I

love

makeup. I wish I could be one of those girls who effortlessly rolls out of bed, throws on a swatch of Chapstick, and greets the day, but alas, I'm naked without my mascara, a touch of powder, and some much-needed blush (I am so so pale). But at night and on the weekends, I try to give my skin a break. Off goes the makeup (and my husband loves the sans makeup look, so I get the added bonus of a very happy hubby.)
Moisturize every morning and night. I am in love with Olay Regenerist Micro-Sculpting Cream. This stuff is amazing. It feels heavenly, doesn't leave your skin feeling oily at all, absorbs completely without ever feeling heavy or sticky. I put a thin layer on at night, wake up in the morning, brush my teeth, wash my face, and apply another thin layer before putting my makeup on. The Micro-Sculpting Cream allows my makeup to go on smoothly and helps prevent makeup from building up in the small lines around my mouth (my well-earned smile lines, that is.)
Wear sunscreen. (It's not just for the beach.) An easy trick is to buy a foundation or concealer with SPF built right in, but plenty of moisturizers come with SPF15 and up. Use it every day.
Drink tons of water, all day every day. According to Mayo Clinic, women should try to drink about 9 cups of fluid daily.
Get your zzzz's. The first few months of new-mamahood I was exhausted, and it showed. Now that Scarlett is finally getting a decent night's sleep, I'm cashing in on our luck, and going to sleep quickly after she does to ensure I get my own good night's rest.

Olay is a worldwide leader in skin care and has been trusted by women for over 60 years, maintaining its founding philosophy: to maintain a deep understanding of women's changing needs and to combine products that fit their needs with the latest advances in skin care technology. Regenerist was created along those lines to address women's anti-aging needs, and millions of women have tried it and loved it, making Regenerist the #1 anti-aging moisturizer.*
*Based on Nielsen data week ending 2/1/14.
Disclosure: Compensation was provided by P&G via Mode Media. The opinions expressed herein are those of the author and are not indicative of the opinions or positions of P&G.