This post contains affiliate links, which means that if you click on one of the product links, I'll receive a small commission. Additionally, as an Amazon Associate I earn from qualifying purchases. Thank you so much for clicking through and helping to support this little blog business of mine! Read more about our site, privacy, and disclosure policies here.
Celebrate your valentines with an "I Love You A Waffle Lot" Valentine's Day breakfast bar, complete with heart-shaped mini waffles, scrambled eggs, fruit, and plenty of dessert favorites, perfect for your next V-day brunch.
Valentine's Day is right around the corner (and goodness knows, I love Valentine's Day!) We have big plans to celebrate the day of love all weekend long! Because Valentine's Day falls on a Monday this year, we're going to start our celebrations with a Valentine's Day breakfast/brunch.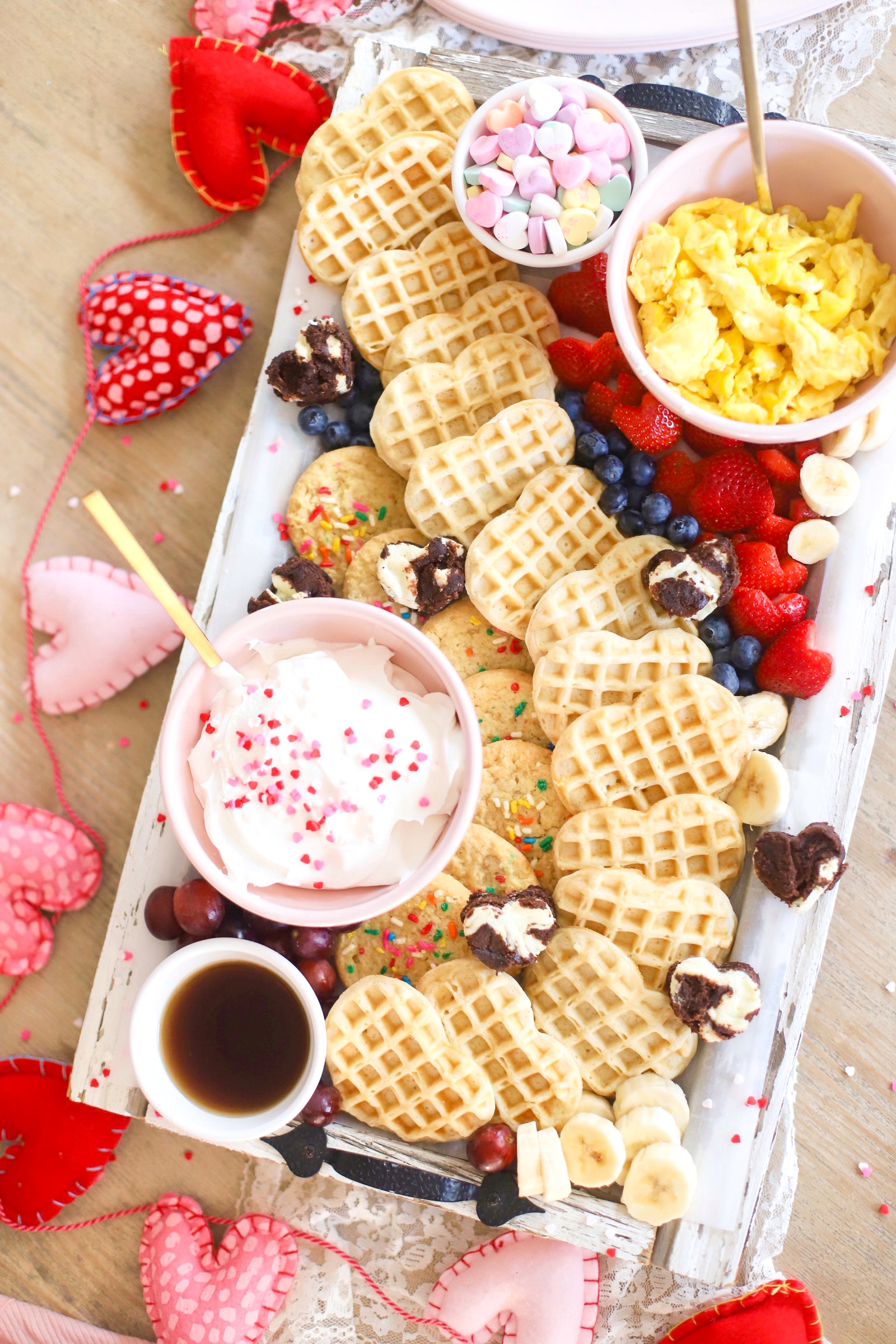 "I Love You A Waffle Lot" Valentine's Day Breakfast Bar
Our kids love snacking from a big buffet or charcuterie board, so it seemed fitting to break out one of our big wood boards to put together this year's breakfast spread.
Any time we're entertaining, whether big or small, serving bite-sized snacks, buffet style or on a charcuterie board, is always a winner. We've done everything from a porch picnic snack charcuterie board to an Italian family dinner charcuterie board. We've also done an epic make your own sandwich charcuterie board, a create-your-own ice cream treat dessert board, and so many more! And, these big, bold, delicious boards are always a rousing success. People love choosing their favorites, piling their plate up high, adding in their favorite toppings and treats, and having fun with it.
I think the key to a great buffet or board is to have a variety available for guests to graze from. This way everyone can pick and choose just they like from the "charcuterie" board, or in this case, breakfast board.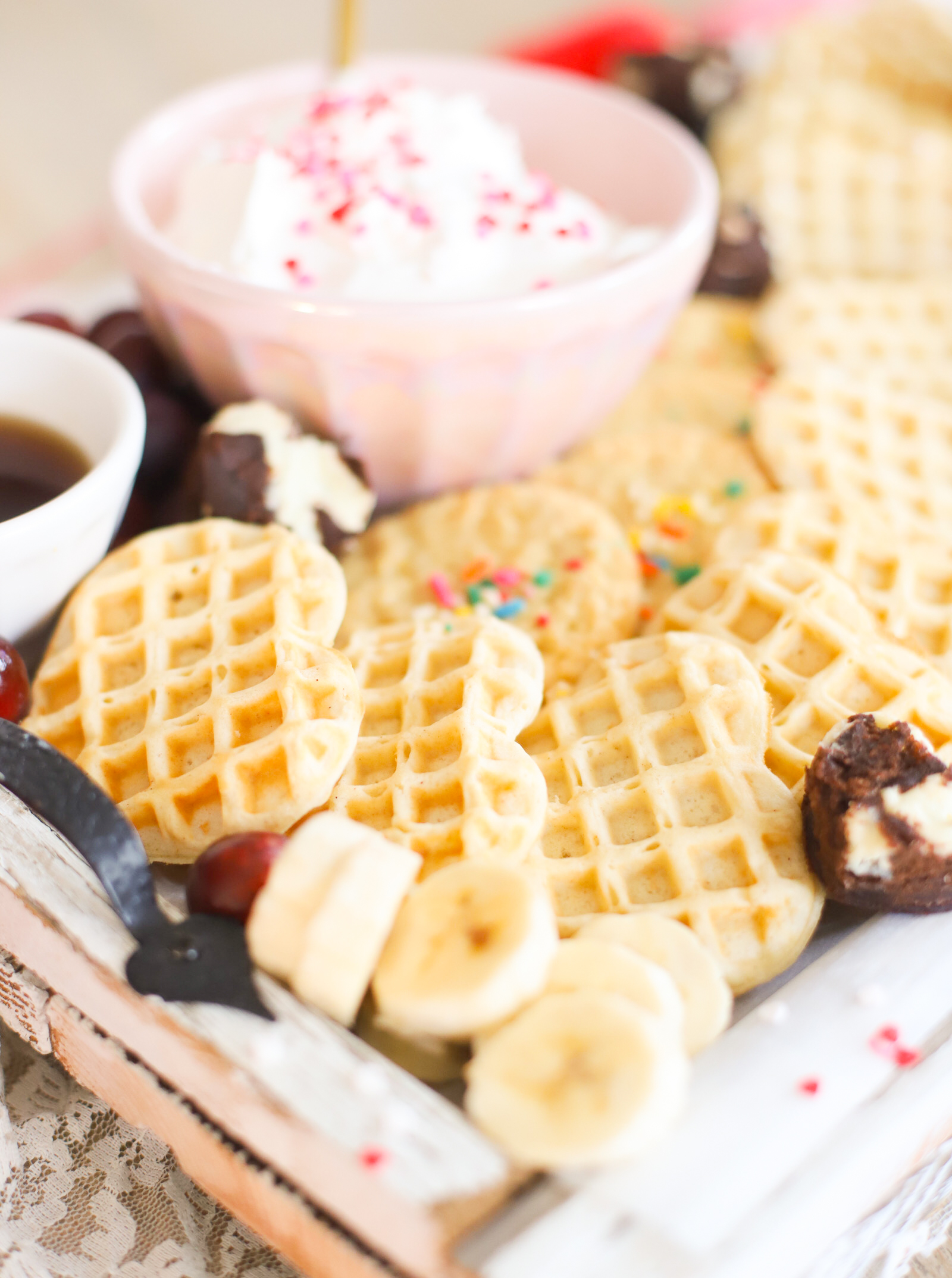 Heart-Shaped Waffles
The main event on our "I Love You a Waffle Lot" Valentine's Day breakfast bar is most certainly the heart-shaped waffles. I picked up this heart-shaped Dash mini waffle maker on Amazon a few years back, and it's been a big hit ever since. (The Dash mini heart-shaped waffle makers also pop up on Target.com if you can snag one. They've been so popular this year!)
How To Make Waffles
For the waffle batter, we used our family favorite pancake batter; because yep, any great pancake batter easily doubles as a perfect waffle batter.
And fun fact: our go-to pancake recipe (that works perfectly for homemade waffles), also happens to work so well for sheet pan pancakes. If you haven't yet tried your hand at sheet pan pancakes, it's an absolute must. Sheet pan pancakes are incredibly easy to make, cut way down on time when you're trying to get breakfast out in the morning (especially perfect on a lazy weekend morning when you want pancakes without all of the hassle), and kids totally love them.
Once you've mixed up your batter, just until smooth, spray preheated waffle iron with non-stick cooking spray and pour mix onto hot waffle iron, but don't overfill the iron (it will spread plenty). Cook until golden brown, and repeat until you've run out of batter. Serve warm with all of your favorite waffle toppings.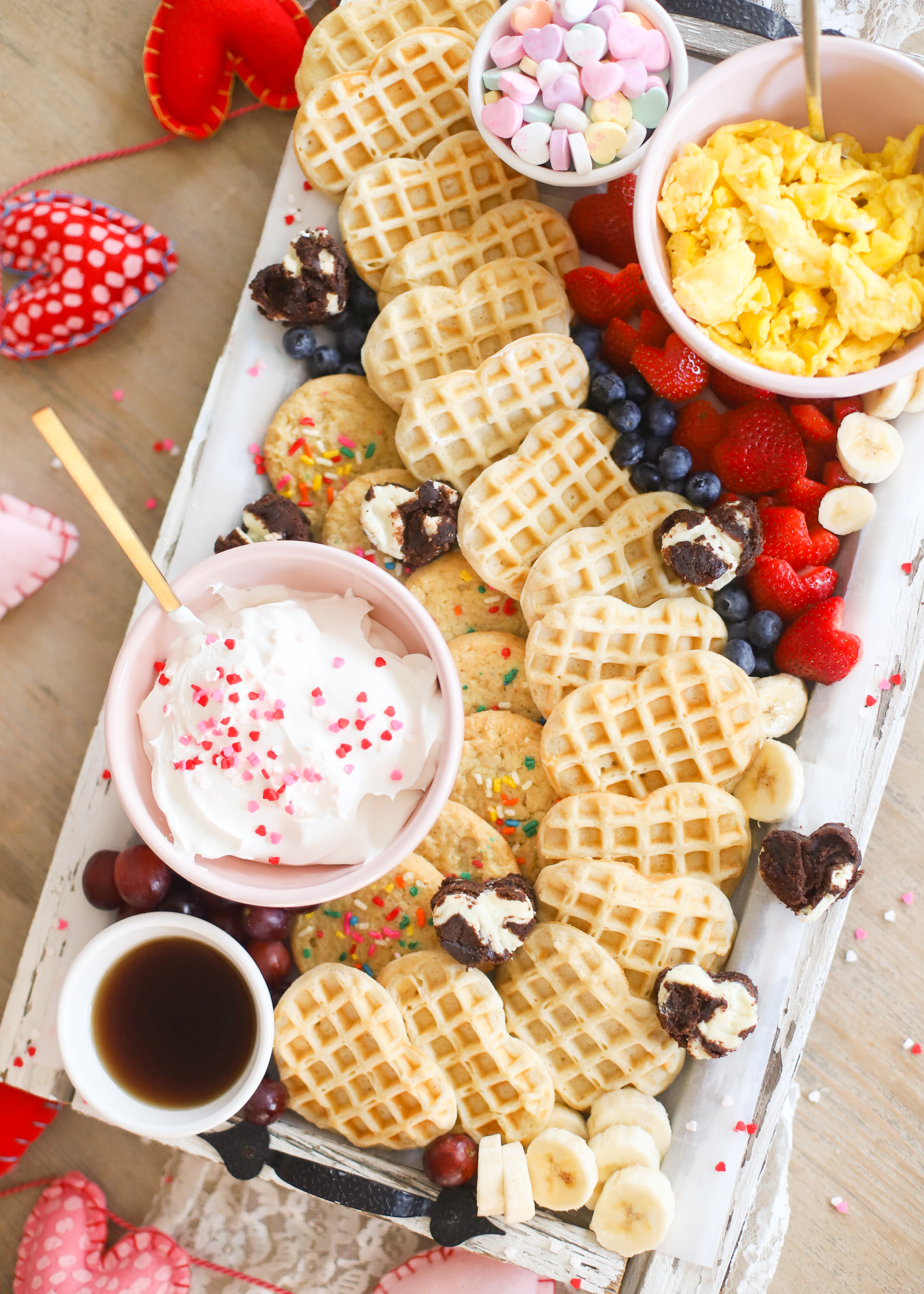 How to Put Together a Valentine's Day Breakfast Bar
For starters, you're going to want to use a big charcuterie board or cutting board to serve up your breakfast spread. I like to put down a piece of parchment paper first to make cleanup extra easy.
In addition to the heart-shaped waffles, we worked around the main breakfast item – waffles – and added in all of the best waffle toppings in little serving bowls (I love using the Anthropologie mini latte bowls for things like this!), including syrup, whipped cream, and sprinkles, so that everyone could create their own perfect Valentine's Day waffle stack.
Waffle Toppings
Syrup
Whipped Cream
Chocolate Syrup
Peanut Butter
Nutella
Sprinkles
Mini Chocolate Chips
Berries
Other Breakfast Board Items
We also served a big bowl of scrambled eggs (in a larger Anthropoplogie latte bowl) on the breakfast bar, plenty of fruit (including sliced bananas, strawberries cut into hearts, blueberries, and grapes), sprinkle sugar cookies, cheesecake brownies cut into hearts, and conversation hearts.
Off to the side, I had stacked heart plates (bought at Target last Valentine's Day), napkins, forks and spoons. And of course, we served the breakfast bar with mugs and cups and coffee for the grownups and juice for the kids.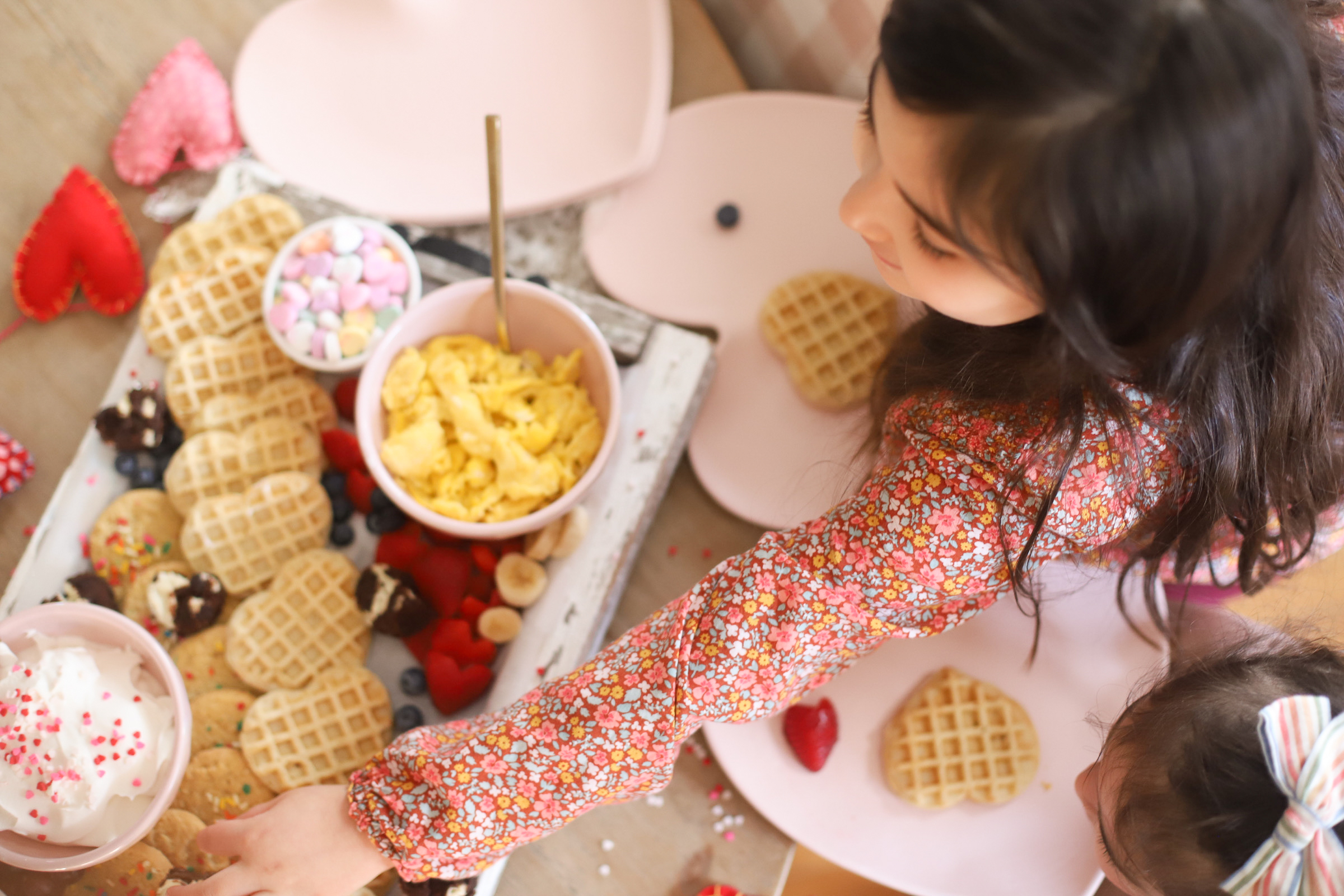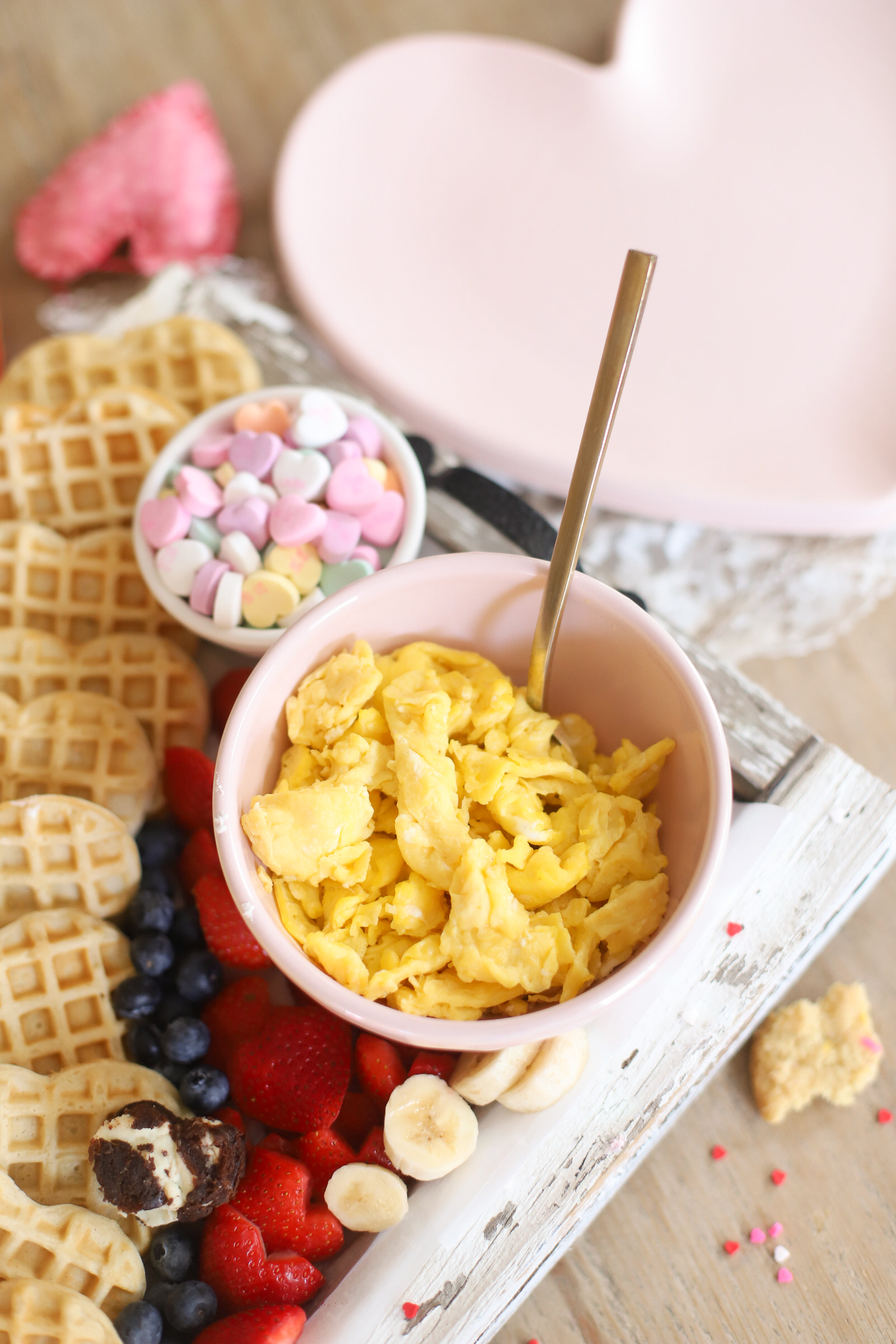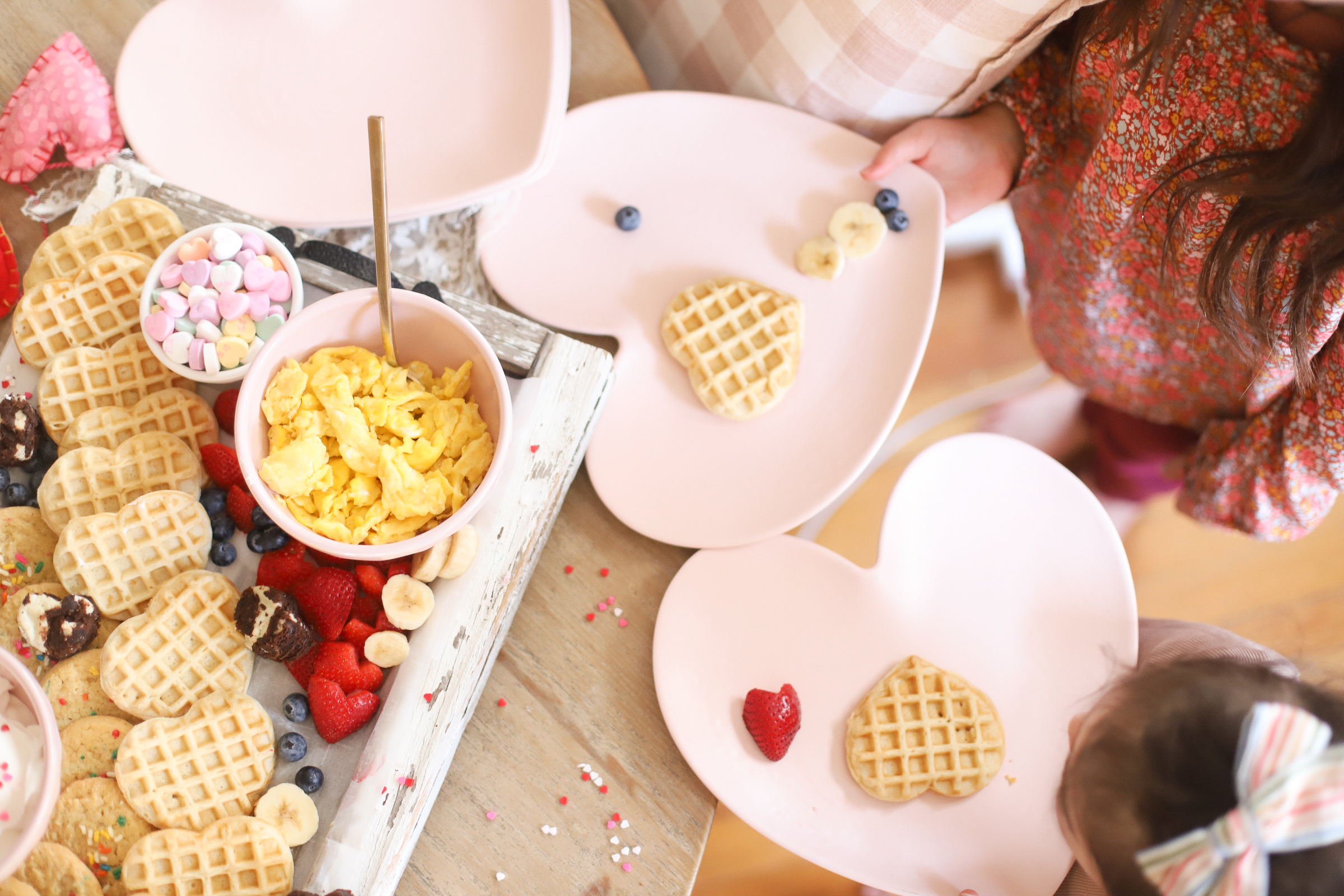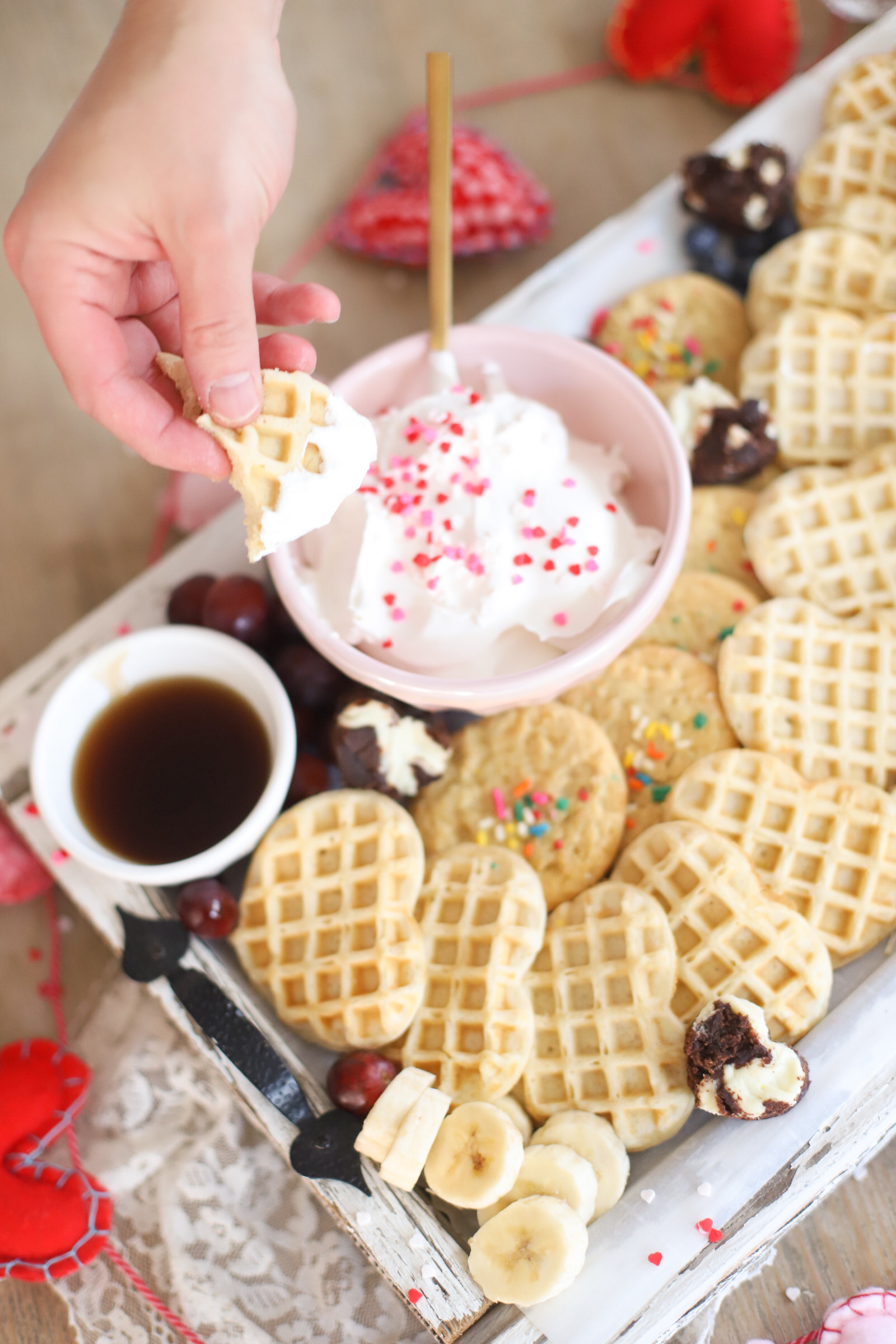 So there you have it: a great big buffet-style Valentine's Day Breakfast Board, perfect for your Valentine's weekend brunch, party, and basically any excuse to celebrate the holiday of love!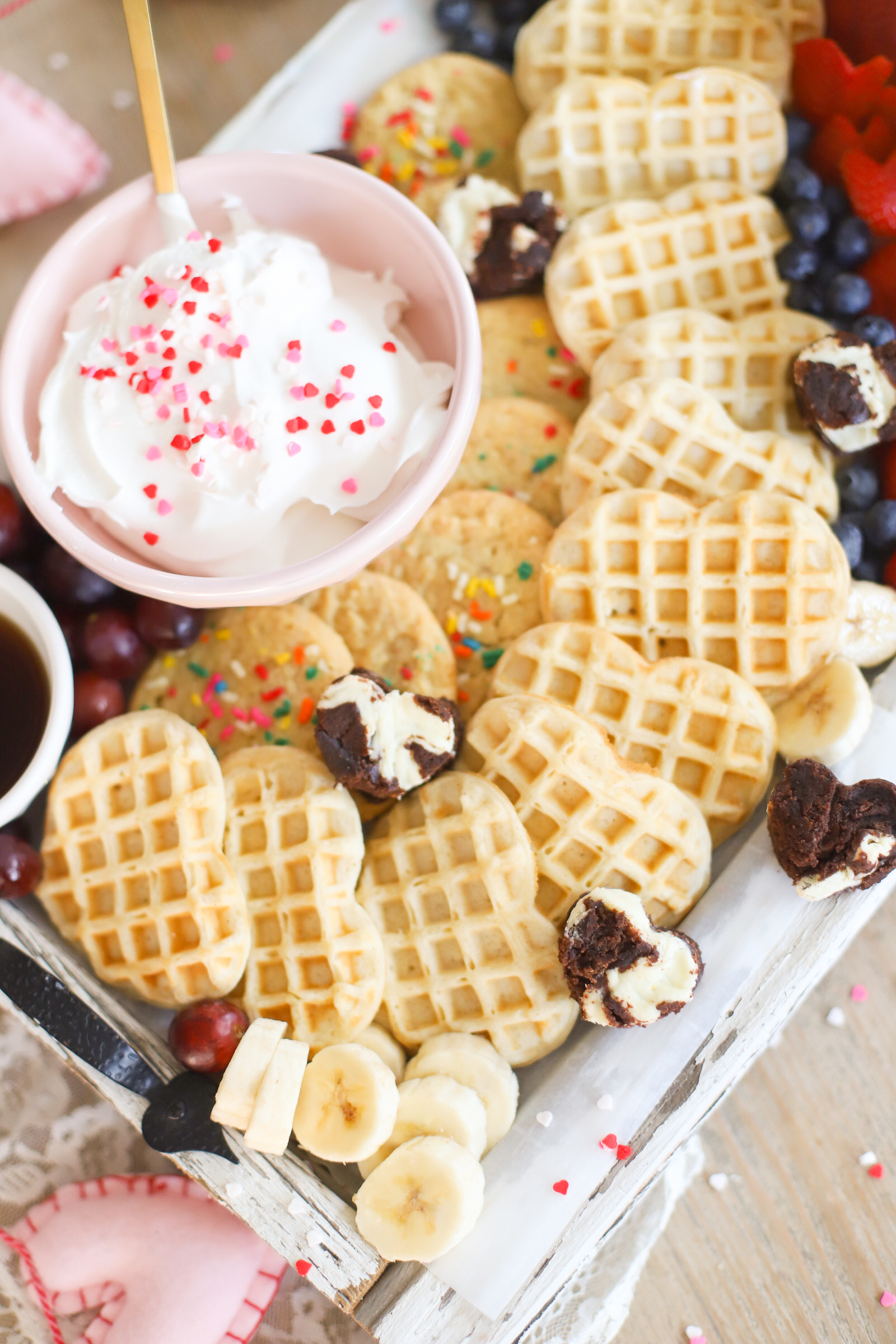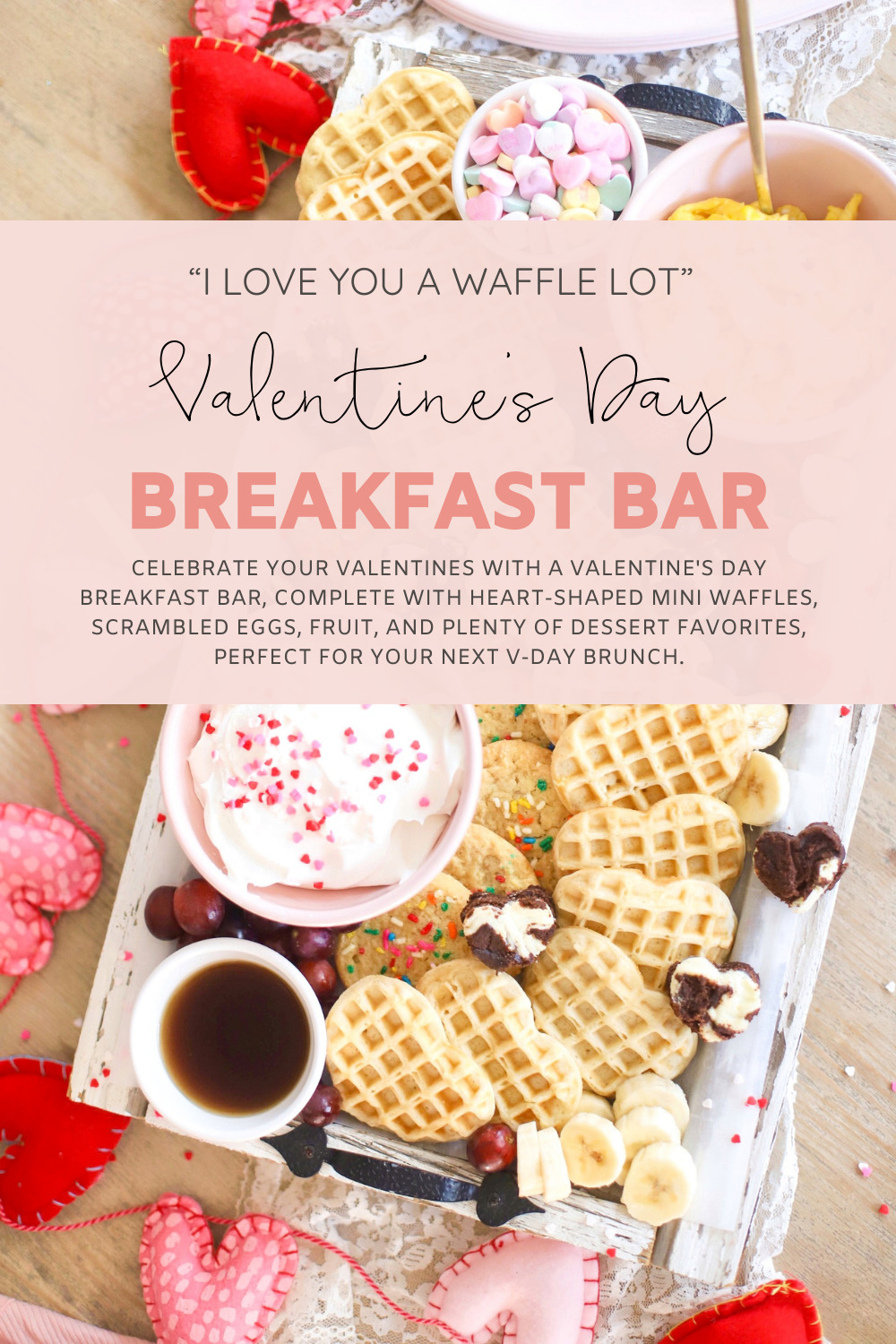 SHOP THE VALENTINE'S DAY BREAKFAST BOARD POST | CLICK LEFT & RIGHT ARROWS TO EXPLORE

What about you; do you celebrate Valentine's Day with a special meal? Have you ever put together a breakfast or brunch board for family and/or friends?
Love this simple and fun "I Love You A Waffle Lot" Valentine's Day Breakfast Bar idea? Check out all of our celebrations here (with plenty of ideas for at-home party fun!) and head to our recipe page to see what else we're dreaming up in the kitchen! And if you put together your own Valentine's Day waffle spread, be sure to tag me on social media (@glitterinclexi) so I can live vicariously through all of your sweet celebrations!