This post contains affiliate links, which means that if you click on one of the product links, I'll receive a small commission. Additionally, as an Amazon Associate I earn from qualifying purchases. Thank you so much for clicking through and helping to support this little blog business of mine! Read more about our site, privacy, and disclosure policies here.
Celebrate the season with a super simple porch (or back patio or backyard) picnic, complete with a charcuterie snack board (that can totally double as dinner tonight!)
Living in a big city means that once the warmer weather starts rolling in, we take to our front porch for all of the activities and fun. Our front porch is our haven in the spring and summer; bubbles, bubble foam, painting, crafts, sensory bins, water table fun, ice cream sundae parties, you name it. We've been loving eating outside, so a front porch picnic to celebrate one of the first warmer days of the season felt in order.
I'm all about no-fuss ways to entertain and celebrate, and to make this picnic extra kid-friendly, I wanted to create a simple setup, an even simpler menu (hello, snack charcuterie!), and any old excuse to get outside and soak up some sunshine.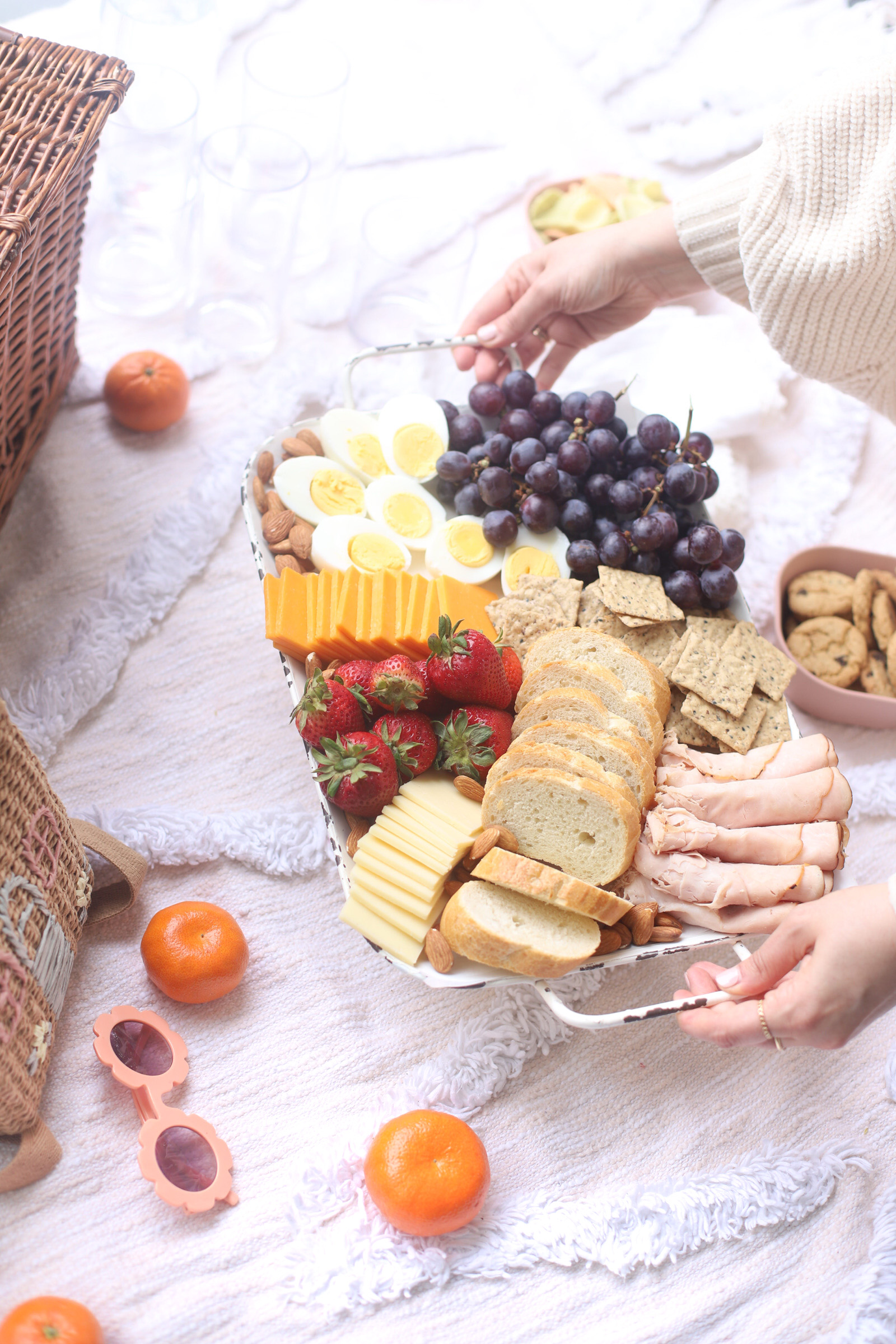 By the way, our very first front porch picnic of the season was born out of a partnership with Star Market. You can check out the sponsored video on Instagram here. (Your support means the world to me! Thank you! Thank you!)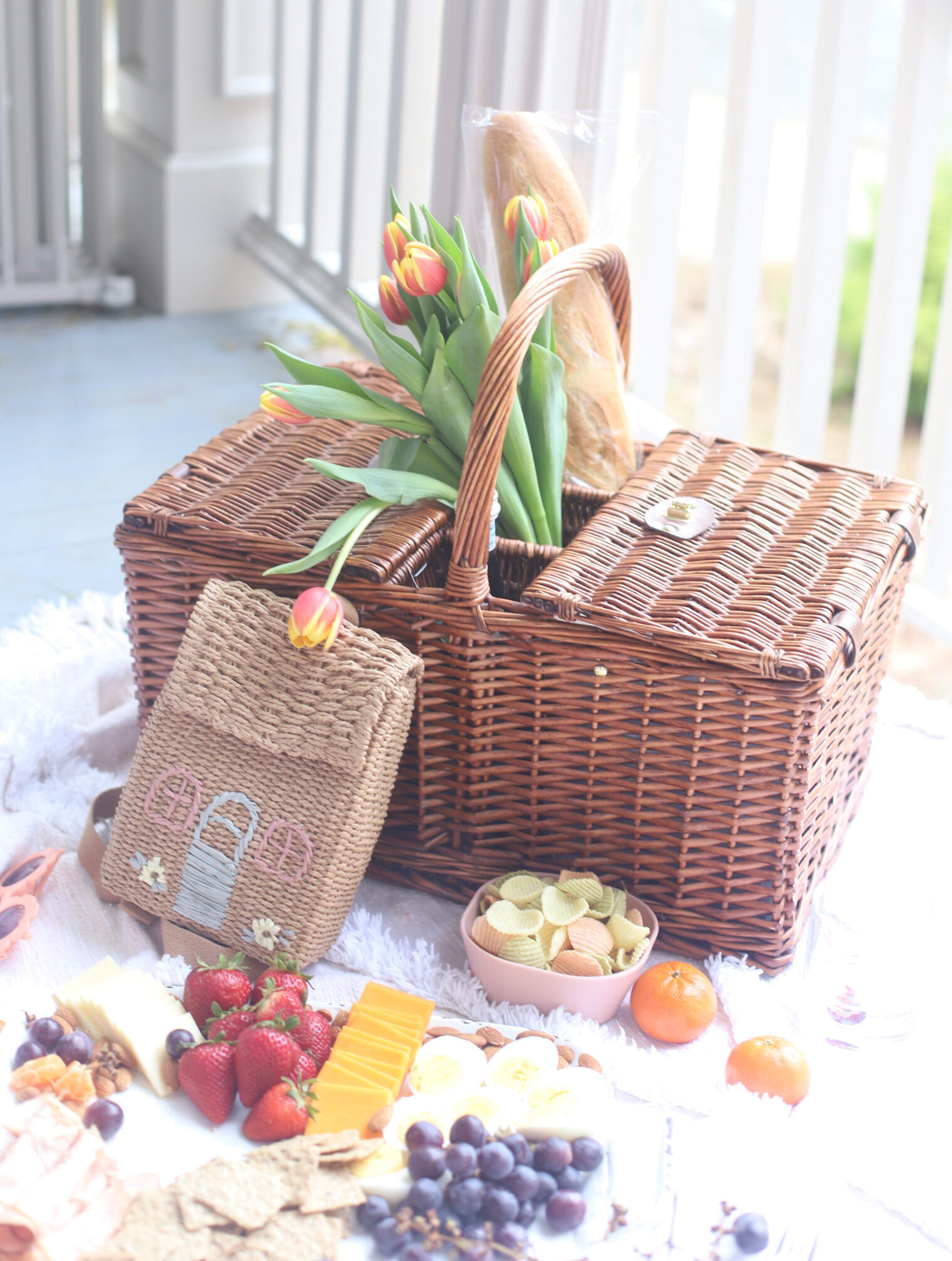 Now let's talk about throwing together your own super simple picnic …
A Simple Porch Picnic and Snack Charcuterie Board
Complete with Snack Charcuterie Board
No. 1: First things first, build your snack charcuterie board. Pick an oversized tray (a cutting board works great too!) and lay down a piece of parchment paper. Make groupings of all of the snacks you want to enjoy at your picnic. We went with turkey rollups, sliced cheese, sliced French bread, crackers, hard-boiled eggs sliced in halves, strawberries, grapes, almonds, veggie chips, and chocolate chip cookies. When it comes to making a great charcuterie board that everyone will love, these are a few of my favorite quick tips for the perfect board.
Charcuterie Snack Board Tips:
line your board with a piece of parchment paper for easy cleanup
try to include a variety of things so that everyone can find a little bit of something they like
make the snacks easy to grab (roll up your condiments, put out sliced cheese or cheese cubes, pre-slice your bread, set out serving knives and spoons, put dips in small ramekins for easy dipping, etc.)
balance salty and sweet (fruit and nuts, cheese and sweets, etc.)
No. 2: Set out a mat or blanket on a flat surface to lay the groundwork for your picnic.
No. 3: Set out your picnic basket, and any cups, plates, napkins, and cutlery you might need. I've been loving these plastic tumblers for outside drinks on the porch because they're shatterproof and dishwasher-safe. I also like to set out a bottle or pitcher of water and sometimes I'll go wild and include a special drink like lemonade or tea.
No. 4: Set out your charcuterie snack board and any extra bowls of snacks and picnic away!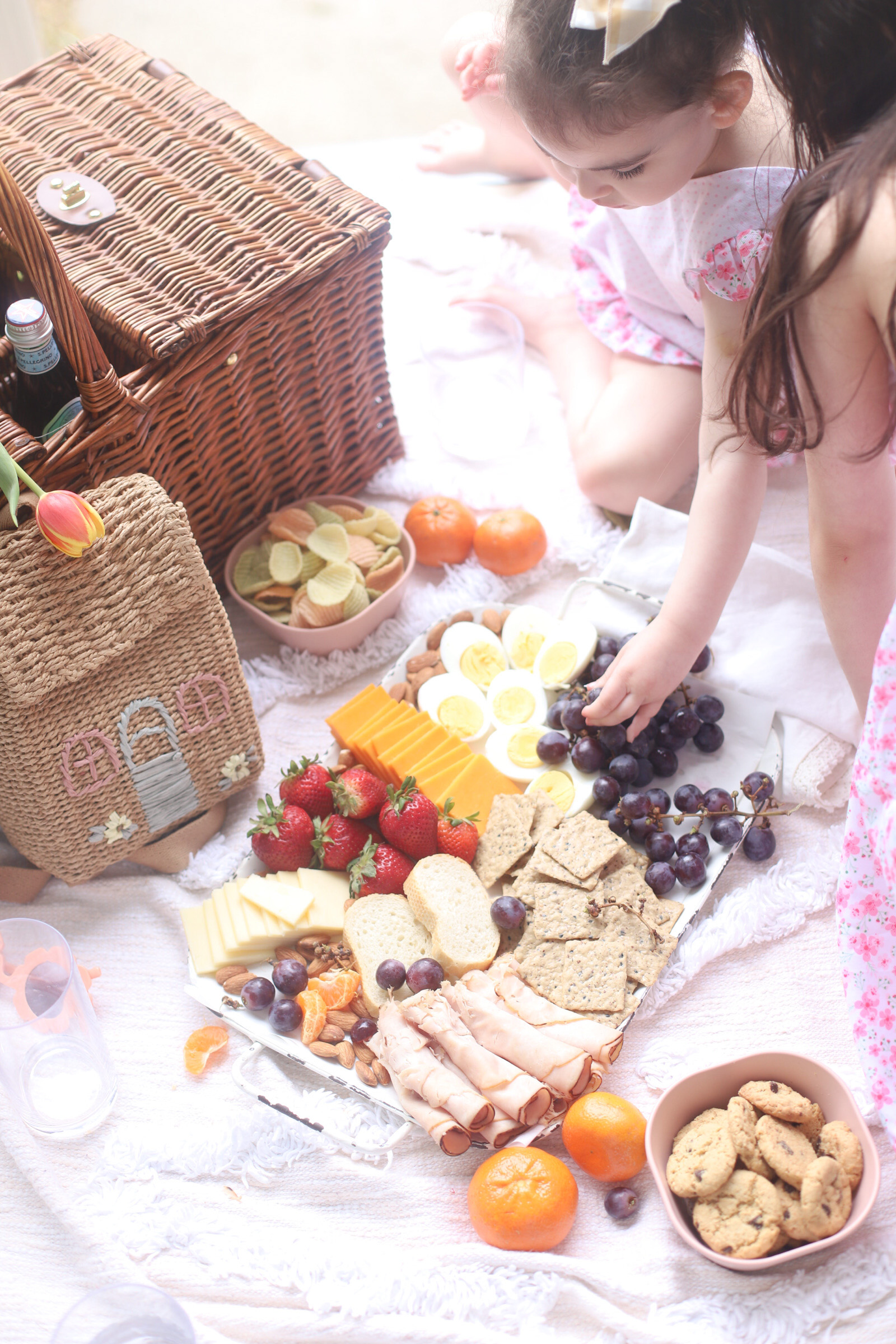 Anytime I serve a snack or a meal on a big charcuterie board, it's an instant hit with the kids. I think they love getting to graze and choose exactly what it is they want to munch on. We wound up doing this picnic charcuterie snack board for dinner and it was the perfect warm weather dinner.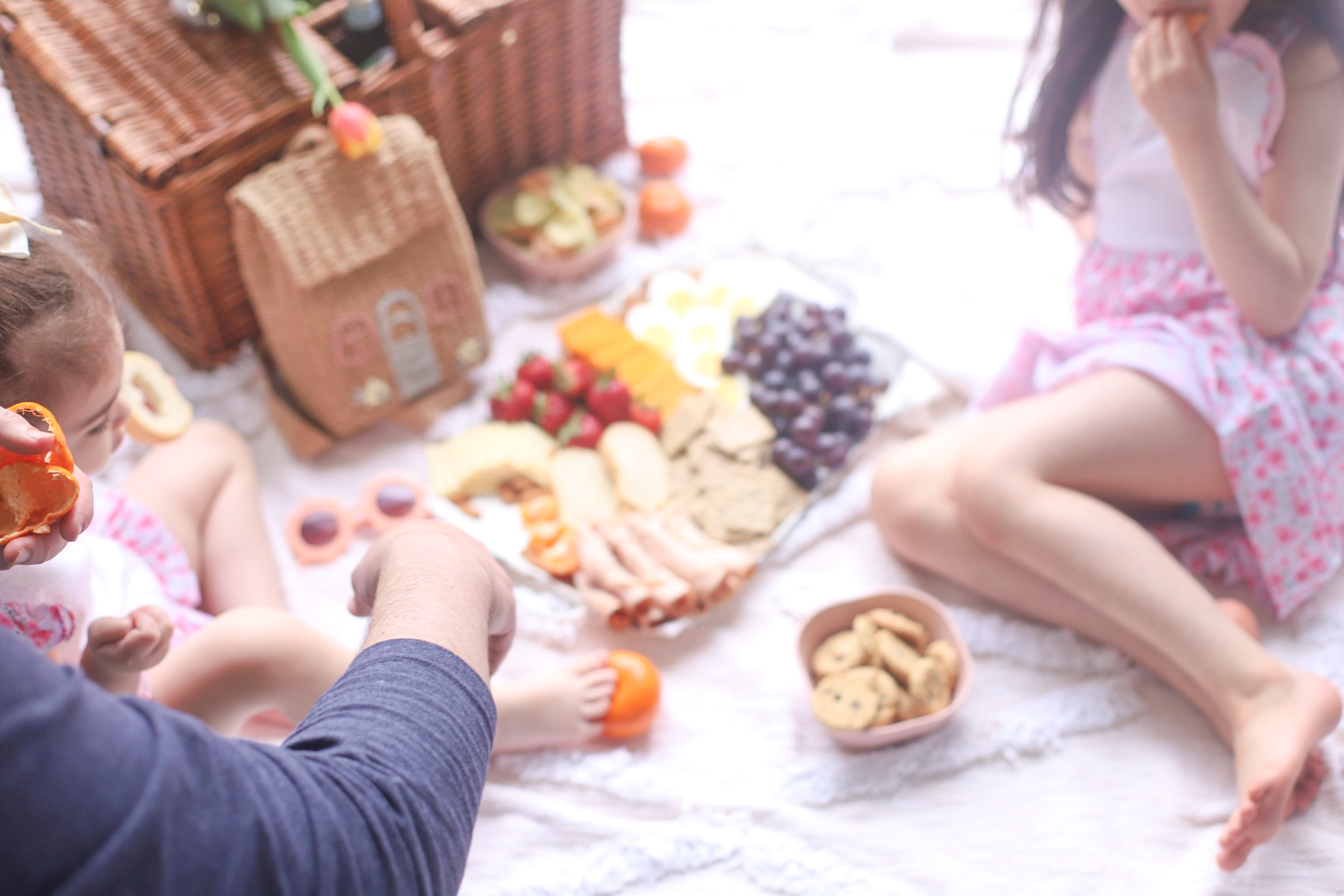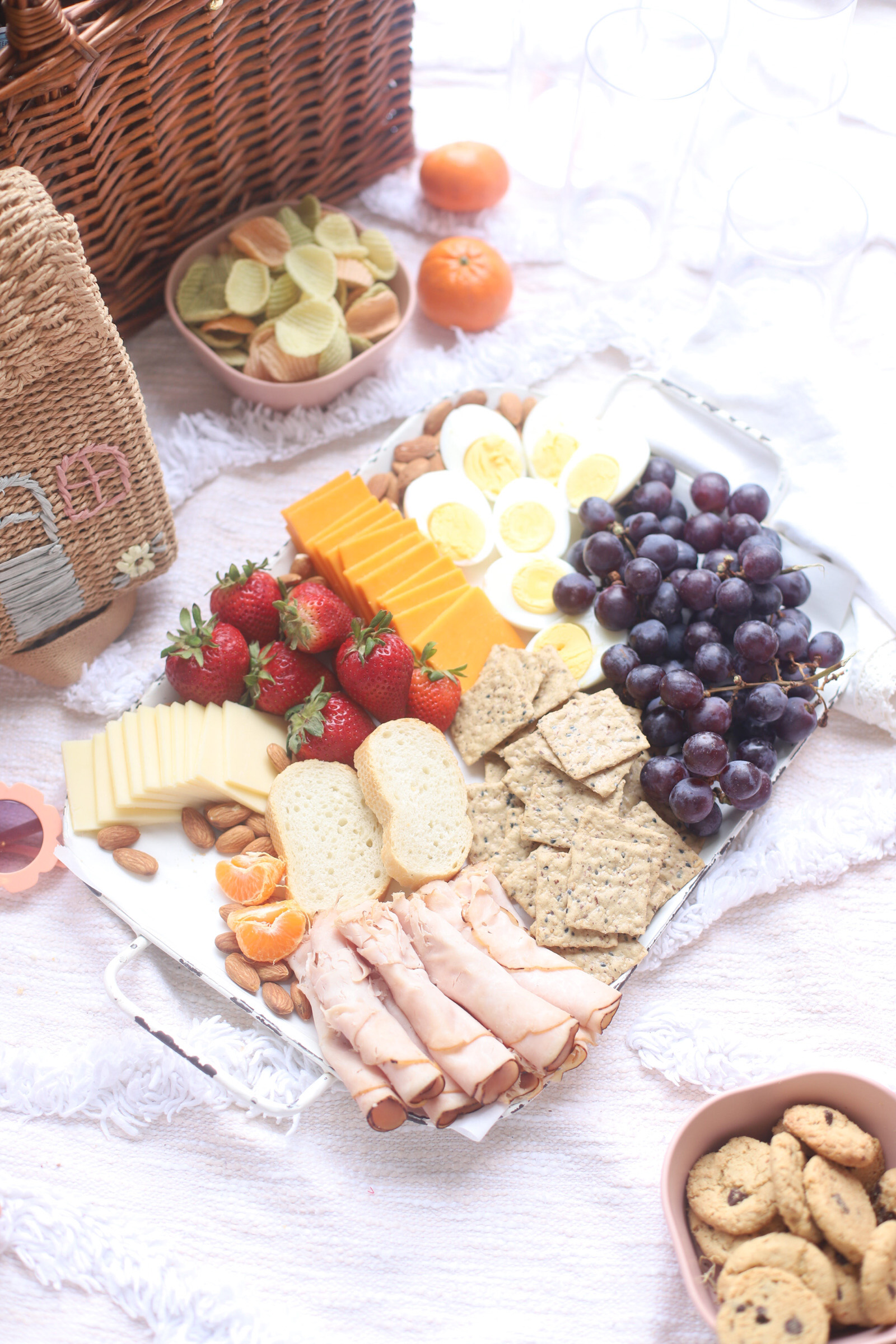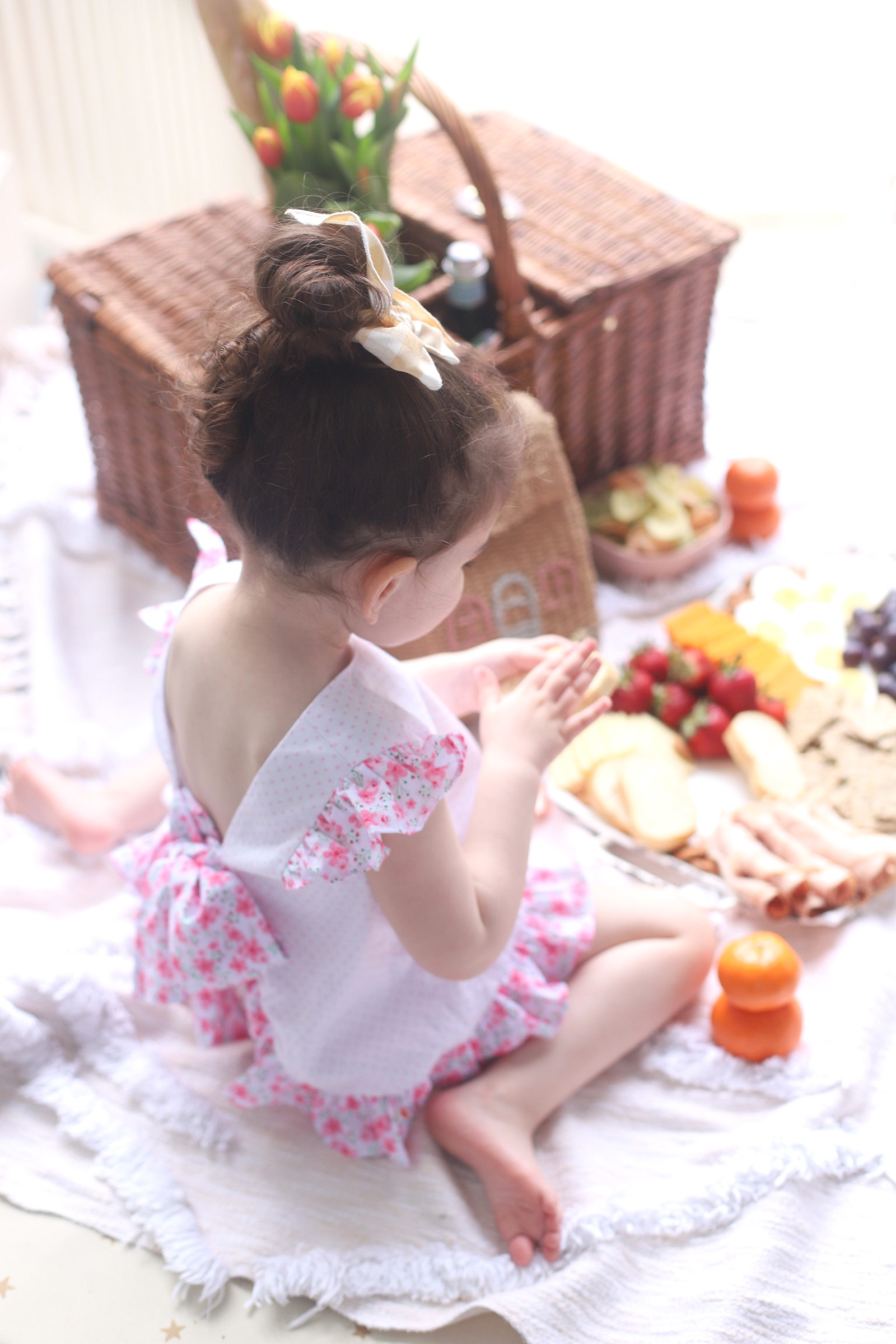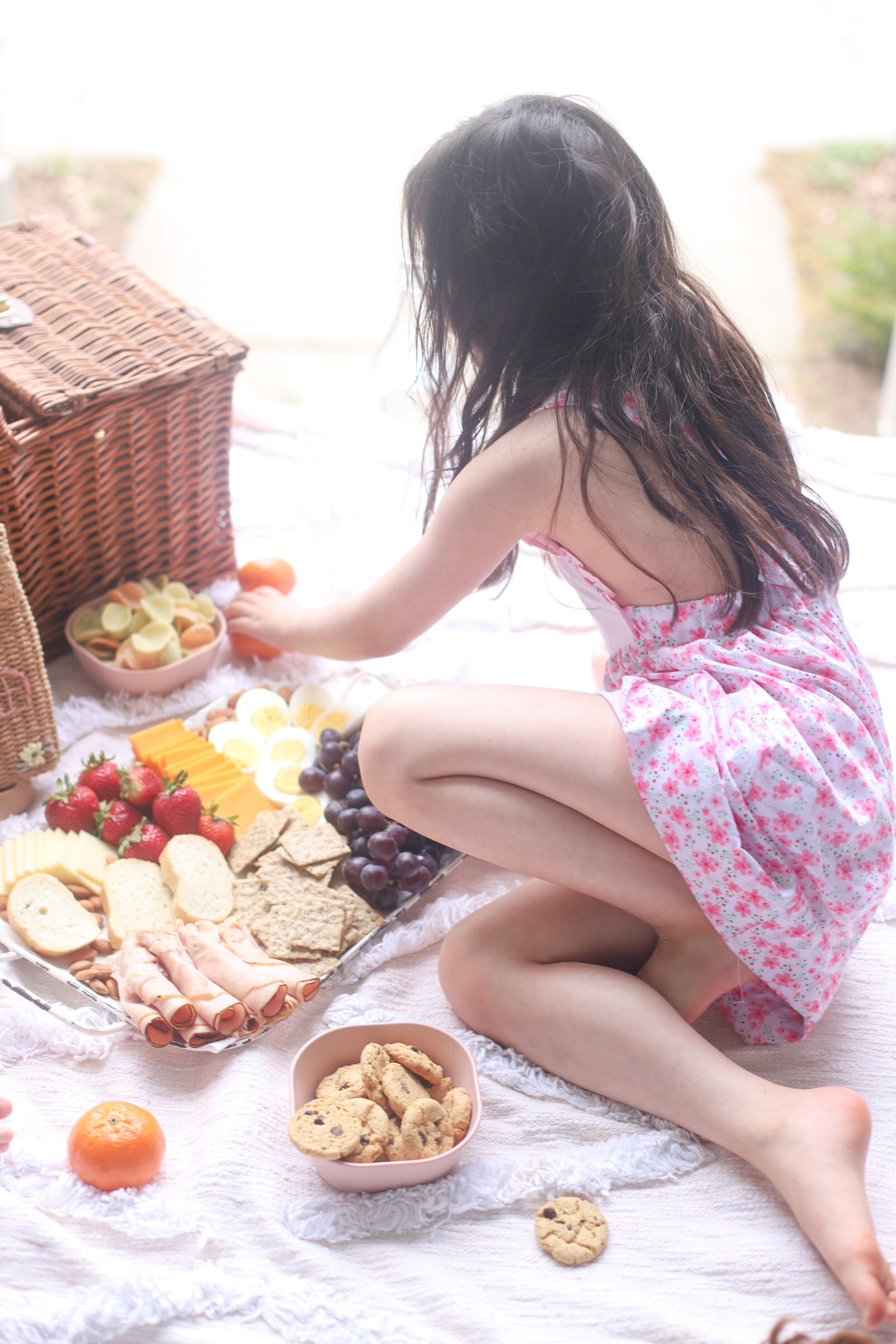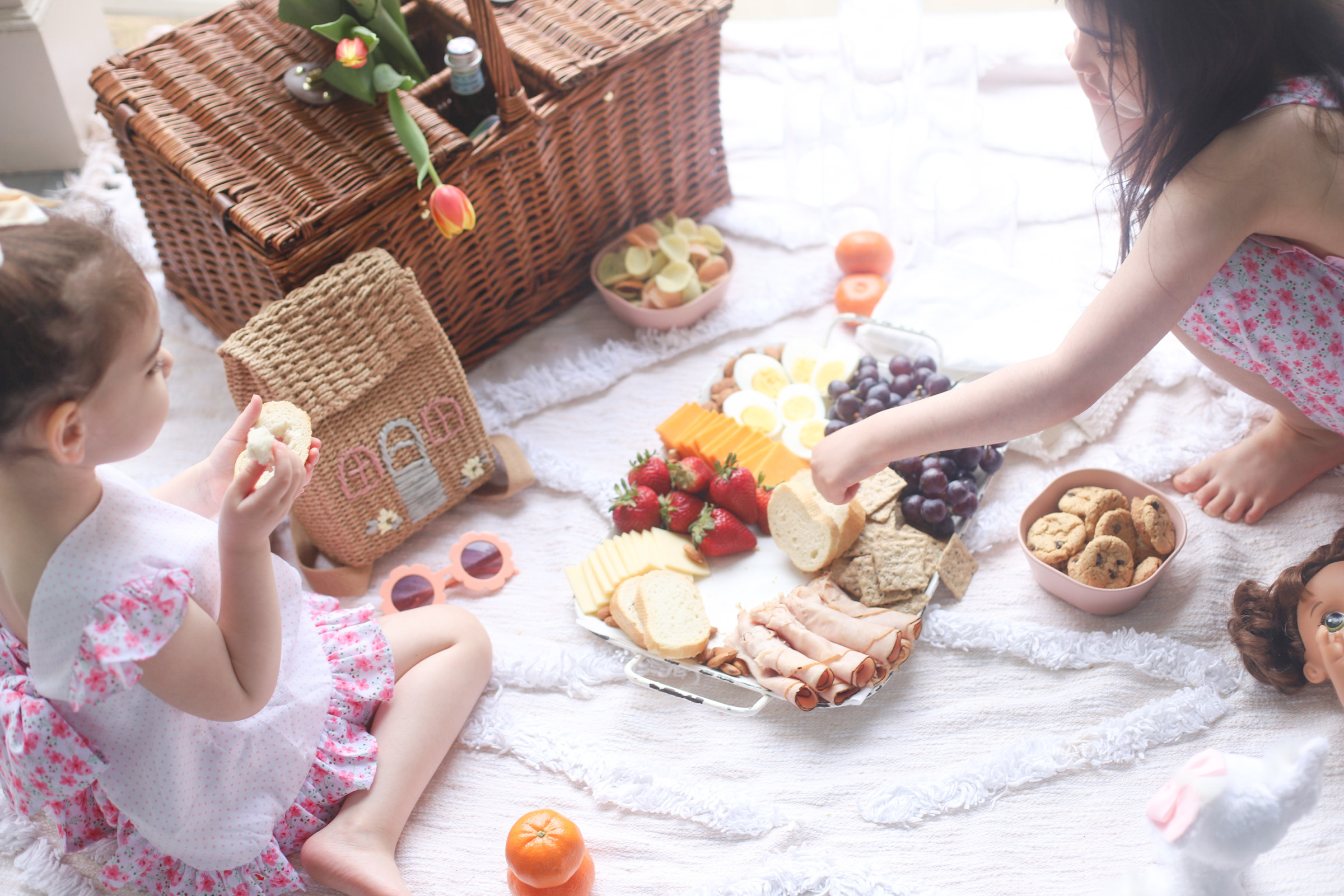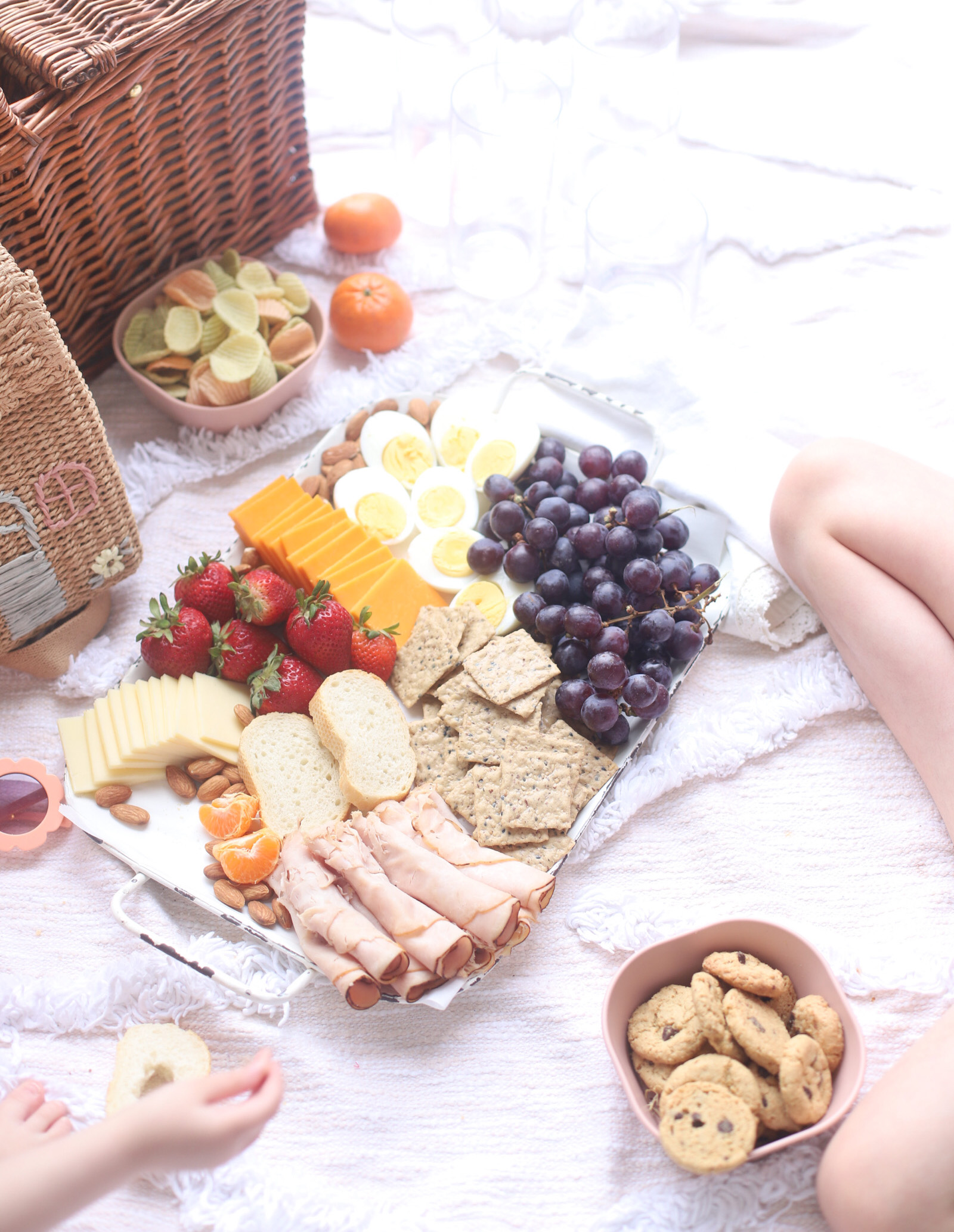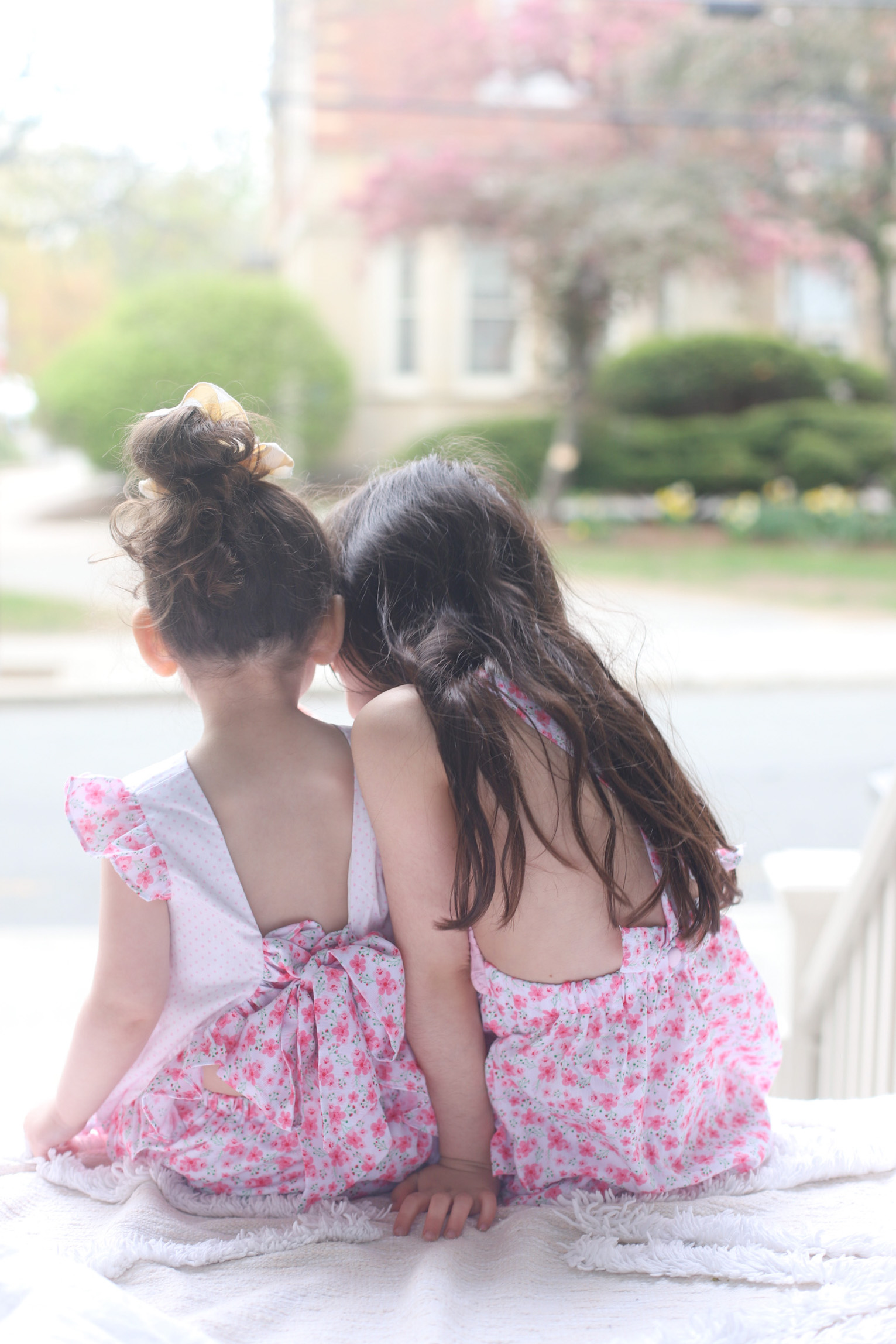 By the way, the girls adorable outfits are by Cecil and Lou. Emmeline is wearing the Pink Floral Pique Swing Diaper Set and Scarlett is wearing the Pink Floral Pique Dress.
You can find pretty much everything else in this post linked up below!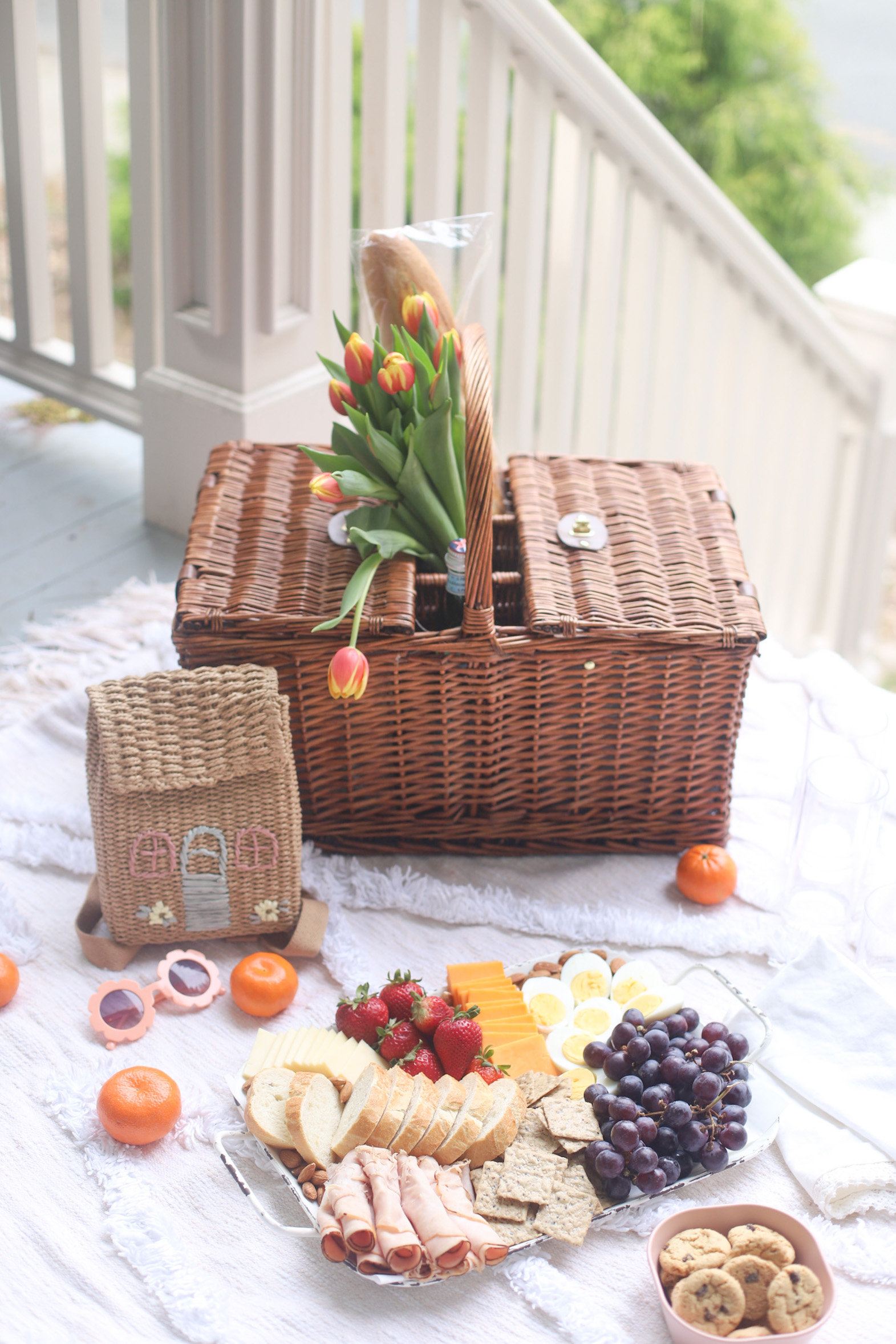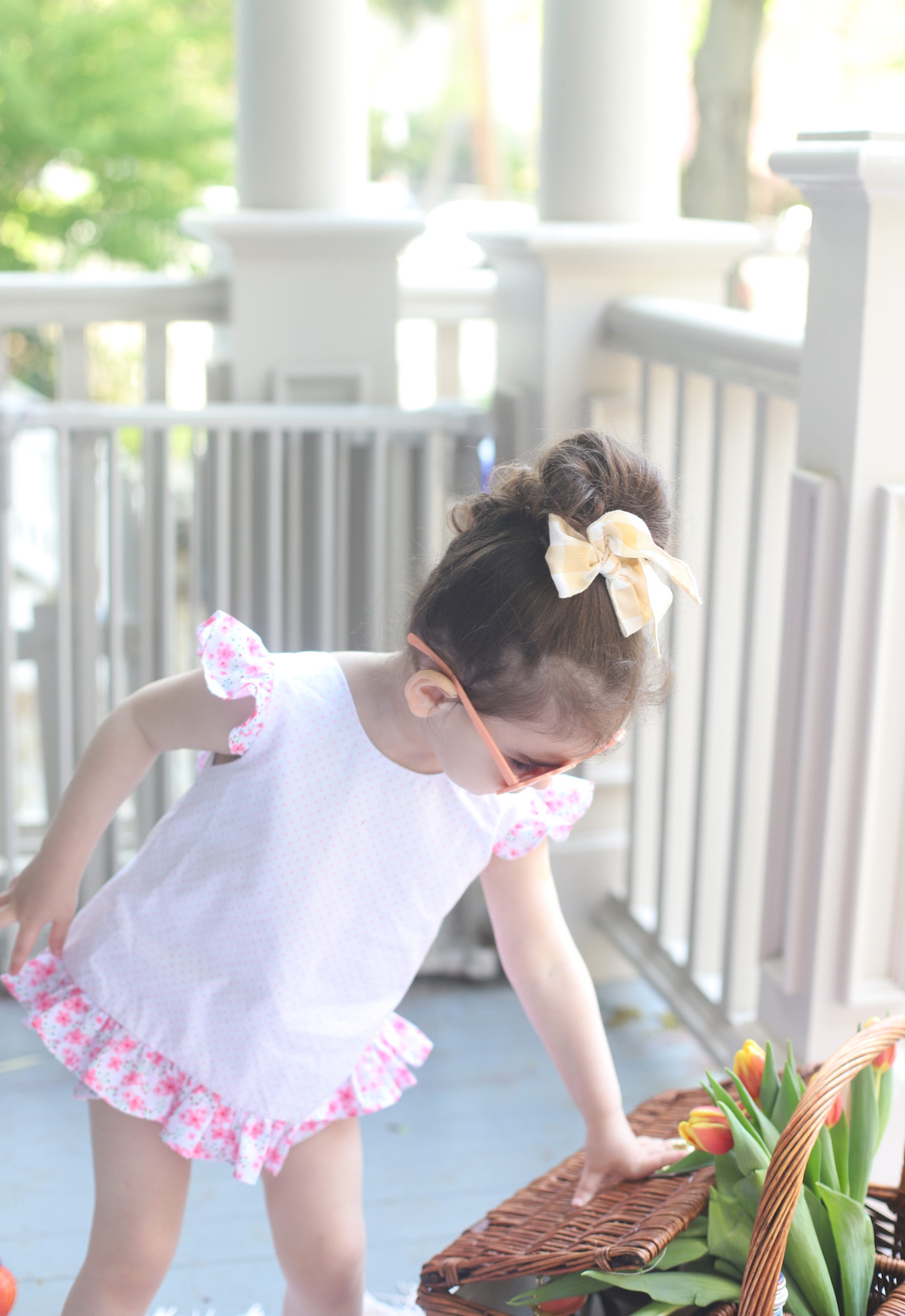 I hope you find that this picnic post is helpful and inspires your spring and summer outdoor celebrating!
SHOP THE SIMPLE FRONT PORCH PICNIC POST | CLICK LEFT & RIGHT ARROWS TO EXPLORE

What about you; do you celebrate the season with picnics? Any favorite picnic treats your family loves?
Love this simple and fun family front porch picnic? Check out all of our celebrations here (with plenty of ideas for at-home party fun!) and head to our recipe page to see what else we're dreaming up in the kitchen! And if you put together your own porch picnic, be sure to tag me on social media (@glitterinclexi) so I can live vicariously through all of your low-key celebrations!