This post contains affiliate links, which means that if you click on one of the product links, I'll receive a small commission. Thank you so much for clicking through and helping to support this little blog business of mine! Read more about our site, privacy, and disclosure policies here.
Throw an easy, light-hearted, and fun get-together for friends and family with one of our favorites – the spaghetti dinner party. Sharing how we throw a memorable spaghetti dinner – that everyone will love – in just a few simple steps!
It's been a while since we threw our last party, and I realized: summer is the perfect time to bring the party outside! I love the relaxed vibe of summer time parties. It's hot, the drinks are flowing, easy meals are where it's at.
One of our go-to meals for dinner parties is the spaghetti dinner.
It may seem overly simple, but you'd be amazed at how much your guests will love and appreciate being served a big bowl of pasta. I mean … CARBS.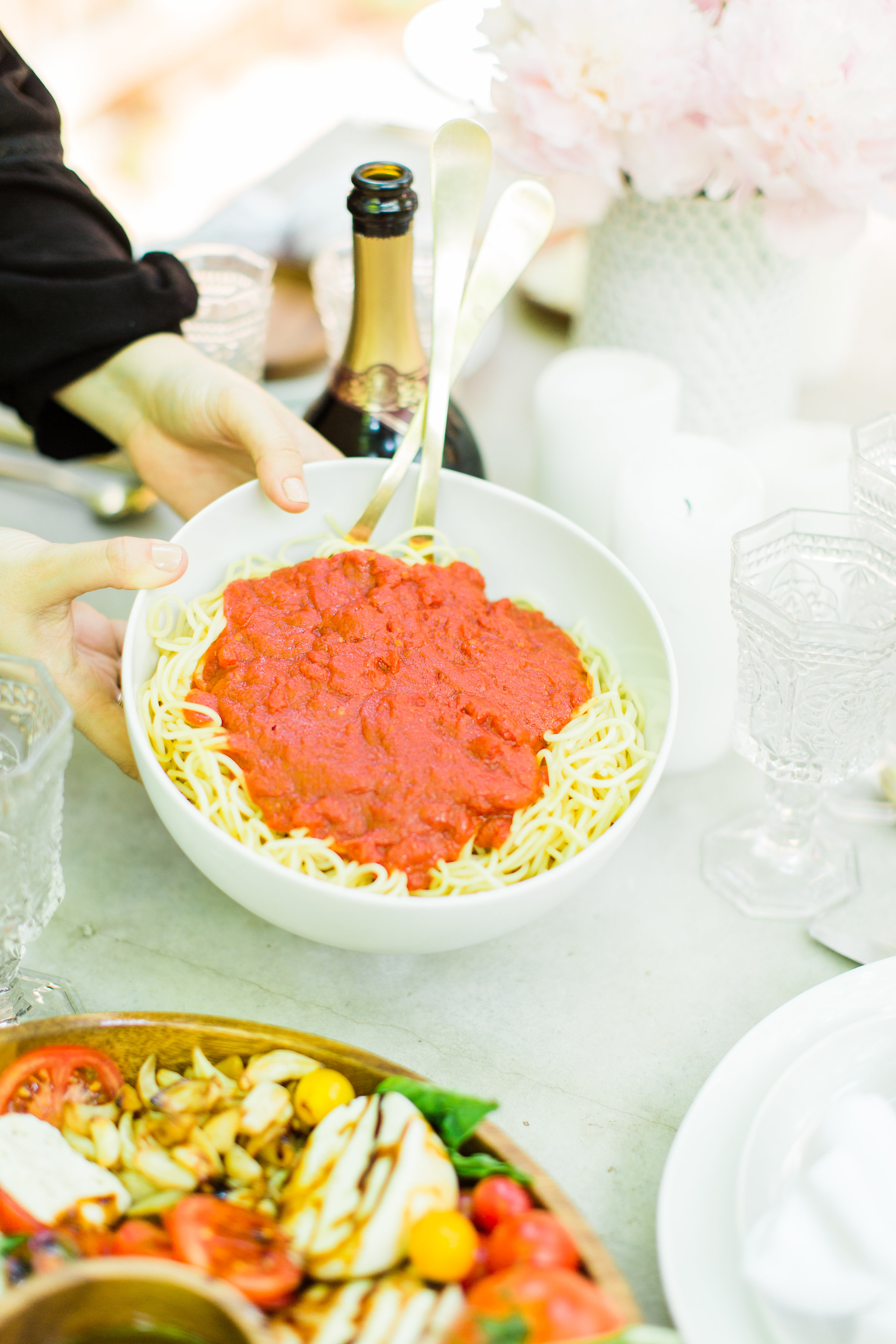 I think sometimes, when it comes to hosting dinner parties, and events in general, we over-complicate things – particularly the menu. (I am TOTALLY guilty of this.) But truth is, most often, your guests are thrilled to come on over for dinner; and no one expects the seven courses you feel pressured to get on that table. I've hosted many a dinner party that involved pizza and red wine, and everyone leaves full and happy and insisting we do it again!
Spaghetti is a favorite for dinner because everyone loves it; kids included. Plus, I can double up a batch of my newfound AMAZING (and foolproof) tomato butter pasta sauce, boil two packages of spaghetti, and voilà, the world's easiest dinner. (No lie: that 3-ingredient tomato butter sauce is life-changing.)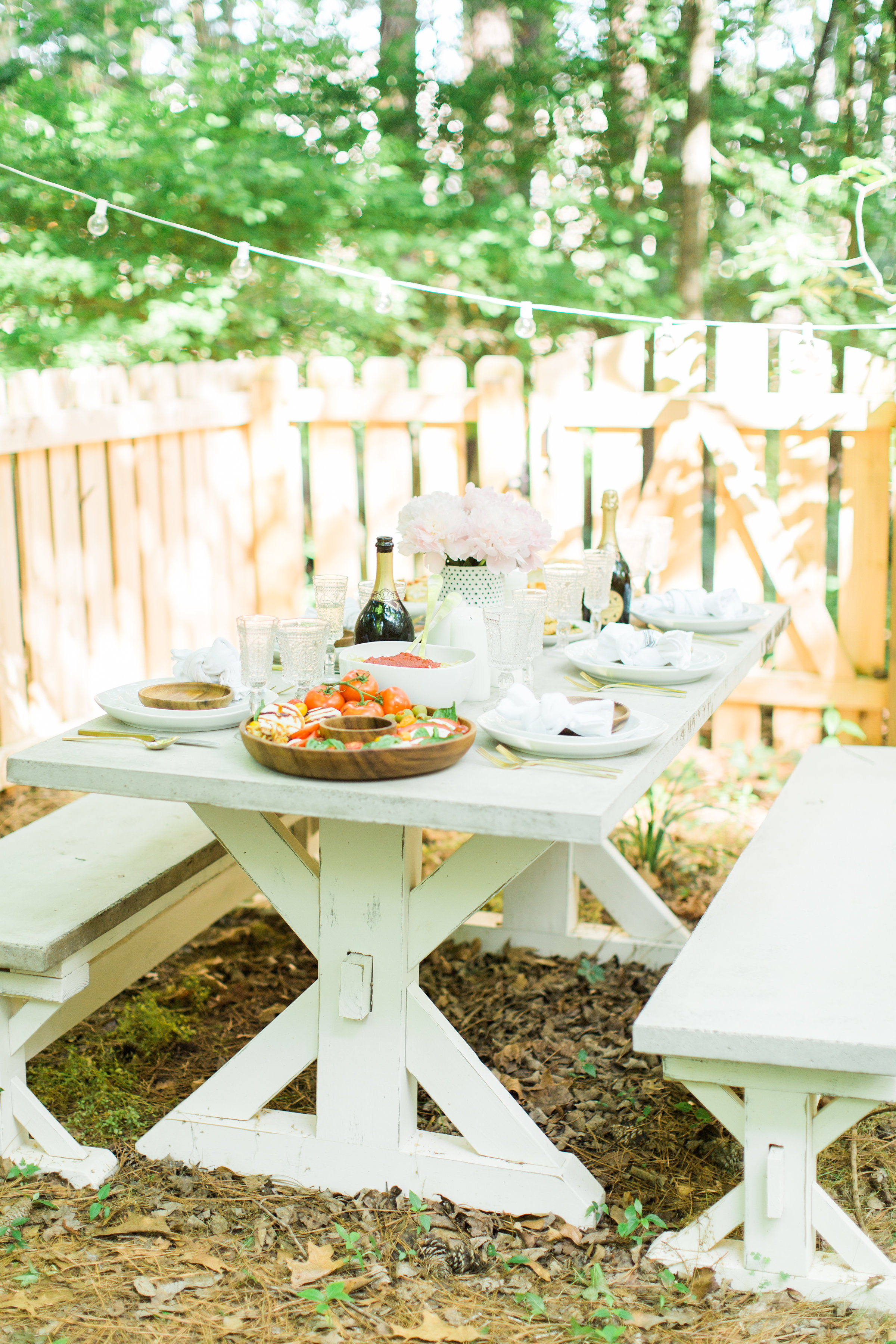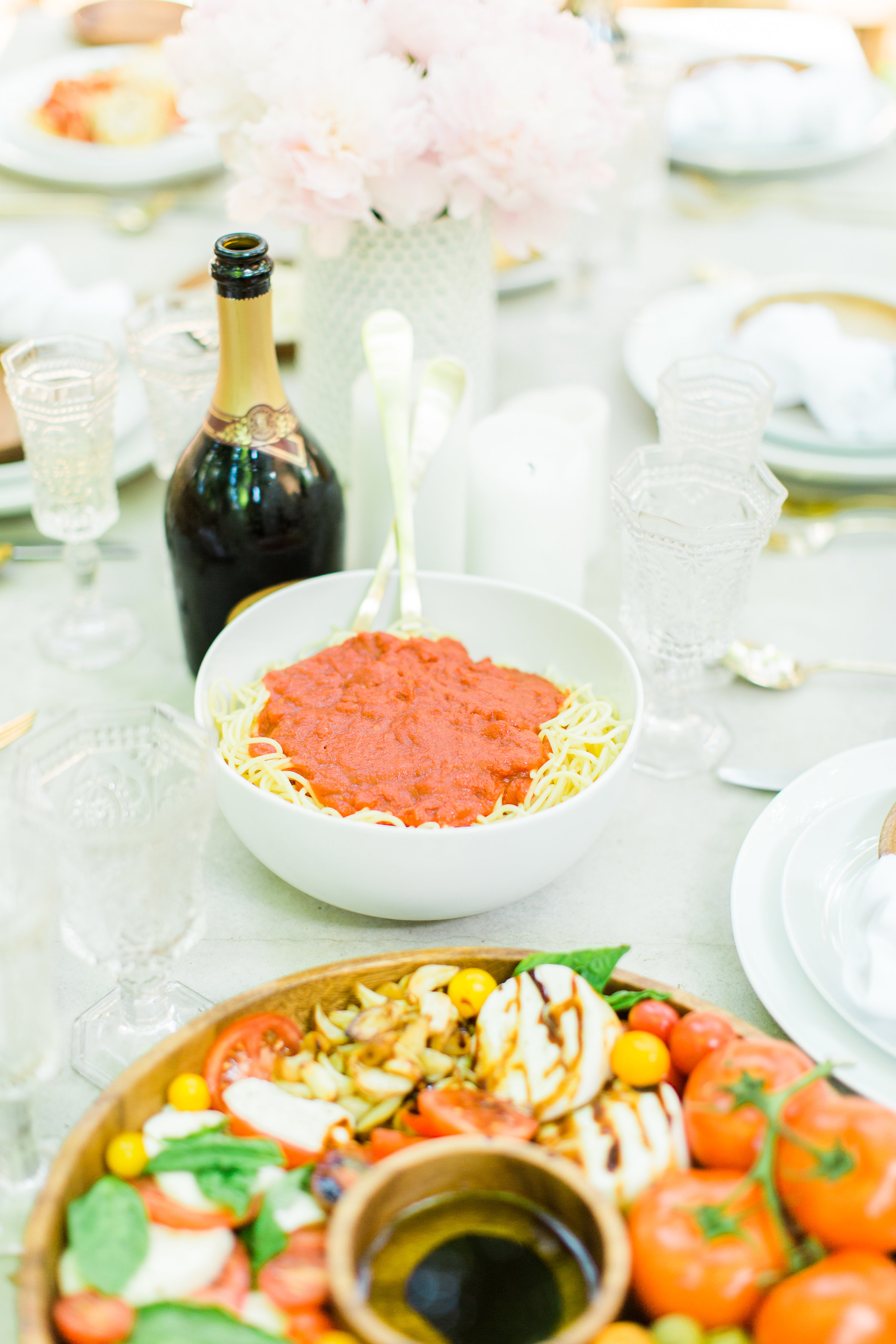 How to Throw a Spaghetti Dinner Party
The ingredients for a memorable and fun spaghetti dinner party are simple: make a big batch of spaghetti, add in a crusty loaf of your favorite bakery-bought bread, put out a bit of olive oil, salt, and pepper (for dipping), and throw in a salad.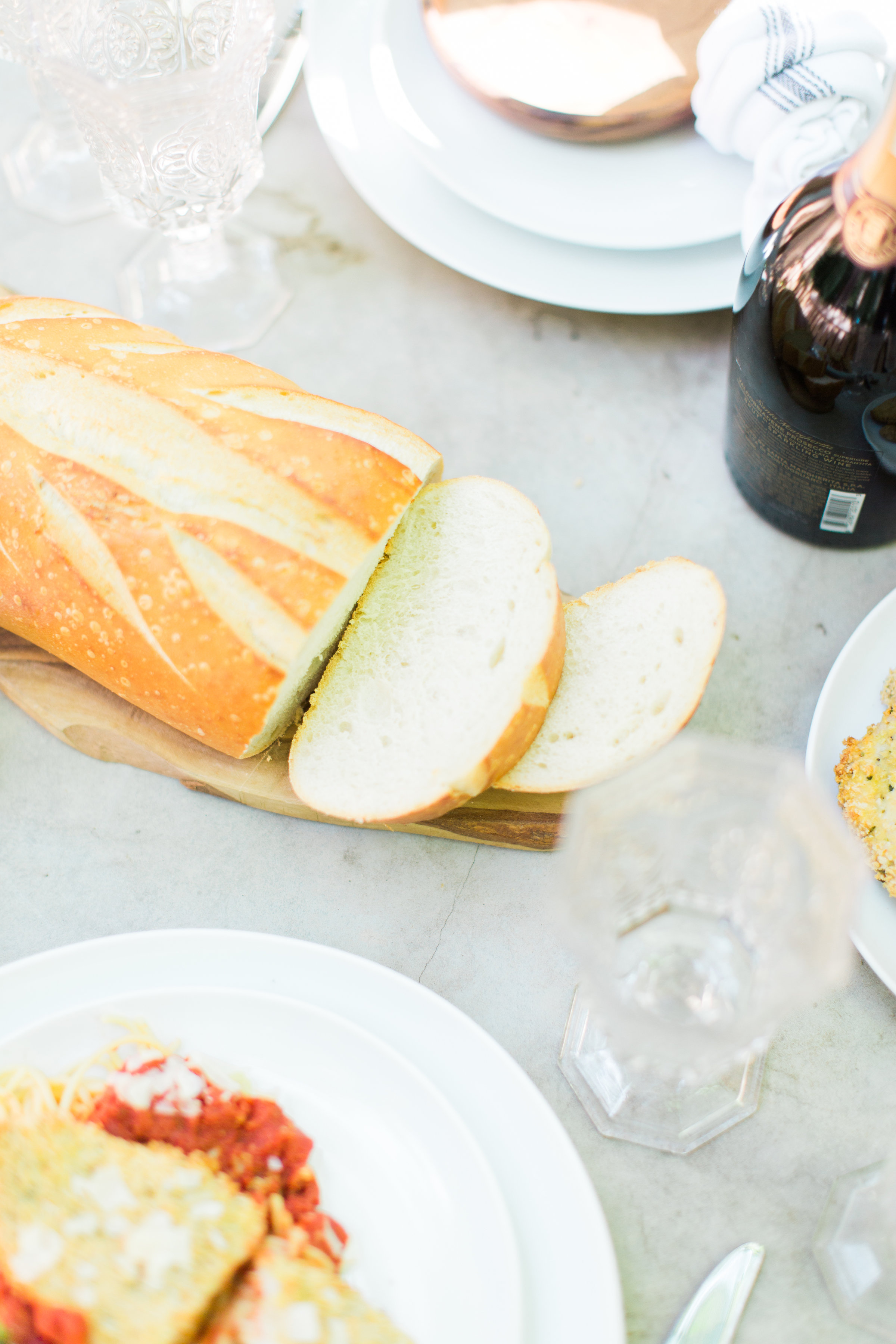 Spaghetti + Bread + Salad = dinner is served!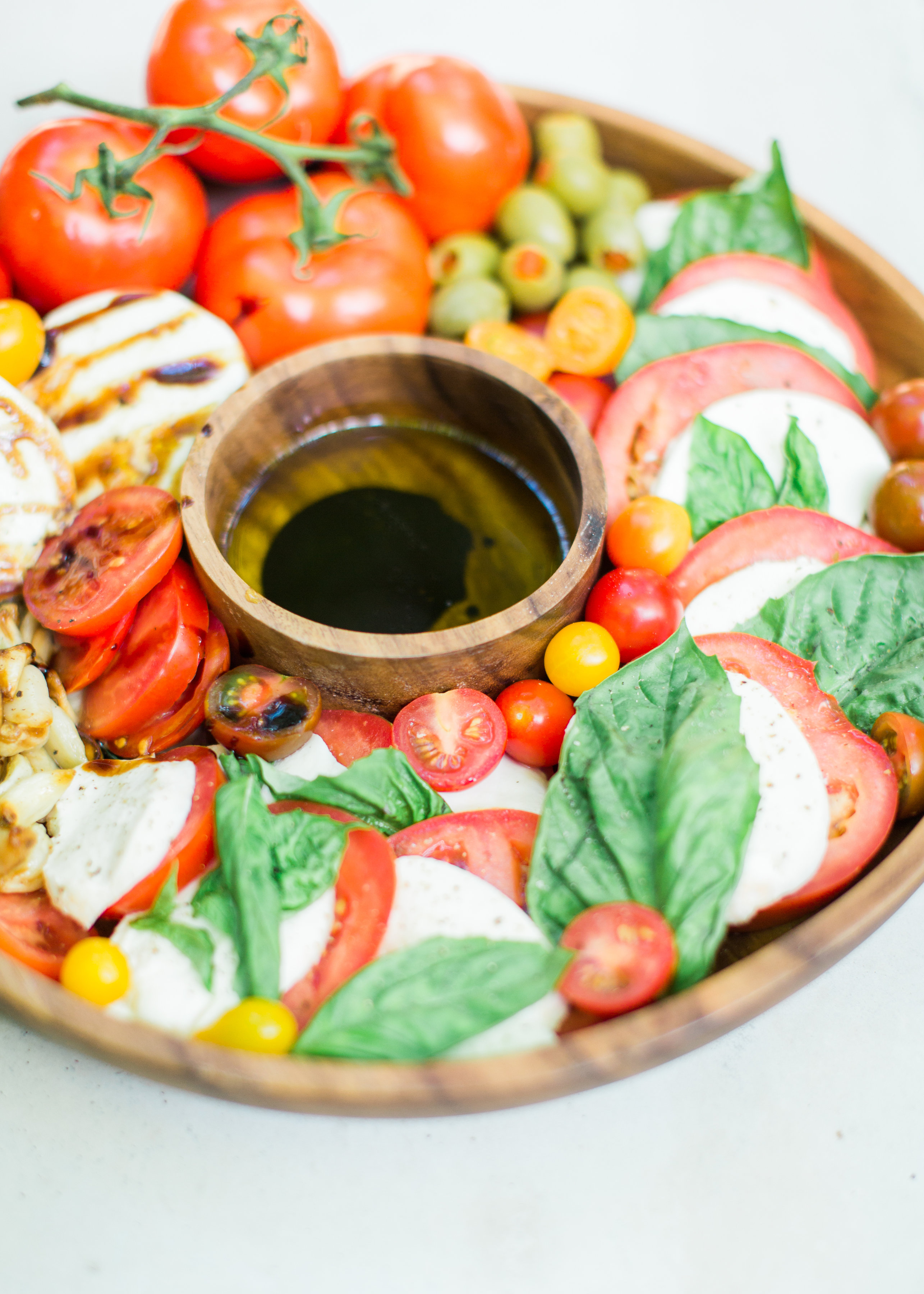 For this spaghetti dinner party, I actually threw together a big 'ol caprese salad platter … which is much easier than it looks. I LOVE making a caprese salad for these kinds of easy dinner parties because, really, it's just arranging store-bought items like mozarella, tomatoes, olives, basil, and then drizzling the whole thing with olive oil, balsamic vinegar (or balsamic reduction – which you can buy in a bottle at the store), and a bit of salt and pepper; no homemade dressing required.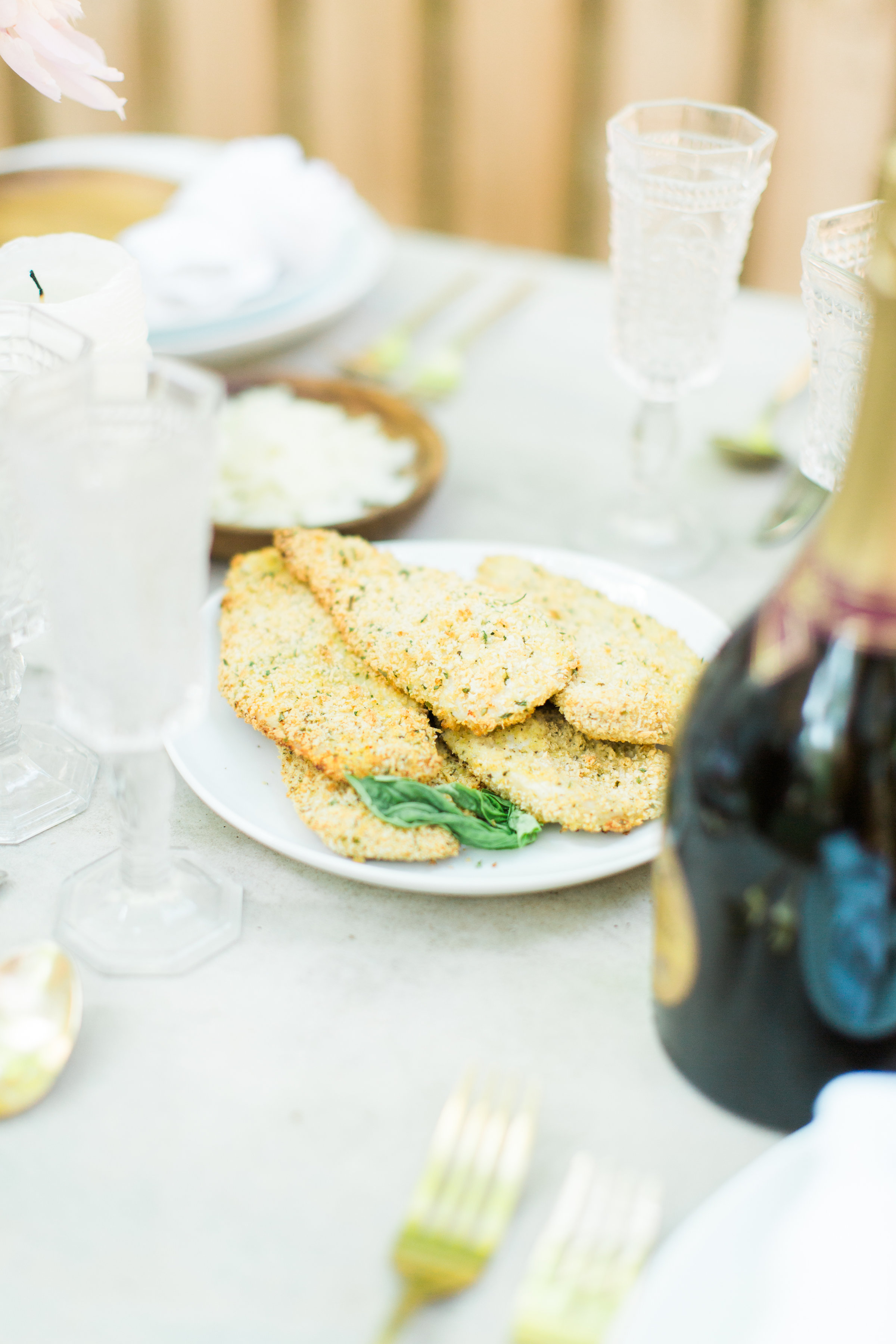 I also sometimes throw in a protein. Here I made simple baked, breaded chicken cutlets; but truthfully, more often than not, I skip the protein altogether, and no one seems to mind.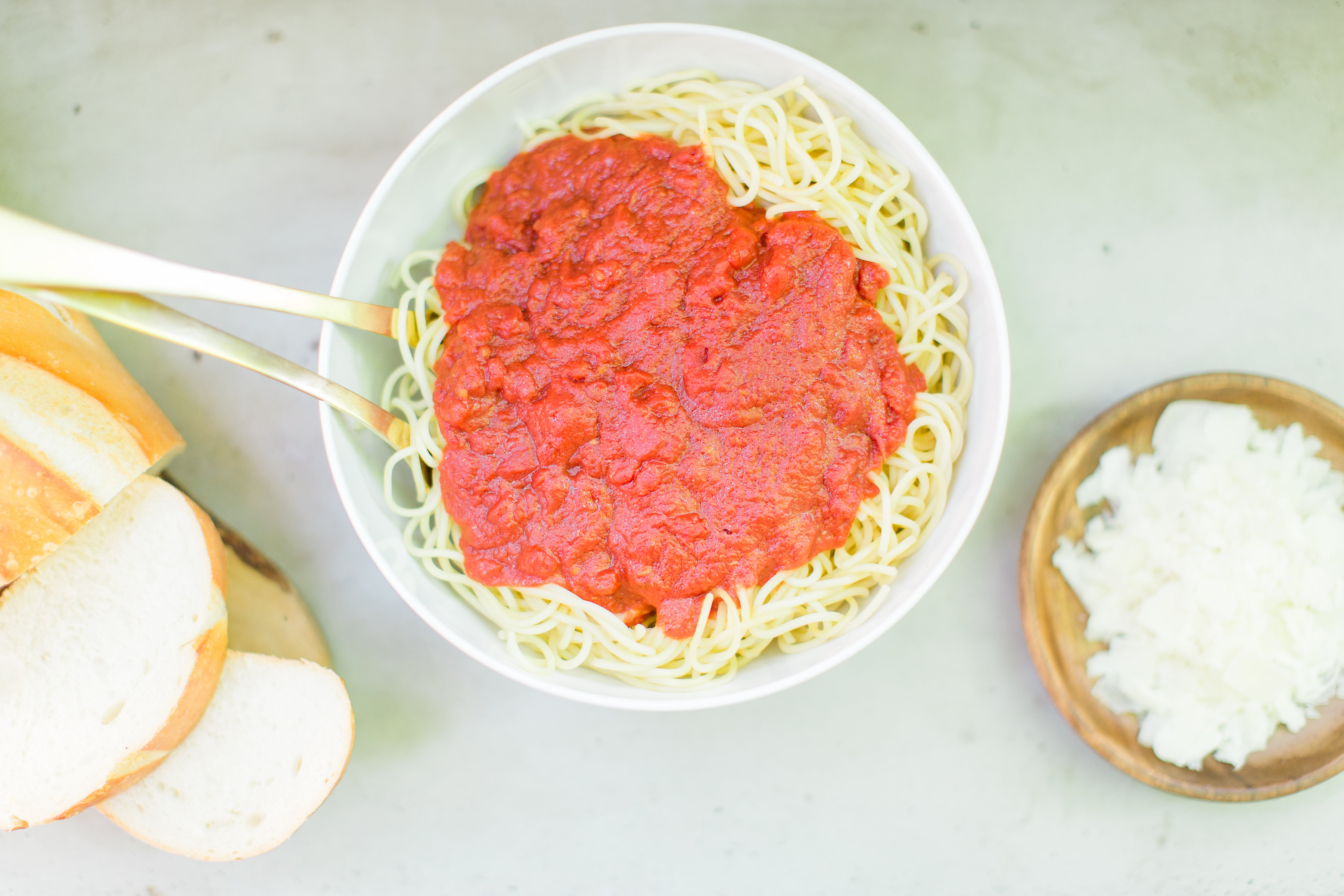 After that, I add in a bowl of shaved parmesan to allow our guests add cheese to their pasta, because … YUM.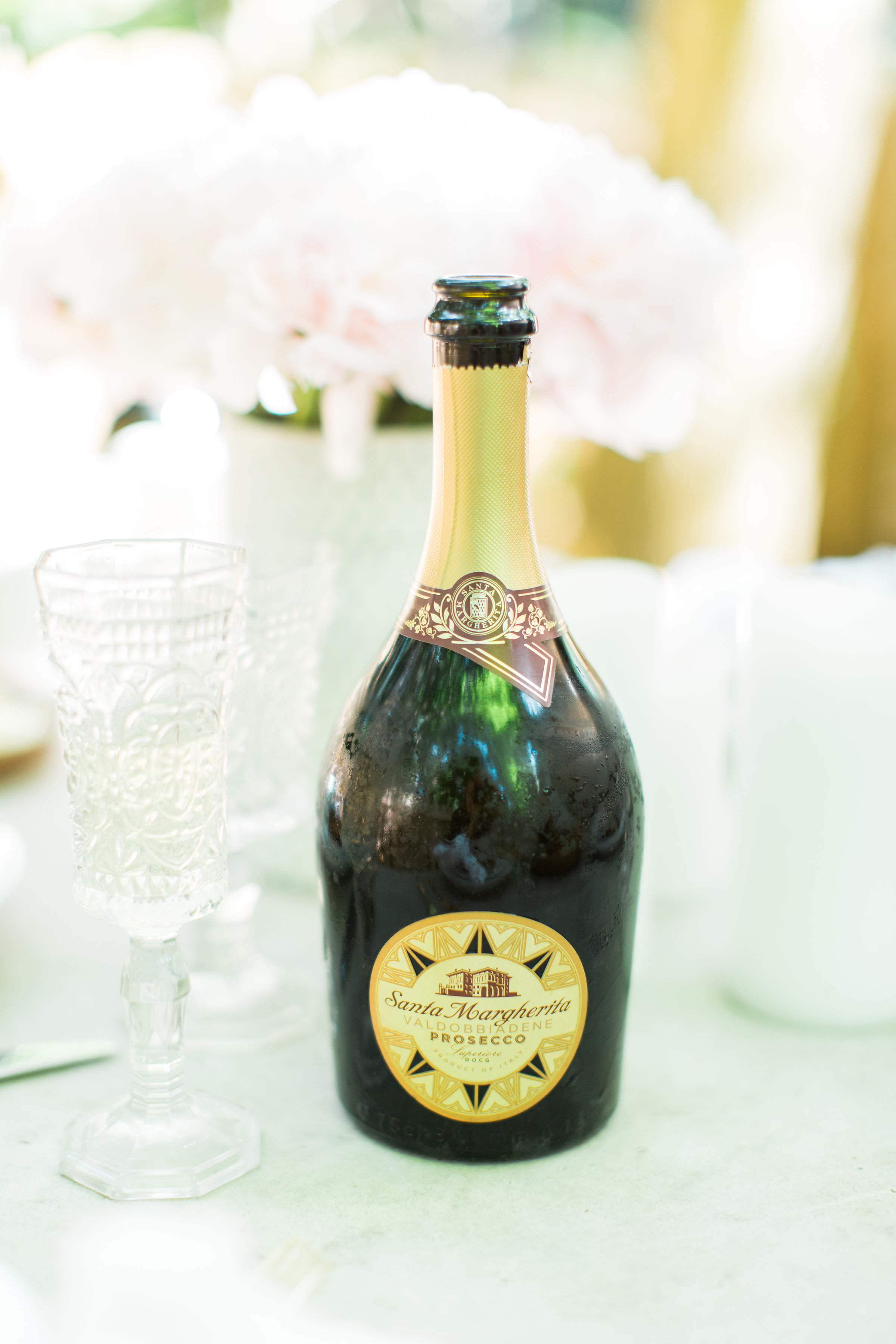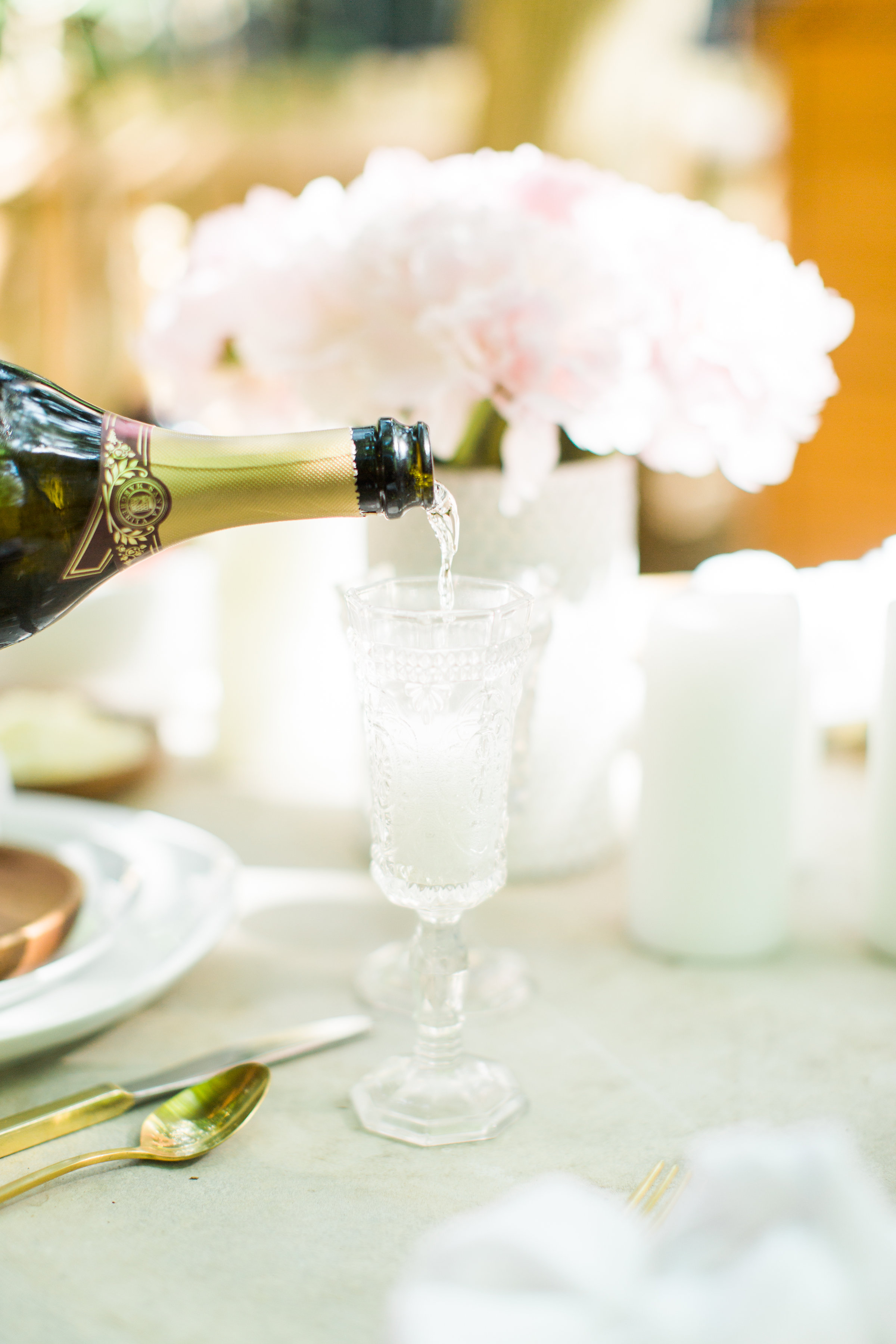 Then, I always set out wine (or beer), and pop the bottles open, so everyone feels comfortable pouring themselves a glass.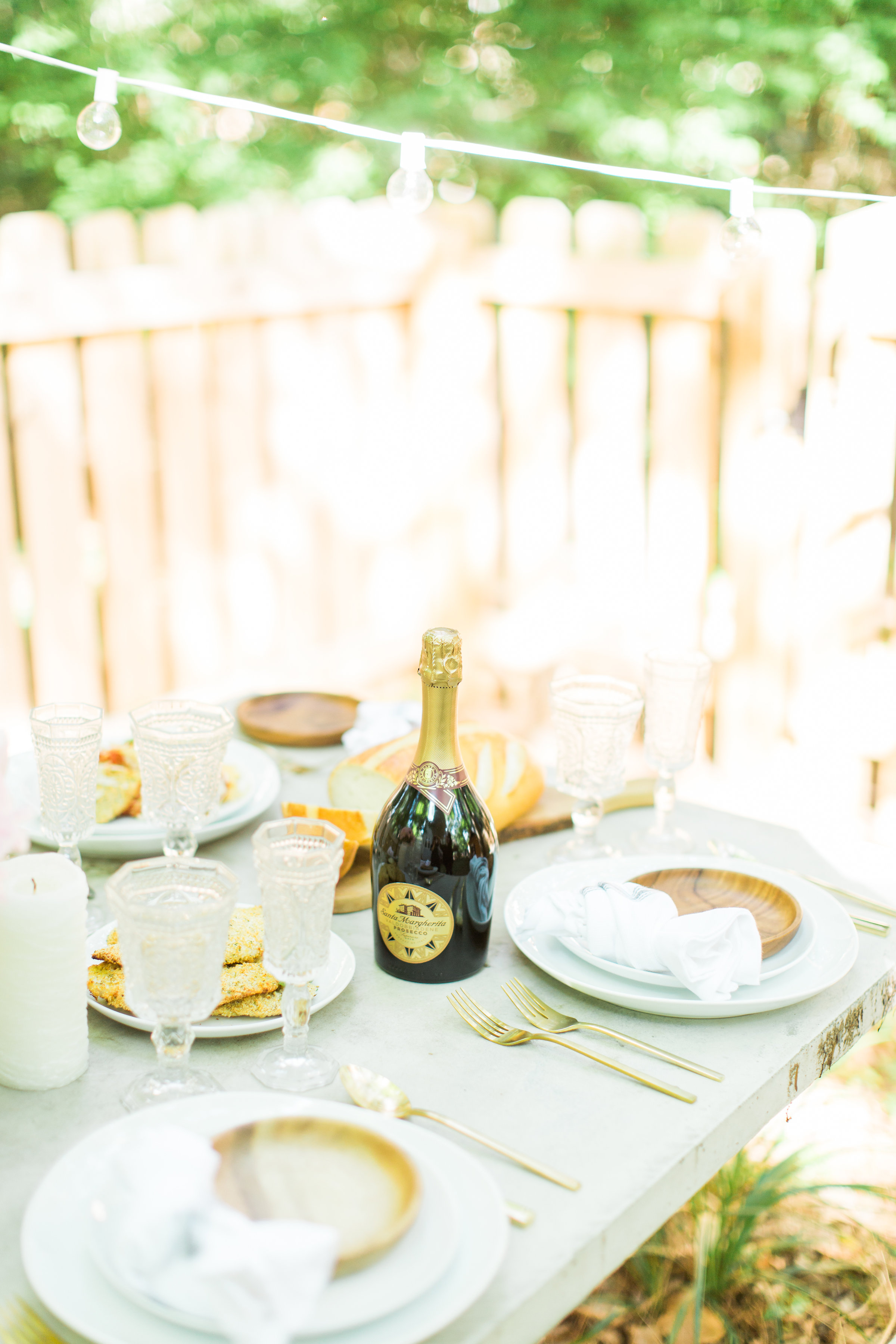 And as the host of a dinner party, especially one that's light-hearted and meant to be casual and fun, keep the décor simple. Set the table with your everyday dishes, throw out your favorite easily accesible flatware, glasses, and napkins (paper is totally fine!) ENJOY your party!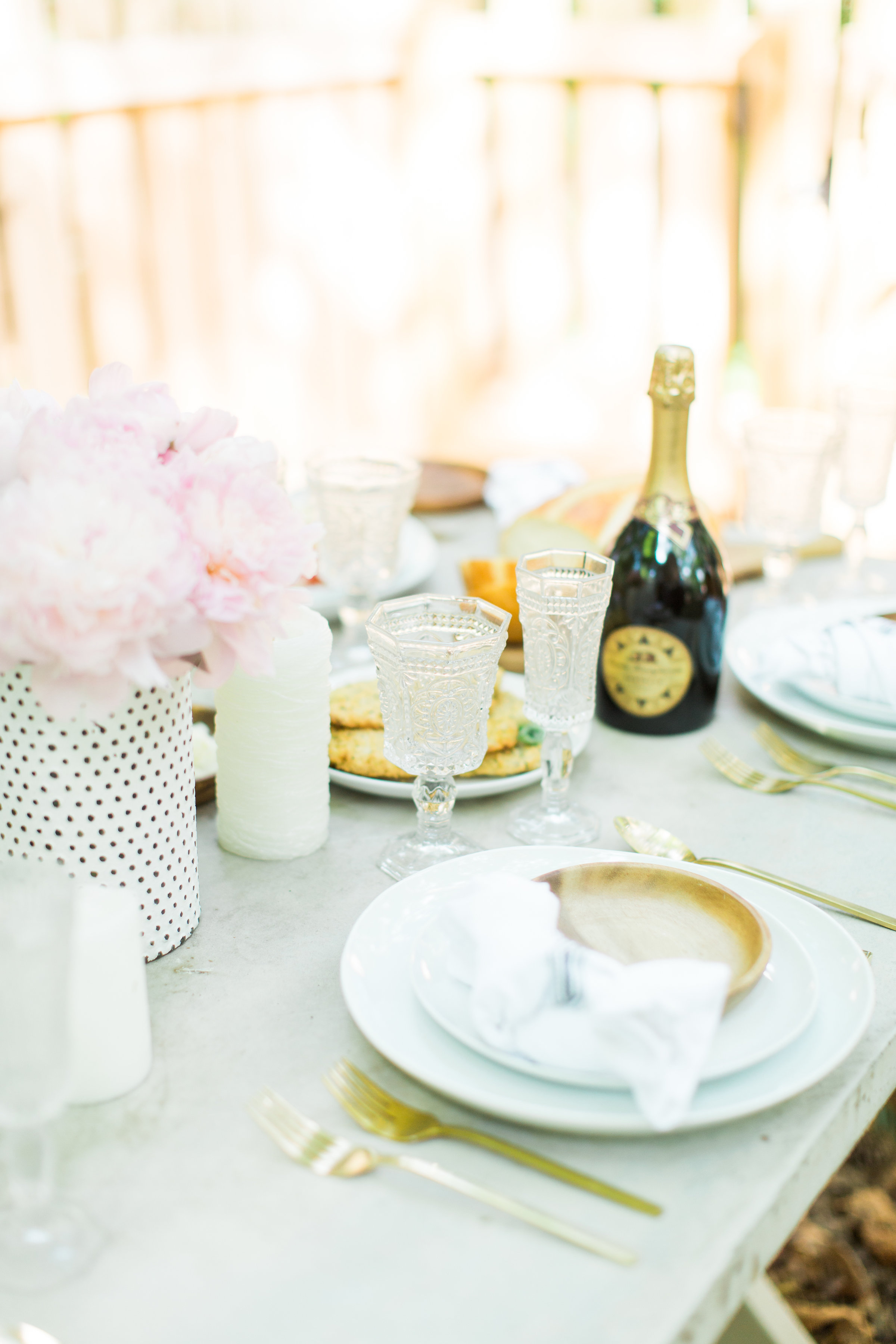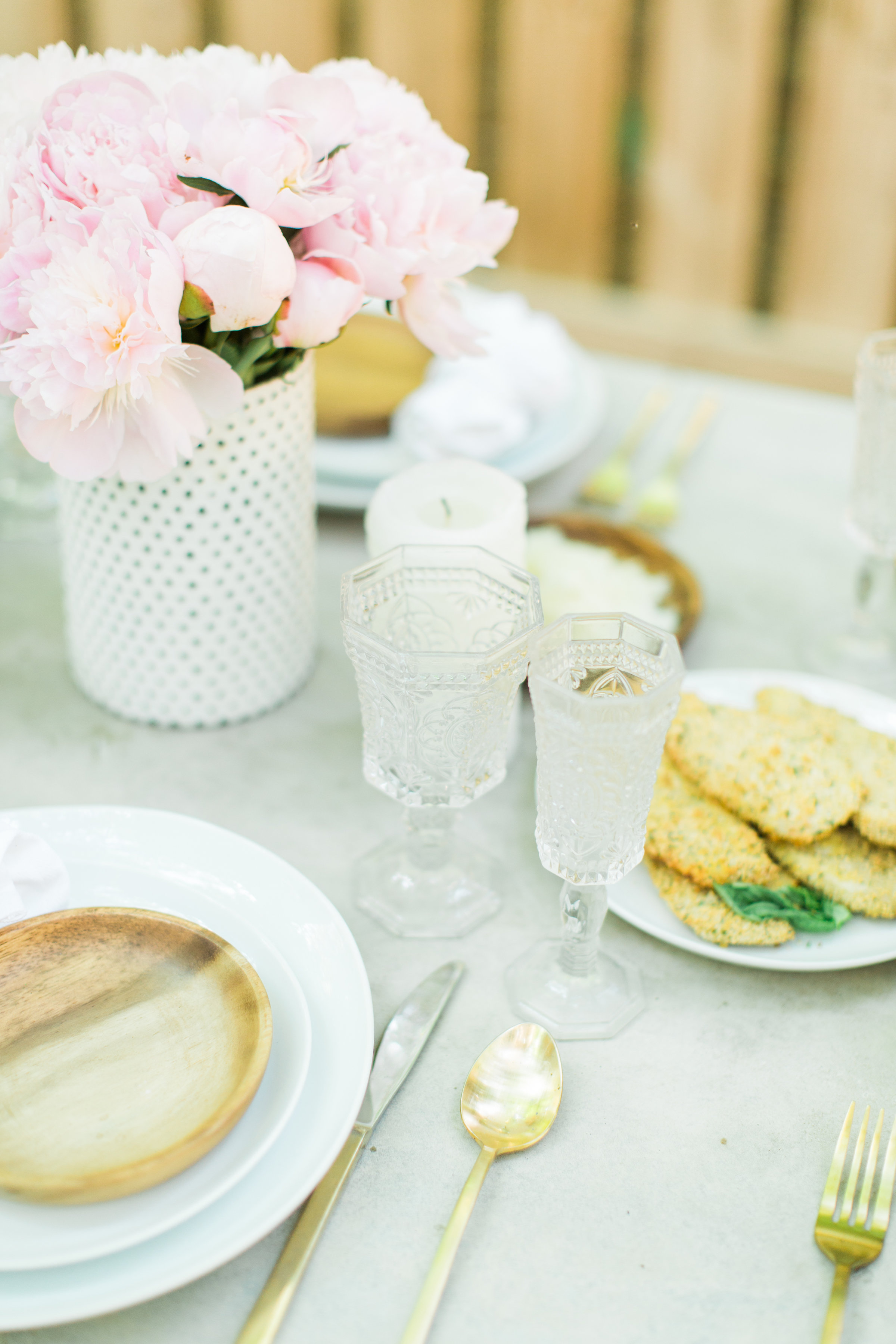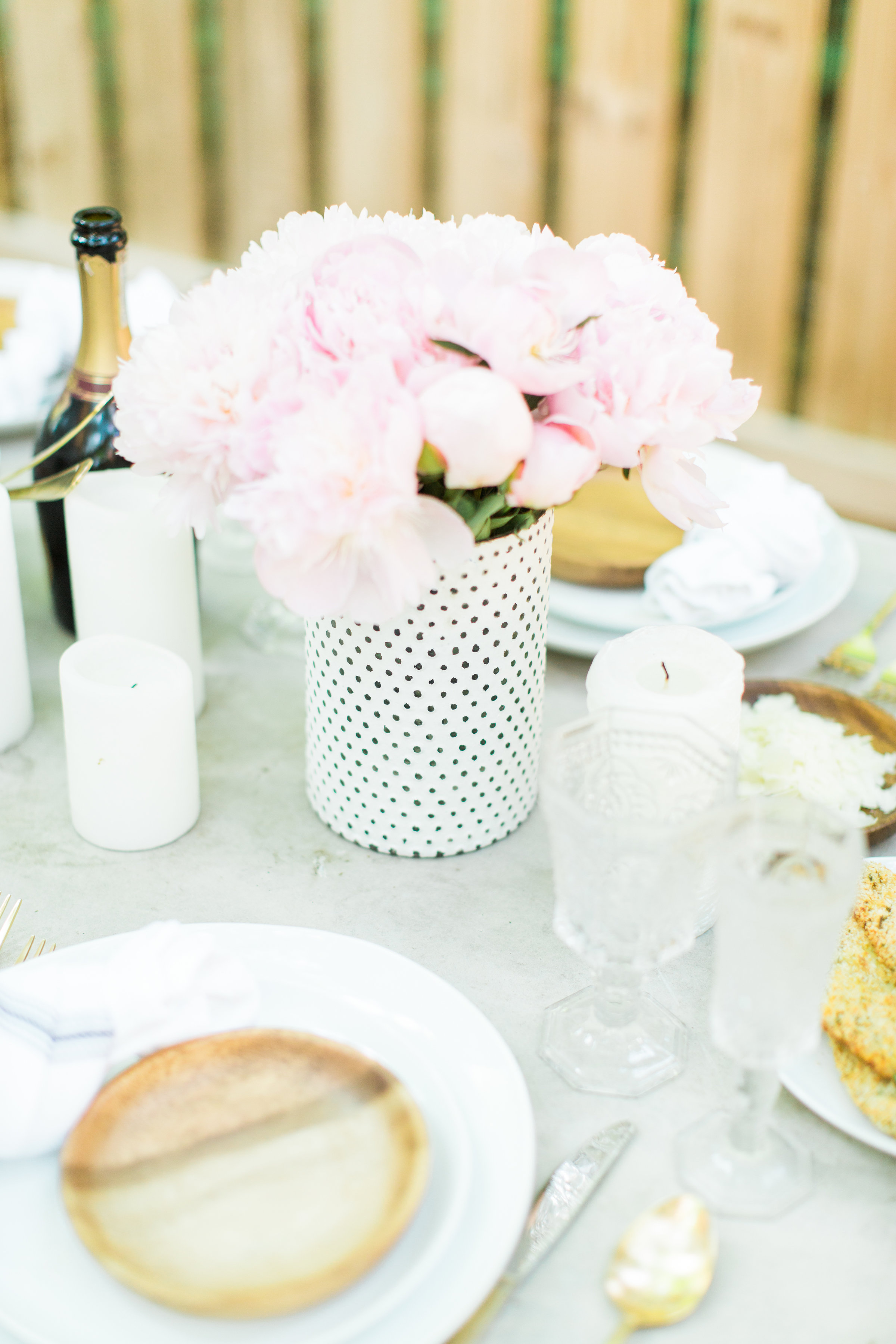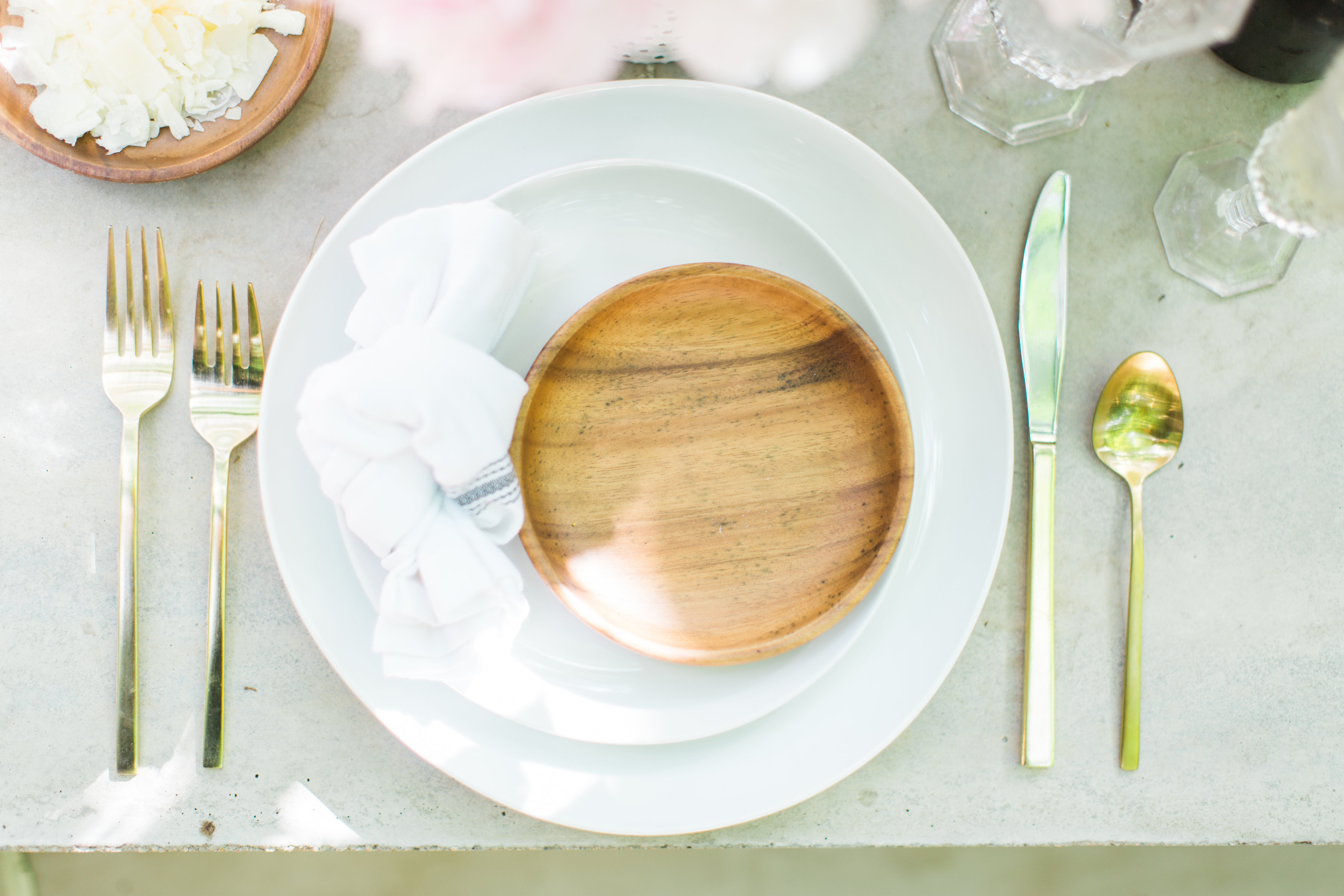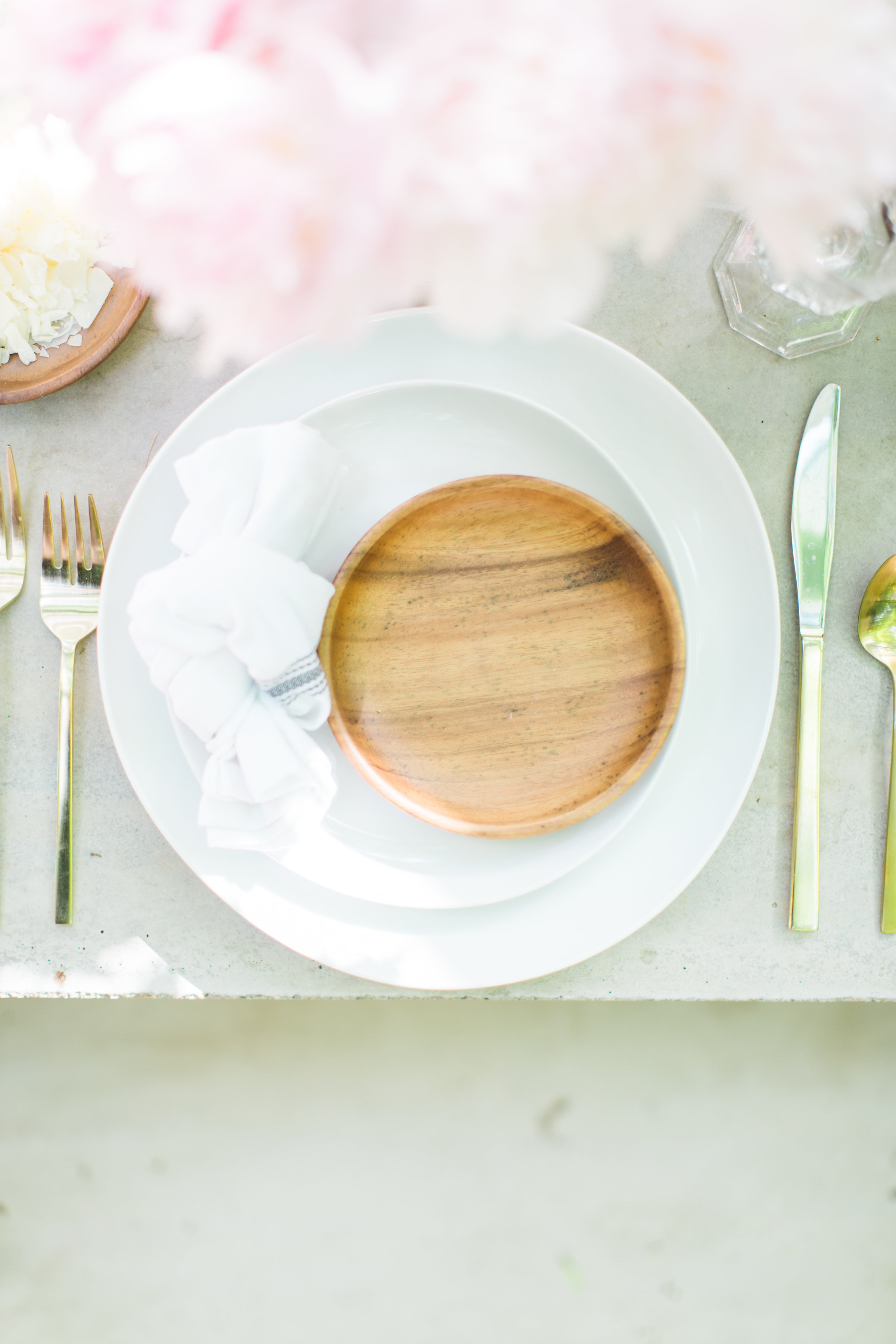 I love the warmth and fun a family-style meal – like a spaghetti dinner – can provide. There's a whole lot of sharing, and plenty of love.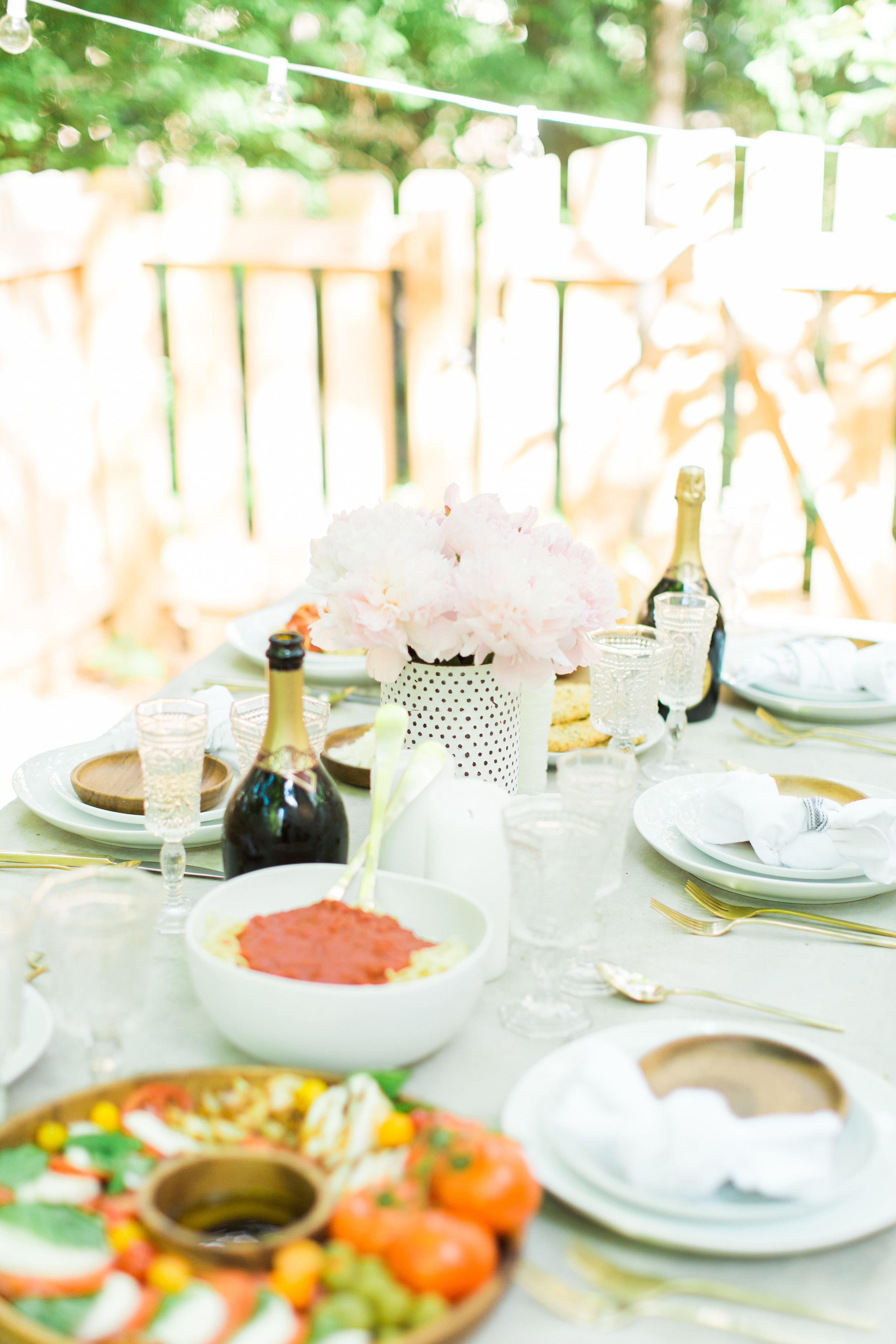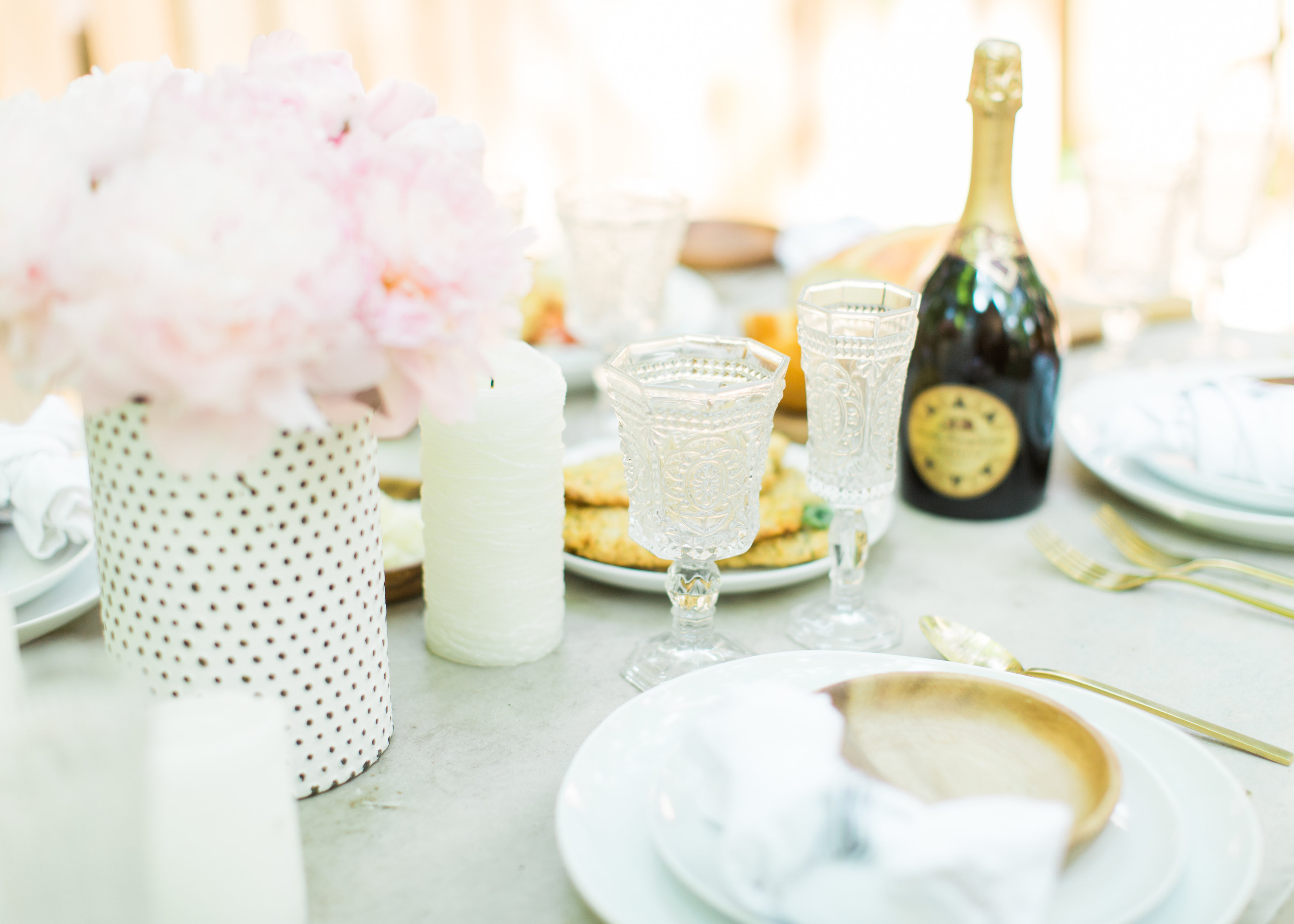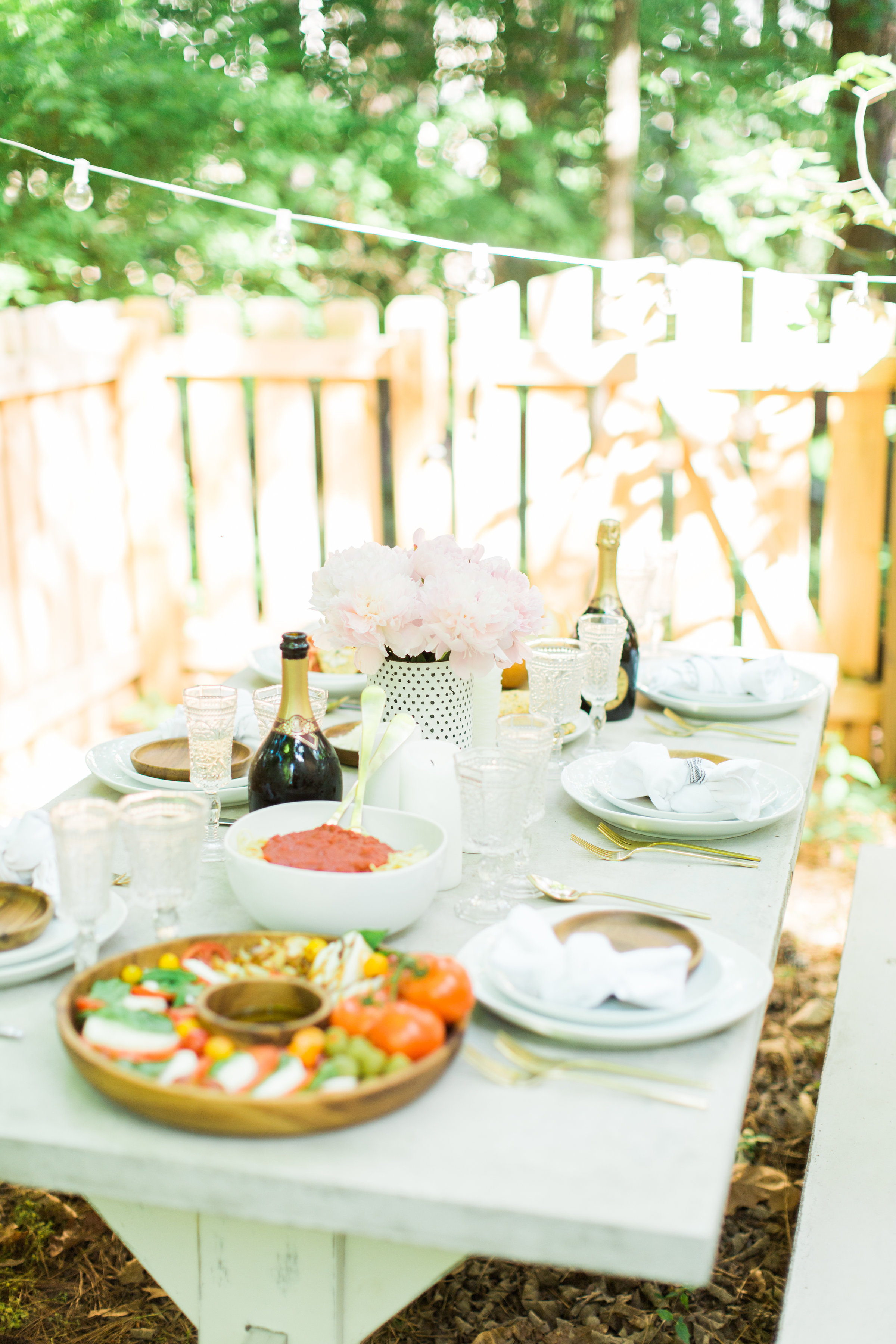 … and eating. Plenty of eating.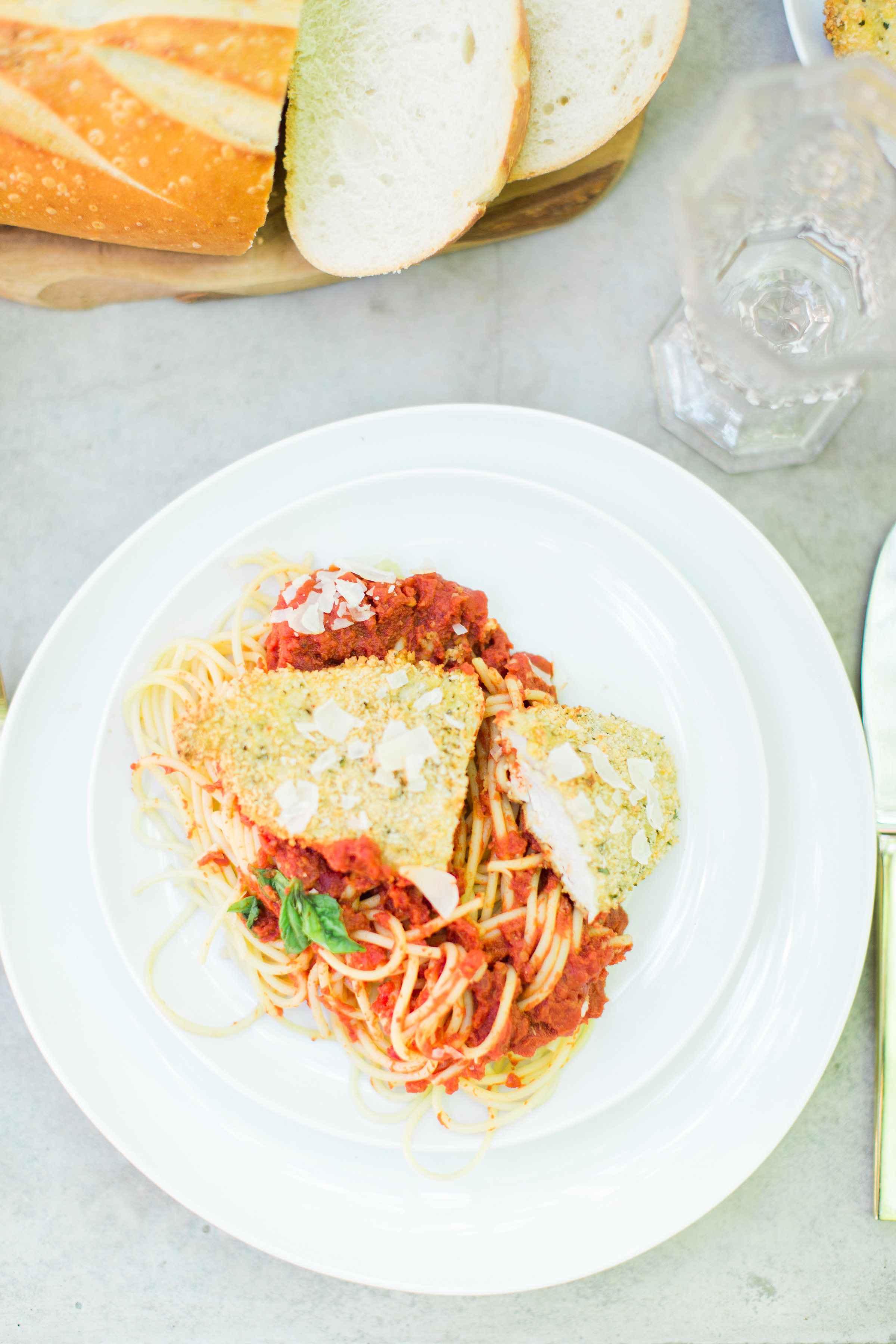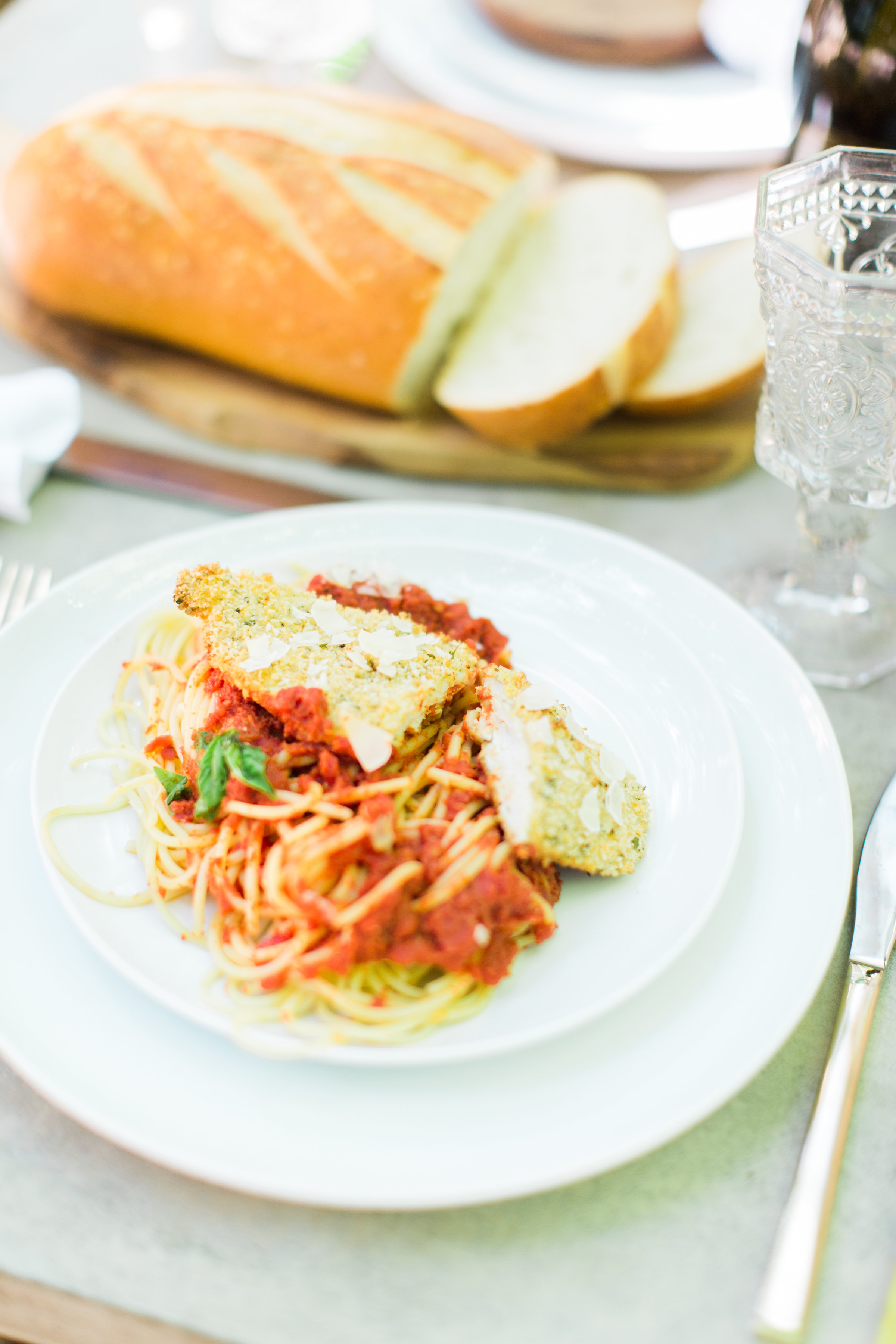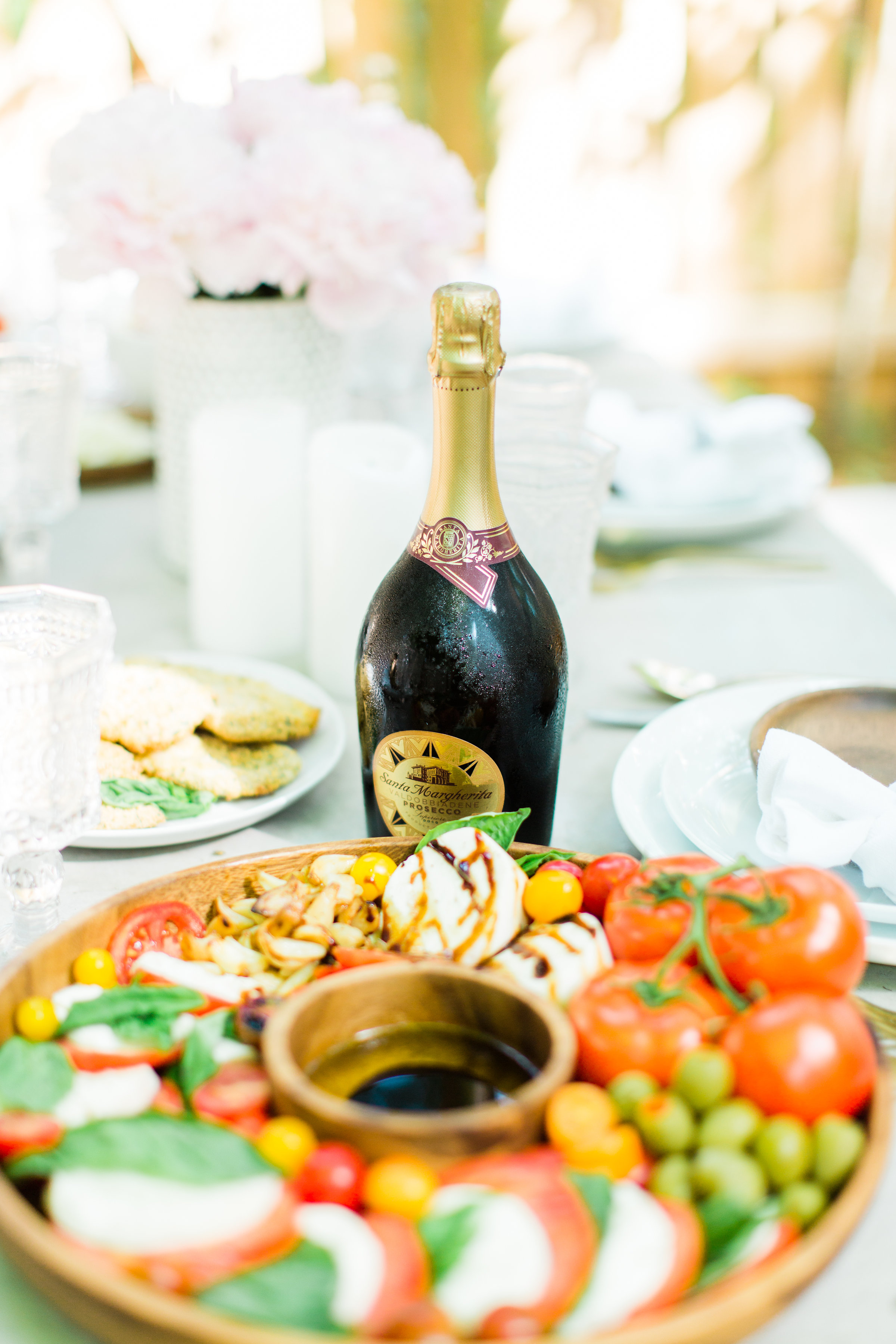 You can find the recipe for the delicious 3-ingredient tomato butter sauce, the one chefs and food bloggers alike adore, here.
Love this celebration? Check out all of our parties here; and if you throw your own spaghetti dinner party, be sure to tag me on social media (@glitterinclexi) so I can live vicariously through all of your fun soirées!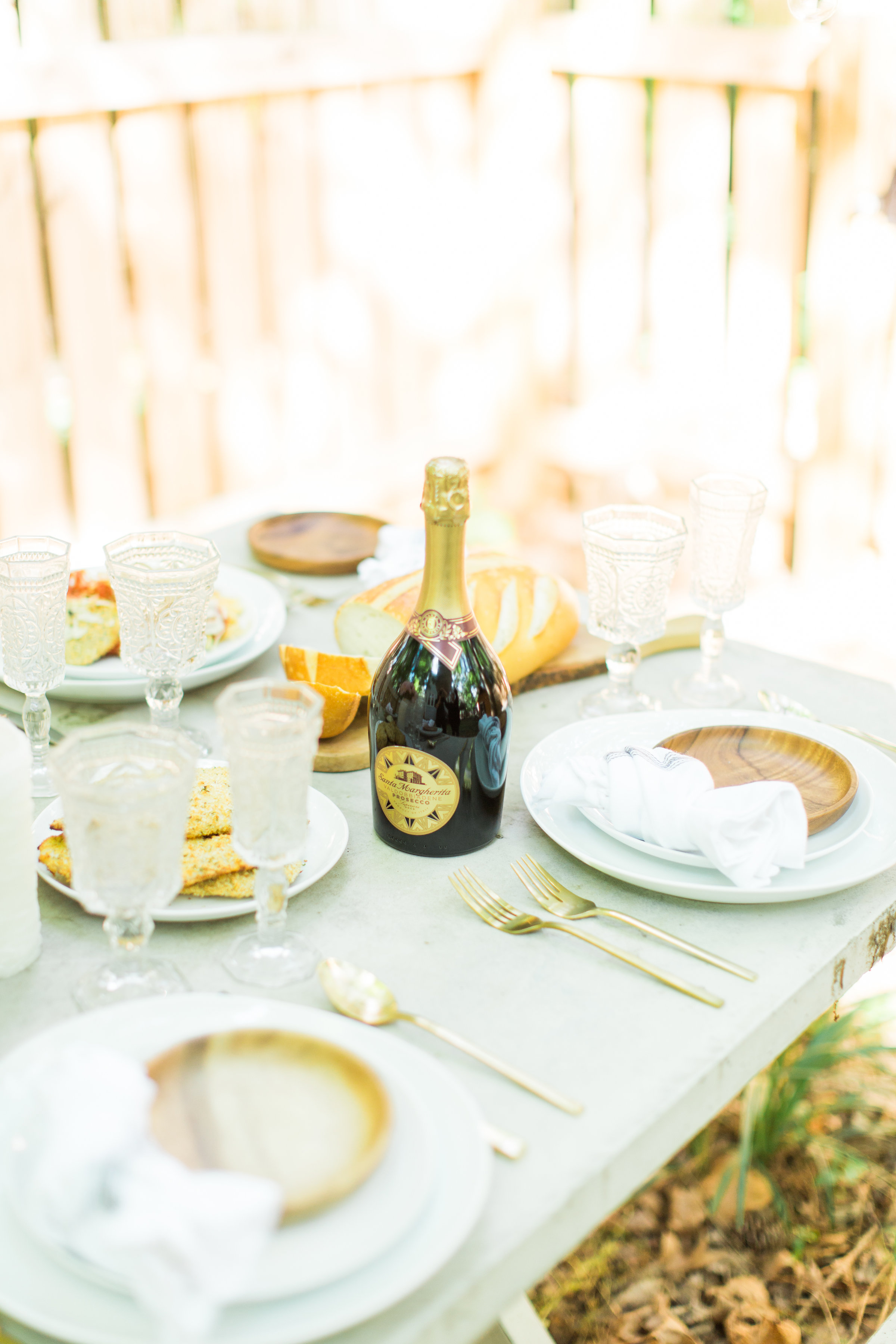 Big thanks to Santa Margherita for supplying the delicious Prosecco Superiore DOCG!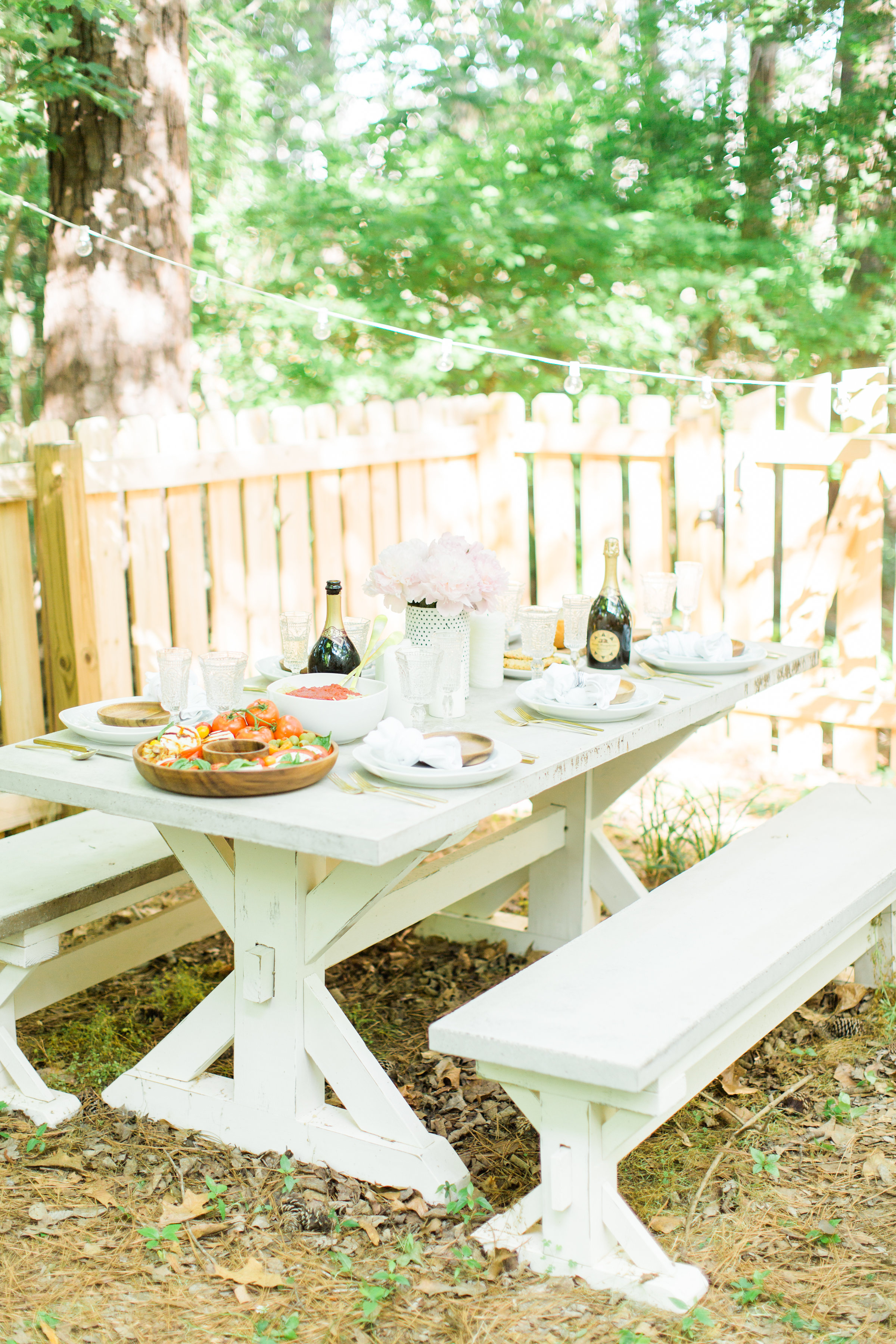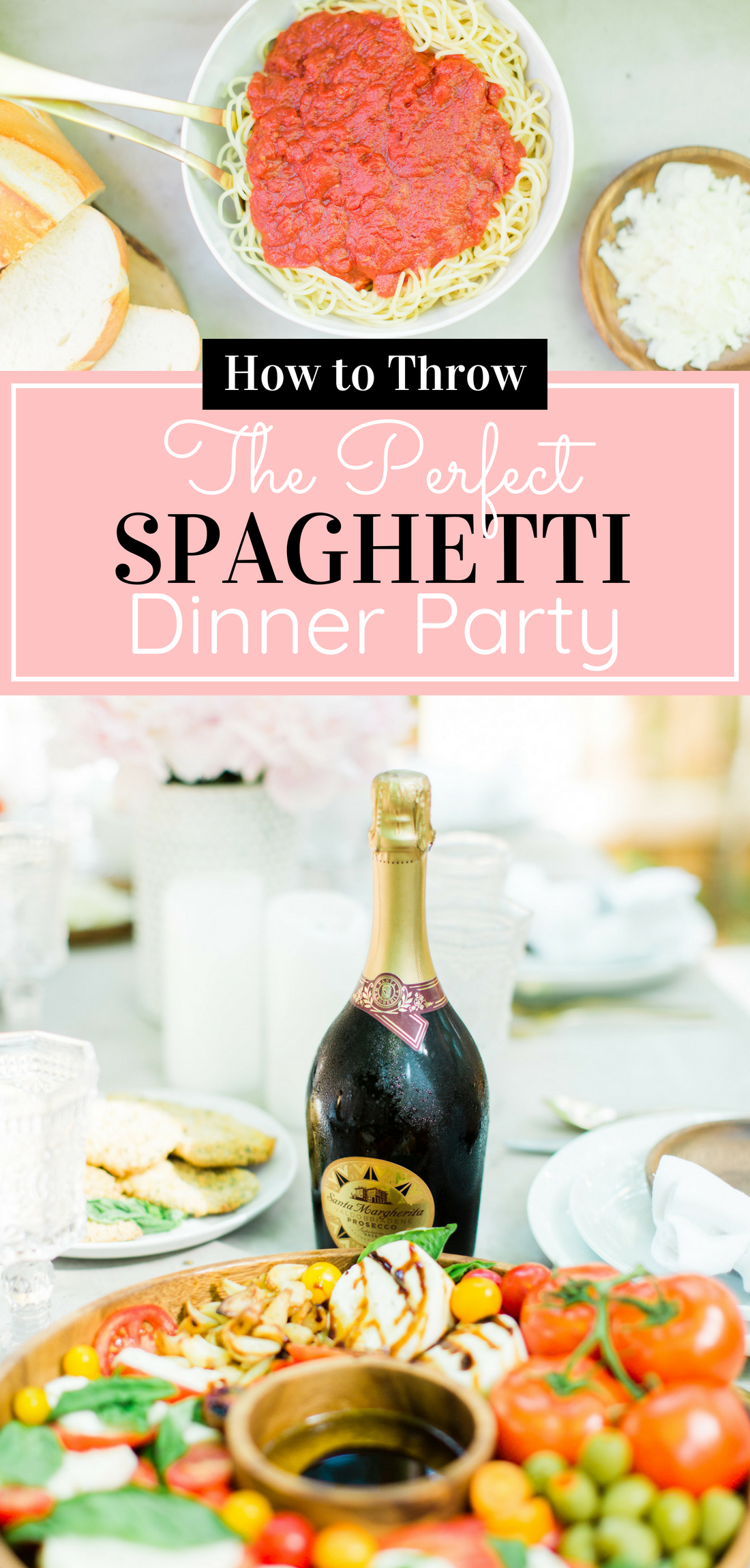 SHOP THE SPAGHETTI DINNER PARTY POST | CLICK LEFT & RIGHT ARROWS TO EXPLORE
Photos by Annie Watts Photography for Glitter, Inc. // Table and benches via Farm to Tables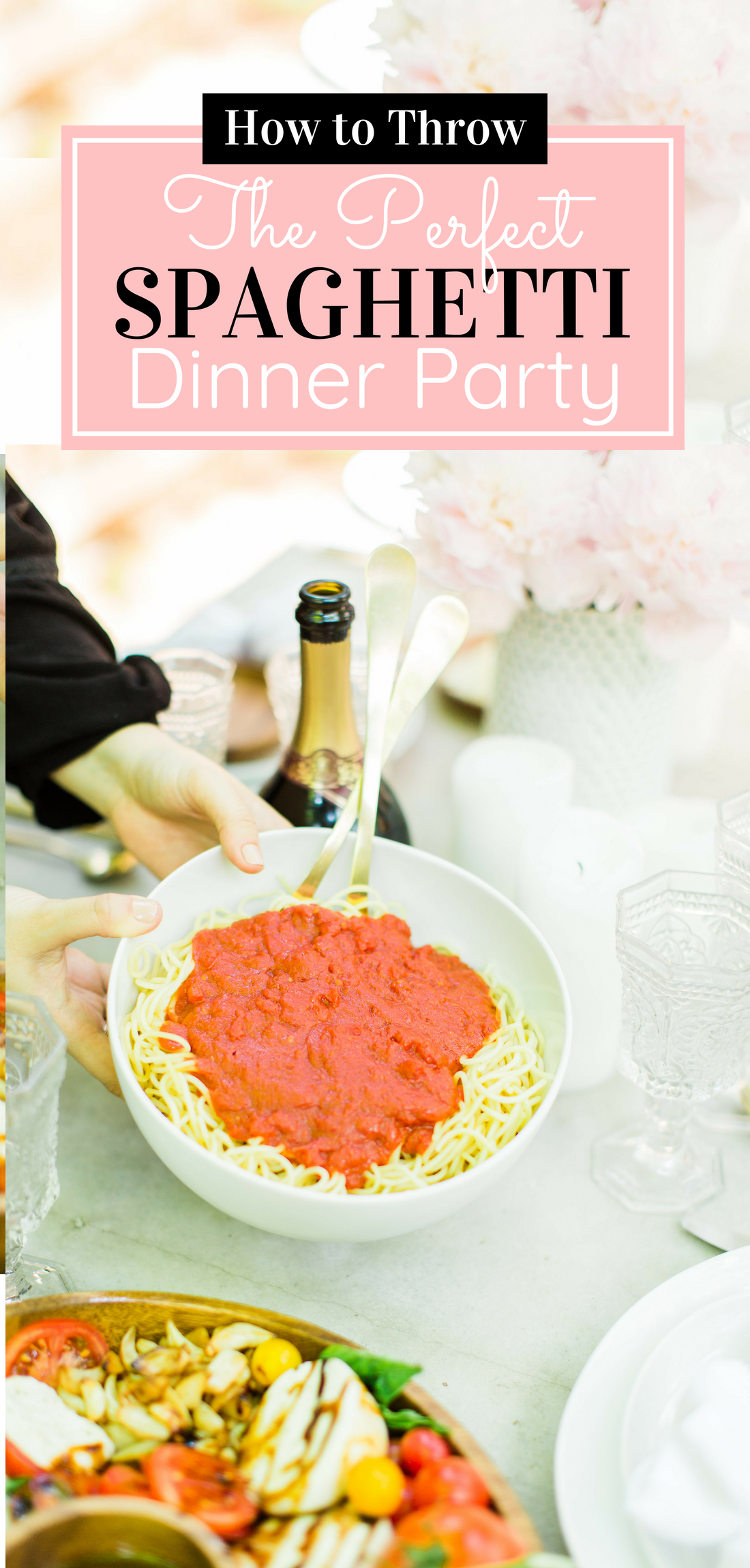 SaveSave
SaveSave
SaveSave