This post contains affiliate links, which means that if you click on one of the product links, I'll receive a small commission. Additionally, as an Amazon Associate I earn from qualifying purchases. Thank you so much for clicking through and helping to support this little blog business of mine! Read more about our site, privacy, and disclosure policies here.
Sharing a peek at our weekend getaway to Maine to celebrate our 10th wedding anniversary, plus a mini Halloween party, a trip to the apple farm, and the last of the gorgeous New England Fall foliage.
Last weekend we piled up in the car and ran away to our family's house in Maine. Last week felt like the longest week and we all needed the break. (Although this week is giving last week a run for it's money.)
A Weekend Getaway to Maine
Lucky for us, Friday was our 10th wedding anniversary, so it was the perfect time to get away for a mini vacation celebration.
Plus, it's hard to resist a weekend at the beach when the house is just a little over three hours from Boston. 😍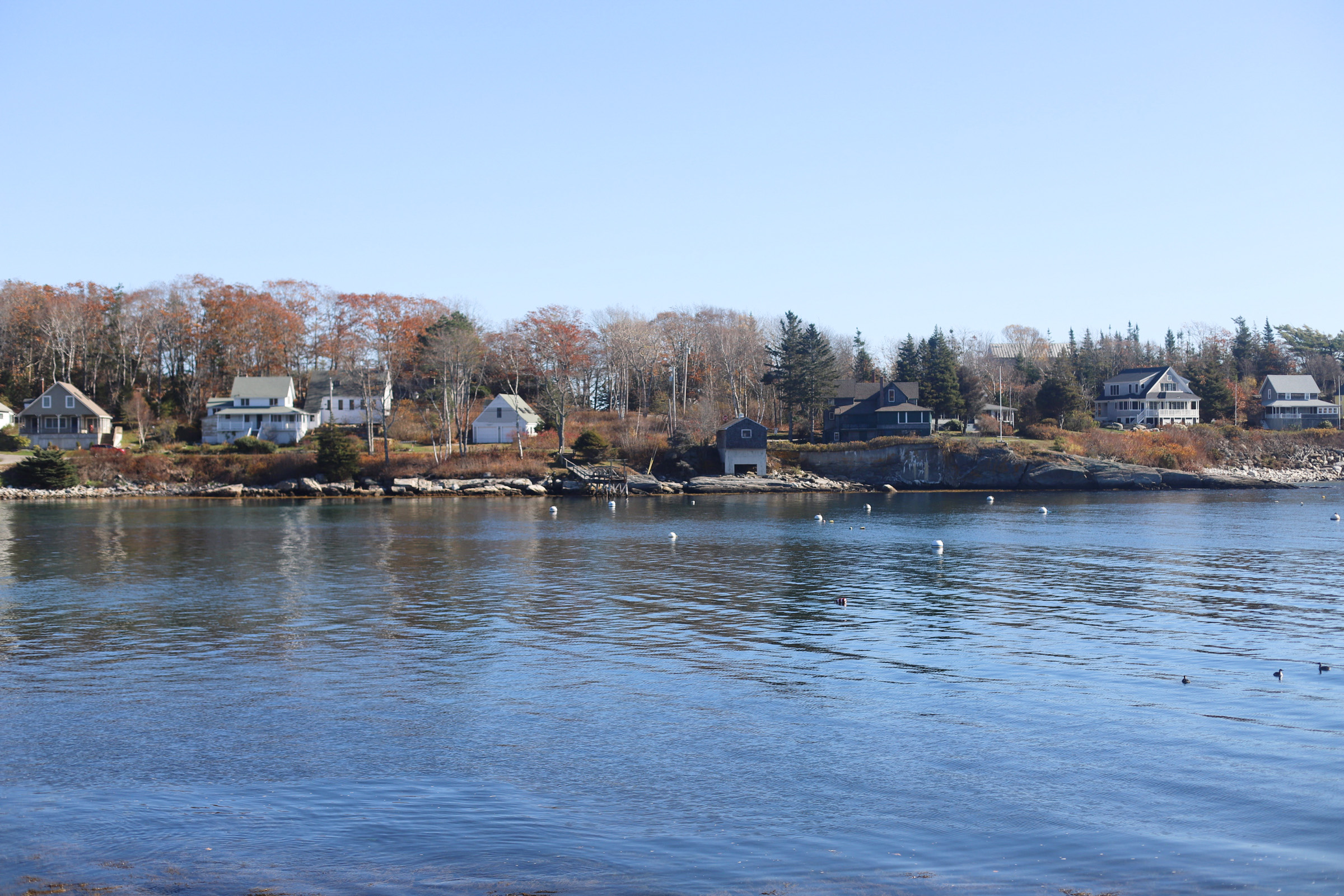 Maine is easily one of my favorite places in the fall. If you can catch it before the trees start to shed, the fall foliage up in Maine is stunning. The colors are brilliant and driving or wandering through the endless rows of trees, seeing all of the fall colors along the ocean and lakes, it's all kind of surreal and so picturesque. We love it so much, we actually got married in Maine in the fall … ten years ago to be exact.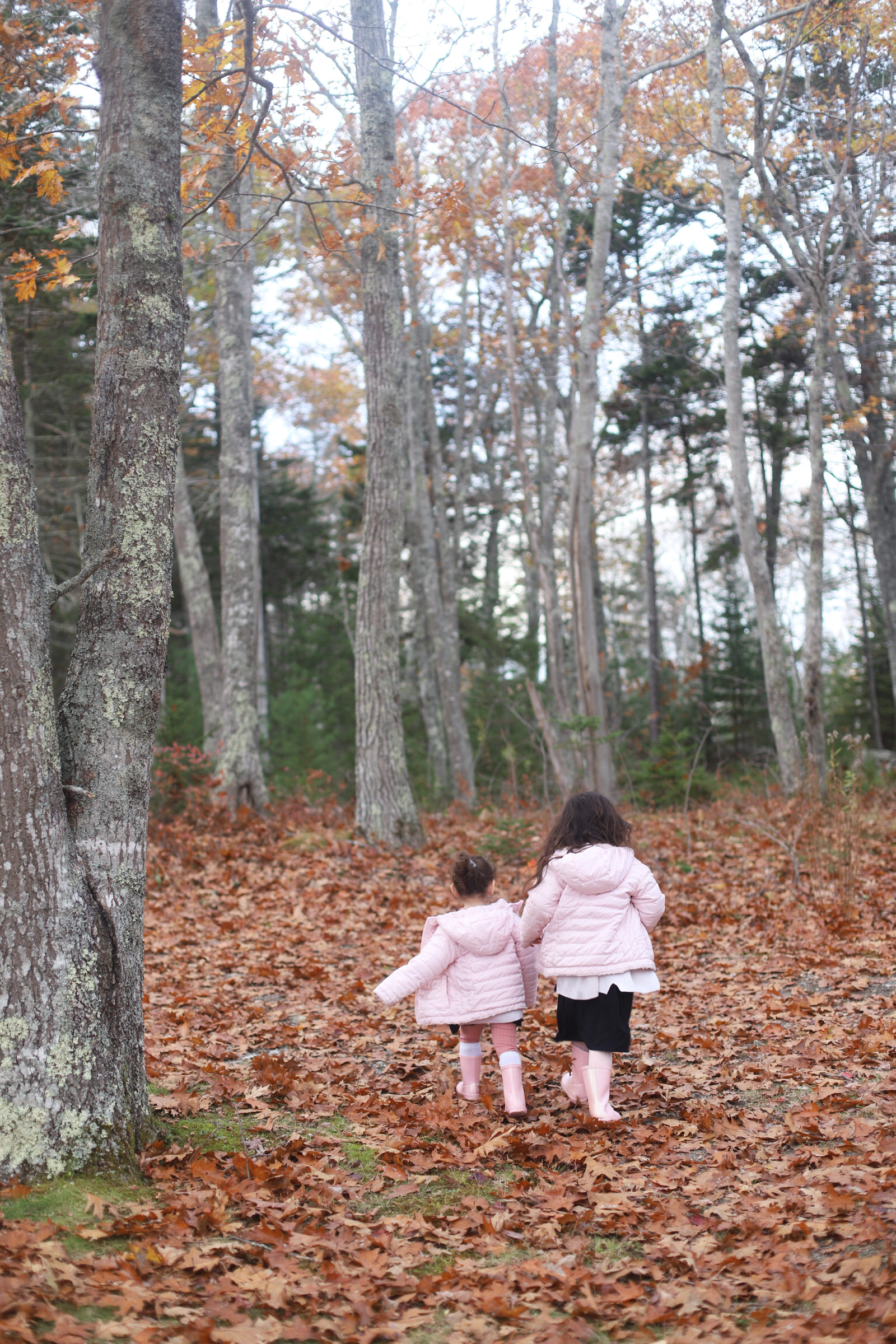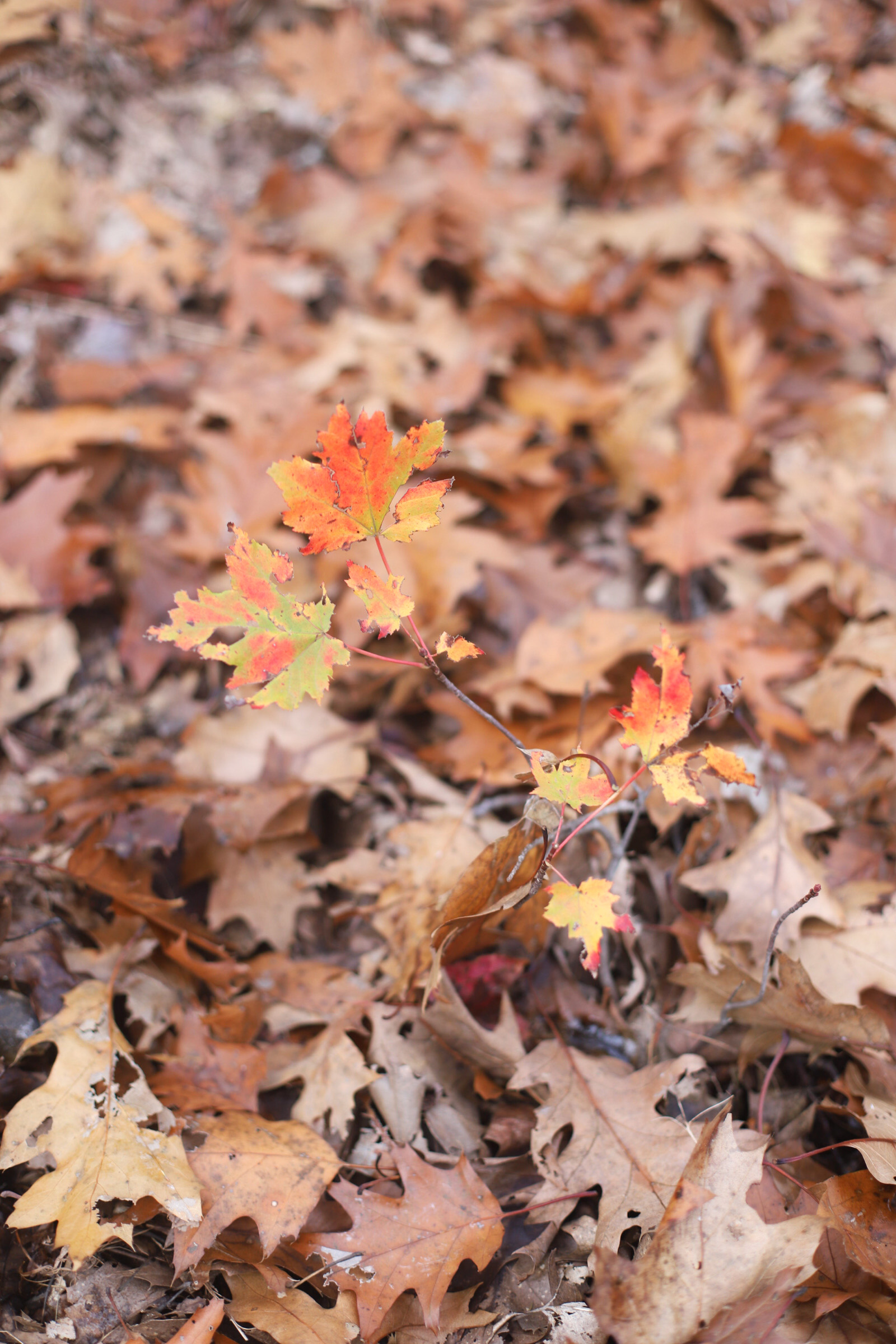 Coming from a big city also means that our kids are practically falling out of the car and off on a run from the moment we pull up to the house. There's so much room for them to explore and the ocean is literally at the bottom of our hill, so it makes for the perfect landscape for us and them.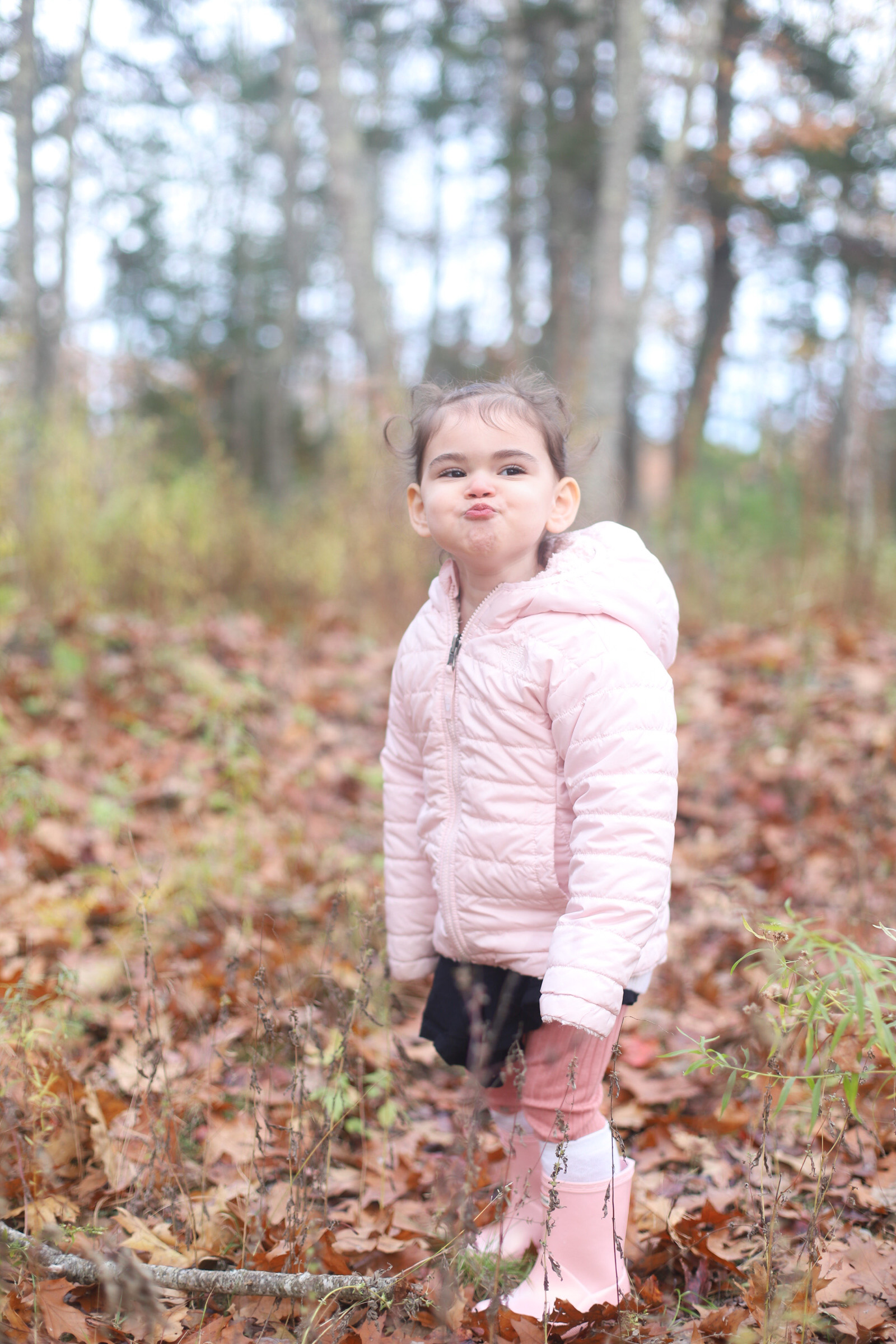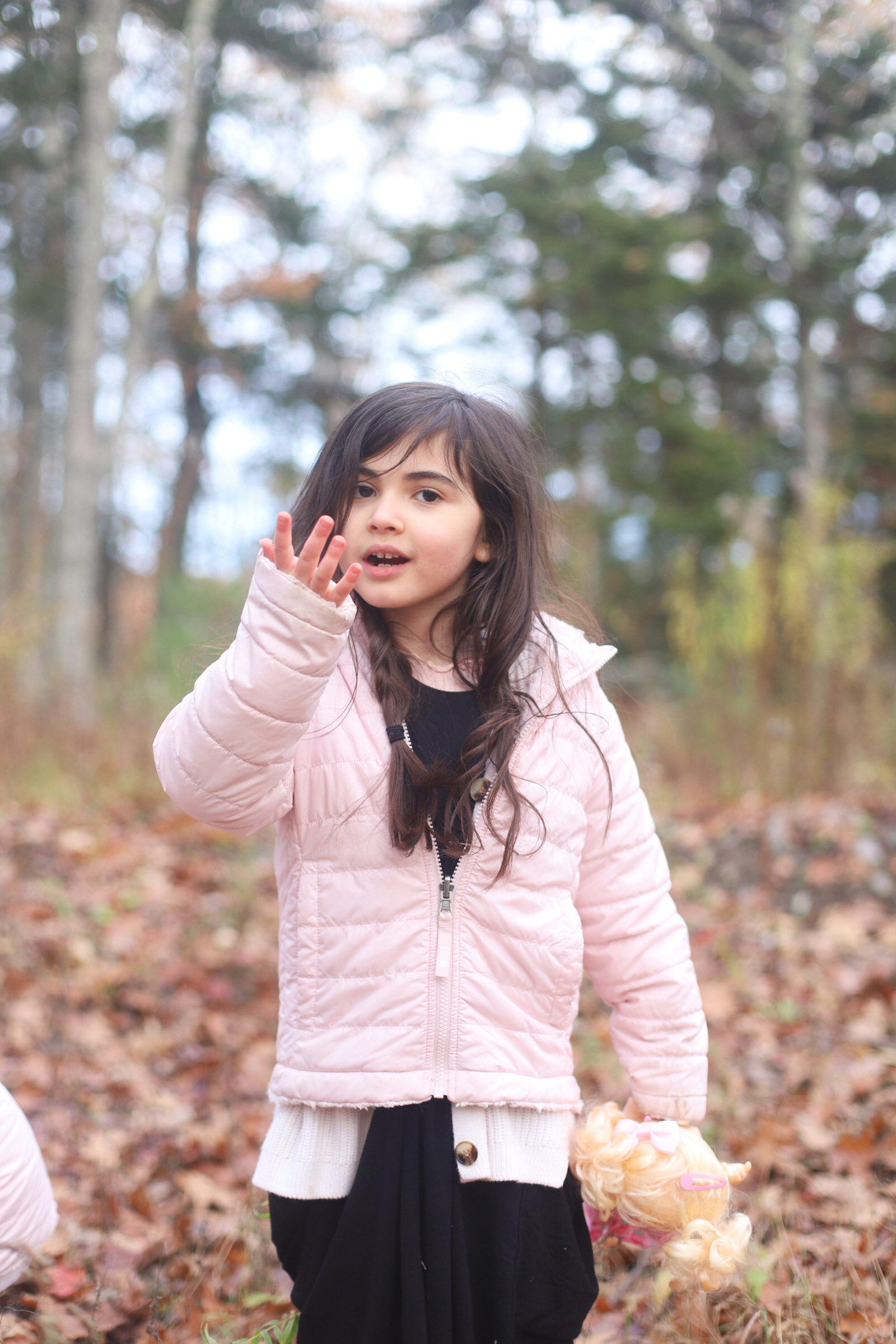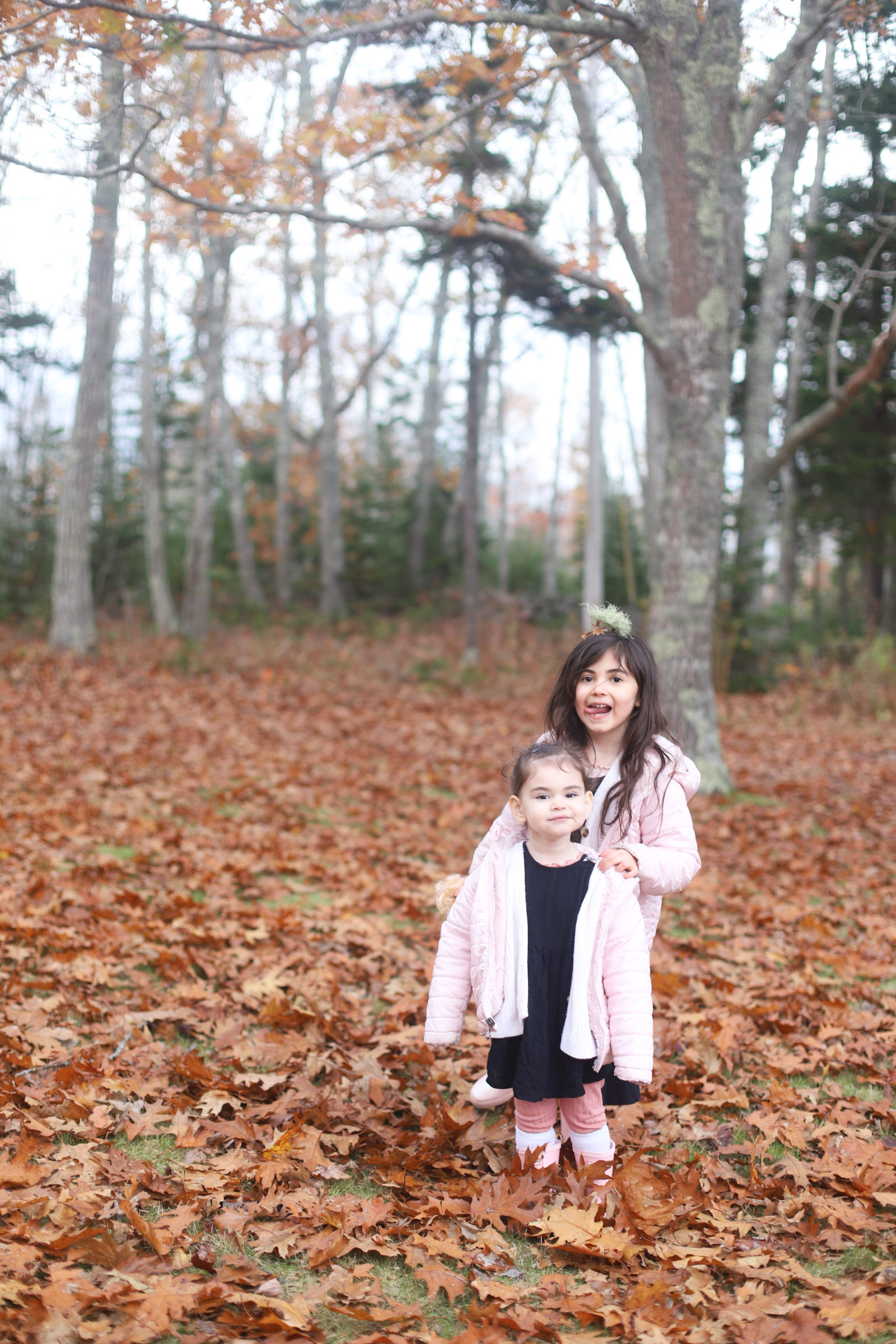 Celebrating Our 10th Wedding Anniversary
As for it being our ten-year wedding anniversary, I still can't believe that we've been married for ten whole years. At times it feels like it's gone by in the blink of an eye. And fun fact: we've actually been together since high school, so our real anniversary is ages older than ten years. 🤣 You can read my sappy love letter to Mike in honor of our 10th wedding anniversary over on Instagram.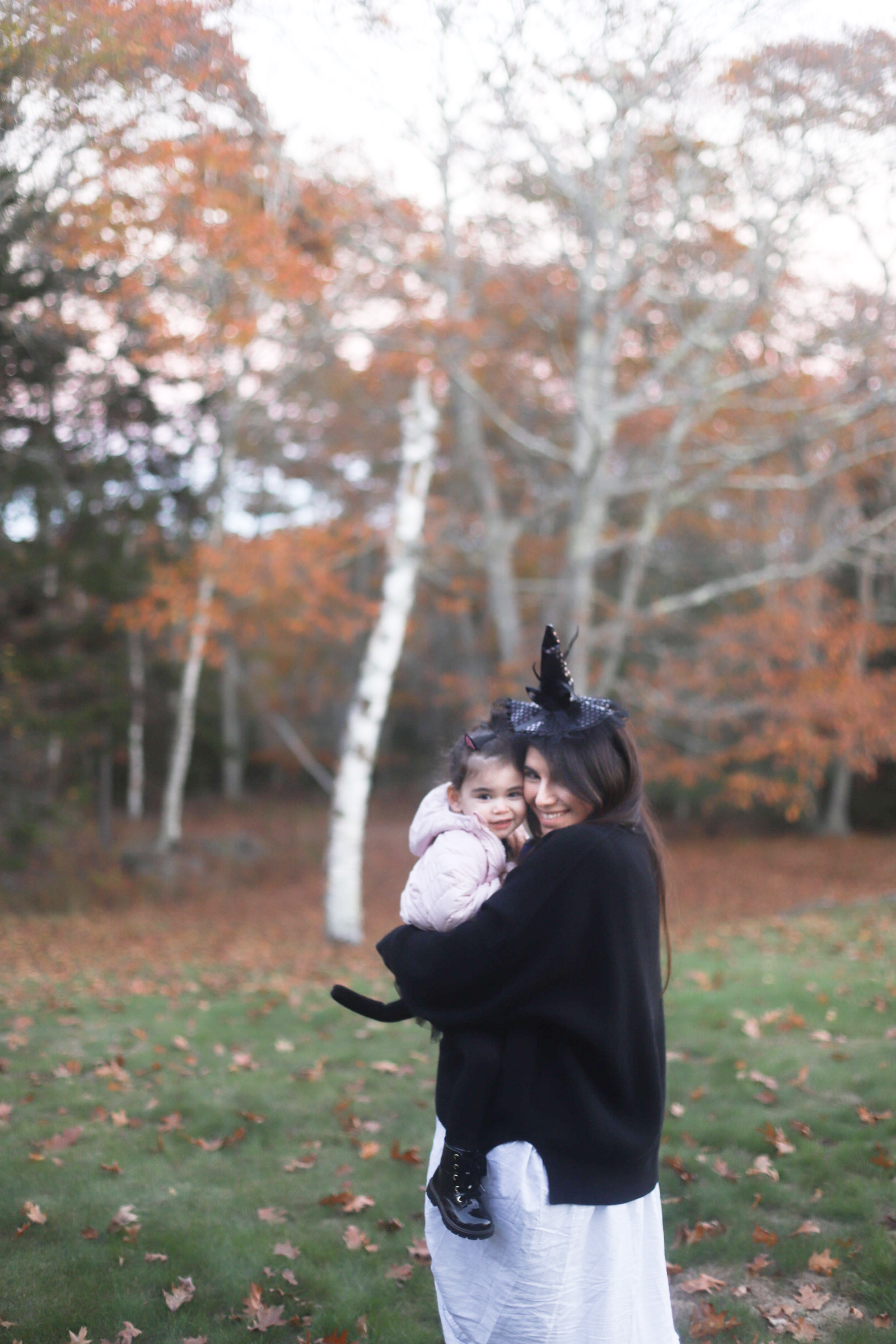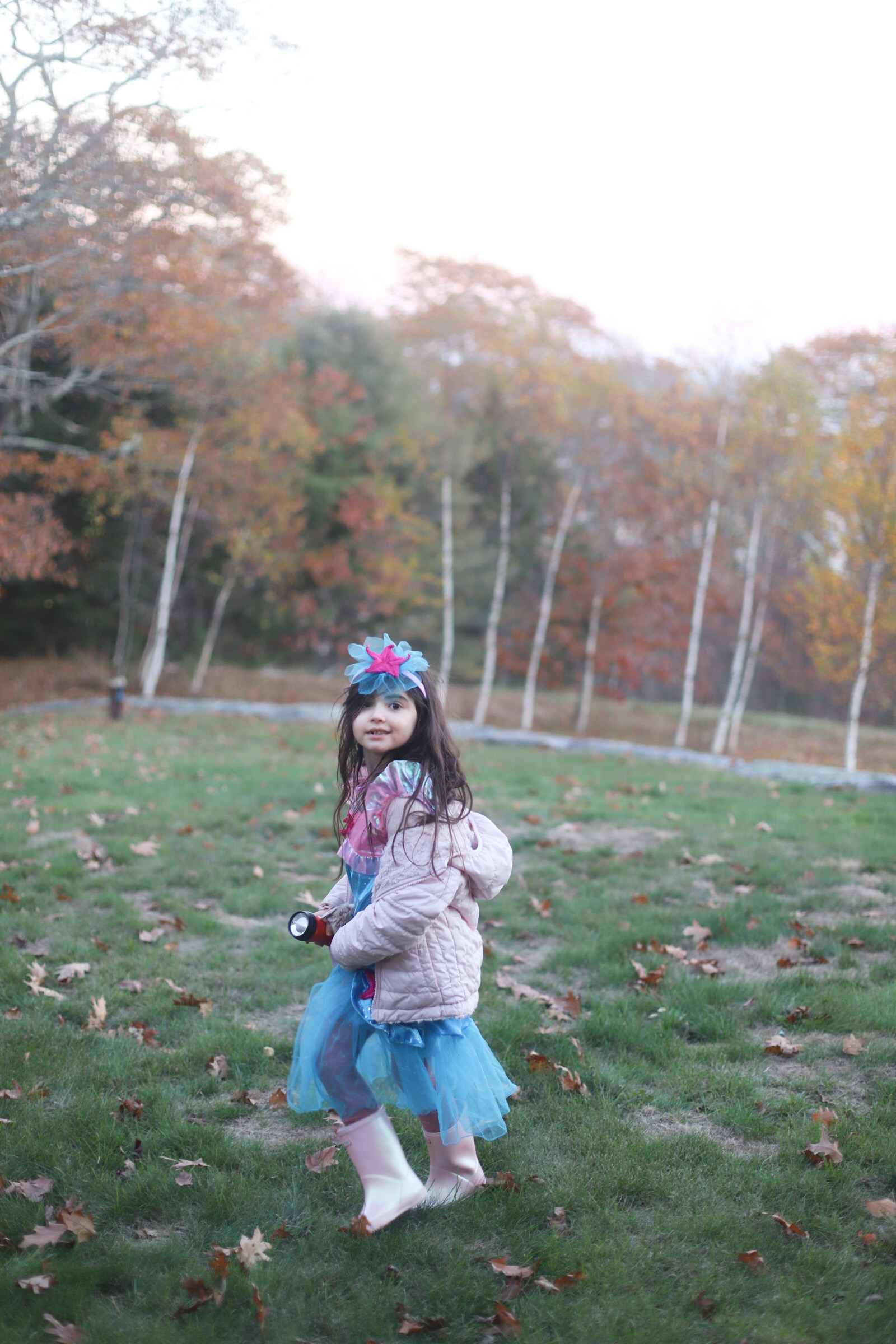 In addition to celebrating our big milestone (with lobster and pie, of course), last Saturday we had a low-key Halloween. One of our goals of getting away for Halloween weekend was to try to make Halloween special for the kids even though we wouldn't be trick-or-treating this year.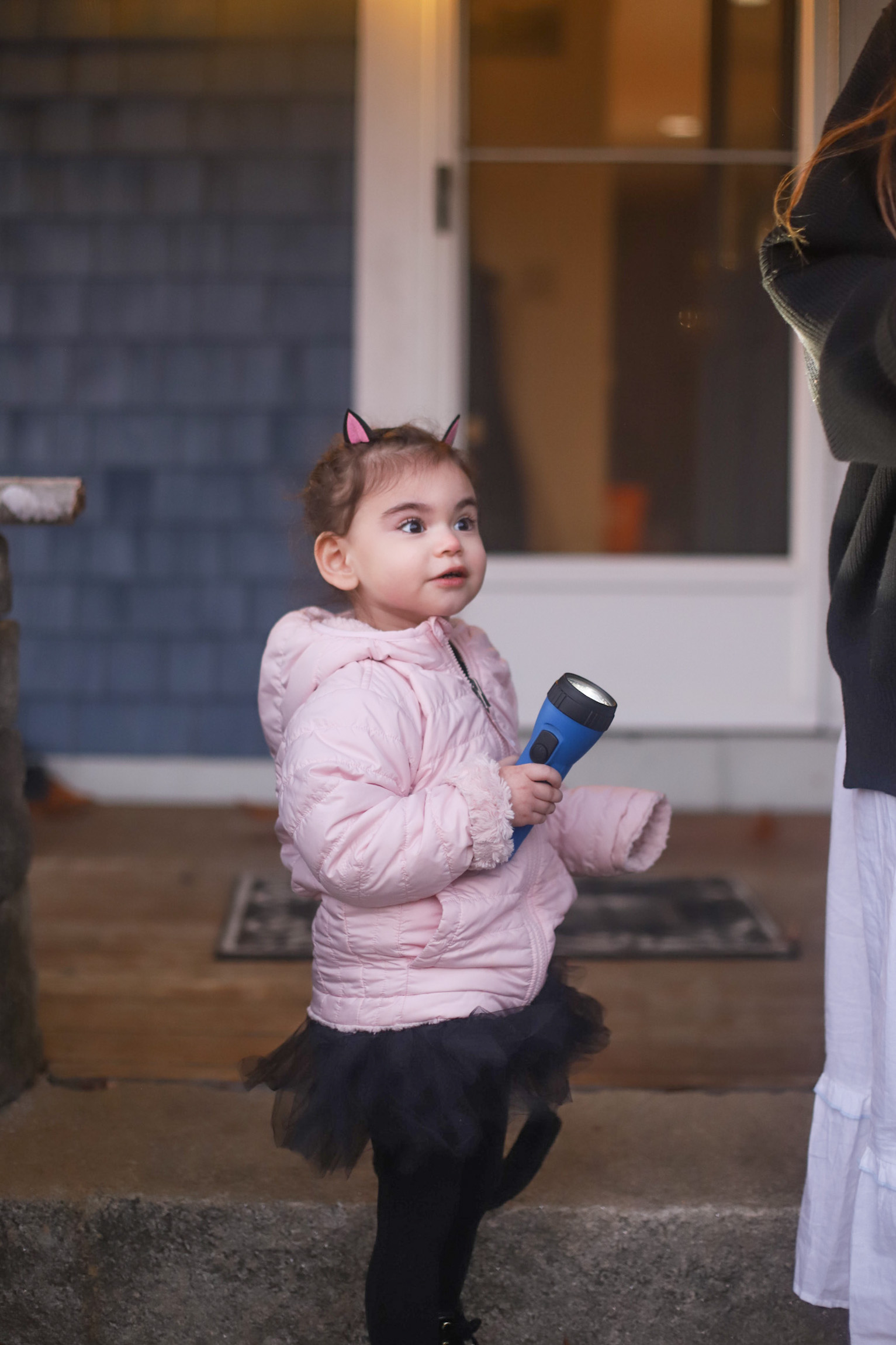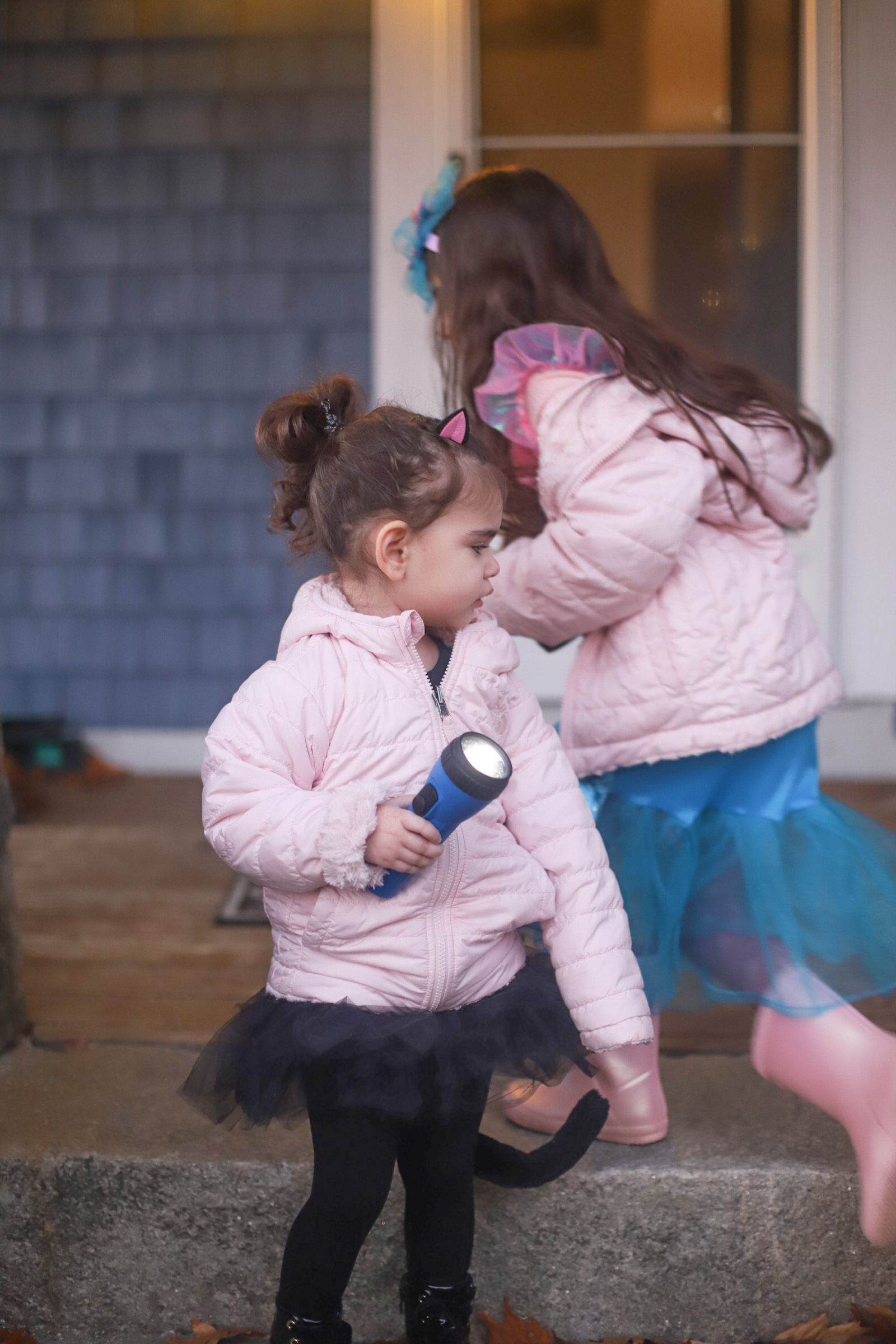 I had a whole fun scavenger hunt planned for the girls around the house. And the kids had SO much fun. I may start doing annual in-home candy scavenger hunts because it was really such a rousing success.
Oh, and Scarlett lost yet another tooth! Cutest little jack-o-lantern ever. 🎃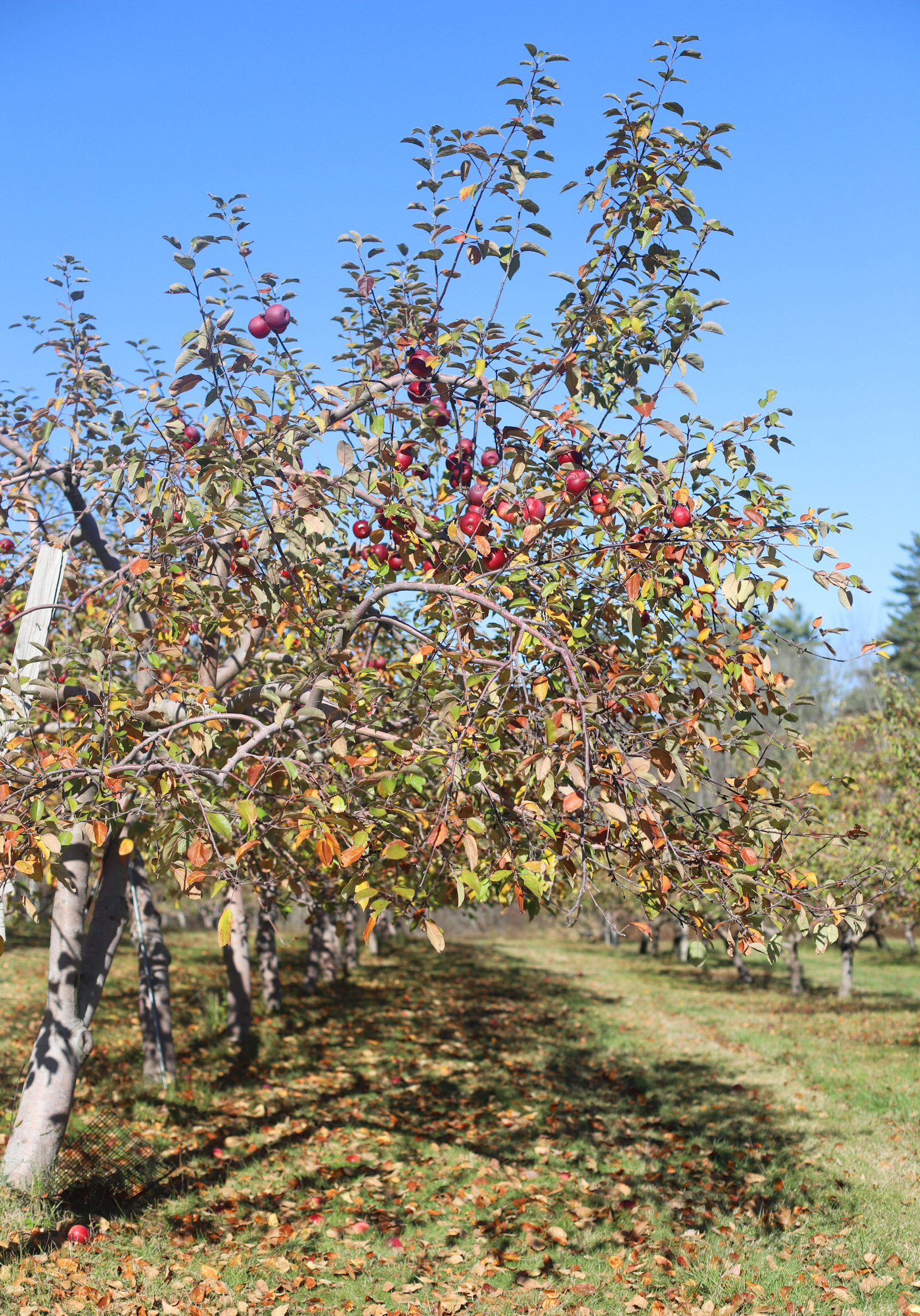 We also went apple-picking at a local orchard near my parents' place.
And even though the orchard itself was closed for the season, the owner was kind enough to let us run through the rows of apple trees and pick a few anyway. (I think Scarlett's mermaid costume won her over!)
It was so pretty to see the apple trees starting to color and drop all of their own gorgeous fall leaves.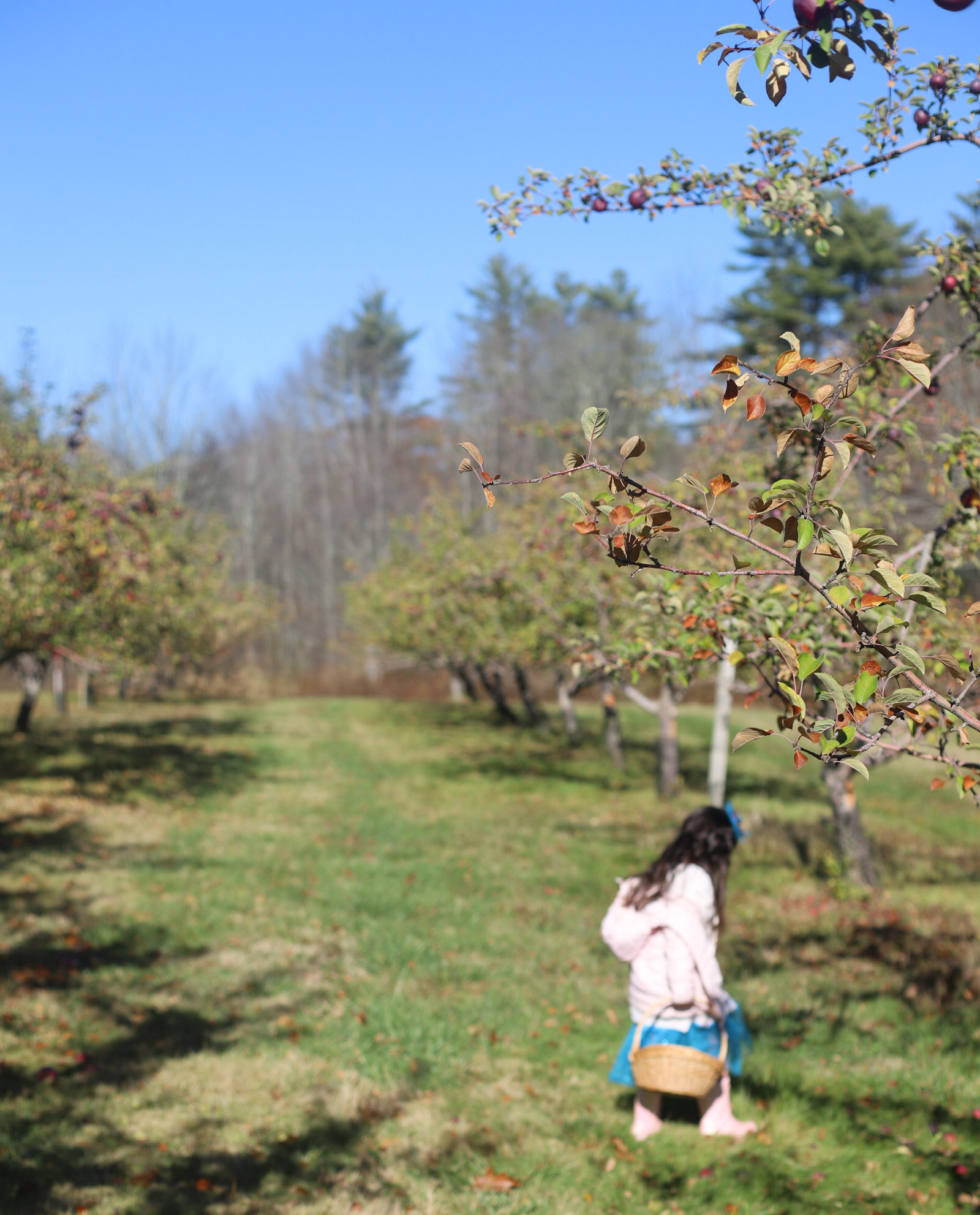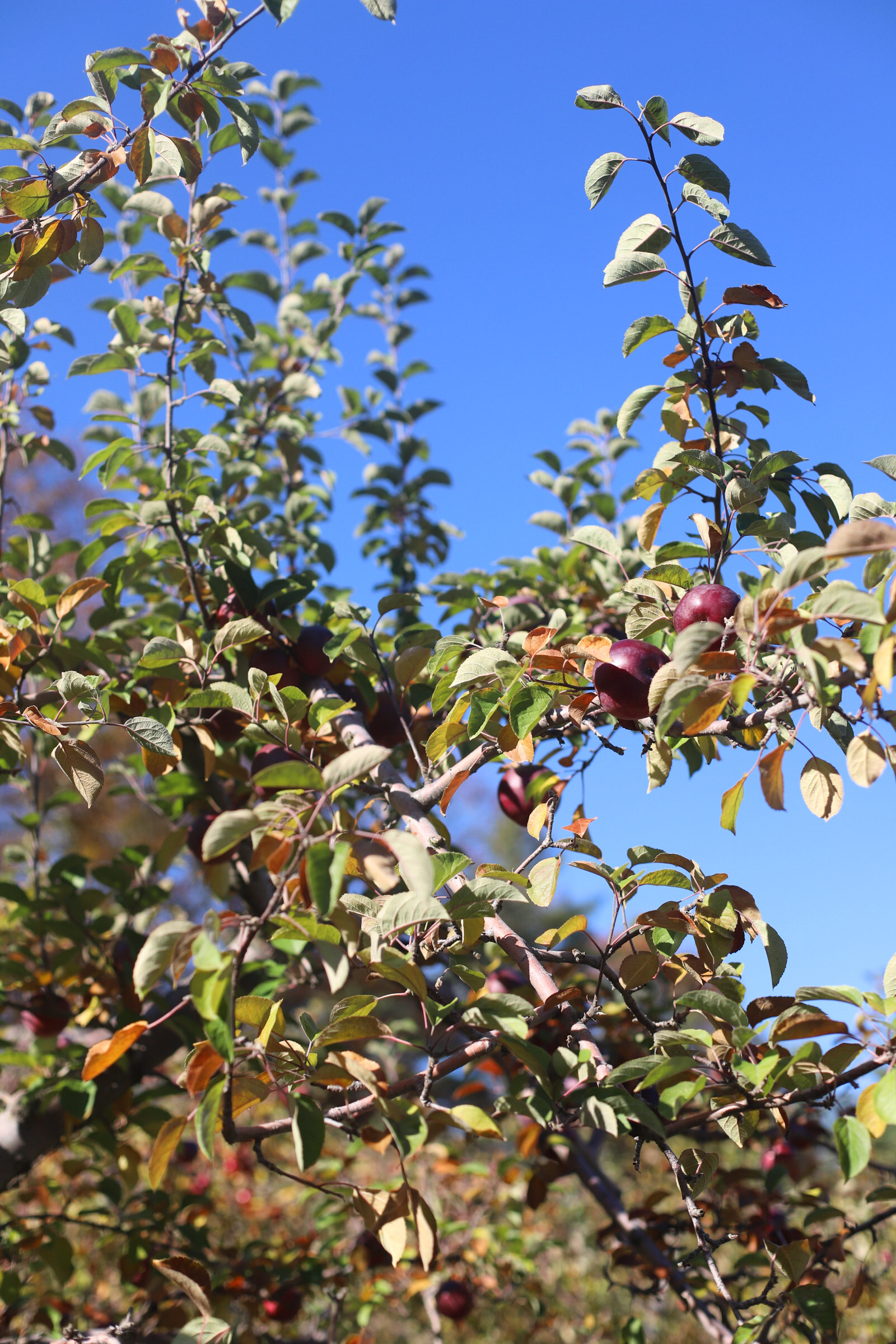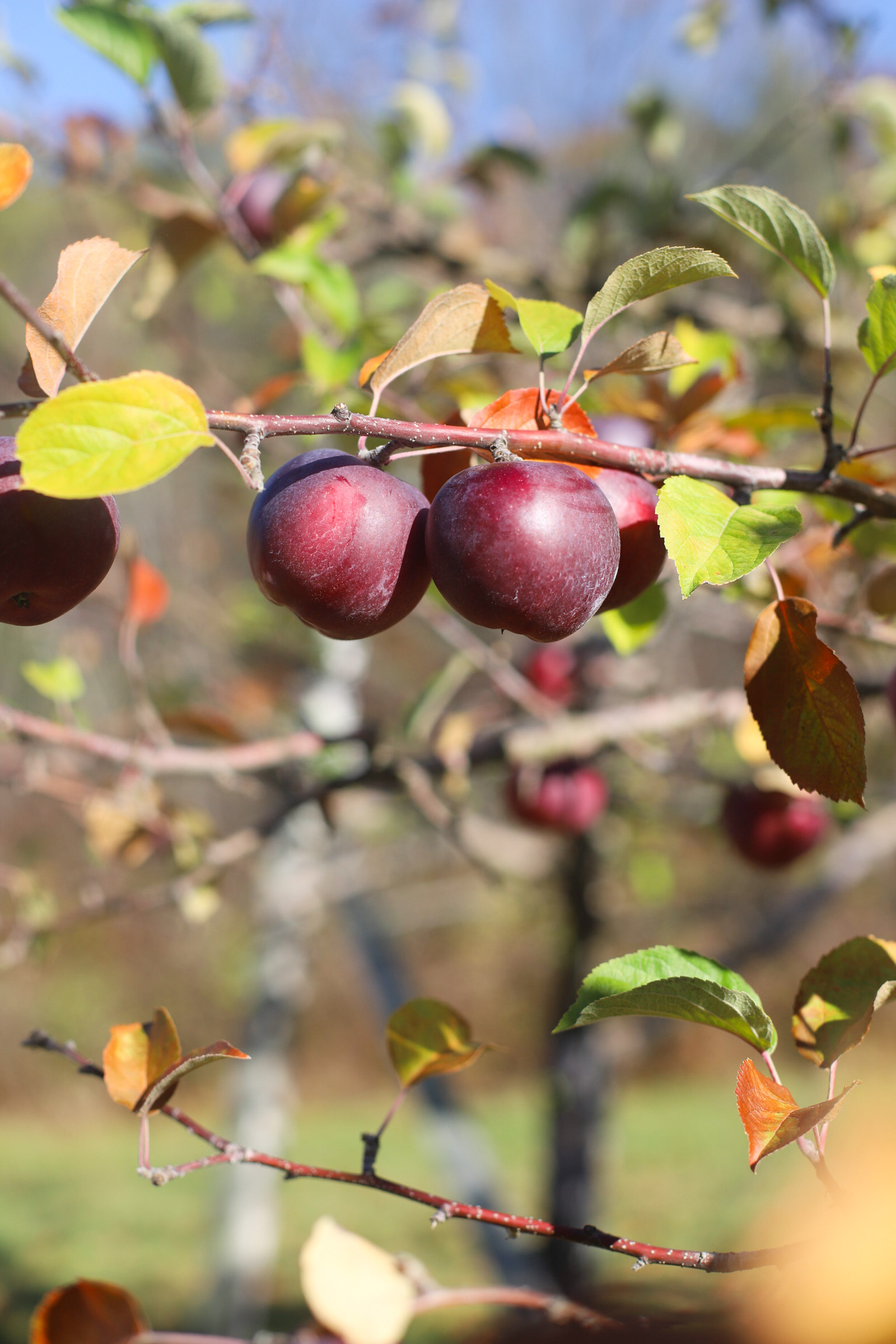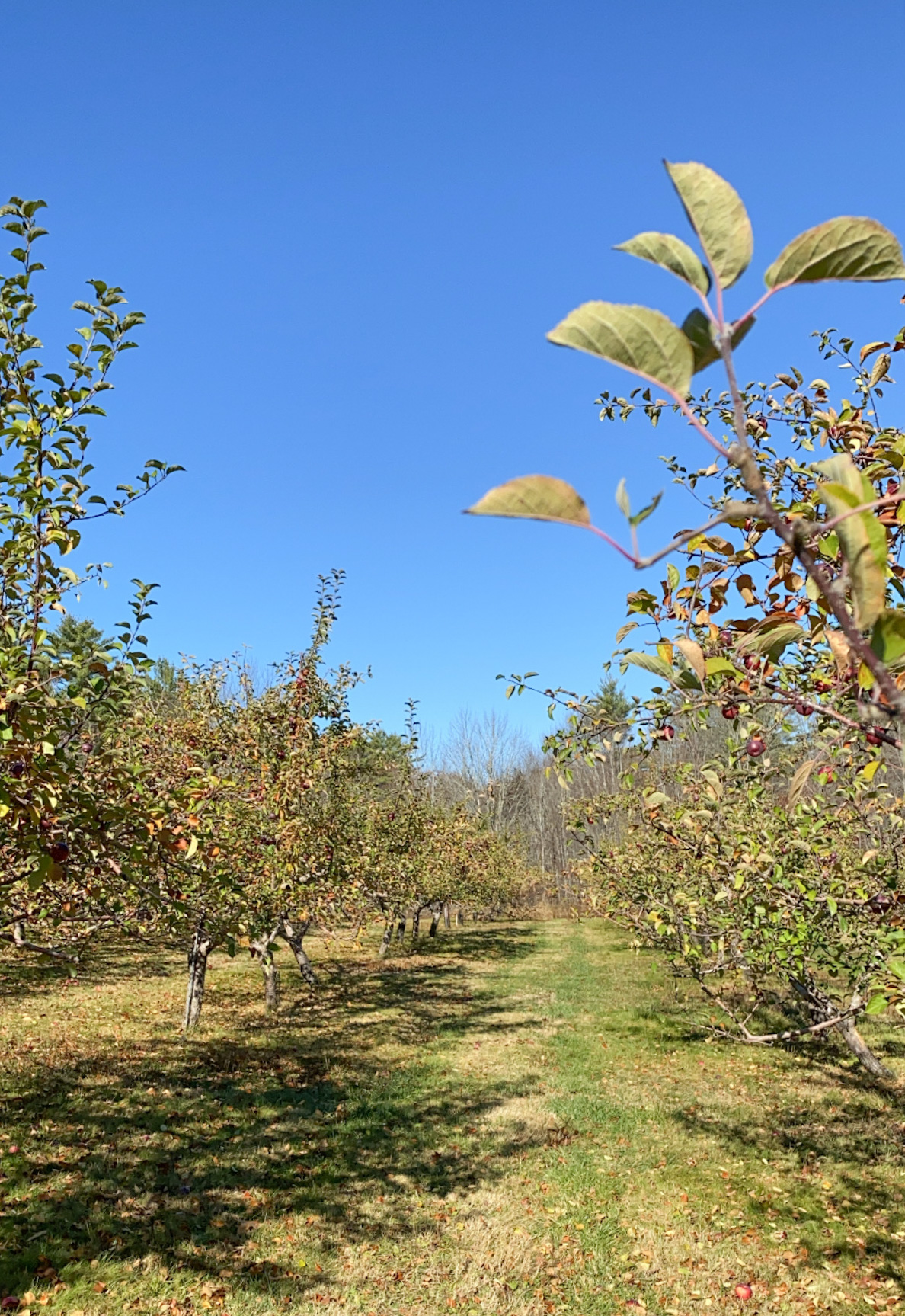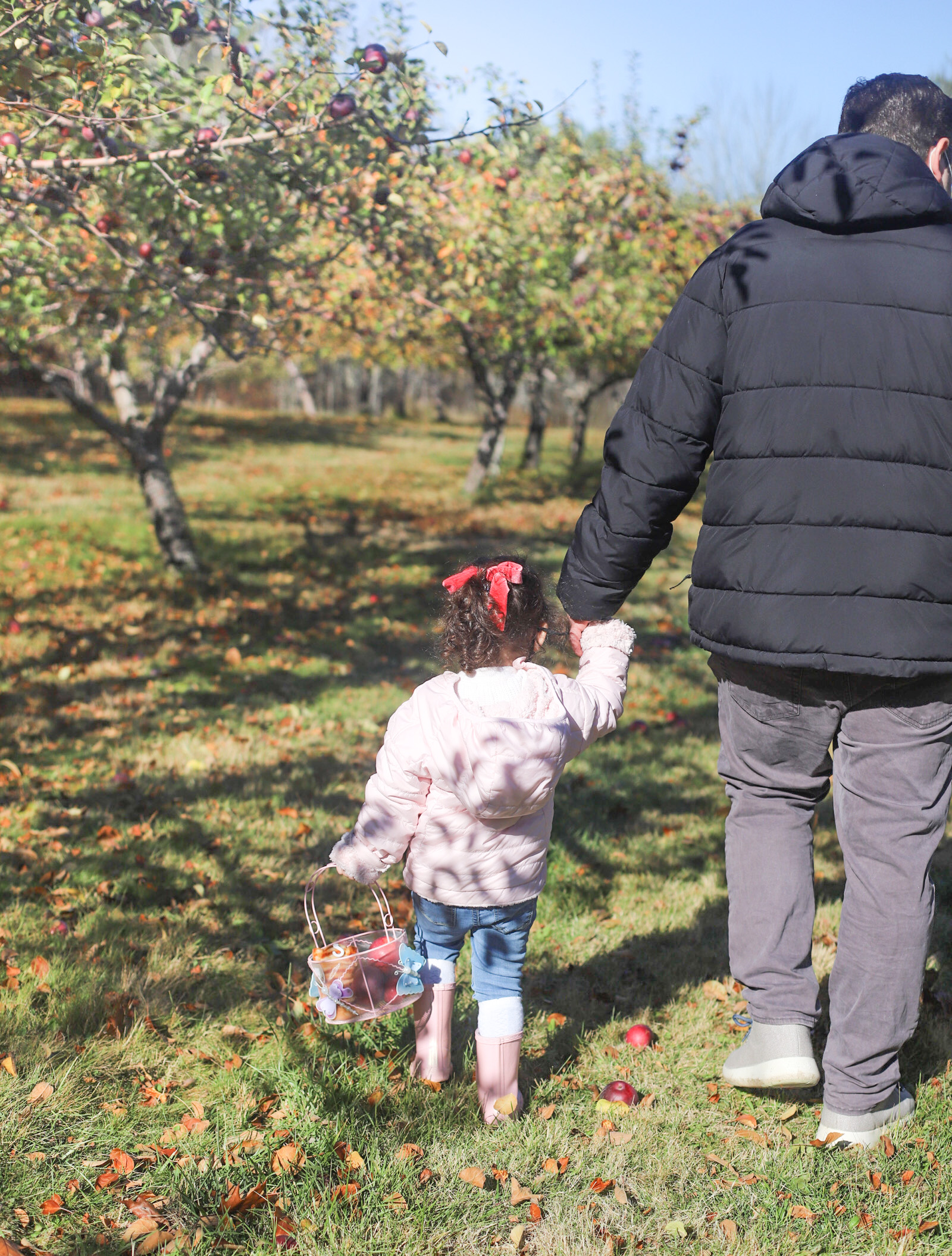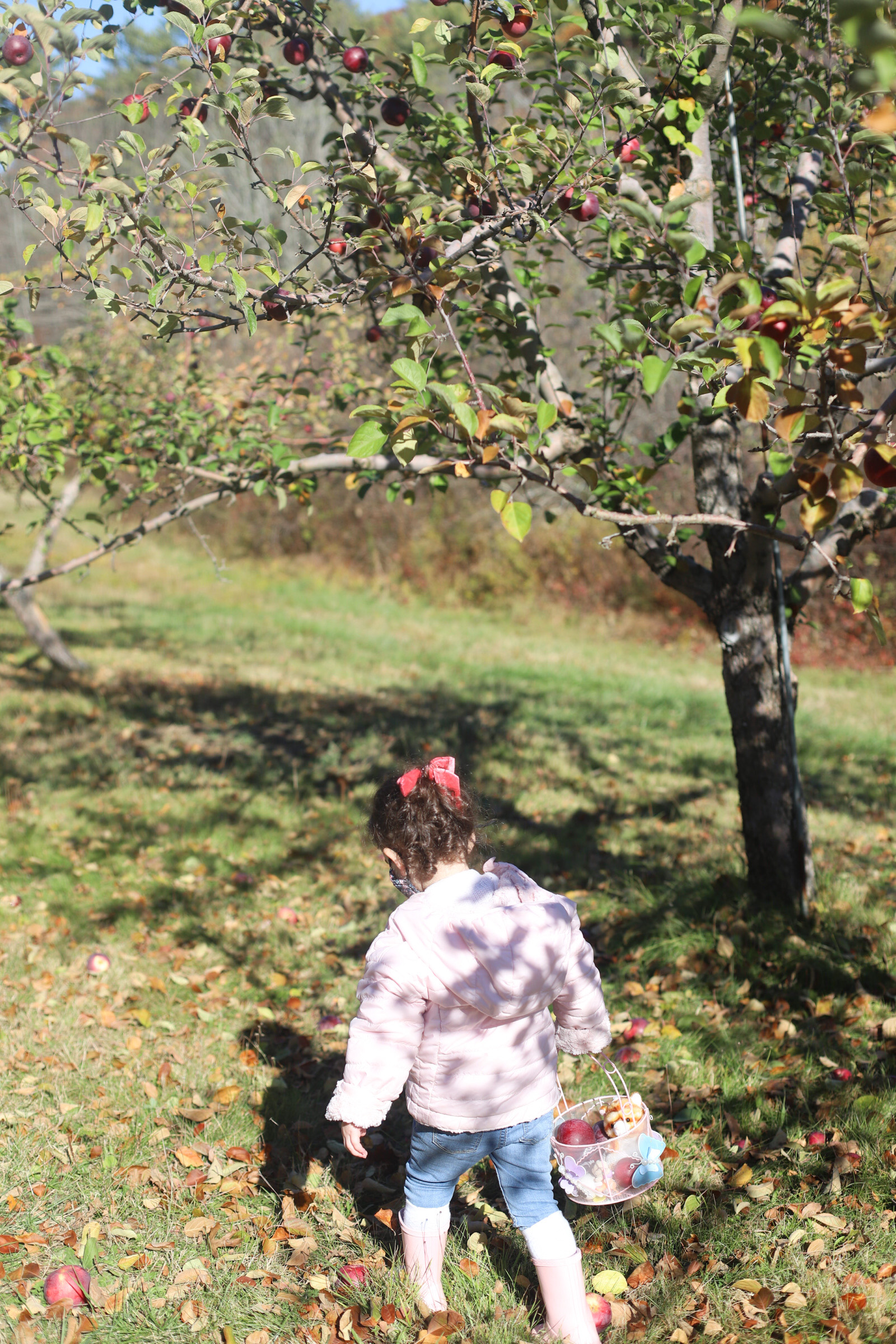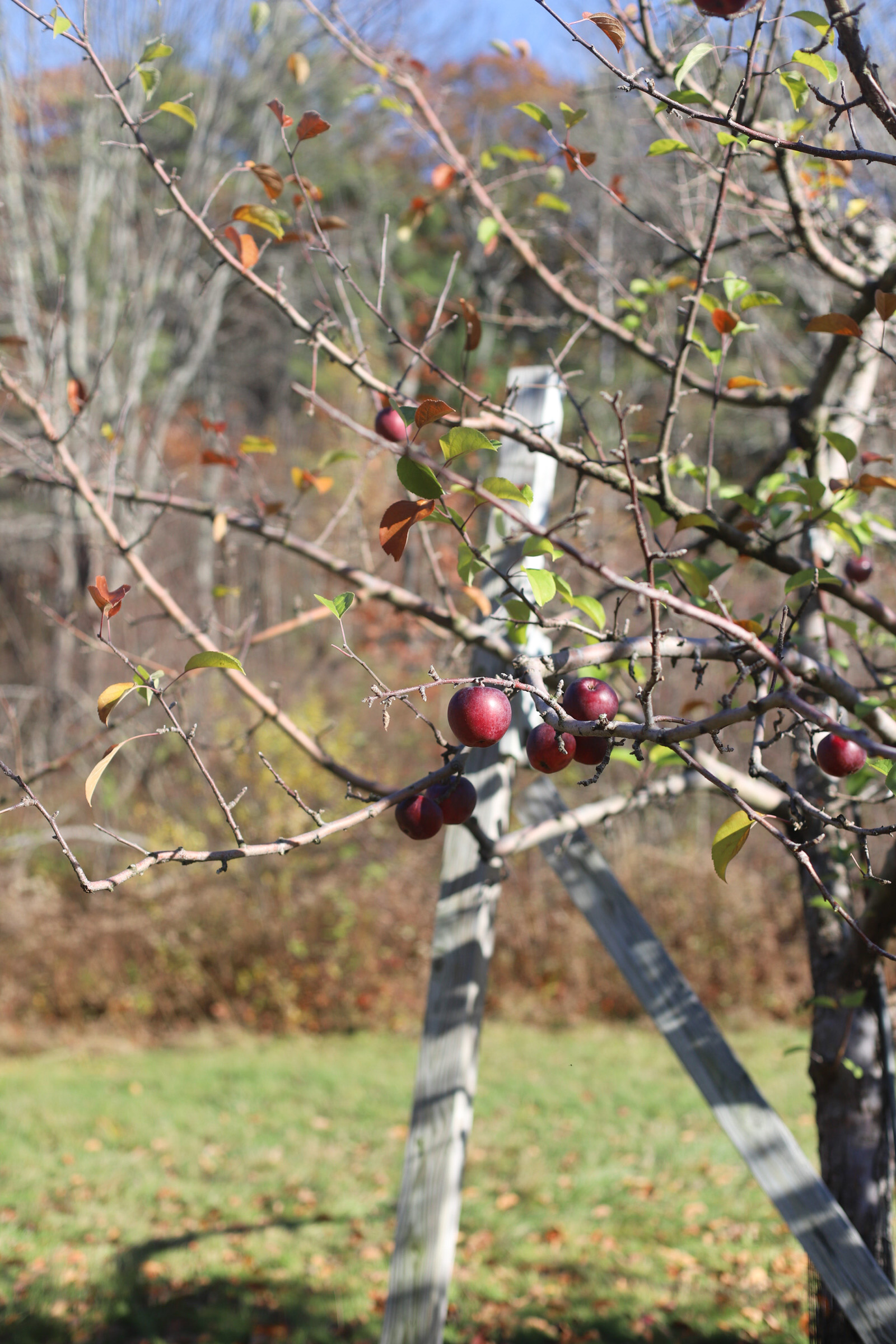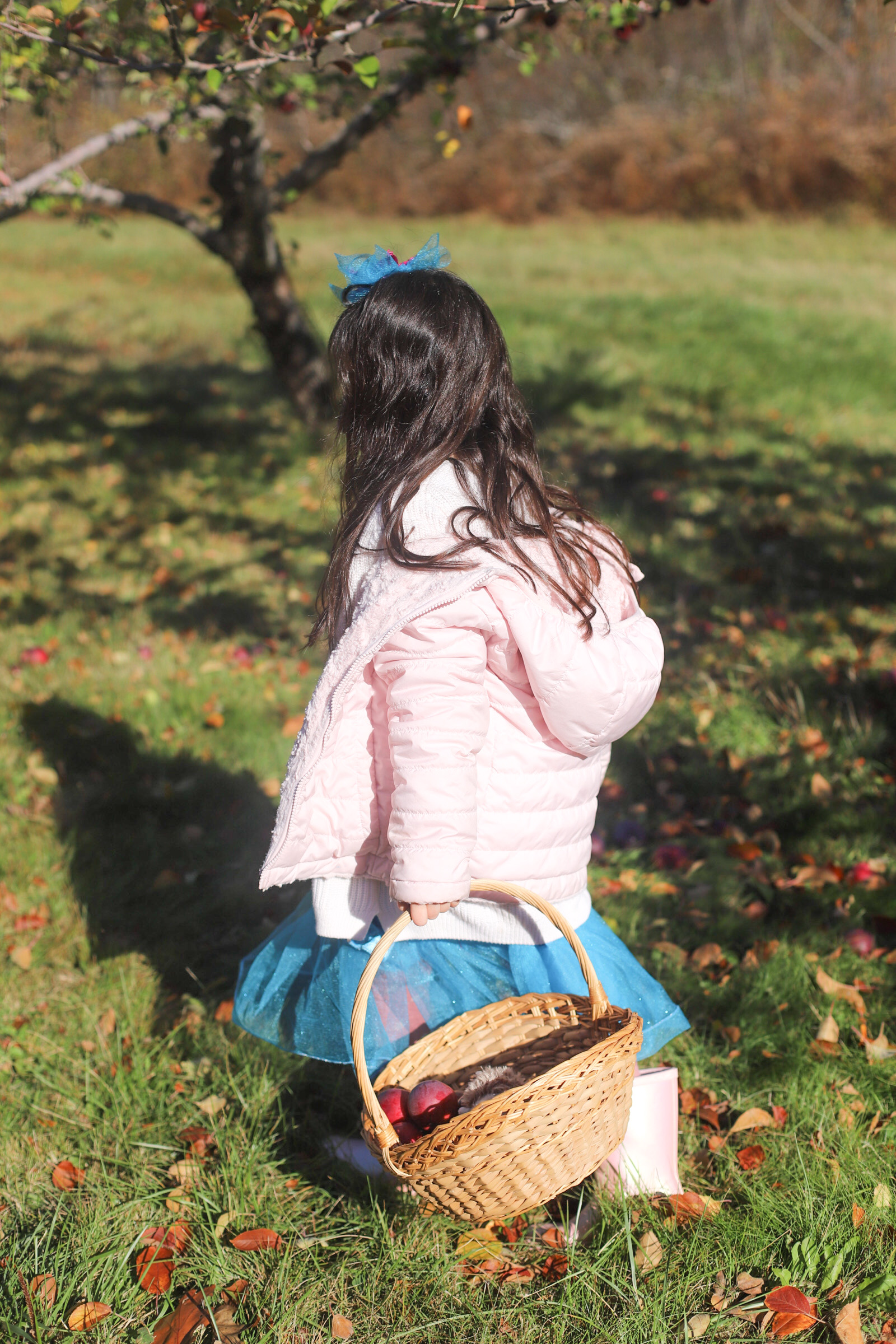 The girls brought their own baskets from home, and their stuffies and toys came along for the ride too.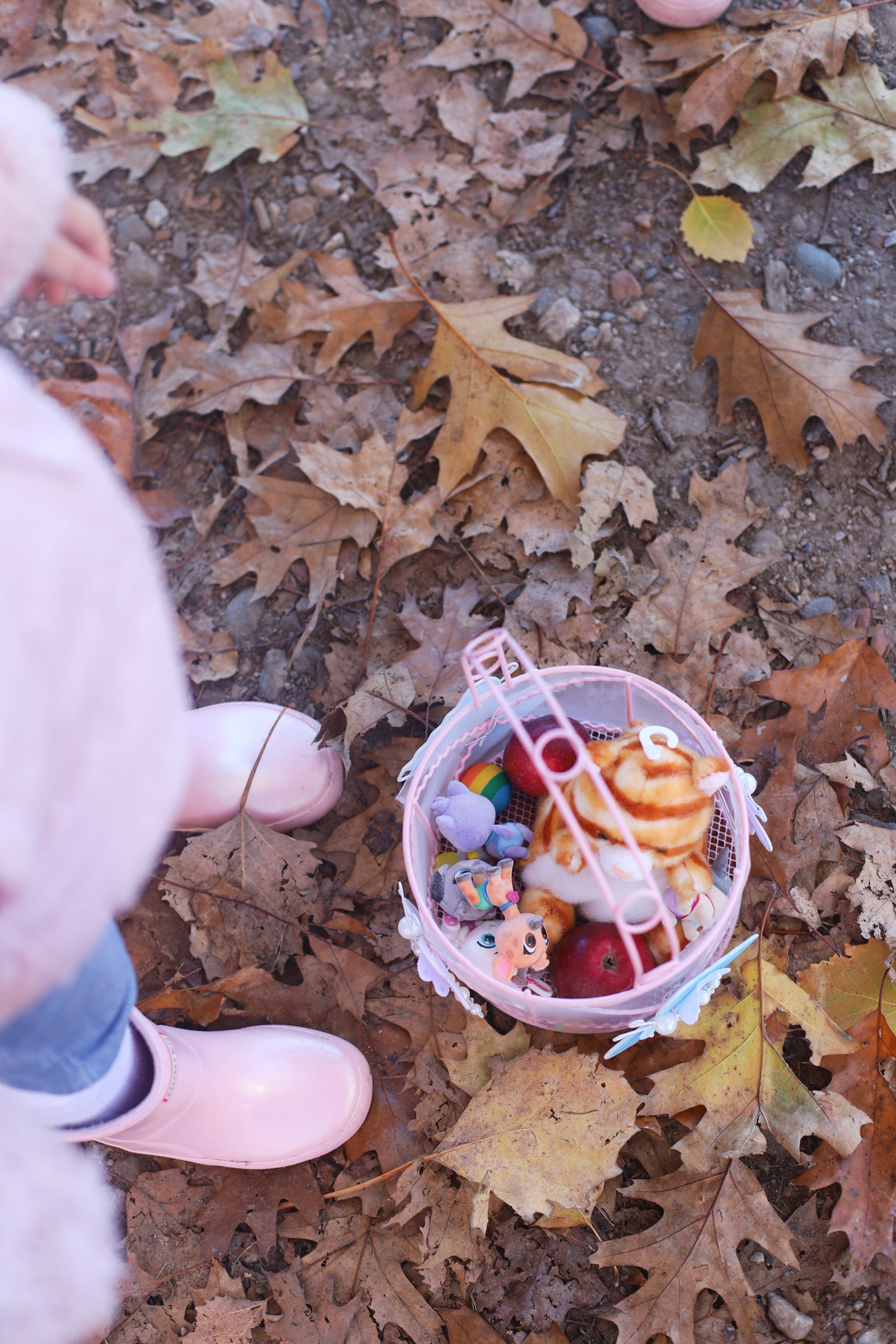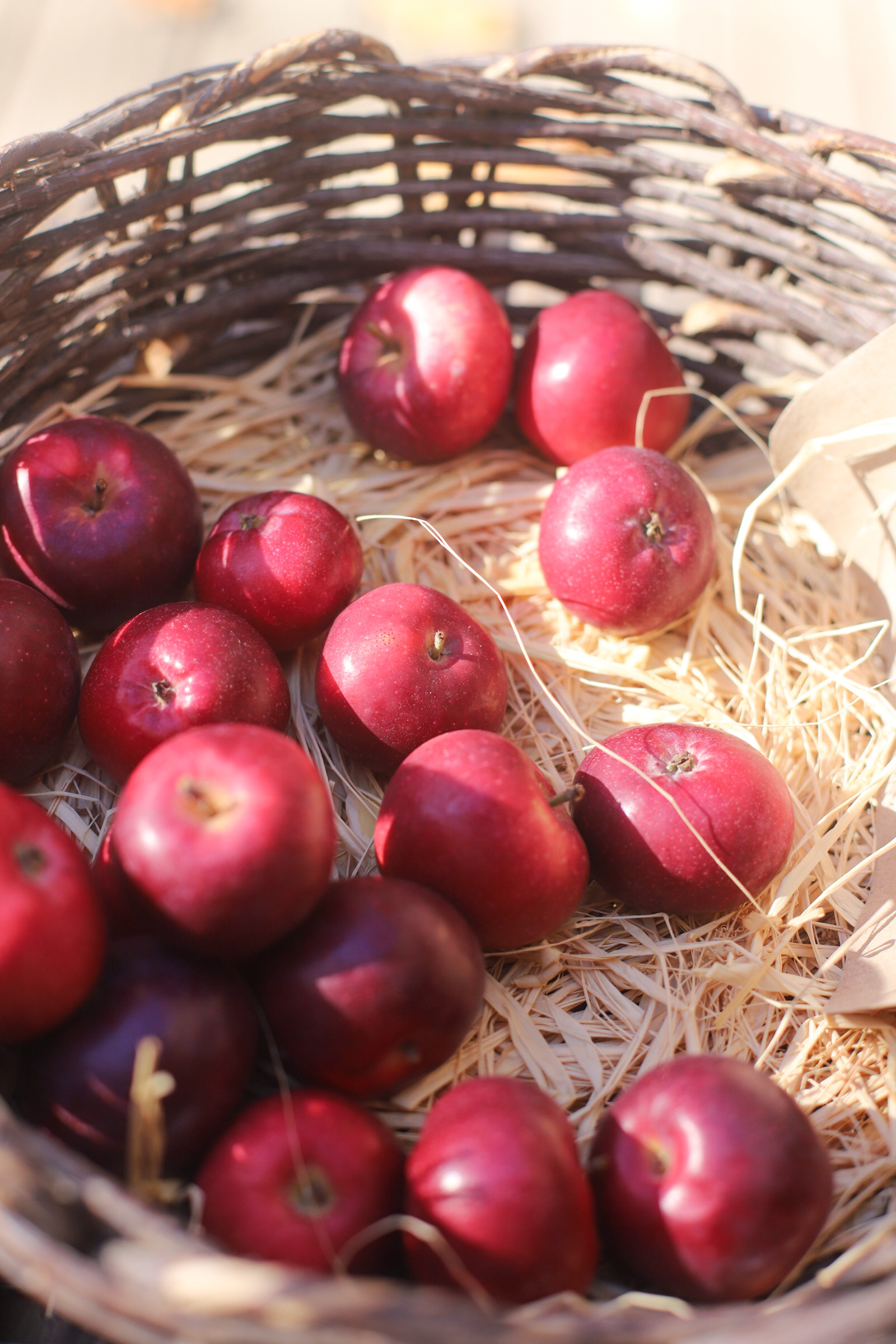 We also loaded up on apples in the little store. And of course, got a few apple cider and pumpkin donuts.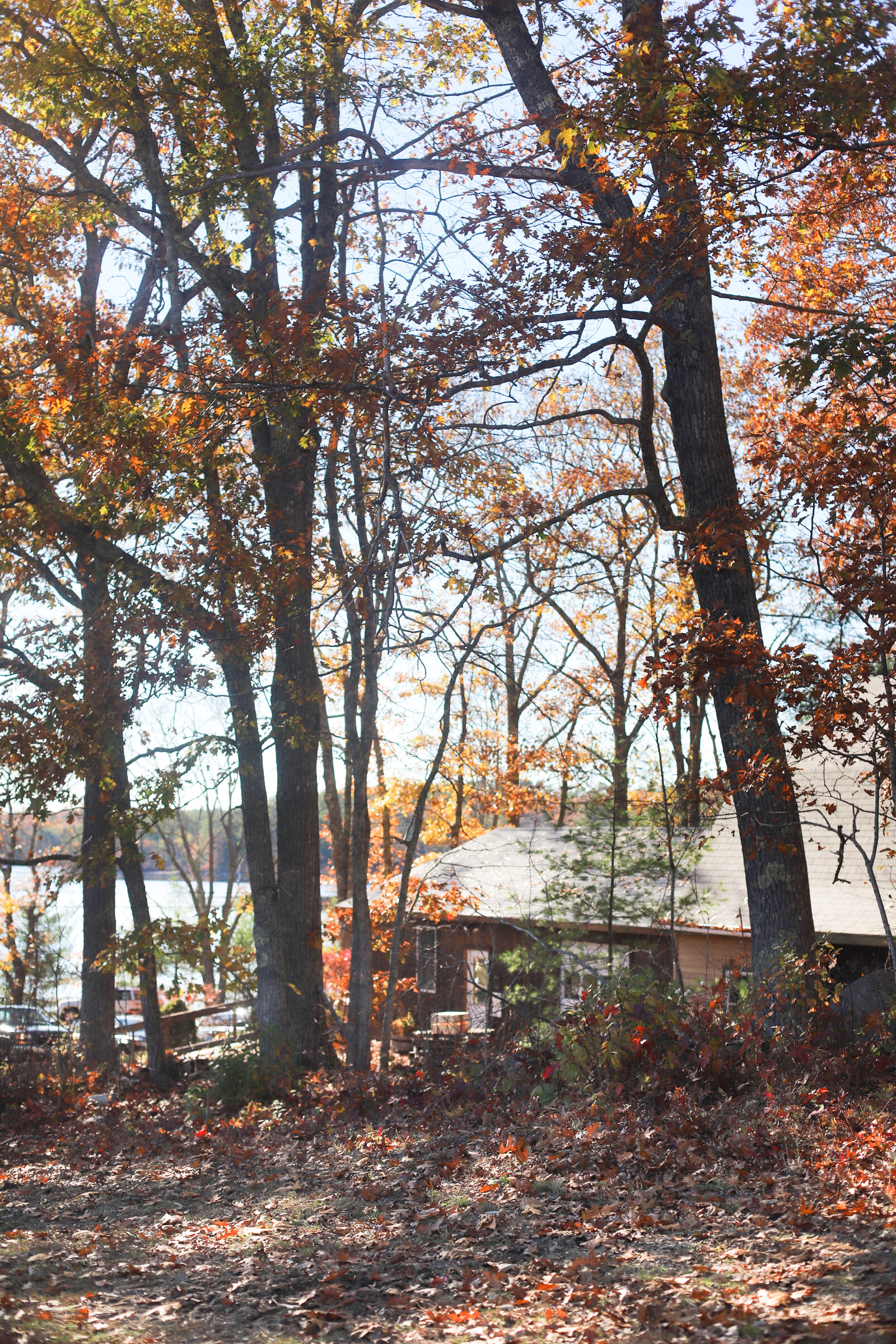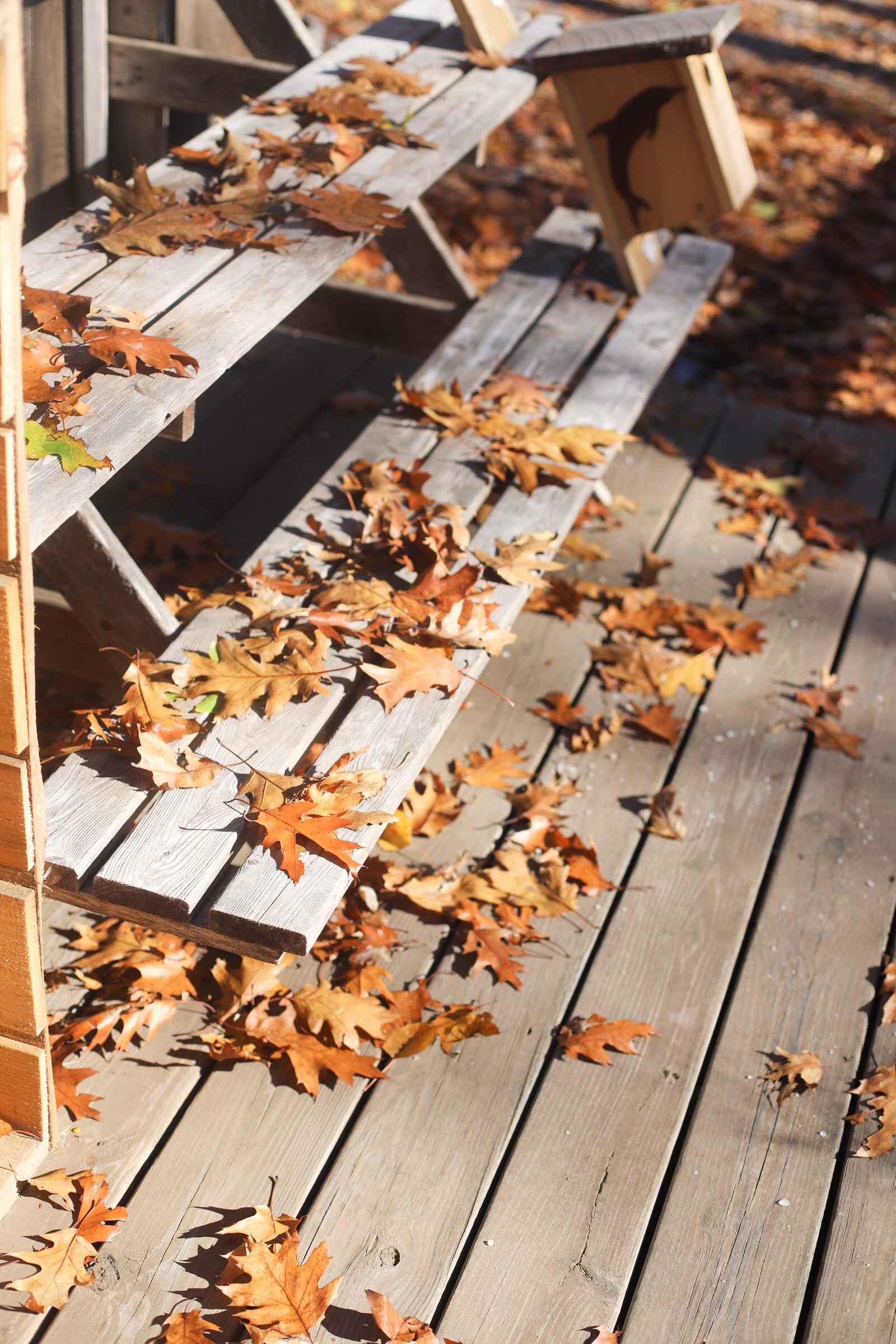 Other than that, we read books, played games, the girls and I even made beaded bracelets. More on that super easy gift-able DIY soon!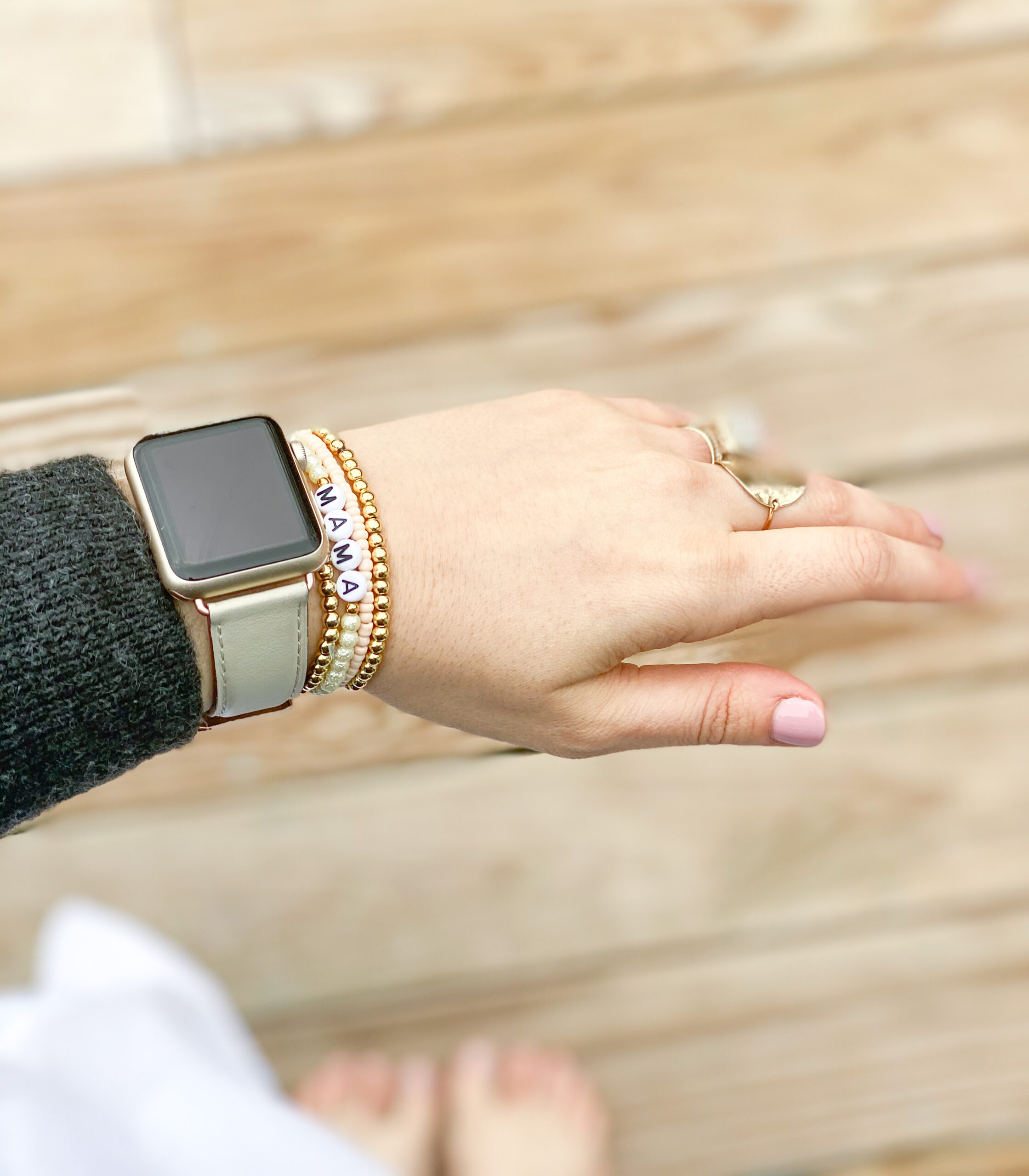 Our weekend away was the perfect way to ring in our 10th anniversary (and an unusual Halloween!) and I'm so glad we were able to get away, even if just for a few days.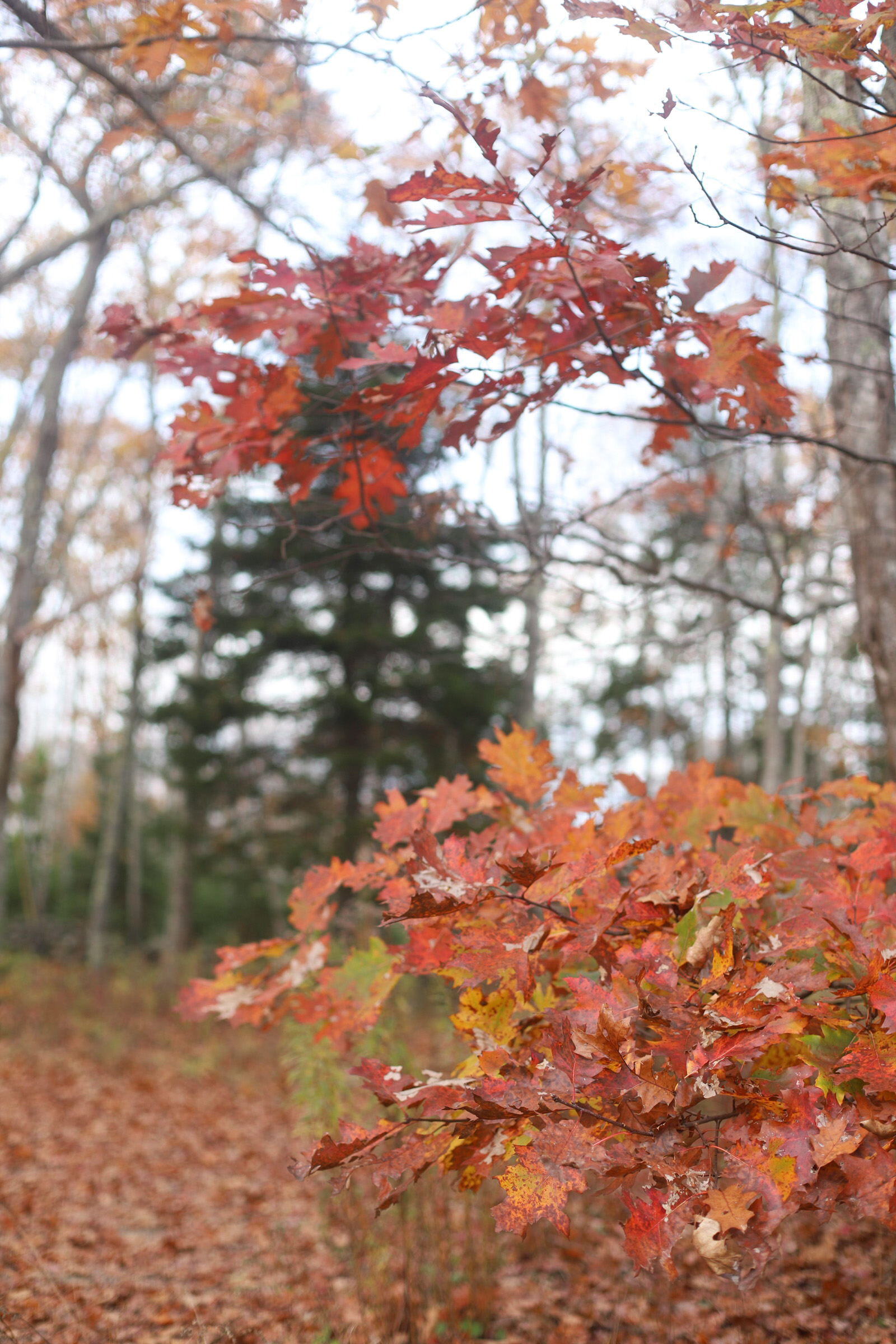 Did you do anything special or different for Halloween this year?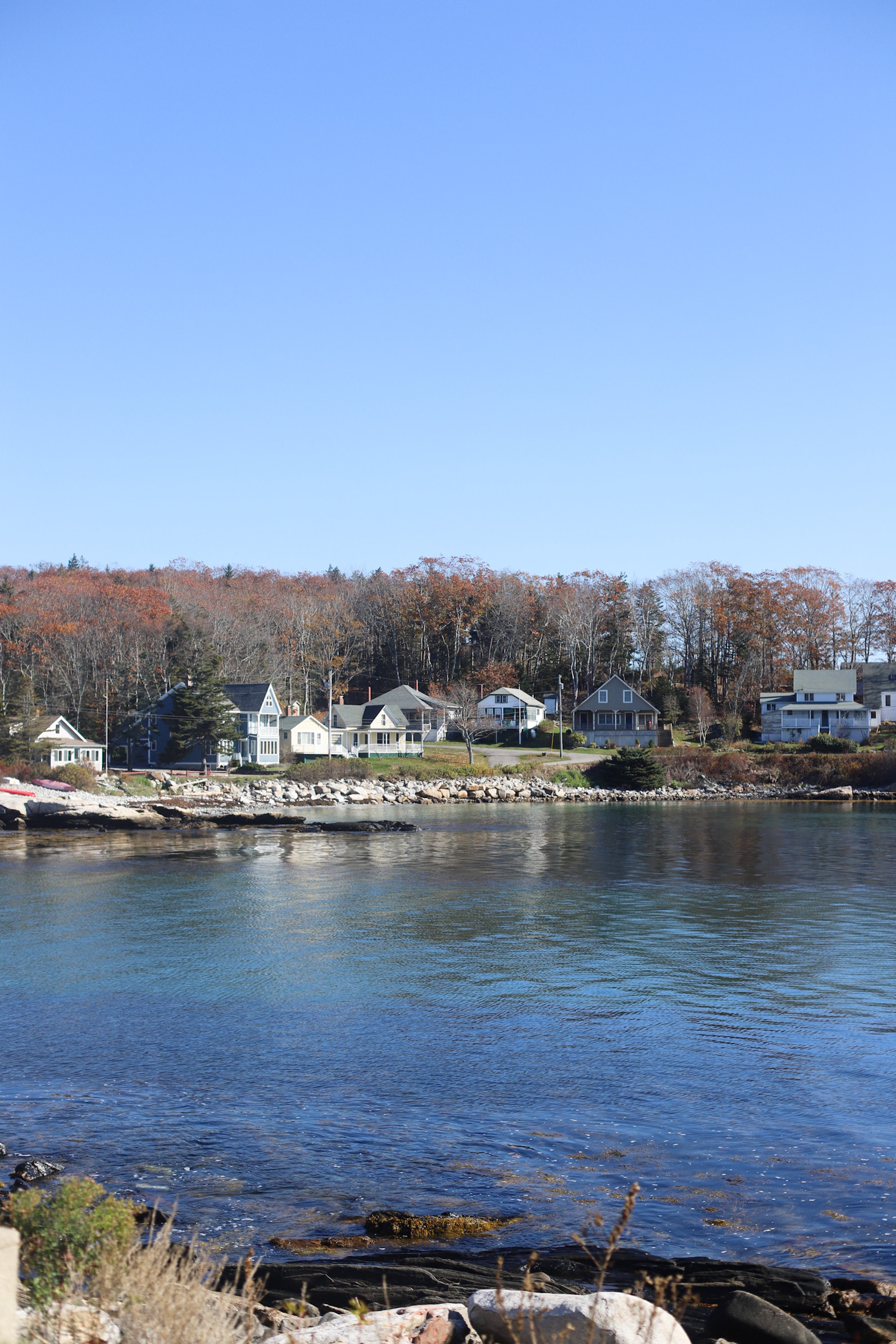 Have you ever been to Maine? Do you love it as much as we do?
Love this weekend getaway post? Check out all of our travels here; and if you ever visit Maine, be sure to tag me on social media (@glitterinclexi) so I can live vicariously through all of your New England visits!
SHOP THE WEEKEND AWAY POST | CLICK LEFT & RIGHT ARROWS TO EXPLORE