This post contains affiliate links, which means that if you click on one of the product links, I'll receive a small commission. Additionally, as an Amazon Associate I earn from qualifying purchases. Thank you so much for clicking through and helping to support this little blog business of mine! Read more about our site, privacy, and disclosure policies here.
Sharing a look at what it has been like to live in a big city with young kids, how we make it work for our family, and why we plan on staying for a while!
Now that we've lived in Boston for almost two years, I thought it was high time I share our feelings on living in a big city with young kids.
To be completely honest, living in the city was something that kind of intimidated us going in; still it was also something we knew we REALLY wanted to try. I've always had dreams of living in New York City, and when MGH offered Mike a fellowship in Boston two years ago, it felt like a chance to try something new.
Our Medical Journey
If you're new around here, Mike and I are high school sweethearts. (In case you're curious: you can read all about our love story and our wedding.) And over the years, on his road to becoming a doctor, he's gone through medical school down in Miami, putting in the years for both an MD and a PhD, then we packed up our little family and moved to North Carolina after he matched for residency at Duke, and most recently, we moved to Boston for a fellowship at Massachusetts General Hospital. Fast forward to now, and he's an attending and a researcher here in Boston.
Leaving the Suburbs Behind
I'll admit, we had some reservations about leaving the comfort of the suburbs of North Carolina (and before that: Miami) and moving to a busy city; and most people would probably advise against it. Okay, a lot of people did. I can't tell you how many well-meaning people encouraged us to check out the suburbs of Boston, and nearly everyone we talked to kind of scratched their heads at our eagerness to move right to the heart of the city. 🙈
In fact, over the course of the last year (and a worldwide pandemic), we've watched so many of our friends flee big cities for suburbia. Since graduate school for both of us, the vast majority of our friends have foregone city living for life in the suburbs, and while I totally get it, and sometimes envy their sprawling backyards, I'm not sure it quite fits for us knowing what I know now about living in a city with kids. (More on this here.)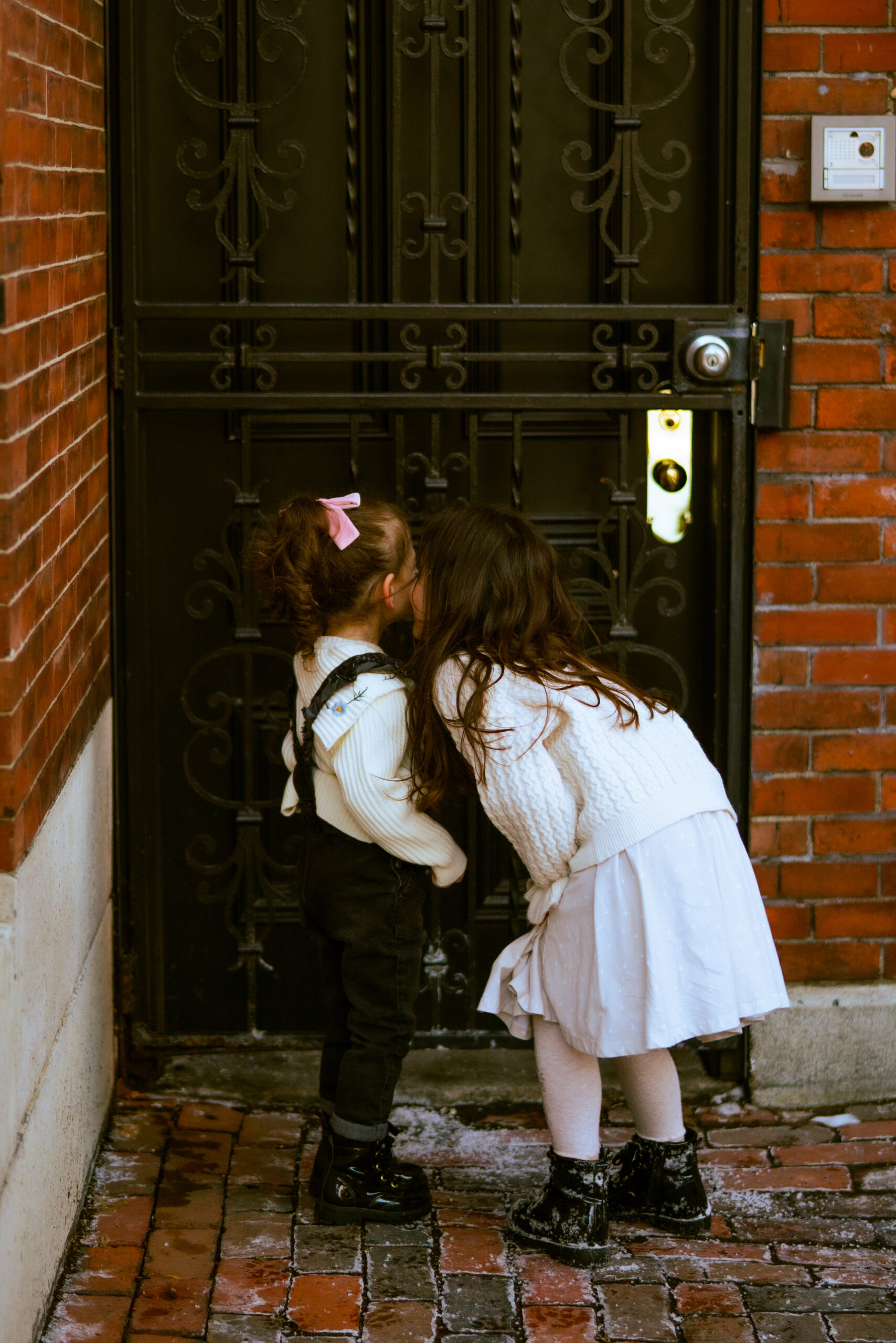 Living in a Big City With Young Kids
In a word: it's LOVE. We absolutely love living in a big city with our kids.
Sure, there are tradeoffs. I haven't had a bathtub in nearly two years. (😭) The most outdoor space we've had is a porch at each of our two rentals; which we use regularly but isn't quite the backyard we were used to. Our rental is packed to the gills with our stuff, storage I have nowhere else to put, and the general chaos of toys and mess and life. (Not to mention the fact that with every move we've done major purges, giving away toys, books, clothes, shoes, you name it; and there's pretty much always more we could donate and get rid of.)
The prices in a big city still blow my mind. Trying to buy here feels almost impossible, and we still grapple with a longer term plan now that we know we really, really like it here. It also feels weird to have a landlord again, after years of home ownership (and independence) in North Carolina. Still, we landed in a great spot, and for now, it works.
It's Expensive Living in a Big City With Young Kids
Everything is more expensive in a city: housing, food, activities, the list goes on and on.
I never drive anywhere though. I use our stroller more than our car and I like it that way. Walking is our main mode of transportation on weekdays (we often go on drives to explore towns throughout New England on the weekends) and I adore that mix. It feels so good to get outside, and everything we could possibly need is within walking distance of our home. Pre-pandemic, we could also easily take the T (Boston's subway) all over the city and it made meeting friends, exploring other parts of the city, etc. so convenient.
Living in a city means the city is basically your playground. We have four amazing parks, two libraries, museums, and gardens all mere blocks from where we live. There are great coffee shops, restaurants, and markets in every direction of our place and all within blocks as well.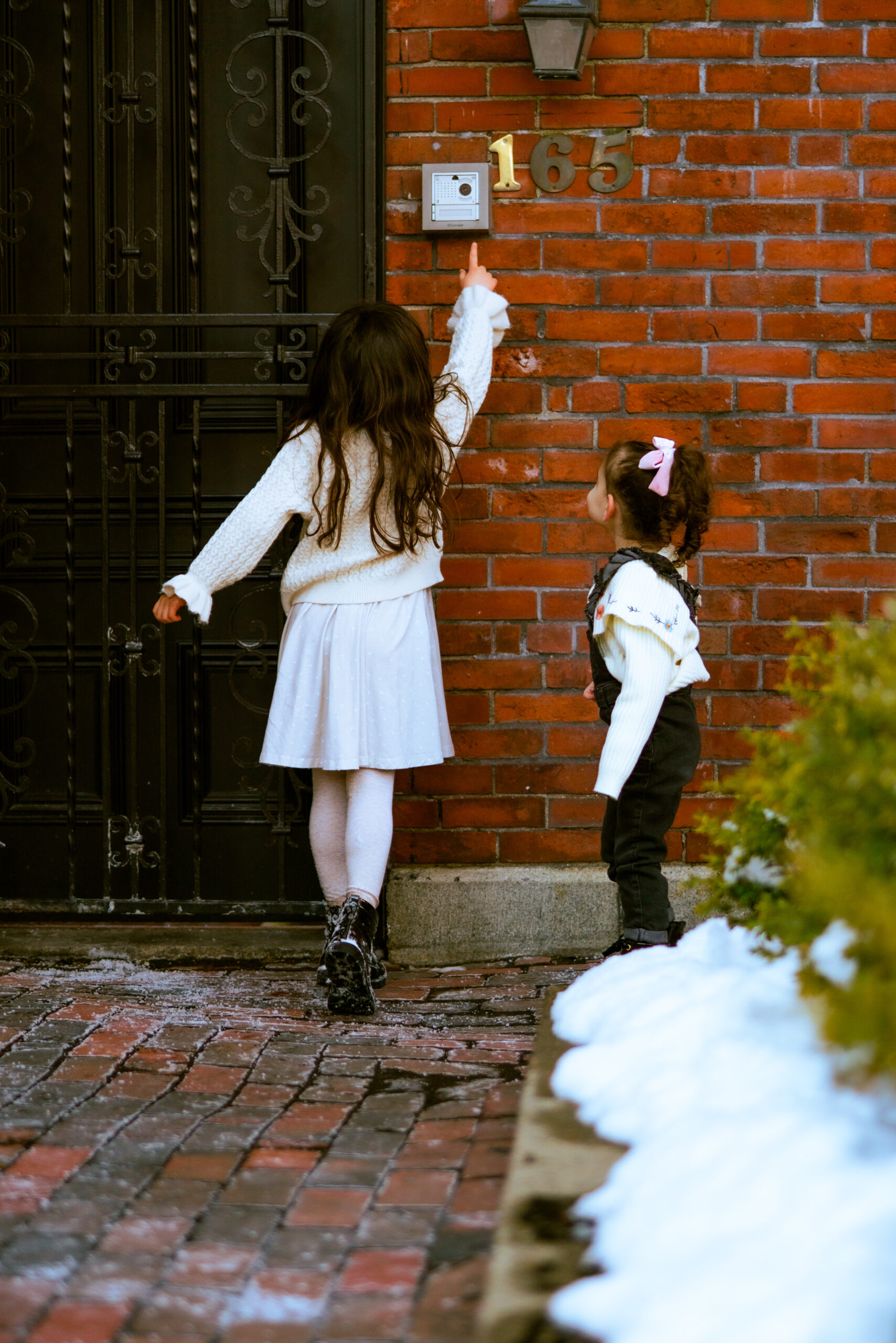 Families all walk their kids to preschool and school, so it makes it easy to socialize and meet people. (Obviously, things have been very different this past year, but we're hoping for more of this as vaccines roll out, etc.)
Living in a Big City With Young Kids Help them Experience More
Boston itself is full of SO much history – all of the best museums, attractions, the aquarium and two zoos, shops, and so much more, and exploring the city still feels like we're tourists on vacation, which is so cool. Buying annual passes to things like the museums and the aquarium are so valuable here, because you can basically go weekly if you wanted to.
There is so much culture here, so many events, so many markets and festivals, so many amazing and interesting people, so incredibly much to see and learn and do.
Now I recognize that living in Boston is not quite the same as living in say, New York City, which is even more expensive; a.k.a., smaller spaces, tighter day to day, and so on.
Where we are, we have a porch (a huge asset, I've learned), the streets aren't so crowded, and on certain blocks, it can almost feel like a suburban neighborhood (with busy city life a block or two away). There's a neighborhood feel to our area, though much of it still feels decidedly urban; I like the balance.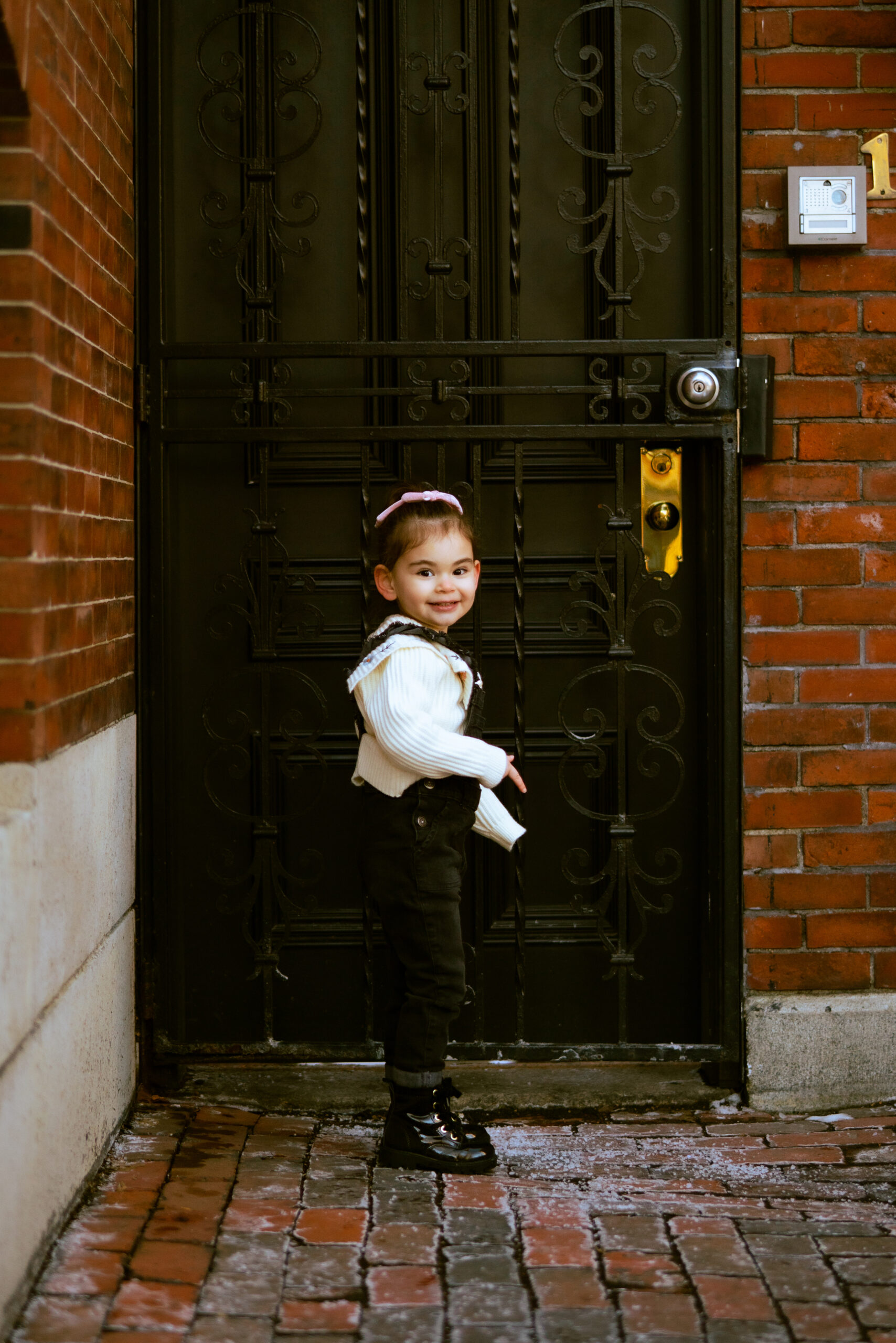 Our Kids are Well-Adjusted to City Living
I'm also so in awe of our kids and how well they've adjusted to city living. They're so open to adventures. They love the lights and the noise and the people and all of the sights.
The kids get so excited to visit the "golden ducks" in Boston Common, to make a stop at the balloon man at Faneuil Hall, to say "hi" to their friends at the aquarium and the science museum and the library, to pick up their favorite gelato in Harvard Square or their favorite cupcakes on Newbury Street or the ice cream in the fish cones in the Seaport, to wave at every single fire truck that passes by. They can recite the best pizza places in the city and where to find the standout dumplings.
Planning a visit to Boston? Here are more than 30 can't miss sights and attractions in Boston, including the best parks, museums, shopping, historic sites, and places to eat throughout the city!

Staying in the City with Our Kids
So at least for now, and hopefully for the foreseeable future, we're going to keep doing this city living thing with young kids.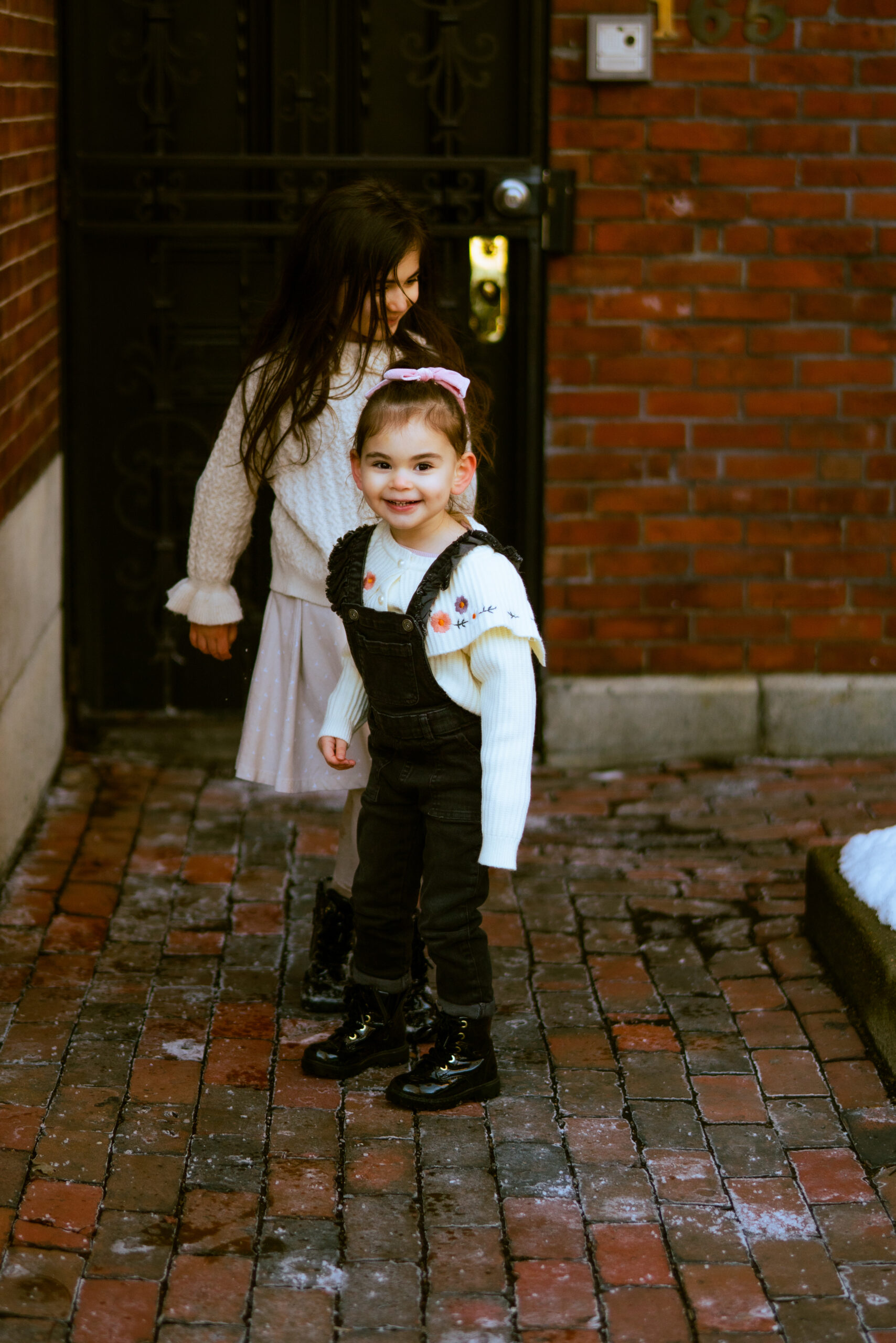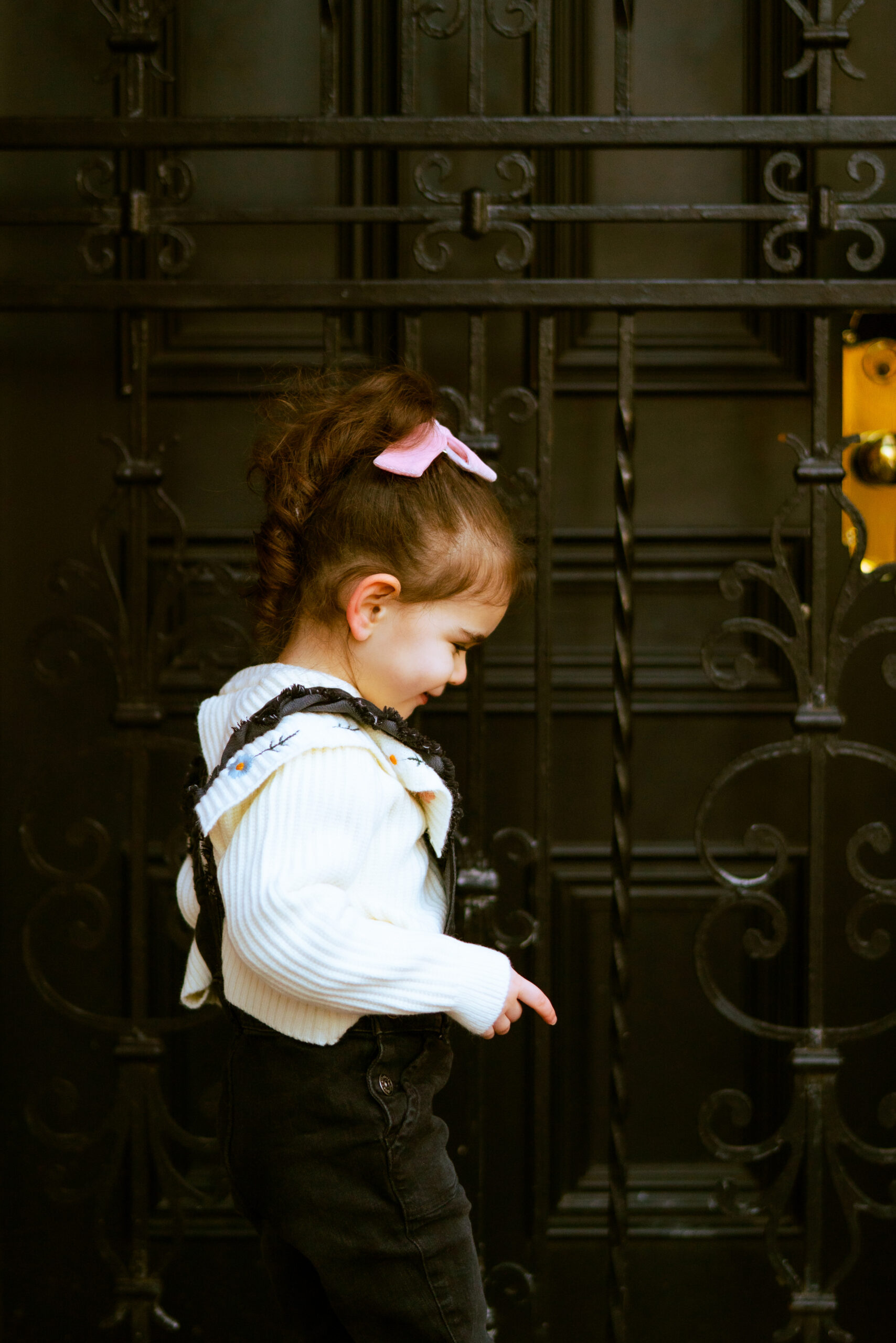 By the way, these photos were taken by one of our favorites – Leah – during our last snowfall. I love capturing some of our best memories on camera; and snow in the city is easily up there as a cherished memory every year we've been here.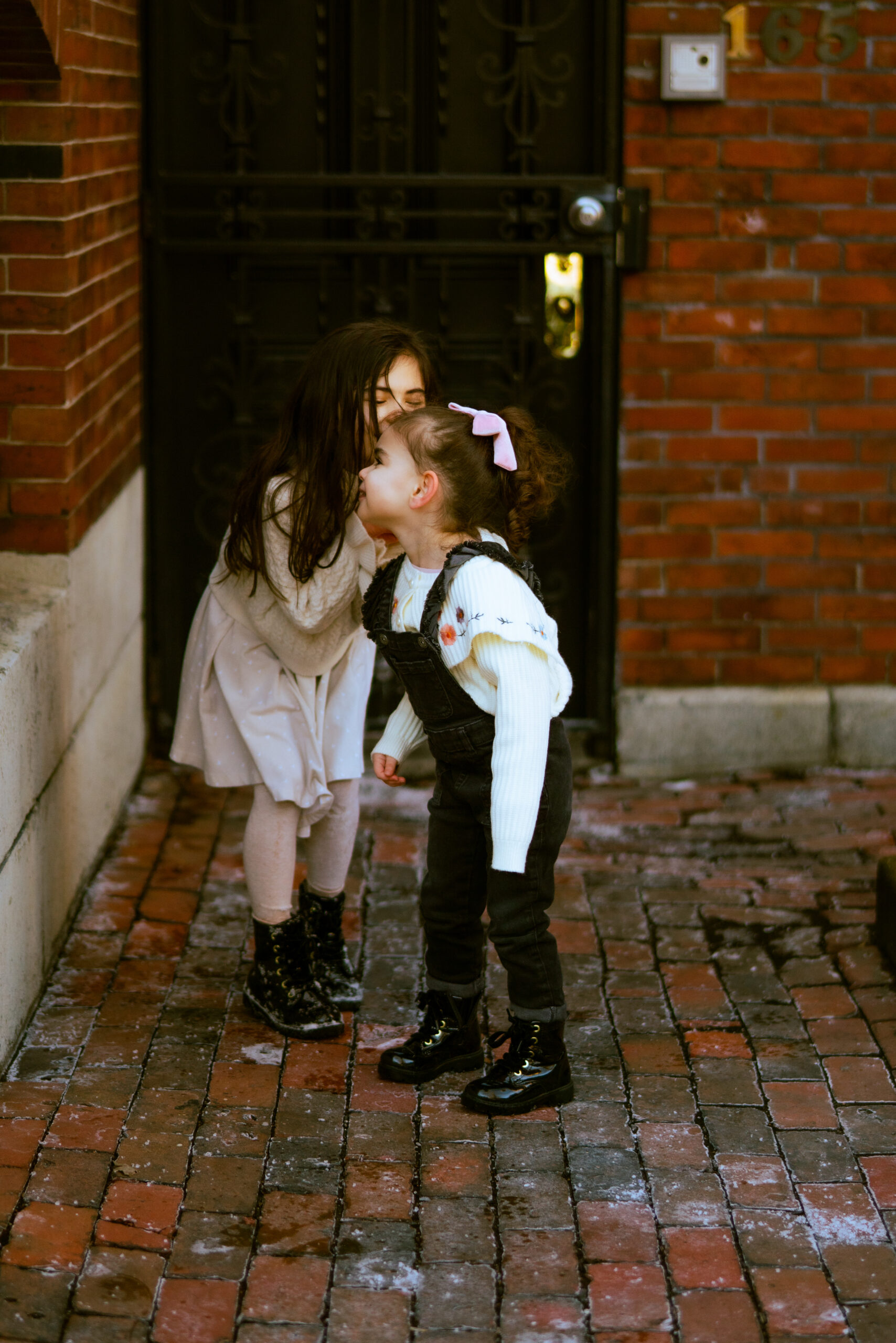 Do you live in a big city? Do you have kids? Would you move to a downtown area with young kids? I love hearing your stories and family adventures!
SHOP THE GIRLS CITY LIVING OUTFITS | CLICK LEFT & RIGHT ARROWS TO EXPLORE

Photos by
Leah Jayne Productions
 for Glitter, Inc.