This post contains affiliate links, which means that if you click on one of the product links, I'll receive a small commission. Thank you so much for clicking through and helping to support this little blog business of mine! Read more about our site, privacy, and disclosure policies here.
These are the very best and softest lounge bras and bralettes that will give you all day comfort whether you're working from home, out running errands, working long hours, or even taking a nap! (Yep, these wireless bras are that comfortable!)
I've been working from home for years, and though some days I feel like a total hot mess express, most days, I think I have a decent handle on the whole "working from home" thing. That is, until the pandemic hit and I had both kids (two little ones under 5) home ALL OF THE TIME for the foreseeable future.
Managing online school for a kindergartener, the total lack of preschool for a 2 year old who outright refused to partipate in all of the valiant online efforts of her own school, working around my husband's already totally packed schedule both in the hospital and with the new addition of virtual visits in our little city rental, plus my own growing online business, had it's more challenging moments. And truth be told, even three months in, I still find that the person who gets neglected most in this newly structured (at times!) day-to-day routine, is me. 😬
I polled our private Facebook group, GLITTER MOMS, to see how many moms actually got themselves "ready" in the morning on these hectic at-home/work-from-home days, and I was so impressed to see how many moms at least sort of got dressed, put on a little makeup, did their hair, etc.
The Softest and Best Wireless Lounge Bras Perfect for Working From Home
I'm still working on the whole "daily hair and makeup" thing (🙈), but I have found that getting dressed, putting on a bra, etc., helps to make me feel more ready to seize the day, and as a result, more productive. Plus, it's nice to actually be wearing a bra if someone happens to come to the door with a package for me to sign for. 😂
Now don't get me wrong, my work from home clothes are definitely a whole lot more casual than something I would wear with the intention of going out, and my home bras are exceedingly more comfortable than a typical wired bra, but still, I'm making small efforts, and I think it helps.
There are also plenty of women who work long hours on their feet, like all of the incredible essential workers (including but not limited to doctors, nurses, teachers, EMT's, and so many more), who want a supportive bra that stays comfortable ALL DAY LONG.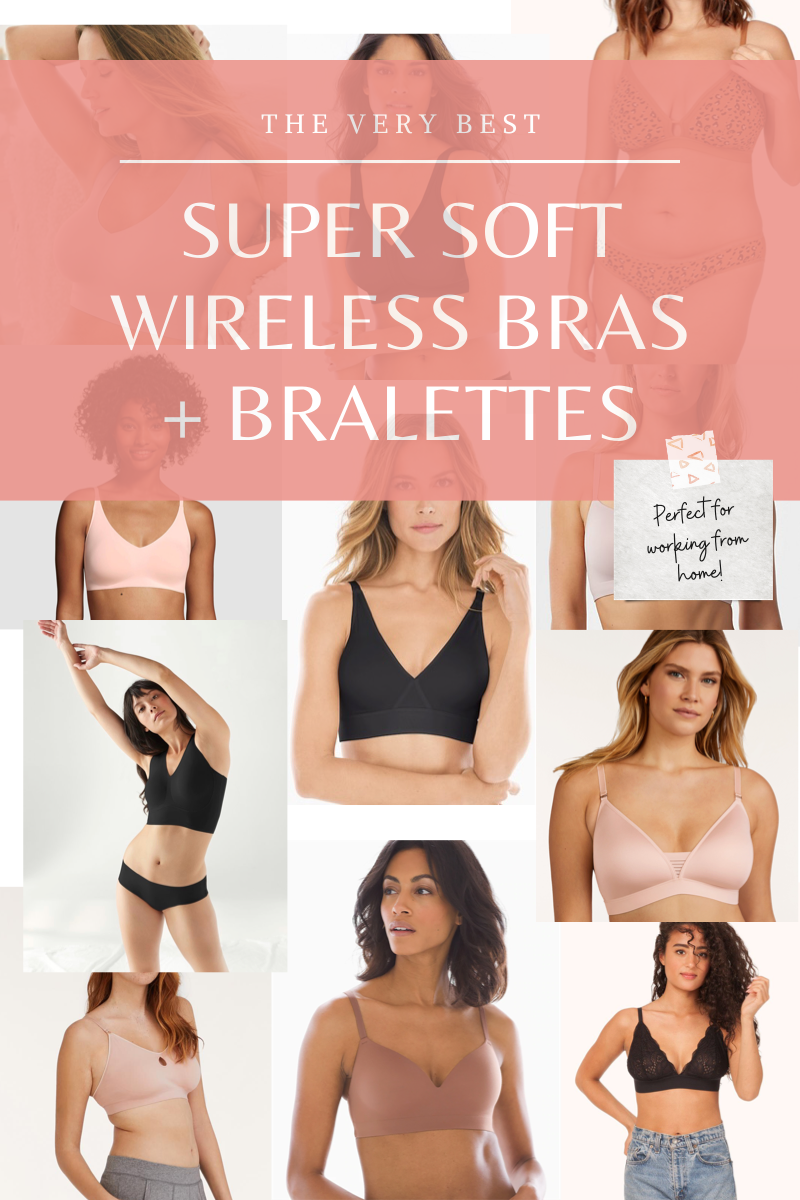 So let's talk about my favorite soft wireless bras that are perfect for working from home, lounging, running errands, working long hours, working from home, the list goes on and on. Because seriously, ALL bras should be long-wearing and comfortable!
These are the bras that are totally wire-free, but still provide support. At least for me, when working from home, I don't want to wear an uncomfortable padded bra with wires. I want something soft, flexible, but still supportive. I want a wireless bra that I could fall asleep in without noticing. Also, I want a bra that I can wear while chasing my kids. I want a bra that doesn't pull or dig or pinch or leave those horrible red indentations in my skin. Basically, I want a unicorn bra. 🌈
The Best Wireless Lounge Bras
These are the lounge bras and bralettes that will give you all day comfort whether you're working from home, out running errands, working long hours, or even taking a nap! (Yep, these wireless bras are that comfortable! But also, if you manage to take naps during the day, please send me all of the advice. Mama needs a nap.)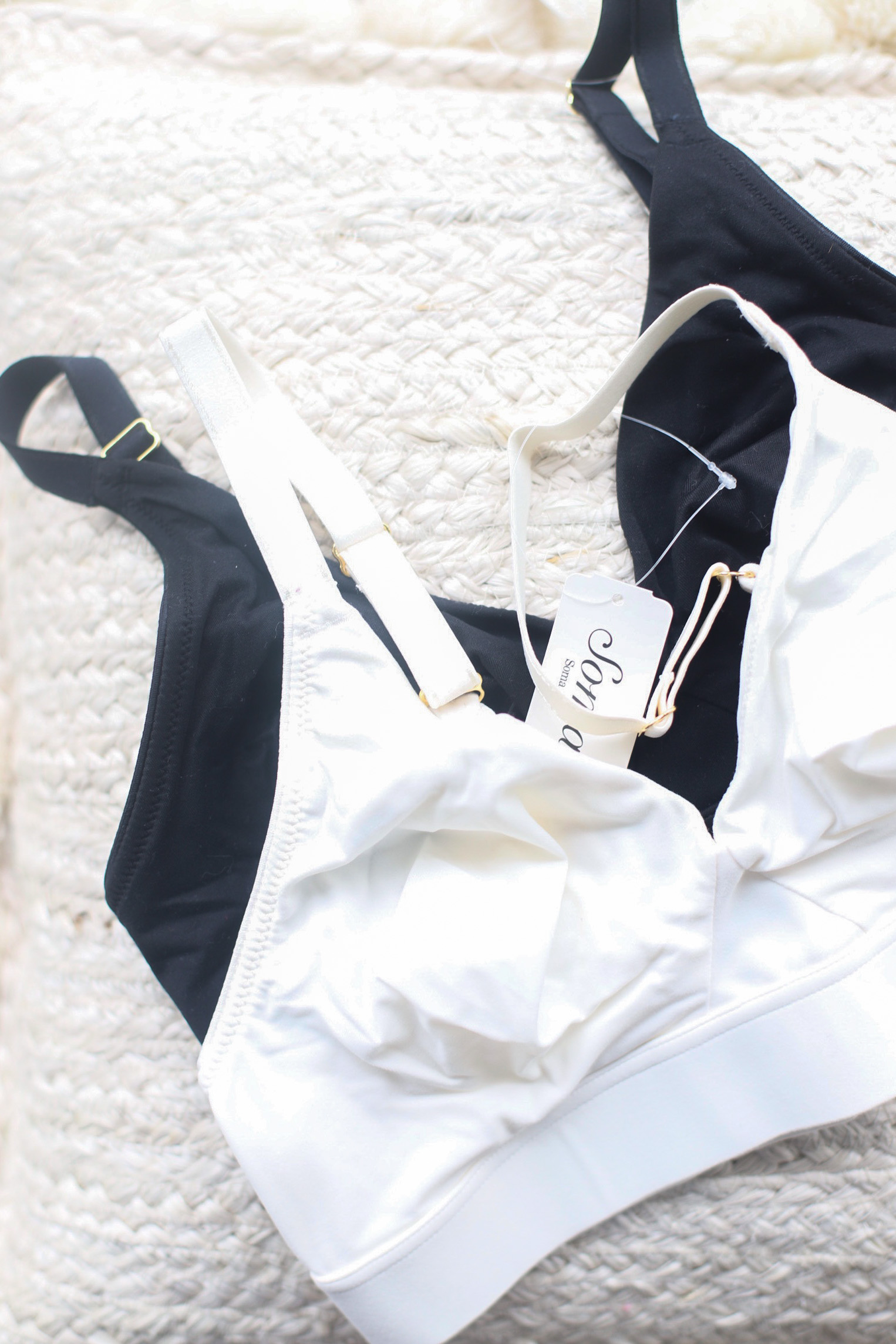 At the start of the pandemic, I knew I needed to upgrade my work from home bra game. I had heard so many great things about Soma bras, so I started there. Their bras are beautiful, comfortable, have super loyal fans, and they come in a wide range of sizes.
I'm just going to cut right to the chase, the Soma Embraceable Wireless Unlined Bra is a workhorse work from home lounge bra. I seriously LOVE it.
There are elements of a bralette-Iike styling to this bra, but with way more support. The Soma Embraceable Wireless Unlined Bra is an unlined wireless bra made with the most uber soft material. Seriously, they had me at that buttery soft fabric.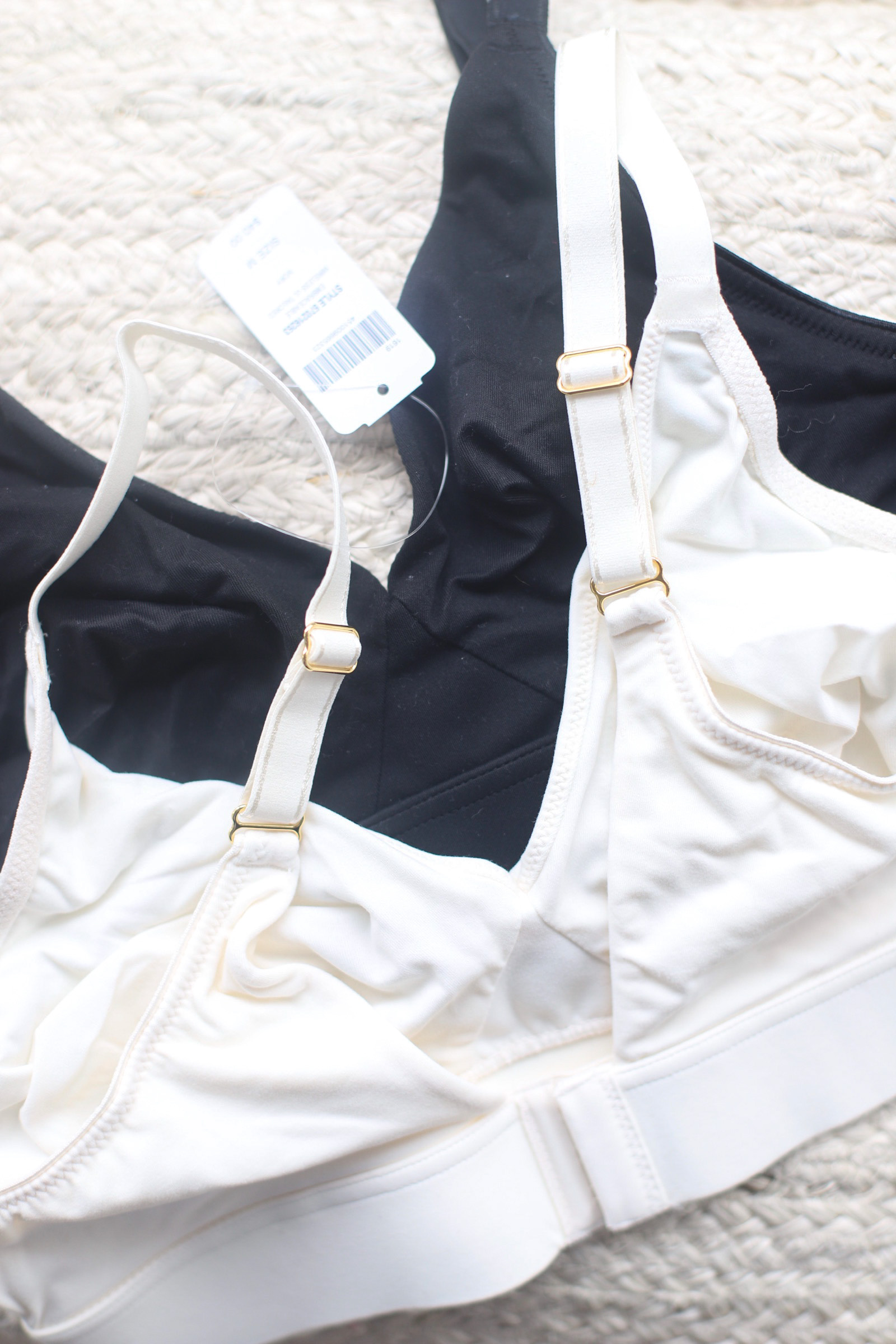 Plus, the bra has a supportive hook-eye closure (and gold details!), which I love. As much as I appreciate a great seamless bra for comfort (we'll get to those soon!), I'm not always a fan of the pull-on style. Anyone else get all twisted and stuck trying to wrangle on and off a pull-over style bralette? … Just me? 🙈
Back to the Soma Embraceable Wireless Unlined Bra: this one is unlined. If you like a bra with a decent amount of padding, this bra might not be for you, but if you just want good nipple coverage, this bra works wonders. The lining is thick enough that it has nice coverage, without the padding. And though the bra has no underwire, the wide bottom brushed elastic band is REALLY supportive. I have worn this bra to workout as well.
Note: you may want to size up. The band is a bit tight if you order your regular size. (And I am allllll about comfort when choosing the perfect bra for working from home in.)
Honorable mention goes to:
The same comfort, supreme softness, and support, PLUS full coverage contour cups for shape. If you like a bra with a little more coverage and lining, but still want a super comfy bra that's wireless, the Enbliss is perfect.
Once I do re-enter the real world, this bra is where it's at. 💥
With no wires, no hooks, and no hardware, this is probably the most perfect version of a work from home bra. You can 100% sleep in this bra; it's that silky, lightweight, and comfortable. Plus, it has removable cups, so you can keep them in for a little more coverage, or skip them altogether.
TRUE & CO. Bras are barely there. Their slogan: naked but better. True & Co.'s wireless bras have no seams and are made of nylon and elastene so they are crazy soft, flexible, and comfortable. Their wireless bra is probably the gold standard of this type of lounge bra; i.e., you can 100% sleep in these without batting an eyelash.
My only real complaint: their wireless bras are a pullover style (to eliminate hooks, seams, etc.) On your body, they're effortless and beautiful, and show absolutely no seams or lines, but if you don't love a bra that you have to pull off and on over your head, you may not love these.
I love TRUE & CO.'s line made especially for Target. The Target version is super impressive, if you ask me. Plus, I can just add to cart to my ever-present cycle of Target orders! 🙈
TRUE & CO. For Target bras are still buttery soft like the more expensive TRUE & CO. Bras (though maybe a teensy bit less silky), wash really well (no fading or pilling on mine so far!), and are totally seamless. Again, these bras are a pull-on style.
By the way, I have the True & Co. True Everybody Adjustable Strap Triangle Bra in nude and black and my typical size medium fits perfectly.
Available at Target! Score.
I got this bra from Target for around the house and it certainly checks all my boxes. I wound up ordering it in a second color because I liked it so much. The sides go up a little high, which feels strange at first, but it is comfy and flattering, which is a nice added bonus.
Of the Simply Perfect line, this one is definitely my favorite. It's totally comfortable, doesn't dig in at all, is great for lounging around, running errands, and more. It also has convertible straps from standard to crisscross and front-adjustable strap. The bra has nice coverage and the price is great.
I stumbled across Lively bras because of their many, many social media ads. They know how to brand! LIVELY makes bralettes, no-wire, push-up, strapless, t-shirt bras, and even maternity bralettes and active bras! (And no bra is over $35.) Because we're focusing on bras you can lounge in and work from home in, I'm mostly focusing on their bralettes and no-wire bras.
If you're not familiar with the fast-growing bra company, LIVELY makes beautiful bralettes that work for so many different sizes. Their Busty Bralette fits up to a size 40DD and the brand has said that they plan to extend those size offerings.
The Stripe Mesh Bralette Is their best seller and sells out often. The triangle cups are lightly lined and the busty bralette has an inner supportive sling for added support. I love the look of The Long-Lined Lace Bralette, but it is a bit more see-through and has less coverage than their other bras and bralettes.
Similar to the Soma Embraceable Wireless Unlined Bra, most of the wire-free support in LIVELY bralettes comes from a soft, wide band that helps to support your breasts.
The LIVELY All-Day Deep V No-Wire is most similar to the Soma Enbliss Wireless Bra, offering more coverage and shape.
Their active bras; a.k.a., sports bras, are next on my list!
ThirdLove is another newer line of bras made popular by social media. They also have a super loyal fan base. I'm focusing again on the bras that are best for working from home and/or just pain comfy bras without all of the wires and pads. ThirdLove makes three bras that fit that category well: the 24/7 Seamless Stripe Wireless Bra, Pima Cotton Wireless Bra, and the Seamless Lounge Bra.
Per ThirdLove: 24/7 Seamless Stripe Wireless Bra, the style that provides lasting support and impeccable fit, all at once.
The 24/7 comes in cup sizes A-E (With options available in half cup sizes … amazing!), has convertible straps that can be worn criss-crossed, straight, or in a halter style, memory foam cups and wire-free design, a full elastic 1 inch band for extra support, and flexible side boning for extra support. And it's pretty, to boot!
This style in particular gets RAVE reviews.
My only hesitation: the side boning. For a bra that I wear out of the house, I don't mind the boning, but for something I plan to lounge in, boning isn't usually at the top of my list. If you're bustier, though, the side boning will likely provide that extra support.
This bra is made of super soft, breathable cotton. Free from wires, this bra uses molded memory foam and boning on the sides to offer plenty of support. It's also available in cups A–I, including their signature half-cups, and bands 30–48.
The seamless lounge bra is just that, a super soft, simple seamless bra made for lounging. The bra is made from breathable bamboo fabric and is perfect for relaxing at home, out and about running errands, or even to bed. And, with an adjustable hook and eye and removable padded cups, it's a lot more easy to wear than a traditional lounge pull-on style. 👏🏻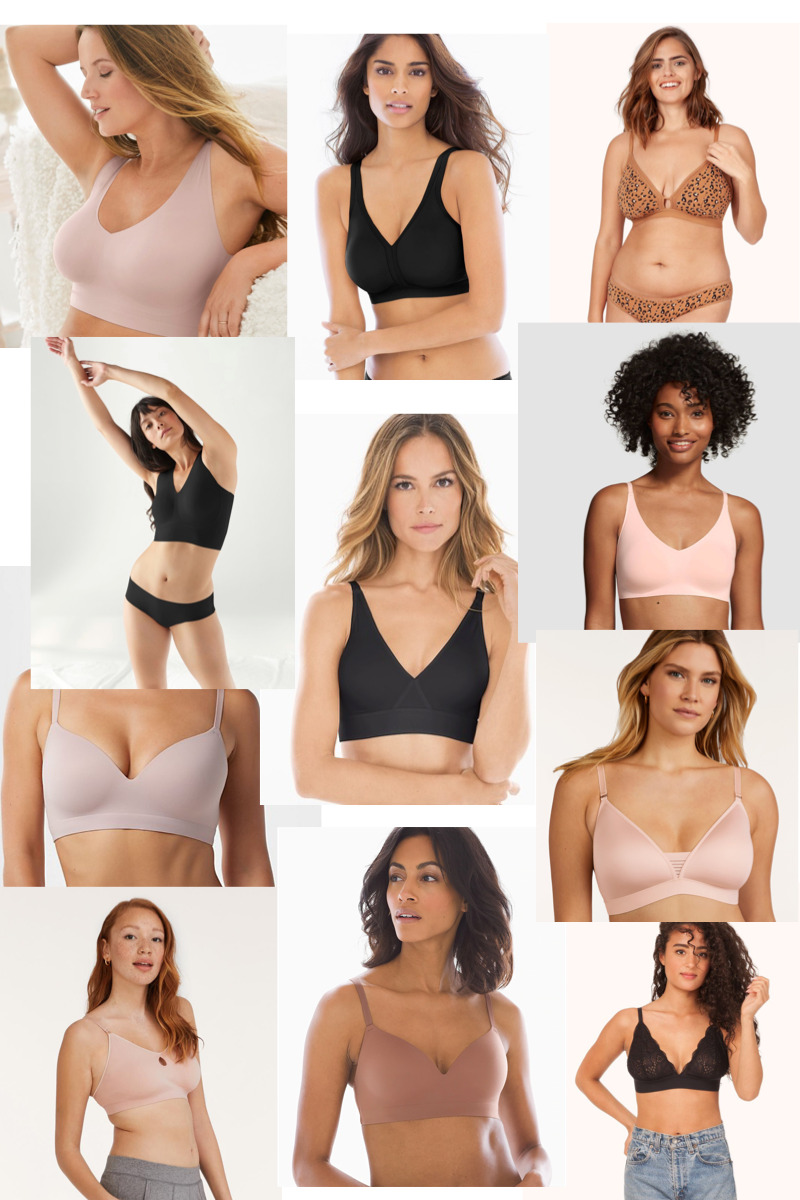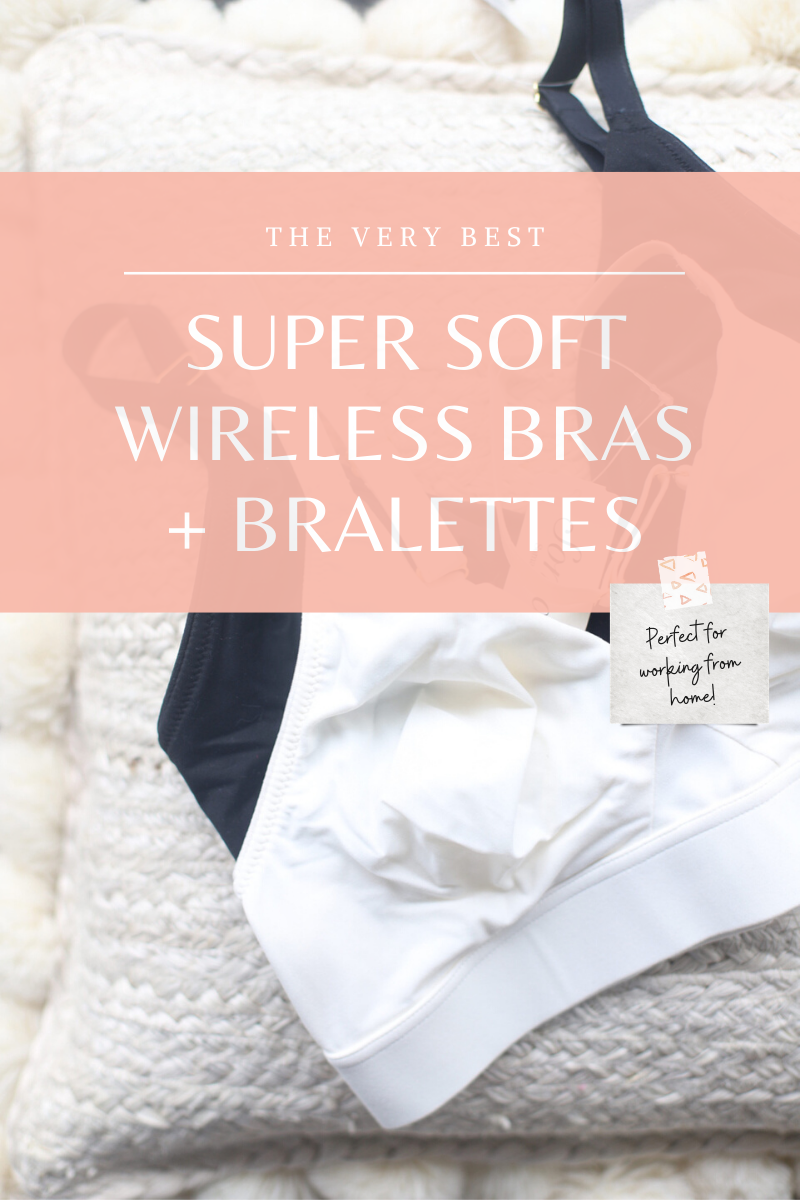 Phew! So there your have it; the softest and best wireless bras perfect for lounging, running errands, working long hours, and/or working from home. Do you have a favorite loungewear bra? Or do wires and pads not bug you as much when going for comfort?
SHOP THE VERY BEST WIRELESS LOUNGE BRAS | CLICK LEFT & RIGHT ARROWS TO EXPLORE