This post contains affiliate links, which means that if you click on one of the product links, I'll receive a small commission. Additionally, as an Amazon Associate I earn from qualifying purchases. Thank you so much for clicking through and helping to support this little blog business of mine! Read more about our site, privacy, and disclosure policies here.
This is a sponsored post written by me on behalf of Star Market. All opinions are 100% mine.
Put together a few beautiful and affordable handmade gifts without much effort this holiday season! These are 3 of our favorite easy and beautiful handmade gifts to give during the holidays. And bonus: everything you need to create these gifts is at the grocery store.
I've always loved making homemade gifts for friends, family, teachers, neighbors, the list goes on and on. And this year, more than ever, I think we could all use a little extra love in our homes. Hand-making gifts – even simple gifts – is such a special memory to create at home with your family; and trust me, your gift recipients will love that you made something especially for them. It's often the simple, homemade gifts that have the most impact and meaning.
Of course, it's no secret that I'm a huge fan of baking, and cookies and candies are often a part of my gift giving traditions, but I have three favorite handmade gifts – including something yummy and homemade (my love language!) – that I absolutely adore giving as holiday gifts (and people love to receive!)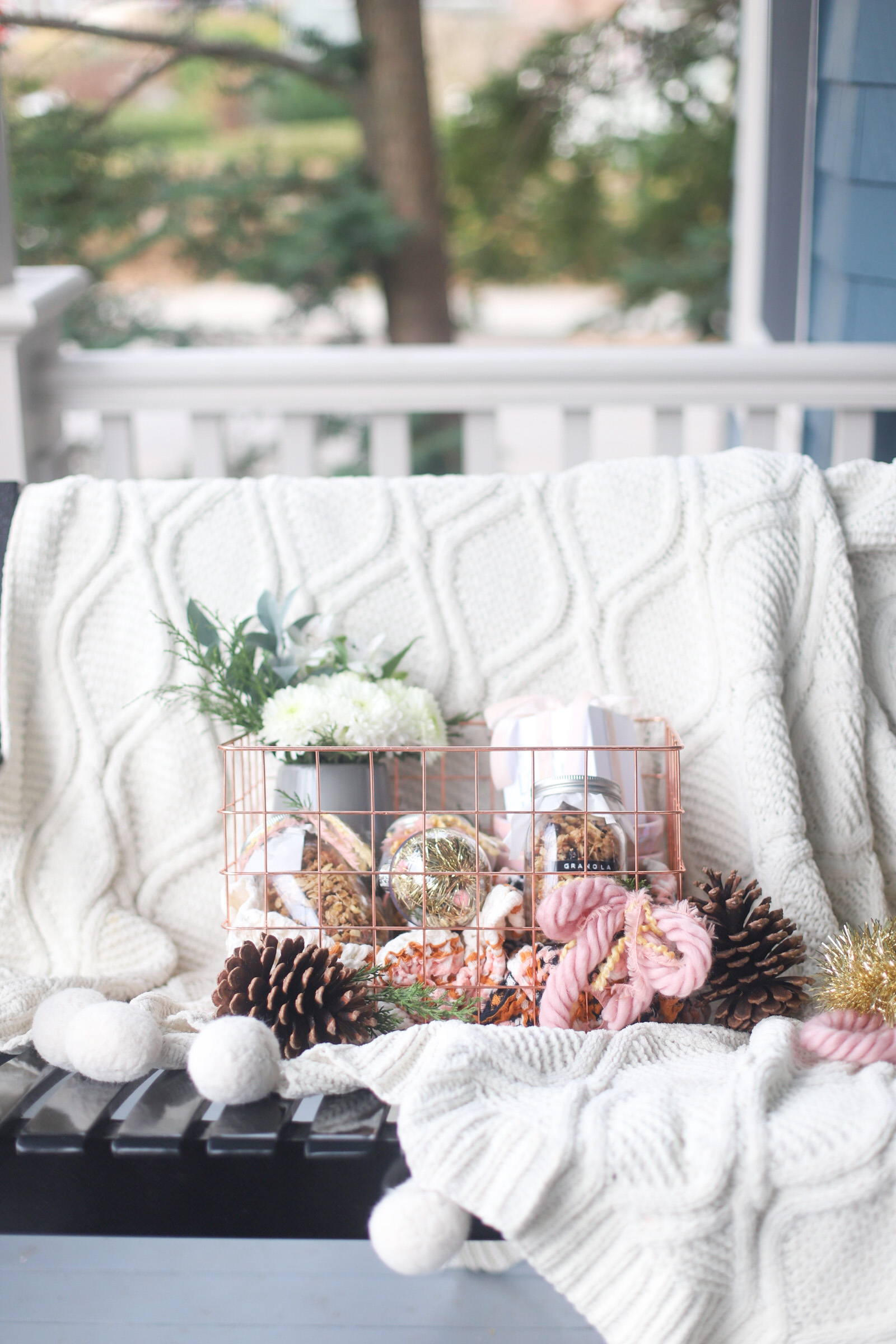 I'm also making a real effort this year to keep our traditions simple and still memorable. One of my gifting hacks: heading to the grocery store for everything I'll need! Oh yes, you read that right; you can put together all three of my favorite handmade gifts, with plenty of style and thoughtful touches, to give throughout the holiday season all from things you can scoop up on a grocery run.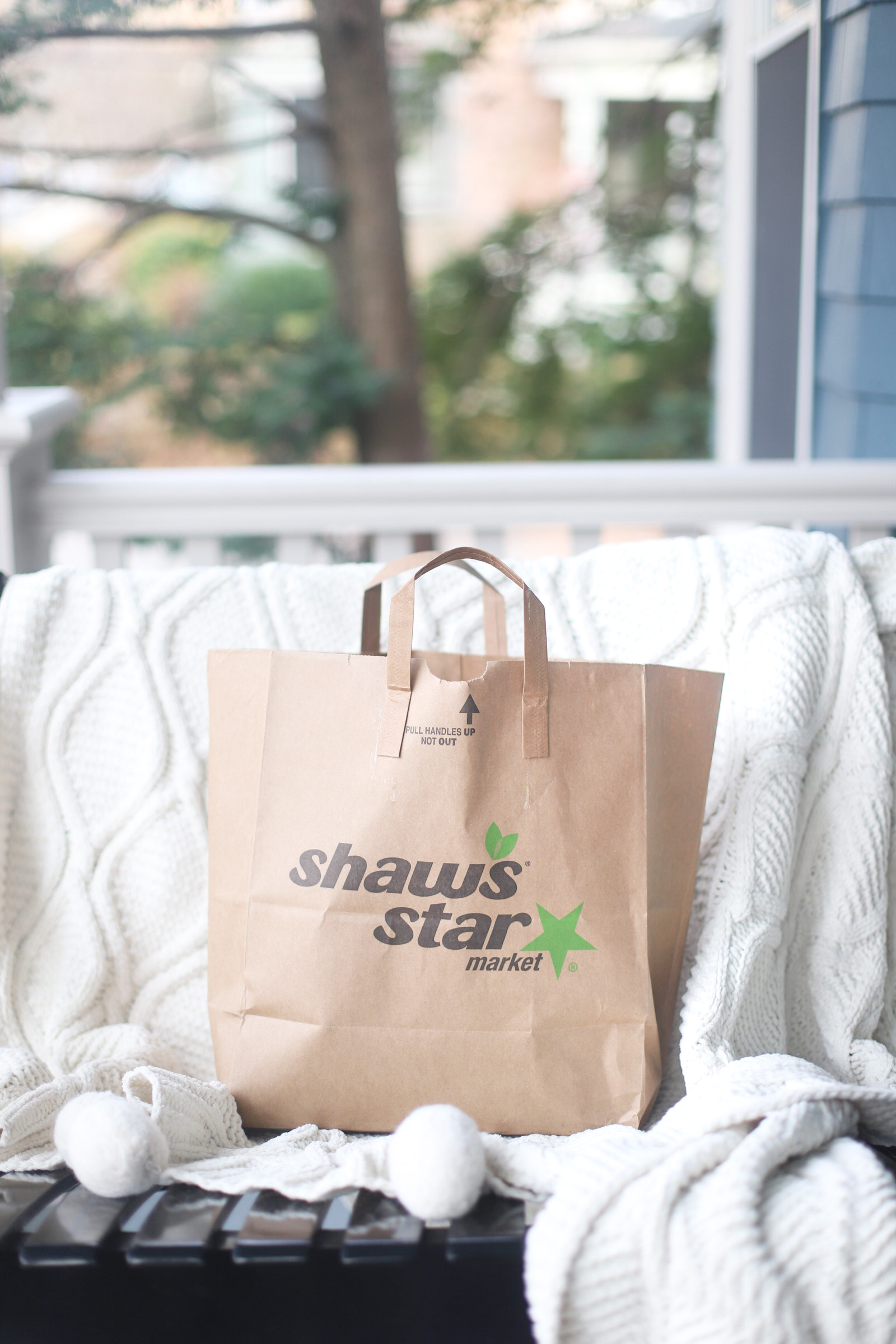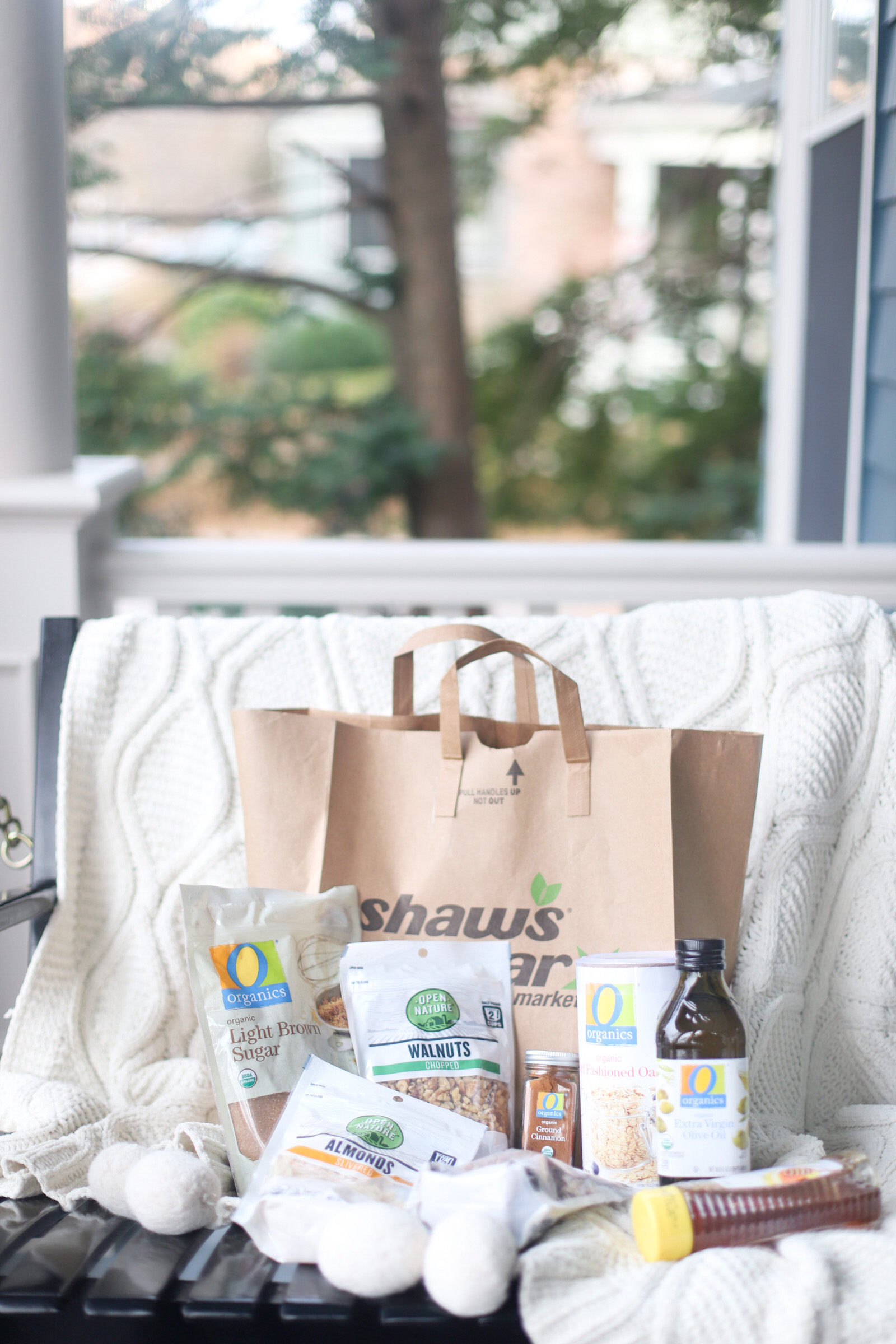 We went to our local Star Market here in Boston – to get everything we needed for this years handmade gifts. Star Market offers Grocery Delivery and Pick Up for convenient ways to shop! Whether you are cooking for a family holiday dinner at home, getting into the spirit with baking and gifting, or looking to make your home cozy and festive, Albertsons Companies banners has everything you need, including limited-edition seasonal items for the holidays, in their stores at a value.
By the way, I shopped at Star Market, but you can also find these exclusive products at the Albertsons Companies family of stores, including Albertsons, Safeway, ACME Markets, Jewel-Osco, Randalls, Shaw's Supermarket, Tom Thumb and Vons.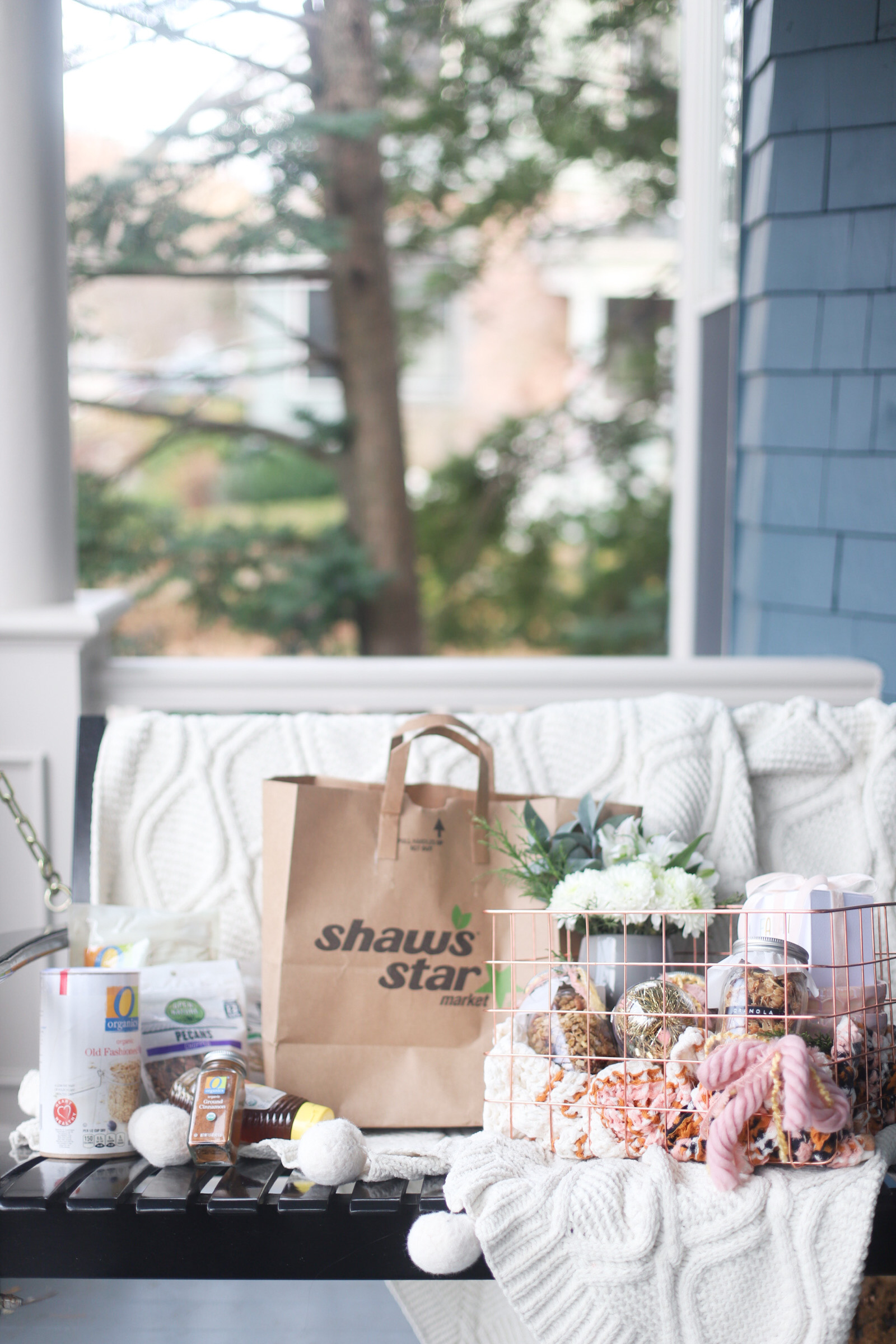 So today, I'm sharing 3 easy and beautiful handmade gifts to give this holiday season!
3 Favorite Handmade Gifts to Give This Holiday Season
These are 3 of our go-to easy and impactful handmade gifts to give during the holidays. I especially love to buy up baskets when I find them on sale throughout the year to hold all of my gifts and leave those at our neighbors' and friends' doorsteps. That's the beauty of these gifts, whether you gift them as a standalone, or make a little home-y basket full of these goodies, your gift recipients are sure to love them!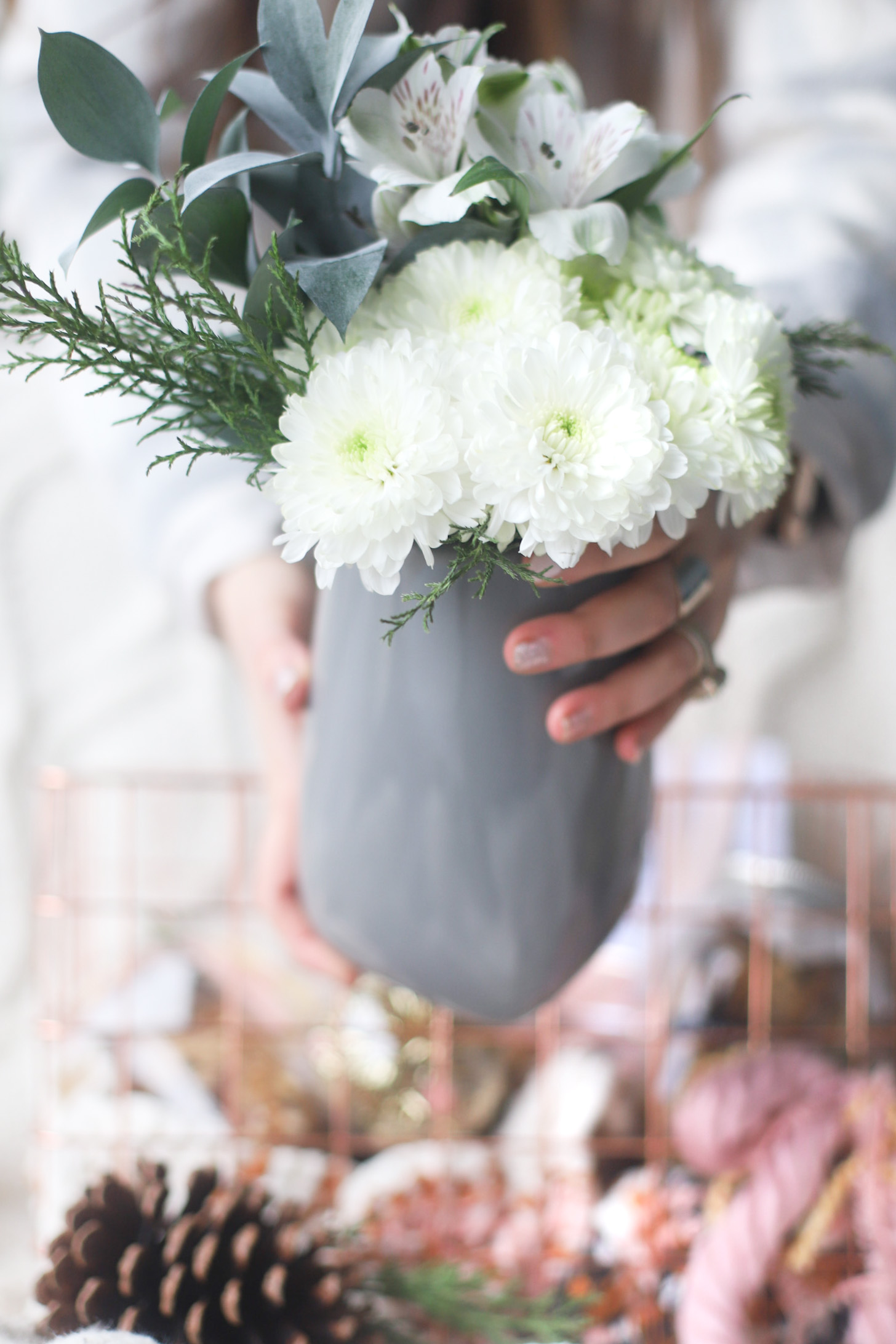 DIY Flower Arrangements
Giving fresh flowers is such a beautiful way to let someone know you're thinking of them. We so rarely buy ourselves fresh flowers, making a flower arrangement such a perfect thing to give as a gift.
And making a simple flower arrangement is totally easy to do! Grab a bouquet from your local Albertsons, you can even choose one of the debi lilly design™ vases set up right by the fresh flowers in the grocery store, or use a mason jar (always a favorite of mine since they serve so many purposes!)
One of the debi lilly design™ holiday bouquets will likely make your two DIY flower arrangements, making this a really economical way to give gifts.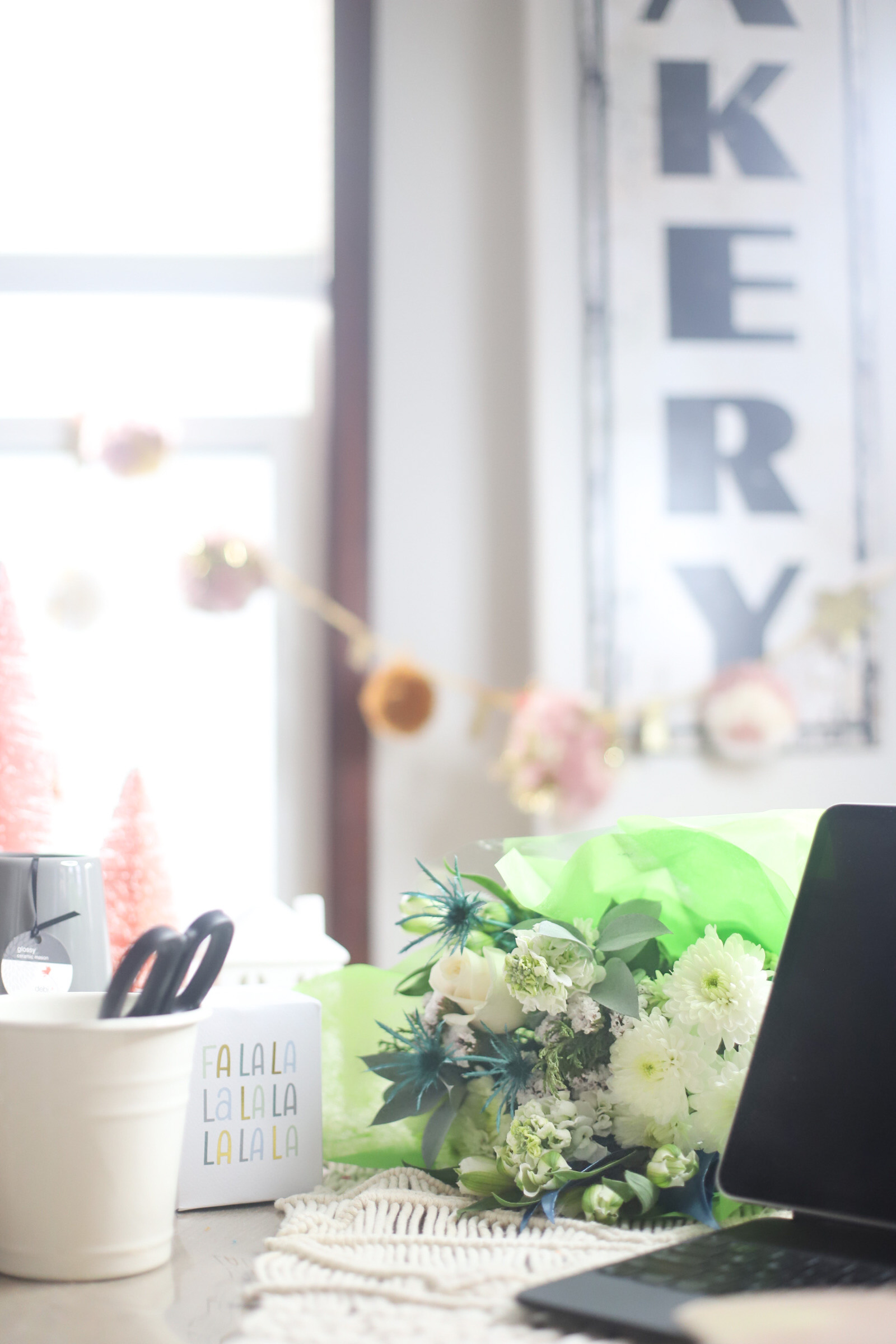 Virtual Flower Arranging
This year I also had the chance to join in on an exciting virtual event with floral designer and chief eventeur Debi Lilly. She shared her own flower arranging ideas, plus a few methods to elevate your home and gifting with high-quality, affordable 'grocery to gorgeous' tips and tricks. (You can see more of the behind-the-scenes on the "BTS/Styling" tab on my Instagram Stories highlights.)
Have fun with your flower arranging. Pair groups of two and three stems of similar flowers in bunches throughout your floral arrangement. Add in sprigs of greenery to fill in gaps and add lush pops of color and holiday touches. Don't overthink it and have fun!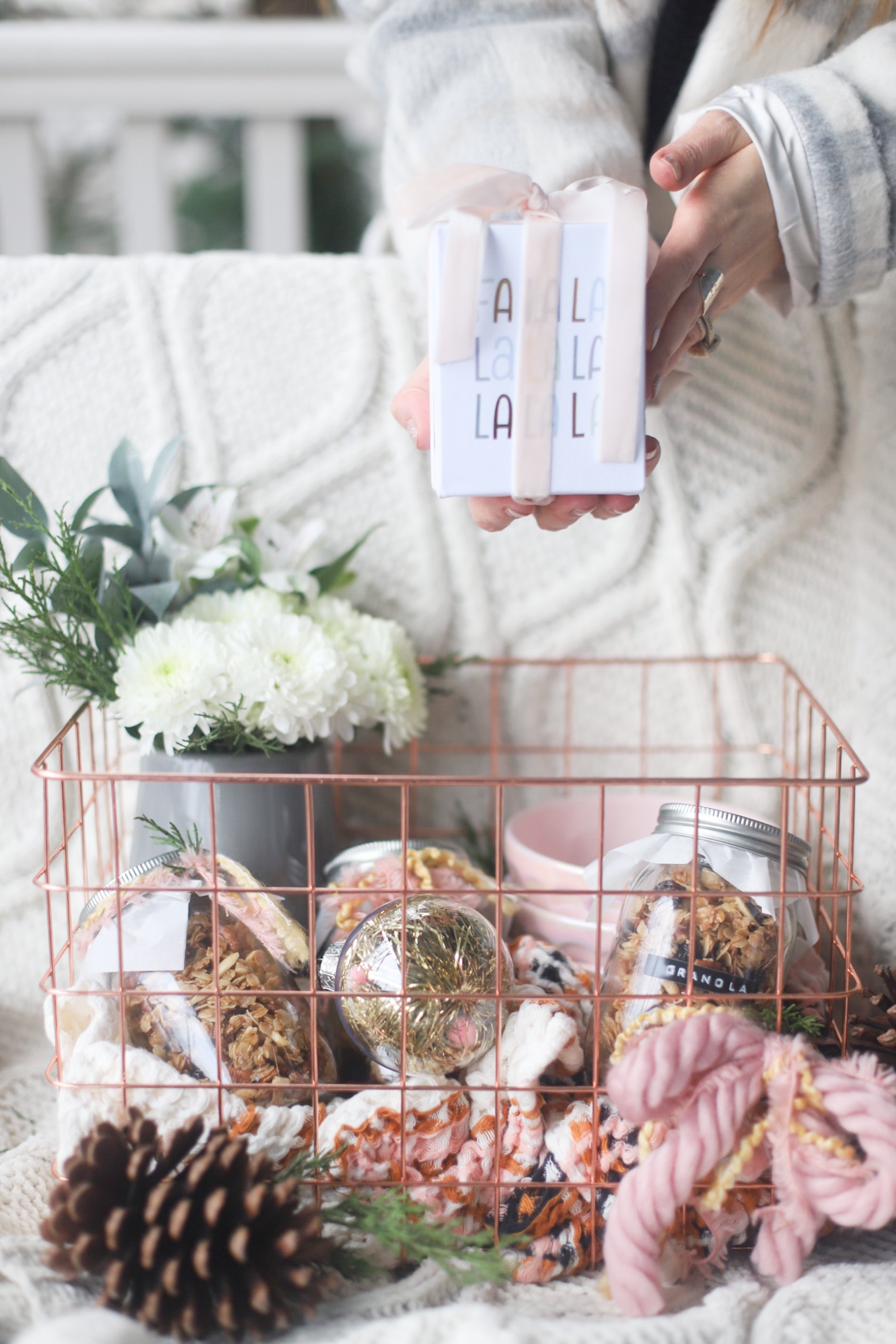 A Holiday Candle
Another simple and loved gift is a beautiful candle. I love gifting classic winter scents over the holidays.
You can even find gorgeous holiday candles at your local Albertsons Companies banner store. These debi lilly design™ candles smell amazing and even come packaged in the chicest festive boxes; a.k.a., they're already all ready to be gifted!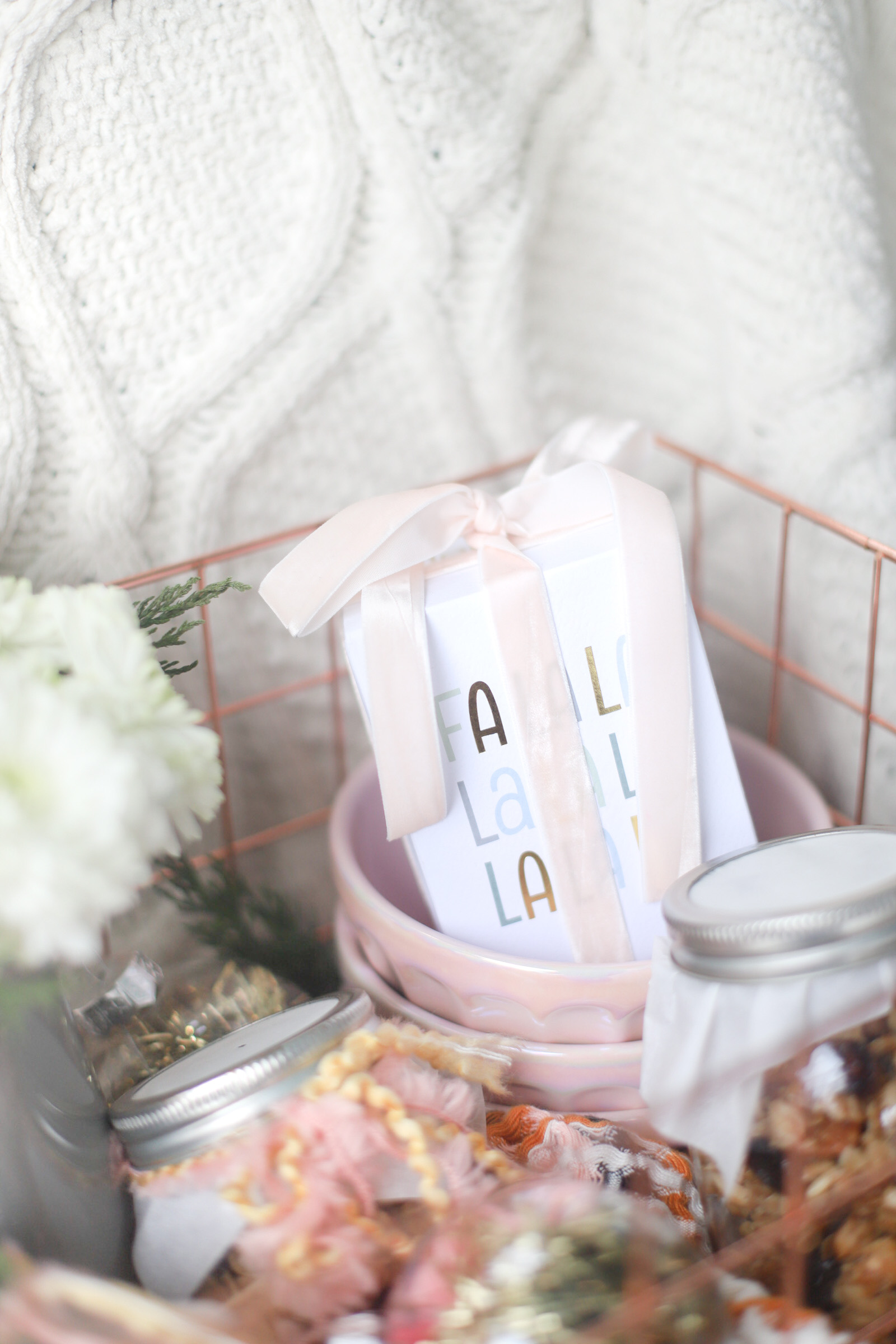 Top your candle with a ribbon or bow (I love silk or velvet ribbon for the holidays!) and you've got yourself a beautiful gift.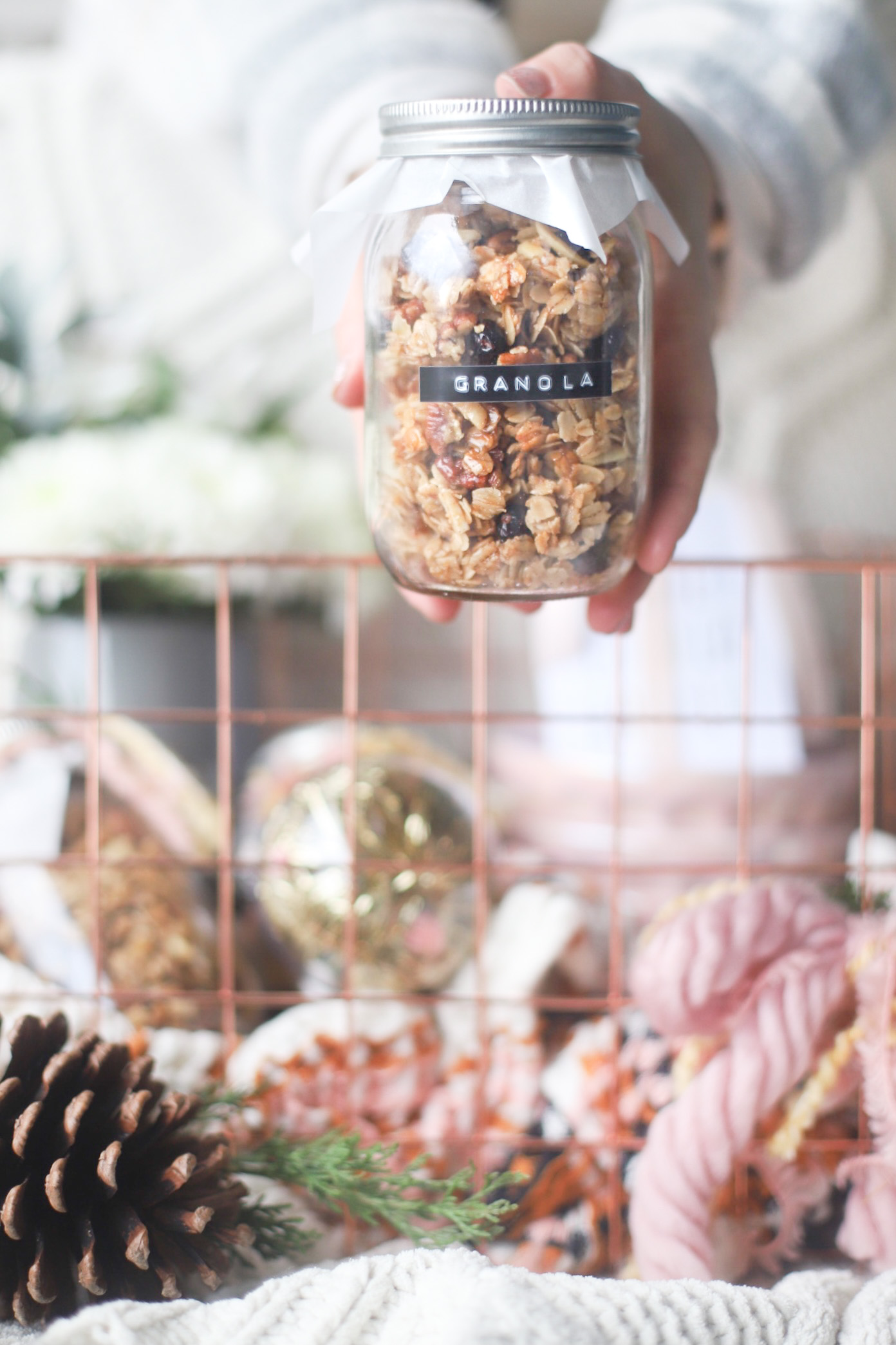 Homemade Granola
This recipe is for a big batch of our family's favorite classic granola. I make this recipe again and again and again, not only for our own snacking, but also to gift throughout the holidays.
Homemade granola is awesome because you can change it up and make it your own special recipe. You can mix it up by adding in various nuts, dried fruit, shredded coconut, etc., but the base is a really great starting point for perfectly crunchy, subtly sweet and salty, chewy granola.
For a truly giftable granola recipe, I like to stick to the granola classics. For this big batch, I used Open Nature® Almond Slivers, Open Nature® Walnuts and Open Nature® Pecans, O Organics® Old Fashioned Oats, O Organics® Honey, O Organics® Extra Virgin Olive Oil. O Organics® Cinnamon, and O Organics® Light Brown Sugar. And again, you can feel free to play around with your own mix-ins.
You could also try: pumpkin seeds, peanuts, almonds, cashews, sunflower seeds, walnuts (left whole or chopped coarsely), chocolate chips (I love using dark chocolate!), chopped dried apricots, dried cherries, diced dried apples, raisins or golden raisins, dried cranberries (a.k.a., craisins), dried blueberries, etc.
NOTE: IF you add in dried fruit or chocolate chips, don't bake those ingredients in—just toss them into the granola at the end.
I love the amount this classic granola recipe makes because the batch lasts our family a good week or more when sealed in an airtight container and can easily be gifted into several mason jars for friends. Granola is the perfect thing to top yogurt, in cereal, and just to snack on any old time.
Scroll down for our favorite classic homemade granola recipe.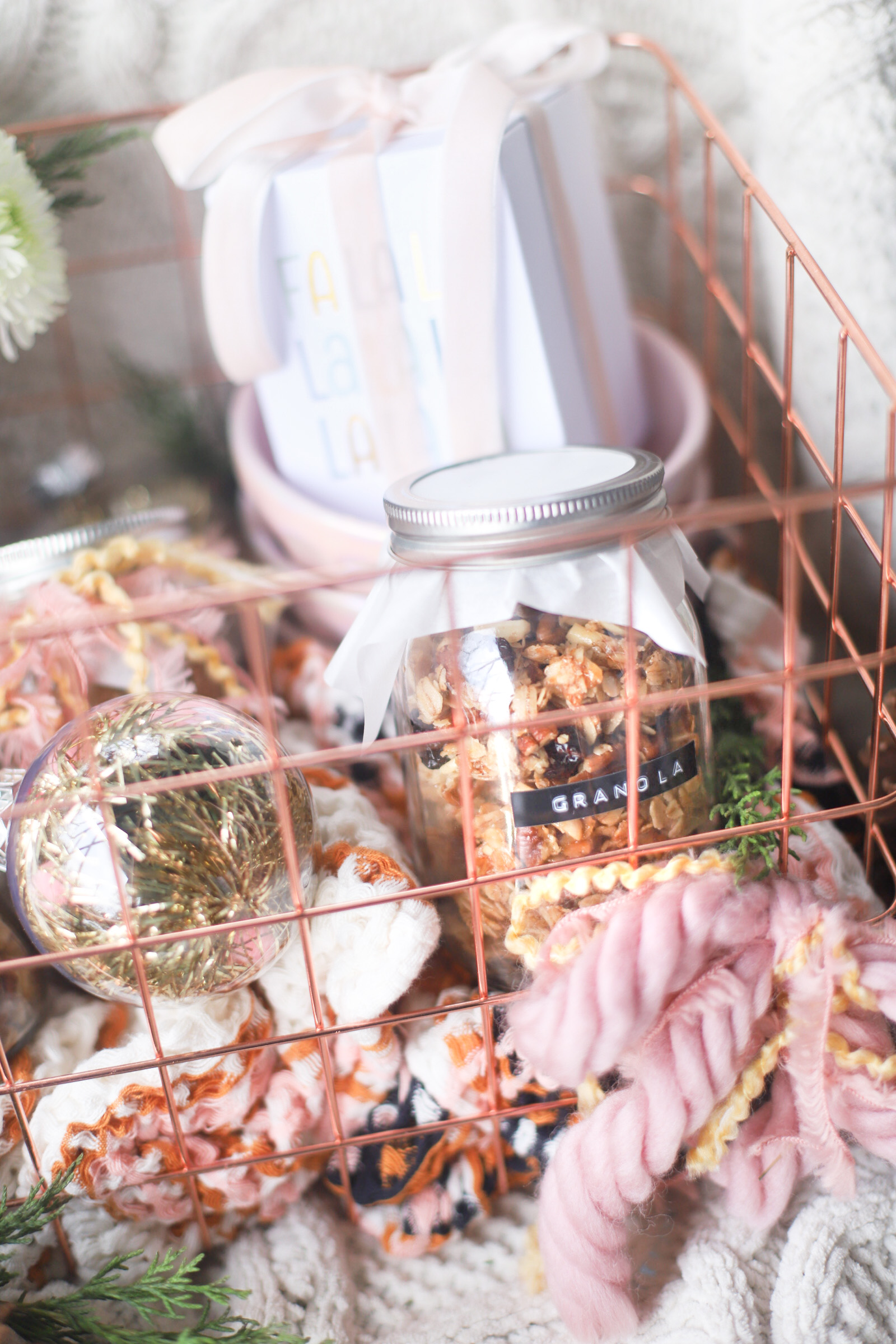 Gifting Granola
To give your granola as gifts, divide up your batch into mason jars. Put the base (circle) lid on, then cut squares of parchment paper and lay one square of the parchment paper over the tin circle, before screwing on your cap. Adding a square of parchment paper is such a simple touch with big impact. It helps your gifts to look beautifully French and handmade! 😍
I also like to tie a bit of ribbon around the lid, and over the holidays I'll sometimes tuck in a piece of pine or tie in a gold bell or two to make it extra festive.
Our absolute favorite chewy granola recipe is subtly sweet and salty, and what I think is the most perfect classic granola recipe; perfect for topping yogurt, cereal, or eaten by the handful as a snack!
Ingredients
3 cups old-fashioned rolled oats
1/4 to 1/2 cup honey (or agave)
1/2 cup olive oil (you can also melted coconut oil, canola or grapeseed oil)
1/4 cup packed light brown sugar
1/2 to 1 teaspoon of course salt (to taste)
cinnamon (to taste)
1 to 1 1/2 cups assorted nuts (optional)*
1 cup unsweetened shredded coconut (optional)*
1 cup dried fruit (optional, add after baking)*
1 egg white (optional for added clumps; beaten well so that it's foamy and frothy)
Instructions
Preheat oven to 300 degrees F.
The directions for making your own granola are pretty simple: lots of stirring. Stir the oats, nuts, brown sugar, salt, oil, honey, and egg white** until well-coated.
Spread the wet granola mixture onto a sheet of parchment paper on a rimmed baking sheet (the parchment paper really helps; everything is pretty sticky), and bake at 300 degrees for about 30 minutes, stirring at about 20 minutes. Everything should slowly bake up to a toasty crumbly texture.
Add any dried fruit after baking, while the mixture is still warm out of the oven. (Baking your granola with the fruit will make the fruit too dry and awkwardly crunchy.)
Let the granola cool completely on the pan, then break up and crumble your granola, and store in an airtight container.
Notes
Tips for Making Your Granola Extra Clumpy:

**Add a beaten egg white — make sure it's foamy and frothy — to your granola after you've mixed it all together and before putting it in the oven. The protein in the egg will help bind the oats together, creating those perfect clumps.

Once you've spread the wet granola mixture onto a rimmed baking sheet with parchment paper, throw into the oven and resist the urge to stir. Once the granola is out, let it cool completely and then break the sheet into clusters.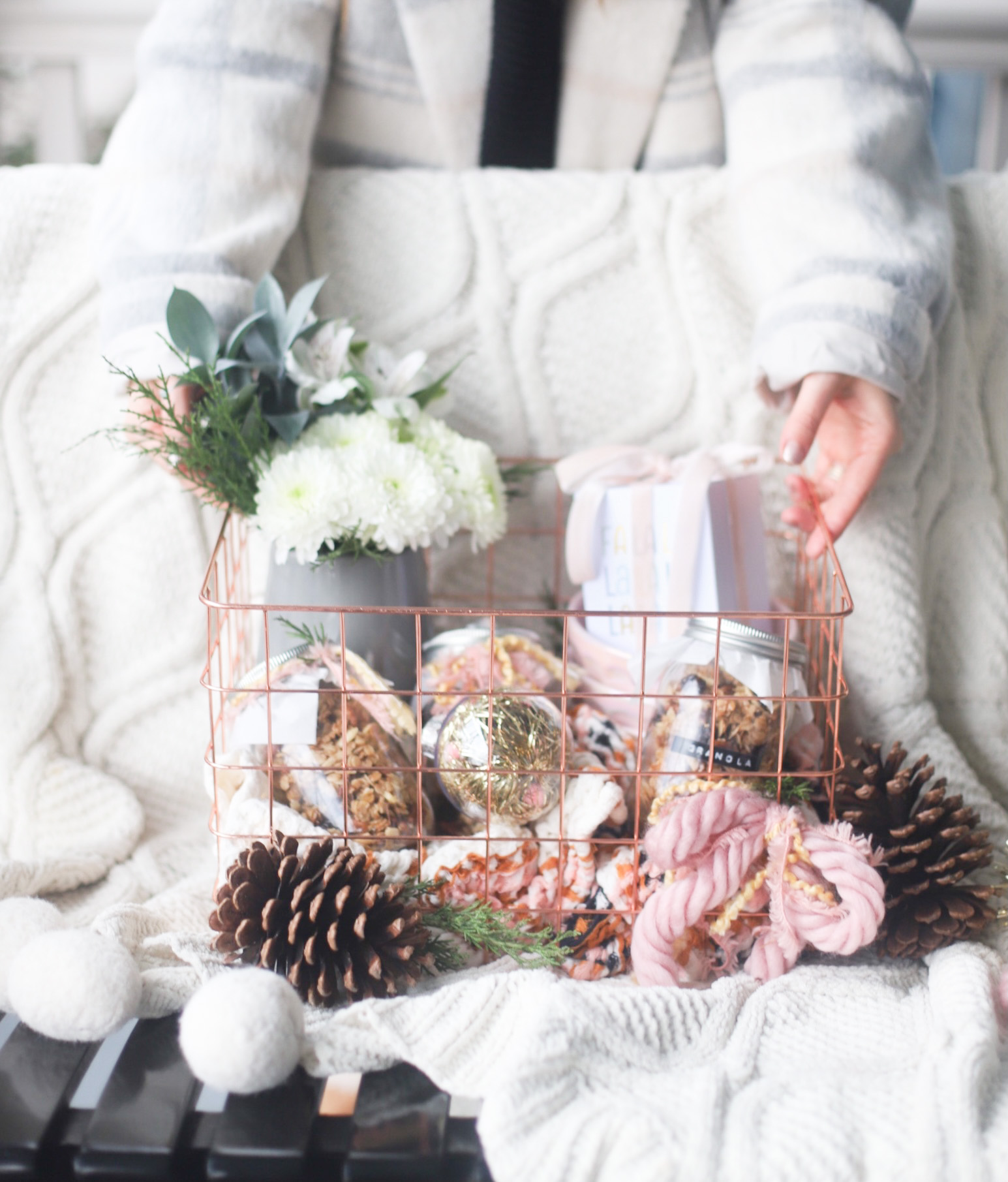 So there your have it: 3 Favorite Handmade Gifts to Give This Holiday Season, including homemade granola in jars, Christmas candles from the grocery store, and a DIY floral arrangement using store-bought flowers.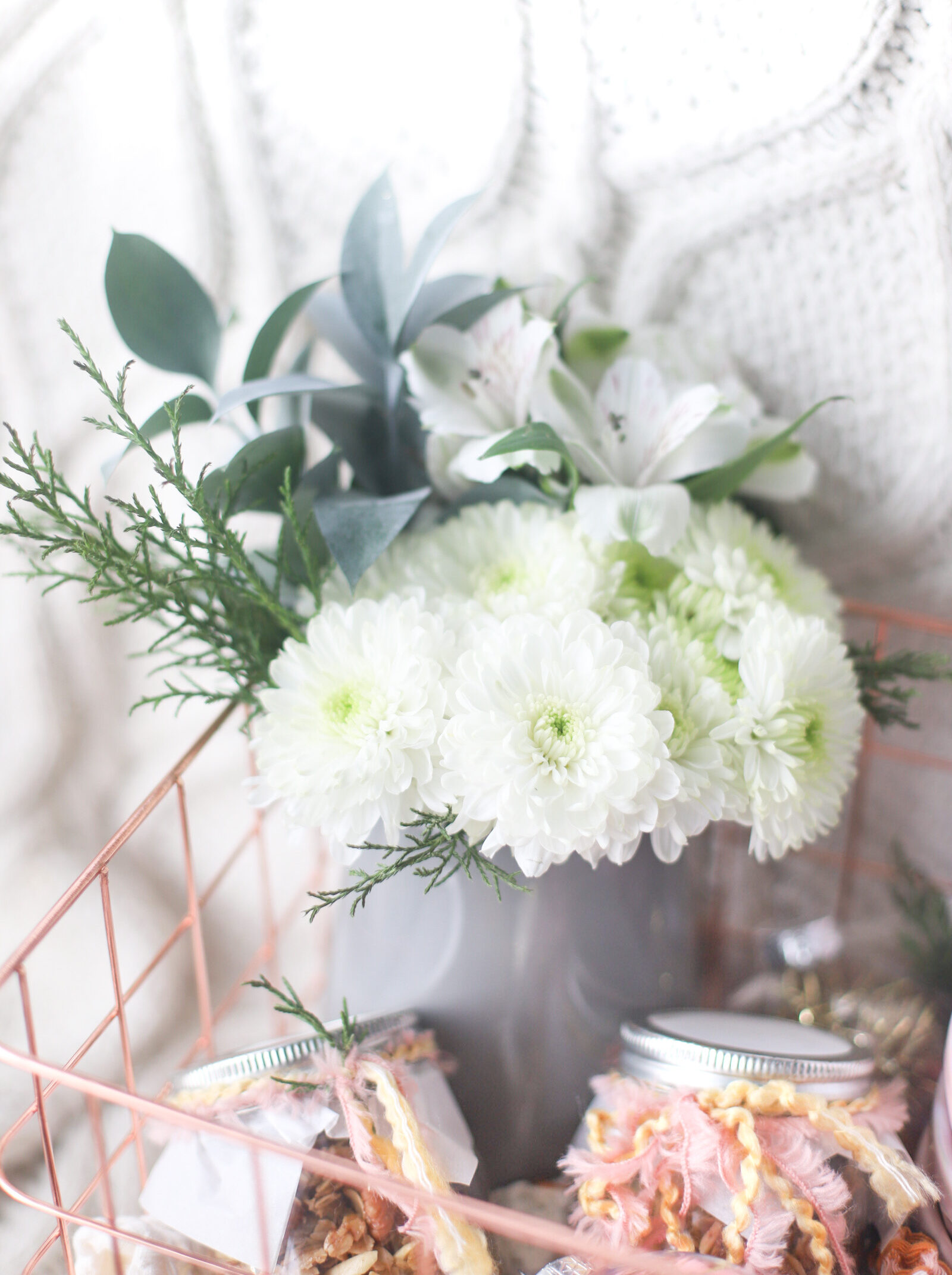 What about you? Do you have any favorite homemade or handmade things you typically gift throughout the holiday season? I'd love to hear what your favorite recipes and ideas are! I'm always looking for new inspiration (and any excuse to bake or craft!)
Love these handmade gifts? Head to our recipe page to check out what else we're dreaming up in the kitchen. If you make your own easy gifts, tag me on social media (@glitterinclexi) so I can live vicariously through all of your delicious and beautiful creations! Seriously, send those pictures my way!!