I am so excited to share the next round of beauty buys (this time for Summer) as part of the Glam Beauty Board … and this time, they're all under $40.  If you've been reading my blog for a while, you probably already know that I love trying new products (more on that, here).  This time around, I received a box filled with skincare, cosmetics (so excited to finally try the Bare Escentuals products!), a great razor, ocean spray (for perfect beachy waves), even the new "BB" tea that's been all the rage — a welcome sight after a pretty crazy week last week. I'm thrilled with all of the Summer options – most are perfect for combating heat, moisture, and frizz (a.k.a., the woes of surviving a South Florida Summer.)  So without further ado, the Beauty musts for Summer …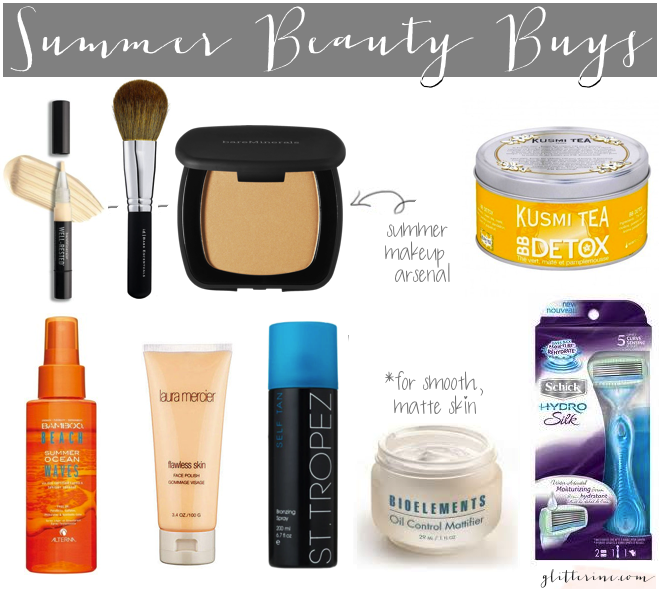 Bare Escentuals Ready Foundation Broad Spectrum SPF20, $29 – Any foundation with SPF in it is my kind of foundation.  This is my first try at a mineral foundation – I'm used to creamier versions – but Bare Escentuals mineral foundation gives a long-lasting hydrating coverage without looking or feeling like a foundation – so cool.
Bare Escentuals Full Flawless Face Brush, $28 – I am a makeup brush freak.  This brush is ridiculously soft, applies on with full coverage, and it looks so pretty on my nightstand.
Bare Escentuals Well-Rested Face and Eye Brightener, $22 – This eye brightener pen is the perfect quick fix – seriously, it's like a good night's sleep in cute packaging, a.k.a., mineral eye brightener that instantly revives a lackluster complexion.
Kusmi BB Detox Tea, $20 – I'm sure by now you've heard of BB creams; well, you definitely won't want to miss the latest: BB tea.  This stuff is brilliant.  Kusmi, a Parisian tea brand beloved by the fashion world, has unveiled the first ever BB Detox Tea made with green tea, maté, rooibos and a hint of grapefruit for a beautiful and radiant complexion!
St. Tropez Bronzing Spray in Self Tan Dark, $35 – St. Tropez's self tan spray delivers a streak-free, natural looking bronze glow that tailors to your individual skin tone and dries in 60 seconds.  (And I heart fast-drying!)  I'm not normally the biggest fan of self-tanners, mostly because I've convinced myself that I rock that pasty pale quite nicely (I could be totally wrong, but don't burst my bubble!)
Bioelements Oil Control Mattifier, $36 – This lightweight oil-blotting cream is the perfect cure for summer.  I use it as a base under my makeup for the day to absorb excess oil and leave my skin with a matte finish, helping makeup to stay put all day long.
Laura Mercier Flawless Skin Face Polish, $30 – I love a great exfoliating scrub that leaves your skin extra soft, and I really love Laura Mercier, so this one was an easy favorite.
Schick Hydro Silk Razor, $11 – One of the newest razors on the market, the Schick Hydro boasts water-activated moisture serum and 5 curve sensing blades for a ridiculously smooth shave.
Alterna Bamboo Beach Summer Ocean Waves Texturizing Spray, $20 – I have been searching for a lightweight sea spray that leaves your hair wavy and soft, rather than crunchy.  This spray provides weightless volume, moisture lock, and a natural wavy texture for that effortless beach hair look.  New fave.
Any new Summer faves?