Alright, alright, I've shamelessly plugged peaches* all summer long, and though summer is officially winding down, I really can't get enough, and truly couldn't help but sneak in the last few recipes. But guys … roasted peaches. Have you tried them?
My mom taught me years ago that roasted fruit tastes amazing. Sometimes she'll even roast orange halves or peach halves to top on a piece of grilled chicken or salmon, and the result is incredible. But roasted peaches as a dreamy dessert-meets-breakfast – a.k.a., an excuse to eat something decadent for either dessert OR breakfast – well that's just heaven.
Roasted peaches with yogurt and homemade streusel … OH MY GOODNESS.
*Ahem … 10-minute peach dumplings, peaches and cream muffins with cream cheese frosting, and roasted peach and oatmeal cookie no-churn ice cream.
Our fantastic food contributor, Hope, whipped up the recipe for these roasted peaches stuffed with yogurt and homemade streusel, and the result is incredible. I mean truly, you'll be wondering how this dreamy dessert/breakfast has been missing from your life all this time.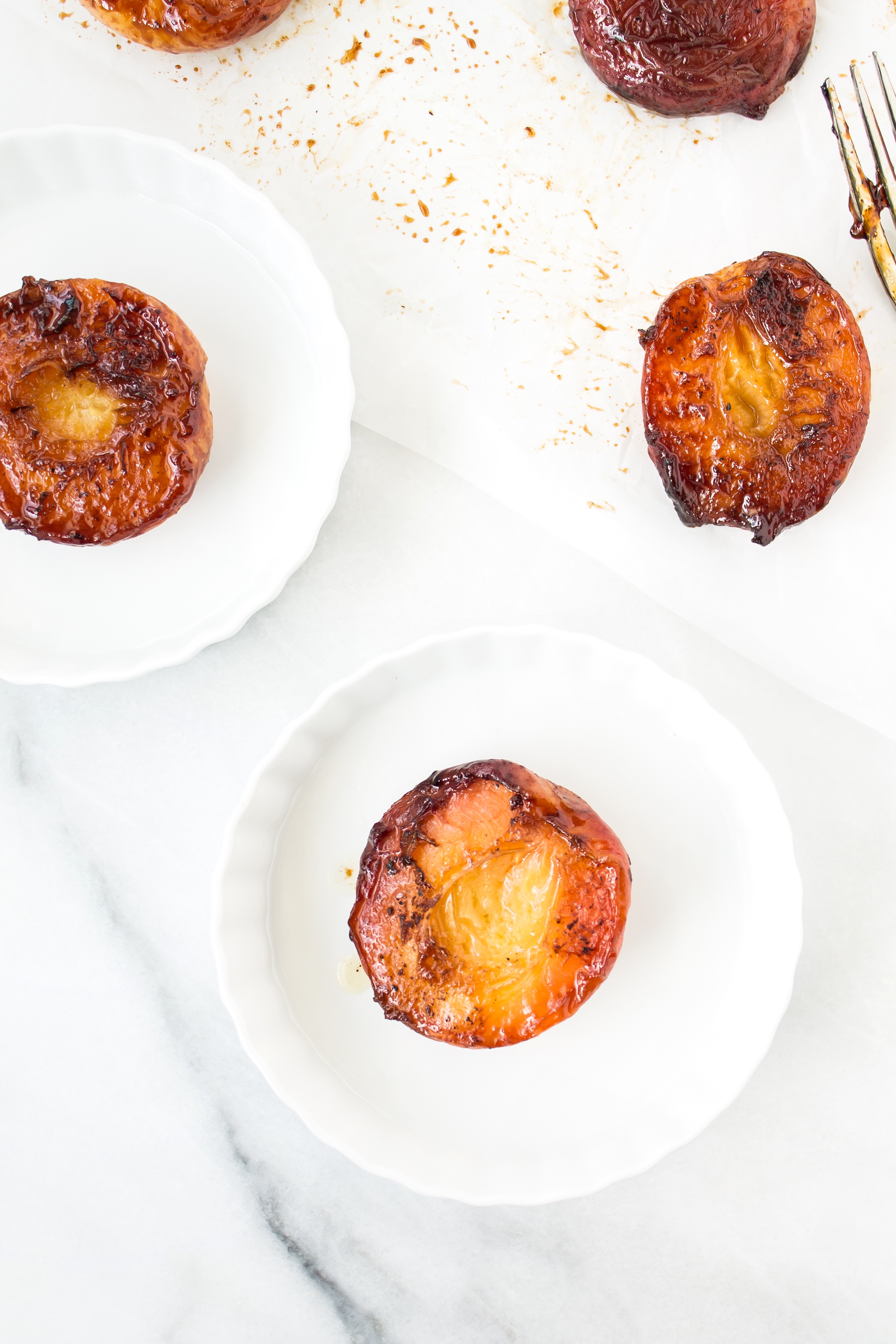 As Hope explains:
Roasting peaches is such a wonderful way to enjoy the sweet seasonal fruit. The combination of delicious caramely roasted peaches with thick chilled yogurt and a brown sugar streusel makes the most amazing breakfast or snack and is easy to make for a crowd!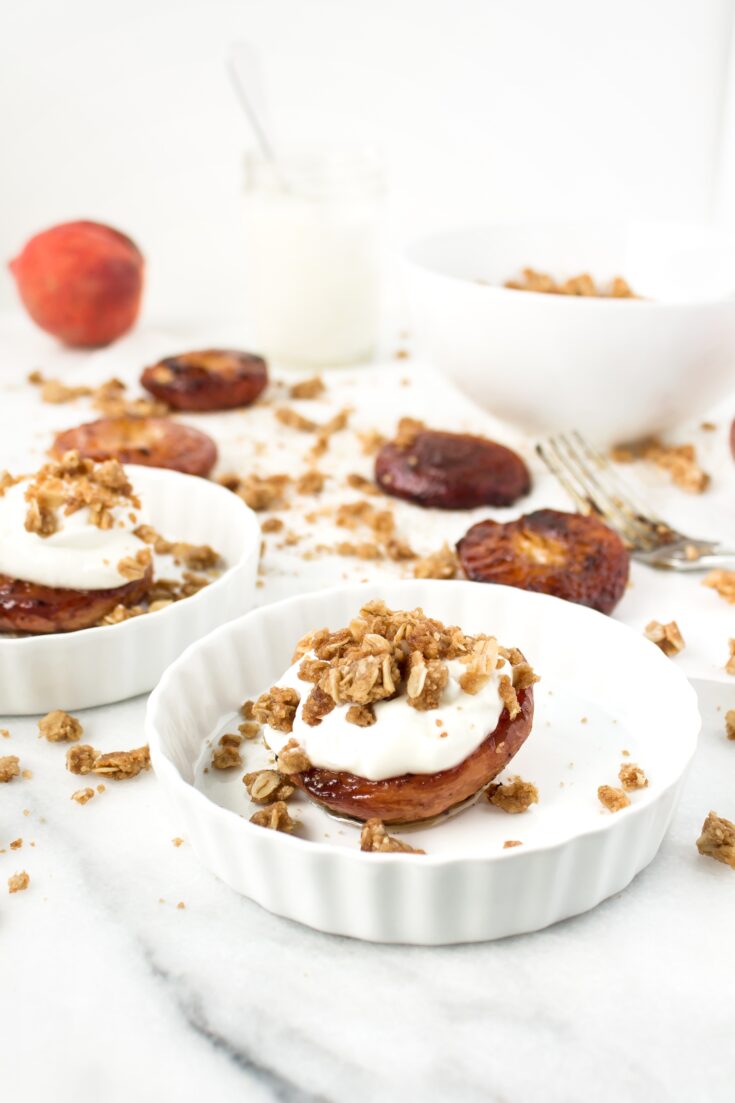 Yield:
Roasted Peaches with Yogurt and Streusel
You will LOVE this incredible combination; decadent caramely roasted peaches with thick chilled yogurt and a brown sugar streusel makes for the most amazing breakfast, snack, or dessert.
Ingredients
3 peaches, sliced in half + pits removed
1 tablespoon olive oil
1 tablespoon butter
2 tablespoons honey, plus additional honey for serving
1 16-oz container Greek yogurt or 3 5.3-oz containers Greek yogurt, flavor of your choice (I used honey, vanilla, and coconut)
Streusel
1 cup oats
½ teaspoon ground cinnamon
¾ cup brown sugar
½ cup flour
1/8 teaspoon ground ginger
6 tablespoons butter, softened
½ teaspoon vanilla
Instructions
To Roast the Peaches
Heat a large skillet over medium-low heat and add the olive oil and butter. Drizzle 1 tablespoon of honey over the cut side of the peaches. When the butter has melted, place the peaches into the skillet, cut-side down. Drizzle the other tablespoon of honey on the outside of the peaches and cook until softened and browning, about 10 minutes. Flip the peaches and cook for another 10 minutes, or until the peaches are golden and caramelized. If your peaches are very ripe, you may need to reduce the cooking time so they do not become too soft.
To Make the Streusel
While the peaches are cooking, make the streusel. In a medium bowl, mix together the oats, cinnamon, brown sugar, flour, and ground ginger. Add the softened butter and vanilla and use your hands to bring the mixture together. Mix until all of the ingredients are incorporated and the mixture forms a ball. Break up the streusel into bits.
Heat a medium non-stick skillet over medium-low heat. Add the streusel bits to the skillet and stir frequently for about 5-10 minutes, until some of the streusel bits begin to turn golden. Remove from the heat and set aside for assembly.
To Assemble
Place a peach half on a small plate or in a bowl, top with a few spoonfuls of yogurt, and generously sprinkle streusel on top. Drizzle with honey and serve immediately.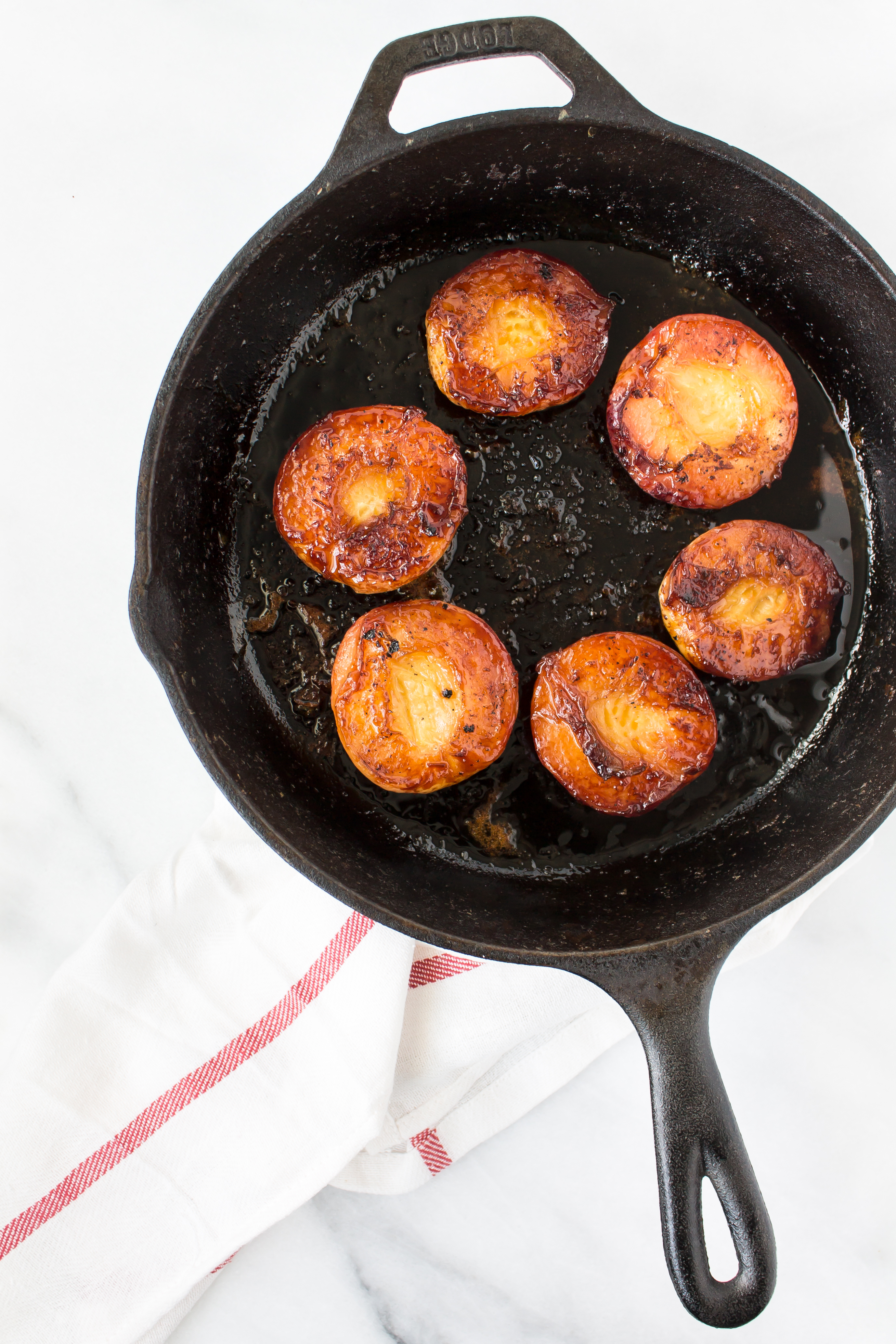 Let the natural sugars from those roasted peaches really ooze out through the roasting process. That's where you'll find that warm, caramel-like flavor.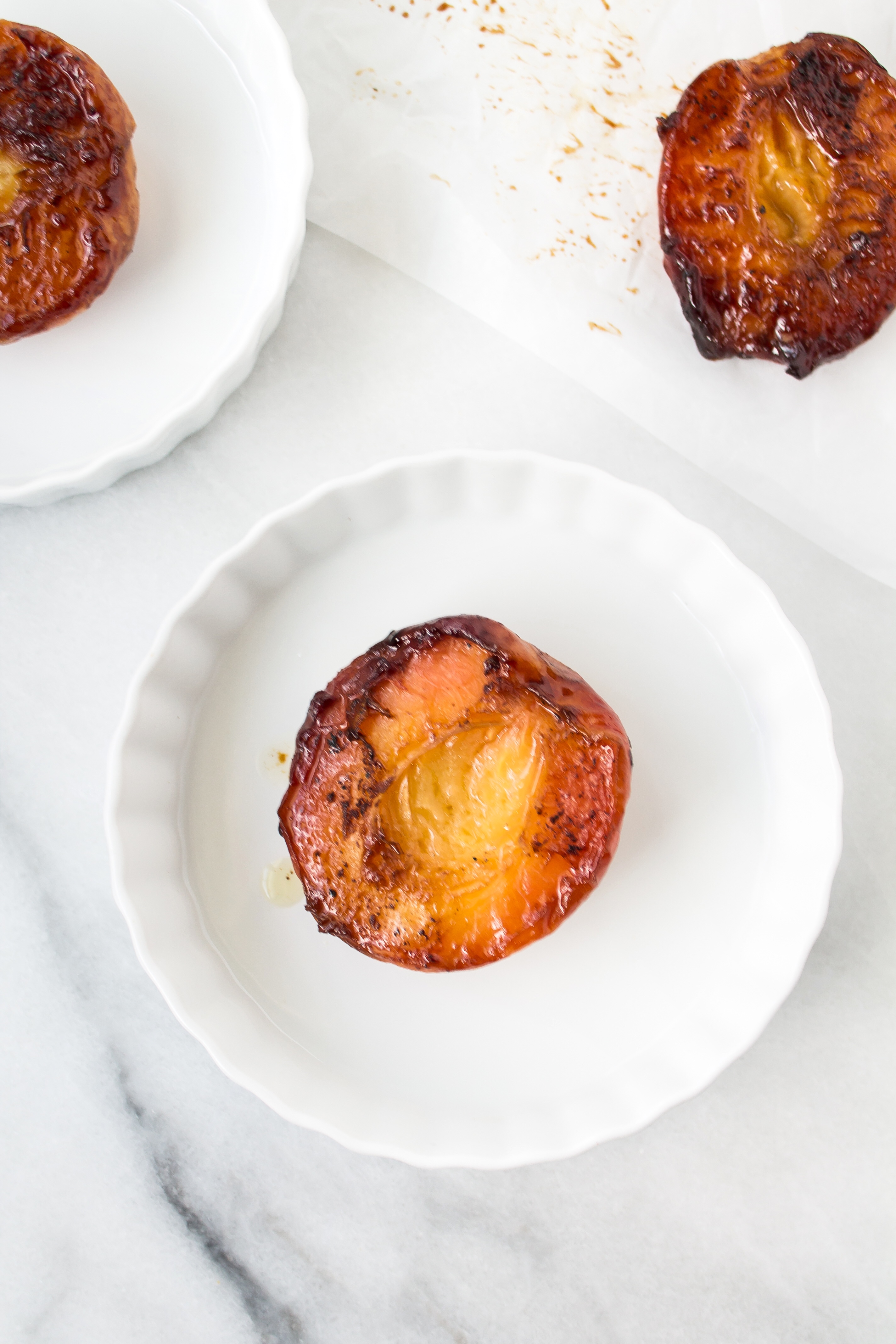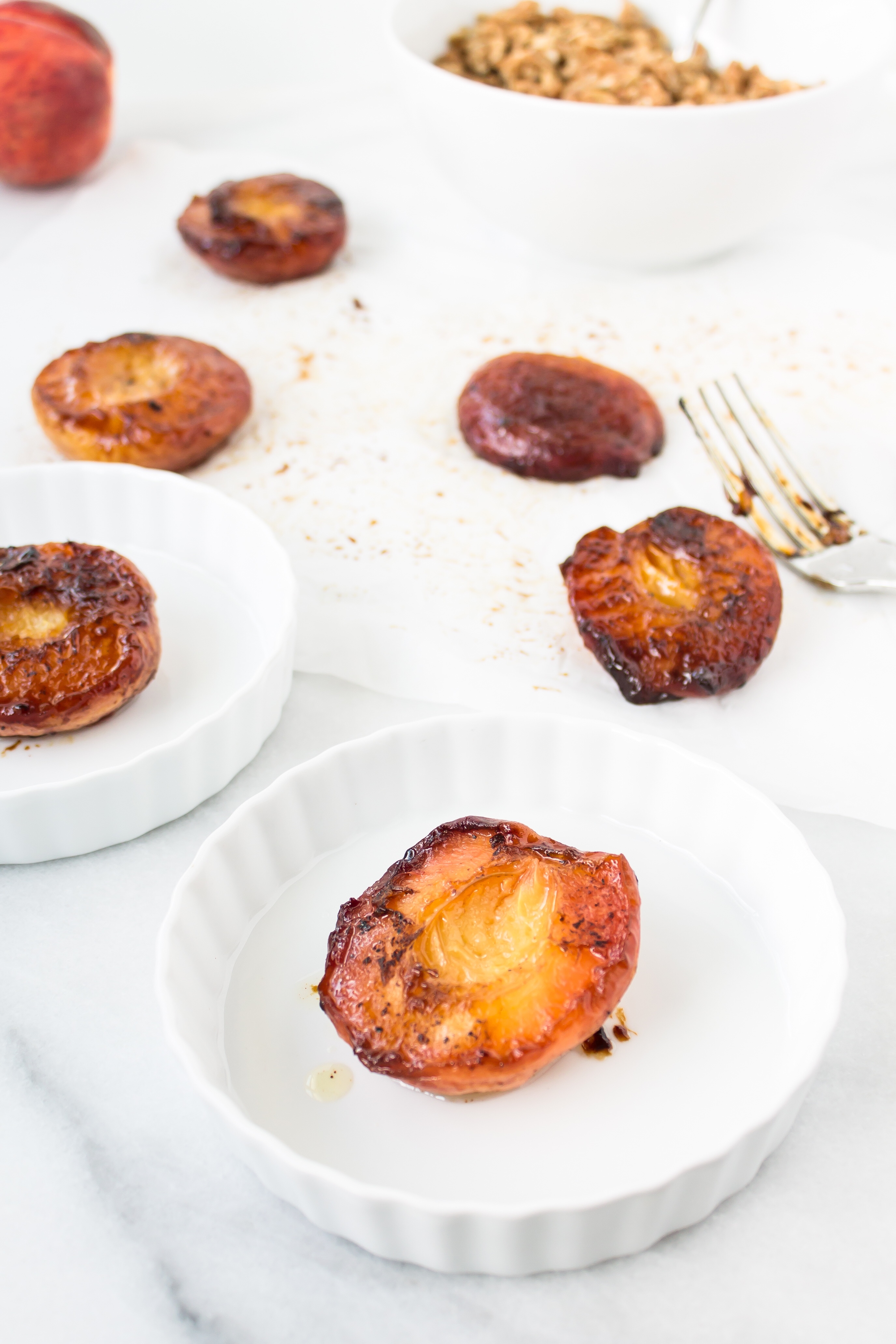 You can also keep all of the ingredients in separate containers in your refrigerator for an easy an incredible breakfast to last you several mornings in a row.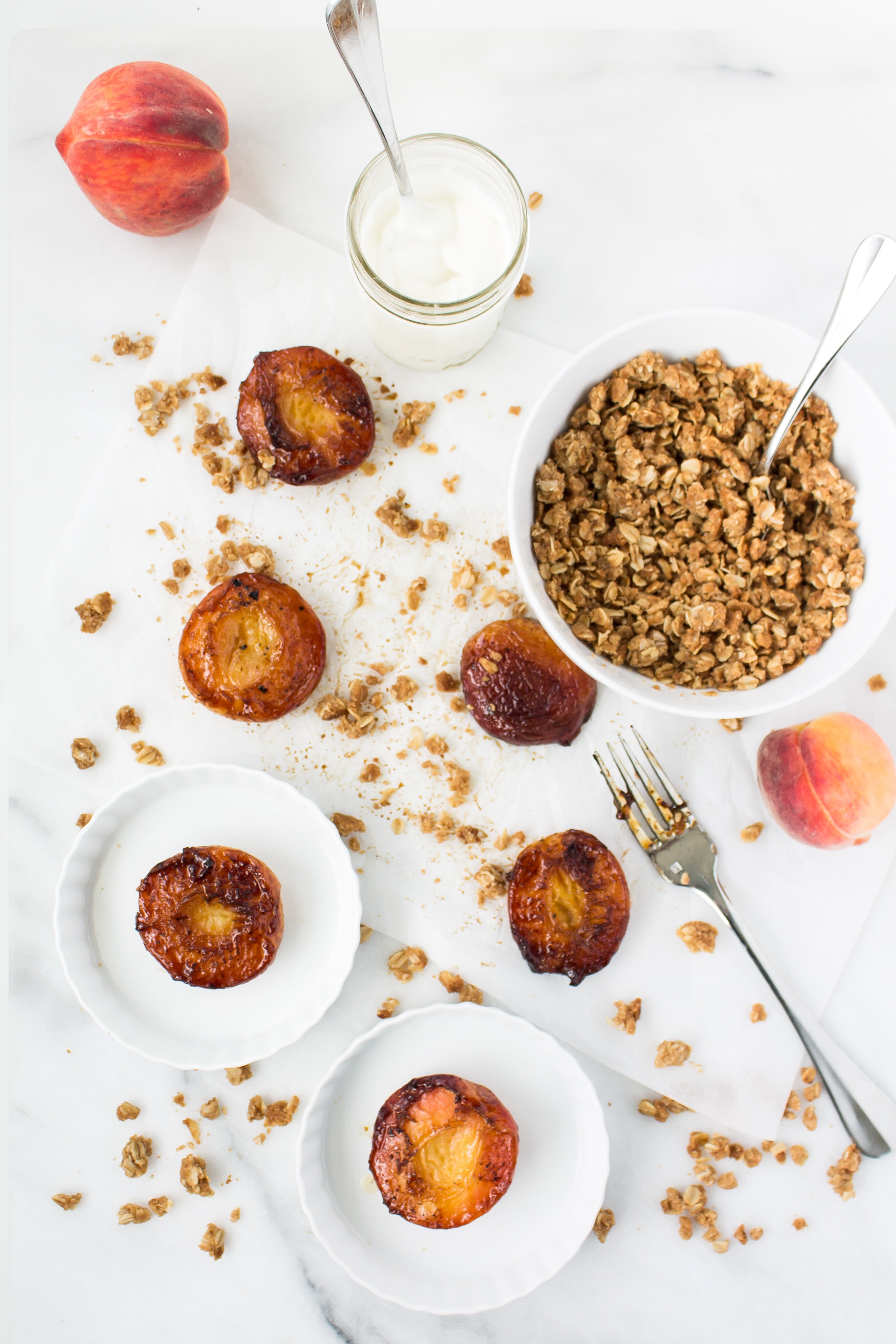 Your streusel will keep well for a good week in an airtight container, and most of us have a container of yogurt in the refrigerator on hand.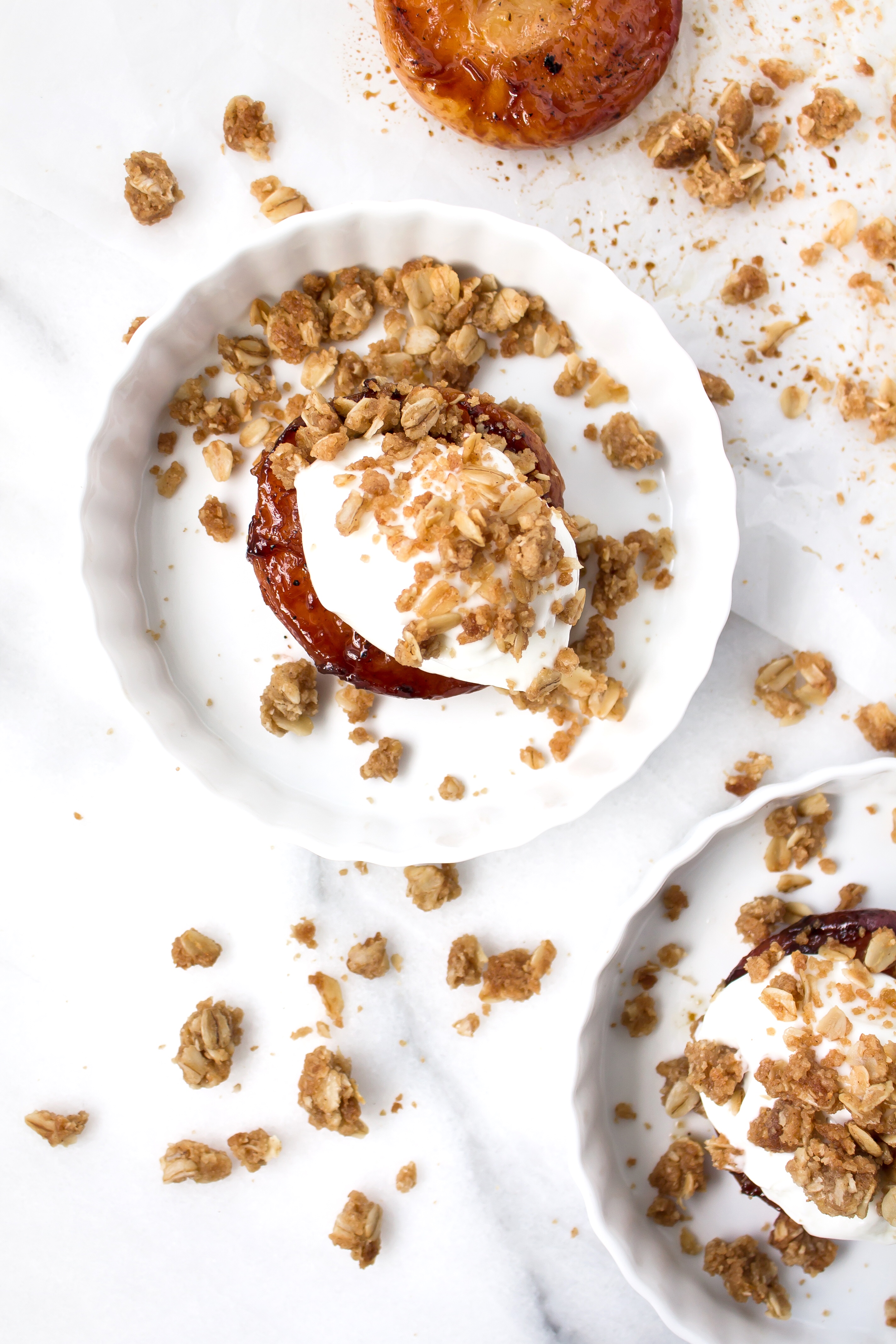 Bliss, I tell you.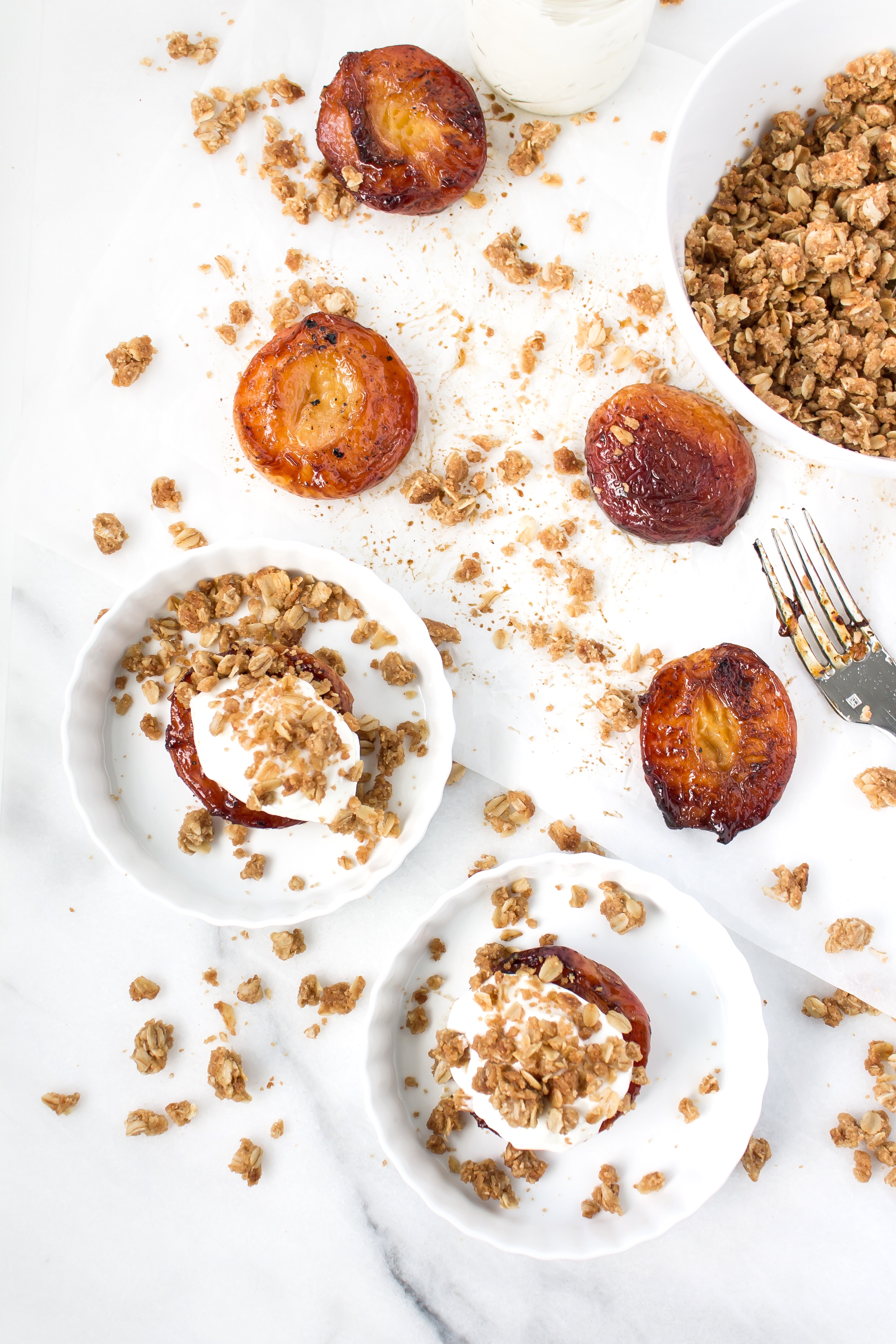 If you make your own roasted peaches with yogurt and streusel, be sure to tag me on social media (@glitterinclexi) so I can live vicariously through all of your sweet creations!