Raise your hand if you love nutella.  Odds are, you've had your spoon in the nutella jar one too many times, and not that that's a bad thing, but, if you can make something delicious even more amazing, then why on earth not?  Let's be honest here, everything is better with nutella, and buttery powdered-sugar topped hazelnut shortbread cookies … stuffed with nutella, well that's just heaven.
Side note: nutella is turning 50 – that seems like quite enough cause for me to celebrate, with a handful of nutella-stuffed cookies.
These cookies are all that's good about shortbread, plus a hazelnut flavor and a nutella punch.  The powdered sugar also makes these cookies really pretty: perfect for any party really.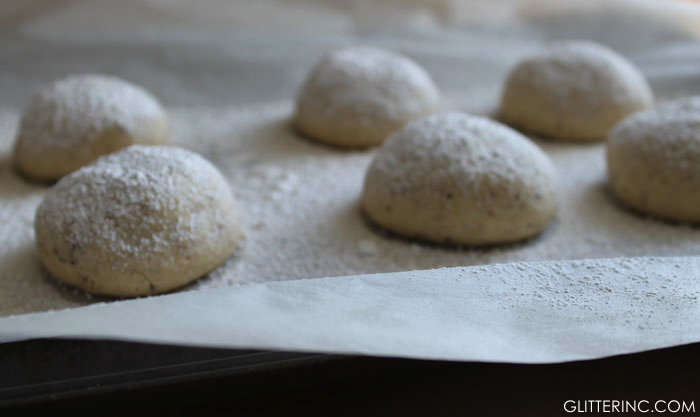 Nutella-Filled Hazelnut Shortbread Cookies
Makes approximately 15 large cookies or 30 smaller cookies

INGREDIENTS
1 cup butter (2 sticks), softened
½ cup granulated sugar
½ tablespoon vanilla extract
1 ¾ cups all-purpose flour [I used just a bit shy of 1 and ¾ cups of flour (closer to 1 + ½), to keep the cookies moist.]
1 cup ground hazelnuts (or approximately a heaping cup of whole hazelnuts if you want to grind them in a food processor)
1 jar of nutella (you'll only use about 

⅓

cup of nutella)
½ – 1 cup powdered sugar
DIRECTIONS
Preheat your oven to 350° F
Using an electric mixer, cream together butter and sugar in a large bowl until fluffy, about 2 minutes.
Beat in vanilla.
Mix in flour and ground hazelnuts until combined.
Once the dough is formed (it should be buttery; it is a shortbread after all!), scoop large tablespoons of dough and roll and flatten into thin discs.  (I did this step first so that I had a plate of discs to work with before I started on the nutella filling.)
Take one dough disc and form in your hand as a little cup (just indent the center with your thumb), and then, using either a spoon or some kind of injector (I happened to have a cupcake decorator, but anything you would pipe icing with would work great as well!) put about a 1/2 teaspoon of nutella into the center of the disc in your hand.  (If you're using a spoon, try using two spoons, one to drop the nutella in the cookie dough cup, and the other to scrape the nutella off that spoon.)  Do your best the keep the nutella in one small area.  Top the cup shaped dough with the other disc, gently pressing the edge of the top disc around the cup form to seal it shut. Lightly roll the whole mass in the palms of your hands to smooth it into a ball. (Be careful to keep the nutella inside the ball.)
Spacing cookie dough balls approximately an inch and a half apart on a cookie sheet, bake them in the preheated oven for about 15 minutes, until the cookies are set, but not browned.  (They may not look done, but they are.)
Allow the cookies to cool to warm (i.e., they should no longer be hot, but just a little bit warm to the touch (around 10 minutes.)
There are two methods to coating the cookies in powdered sugar.  Either place about a 1/2 cup of powdered sugar in a large Ziploc bag and gently roll the cooled cookie balls in the sugar OR sift or sprinkle the powdered sugar over the tops of the cooled cookies. I chose to sift the sugar over the tops of the cookies because they are very delicate.
These cookies are amazing warm.  The hazelnut  shortbread is buttery and not too sweet.  Once you hit that nutella filling, you'll be in heaven!
Recipe adapted via Amandeleine