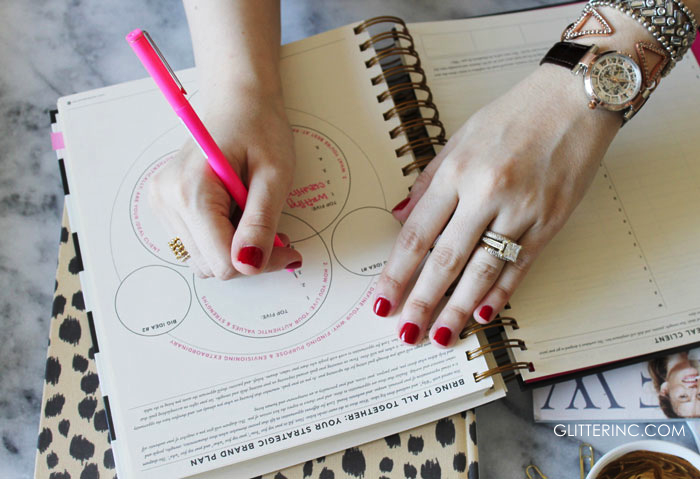 I often get asked how I juggle working as a lawyer and a blogger – and though the absolute truth is that the balance is not always so perfect, not always so graceful – the secret is taking deep breaths and working hard to stay on top of it all.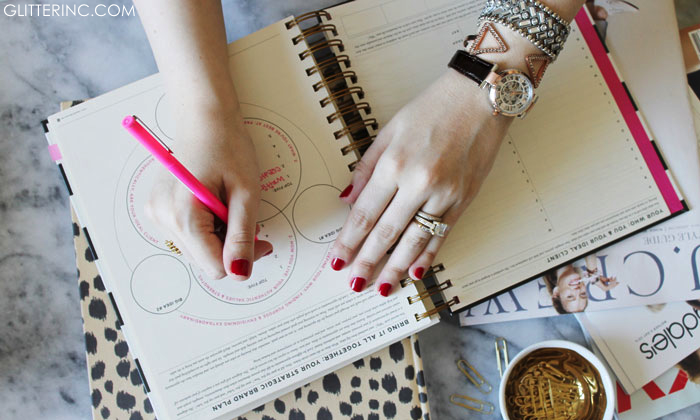 Shop the Look: Day Designer // Canvas Dauville Gold Glazed Porcelain Bowl: Amazon // Leopard Coffee Table Books: Glamorous Rooms // Bracelets: BaubleBar // Watch: c/o Kenneth Cole
A few tips for staying on time:
I write everything down.  Sometimes more than once, but at the very least, in my Google calendar (that syncs to my iPhone and my desktop), and in a paper planner and/or on post-it notes (yes, I am a post-it note junkie.)
I set reminders and keep a running "to do" list.
Stay on track.  Though I have the tendency to start multiple projects at once, it really helps to give each project an end.  You'll get so much more done with concrete goals that you actually keep.
Devote a few minutes each day to organization.  Even ten to fifteen minutes each day, focusing on get organized, working on a "to do" list, updating a planner or agenda, makes a world of difference.  Organization takes effort.
De-clutter.  This is certainly not my strong suit – but I'm trying.
I leave early for everything, probably earlier than necessary, but I hate the feeling of anxiety you get when you're running late to anything at all.  Not worth the extra ten minutes … so I leave early, always.
Wear a great watch – you don't always want to be checking your cell phone (sometimes it proves more of a distraction than a help.)
Coffee helps.  Sleep helps more.
By the way, if you share your secrets to staying on time with Kenneth Cole, you could win a Kenneth Cole watch or even a $1,000 Kenneth Cole gift card.  (The sweepstakes runs from 5/1 through 6/30.)  #StayOnTime

Kenneth Cole Watches feature classic designs with a modern edge. Go to www.KennethColeTime.com to find a watch that completes your look. While you're there, be sure to enter the #StayOnTime sweepstakes. Weekly winners will receive a watch of their choice. One grand prize winner will receive a $1,000 Kenneth Cole gift card. Enter by June 30, 2014.
Compensation was provided by Kenneth Cole Watches via Glam Media. The opinions expressed herein are those of the author and are not indicative of the opinions or positions of Kenneth Cole Watches.