This post contains affiliate links, which means that if you click on one of the product links, I'll receive a small commission. Thank you so much for clicking through and helping to support this little blog business of mine! Read more about our site, privacy, and disclosure policies here.
Looking for the perfect pair of L.L. Bean duck boots? I'm sharing how to choose classic bean boots, a.k.a., duck boots, and when to buy them to catch the biggest selection of boots before they sell out!
Last Winter, Mike and I headed to my parents' house in Maine for a very cold Winter vacation.  It was a lovely ten days spent freezing, eating, aaand slipping and sliding.  I mean, seriously, how do Northerners do it?  No matter what boots I wore, or how carefully I walked (a.k.a., the ninety-year-old shuffle), I slipped around on the ice like a terrified puppy.  Hubby had been smart and bought these heavy duty Sorels (actually, strike that … I was smart on his behalf, and somehow not my own, and had ordered him a new pair of boots for the trip, but skipped ordering myself a pair because they looked so giant and furry and I was convinced I could make "cute" boots work in the snow.)  No, no you can't.  Do not pass go.  Do not collect $200.  Cute boots and snow were never meant to be.  I've seen plenty of cute heavy duty Winter boots since then, but today I'm here to talk to you about the ever-classic bean boots (as in, the L.L. Bean boots New Englanders have been wearing for more than a hundred years.  There's a reason for that.)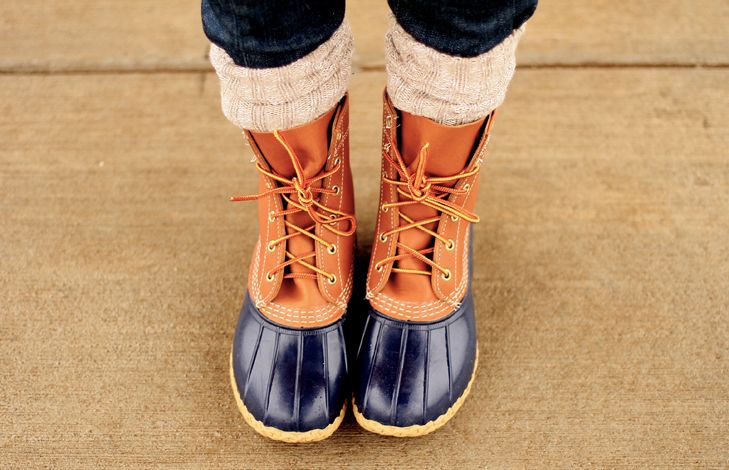 How to Choose Classic Bean Boots, a.k.a., Duck Boots (and When to Buy Them!)
I first spotted bean boots in Maine.  Actually, I spotted them everywhere.  On everyone.  They're cute in this unbelievably charming classic-hipster-meets-prep kind of way.
You're probably rolling your eyes right now, saying, "Lexi, duh, it's only September."  But here's the thing, bean boots sell out quickly, and take weeks (if not months) to make and ship … each pair is handmade in Maine (Read: worth the wait), so September IS the time to order them.  (I was majorly tempted by this pair as well, but I thought the full shearling lining might be just a tad much, even for me.)
As for the traveling …
I also happen to have grand plans to travel like crazy this Fall/Winter, because as of October 3rd, hubby's residency interview season will officially kick off, and Scarlett and I will be tagging along as often as possible (both because I am travel-obsessed and I am equally terrified to agree to move to a city I have never been to/can't picture for the life of me.)  So much more on our residency travels coming soon.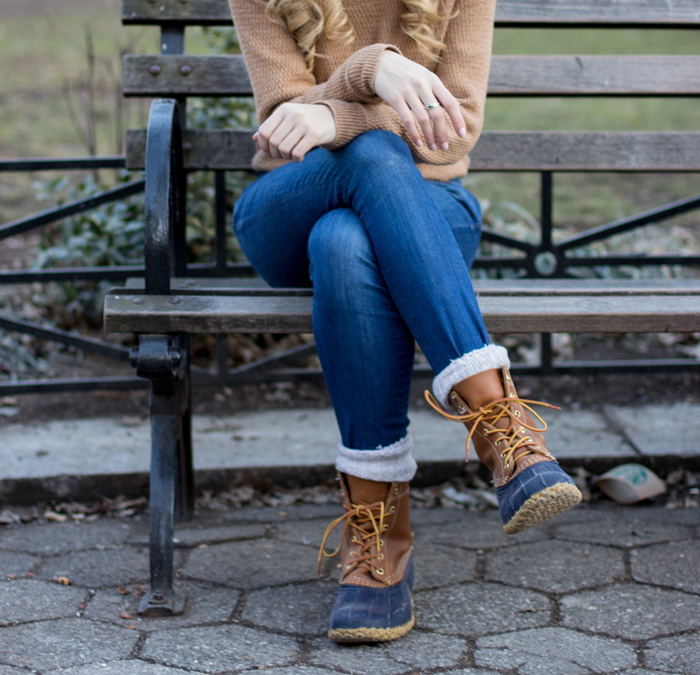 How to Choose Your Perfect Pair of L.L. Bean Duck Boots:
By the way, just ordered my first pair: the 8″ Gore-Tex/Thinsulate bean boots (with plans to add the shearling insoles for extra cold travel days); I wanted a pair that could withstand melting snow and seriously cold temperatures … along with anything below fifty degrees, because when you're from Miami, below fifty is freeeezing.
They're been the perfect pair for me, but I'll admit, I mostly wear them in colder weather only.
This side-by-side guide shows you the different heights offered …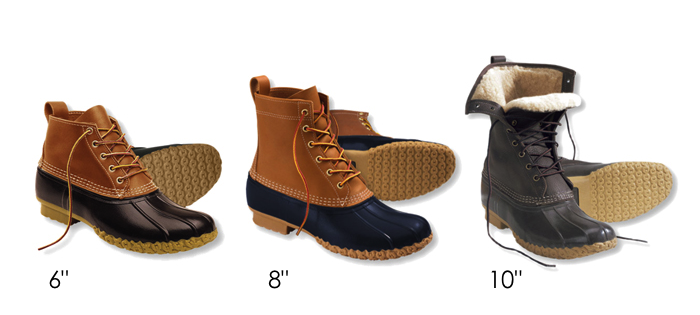 For comparison:
the 6″ hit at around the ankle and are great for Fall and everyday wear;
the 8″ cover more leg (and I think are more suitable for colder temps);
and the 10″ hit at lower mid-calf (are 100% Winter-ready and look adorable laced up only about halfway.)
I definitely have my eye on the 6″ pair because they seem perfect for everyday, Fall, gardening, etc.
Do you own a pair of bean boots (or something similar?)  What's your favorite style?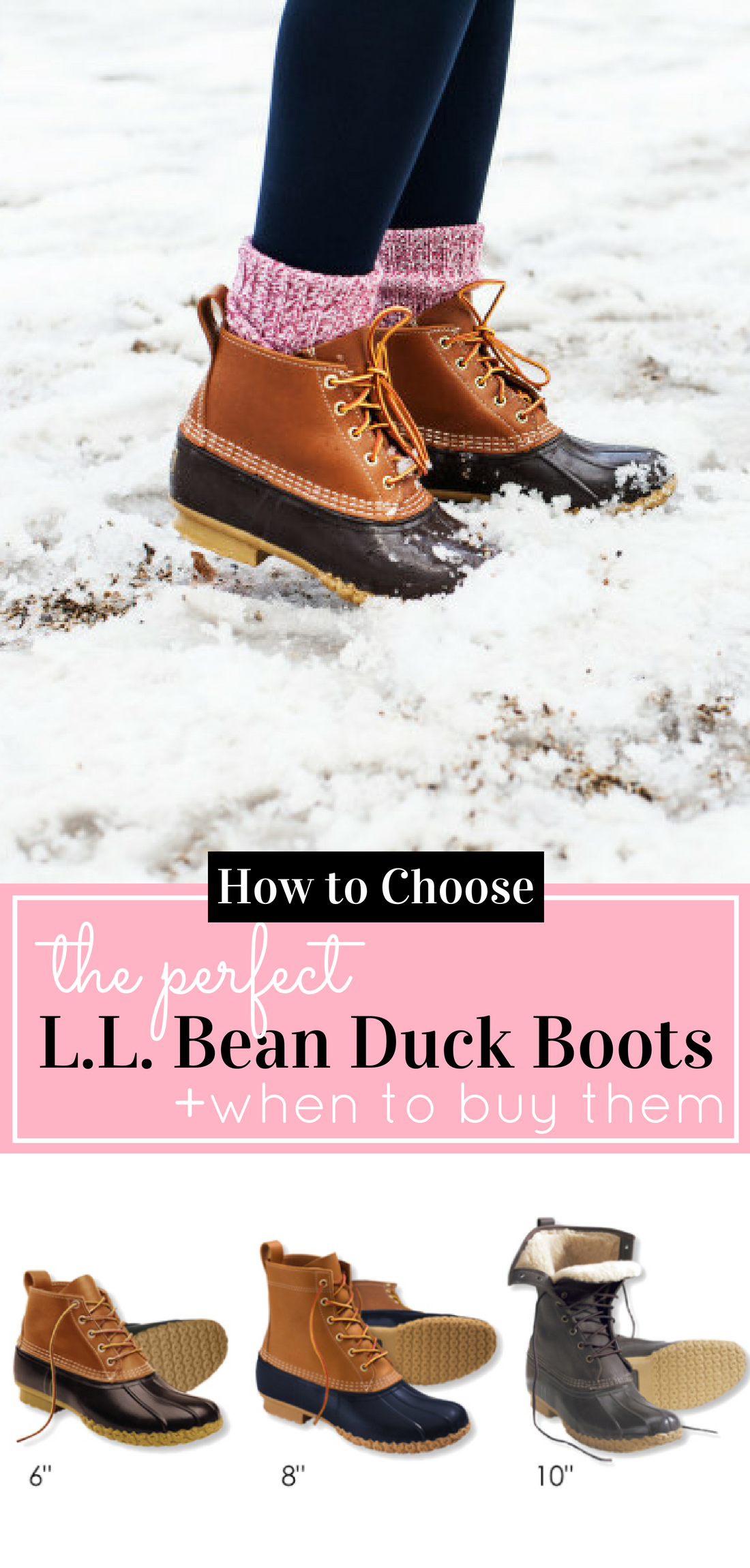 Images via: Bows & Sequins // Prep Avenue // What I Wore // Classy Girls Wear Pearls // Empire Style of Mind
SaveSave
SaveSave
SaveSave
SaveSave
SaveSave