Did you know Kim Kardashian uses the most amazing body oil every single day, and it's only $8 a bottle? Actually, all of the Kardashians do. And though I'm not one to hop on the Kardashian trend wagon – skin tight dresses and over-lined lips have never been my cup of tea, but those girls sure do rock it – I'll pretty much buy and try any body cream, oil, or moisturizer I hear even the slightest positive reviews about. And the Kardashians' favorite $8 body oil, well it gets rave reviews.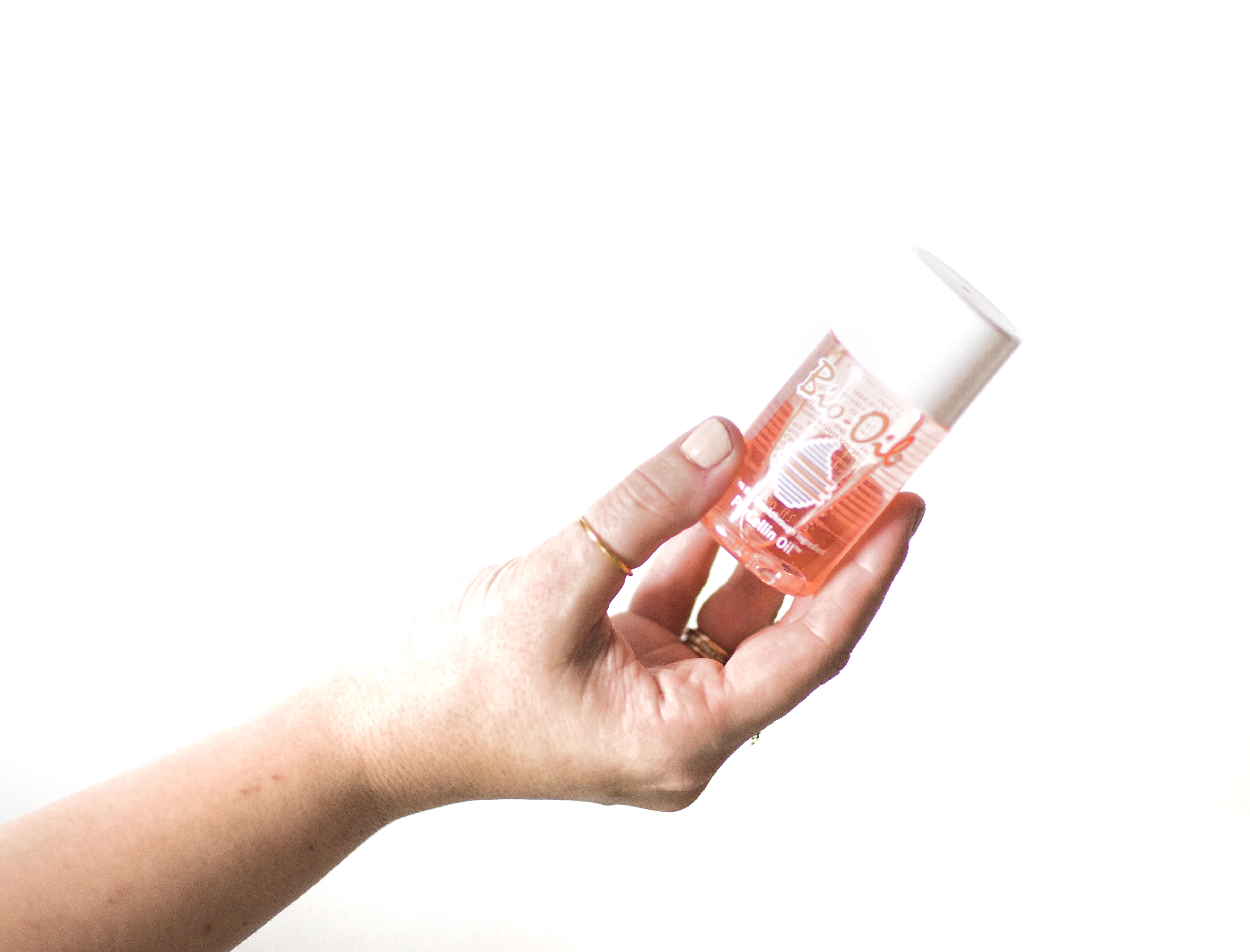 Bio-Oil — in Moms' medicine cabinets for years — has long claimed to improve the appearance of scars, stretch marks, and uneven skin tone. The science behind it: the inexpensive body oil is full of vitamins A and E. And those vitamin powerhouses work. The body oil can be used as a face moisturizer at night, body lotion and hand lotion as well.
The scent is a little bit medicinal, with notes of lavender, rosemary, and chamomile, and I actually kind of like it. I feel like my skin is taking a greasy tea bath every night after I bathe. But it quickly dries to leave you with soft, nourished skin that shouldn't clog your pores. Simply the best body oil!
It helps to fade the look of scars, including surgical scars, but it's also great after sun burns or when your skin is extra dry from long, cold winter days. And – fun fact: it also helps to relieve the itchiness during pregnancy. I basically slather myself in it every night after I shower or take a bath, focusing particularly on dry spots and now-fading stretch marks from when I was pregnant with Scarlett, plus my ever-so-slightly less noticeable neck scar from my battle with cancer.
I definitely see my stretch marks fading and the moisturizing capabilities of Bio-Oil are pretty unbeatable. I'm not saying this is a miracle in a bottle, but for just $8, and packed with plenty of vitamins A and E (which you should be using anyway!), I'm all on board with the Kardashians' favorite $8 body oil.
You can find Bio-Oil on Amazon, at Ulta, Target, and at most drugstores.
This post contains affiliate links, which means that if you click on one of the product links, I'll receive a small commission. Thank you so much for clicking through and helping to support this little blog business of mine! Read more about our site, privacy, and disclosure policies here.