This post contains affiliate links, which means that if you click on one of the product links, I'll receive a small commission. Thank you so much for clicking through and helping to support this little blog business of mine! Read more about our site, privacy, and disclosure policies here.
Giving your hair a seriously deep treatment every once in a while is always a good idea; especially if you have a lot of damage. Today I'm sharing a few simple DIY hair masks for damaged hair that can help heal and repair your hair, no matter your hair type, without the expense of a pricey hair treatment.
Ever since making our own DIY lip scrub, I've sort of fallen down the rabbit hole of homemade beauty fixes. Fall and Winter can be really damaging on your hair, skin, and nails, and if there are simple, natural ways to combat that dryness and promote hair growth, I'm all for it. I even got my daughter in on the action with this one – the DIY hair mask – and we had a blast mixing a goopy hair care concoction. (For the record: Scarlett now wants to make "lots of potions!")
Plus, store-bought hair masks and hair treatments can get expensive fast. A homemade hair mask is great for soothing and repairing cuticles damaged by cold weather, hair coloring, straightening, hot tools like blow dryers, flat-irons or curling irons, or chlorine and salt water. The masks work on all hair types (think coarse hair, frizzy hair, dry hair, thin hair, oily hair, fine hair, and wavy hair.) The best part is: the ingredients will likely already be in your kitchen. Winning!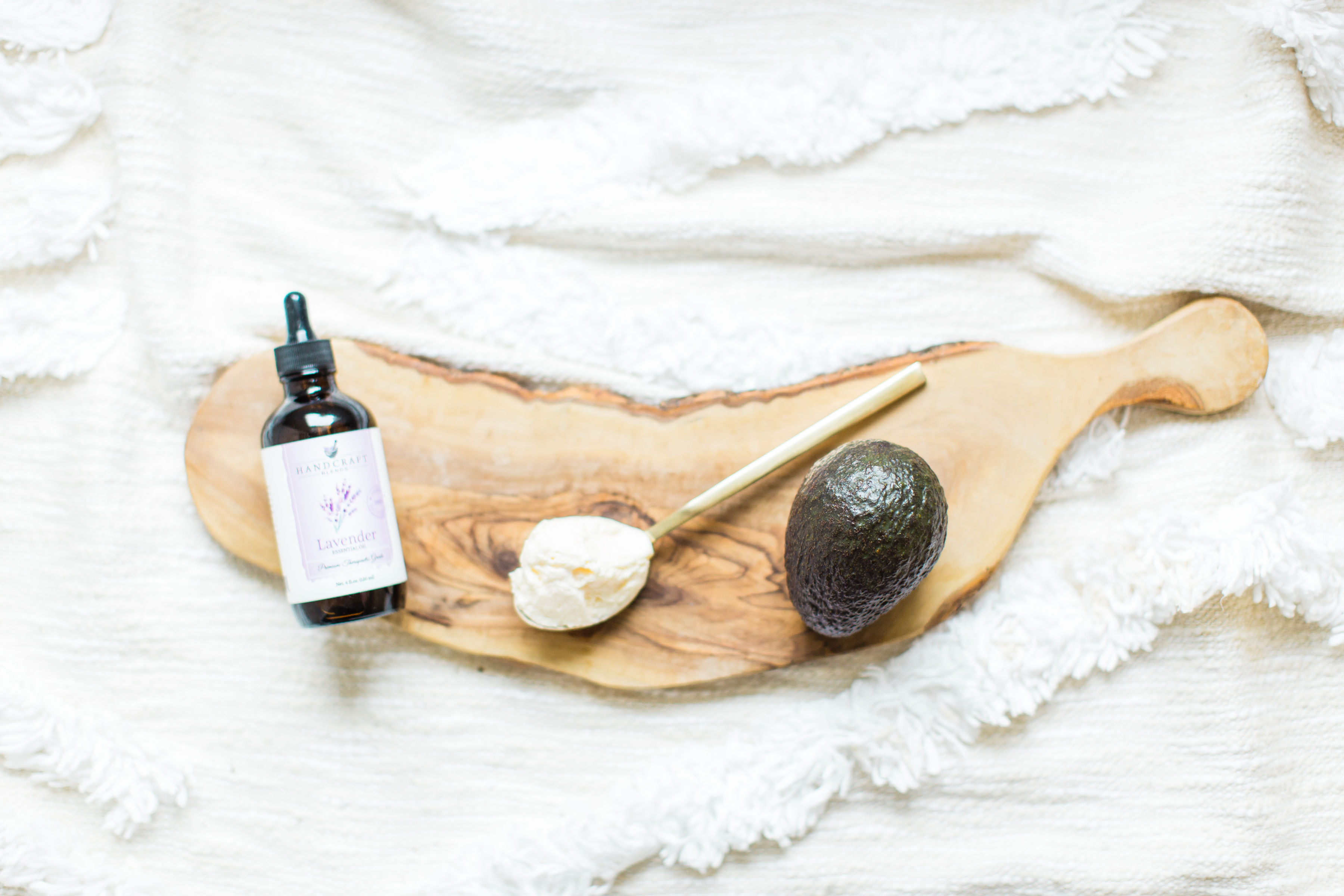 So make time in your calendar at least every couple of weeks to do a quick DIY hair mask on your damaged hair, and start seeing healthier, shinier, happier hair.

DIY Damaged Hair Mask Benefits
Using a hair mask regularly will vastly improve your hair's body and shine and really strengthens hair. It can hydrate dry hair, repair damaged cuticles, and give your locks gorgeous shine and a healthy bounce. Did you know that as far back as ancient Egypt, women used things like coconut oil and olive oil to deep condition and nourish their hair?
"Masks are a great way to shield your hair from environmental aggressors (pollution and UV rays), protect it from heat and styling damage, balance its pH levels, detangle your strands, seal split ends, and add shine," says hairstylist Justine Marjan, whose client roster includes the Kardashians, Chrissy Teigen, and Jenna Dewan, to name a few. (via Cosmopolitan)
Hair masks can help to fight dandruff and a dry, itchy scalp. (I'm looking at you, winter!) Choose a hair mask with natural oils to moisturize the hair and scalp and prevent dryness and dandruff.
Using a hair mask can help protect coloring, keep it from fading, and keep your hair moisturized after coloring.
Good and healthy hair care doesn't have to be expensive. There are tons of DIY hair mask recipes out there, and many of the ingredients are already in your kitchen. Bananas, eggs, avocados, honey, mayonnaise, yogurt, oatmeal, lemon juice, apple cider vinegar, coconut oil and olive oil are just some of the natural ingredients that can seriously benefit your hair.

Things like avocado, coconut, or argan oil will help to tame and smooth. They are especially great for curls and waves.
Avocado is packed with vitamins A, D, E and B6, and is also high in proteins, amino acids, magnesium, folic acid, copper and iron. The oils in avocados are one of the few that can penetrate the cuticle and moisturize hair.
Olive oil is rich in antioxidants and vitamins A and E; a.k.a., it's one awesome moisturizer. Olive oil can help protect the keratin in your hair. Also, it seals in moisture at the hair follicle, making your hair stronger and shinier.
Also, eggs are amazing. Egg yolks are chock-full of protein, vitamins, and fats – all great for damaged hair. For oily hair, egg white can help remove excess oil from your hair, whereas egg yolk acts as a moisturizer for dry, brittle hair. Egg whites also have bacteria-eating enzymes that can cleanse your scalp of any invading nasties.
Honey is a natural emollient, or moisturizer, and it seals moisture into your hair, which helps to combat breakage.
Coconut oil is particularly moisturizing and free of all of the harsh chemicals that are in many hair conditioners.
Jojoba oil can help to prevent hair breakage and strengthen your locks. In addition, it has been shown to help fight dandruff, dry scalp, and itchy scalp, and can be used as an anti-inflammatory (it doubles as a skin moisturizer as well!)
Argan oil is another great moisturizer that really works to nourish your hair.
Apple cider vinegar works as a great cleanser. Apple cider vinegar removes product buildup that can make your hair look dull and lifeless.
Beer works too! Fermented products, like beer, are high in yeast. Brewers yeast contains large amounts of B vitamins – thiamin, riboflavin, niacin, and B6. Brewers yeast is also a rich source of biotin which may help support the long-term health of hair, aaaaand, brewers yeast also contains essential minerals, like zinc, selenium, and copper.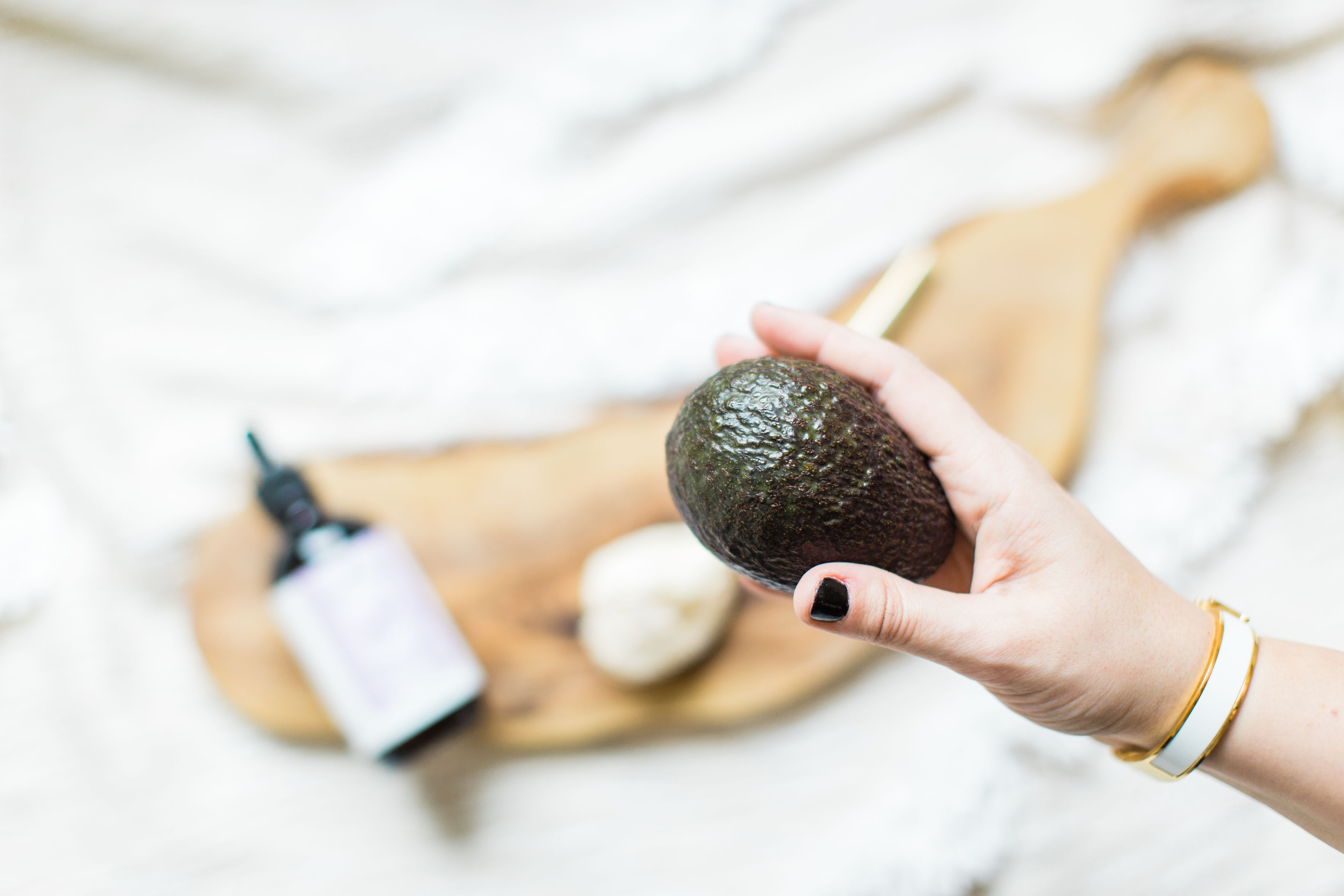 DIY Mask For Damaged Hair Recipe
What You Need
1 tablespoon mayonnaise or coconut oil
avocado or 1 raw egg (or 2 egg yolks)
1-2 drops of essential oil*
*If I'm making a hair mask with mayonnaise, I like to add in a drop or two of a strong-smelling essential oil like lavender oil** to combat the not-so-pleasant mayo smell. Oils like sweet almond oil, extra virgin coconut oil, or avocado oil will really add extra benefit to damaged hair because they pack a ton of added moisture.
**This lavender essential oil is great because it comes with a glass dropper, making use SO easy. This is the exact lavender oil I use and it smells amazing and is super long-lasting. It's also on Amazon Prime! Easy peasy.
A few other good DIY hair mask recipe combinations include:
1 tablespoon of yogurt, 1 tablespoon of honey, and 1 tablespoon of olive oil – gives hair major shine
1 tablespoon of honey and 1/2 banana, mashed (can also add 1 to 2 tablespoons of yogurt) – for frizzy hair
2 tablespoons of flat beer and 1 raw egg
1 tablespoon of melted Coconut Oil and 1 tablespoon of Honey
1 raw egg and 1/2 lemon (squeeze out the juice) – this one is great if you have oily hair, since lemon is super cleansing
2 tablespoons of brown sugar and 1 tablespoon of olive oil or coconut oil – helps with dry hair and dandruff
Directions
Step One: Mix The Ingredients
In a small bowl, mix all of your ingredients together. Remember, a little goes a long way. You may be tempted to make a larger amount, but it's not necessary.
Step Two: Detangle Hair
Brush through your hair well before applying the hair mask. I absolutely LOVE the wet brush for getting out all of the knots easily.
Step Three: Apply The Hair Mask
You can apply your hair mask to either dry hair or damp hair; just remember you'll need to wash your hair well after the mask. When applying your DIY hair mask, remember to focus on the ends of the hair, where more of the damage is. You can use a wide tooth comb to comb the mask through your hair for more even distribution.
Step Four: Allow the Hair Mask to Sit on Your Head
I typically try to leave a hair mask in for at least 5 to 15 minutes (and you will see results even from just a few minutes), but you can actually leave a hair mask on for hours, and even overnight. If you plan to sleep in your hair mask, and o prevent a mess or to keep the product from drying out, twist your hair into a bun and secure with a thin hair tie, and wrap your hair in a plastic shower cap or plastic wrap. After you've wrapped your hair, you can wrap it in a towel, or cover your pillow with a towel, just to be sure there's no mess. Your body heat, combined with the extended time the product is left on, will definitely help to enhance the mask. Rinse out the mask in the morning, then shampoo and condition well.
Step Five: Remove the Hair Mask
Rinse your hair mask out in the shower. If you used eggs in your DIY hair mask, start with a blast of cold water. Be sure to shampoo and condition your hair normally after every hair mask to ensure that all of the product is removed and that your hair is left silky and smooth.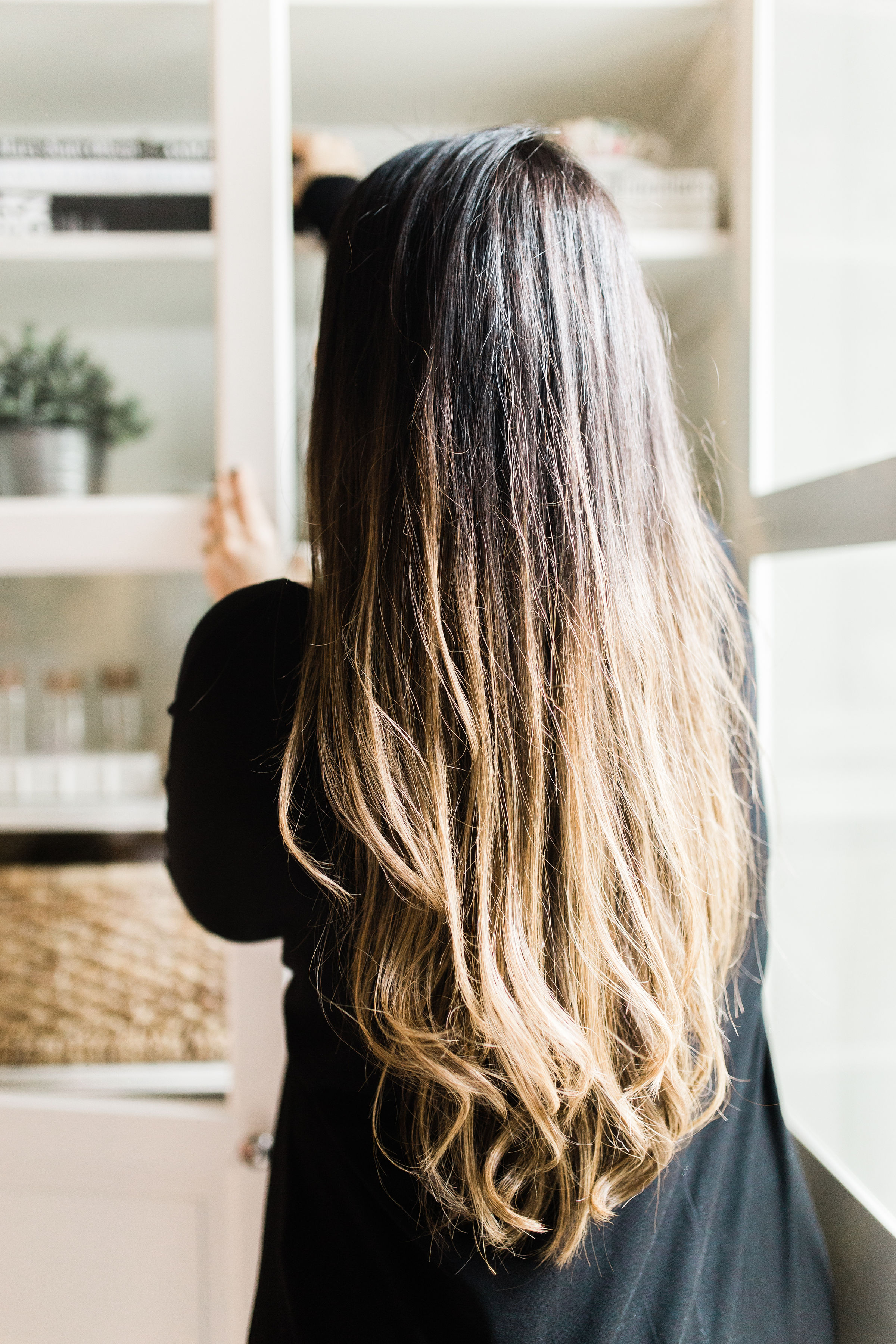 If making your own DIY hair mask seems like a bit too much work, these are a few of my favorite hair treatments and masks:
SHOP THE DIY HAIR MASK POST | CLICK LEFT & RIGHT ARROWS TO EXPLORE
Have you ever made a DIY mask for your damaged hair? Do you use hair masks and treatments? Any favorites?
Photos by Annie Timmons Photography for Glitter, Inc.